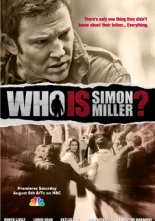 Finding the time to sit down as a family to watch movies can be difficult, but finding things that are appropriate and engage all members of the household are even harder it seems. Sometimes, I am shocked at movies that are rated for all members of the family and I see and hear things I would rather my children not be exposed to. Family Movie Night brought to you by Wal Mart and P&G is designed to bring families together to watch fun and engaging movies that you don't have to shield your child's ears and eyes from. Their latest movie Who Is Simon Miller? will be premiering August 6th at 8/7c on NBC.
"Who is Simon Miller?" is about a typical family and a Dad that doesn't have a typical job. Simon (Loren Dean) is always leaving his wife and two kids for emergency trips as a geologist to work in the oil fields.  Meredith (Robyn Lively) is then left to handle the family and all that comes with raising two teenage children.
When  Simon Miller  disappears one night, the Miller family frantically searches for him. Simon's wife Meredith and their two kids, Sarah, 18, and Kevin, 15, look in Simon's office for information, when they find that he has been living a double life, finding  passports all with Simon's picture, and all with a different alias.  Who is Simon Miller?  A relationship with the husband and father they know, has now become unfamiliar. The Millers embark on an international mission to get him back.  (The movie stars Robyn Lively, Loren Dean, Skyler Day, Drew Koles, and Christine Baranski.)
Movie Trailer
My husband and I really enjoyed the movie, although I felt the concept was much too complex for my five year olds to watch and understand.  There was some very mild violence but the movie is very appropriate for the the 11 yr old and up crowd.  Who Is Simon Miller? is a perfect example that you can make a movie with lots of action but eliminate unnecessary things like extreme violence, blood and gore and still enjoy the movie. Plan to grab your popcorn or set your DVRs for a really great family movie night the premiere of Who Is Simon Miller? is on Saturday, August 6 on NBC at 8pm ET/7pm CT! You can also check out the Family Movie Night website for more information and a list of other great movies that have family in mind as well as the Family Movie Night Facebook Page.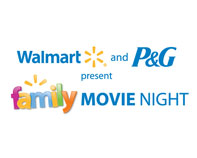 "I wrote this review while participating in a campaign by Mom Central Consulting on behalf of P&G and received a promotional item to thank me for taking the time to participate."
We love listening to music in our house. These days, the only music I know, are children's songs from all the shows that the boys watch. One of our favorite shows, is Jack's Big Music show and the boys have always been infatuated with it since they were about two years old. If you haven't seen it, it comes on Nick Jr, and it features lots of music by Laurie Berkner.
Not only do I share her first name, but I simply love all of her music. I find myself singing them throughout the day, and would rather listen to her music then a lot of the modern music that comes on the radio. Some of our favorite songs of hers are, Rocketship Run, Family, and BOOTS. It's the kind of music that you can turn on for your children, and not worry about what it is they are listening to.
Over last weekend, we had the chance to go see Laurie Berkner live at a Birthday Concert. And we were all very excited, especially my husband and I, because even though he won't admit it, he likes her songs too. The boys were thrilled to be going to a show and they got so excited seeing the stage all done up for a Birthday Party. The atmosphere was great with parents and children as far as the eye can see, and the nice part about it being a kids show is that, there can be lots of noise, and antsy kids everywhere and there isn't a problem. I didn't find myself saying sit down, sit still, and behave because it was an arena where kids, can just be kids!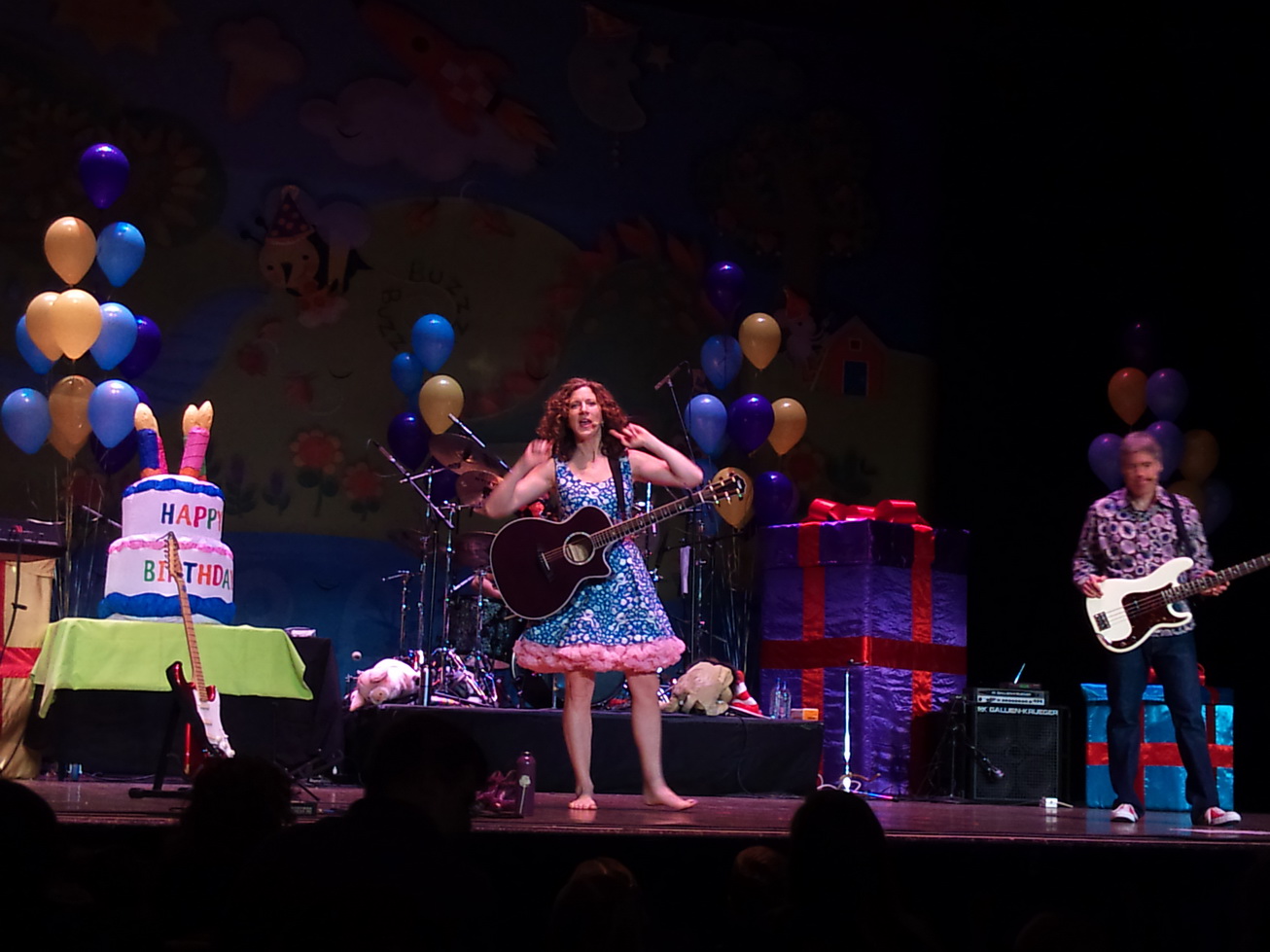 When the lights dimmed, and Laurie Berkner took the stage, all attention was on the stage. A few of the songs we didn't readily recognize, but for the most part she sang all of her popular and well known songs. She even sang a medley of them from Jack's Big Music Show. She made a point of engaging everyone, in the audience, and it was just plain old, good wholesome fun. I had trouble taking the boys for a potty break because I didn't want to miss anything. The concert length was right at the one hour and twenty minute mark, which is probably more than ample for a children's show, as I think their attention spans are only for about an hour, so the show seemed to be just right in terms of length. I liked that the entire atmosphere was very laid back. Laurie Berkner, would stop and talk with everyone in the audience and band members which kind of gave it a very home like and down to earth feel for a show. A few songs into the concert, she even kicked off her shoes and went barefoot for the rest of the show. We simply had a blast and I would go again in a heart beat.
You can see how much they enjoyed the show
About Laurie Berkner
Laurie Berkner has been a professional musician since 1992, but her success as a children's recording artist was a surprise to her. "It was so unexpected," says Laurie. "I'd been performing in rock bands (including Lois Lane, an all-female cover band, as well as her own original rock band, Red Onion) and struggling to write original music. Writing music for kids has not been a struggle at all. The more I started working on material for children, the more I realized that it opened up creativity in me that I never knew I had."

You can read more here
Another wonderful note about our concert attendance that we learned. Not only giving back through her music and putting many smiles on young and old faces alike, Laurie Berkner is about giving back to people, all over the world. While in attendance to her concert, and for every concert throughout this year, the Laurie Berkner Band is hosting a shoe drive at every concert to benefit Soles4Souls. Soles4Souls, takes gently used and new shoes collected at all the concerts and distributes them to children in need all over the world. Also, for every "The Best Of The Laurie Berkner Band" cd sold, $1 will also be donated to this benefit. Please visit http://www.laurieberkner.com/site/live.php to see tour dates and cities near you, so you can dance and have fun and help give back to children in need.
All in all we, had a really wonderful time, and I don't really have anything negative to say. It is a great family outing that you can just sort of let your hair down and enjoy the music and watching your children have fun. I haven't been able to get her songs out of my head for the entire week. The boys love to watch the videos of themselves dancing and singing, and ask for me to play the Rocketship Run song every day. We are thankful that we had the chance to see such a wonderful show! Many thanks to the Laurie Berkner Band for creating quality entertainment for the entire family!
"Tickets to the Laurie Berkner Band for my family were provided to facilitate my review, all opinions expressed here are that of my own"