I am popping in to tell you all hi, I am deep in the throws of remodeling our laundry room.  I got a wild hair and decided to throw some paint on the walls in the house in several rooms including the laundry room.  I have been spending way to much time on pinterest and as a result I am reorganizing most of my house.
In the last week I have added shelving in our coat closet and put all the hats gloves, umbrellas etc in their designated baskets off to the left side.  Before I started, there were things smacking me in the head and I feared for a person's life if they opened up my closet!  Here is a picture just to give you an idea.  The shelves give me a much more feasible option for storing our things, and the boys can reach for their own hats and gloves, because before I needed to get them up on the top shelf.  Now I can store our surplus toiled paper and paper towels up there, and I still have mostly and empty shelf for more storage, but I kind of like the emptiness!
So you can see its a nice addition for my sewing things, and picnic throws etc that we will be needing soon enough!  I will have to share my laundry room redo.  Right now everything is a disaster with laundry baskets, sorter, shelves, paint buckets, and tools everywhere in there.  I can't wait to have a nice new place to do my dreaded laundry since I feel like I live in the laundry room.  It is a major thoroughfare for everyone.  We go from the garage through the laundry room to the rest of the house, so its get a lot of traffic.  Currently the floor is turning yellow after 10 years of walking on it and that doesn't come off.  It is the cheap sheet linoleum that is paper thin, so I will be laying a nice new floating tile floor.  I can hardly wait.  The white walls will be getting a splash of color, I will be hanging cabinets above the washer and dryer and possibly putting a folding station in.
So, if you are wondering where my blogging has gone, its all in my laundry room and house at the moment.  Hopefully I will be sharing my projects soon!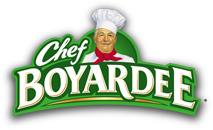 Chef Boyardee has always been a favorite in our house, but usually we would just have it as a quick and easy go to meal.  But what if you could turn it into an entire meal for your family or entertain a houseful? Well, this weekend, I put that idea to the test.  We rounded up some of our favorite people and went to work in the kitchen!
I decided to invite my neighbors and their family over for a fun dinner and dessert.  One of their twin daughters loves to cook so she was very excited to come over and help.  We decided to make a top secret dinner for her Mom and Dad and brother and sisters.  So on party day we turned on some music, and put together a masterpiece for dinner.  To help us out we were sent all the right tools, aprons, chef's hat, mixing bowls, baking dishes, and a timer.  I think everyone had just as much fun wearing the aprons and hat!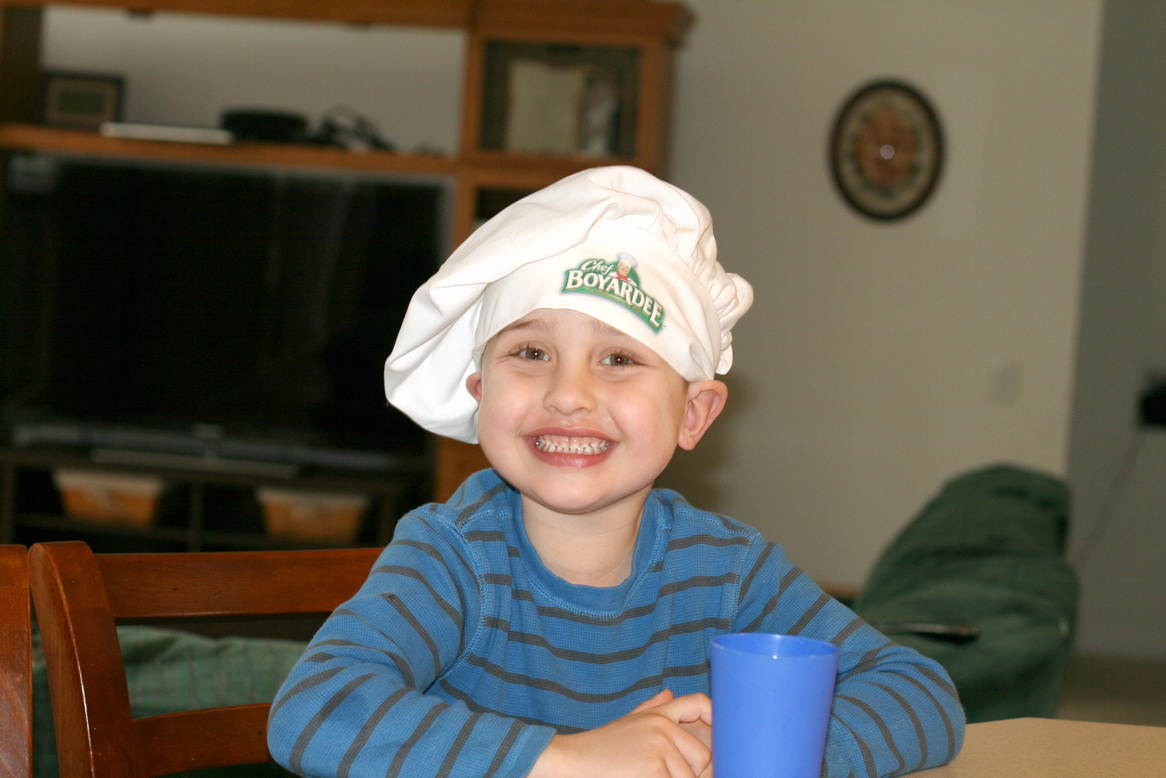 As part of our party, we had to create a Chef Boyardee recipe to share with everyone.  We chose to make the very tasty Pepperoni Spaghetti Bake and added some of our own little touches to the recipe.  We added some grated Reggiano and Romano cheeses and baked garlic bread on the bottom.  We made a side salad and the meal was complete!  Everyone had their own job in the kitchen, and the boys got a kick out of helping mom.  This has been a really wonderful opportunity for me and the kids, and the recipes offered really were not that difficult to prepare.  This made it easy for the boys and the other kids to participate and enjoy something that they made.  The end result was a really tasty meal, spending less time in the kitchen, and more time enjoying family and friends.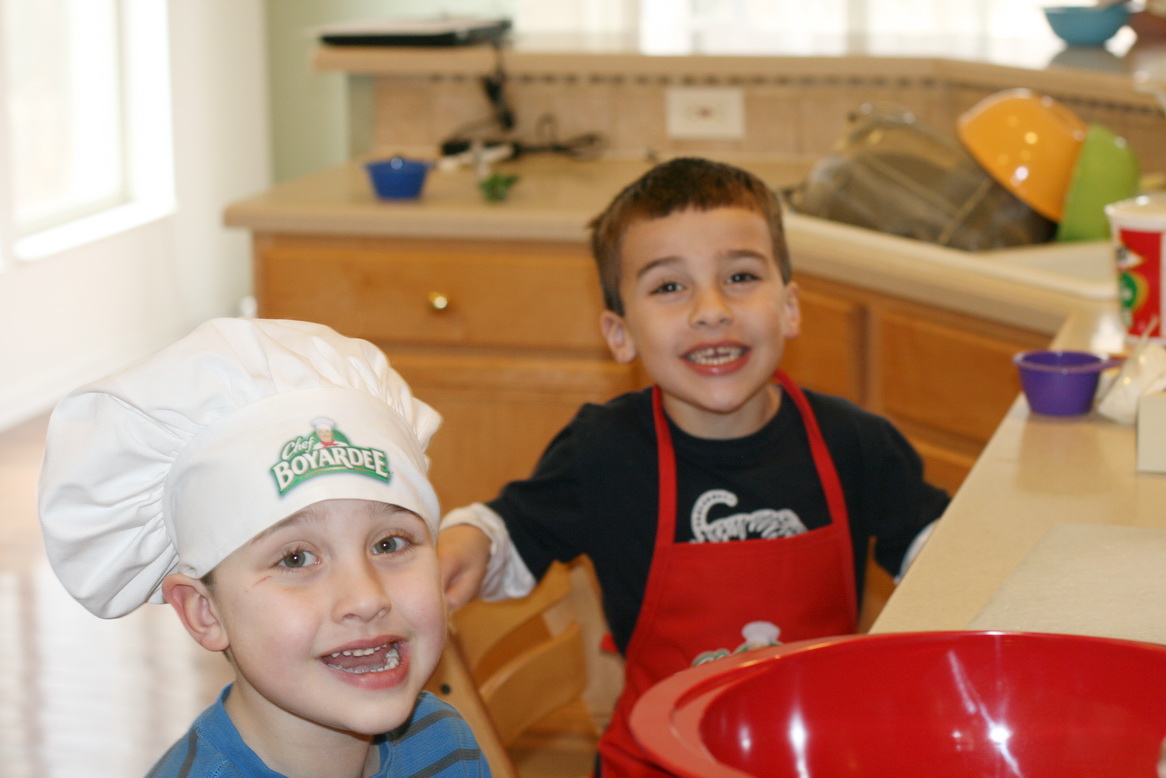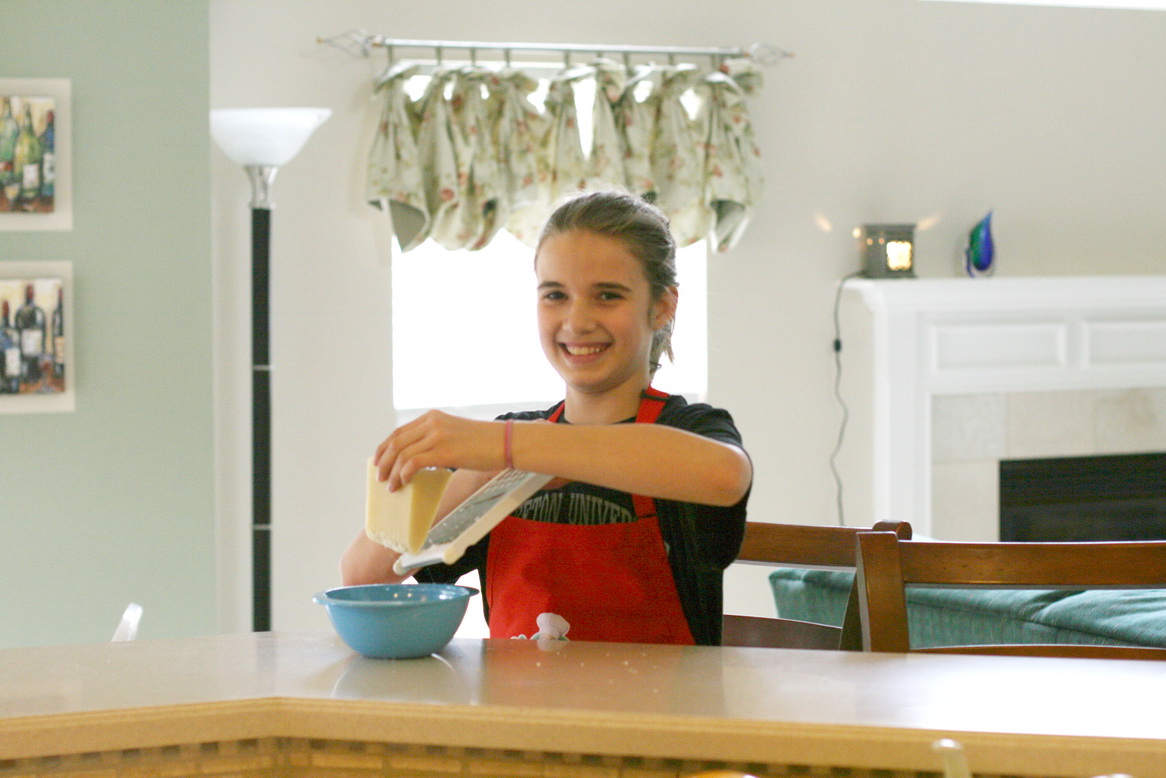 Right now through March 11, 2012, you can submit an original recipe that uses Chef Boyardee as an ingredient (anything you can dream up).  All you have to do is upload a photo of your recipe, and share why your family loves it.  A winner will be chosen based on creativity, all-family appeal, ease of preparation, and palatable appeal by an expert panel of judges.   You can win a $500 prize as well as $75 in Chef coupons or the grand prize of free groceries for a year!  I don't know about you, but who couldn't use a stocked fridge and pantry for the year to make delicious recipes like the ones offered by Chef Boyardee?   You can visit the facebook contest for your chance to win.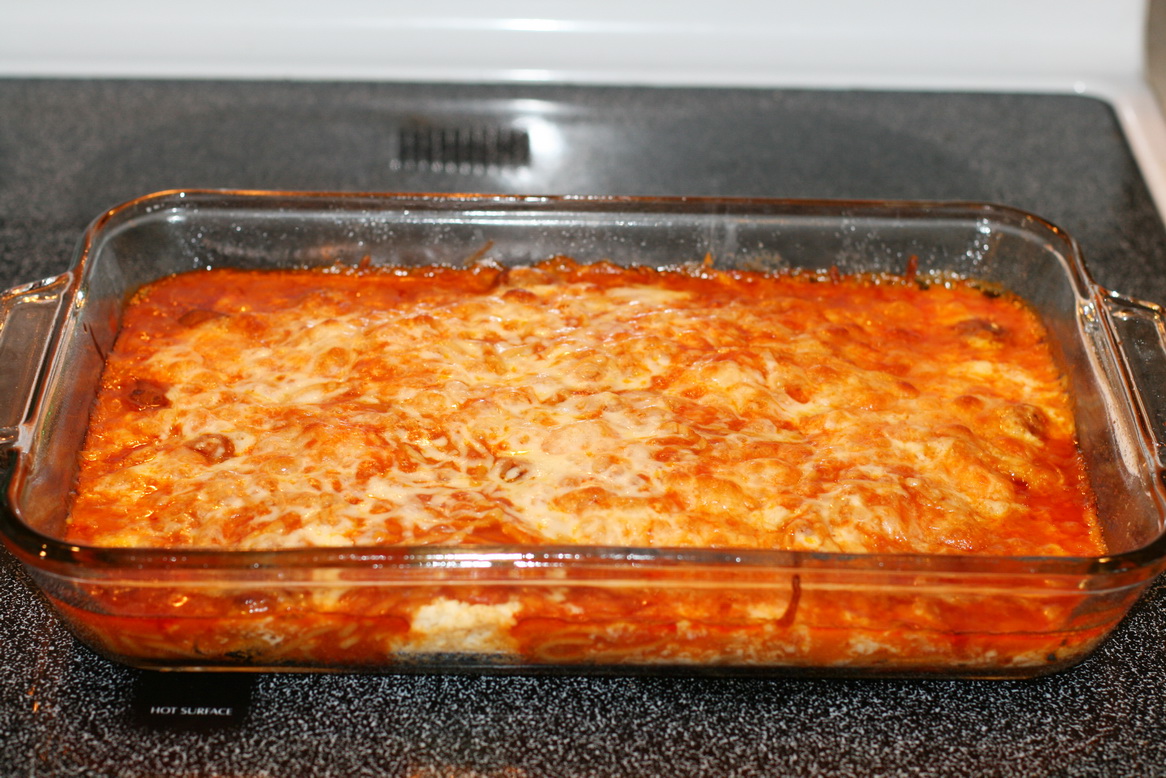 After all was said and done, everyone loved the meal that was prepared and we could hardly believe that it only took 30-40 minutes to prepare.  We loved throwing a party and I loved getting my kids involved in the meal preparation process.  It was a great learning experience and most kids like having a role in helping.  You can find some more really great Chef Boyardee Recipes on their site.  Don't forget to enter to win free groceries from now until March 11, 2012!
"I wrote this review while participating in a In Home Party campaign by Mom Central Consulting on behalf of Chef Boyardee and received product samples to facilitate my party and review, and a promotional item to thank me for participating."
My husband and I, go round and round over what color certain towels are in our house.  After bathing the boys, I tell him to grab the green towel over there, or the brown towel.  He always grabs the towel I'm pointing too and goes "this towel? its not green it's blue," or, "its not brown, it's green!"
I am almost certain the man is color blind, after all, I am the one who picks out and buys his clothes and I am always the one saying "you wore that to work?"  I am not colorblind I know what color my towels are and so do the boys.  I always ask them and they usually agree, unless the husband is trying to win  LOL.
So you tell me what color this towel is, so I we can put it to rest.  The man drives me crazy.
He says the towel on the left is blue, I put a blue shirt next to it for reference, he just claims the towel is a shade of blue. I say it is clearly  lavender and the pic doesn't do it justice but its purple people. But you can be the judge.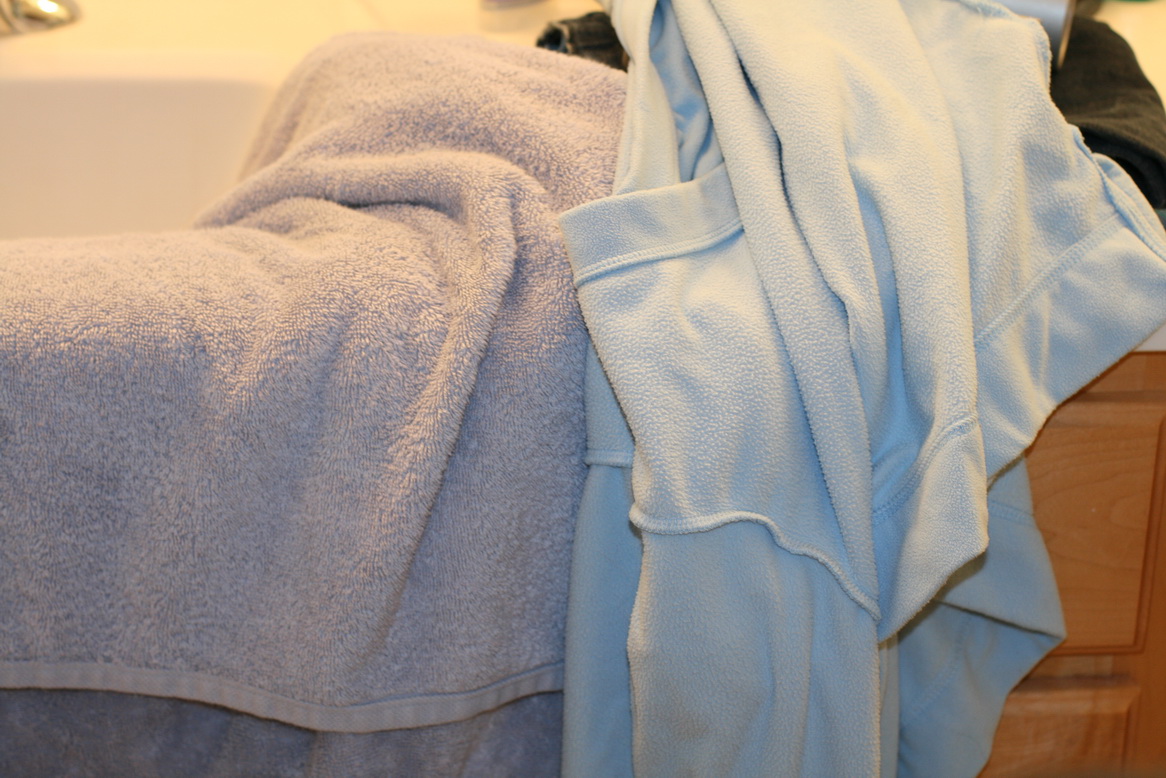 Since we have crossed over into the fours, it seems that the boys are getting more and more independent and a little more sassy.   If there is something that they don't like in terms of me telling them what needs to be done, or something they can't do or have, they have come up with their own reply, and their defense  LOL.
When they are mad at me, their reply is "Mommy I don't love you annnnyyyyy more!"  I either reply with that's ok, I love you still, or "Maybe you want a new mommy?"   Their immediate reply is usually, I love you mommy!
I can remember awhile back when we were at the zoo and one of them was mad because I said no to something they wanted, and he said "I hate you!"  I thought to myself, "and so it begins."  Was I like this as a four year old (probably!), and I am not even to their teenage years.  Being new to this parenting thing, I am almost certain that this is a phase.  And who ever coined it the terrible twos, needs to re-evaluate and take a look at the terrible fours, because I think I might go out of my mind!
We are at a phase in their development where they want to do everything include make the rules, so every day seems to be a power struggle.  By the time my husband gets home, I have to run and hide LOL.  This is four. So much fun.
I usually tend to not get particularly serious on my blog because I have family that comes and reads and it is always hard to show others your vulnerabilities.  But I am slowly beginning to realize that this is my platform, and the things I say here may help others who go through some of the same things.
I haven't been posting much because I have been busy getting my motivation back and my thoughts in order.  Life, seems to have some major ups and downs and it is up to the human spirit to weather the storm.
The word "cancer" exudes a reaction in most people.  Whether it is just reading the word, or you are faced with the possibility of having cancer, or someone close to you has had or does have cancer, it is never something that makes you feel great.  I don't know anyone that has ever been happy about it.
A few months ago, a really good friend of mine, my coach and  mentor, in the middle of one of our coaching sessions said "oh by the way," I have this rare form of cancer and I think it's a good idea if you come see me.  In a previous conversation we were arguing about me coming to see him and his family in New Zealand (his home).  I had always wanted to go back (it is where my husband and I spent our honeymoon), but out of money etc and yes you do talk finances with your coach, he suggested Canada.  I had not known about his cancer when he suggested a visit to Canada instead of NZ, but he did.
It was barely a week since I had gotten that news when I was just out of the shower.  I reached over to itch my armpit when I felt it.  There was a lump, and not just a small one. So I made my typical appointment with my OB and mentioned it to her.  I was sent off to an ultrasound and it turns out it is lymph node.  This can be good or bad, so they told me to come back in eight weeks for a rescan.
You start to play your life in your head, about what will you do if, and what I should have done, and what I need to do.  The world seems to narrow around you when you are faced with the word cancer.  It simply affects everyone around you. I have spent some nights crying for my coach and his family (well, a lot of nights).  It is a grieving/emotional process for everyone involved.  It feels horrible to not be in control of something that puts you at the mercy of the doctors, and all the what ifs.    You want to do things for someone, but the truth of the matter is… there isn't anything you can do, other than provide that person with the support that they will allow you to give.  It is a dance where you have to be careful where you step, while your heart, and your brain wants to impulsively lead.
I had become a wreck in terms of stress and emotional turmoil and it was as if my life had begun to mirror his.  It was like life was pointing out to me, to learn deeper levels of compassion that I had not yet experienced.  With each passing day, I am learning how to dismiss the little things that make me mad or upset, to see that the things I thought mattered, like a messy house, or minor irritations from the husband and kids, are just a tiny speck in this world.
Of the many things, I have learned from my coach and incredibly dear friend…it is that you get back in this life what you give and if you keep doing what your are doing, than you will also keep getting what you got.
Love your family and don't sweat the small stuff!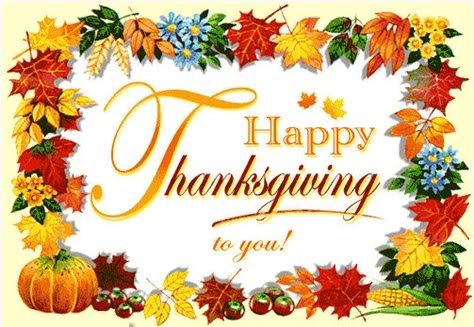 As we express our gratitude, we must never forget that the highest appreciation is not to utter words, but to live by them.  ~John Fitzgerald Kennedy
Although we didn't get to spend Thanksgiving with our bigger families, we still gathered around the table and had a wonderful meal.  I began the dinner by telling the boys that I was thankful for having them and their daddy, for the roof over our heads, the food on our table, for our dog and cat.
I asked them what they were thankful for and I got the cutest responses, and although I wasn't sure that they totally knew what it meant to be thankful, I wanted to start this tradition.  One of them was thankful for his fork and for the television  lol.  The other was thankful for marshmallows, his turkey, and his fire truck.
I hope that you and your families had a safe, happy and healthy Thanksgiving.   There is always something to be thankful for, no matter how big or small.
Every night after the boys bath and book, we tuck them in.  I Have one on one side of me and one on the other.  My husband says good night and I stay with them until they fall asleep.  It is a routine that we have acquired and it is one of my favorite times in my day.
The light goes out and they both ask me to sing Twinkle Twinkle Little Star and they will sing along.  My one little guy will ask me questions, like, Mommy are you happy? and, where do peaches come from?  I can hear them begin to get sleepy, the sound of their breathing, how they shift in the bed, and how their body becomes relaxed.  It is funny all the things you can sense about your children just laying there in the dark.
I think about so much when I am laying there next to my babies.  I will do a majority of my worrying at this time in the day, I will think about the things I have to accomplish and I reflect.  I know a lot of people like to put there kids to bed in their room and close the door, but I just never really wanted to.  I figure that they will grow up and someday and will be embarrased to have me around all the time.  I have just come to realize that time is just passing so quickly
Next weekend my family is coming to visit, and I can hardly wait to have the company.  The boys talk to Grandma and Grandpa and ask when they are coming on their driveway.  I know that they are going to love having them here and it is a much needed break for us here because all of our family is far away.  Tonight I was thinking about the time I miss being home, and how I can change it for us.  It is so difficult to pack up everything here with a dog and a cat, and two kids and not to mention the money it takes to take a trip as a family.
The things I think about in the dark….
Do you ever get this response from your dear husband?  I swear that this is the reason given for everything that goes on in our house and sometimes I just have to flat out tell him that he is full of crap.
In this house everything is somehow related to evolution.  House cleaning isn't something he knows how to do because according to evolution men are hunters and gatherers.  This is why he doesn't know how to clean the toilet. *rolls eyes*
The funniest one yet and the one I laugh at daily is why men cannot find things that are right in front of their face.  I am convinced that my husband doesn't want to take the time or effort to actually look behind things or for things when he can pester me and I just get up and go find it.   My husband is always asking me where his things are, and I tell him it's wherever he left it.  He states if he cannot see food in the refrigerator that he doesn't know its there.  Hello!  Look for it.
Here is the theory…are you ready?  According to evolution there is a reason why men cant see things.  Unless the item is moving a man will pass over it, since by nature they are hunters.  So unless his wallet is doing a little jig he cant find it!  Unless the can of green beans isn't shifting repeatedly in the pantry, nope he can't find it.  Same thing for the hamper and his clothes.  I guess the next time you visit me all our stuff will be swinging from the chandeliers.  The note on the door will read:
WATCH OUT FOR FLYING OBJECTS DUE TO EVOLUTION IN PROGRESS
I wonder what's next in the chain of evolution.
I was just looking through some of the pictures of the boys when they were little.  They are still just babies to me, but  these were pictures of them when they were little little.  Do you ever miss this?  I miss all those wonderful baby noises, and all the firsts, and the urge to have another comes on full force.
I think that I would feel complete if we have one more child, and for some reason I feel like something is missing in our family.  It is a hard thing to describe, but it is as if, you know that there is meant to be one more child in your life.  At first, I thought I would only want a girl, but now, I could have a boy or a girl and it doesn't make a difference to me!  My husband, just tells me, to think of it this way, when I am feeling this way..to think of all the new things that are coming up with the boys.  Men just don't understand the desire to have children.
I can't believe how fast the time goes.  I find myself holding on to all those little things.  Just one more, I hope!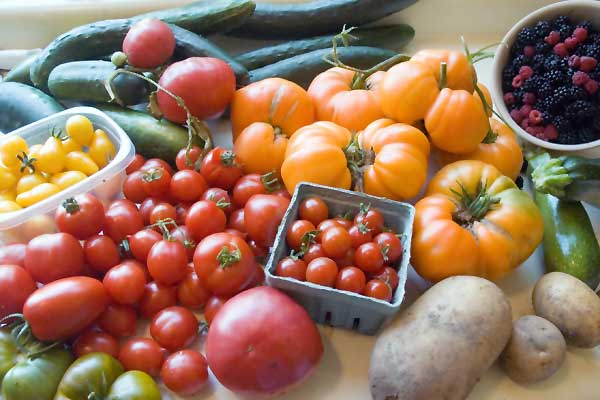 When we moved to our house, I was so excited to have our own yard, and our own house so we could plant the things we wanted and paint the walls etc.  I have always wanted to try my hand at a vegetable garden, and we have been in this house for almost six years now.  I originally planted a garden, and put some outrageously tall fence around it to keep the deer out.  After about one season if that and not growing much of anything, I took the fence down.  It was too difficult to get in and out to work in there.
So after that failed, I just planted in the 8x10ft plot and discovered that all the water from the other yards drained into my garden and half of it was a swimming pool!  So I put up with everything not growing or dying for another two years.  Then the boys were born and I decided to just give up on what I affectionately called the dirt box.
So this year, I got a wild hair to try and give this garden thing a go again.  The boys are older so they play in the yard, and I was bored.  So, I decided to cut the size of the garden in half, fill the existing half to the brim with the soil from the other side, and plant grass where the rest of the box used to be.  When we first moved in I read all about raised bed gardening and went in armed with a perfect vegetable garden depicted in my head.  Well that garden, is now a distant memory.
So this year, I have planted lettuce, spinach, a few strawberry plants, two tomato plants, and two pepper plants.  I will attempt maybe a few corn stalks, green beans, and carrots, and cucumbers.  My last try at carrots resulted in carrots that were 1 inch long and looked like BB's.  The only thing I hate about the garden is the weird bugs and creatures it attracts, and I hate bugs!  I am now armed with spray for those bugs, some scent barrier for the deer and rabbits, and fertilizer spikes for the soil.  I have planted the strawberries, the peppers, the tomatoes, the lettuce and the spinach.
The last time I planted lettuce and spinach nothing came up out of the ground and I was rather disappointed.  It was a little disheartening to see nothing.  This year, I am already doing the happy dance,a nd I have pictures to prove my gardening prowess, lets only hope that they continue to grow!  My peppers and tomatoes, shriveled up a little but appear to be bouncing back do to a night of cold weather, but I think im on the road to success.  That and I vowed to water this thing as much as possible.  Yes I know a garden needs water, but as a busy mom I have to remember to go out and do it  lol!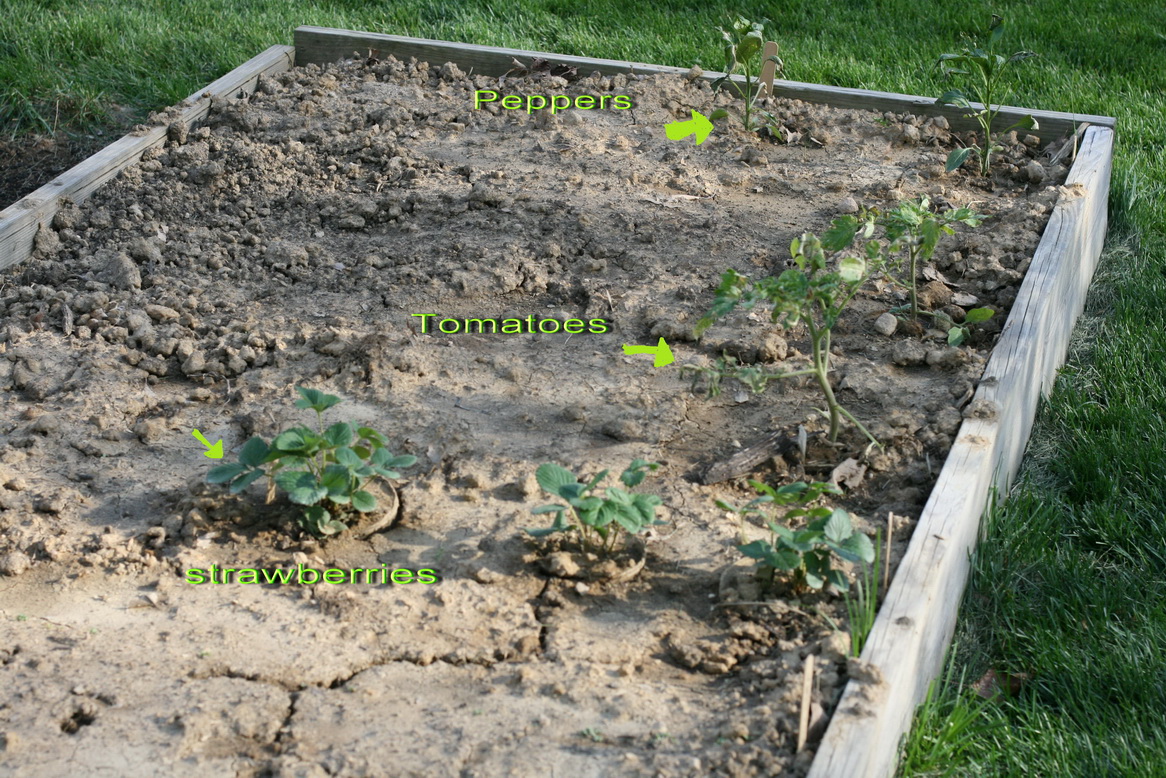 I am determined!