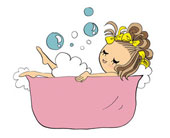 Tonight, I spent a good deal of time doing research on what fish oil is the best to buy.  I am about to embark on a healthy eating dtreak and since I hate fish of any kind, I am looking to supplement.
Here my thoughts for tonight"
I am going to have to give up brownies, this sucks.  Well I don't have to give them up completely.
I need to organize my office!
I need to go to Whole Foods tomorrow.
Maybe I should sleep in. Sleep in?  What's that?
I really want to get my garden ready, blach I am too tired
I still need to stop biting my nails!
There are thin mints in the pantry, how the hell am I going to diet with those in there?
I wish I had a maid, well and a cook, and a gardner.
Oh I have to finish a review, well I need to finish three this weekend.
Wonder what Blogher will be like.
I really need to turn my brain off when I'm trying to relax in the tub!
It was a beautiful day out today so the boys and dh got out to play.   I spent a lot of my day catching up on the dreaded laundry that only seems to multiply.  The minute you think you are done, there seems to be another load sitting there mocking me.
I took the time today to make about 60 homemade meatballs for the freezer, made a fresh batch of brownies, and made a roast, with carrots, mashed potatoes, rolls for dinner.   After all of that I must say I am worn out so, I will be heading to bed early tonight, if you consider 10 pm early.
My new goal now is to start really watching our money for grocery spending.   It is difficult sometimes to determine our budget with food and it seems like I live at the grocery store.  Today I did well, and spent $50 and managed to get a cart full.  I have been cutting coupons  and I really watch the local ads and there is some serious money to be saved if you just do a little research.  I will have to keep you updated on my endeavor.  It is hard with figuring out meals, especially when you are in a rut but I plan on sticking with our budget.
Looks like one is floating away!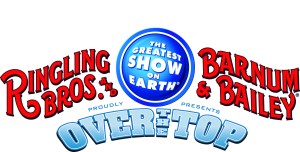 We love the circus and the boys first real show was actually to go see the Ringling Brothers Circus.   They were in awe of all the stuff going on and they loved it.  They were just 18 months, when we took them and it held their interest the entire time. I can remember the trips to the circus when I was a child and have fond memories of cotton candy and watching all the amazing acrobatics.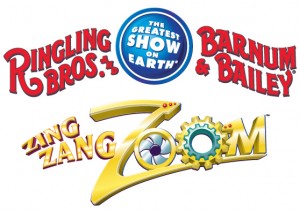 The newest production from Ringling Bros. and Barnum & Bailey  ZING ZANG ZOOM is sure to have children of all ages engrossed and delighted, and is a perfect night out for the family.  With the economy posing a challenge for many families, the value of a night out at Ringling Bros. is worth many years of fond memories and worth its weight in gold.  The experience includes the All Access Pre-show, a fun opportunity to meet circus performers and dress up in clown costumes, which happens one hour before each performance.
Thanks to Mom Central And Ringling Brothers you can have the chance to take your family to the circus without breaking the bank.
·    Offer #1: Get 4 tickets for just $44 by entering the code "MOM" at select ticketing channels**. Offer good on all performances, minimum purchase of 4 tickets required; additional tickets above 4 can be purchased at $11 each. Offer not valid on Circus Celebrity Seating, Front Row and VIP seating and cannot be combined with other offers.  Other Restrictions May Apply.
·    Offer #2: A select amount of Front Row and VIP seats have been reserved for you to buy before they go on sale to the public – just enter the code "MOM" when purchasing those seats. Dates and cities where families can use the national MOM discount code this spring are as follows:
Newark/East Rutherford/Uniondale/NYC
Ringling Bros. and Barnum & Bailey® presents ZING ZANG ZOOM
March 5 – April 13
Offer not valid on performances from April 10 – 13 at Madison Square Garden
Washington D.C./ Fairfax, VA/ Baltimore, MD
Ringling Bros. and Barnum & Bailey® proudly presents Over The Top
March 18-April 19
Philadelphia
Ringling Bros. and Barnum & Bailey® presents ZING ZANG ZOOM
May 13-May 25
Phoenix
Ringling Bros. and Barnum & Bailey® presents ZING ZANG ZOOM
June 24-June 28
Houston
Ringling Bros. and Barnum & Bailey® proudly presents Over The Top
July 15-July 26

Anaheim/LA/Ontario
Ringling Bros. and Barnum & Bailey® presents ZING ZANG ZOOM
July 8-August 2

San Francisco
Ringling Bros. and Barnum & Bailey® presents ZING ZANG ZOOM
August 12-August 23

Dallas/Ft Worth
Ringling Bros. and Barnum & Bailey® proudly presents Over The Top
July 29-August 16
Sacramento
Ringling Bros. and Barnum & Bailey® presents ZING ZANG ZOOM
August 27-August 30
Kansas City
Ringling Bros. and Barnum & Bailey® proudly presents Over The Top
September 16-September 20
To find out more about ZING ZANG ZOOM or to see which Ringling Bros. tour is coming to a town near you, visit www.Ringling.com. And visit www.ticketmaster.com to use the 4 tickets for $44 code, MOM.  This is such a wonderful offer and is hard to pass up.  I can hardly wait to take the boys to the circus again and create magical memories and a lifelong tradition that they can someday pass on to their own children. Have fun at the circus!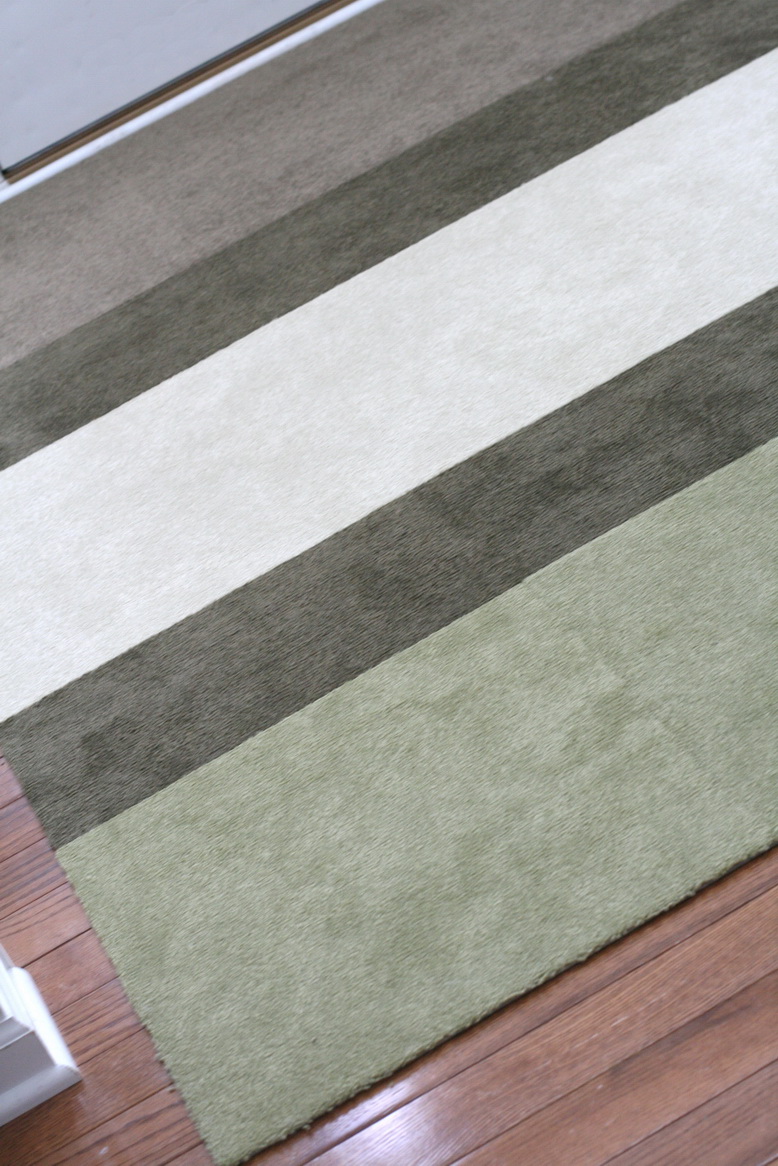 I am almost always looking for ways in which I can change things in our house to help update the look.  It isn't easy to change furniture because these are the big ticket items in your home.   I always love to shop for small things like rugs, or pillows, or a new place mats to help change things in the house.   Let's face it, if I am spending all my days at home, a change is always nice.
I recently was introduced to carpet tiles from FLOR.  I had watched the show Trading Spaces many times and I remember seeing an episode where they carpeted a room with FLOR carpet tiles.   This is such a cool way to change the look of an area in your home!   Not only that, they are so versatile, in that, you can mix and match colors, cut the tiles to make a cool floor pattern, and it is so incredibly easy to do!
I was extremely excited to get this opportunity because I was dying to give them a try, and so sick of the boring rug choices that you find in the stores.  Since this was my first experience using the tiles, I was primarily interested in how these things work and how they stay stuck once you had your design laid out.  Each tile is held together by a little circle of genius called a Flordot.  The Flordots are so easy to apply and hold the tiles together perfectly making it easy to move your masterpiece around if you need to.  When you want a change the tiles  come apart easily and you can store them, so if get bored you can change it up.  If you run out of Flordots you can just order more!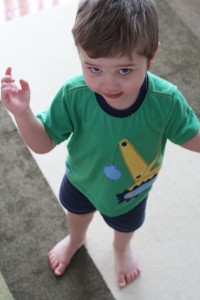 I was putting together FLOR's Seagrass Rug which looks absolutely stunning in my entry way.  It is made from their plush collection of tiles and it is so soft and feels great beneath your feet! I cannot tell you how much fun I had putting this rug together, and it makes you want to do even more.  It's a bit addicting and I was somewhat bummed when I ran out of tiles to stick together, because I was on a roll.  I am already looking for more reasons to go buy  more FLOR tiles to do various areas in the house.  We are looking to move the boys play area to the basement, one of these days, and this would be an ideal place to use them. Another thing I would definitely recommend when getting your FLOR rug is their cleaning kit, so you always have something on hand for the occasional spill or mishap to keep your FLOR tiles looking nice.
Thank you FLOR for such a ingenius product and we love our new FLOR rug! It is now a favorite playing spot for the boys and they love to hang out there where the sun pours through in the morning.  If you are looking for new flooring for your home or just something to spruce things up, this is definitely a really cool option.   There are tons of choices so you can let your creativity run wild and their prices are easy on budget too!
THIS CONTEST IS NOW CLOSED!!! THANK YOU TO ALL WHO ENTERED!

I have a really awesome announcement for my readers here at DoubleBugs!!! FLOR was kind enough to allow me to give one lucky winner the chance to win a FLOR Seagrass Rug of their very own!
So here's what you gotta do!
Visit FLOR and have a look around and come back and leave a comment and let me know what other cool rug you might like and what room in your house you would like to use it in.
Leave me an email so I have a way to contact you if you win
Winners are chosen at random via Random.org.
For Additional Entries (please leave as an additional comment):
Tweet about this post
Follow me on Twitter
Blog about my contest and give me the link!
Put my badge on your sidebar


That's all you gotta do!
Contest starts February 5, 2009 and Ends February 23rd, 2009
Good Luck to You!

Brownies have to be one of my all time favorite treats, especially when I am craving something chocolate.  It is no secret in my house that I am an edge lover.   I will sheepishly admit to making a whole pan of brownies, and eating only the edges.   By the time I get done it looks like some one tunneled a path around them.   After that the brownies are fair game because I won't normally eat anymore.  Anyone who wants to call out the corners, well you got to beat me to them first!
Then it happened….   A true love affair.   There just so happens to be a pan especially for smitten edge lovers like me!  I couldn't believe my eyes when I ran across the Baker's Edge "Edge Brownie Pan."   It was love at first site, and I don't think I will ever use anything else.  At first, I thought, this is too good to be true, but when I took it out of the box and made my first batch of brownies, my heart went pitter pat.   Not only does the pan work well, it makes the best double edged brownies ever!  Each brownie has the perfect combination of slight crust on the very edge and that wonderful chewiness  with substance.   And as if two edges weren't enough, there are the two double cornered brownies at the end reserved only for mommy.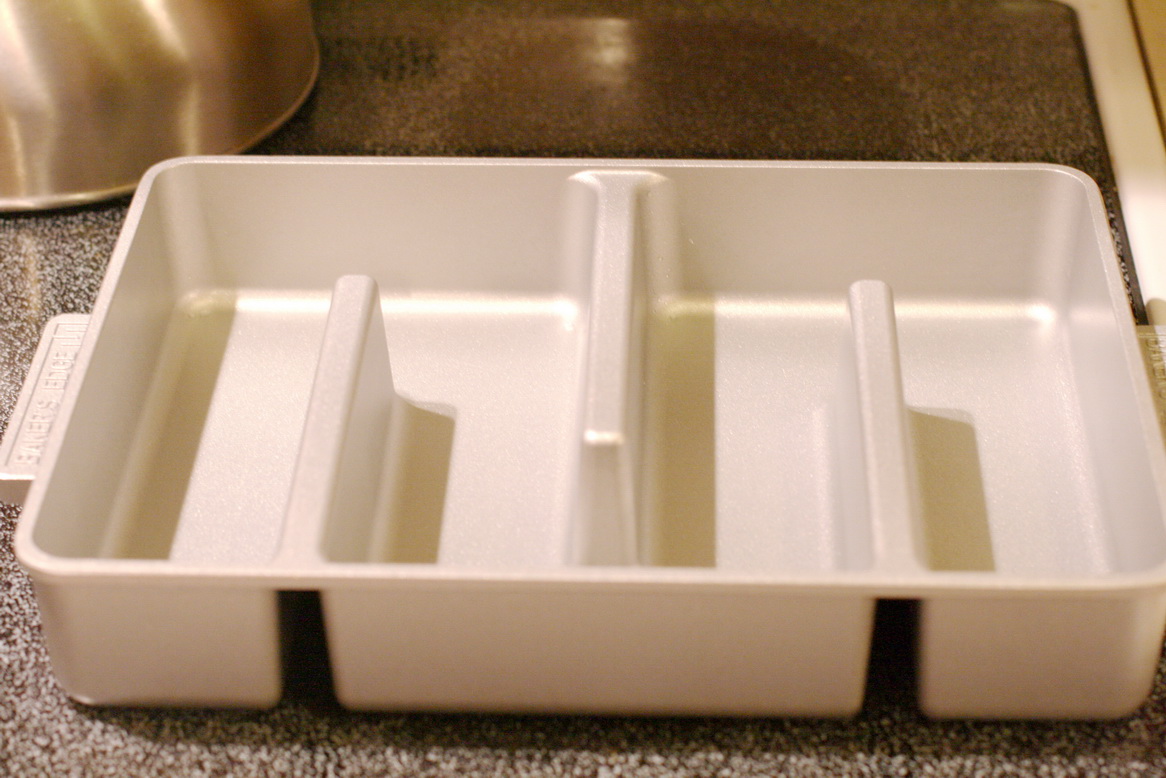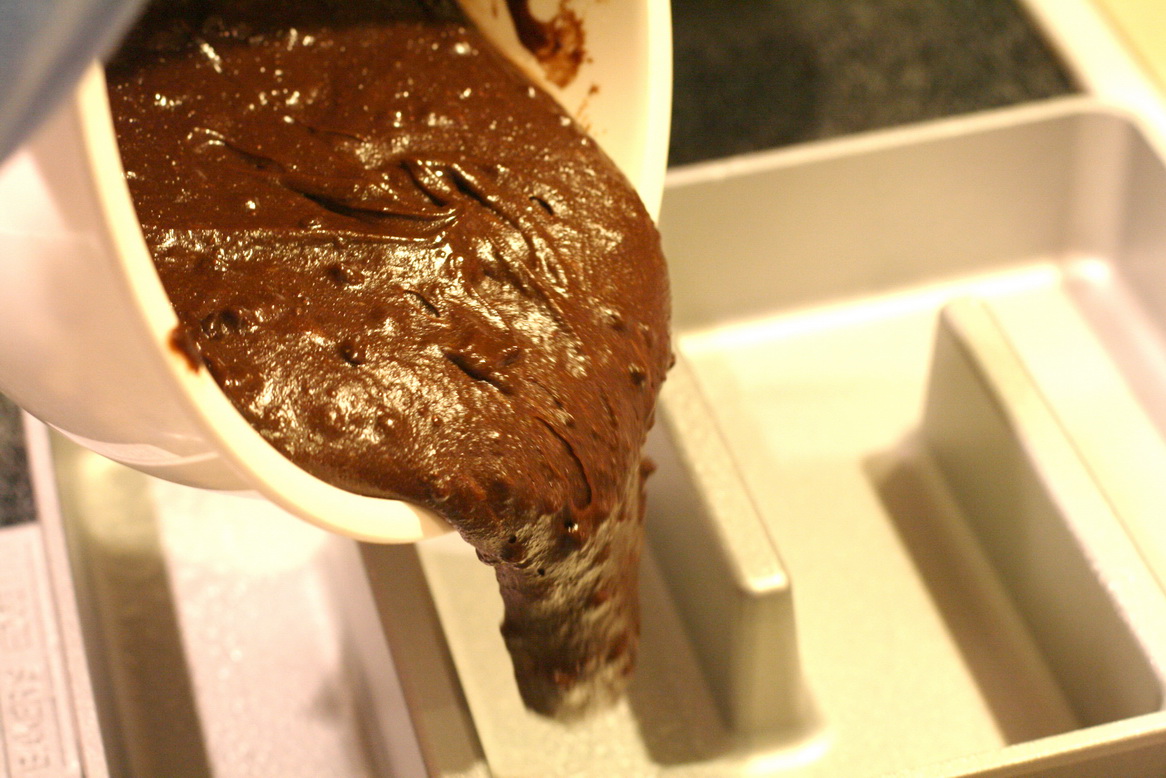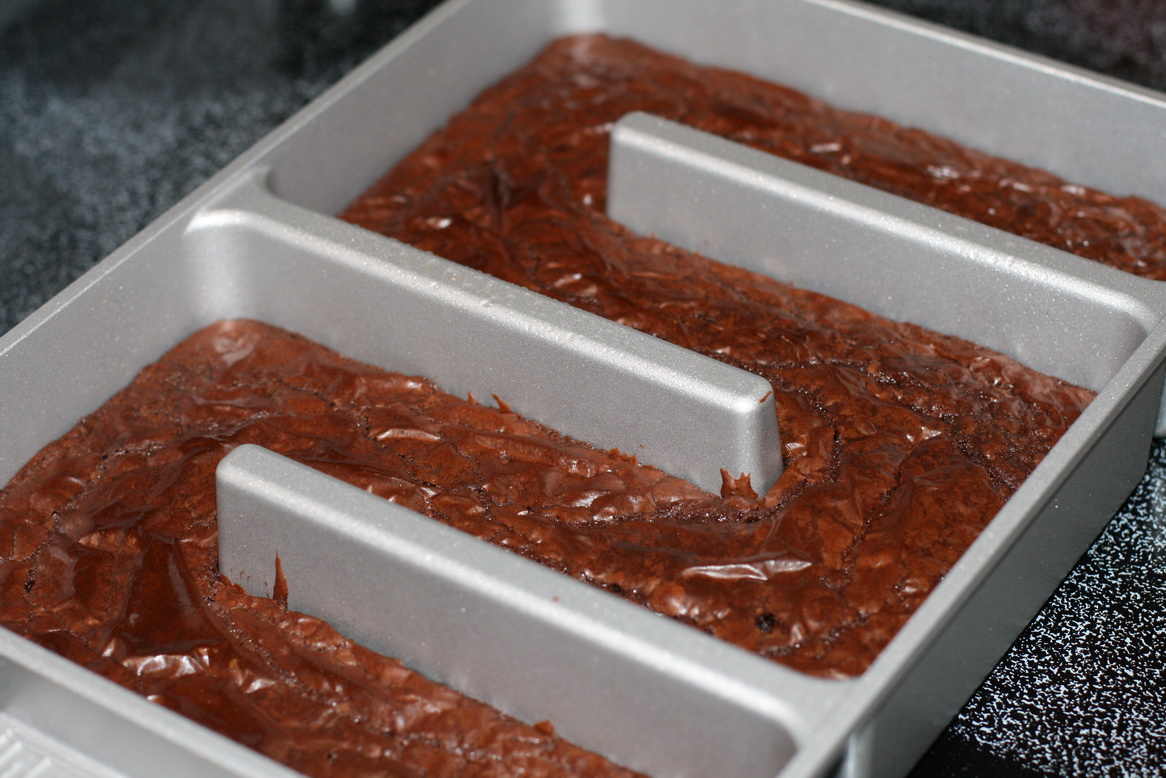 Features
Two delicious, chewy edges on every brownie or bar cookie (individual serving)
70% more edge (side) surface area than a conventional 9"x13" pan
Sized to fit most box mixes with no adjustments necessary
Perfect for moist and chewy brownies, bar cookies, and breads
Better Baking from Edge to Edge
Patented interior sidewalls circulate heat evenly throughout the pan
Better performance – fewer undercooked middles and burned edges
Premium nonstick coating and round, easy-to-clean corners
Heavy-gauge cast aluminum construction for superior durability
Recessed handles allow pan to be easily gripped when turned upside-down
Lip on underside helps to prevent fingers from slipping
Custom mini-spatula and recipes/instructions insert included
This pan would also make a perfect gift for any cook in the family or definitely brownie lovers. It is extremely easy to use, and the spatula that comes with the pan is perfect for getting the brownies out. There are even some recipes that came along that you can try. The pan itself will fit most standard boxed brownies our favorite is Ultimate Fudge Brownies from Betty Crocker yummy! I love this pan….thank you Baker's Edge for an awesome product!

In this day and age, everything is becoming so mainstreamed and it seems that our children are being introduced to the computer even sooner.   Being a mother to two very young children, it makes me a little nervous about introducing my kids to the internet.  Although, my boys are toddlers, I still hear about all the horror stories about how teenagers go missing after talking to and meeting with strangers they have talked to online.  I think computers and kids are basically inevitable with how fast technology changes, but  I also think it is very important that your children know what these dangers and are aware of the tactics a perpetrator  can use and how to be safe while being online.  It is such a scary scary thought, and I believe education is so important and as a parent you should use as many resources that are available to you and your children
NetSmartz, a leading online resource of the National Center for Missing & Exploited Children, used their expertise to develop NSTeens to educate, engage, and empower kids as Internet users, The website, NSTeens includes bios, comics, and videos of seven teen characters. Their comic How Much Is Too Much illustrates the consequences of improper Internet use and shows the impact teens can have when they use their network to empower people. Videos cover important topics such as social networking, cyberbullying, and offline consequences. Each cartoon video also portrays interviews with teens talking about their Internet use.
I think this is a terrific way to tell your teenagers about being safe on the internet.  It teaches then in a very non intimidating fun way so they might actually pay attention!  We know how powerful just hearing one sentence can be, because those are the things kids remember if they are in trouble or in a bad situation.   NSTeens is a wonderful resource and can help your teen to make smart decisions and avoid potentially harmful scenarios.

I am a huge fan of some of the recent introductions of natural cleaning products on the market.  When you walk the cleaning isle of the supermarket you are overwhelmed by the magnitude of choices.  It wasn't until I had the boys that I became more aware of the products that I use in my home.   So, when I had the opportunity  to try Green Works Biodegradable Cleaning wipes, I was more than thrilled.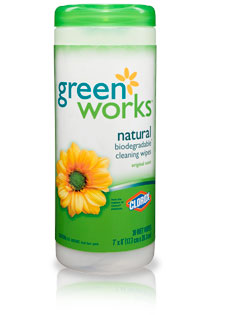 I must tell you that I love these wipes, because not only are they natural and minus all the harsh chemicals that come in cleaning supplies today, but they are easy and convenient.   If you are a mom, you know that you are almost always wiping something down.  I am a huge fan of the pop up wipes because I can just sort of grab and go.  Green Works Cleaning Wipes, also smell so fresh and clean, and I will sheepishly admit I used the whole container the first day I used them.
Green Works Natural Cleaning Wipes

99% Natural and Biodegradable which is healthy for the environment
You can use them on most non wood surfaces including acrylic, fiberglass and vinyl. Let air dry. Rinse if surface comes in contact with food.
They are made from essential oils, no phosphorous or bleach, silicon anti-foaming agent, coconut based cleaning agent, filtered water, corn based ethanol, biodegradable preservative, glycerine, and %100 wood based fibers (wipes)

New Green Works Natural Biodegradable Cleaning Wipes feature the Sierra Club logo on their package, marking the brand's financial commitment to support the organization's conservation efforts, and are recognized by the U.S. Environmental Protection Agency for using environmentally preferred chemistry.
Also, as if  their fabulous eco-friendly products weren't enough, the Green Works team  through its new "Green Heroes Grant Program," the brand team will award five grants of $10,000 each to eco-friendly community projects across the country.
Between January 15 and February 28, 2009, individuals can nominate eco-friendly community projects for a Green Heroes grant by submitting a photo and short essay about the project for consideration online at www.greenworkscleaners.com/greenhero. Each winner – or "Green Hero" – will receive a $10,000 grant to help their eco-friendly community projects grow and flourish!
Then, beginning on March 16 through April 10, 2009, you will have the opportunity to vote online for your favorite eco-friendly community project. The final five Green Heroes will be announced on April 22 – just in time for Earth Day.
For more information about the Green Heroes Grant Program, including official contest rules and entry guidelines, log on to www.greenworkscleaners.com/greenhero.
Thank you to Mom Central for this wonderful opportunity to do this review!
In case you haven't heard things are about to drastically change in the world of handmade toys, hand me downs, small toy companies and many more.  In Feb. our already failing economy is about to suffer more at the the hands of CPSIA.  This will have a major effect on small businesses who cannot keep up with the new stringent lead testing and the exorbitant costs of doing so.  Anything and everything right down to the hair bows on your child's head will be exposed to this scrutiny.  Books will be pulled from libraries which will have a major impact on communities whose schools are already struggling.  Are they for real?   Something needs to be done!
The following outlines some of the many problems with the CPSIA and provides insight on how YOU may be affected. Reposted with permission from Etsy sellers chichiboulie and Winklepots:
Have you asked yourself what your government is doing to protect your children from lead contained in toys? The answer? They're banning toys, taking books from schools and libraries, hurting low income families, killing entrepreneurial spirit and risking putting the economy in an even greater depression than we've seen in decades. I'd like to introduce you to their solution: the CPSIA.
Do you know about the CPSIA? No? Then I ask you to take a few minutes to find out about it.
The CPSIA stands for Consumer Product Safety Improvement Act, a new set of laws that will come into effect on 10 February, 2009 and will impact many, many people in a negative way. Make no mistake, this is very real. View it for yourself. If Forbes, the American Library Association and numerous other media are paying attention, perhaps you should too. How will these new laws affect you? Well, here are a few examples:
To the Parents of Young Students: Due to the new law, expect to see the cost of school supplies sky rocket. While those paper clips weren't originally intended for your student to use, they will need to be tested now that your 11-year-old needs them for his school project. This law applies to any and all school supplies (textbooks, pencils, crayons, paper, etc.) being used by children under 12.
To the Avid Reader: Due to the new law, all children's books will be pulled from library and school shelves, as there is no exemption for them. That's okay though, there's always television. Our children don't need to learn the love of reading after all. Article from the American Library Association http://www.wo.ala.org/districtdispatch/?p=1322
To the Lover of All Things Handmade: Due to the new law, you will now be given a cotton ball and an instruction manual so you can make it yourself since that blanket you originally had your eye on for $50 will now cost you around $1,000 after it's passed testing. It won't even be the one-of-a-kind blanket you were hoping for. Items are destroyed in the testing process making one-of-a-kind items virtually impossible. So that gorgeous hand-knit hat you bought your child this past winter won't be available next winter.
To the Environmentalist: Due to the new law, all items in non-compliance will now be dumped into our already overflowing landfills. Imagine not just products from the small business owners, but the Big Box Stores as well. You can't sell it so you must toss it. Or be potentially sued for selling it. You can't even give them away. If you are caught, it is still a violation.
To the Second-Hand Shopper: Due to the new law, you will now need to spend $20 for that brand new pair of jeans for your 2-year old, rather than shop at the Goodwill for second hand. Many resale shops are eliminating children's items all together to avoid future lawsuits.
To the Entrepreneur: Due to this new law, you will be forced to adhere to strict testing of your unique products or discontinue to make and/or sell them. Small businesses will be likely to be unable to afford the cost of testing and be forced to close up shop. Due to the current economic state, you'll have to hope for the best when it comes to finding a new job in Corporate America.
To the Antique Toy Collector: Due to the new law, you'd better start buying now because it's all going to private collection and will no longer be available to purchase. "Because the new rules apply retroactively, toys and clothes already on the shelf will have to be thrown out if they aren't certified as safe." http://online.wsj.com/article/SB123189645948879745.html
To the American Economy: Already struggling under an economy that hasn't been this weak in decades, the American economy will be hit harder with the inevitable loss of jobs and revenues from suppliers, small businesses and consumers. The required testing is far too costly and restrictive for small businesses or individuals to undertake.
To the Worldwide Economy: Due to this new law, many foreign manufacturers have already pulled out of the US market. You can imagine the impact of this on their businesses.
If you think this is exaggerating, here is a recent article from Forbes
And for those of you prepared to be stupefied and boggled, The New Law
Did you know? If this upsets or alarms you, please react.

What can you do? Please see the CPSIA Action Kit for some excellent resources, including sample letters and contact information


You can also visit Handmade Toy Alliance for more information about how this law will effect small businesses that make handmade products and an Initiative here
Please write to your local congressman even, so things don't get out of hand and we can save the little man.