I haven't kept my recent journey to weight loss a secret. When I first started out, I knew that I wanted to run eventually when I was in much better shape. When I finally decided it was time, I realized that my walking shoes weren't going to cut it. Not only were my feet already hurting, but any ramp up in my activity in them made matters worse.
I do a ton of walking on local trails, so I knew that I eventually wanted to jog them as a well. I am also a major overpronator, or I tend to walk to the inside of my feet, you can see it by the way my soles on my shoes tend to wear. Initially, I said to myself, ok I need a running shoe. When I began to look, I began to panic at all the various choices. There are about a billion different brands, different styles, there are trail running shoes, neutral running shoes, and shoes that feel like no shoes at all. After about three days of looking, my head began to hurt and that is when I was introduced to Mizuno shoes, my saving grace in my search for trail running shoes and for my feet.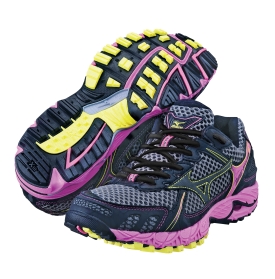 The folks at Mizuno were kind enough to send me a pair of their Wave Ascend 6 trail runners. This particular shoe is in it's 6th generation which already tells me it's a keeper and clearly time and dedication went into it's creation. When I received them, I opened the box and was delighted to see the one thing that was going to be significant in my weight loss journey and how awesome they looked. I loved the black mesh shoes, with hot pink and yellow accents, but I loved them on my feet even more.
The fit was that of a glove, and all the love a hug could give. They fit a tad snug, but felt extremely comfortable, I had a feeling that it was designed to stay on your foot so when you are running, your feet aren't moving all over the place in your shoe. The shoe itself is extremely lightweight. 9.6 ounces to be exact, but offers ample cushioning from heel to toe. The real test however, was to take a test run in them and I was more than excited.
About the Wave Ascend 6  (taken directly from the site)
Unlike other shoe technologies, as your foot touches the ground, Wave actually reduces and redirects impact forces away from your foot. Wave acts much like your car's suspension—offering cushioning and keeping your foot centered in your shoe throughout your stride.

Disperses impact forces away from foot
Progressive, tunable support
Lightweight, compact, responsive
Doesn't break down over time

SmoothRide is the result of years of development designed to the most fluid, smooth, rocking-chair-like motion in every step.

Smoothride begins working the moment your foot touches the ground. Flex Grooves in the heel promote natural movement from the back of your foot to the front, initiating that rocking-chair motion. Our AP+ Midsole gives the shoe a bouncier feel. And Flex Grooves and Flex Controllers in the forefoot work together to smoothly continue the roll forward to give your foot a more solid platform at toe-off. It all adds up to a more fluid, enjoyable run, every time you head out.

Smooth, rocking motion throughout your stride
Increased flexibility
More power at toe-off

From heel strike to mid stride to toe off, Dynamotion Fit is all about creating a shoe that works with your foot through the design and materials we use to create it. As your foot twists, bends, and stretches in each step, the shoe upper moves with you. Flex Eyelets help keep your heel secure throughout your stride by allowing the upper to stretch and contract as needed. And Stretch Mesh eliminates bunching and pulling that can create discomfort and even blisters–especially at toe-off. Together, the features of Dynamotion Fit create a shoe that gets out of your way, so you can become the best runner you can be.

Emulates the motion of your foot
Secure fit that still freely moves
Eliminates bunching, pulling, and sliding
I took off on the trails with my pup , and did a quick 15 minute test run. The trails behind my house have lots of rocks, and the traction on the Mizuno Wave Ascend 6 is amazing. At first, I felt hesitant on my first down hill turn, but realized that these particular shoes had what felt like a tacky grip on the rocks. I never once, felt my feet slip beneath me, which was an inherent problem when walking in my other shoes. The mesh on the shoe offers great breath-ability, because let's face it, you're feet sweat. It was hard to tell after first run, how the pain in my foot would fair, but after logging approximately 150 miles in the Wave Ascend 6, I can tell you that any pain that I had, has apparently corrected itself as well as the over pronation problem.
Overall, I am extremely impressed in the wear of the Wave Ascend 6 and how it has held up to my pounding the trails in them.  With a $99 price point, it is a great running shoe for the wear.  I have learned that a running shoe is only good for around 300 miles and I intend on pushing the limits , so my next pair will definitely be Mizuno because it takes the guess work out of finding a good shoe.  There are a lot of shoe choices out there and you have to find a good one that you love to wear and that feels good on your feet.  It is obvious that Mizuno took a great deal of effort to make the Wave Ascend 6 a shoe you want to run in.
**Disclosure:  I was sent a pair of Mizuno Wave Ascend Shoes to facilitate my review, the opinions in this posting are that of my own**
One week has passed in my journey to lose weight.  The first few days were awful!  Around the evening time around dinner, I would start to feel depressed about all the new changes.  I felt like I was missing out on something.  Maybe it was food, or maybe it was just all the changes that I know have to be permanent in order to maintain a healthy weight.
I am exercising almost nightly with my dog.  She thinks I am trying to kill her, and I think I am trying to kill me too.  The first few days I started off slow, but then I began to enjoy the time.  I started out walking about a mile and finished off the week walking nearly 4 miles every night.  It seems that when you have catchy tunes playing in your ear, you can walk miles.
I am journaling every morsel of food, I am eating and I am enjoying the taste of fruit.  I did a little experiment quite by accident when I took a drink of the boys chocolate milk.  It was incredibly sweet and then I went to take a bite of my canteloupe that for the past few days tasted like pure sugar and it tasted like nothing.  It tells you how sweet actual sugar is and how your taste buds adjust to fruit sugars versus regular sugar.  Fruit tastes just like candy to me, when I am avoiding the refined sugars and high fructose corn syrups.
I am enjoying keeping track of everything, I am attached to a pedometer all day every day.  I have gone from just a few thousand steps to more than 15,000 steps per day, and I am feeling pretty good too.  Officially after the first week I am down 10lbs.  I know this will slow, but I will be happy with about 2 lbs per week!
I am up for the challenge!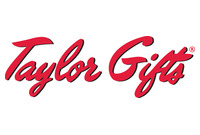 Weight loss is almost always a touchy subject for many people.  For me it isn't touchy but it is something I just like to avoid, because who wants to go on a diet at any point in their lives.  I have discovered that if I don't call it a diet, that I tend to have more will power in staying to my planned exercise and eating regimen.
As a mom, I have very little time to myself.  If you are like me, I like to do things that I enjoy doing and I am afraid, that exercising isn't one of those favorite things to do!  You have to do it on a regular basis if you are going to make any progress, and no matter how  many times I am up on the treadmill, or doing some other routine, I am busy wondering why I am there torturing myself when I could be watching a movie or reading a good book.
Taylor Gifts has a a great selection of personal care items like the belly burner, to help you look your best like body shapers and exercise equipment.  I like to try fun things like the belly burner, that doesn't require that I be stuck to a machine staring at my four walls where I concentrate on the misery of exercise.  If exercise were fun, then we wouldn't avoid it, but I think its a conspiracy like food.  All the stuff that you like is bad for you, and all the healthy stuff, no one likes anyway.
My overall thought is to do the things that make you feel good.  As a mom we get so busy doing all the things for our families and forget about ourselves, so it is nice to take those time outs.  Put on a belly burner, and take yourself shopping, or whatever makes you feel good!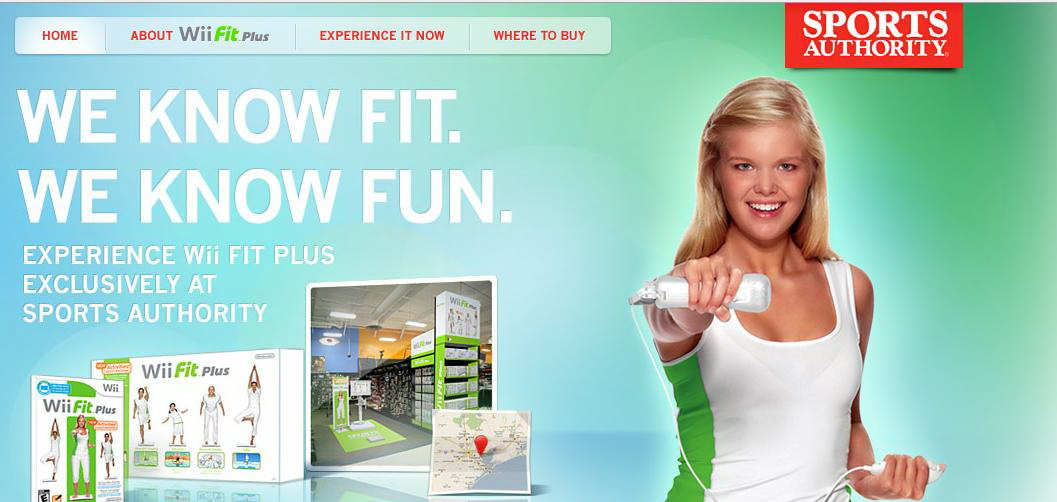 We are a huge Wii family here and love the opportunity to try out anything new.  With the Wii Fit board it has made it possible to have fun while getting in shape.  When  you are on a Wii Fit board you sort of forget that you are doing any work at all and that is my type of workout!
I was naturally excited to find out  that Sports Authority is teaming up with Nintendo to create a new way to experience fitness gaming.  Sports Authority will be selling Wii gaming consoles, Wii Fit and Wii Fit Plus, as well as various accessories and games for the Wii, in its stores.And to help you get to know the Wii better, Sports Authority will create a "We know fit. We know fun." experience at 102 of their stores. Stores will feature a dedicated area with a demo unit and knowledgeable trainers to help customers try the Wii Fit Plus before they buy! This is a great way to trade those boring workouts of the same thing  for something that is fun for everyone.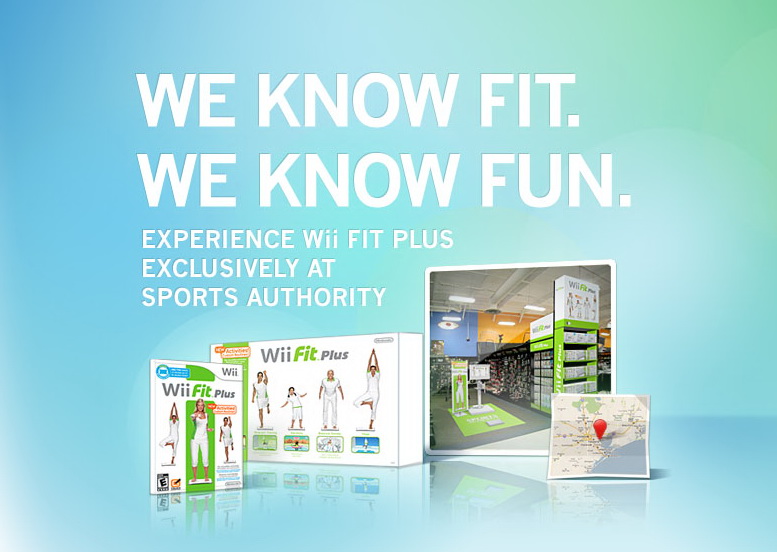 To kick off this great new initiative and campaign to get fit the Sports Authority is launching this experience on Thursday, Nov. 19 at its store in Torrance, Calif. (located at 3610 Torrance Blvd., Torrance, CA) starting at 9:30 a.m. If you are in the California area, the event will feature Jillian Michaels from the *Biggest Loser*, and the World's largest Wii Fit Demonstration with 102 people and tips from Jillian Michaels.  They are also giving away some really awesome prizes, Wii Fit boards included, so you won't want to miss it!
I can't think of a better way to get thinking about those dreaded New Years resolutions of getting in shape.  Rather than dreading it, why not make it fun!   You can find out more by visiting the Wii Sports Authority page.
As an incentive to get your body moving and in shape, DoubleBugs,  SportsAuthority and Nintendo, want to give readers a chance to win the Jillian Michaels' new fitness game for the Wii and a Wii Fit Plus board!
Here's  What You Gotta Do!
Visit Sports Authority and tell me what you would like to have to go along with your Wii Fit Plus Board and why you want to have a Wii Fit Board and come back here and leave me a comment
Additional Entries
Tweet about this great giveaway and Sports Authority
Add me to your Twitter
Blog about this great contest and Sports Authority's new program
Favorite me on technorati
Subscribe to my blog
Good Luck!!
Constest starts November 19, 2009 and ends December 12, 2009