Diets are no fun.  The minute I start to eat all the so called good for you foods, I get cranky.  Going through the grocery store, makes me feel like I must be blindfolded so I don't pout.  And flaxseed with oats tastes a bit like dirt, don't let anyone tell you otherwise.
I hate water, well not hate but, I like soda, and not diet.  My goal is to avoid artificial sweetners and soda all together.  I am drinking more water, and feel like I need a catheter permanently attached to me, so I don't have to be in the bathroom peeing every five minutes and im only drinking three glasses a day folks.
I am walking every night and dragging the dog along.  I put my iTouch on shake to shuffle, and walking quickly made me feel a bit ADHD because it didnt like my brisk walking and proceeded to change songs with every step.
Day two and I am still alive! I am sure after my chocolate and coca cola withdrawals (in about 4 weeks), I will be a much happier camper.  But until then look for crab apple posts like this one.
I will conquer.
We love cheese in our house, but I will be honest and tell you that, I am not a cheese connoisseur and really don't know much about cheese beyond picking up our family favorites at the grocery store.  One of my favorite late night snacks has to be cheese and crackers and my boys would have cheese at every meal if I let them.
Recently we had the opportunity to have a cheese tasting party and distinguish the differences in processed sliced cheese versus natural sliced cheese and how to taste cheese.  Let's face it, eating is something us humans have to do every day and sometimes even that becomes very routine.  We grab quick meals and foods we are used to eating and pay little attention to their taste.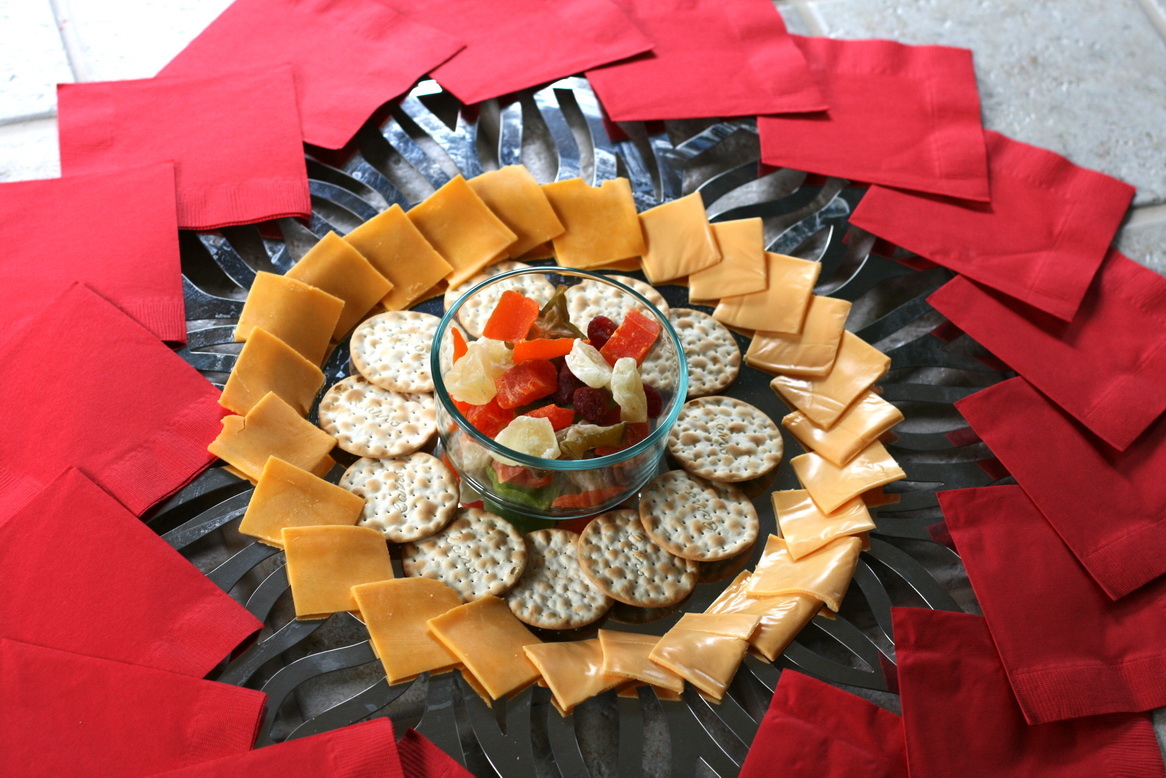 First thing was to educate our party attendees.  Before getting started I read over the cheese tasting tips that were provided to facilitate our party.
1. Look at the cheeses. Natural cheeses, like cheddar, come in many different colors, but in general an understated and non-glossy appearance.  Processed cheese is shiny in appearance even after the plastic is removed.

2. Touch the cheese to feel its texture.  Bend the cheese. Natural cheese texture can vary by the type and variety of the cheese but will break in authentic fashion.  Process cheese Processed cheese is characterized by a smooth, rubbery and artificially pliable texture, and can often bend and fold without breaking.

3.  Smell the cheeses like you'd smell a glass of wine. Natural cheeses' aroma will vary by cheese type, and the range of smells span and can best be described as  earthy, nutty, and fruity. Processed cheese is usually lacking in a strong aroma, but can have cooked milk notes due to its heating process. what aromas do you pick up when you smell the cheeses?

4. Taste the cheese. Natural cheeses have an incredible array of flavors – from savory to fruity to spicy and sharp. the dominant characteristic in processed cheese is often described as salty. take note of the characteristics of the cheese, the intensity of the flavor, the saltiness, sharpness or fruitiness of the cheese. how does it finish? does the taste linger?
After setting the stage for our cheese tasting party, I let my husband, kids, and neighborhood friends go to work on our cheese and fruit spread. At first, they grabbed whatever was in front of them, but I quickly noticed that they only went back for the Sargento Natural Sharp Cheddar Cheese slices vs the unnamed processed slices. When I closed my eyes and tasted the different cheeses, I noticed that the flavor was richer in the Sargento cheese and the texture was much more appealing. The processed cheese seemed to feel slimy when it hit my tongue, and lacked a definite distinguishable flavor, it just tasted like salt and had no real cheese smell. There is a clear difference in taste of natural cheese versus processed cheese and also a difference in ingredients.  I cannot believe I never payed this close attention after so many years of taking out a processed cheese slice and plopping it on my sandwiches!  Clearly, I have been missing out.
(You can see the difference in cheeses here)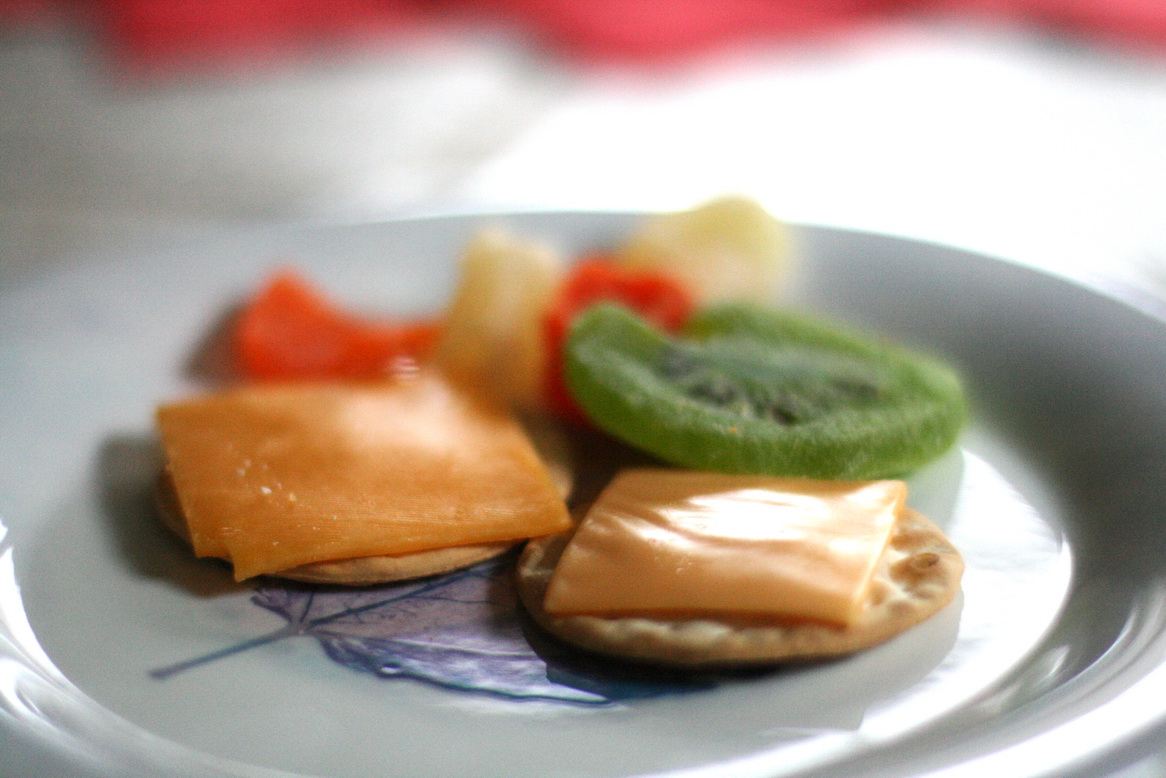 Processed pre-packaged cheese slices go back to my fond childhood memories of grilled cheese sandwiches, but during this cheese tasting, I learned a little something about my processed cheese that I always loved.  Most often times, processed cheese can sit on store shelves without refrigeration and are often times pumped into their packaging and rolled out to form it into a square and is cooked into a liquid before it is formed into a slice.  After reading this, all I could say was eww!  No more shiny cheese for me!
Hands down, the natural cheese beat the processed floppy stuff and everyone could honestly tell the difference immediately just by looking at the different cheeses as well as, the difference in taste.  After really sitting down and tasting the difference, I don't think the processed stuff will be my go to choice for our favorite grilled cheese because good cheese should make your taste buds do a little dance when you first take a bite, and although I like shiny things, but my food doesn't have to have bling to taste good.
**The Motherhood and Sargento provided the cheese tasting supplies to help facilitate or cheese tasting party and my post, the opinions expressed are strictly that of my own.**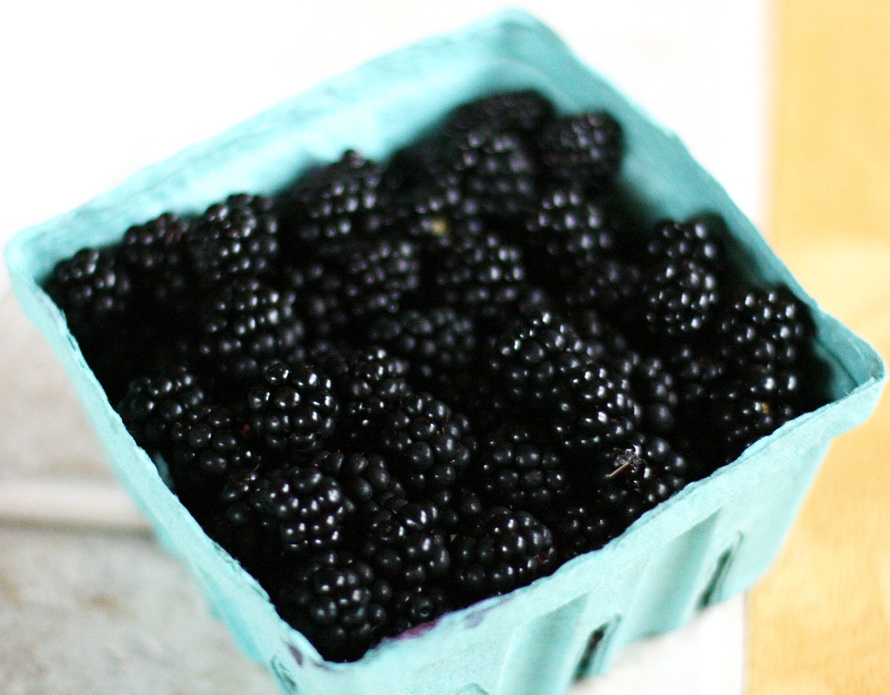 I am a fruit picking fool lately.  There is something about going out to a farm and out in the fields and picking your own personally selected berries and fruits.  For me, I get a real sense of peace being out there and picking fresh berries with my family or just by myself.  Recently, I decided to go blackberry picking because I had simply never been.  It was a challenge finding a place to go, and then I found a place about 20 miles from me and off we went!  I actually frequented the blackberry patch twice in the last two weeks.  The first batch went to make seedless blackberry jam and the next was to get more and find some things to make with them.
My first recipe was a blackberry pound cake with a vanilla custard sauce that was simply to die for! So, I thought I would share the recipe I used.  I de-seeded the blackberry puree because I didn't like the seeds in it, but you can do either way.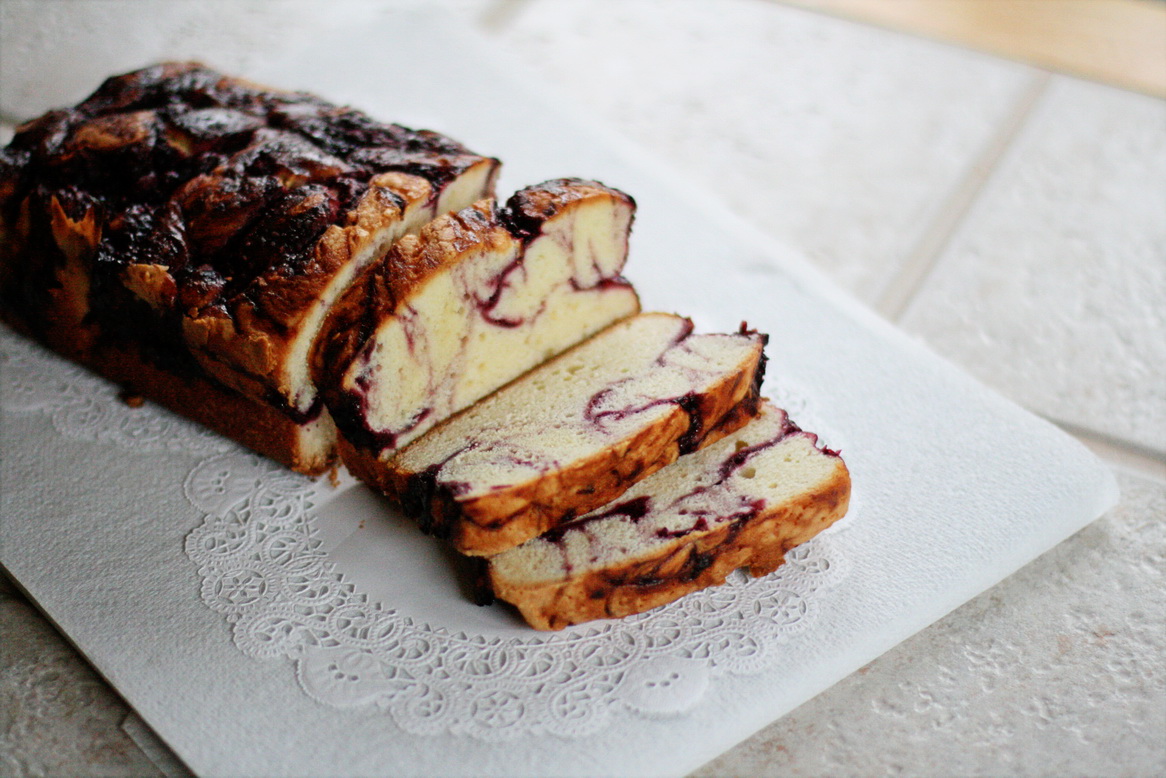 Blackberry Pound Cake
Ingredients
Our family consumes a lot of juice, especially the boys.  First thing in the morning, it is the thing they ask for the most.  To incorporate more water and less sugary juice, I started watering it all down.  Both of my kids love fruits and vegetables of all kinds, so that has never been a struggle, so I started considering ways in which I could still give them the juice that they loved in the morning and throughout the day, but offering them a healthier choice.
A good friend of ours suggested a juicer, so I went on a search to find out more information.  I used to own a juicer back in my college days, and a lot has changed since I owned that dinosaur of a juicer.  There are a lot of juicers on the market, there are centrifugal juicers, masticating juicers, and others, that make your mind spin with information. One of the supposed key benefits to juicing are the mega health benefits.  When you buy bottled juices in the store, most of these are pasteurized which means it is heated.  The problem with that, is you kill off all the "good for you" stuff, and you are  not getting the maximum benefit from the fruits and vegetables.  If you are drinking heated juice, then you might as well stir up some sugar water, and call it a day.  After reading about it, I don't think I would ever go back to a bottled juice again.
After countless hours of researching the health benefits, I realized that I wanted to try a juicer, not just for my children, but for myself as well.  I recently had the opportunity to review and Omega Vert Vrt350 HD Juicer.  For the most part, juicing is a foreign to me, so when it arrived at my doorstep, I was excited and a little intimidated by using it.  The first thing I noticed is that it was heavy!  I thought there must be a hunk of lead in the box, but to my amazement the juicer itself is very compact in size, the bulk of the weight is in the part that houses the motor, and the Auger (the part that turns to work the fruit through the mesh juicing screen).  I was surprised how easy it was to get up and running, within just a few minutes, I was already juicing my first apple  and a carrot.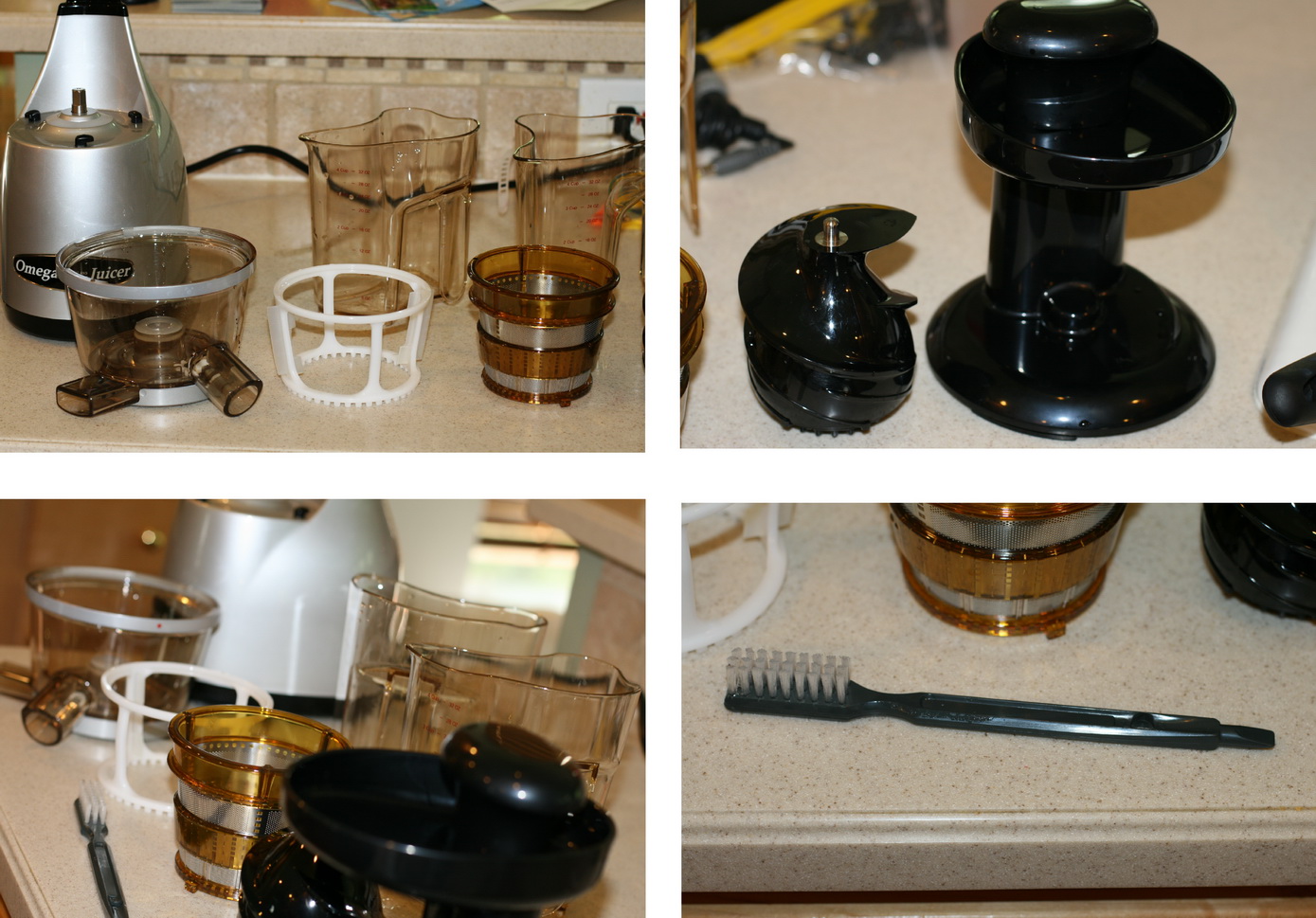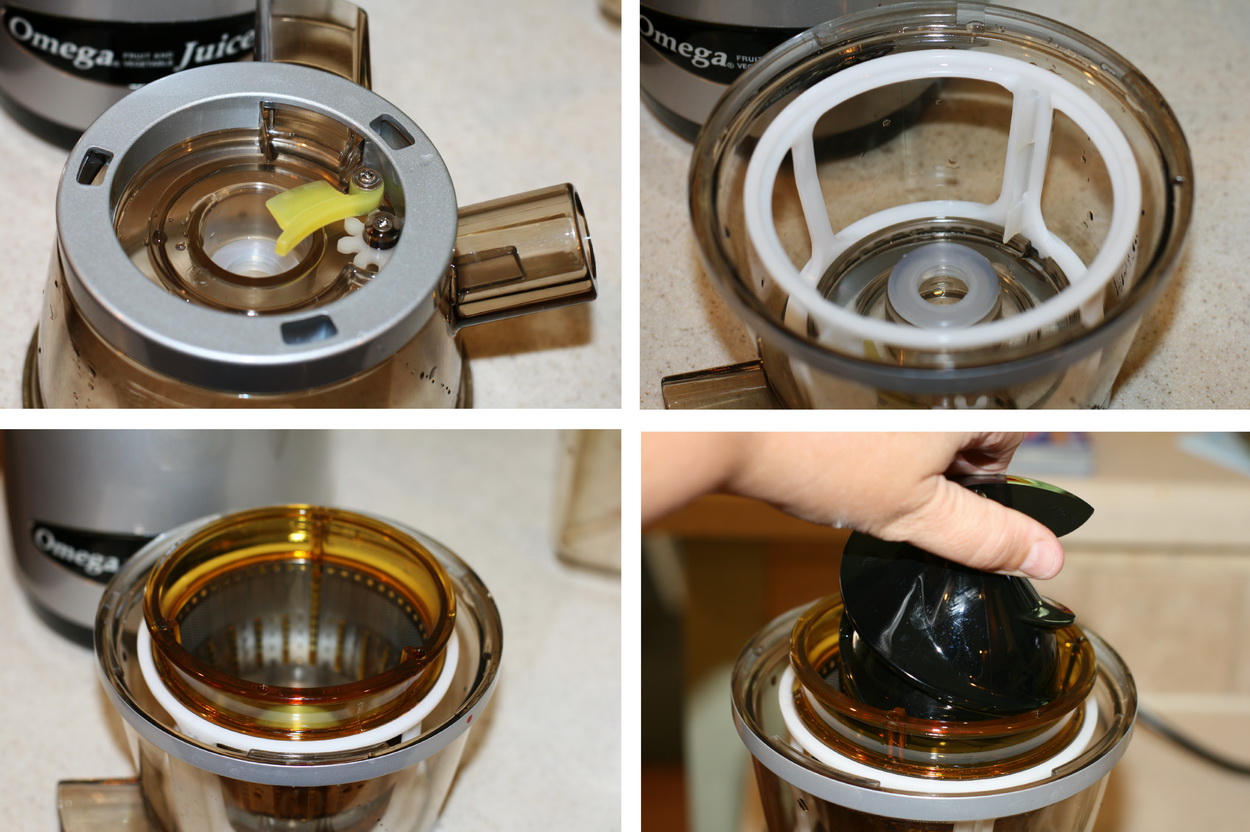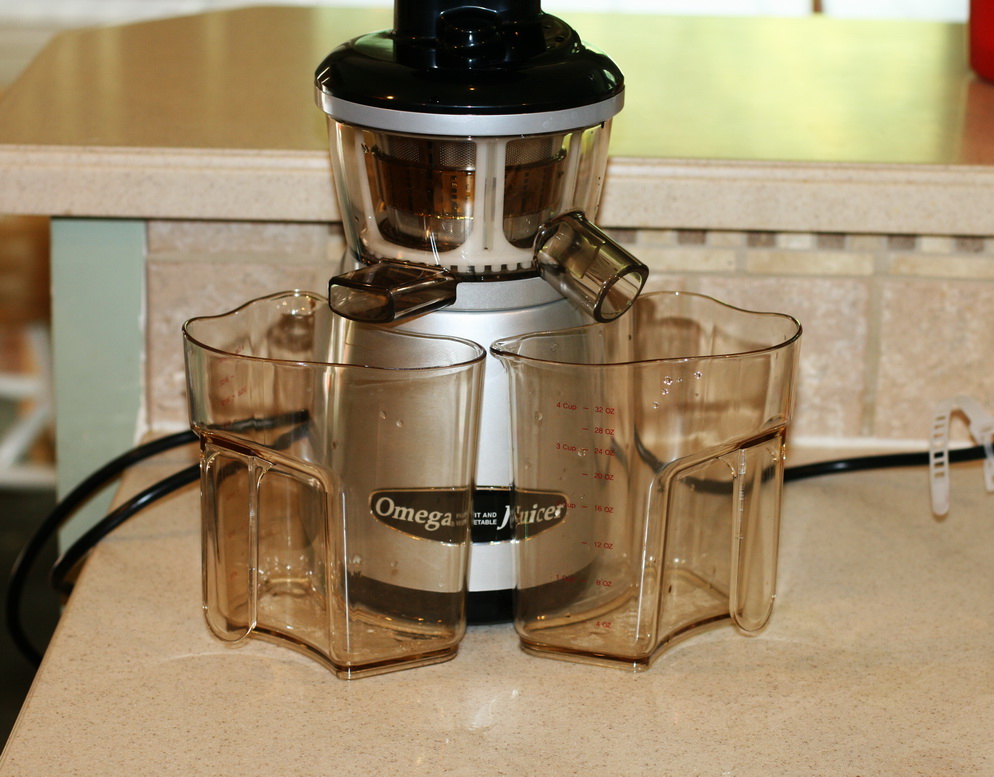 Try not to laugh at my demonstration video!
Omega Vert VRT 350 HD Details

The Omega Vert VRT350 Juicer  features the high efficiency of a

masticating  juicer

in a vertical design that is compact, contemporary and productive. Most juicers process at a speed of 1,650 to 16,000 RPM, destroying many healthy enzymes and causing juice to degrade shortly after being extracted. The Vert VRT350 Low Speed Juicing System processes at 80 RPM, preventing oxidation and allowing juice to be stored for up to 72 hours without degradation. The Vert VRT350 also features an innovative auto cleaning system that keeps the screen clear during juicing and increases its efficiency. The contemporary design is complemented by a virtually indestructible ULTEM juicing screen that will withstand heavy duty juicing. Ideal for fast pace commercial environments, this juicer combines a contemporary styling with the technology to cater to the  health conscious.

Features:

• Innovative design squeezes out
juice rather than grinding
• Preserves natural taste and
color of juice
• Preserves natural nutrients
• Exclusive Blade Cleaning System
keeps the screen clean during use
• Efficient Design ensures maximum
juice extraction with the driest pulp
in its class
• Easy disassembly and reassembly
• Auger is extremely hard and durable
• Auto Cleaning System
• 80 RPM for peak efficiency
• Crushing Ribs
• Commercial 1/3 HPMotor
• Exclusive Underwriters Laboratories
Inc. (UL) Household and Commercial
Approval
After using the Omega Vert VRT 350HD juicer for about 8 weeks now, I have noticed a marked difference in how I feel physically and surprisingly, juicing has changed how my skin feels.  I have also used it to help me in my weight  loss, and have just been drinking freshly juiced fruits and vegetables, when I am hungry between meals and have managed to lose weight in the process without feeling cheated.  I actually enjoy getting the juicer out and making fresh juice for me and the boys and experimenting with different combinations.
I have found that if you are over zealous with certain vegetables like celery, you can over power your juice, so with a little experimenting you can find a balance that tastes good to you.  The Omega Vert VRT350 HD comes with two juicing screens which allow you to have more or less pulp in your juice.  We prefer the finer screen with most things with the exception of juicing oranges and lemons.  My husband likes to run his through and even finer strainer after the juicing process, but he is ultra picky about anything healthy  LOL!  In the process of juicing, I also discovered a new way to make blackberry jam as well.  I wanted to make a seedless version, and was fighting with a potato masher to get the seeds separated, but then I decided to try my juicer and it removed all the seeds and left me with just the good stuff from my blackberries!  The Omega Vert VRT350 HD is awesome for this too!
What I love about the Omega Vert VRT 350HD juicer is that I can control what my family is getting with maximum health benefits.  It is very very easy to use and there is no fuss when cleaning it when I am done.  I can juice and clean the system literally in about 5-7 minutes which makes it practical for families on the go.  There is actually very little to clean with the silicone wiper blades that rotate along the juicing screen, there is little in the way of food that gets stuck anywhere.  It is perfect for kids and adults with texture issues who do not like to bite into an apple or a raw carrot but are willing to drink the juice instead.  I also like that, if there are bruised fruits in my fridge, I can toss them in the juicer and still get the same benefit and avoid tossing away money spent on fresh produce.  This juicer is also super quiet!  When I first used it I was expecting loud noises as it would grind up my fruits and veggies and I was beyond surprised.  I can run my juicer early in the morning and no one hears a thing.  We did have a little trouble juicing pineapple, but I found if I cut it into smaller pieces, the pulp chamber was less likely to back up.  Juicing also creates pretty much no waste if you want it to.  With the remaining pulp you can easily use this as compost in your garden, I plan on creating a composting bin starting this fall and this is perfect for that.  The Omega Vert VRT350 HD retails for around $380 and is worth every penny in my opinion.  If you are interested and serious in making some major changes in your diet, I would suggest trying a juicer and I highly recommend the Omega Vert VRT 350 HD juicer.  I have not been disappointed with it in the 8 weeks that I have had it.
Overall this is a great product, if you are interested in making health conscious decisions for the family and you want to offer the healthier choices for your kiddos.  Neither one of my boys has noticed a difference in the juice that I offer them from the juicer versus the watered down concentrates I used to give them.  This in itself is worth the switch.  You can read more about the Omega company and how they got started with their full line of Omega juicers.
**The Omega VRT350 juicer was provided for me to review, the opinions expressed here on my blog are that of my own.**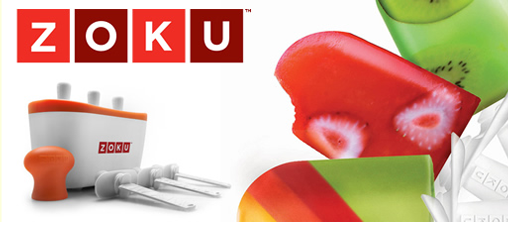 Summer is here and so is the warmer weather.  What I remember most as a child was the ice cream, popsicles, and spending countless hours running through sprinklers, and playing with the neighborhood kids.  In our house, the boys go through popsicles or ice pops almost year round.  When we hit the grocery store, popsicles are almost always on the list.
Ice pops and popsicles, aren't just great for cooling off, but they are also this mama's go to for when the inevitable sore throat and fever invade the household.  Typically, when my little ones have a sore throat, they don't really want anything other than this, to help ease the discomfort.  If they are dehydrated, this is another great way to get the fluids in them.  Outside of the being sick, they are just a fun, and tasty treat during the Summer or any time.
Recently, I have had to chance to try out what I call my new best friend when it comes to popsicles.  If you haven't heard of the Zoku Quick Pop Maker, you must run and get yourself one very soon!  Your kiddos will thank you and you will spark a creative side in you that you didn't know you had.  What is a Zoku Quick Pop Maker?  It is a cool and awesome little gadget that you keep in your freezer at all times, until your kiddos come to you and say "mommy, I want a popsicle."  This is when you either have to say, "well we don't have popsicles," or with the Zoku Quick Pop Maker, you can whip up a few fun popsicles in just minutes.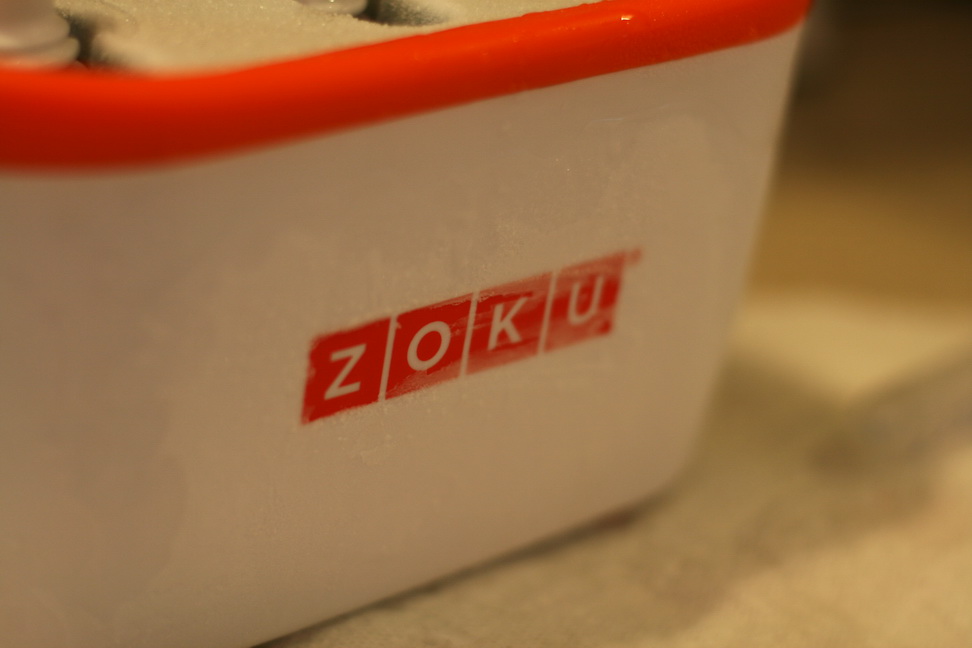 How does it work?
First you have to put the Quick Pop Maker in the freezer for 24 hours before you can get started.  This is important so your pops will freeze properly.

Next, you pull it out and insert the sticks.  The Zoku Quick Pop Maker, comes with 6 sticks, but you can certainly order addition popsicle sticks so you can make extras.

Then you start having fun, by adding chilled juices and beverages.  You have to wait around 7-9 minutes for it to freeze.  If you are making more intricate pops, this can take a little longer.

Once they are frozen, you use the quick tool to remove the pop!

Once you have an idea, I would recommend laying out all your materials and juices etc before pulling the Zoku from the freezer, and then you put in the sticks and start pouring in your ingredients. I found that, when you are doing layers and a recipe asks for a half an ounce, I used a medicine measuring spoon to measure it out, then I used the siphon to get it out and put it in the Zoku. If you are doing layers, you have to wait for each layer to freeze completely before adding the next. These are the most time consuming, but the results are pretty and very cool. After, you have a frozen pop, you use the Quick Tool to get them free. I still cannot figure out how this works, but it works great! You twist on little handle with what looks like the threaded end of a screw and you twist clockwise and the pop eventually comes free when the Quick Tool goes from being a little hard to turn to feeling easy to turn. That is how I know the pop can be pulled out. Once you have them out, you can pop on a drip tray, which is perfect so it can catch drips when the pop melts.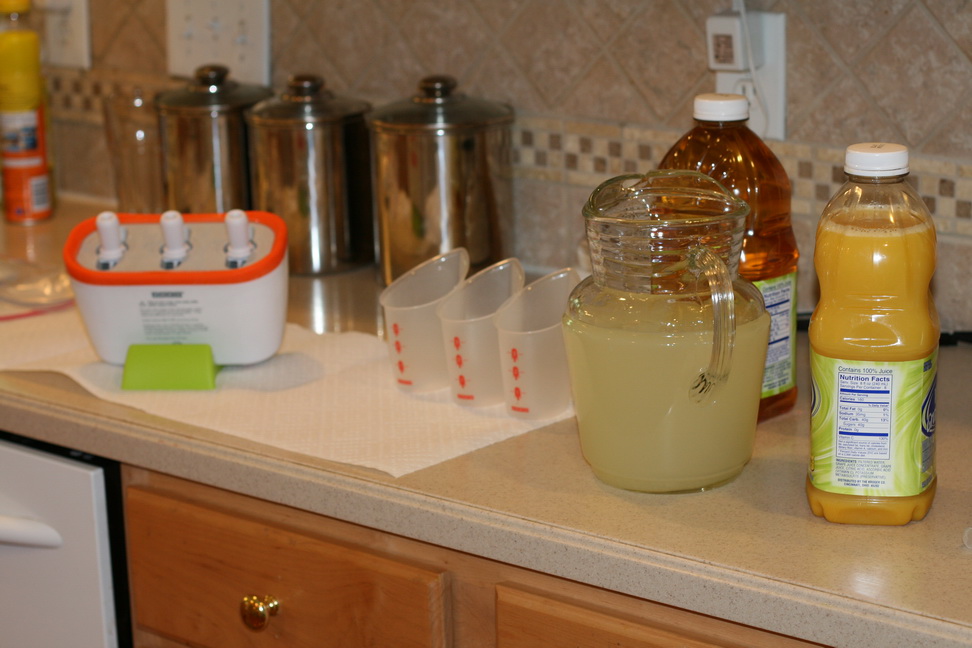 (getting ready to start!)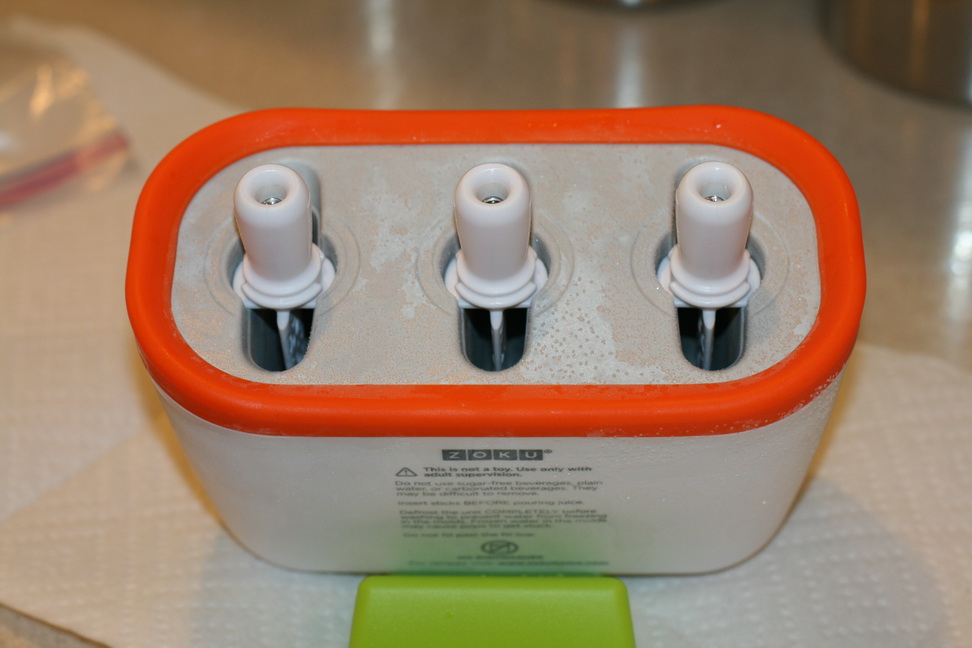 My first venture in making the popsicles moved a little slow, because I was learning the ropes on how to make them and I also picked a really elaborate rainbow popsicle to make from the Zoku Blog.  I never pick boring, and all the bright colors appealed to me, so I dove head first in making them.  The boys were as excited as I was to give this a try.  You can also get the optional Zoku tools which includes three pour cups,  angle tray, siphon (this is really handy when you are making intricate popsicles), the fruit wand and little heart and star stencils that look like mini cookie cutters for adding fun little shaped pieces of apple or fruits or even chocolate!
(The siphon works great for getting your liquids right where you want them)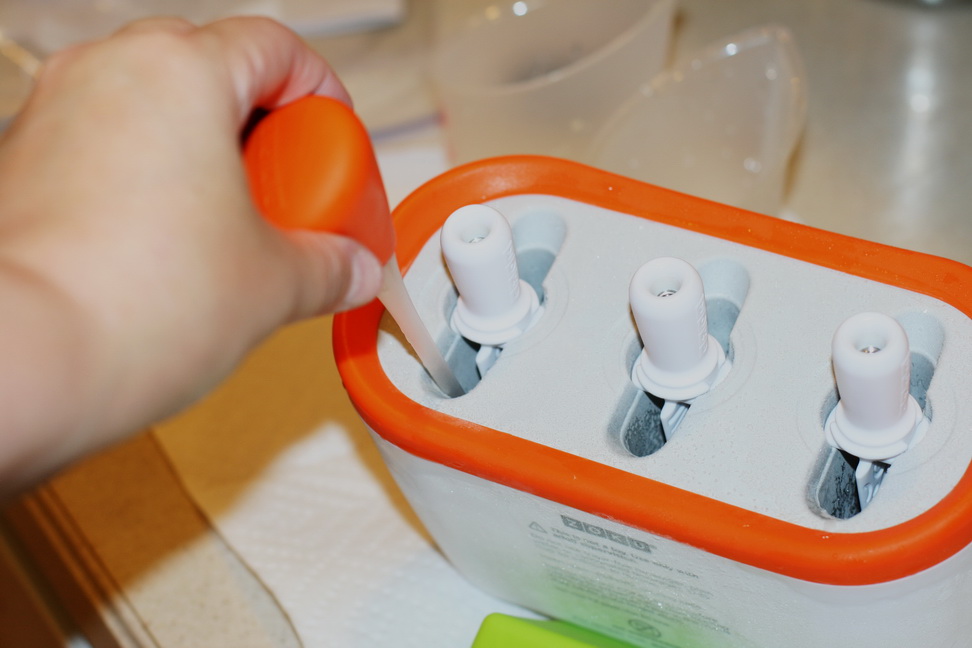 (You can see them starting to freeze right before your eyes!!!  So cool!)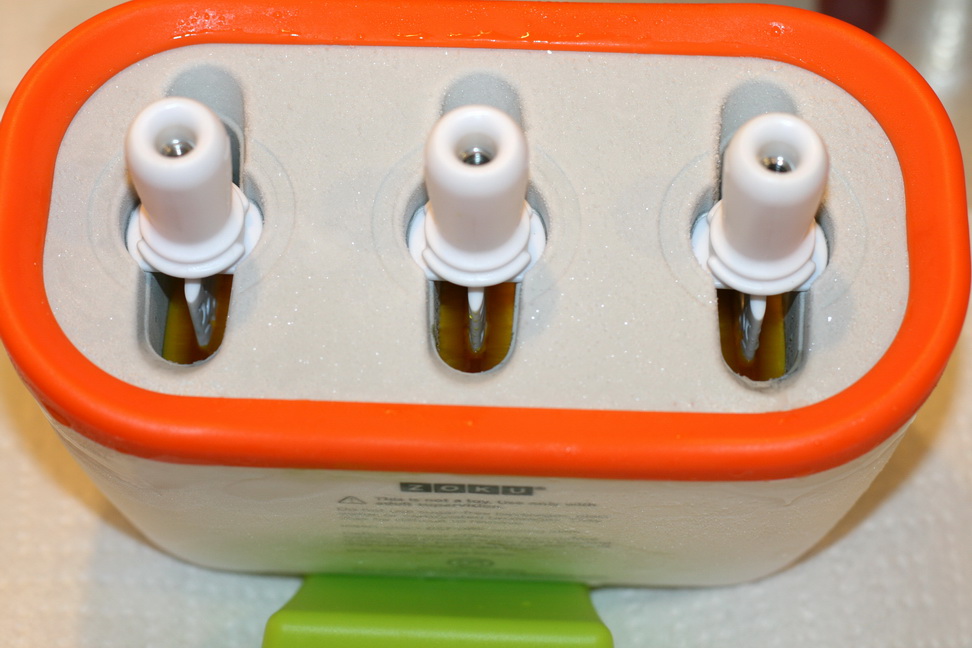 You can be simple by just pouring in a favorite beverage or juice, or you can get creative and more elaborate by making filled core pops, or stripes or fun angles, you can add fresh fruits and purees, the possibilities for this thing are endless.  What I love about it from a mom's perspective is that I can decide what to give the boys.  I can make popsicles that are all fruit and low in sugar, I can dilute their favorite juices, or I can add  the fun things like chocolate, or marshmallows, and I can do it in minutes and they are ready to go.  Instead of having twelve identical popsicles from a box, loaded with tons of sugar, I can give the boys something different every time.  It is is also a great little project you can do with the kids and let them create their own popsicles.  The reusable sticks and drip trays are very easy to clean with a little soap and warm water.
Twist the Quick Tool and out they come!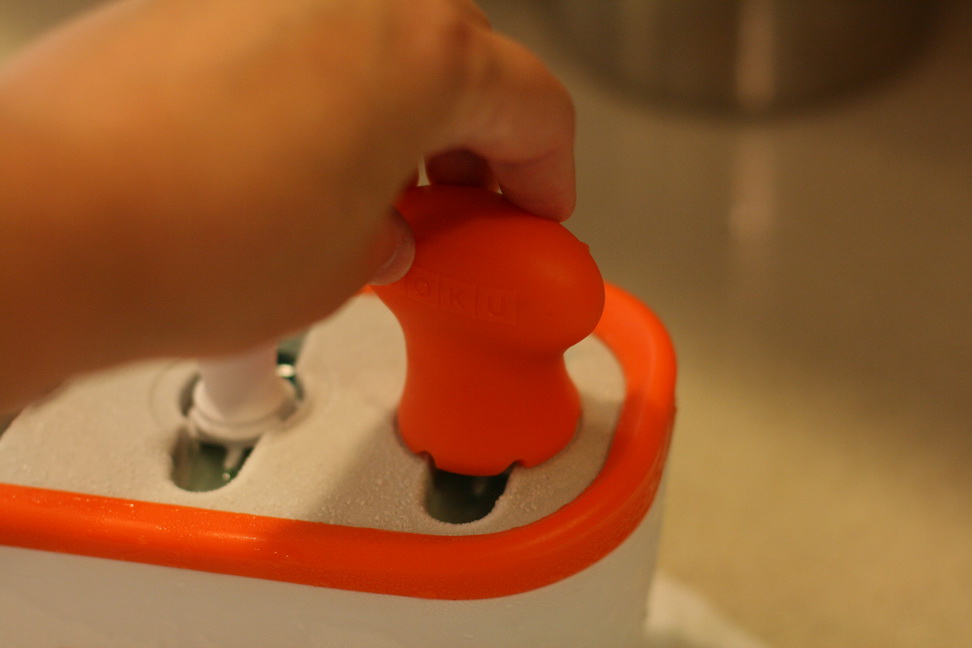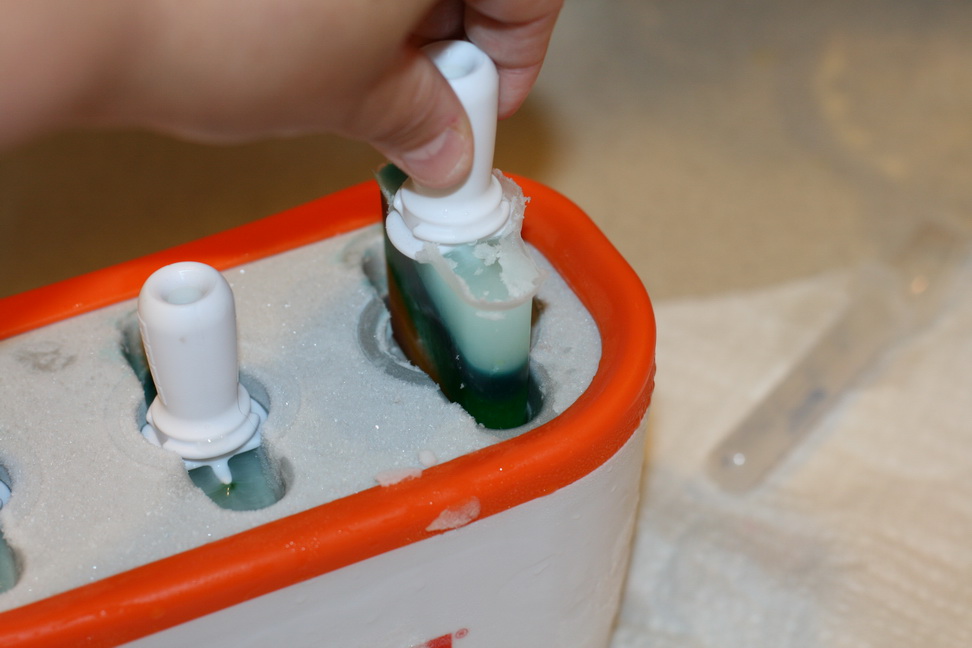 The boys mostly want to eat them right away, but if I make them ahead of time, I went and bought the Zoku Storage Case, that holds up to six pops, so you can have some ready made in the freezer.
Here are a couple of the results!! A rainbow and in honor of Fourth of July (the stars are made from using the stencils and apple slices)
The Zoku Quick Pop Maker, makes three pops at a time and I haven't experimented on making more than three at a time, but the Zoku is still frozen solid after I make just three, so I would guess you could make at least three more before putting it back in the freezer.
After you're done, you just pop it back in the freezer for next time.  They don't recommend washing it afterwards,  because water can freeze to the bottom and then when you make a new batch you won't be able to get the popsicles out.  I learned this the hard way when my freezer got left open and started to defrost (blame the 5 yr olds in the house), the Zoku had water that formed in the bottom, and froze and when I went to make a new batch of quick pops, I could not remove them.  This is stated in the manual, and they aren't kidding.  I was bummed that I had to defrost the whole thing and dry it out and put it back.  If you don't have a freezer left open, then you don't have to worry.
Happy Faces!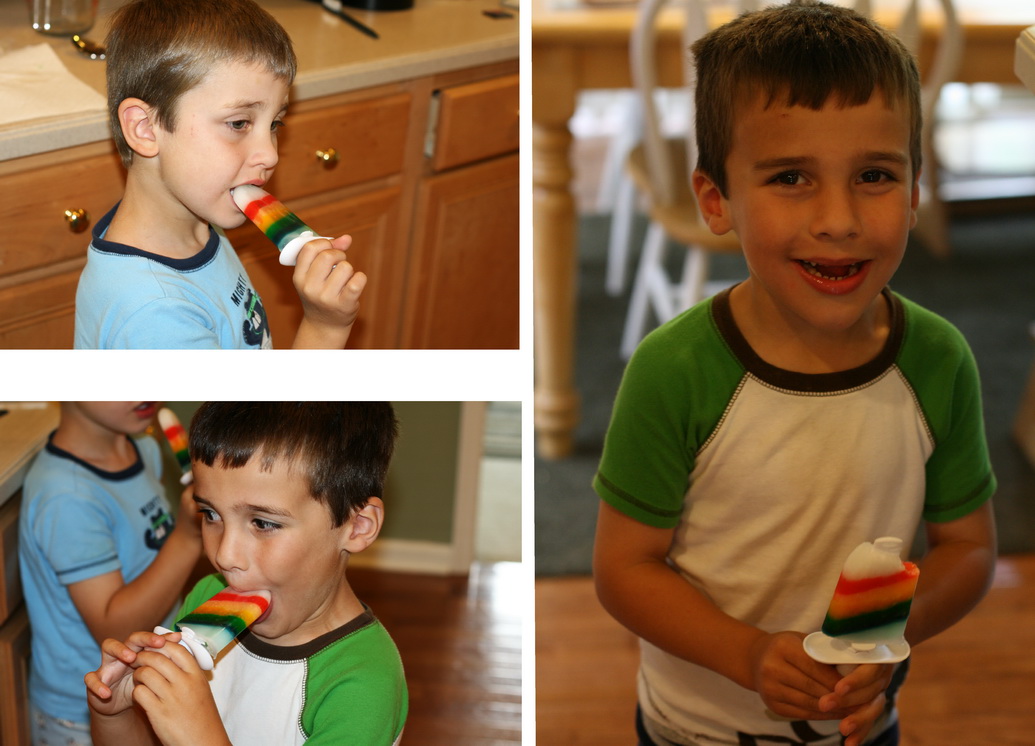 Overall, I love it!  I like experimenting with new things to try and offering a healthier version of popsicles.  The Zoku Quick Pop Maker retails for around $49.95 and the Quick Tools for around $20.  I think it is worth the investment, and you won't have to ever buy another popsicle again and you can be as boring or as creative as you like.  Hands down, the Zoku Quick Pop Maker, is one of the coolest things for Summer!
Blue is my favorite color.  I was at the Farmer's Market when I ran across this little hole in the wall cupcake shop and I decided I must go in.  Prominently displayed in just four simple glass dome cases perched on crystal cake stands were one of four flavors for the day.  They had the obligatory chocolate, vanilla chocolate, and something else which I forget, then my eyes were drawn to these pretty little blue velvet cupcakes with white icing.  I had to have that one!  Not only is it my favorite color, I wanted to see just how good could a blue cupcake be?
I didn't have time to eat it on the way home, so I tossed it in the fridge till I could savor the moment.  The husband was gone with the boys and I decided to give it a try.  I took a bite and the flavors danced on my tongue like the most beautifully indulgent serenade.  I found my blue heaven, these things were to die for!  I quickly began to scour the internet for a recipe because the Farmer's Market is only once a week, and well I wanted to see if I could replicate.  I ran across a few variations when I stumbled across a recipe I liked.
Humming the song "blue belvet"  popular in 1950 and, written by Bernie Wayne and Lee Morris (can't get the song out of my head now), I made a few variations, because I was a little timid about using all this blue food color, I like vanilla so I added a smidge more.  I only halved the recipe for the cream cheese frosting because I only made half a batch.  The result was a very blue, and very yummy blue velvet cupcake.  I was rather impressed.  My kitchen on the other hand looked a little like a visit from the Smurfs.  A little secret about me, is I like to spread out in the kitchen, which results in a big old mess, if it's my first time baking a new thing.  What I did for the cocoa and coloring gel was I mixed it as per instructions then added only about half of what was there.  The violet color is so your cupcakes don't turn out to bee turquois.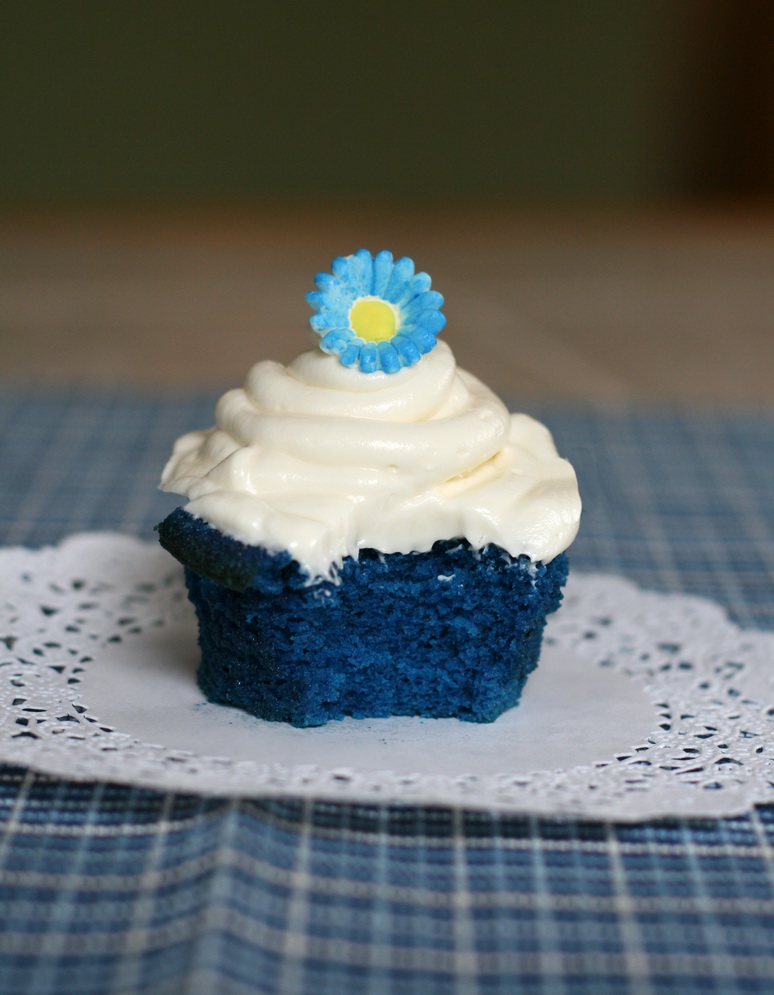 Here is the Recipe
For the cupcakes:
2 cups sugar
½ pound (2 sticks) butter, at room temperature
2 eggs
1 tablespoon cocoa powder
1 Tbsp Wilton royal blue gel food coloring or if you can find the paste you can just use two tsp)
1 small dab of violet gel food coloring (just a little bit on a toothpick will do)
2 ½ cups cake flour (Swans Down is the best hands down)
1 teaspoon salt
1 cup buttermilk
1 teaspoon vanilla extract
½ teaspoon baking soda
1 tablespoon vinegar
the frosting:
1 pound cream cheese, softened
2 sticks butter, softened
1 1/2 teaspoon vanilla extract
4 cups sifted confectioners' sugar
Preheat your oven to 350 F and line cupcake pans with liners
Cream sugar and butter in mixing bowl till light and fluffy, then add eggs one at a time, mixing well after each egg
Mix cocoa and food coloring together to make a paste — this takes a while and patience  to mix thoroughly with all gel (looked a bit like a science experiment), but it came together nicely; add this paste to sugar mixture and mix well again
Sift  flour and salt, and add to creamed mixture a bit at a time, alternate with buttermilk, then mix in vanilla
Combine baking soda and vinegar in a small bowl and add to cake batter; mix just to combine
Scoop thick batter into cupcake liners, filling about 2/3 full, and bake for probably 20-25 minutes, but start checking at 18 minutes — mine were done at about the 20 minute mark; watch for toothpick inserted in center to come out clean, watch your edges they can brown very quickly (trust me I know from my first batch  lol)
Remove cupcakes from oven and allow cool completely on a wire rack
How to make the frosting
Beat cream cheese, butter and vanilla with electric mixer until nice and smooth
Add sugar gradually and beat on low till combined, then beat on high speed until very light and very fluffy
If you like red velvet cake, this would be a great twist on a classic!  They taste just like red velvet but ate a wonderful, beautiful blue.  Give it a try and let me know what you think.  My boys got a kick out of them and gobbled every last one up!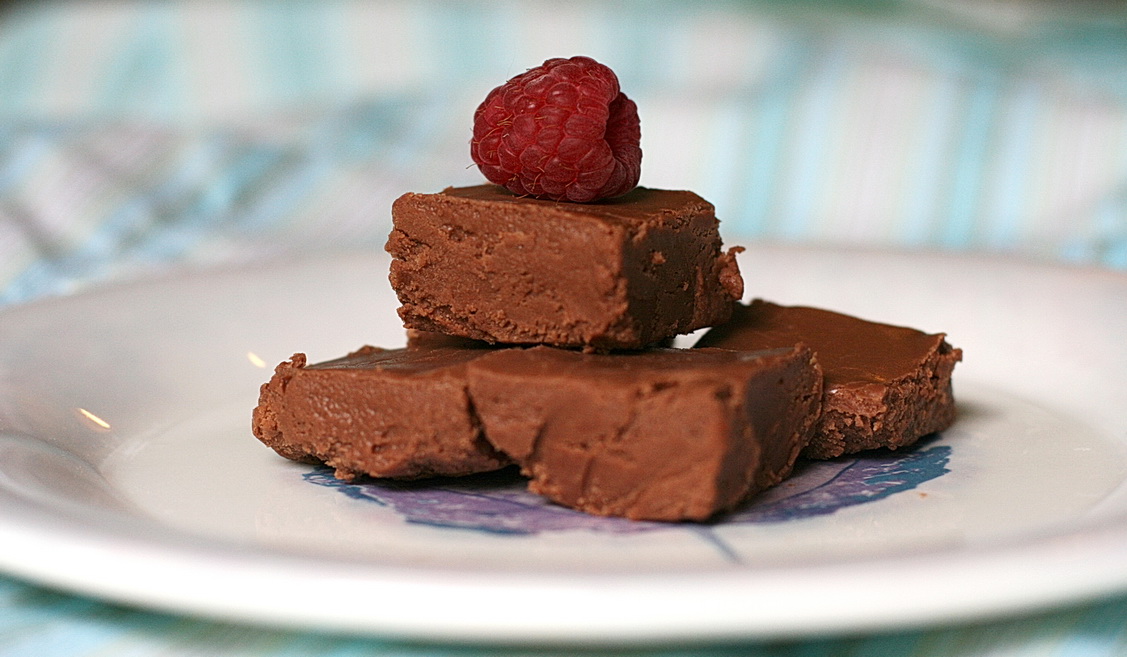 I have never before in my life made fudge of any kind.  In fact, I have never really eaten it.  Over the weekend I tried some raspberry fudge at one of the vendors and I instantly had to buy some.  They were completely out of it with the exception of two small blocks, and I told them to discount it and I bought them.  I took them home with the idea that these tiny blocks of fudge would last me a few weeks, but sadly they were gone in two days  LOL.  Since the farmer's market is only on Saturdays, in my desperation I decided to make my own.  I scoured the internet and came up with several recipes and decided to give it a try.  This is the raspberry fudge recipe I used but I changed the amount of sugar to 2 cups instead of 2 and 3/4.  To me fudge is rather sweet, so I wanted to experiment and it came out ok as far as I can tell, you can go all out with the sugar or experiment.  I also added a little more of the raspberry flavoring because I like it.  I would recommend using an oil which I found at a cooking supply place.  The imitation stuff at the store is too liquidy (is that a word?).
Here is the Cast of Characters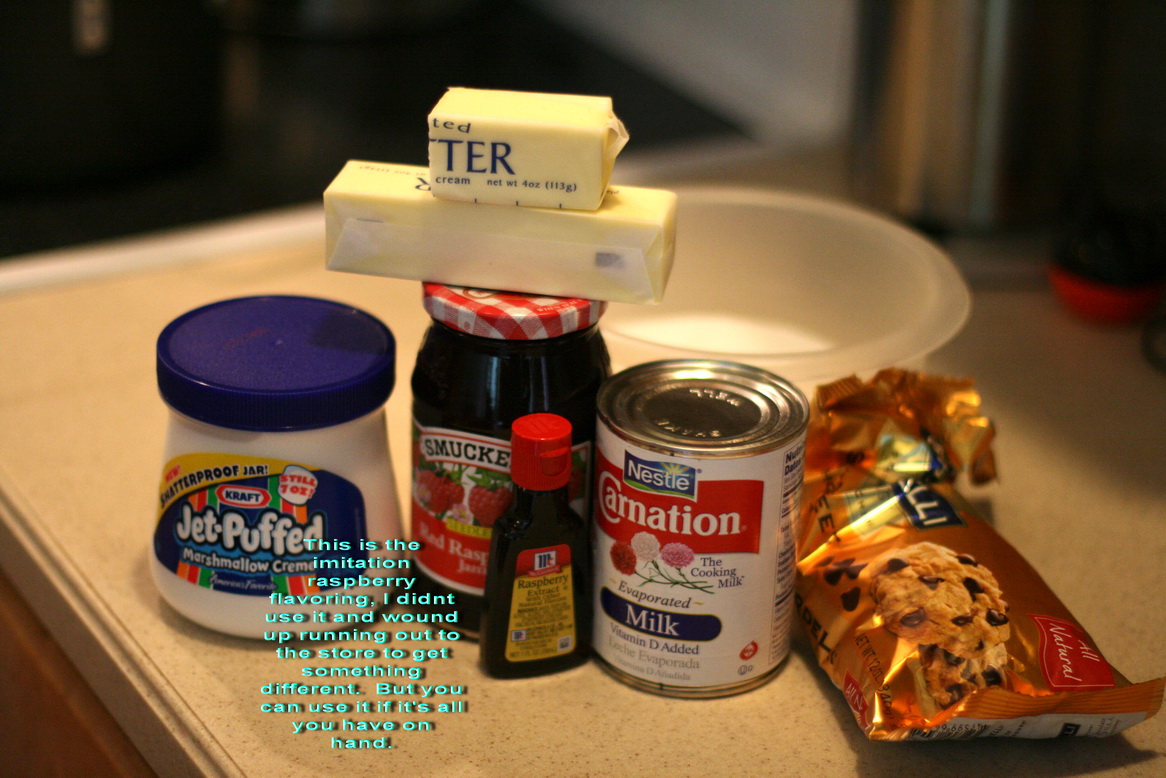 Recipe
3/4 cup (1 1/2 sticks) margarine or butter
1 5-ounce can (2/3 cup) evaporated milk
1 7-ounce jar Marshmallow Cream
1/3 cup seedless raspberry jam
2 cups or 2  3/4 cups sugar(depending on personal preference)
1 12-ounce package semi-sweet chocolate chips
1 cup chopped nuts – optional
1 teaspoon vanilla extract
10 drops Raspberry Flavoring
Lightly grease a 13-x9-inch or 9-inch square pan.
Mix margarine or butter, sugar and milk in a heavy 3-quart saucepan; bring to a full rolling boil on medium heat, stirring constantly.
Continue boiling 5 minutes on medium heat or until candy thermometer reaches 234°F, stirring constantly to prevent scorching.
High Altitude: Decrease recommended temperature (234°F) 2 degrees for every 1,000 feet above sea level. (Who pays attention to this?)
Gradually stir in chocolate chips until melted. Remove from heat.
Add all remaining ingredients and mix well.
Pour into prepared pan.
Cool at room temperature.
When cooled, cut into squares.
Makes about 3 pounds
ENJOY!!!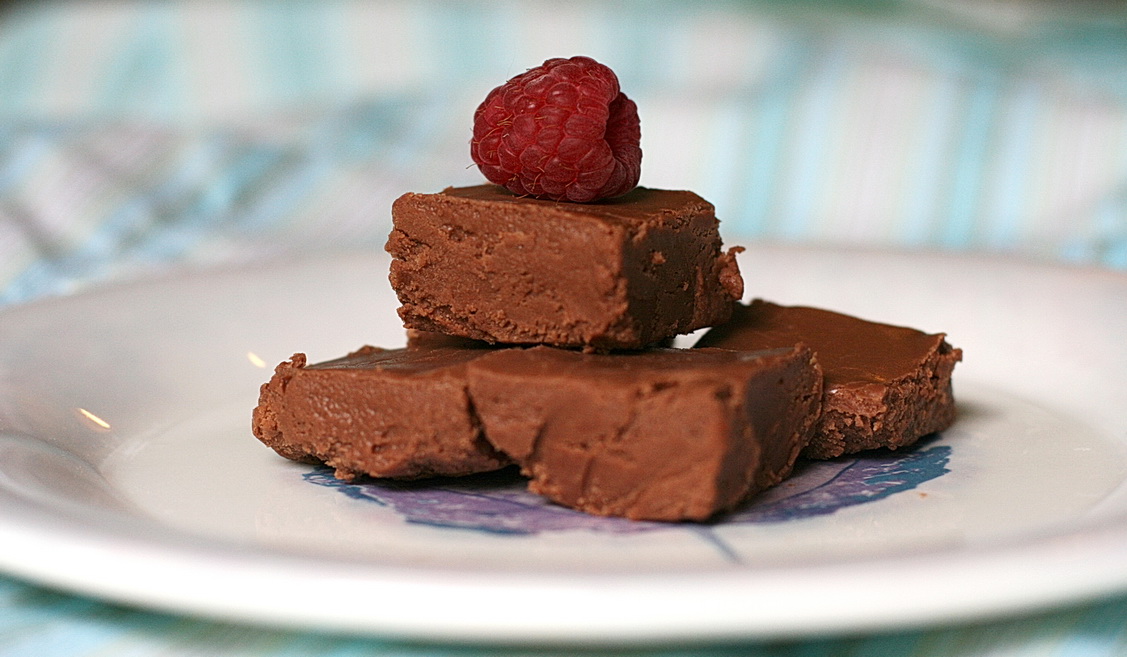 This is the end result and it turned out pretty yummy for my first go around.  The nice thing about fudge is it will last you an eternity if you exercise self control.  I am personally trying to diet, so just a tiny piece of it, is enough to curb my chocolate cravings so I don't fall off the wagon.  What is your favorite chocolate recipe or fudge recipe?

Chocolate has always been a weakness of mine.  I have some favorites when it comes to candy bars. Twix bars have always been a long standing favorite for me, that goes back to my childhood.  I have always loved the combination of a crisp cookie, caramel and chocolate.  I almost always eat them with a tall glass of ice cold milk.
I was recently offered the opportunity to give Twix Limited Edition Coconut a try, and see if I liked this new added twist to an old favorite.  When I think of coconut or smell it, I think of sun tan oil, and pina coladas and the beach.  It makes me think of an island escape to the tropics.
I am not a huge coconut fan, but I do however enjoy it in a candy bar from time to time.  Would this be love at first bite?   I grabbed my obligatory glass of milk, and was very excited to try one of my favorites.  It has the same chocolate, cookie, and caramel and the slight hint of coconut.  The taste was yummy, but I noticed that there is no actual coconut, but only the taste of it.   I was a little disappointed , but the flavor was still pretty good.  I think a thin layer of coconut would have added some interest and great texture. Will this be my absolute favorite?  Probably not. But, if you are coconut lover, this might be something fun for you to try.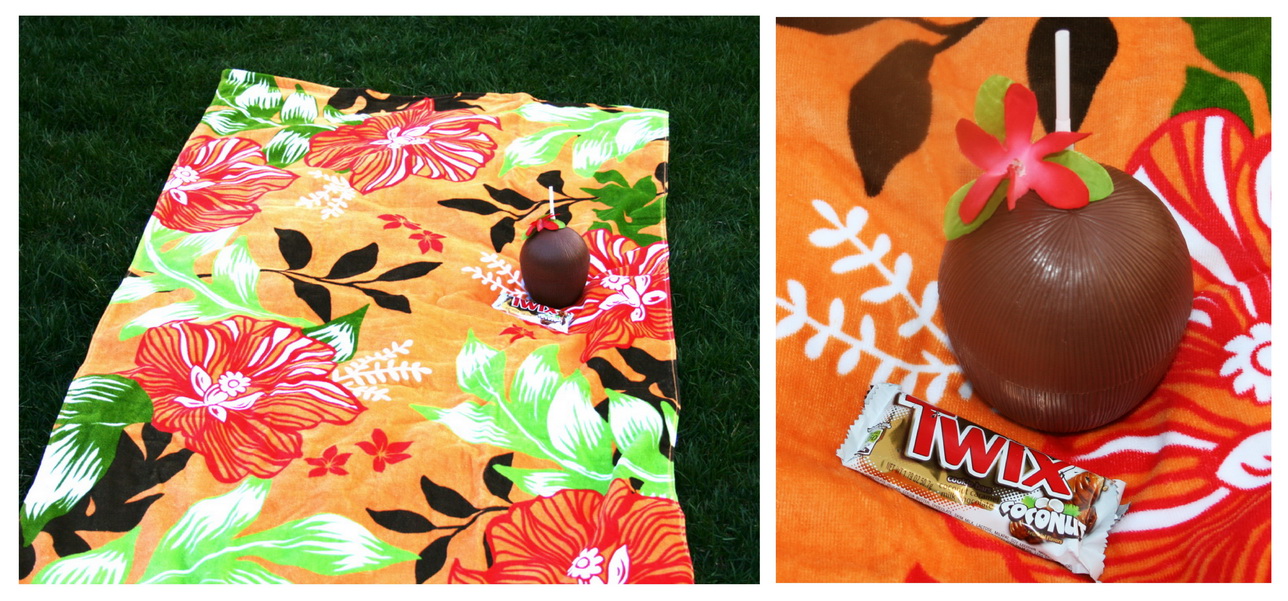 If you love chocolate, caramel and coconut, this would be a great way to tame your craving with that awesome Twix combination.  I can't think of a better way to take a time out.  Get this Limited Edition Twix while you can, because you might blink and they will be gone.  Grab a cold drink, Twix Coconut and plan your island escape (even if it's only in your backyard).
Twix sent me a fun gift pack with samples to try.  The opinions expressed here are that of my own.
I have recently decided to embark on an adventure to change my eating habits. I am not quite gung ho yet, because I simply dread taking that next step. I know that I will go through my standard three week sugar and no bad food withdrawal before I will even remotely feel like I am human.
Exercise sucks for the first few weeks, and even then I often find myself praying for my one hour to be over. You know you do it too! It isn't fun…and the people who say its fun are usually the people who are twigs. I don't enjoy it, and yes it may be mind over matter, but it still sucks.
Eating the actual healthy fruits and vegetables isn't really all that bad, since I usually like them. But I think my taste buds are dead from all the processed crap that I eat. A piece of fruit doesn't even remotely taste sweet at all. When I was feeling my best before I had the boys, I was working out and feeling great. Id go for an apple and it tasted like chocolate.
Eating healthy is difficult, because it costs more, and meal preparations take longer. Eating out of a box is certainly faster, but it isn't the greatest for your body. And I think maybe there is a big conspiracy between health insurance companies, the grocery stores, and fast food chains. There aren't coupons for lettuce or tomatoes, I can go to McDonalds and buy a full meal for 5.00, yet if I fix a healthy meals I spend way more. It's all ass backwards. We all need to go back to living off the land, like I can envision myself hunting and gathering in the woods, in the freezing weather.
So my taste buds are dead, and I need to get them back in order, to where bad food tastes like crap, and the healthy stuff tastes good again. I'm praying for the motivation and the will to pass up my favorite chocolate and go for the apples. Wish me luck! I think I can, I think I CAN, I THINK I CAN.

Everyone can use a break from cooking, and I know that I simply get bored with making dinners and meals all the time.  With the holidays approaching and holiday meal preparations, shopping, and decorating, the flurry of activity can get to be overwhelming.  Meal planning can be a real pain in the neck when you are tired, and out of ideas for what to fix for your guests or your family.
This year however Bob Evans is offering you the Farmhouse Feast, an alternative to slaving away all day in your kitchen, so you can enjoy making holiday memories with your family.  I know as Moms, often times we are busy in the kitchen or doing things to prepare and often miss out on some of the fun.  The Farmhouse Feast is a fully cooked meal that feed 6-8 people, all you have to do is heat it up and it's ready to go.
The Farmhouse Feast Includes: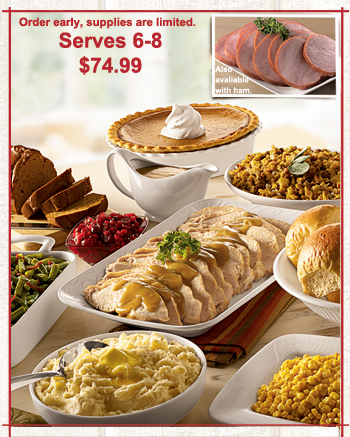 Your choice of either a slow-roasted whole boneless turkey breast  or a sliced boneless ham (this is a large ham, we had leftovers fr breakfast)
A pumpkin pie with whipped cream topping
A loaf of pumpkin bread
Mashed potatoes
Gravy
Cranberry Sauce
Sweet corn with garlic herb butter
Bread and celery dressing
Green Beans with ham
1 dozen freshly baked rolls
For just $74.99 you can have enough food to feed an army at an average of about $10 per person.  Not too shabby, considering  you can spend more than that in your local restaurant.  You can conveniently place your order online up to the day before, or give your local Bob Evans a call.  If there is something that you don't like on the menu, you can easily make a substitution.  We had the chance to try the Bob Evans Farmhouse Feast, and all of our food was fantastic.  The meal was nicely boxed up when I went in to pick it up, and when we got it home, we followed the easy heating directions.  Total time on heating up the meal in the oven is about an hour and a half.  I heated ours in the microwave for a total of about 30 minutes.  My favorite part of the meal, was the green beans, rolls and stuffing.  Both of the boys cleaned their plates.  We had an army of food for just the four us and the Farmhouse Feast would more than feed eight people with leftovers.  There is plenty to go around.
The Farmhouse Feast is a perfect time out for mom this holiday season, and is a great alternative to stressing over what to make for dinner.   I highly recommend it, especially if you just don't feel like cooking.  Sit back, relax and let Bob Evans do the work.
**Bob Evans provided me with gift cards to cover the cost of the Farmhouse feast to facilitate my review, my opinions are that of my own and this post was written solely by me**