When I look at my boys, I think about their future. With that and the ever changing environment, I hope that they will have all the luxuries of a much greener planet and a place where people are making an effort to conserve energy.
The U.S Department of Energy and the U.S Environmental Protection Agency has named Frigidaire ENERGY STAR Partner of the year in appliances.  This award recognizes Frigidaire for increasing their selection of environmentally- conscious ENERGY STAR appliances and helping to educate consumers about the ENERGY STAR program.  Did you know though, that a Frigidaire refrigerator uses half the energy than it did 16 years ago?
In celebration of these achievements and April being Earth Month, Frigidaire is encouraging all of us to live a greener lifestyle by being aware and making informed decisions about  appliances and, things like conserving water, taking public transportation to save on gas and fuel and planting a wonderful home garden.  It is about using less and putting more back into our Earth for our children and grandchildren.  By taking these small steps, we can make our planet a better and more efficient place to live.
Our favorite thing to do is plant a home herb and vegetable garden.  The vegetables we grow taste so much better than what we get in the store.  Not only that, we compost things back into the soil to provide continued nutrients to the soil and we waste nothing.  This is a rewarding venture for you and your family and a great way to save money.  This is a great activity to do with young children and they get great satisfaction out of eating the things they grow from the garden.
The Start Of Our Garden
This Year we are growing broccoli, cauliflower, lettuce, spinach, peas, green beans, tomatoes, cucumbers, zucchini, and onions, rosemary, thyme, cilantro, parsley, sage and basil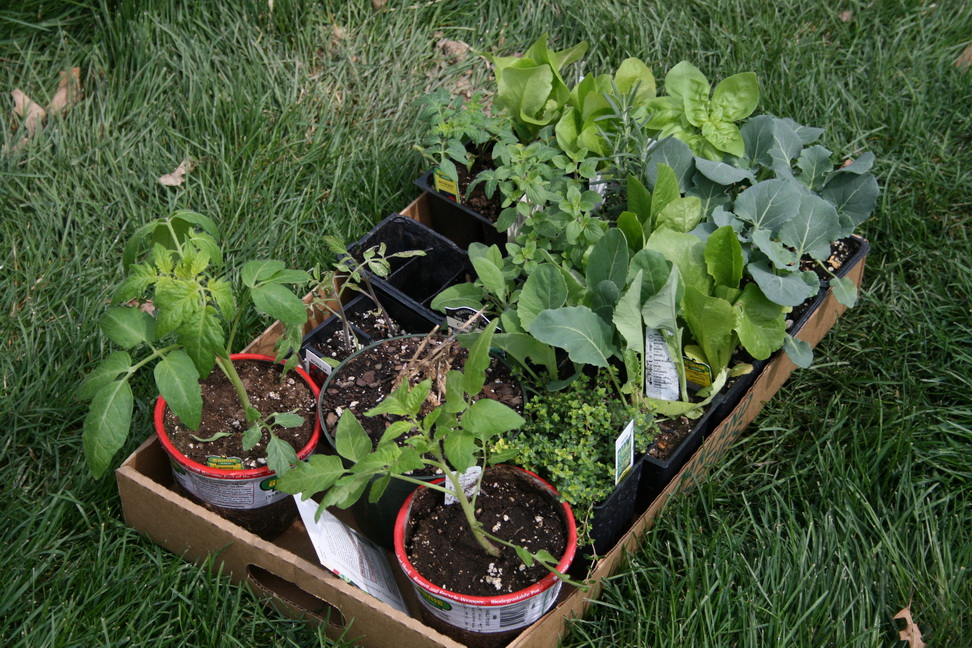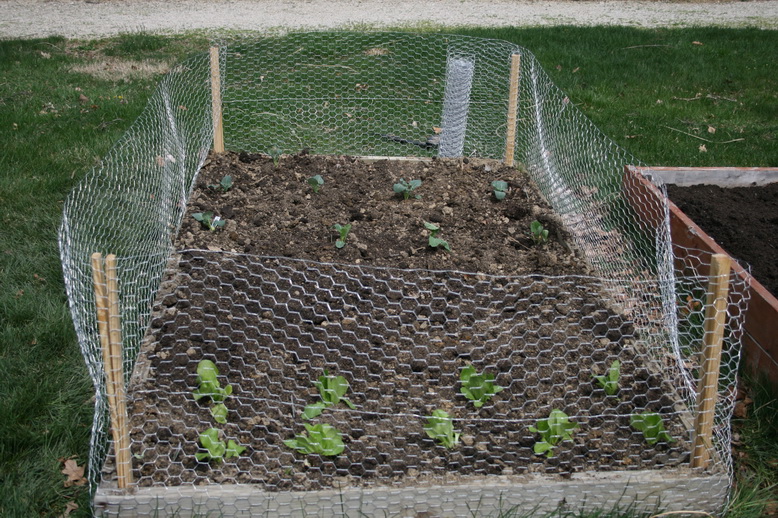 For Earth Month, Frigidaire encourages you to take the Eco-Friendly Options Poll on their facebook page and enter for a chance to win.  Frigidaire will be giving away a different eco-friendly appliance.  Grab the family and do something for the planet whether you plant a tree, plant a garden or shop for more efficient appliances, you are making  better choices for the future.
Frigidaire sent me a gift card to help me take steps towards greener living.  We were able to get the things we needed to share our garden with you.  All ideas are that of my own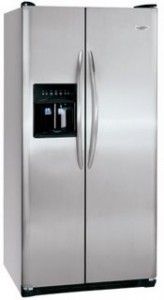 Energy savings has been on my mind since it seems like the economy is in trouble.  My husband and I have managed to get all of the light bulbs replaced with the energy bulb, which annoy me, but that is a different story.  But, in the interest of saving money, I thought I would include this little tidbit of information about our new Frigidaire Professional Refrigerator.
When I think of big appliance, it like I can almost envision a cloud of money floating out the door.  We have a lot of power outages here in our new house for some reason and we had considered a generator.  When you look at some of the more expensive generators they only run a few of your appliances.  That gives you an idea of the amount electricity these things take to run and along with that comes the lovely bill to pay for running them!
Our new Frigidaire Refrigerator has a really awesome feature  called Energy Saver Plus Technology.  This is how it works:  if the refrigerator door is not opened for 24 hours and the refrigerator system is set to a 12-hour defrost cycle, then the system automatically goes to a 96-hour compressor run time defrost cycle to conserve electricity.  This comes in handy when you are away on vacation or just away for a couple of days.  It is just like the vacation setting on your hot water heater, and turning your ac down.  Now you can save a little more vacation cash with your refrigerator!  I think this is a wonderful feature and very energy conscious.  It makes perfect sense!
FYI:   Frigidaire just received  the 2010 Energy Star Award for Excellence in ENERGY STAR Promotion. The award recognizes our commitment to smart energy management, a cause that helps our customers save money and help the environment.
"I wrote this review while participating in a Test Drive Campaign by Mom Central on behalf of Frigidaire and received a Frigidaire Refrigerator to facilitate my review."


Since getting our new Frigidaire, I had basically stuffed all the things we had in our old refrigerator in the new one with the intention of getting the space better organized.  The Frigidaire is a little smaller than our previous fridge but it has more than enough ample space and some really neat features that make up for the difference.
Before our big grocery trips, I usually do a thorough clean out of both the refrigerator and the freezer to get an idea of what I have, what I might need and toss out all the things that are outdated.
Here are some useful tips for organizing your fridge!
When you are cleaning out the fridge and getting ready to go to the store, it is the perfect opportunity to clean it out and sanitize and wash all the shelves and such.  I like to get all the bottles out and clean them off because usually you have stuff that somehow gets caked to the bottom and it sort of winds up in the rest of your refrigerator.
If you have meat that you are going to be storing, I typically like to put that on a bottom shelf.  With my Frigidaire, there is a drawer at the bottom that I like to toss it in.  That way if the meat juices and stuff leak, then the clean up is as simple as wiping the drawer out and it isn't busy dripping all over everything if you were to put it on a shelf.
You can wash and put all your produce away and ready to go when you first buy it.  I admittedly don't do this, because I am usually in a rush, but this will help your lettuce and fruits stay fresher longer.
I throw out anything that is expired.  yes, ok, I am a little paranoid about expiration dates.  The minute the clock hits midnight the day after the date on the bottle, it gets tossed.  My husband makes fun of me because he will eat it if its half green  lol.
Have a place for everything.  How you want to organize where to put things is strictly up to you, but if you designate a place for your condiments, and your eggs etc, then you always have a place to put them and it keeps your fridge looking nice and neat.  Ladies, this is great for your husbands who can never find a darn thing.  If they learn the place, then they will leave you alone when they are looking  ha!
Put your taller items in the back.  This way, you can see those bigger items easily without blocking the view of your smaller things.  This is better than standing there looking like you are scouting a boat out at sea, with your fridge door hanging open, a look of confusion on your face (knowing that you just bought the item you are looking for) and then you just give up.  This is usually when the alarm on the door to our new Frigidaire starts to beep at me.  I love the feature though, especially with kids…if they leave it open without me knowing then there is a reminder…I love it!
For the freezer, I pretty much do the same.  I try and keep items grouped together, and go through it once a month.  I try and keep bagged items together, flat boxed items in one area with the label facing out.  This makes it easy to see and reach and nothing is falling out at your feet.  There isn't anything worse than frozen meat hitting your toes  ouch!
Lastly, I try to keep things decluttered.  If you have something in a box and the something can be removed and put away it will usually free up some space in the refrigerator.  For example, I always have sick butter in the house for baking, and usually it comes four to a box, instead of hanging on to the box with only two sticks, it will free up a little more room to take them out.  If the expiration date is on the box, get a permanent marker and write it on there.  I do this with everything, especially with meats in my freezer that I divide into smaller portions for the family.
Here is a little video of my organized fridge!
I wrote this review while participating in a Test Drive Campaign by Mom Central on behalf of Frigidaire and received a Frigidaire Refrigerator to facilitate my review.

Just when I thought I couldn't fit anything else in the freezer we came home with two boxes of popsicles today.  We already have a box sitting in our new Frigidaire but when you have twins they almost always want something different. So today we came home with chocolate popsicles and fruity popsicles.
We have a freezer downstairs for overflow but I almost always hate trudging down the stairs if I can manage to fit what I have in the freezer in the kitchen.  I had serious doubts as to whether or not I could finagle two big boxes of popsicles in the already overflowing (and yes still unorganized) freezer (that's up next).  To my amazement I didn't have to make an overflow trip downstairs.
We went from a 26 cubic ft refrigerator/freezer to the Frigidaire which is 22.5 cubic feet, so I was anxious to compare.  I managed to get 2 more boxes of popsicles and some Ben and Jerry's with a little more room to spare, and the door actually shut.   You know when you stuff your freezer and shut it, praying the door will close?  No worries with this Frigidaire! Anything not to head to the basement where I forget about the stuff that I have down there.  This is just another way in which Frigidaire helps this mom save a little time by not having to run up and down the stairs to see what I have available for meals and snacks in our freezer.  I don't know how many times I forget things down there and feel a bit like a ping pong ball running up and down the stairs!
Popsicles Everywhere!  No Worries With Frigidaire!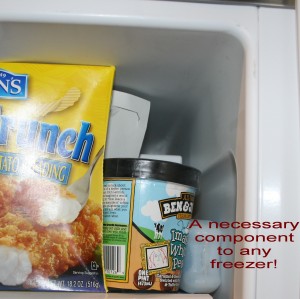 "I wrote this review while participating in a Test Drive Campaign by Mom Central on behalf of Frigidaire and received a Frigidaire Refrigerator to facilitate my review."

We are finally settling in with our new Frigidaire Professional Refrigerator, and testing it to it's limits indeed. Now that the newness has worn off, I am getting to know the new fridge a little more.  I am sure that, I am not the only one that keeps a refrigerator like we do in this house.  I guess you could say I am the stuff and run type and well organization in my fridge doesn't happen very often.  You know the drill, you get home with a truck load of groceries, the kids need your attention and you stuff and run.  As long as it's all in there, right?
This is embarrassing but this is what it looks like at the moment (oh shush, you know yours doesn't look neatsy poo!  LOL)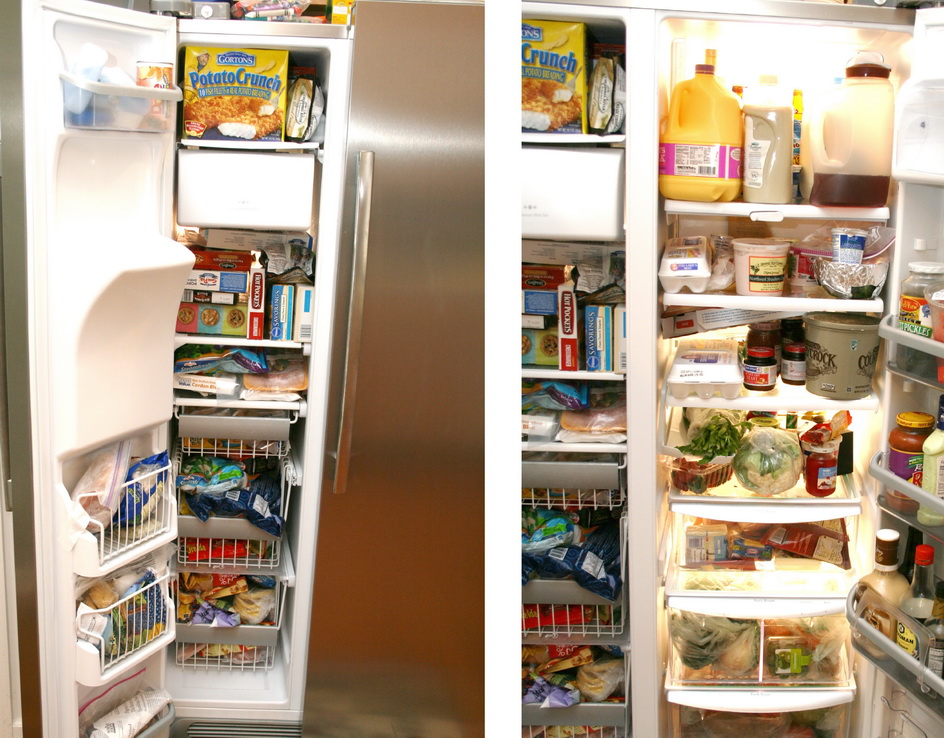 I have to share one of the many little features that I love. When you open the doors on the Frigidaire, I imagine the heavens opening up and the choir beginning to sing with this great performance lighting it has.  You open the door and the lights ease on, and well, then I am reminded that I really need to organize this stuff better, but the effect still makes me happy.
Odor Control
With our new Frigidaire, gone are the days of having a box of baking soda taking up a little more of your extra space.  And let's face it, we don't always get to the leftovers sheepishly hiding in the back for the past four weeks, and last thing I want is to have that blast of stinky air in my face when I go for my favorite foods.  It has a wonderful little feature called the PureAir Ultra filtration system, and it seems to be working just dandy because I left half a pan of lasagna in there till it looked like something out of science fiction and you would have never known (you know you've been there, don't pretend).  I guess it works!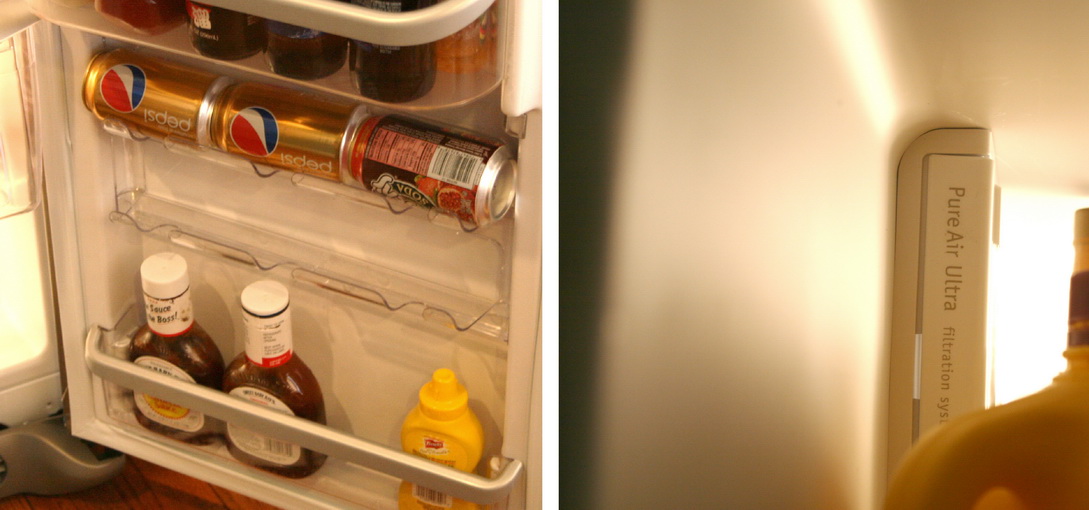 Temperature Control
We have been busy stuffing as much as we possibly can into our new Frigidaire.  We have had some issues with the meats and cheeses freezing in the drawer and we are still determining how to make it to where that doesn't happen by adjusting the temperature sliding tab for the meat drawer and by not having to raise the overall temperature of the fridge to 38 degrees, because we like our milk fairly cold in this house.  The freezer is working great and no issues there.
Energy Savings
We are big on energy savings in this house, and every little bit helps right down to the lightbulbs.  Typically your major appliances can suck the money right out of your pocket.  The good news is that,  Frigidaire just received the EPA's prestigious 2010 Energy Star award for their "Swap and Save" Energy Star Promotion. This award recognizes Frigidaire's commitment to smart energy management and its efforts to share the importance of energy efficiency.  If you want to see just how much money you will save with Frigidaire's newest appliances, they have nifty way to calculate you energy savings at their site www.Frigidaire.com/ecosavings
Storage and Space
I am loving all sorts of cool new features in our new Frigidaire. I love having a place to put the soda cans in the door, and I love the fact that the fruit and vegetable drawer is divided in half. It seems like something simple, but it makes it nice for organizational purposes and keeping things separate. And the cherry on top has to be the adjustable shelf on top. All you do is turn the crank and you can raise and lower it. So you know the bottle of oversized grape juice that you bought that you normally have to strategically angle into your fridge and you cant put it upright? Well that is no more, with my new Frigidaire fridge, because if I need an extra inch or two all I have to do is turn the handle. And it can just as easily be moved back.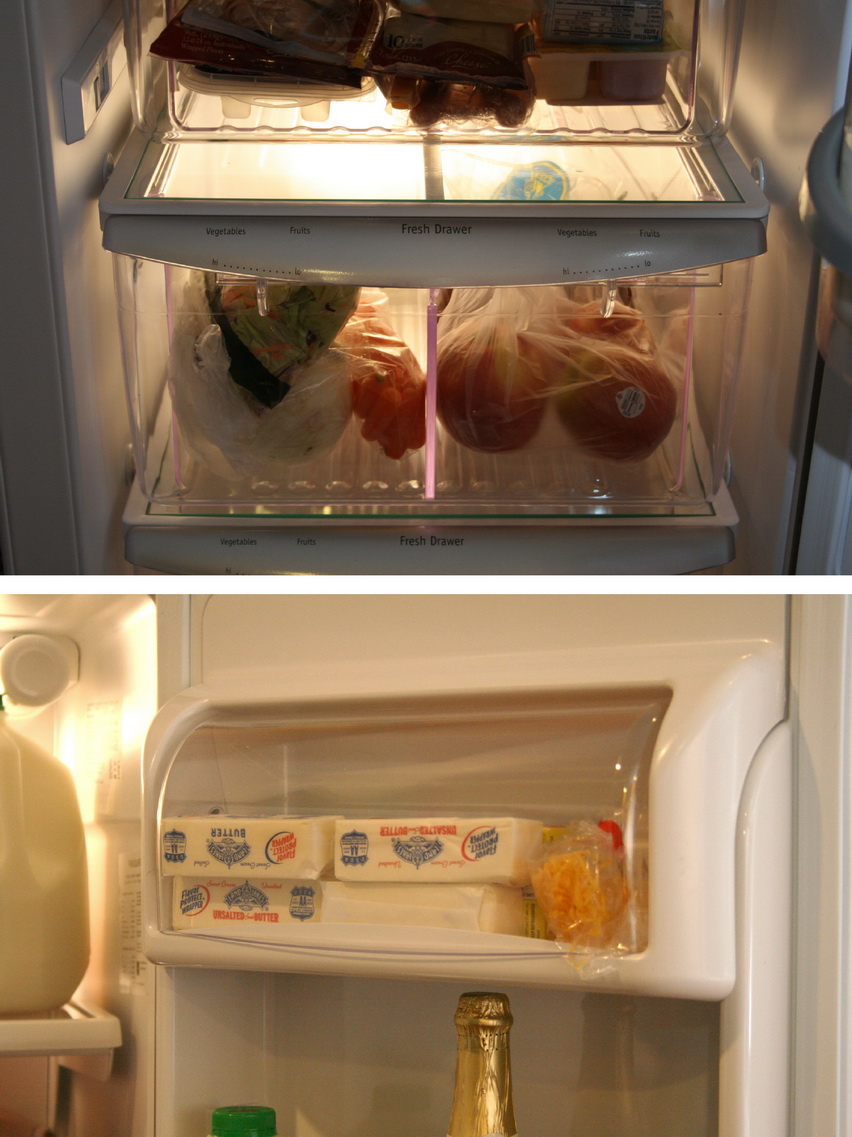 In the upcoming weeks, I will be working on better ways to effectively organize the fridge and take a look at how easy it is to clean.
I wrote this review while participating in a Test Drive Campaign by Mom Central on behalf of Frigidaire and received a Frigidaire Refrigerator to facilitate my review.



For the past couple of weeks, we have been adjusting to a new addition in the family.  We have been getting acquainted with our new Frigidaire professional line refrigerator.  It is a tad smaller than the one that we sent to garage but the storage areas seem to make up for the space that we lost.  There will be more in the future on organizing the fridge to make more space.  You might be a little scared at the moment because I haven't had the chance to make it all pretty and organized on the inside.
I am loving the stainless steel look in the kitchen.  When the guys from the appliance store were installing the fridge, I told my husband that I may need to change all of the appliances over to stainless steel.  All the men in the room laughed together.  I guess that was a no.  What do men know anyway!  I guess I will leave that discussion for another day  ha!
The fridge is beautiful.  I was a little worried about how easy the stainless steel would get finger prints.  But, I have found that it is extremely easy to clean.  I just take a damp paper towel half wet and half dry and they come right off and it looks great.   I really like having the temperature display on the outside of the fridge.  On our GE Profile, they were inside the door, and I felt like I was forever adjusting the temperature to get it to stay.  You will see the display on some of my pictures.  At the time the fridge was working its way to the proper temperature after we got everything in it.  But it took very little time and everything was nice and cold.
We are getting used to all the new features, and I particularly like the little shelf that is above the ice maker.  You can fit your Ben and Jerrys up there (which is critical) and a pizza.  I love that!   I will cover more of the features in a later post.  In the meantime, let me introduce you to my (our) new baby!  I know you will fall in love too!
Turn Up Your Sound 

"I wrote this review while participating in a Test Drive Campaign by Mom Central on behalf of Frigidaire and received a Frigidaire Refrigerator to facilitate my review."


I was recently given a wonderful opportunity by Mom Central and the folks at Frigidaire. I am giddy with excitement to tell you, that I am a Frigidaire Test Drive Mom.  I am a proud member of Team Fridge. What does this mean?  Next month a pretty, new stainless steel professional line fridge from Frigidaire will be showing up at our house and I couldn't be more excited.  I cannot tell you how many times I have drooled over them in the stores and now  I can hardly wait!!!!  Being a stay at home mom, makes getting a new appliance, a major excitement, because it is something I use every single day.
As part of this wonderful opportunity, I will be testing this fancy schmancy new fridge and reporting back to my readers on my findings and writing about my love affair with my new fridge (it could be better than Twilight *maybe*).  I am particularly interested in how this fridge compares to our current one.  Our fridge is only 7 years old, but things are starting to fall off !  I will be looking at things like temperature control, easy of use, how easy it is to clean, and maximum storage capabilities (we all know how stuffed a freezer can get).  I already whine about my current freezer, because the less I have to run down to the basement to the other freezer the better.
I am very excited and will be giving this fridge a rigorous mommy workout!  I can't wait to share my thoughts.  Take a look at how pretty it is! Oh, and I can so see my Ben and Jerry's sitting in my new freezer!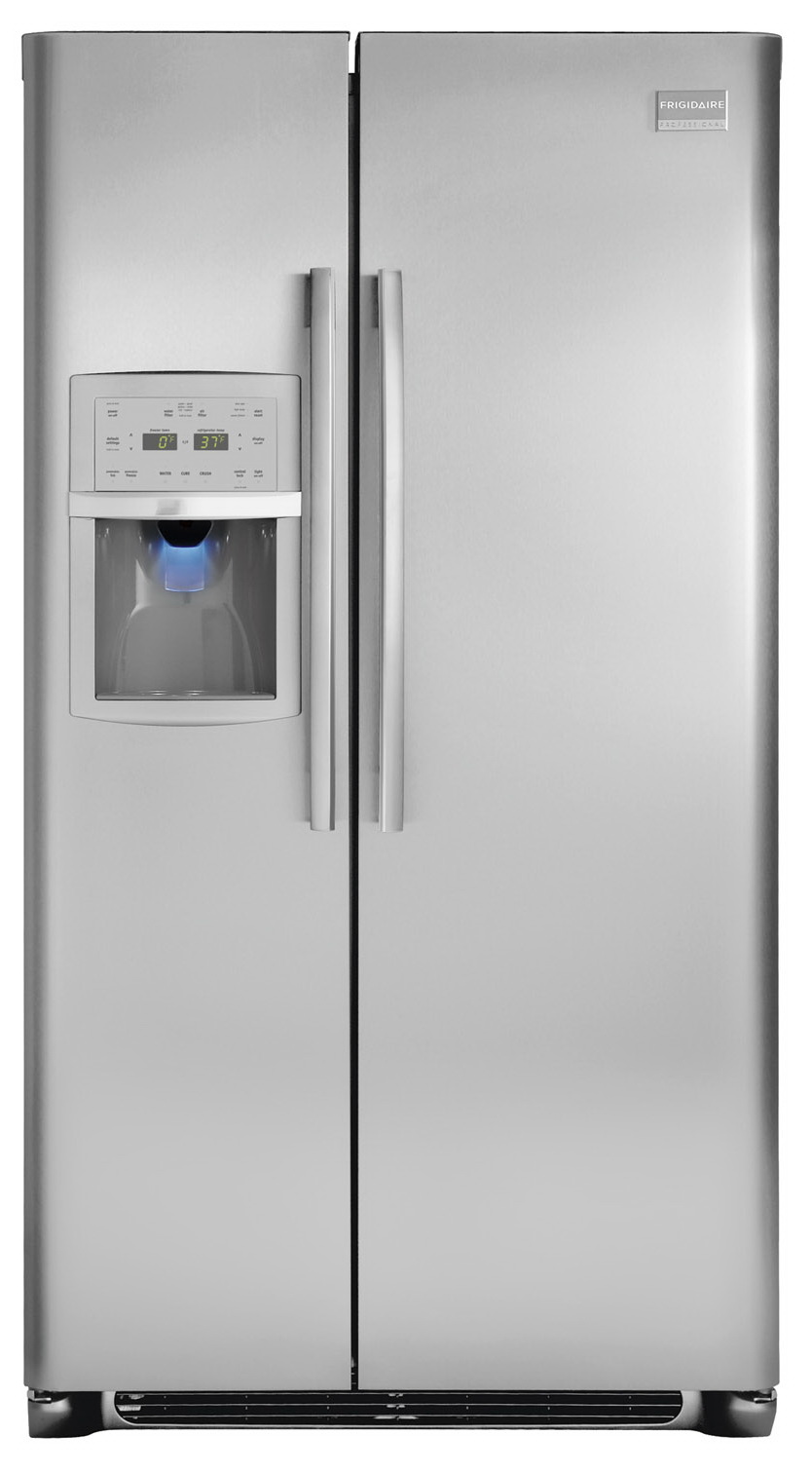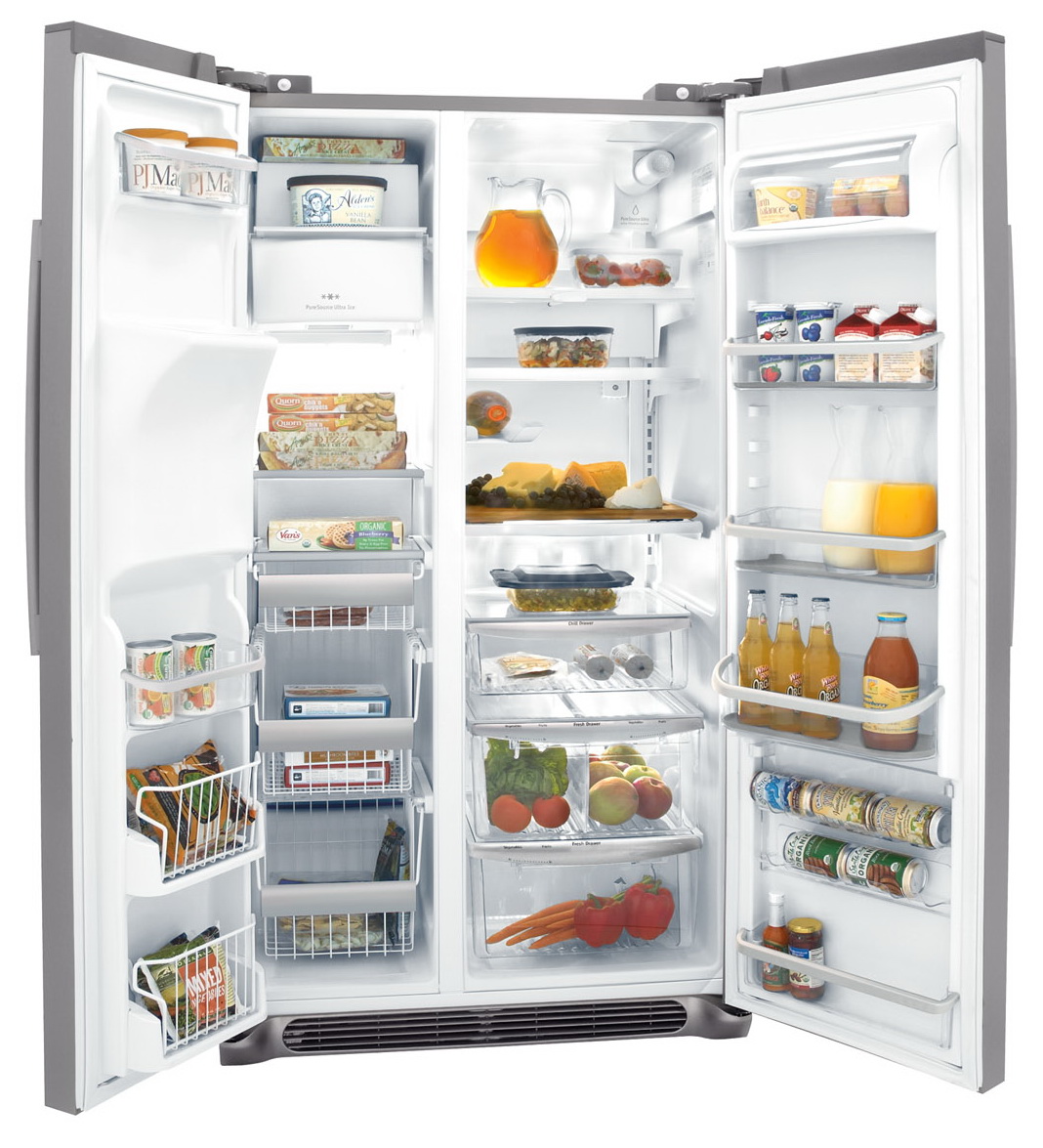 About Frigidaire

In 2009 Frigidaire introduced more than 250 new appliances , all designed with the idea of creating more time for us Moms. Standing behind its claim, Frigidaire offers a "More Me-Time Guarantee." Moms will save a minimum of eight hours a month or their money back!
In addition, Frigidaire announced a new partnership in September with actress and philanthropist, Jennifer Garner.  The pair teamed up to launch the new Frigidaire line and to kick off the "Make Time for Change" campaign to support Save the Children.
Thier newest campaign to support Save the Children, called Spin & Win. Started January 18th. Guests can go to www.maketimeforchange.com to play Spin & Win for their chance to win prizes including a new time-saving Frigidaire Affinity washer/dryer! Plus every day you take a spin, Frigidaire donates $1 to Save the Children as part of their $250,000 commitment.  I cannot think of a better way to support a wonderful cause and have fun doing it.
I am looking forward to sharing my experiences with all of you, so keep your eyes peeled for new posts about our new fridge from Frigidaire!
"I wrote this review while participating in a Test Drive Campaign by Mom Central on behalf of Frigidaire and received a Frigidaire Refrigerator to facilitate my review."