With this crazy lack of rain, I wasn't sure that I could grow much of anything this year.  My pepper plants are still looking a little sad, they are growing peppers but the plant isn't growing upwards. This year we planted some carrots, celery (which the rabbits have eaten), broccoli, three types of tomatoes, potatoes, basil, thyme, and watermelon!  I also planted pear trees.  We have had bad luck with our planting of trees, and they affectionately turn into "the stick."
My Seckel Pear tree started dropping and leaves and I thought it was doomed, but it has stopped and appears to be thriving.  The Anjou pear tree hasn't gotten any pears yet, but I am thinking their pears start a tad bit later.
One of my favorites though, is the tomato, and I can hardly wait to eat the first of the season.  What do you have in the garden this year??  Here is my broccoli, it will be going in stir fry!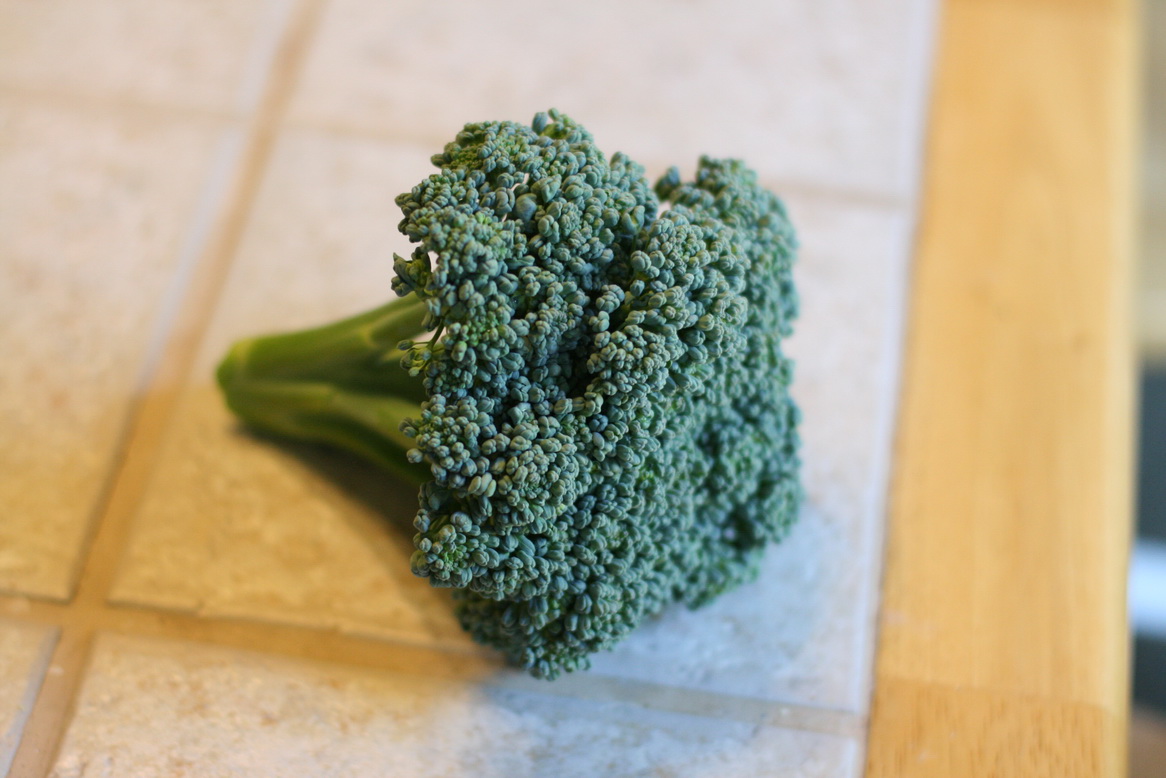 Fresh from the garden…Perfect little peas in a pod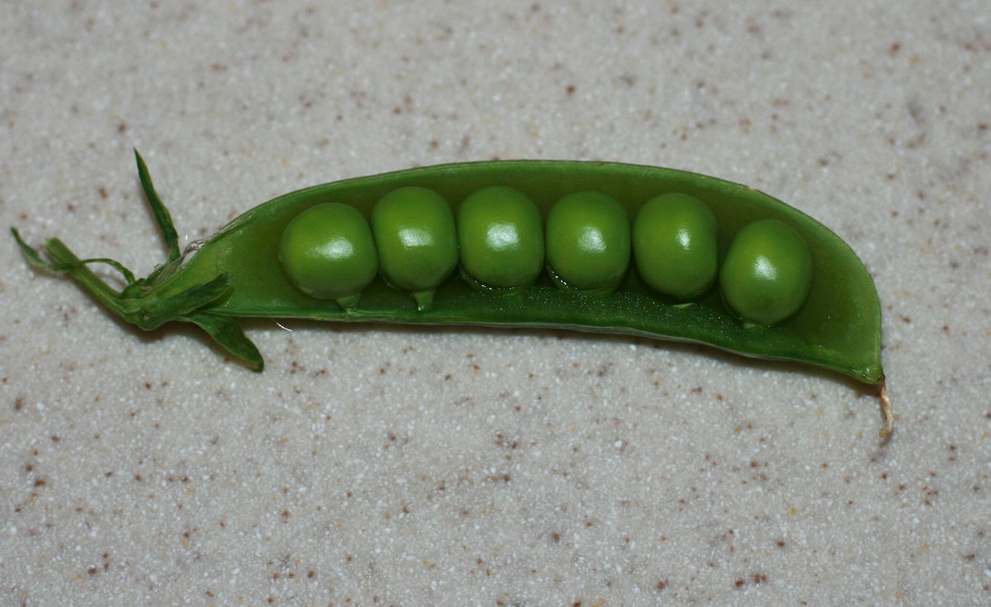 It is strawberry time in these part, so I have been hiding out in the strawberry fields over the past few days.  Well not exactly in the fields but I have been hard at work making all things strawberry, and nursing a Summer cold.  We all are sneezing, runny noses, and sore throats and fevers.  Thankfully, I think the worst is over.
I took the boys picking on Wednesday, and it is almost always an adventure.  It always starts out good, but then they lose interest, since they are boys and all.  One of the boys filled his container, the other picked three berries and claimed he was ready to go home.  This does not bode well for my 6 quarts of berries I needed.  Then they figured throwing the hay would be a better idea until one of them got hay in his mouth.  It was the fastest 6 quarts I have ever picked and was glad to be home.  This Saturday I am going back, minus two children, so I can thoroughly enjoy the experience silently, without hay in my strawberries (oh yes they did, and it takes forever to wash off of all them berries), and I am going to stay in the fields for a few hours.
Most of all I love berry picking because as a kid I remember my grandmother going and I always begged.  I never got the chance because she passed away before I could go.  My favorite part about strawberry picking is that I feel close to her.  I loved bringing the boys despite all their ornery behavior.  I had already planned for their short attention span, I only hope they will grow to love it.
Keep a look out for my creations with all these berries.
Each year I get a little more adventurous with my vegetable garden, and there is something nice about growing your own fresh veggies for your family.  Not only is it fun, everything just tastes so much better when it comes straight from your garden.
Trisha over at momdot, is growing some wonderful things in her family garden.  It seems she is ahead of the game, but I haven't been too lucky with any early harvests yet.  The weather for the most part here, has been cold and rather rainy, so everything is off to a slow start.
I thought I would give you all a sneak peek though.  Everything is indeed growing, and I think it is just my impatience that has taken over that has me out there telling everything to hurry it up.  I did get to enjoy my first salad with some lettuce, and it was yummy!
So here ya go, in the garden, cauliflower, broccoli, peas (regular shelling/garden peas, and sugar snap) they are the one vigorously climbing the trellis.  I have pole beans (also climbers), cucumbers, tomatoes, zucchini, asparagus (wont be ready till next year), cilantro, parsley, thyme, rosemary, basil, and oregano.  Up by the house, I have Stuttgarter onions (yellow onion), more tomatoes, more cucumbers, and red peppers.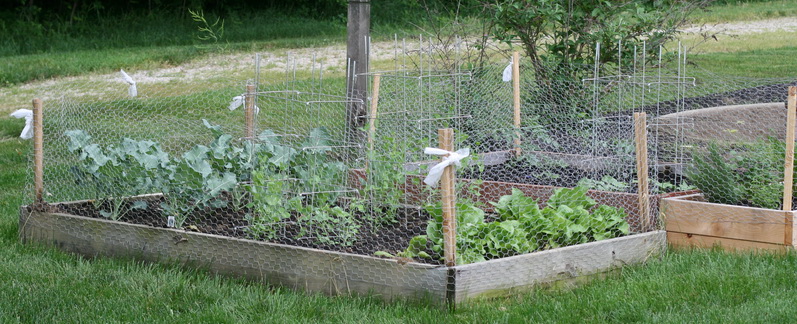 Here they all are growing in various stages but doing well.  The fence is for the bunnies to stay out, and the white ties are fabric softener sheets to deter the deer.  I also have a motion detector sprinkler that I am getting ready to put back up, otherwise bambi and his friends will eat every blessed thing I have.
Lettuce and Peas Doing Their Thing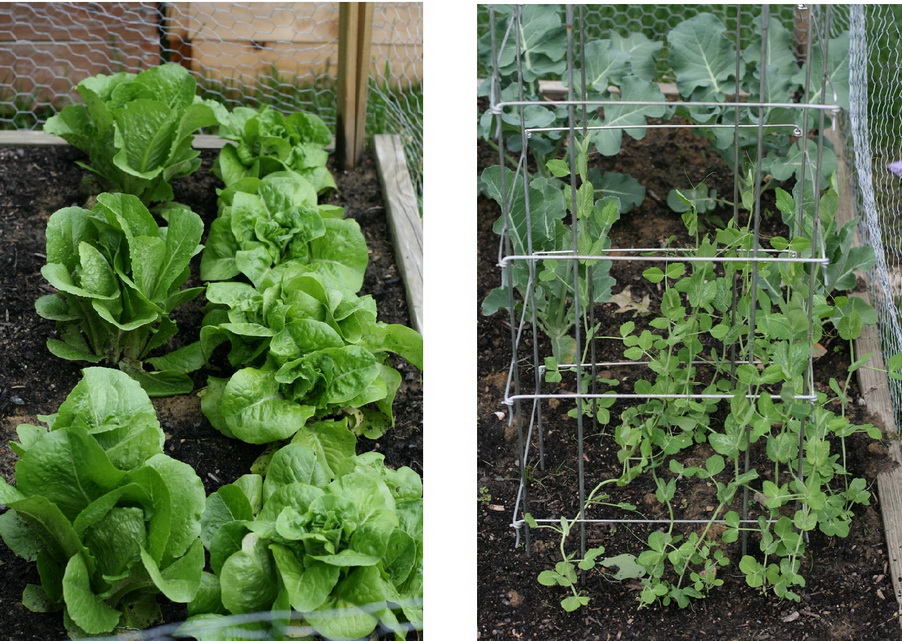 Broccoli and Herbs

Both Gardens Side By Side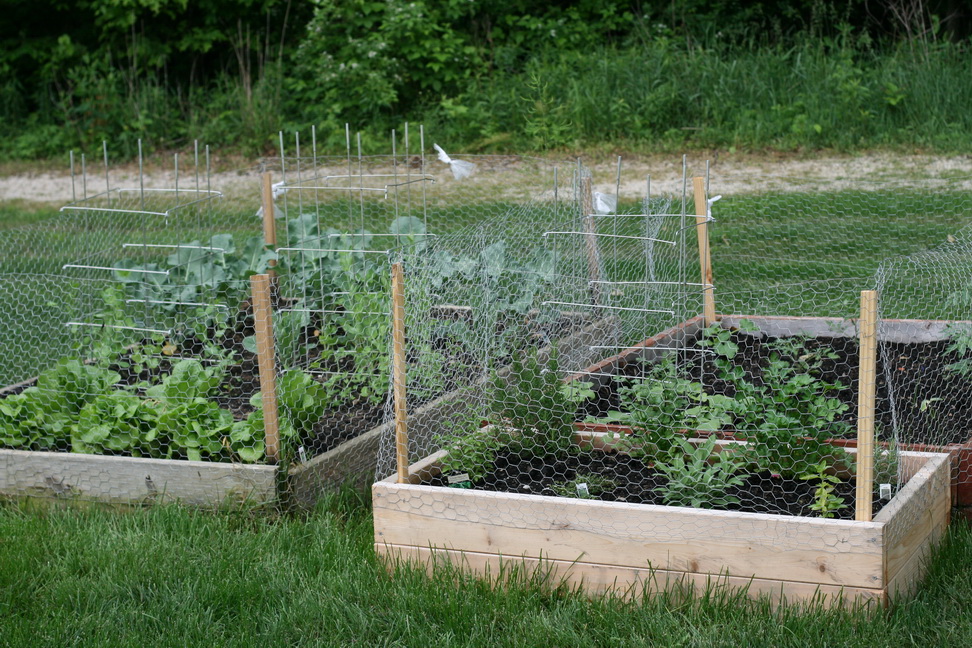 What are you growing this year in your garden?  What are your favorite veggies?  I plan on doing some canning this year if I get enough.
Mother's Day turned out to be one of the nicer days we have had in over a month.  It seems like all we get is rain, but the sun decided to shine.  We spent the day just being a family and the boys gave me cards and Swarovski crystals that they had picked out for mommy.  My sister-in-law got me hooked on collecting them years ago.  I got the cutest little duck and a teddy bear with a heart.  It was funny because both of them sort of picked out something fitting to their personality.
Later in the day, we went to the local nursery and bought a peach tree to plant, and two rose bushes.  I am hoping they do well so I can remember them as one of many special Mother's Day activities.
I have just finished planting the last of my vegetable garden, so I am greatly looking forward to having some home grown foods.  We have spinach, lettuce, broccoli, cauliflower, peas, green beans, zucchini, onions, tomatoes, cucumbers, and fresh herbs growing.  Strawberry picking is right around the corner and I will be making jam and freezing berries.  This is the time of the year where I spend little time indoors, and most of my time in the garden, out with the boys, and jaunts to local you pick farms, farmer's markets and enjoying all the fresh fruits in the local supermarkets.  I am a definite country girl by nature, although I could do without the bugs and garden snakes.
This is one of the best times of the year!
I love when there is a long weekend because we get an extra day. It almost always seems like I am so incredibly busy with chores and errands Saturday and Sunday that it just blows by before we can actually relax together as a family. So tomorrow we are going to grill out and play in the yard. Today the boys got a chance to play in their pool and they had a blast.
I am also excited that my garden is growing so well. We will be having spinach, lettuce, strawberries, tomatoes, peppers, cucumbers, carrots, squash and green beans this year! I must admit I got a little carried away this year, simply because I was determined to actually grow some things that I wanted to eat. I made a my raised bed smaller and that has made all the difference in the world. I bought some stuff to control the pests in the garden, so they don't eat all my stuff before we get to enjoy it. As for the bigger pests, I got a really cool sprinkler that is called the Scarecrow that whenever a critter even breathes in the direction of my garden, it will get blasted with water. Lets hope we will have plenty to eat this year!
I hope everyone enjoys their Memorial Day!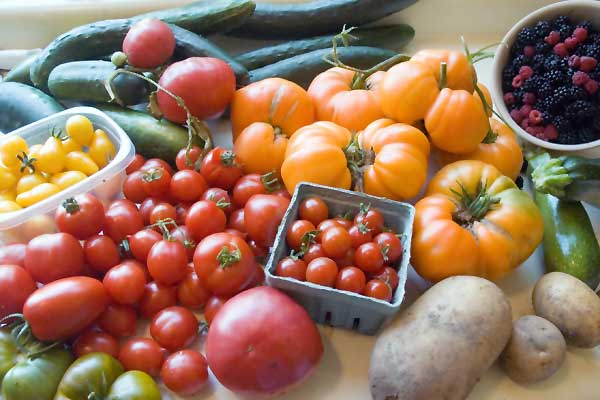 When we moved to our house, I was so excited to have our own yard, and our own house so we could plant the things we wanted and paint the walls etc.  I have always wanted to try my hand at a vegetable garden, and we have been in this house for almost six years now.  I originally planted a garden, and put some outrageously tall fence around it to keep the deer out.  After about one season if that and not growing much of anything, I took the fence down.  It was too difficult to get in and out to work in there.
So after that failed, I just planted in the 8x10ft plot and discovered that all the water from the other yards drained into my garden and half of it was a swimming pool!  So I put up with everything not growing or dying for another two years.  Then the boys were born and I decided to just give up on what I affectionately called the dirt box.
So this year, I got a wild hair to try and give this garden thing a go again.  The boys are older so they play in the yard, and I was bored.  So, I decided to cut the size of the garden in half, fill the existing half to the brim with the soil from the other side, and plant grass where the rest of the box used to be.  When we first moved in I read all about raised bed gardening and went in armed with a perfect vegetable garden depicted in my head.  Well that garden, is now a distant memory.
So this year, I have planted lettuce, spinach, a few strawberry plants, two tomato plants, and two pepper plants.  I will attempt maybe a few corn stalks, green beans, and carrots, and cucumbers.  My last try at carrots resulted in carrots that were 1 inch long and looked like BB's.  The only thing I hate about the garden is the weird bugs and creatures it attracts, and I hate bugs!  I am now armed with spray for those bugs, some scent barrier for the deer and rabbits, and fertilizer spikes for the soil.  I have planted the strawberries, the peppers, the tomatoes, the lettuce and the spinach.
The last time I planted lettuce and spinach nothing came up out of the ground and I was rather disappointed.  It was a little disheartening to see nothing.  This year, I am already doing the happy dance,a nd I have pictures to prove my gardening prowess, lets only hope that they continue to grow!  My peppers and tomatoes, shriveled up a little but appear to be bouncing back do to a night of cold weather, but I think im on the road to success.  That and I vowed to water this thing as much as possible.  Yes I know a garden needs water, but as a busy mom I have to remember to go out and do it  lol!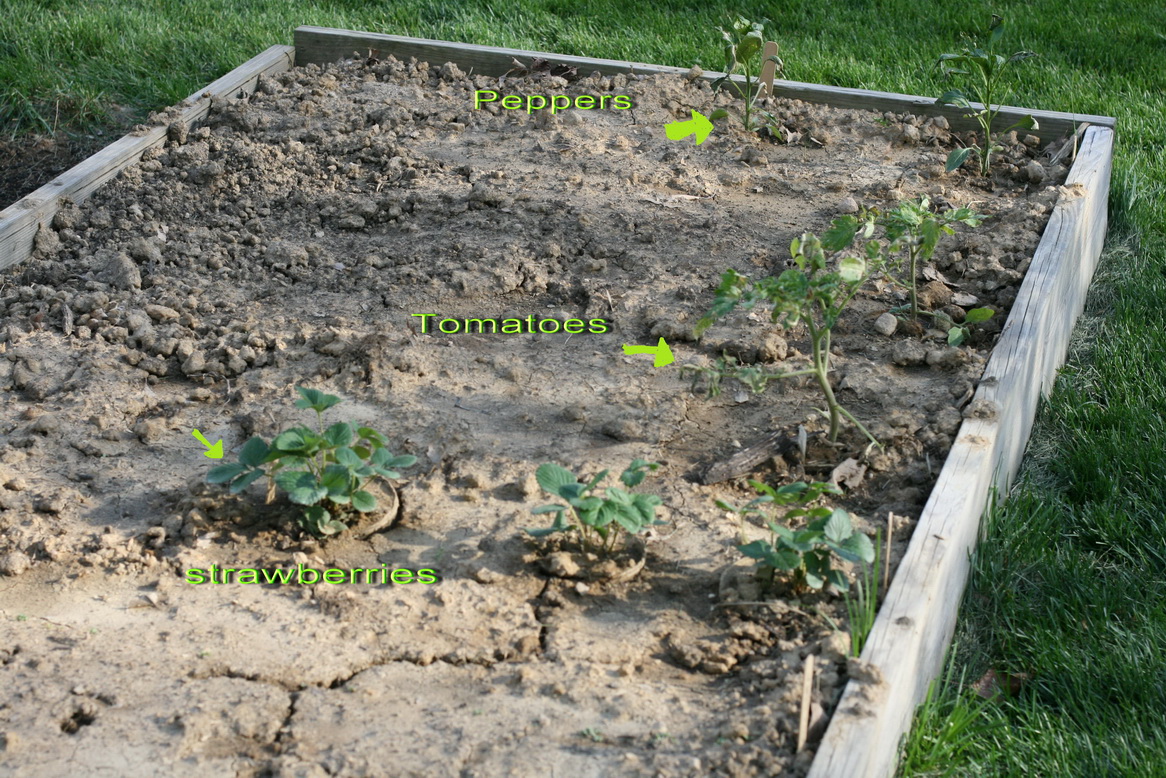 I am determined!