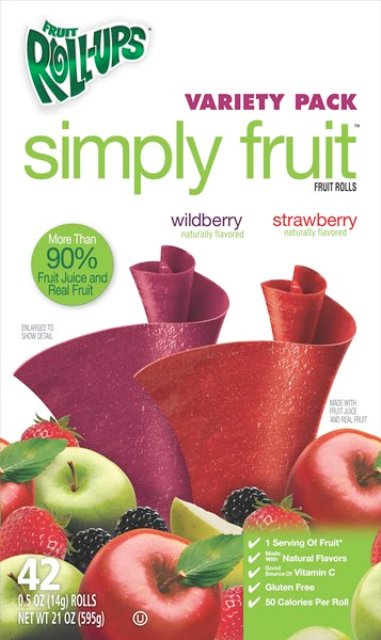 Now that we are in the Summer months, our family tends to spend a lot of time playing and doing activities outside.  It seems like my two are always wanting something to snack on and I usually like to offer them a healthier selection of foods.  It also seems like it is harder to keep the pantry stocked with healthy snacks with two growing little boys in the house.
One of our favorite places to go to stock up, happens to be Costco.  I can get a lot of foods that are perfect for snacking an in larger quantities that stretch a little further on a tight budget.  Now available at Club Stores, are Nature Valley Chewy Trail Mix Barsand Simply Fruit Roll-Ups!  Both of my boys love granola bars (nola bars as they call them) and Fruit Roll-Ups are almost always a favorite.  They are perfect to shove in the beach bag, in your purse, or just to sit in the shade and dangle your feet from the porch swing and enjoy a little snack.
*Nature Valley Chewy Trail Mix Bars are a delightful, 100% natural, combination of tastes and textures you'll love. Now, you can get 25% more of the whole almonds, peanuts, raisins and cranberries in every bar! With no artificial flavors or colors and only 140 calories, Nature Valley Chewy Trail Mix Granola Bars also contain 8g of whole grain per serving.

* Simply Fruit Roll-Ups are a better-for-you treat that kids love! Simply Fruit Roll-Ups are an excellent source of Vitamin C and are available in a convenient variety pack of Strawberry and Wildberry flavors. Every delicious roll is made with 90% real fruit and fruit juice and packs a full serving of fruit. Even more exciting? They' re gluten-free and contain only 50 calories per roll.
I love that we are able to buy foods that the kids love in bigger sized packages, because not only do I save money buying in bulk, it limits the numerous trips to the grocery stores. If there is anything that I hate is having to run out more often than I need to! We love Nature Valley Chewy Trail Mix Bars and Simply Fruit Roll-Ups and will definitely be keeping our pantry stocked with these great treats on our trips to our local Costco.
**To help facilitate my review, Nature Valley Chewy Trail Mix Bars, Simply Fruit Roll-Ups and a $25 Costco card  were all provided from General Mills through MyBlogSpark.  The opinions I have expressed are strictly that of my  own**
To celebrate Summer and just because we love you. General Mills and My Blog Spark would like to offer one lucky reader the chance to win your own stock of Nature Valley Chewy Trail Mix Bars and Simply Fruit Roll-Ups and a $25 Costco card to keep plenty of treats on hand for your little whipper snappers this Summer!
Here's What You Gotta Do!
Leave me a little ole comment telling me why you want to win. And anything else you want to tell me.
Additional Entriest

Tweet about this fab giveaway *tweet tweet*
Follow Me On Twitter (only because I am adorable and lovable of course)
Bloggity Blog about this giveaway and leave the link (pretty please)
Thats All Ya Gotta Do!
Contest Starts June 24, 2010 and Ends  July 8, 2010
Good Luck!!
**Winner Must respond within 48 hours otherwise the prize is forfeited**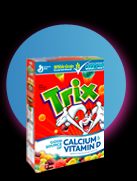 Being a first time parent, I am almost always concerned about my two little guys and their health.  From a very early age, I have tried to influence healthy food choices and make sure that they are getting a fairly balanced diet.   If I buy something at the grocery store, I am always reading the labels, to see what they are getting in their food.  We are a cereal loving family here, because it is something that is simple to make and the kids just love it.   It is a perfect snack too in the afternoon after naps, and it doesn't have to be served with milk.  My two love to have their own bowl, their cup of juice, and watch one of their favorite shows.
Recently the importance of Vitamin D in the diet has been in the news, and the importance of calcium is so important in bone growth and development.  Vitamin D is also important in bone growth and is now suggested to be a key factor in healthy lung function.   Approximately 75% of kids today don't even get the required amount of Calcium and Vitamin D in their diets, and that is an astounding figure!   The American Academy of Pediatrics has even upped the amount of Vitamin D your child should be getting to 400IU.
The good news is, that it isn't that hard to incorporate these nutrients in your child's diet.  Parents can easily get both vitamin D and Calcium in milk and many juices and now in fortified cereals.  All General Mills Big G kid cereals including Kix, Lucky Charms, Cocoa Puffs, Trix, Cinnamon Toast Crunch, and more.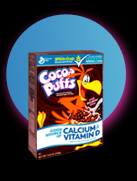 This is great news for our family because we are huge Lucky Charms, and Cocoa Puffs fans.  The boys think they have gone to heaven when I give them these cereals in their snack bowls!  Additionally, a recent report in a leading consumer magazine ranked kid cereals by nutritional content, and all nine General Mills Big G kid cereals included in the report were ranked in the top half. All Big G kid cereals have at least eight grams of whole grain per serving (at least 48 grams are recommended daily), and all have 12 grams or less of sugar per serving.  This is awesome, and you can feel good about giving them something they love and not worry about them getting a ton of sugar.
Cereal is one of the most nutritious breakfast options a kid can eat. Most cereals have about 100 – 130 calories per serving and provide at least 10 key nutrients. And, ready-to-eat cereal is the number one source of whole grain in American diets.  If there is one food that your child would eat than at least you know that it has nutritional value.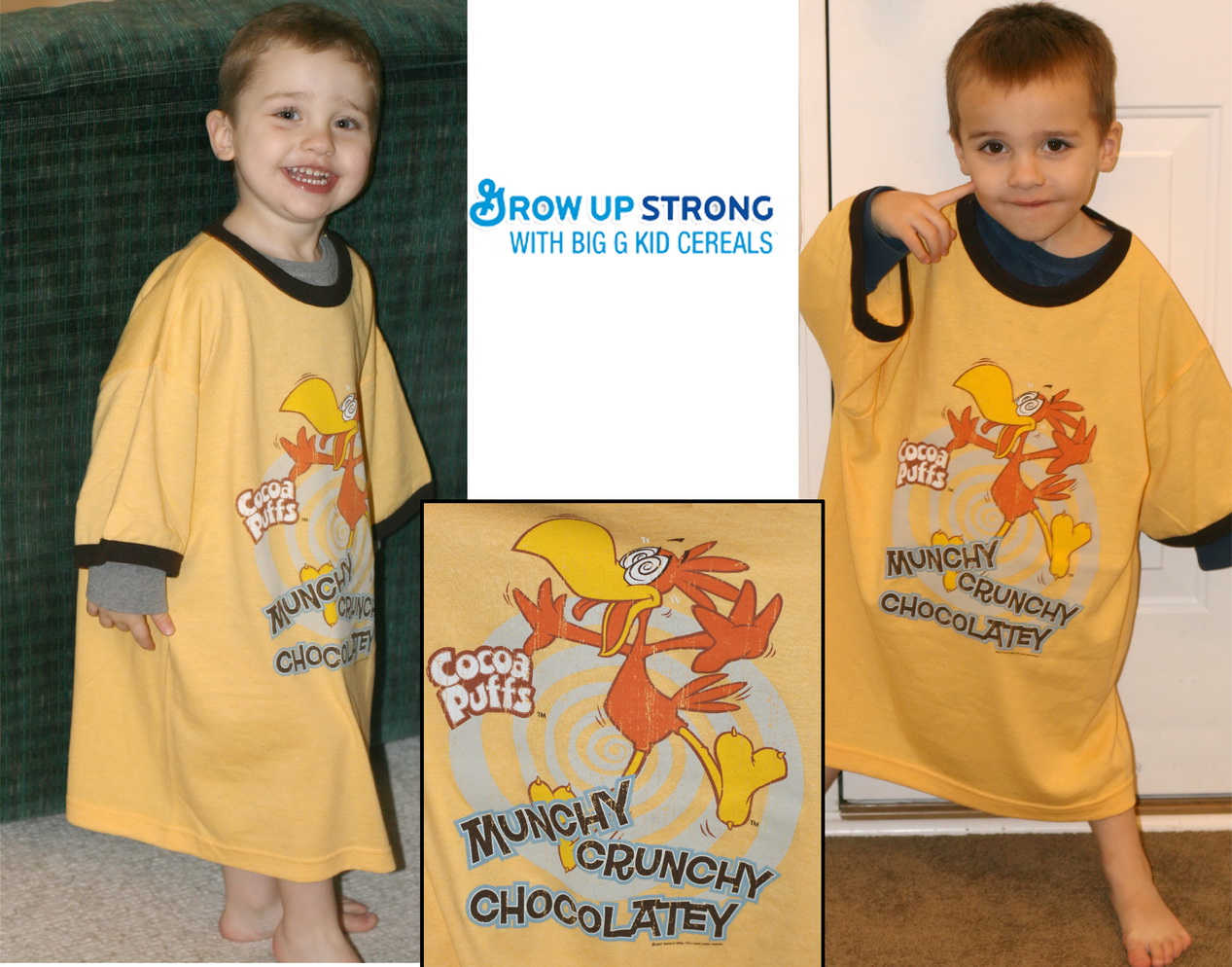 This Giveaway Is Now Closed
As part of a healthy diet and the love of  Big G cereal (especially Cocoa Puffs), DoubleBugs  is giving away these totally adorable and way cool Cocoa Puffs vintage ringer Ts (child's sz large) to 9 lucky winners.
Here's all you gotta do!
Leave me a comment on what your child's favorite Big G cereal is, and yours too.
Please leave me an email so I can contact you if you win
Winners are chosen at random via Random.org.
If Winner Does Not Respond Within 2 Days the prize is forfeited and donated!
For Additional Entries (please leave as an additional comment):
Tweet about this post
Follow me on Twitter
Blog about my contest and give me the link!
Put my badge on your sidebar


That's all you gotta do!
Contest Starts February 25, 2009 and Ends March 11, 2009
Good Luck!