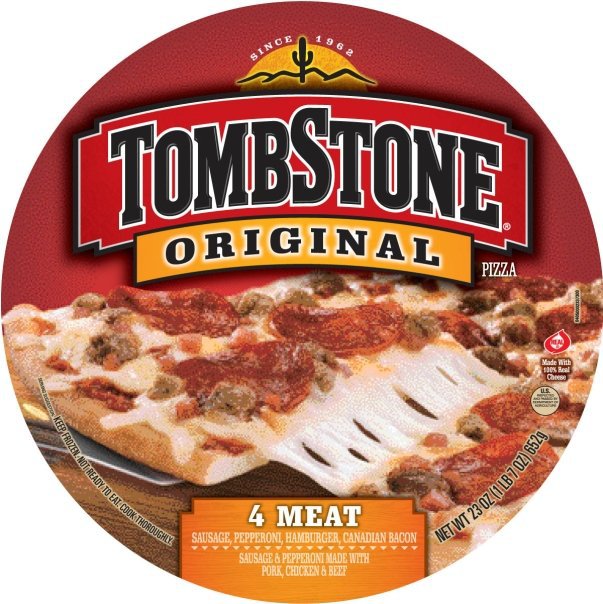 Halloween is fast approaching, and it's one of my favorites with the kids.  Besides loving the Fall weather, we love spending time with all our friends in the neighborhood.  Halloween, is always special because we have a pre-Halloween get together, take lots of pictures then some adults stay back with everyone's candy lined up in lawn chairs waiting for all the little ghosts and goblins.  After the kids get tired, there is a fire, lots of glow sticks and kids playing and parents chit chatting.
The hours before trick or treating are spent getting costumes in order, waiting for my husband to get in the door and my boys have their noses pressed to the window to see who is already out.  In all their excitement and mine, we have little time to get everyone ready and a meal on the table.  My favorite is to throw a Tombstone pizza in the oven, throw together a garden salad and dinner is ready in minutes! And who doesn't love pizza?
About Tombstone Pizza

Only fitting for the "Official Pizza of Halloween," TOMBSTONE pizza was brought to life in 1962, at a bar called the Tombstone Tap that was located across from a graveyard in Medford, WI.
It all started when Tombstone Tap owner, Joe Simek, broke his leg dancing the "Peppermint Twist."   While recuperating, Joe experimented with various pizza recipes in the kitchen in the back of the Tombstone Tap.  The tasty pizzas he made were an instant success, creating the TOMBSTONE pizza brand.
50 years later, TOMBSTONE pizza today offers eight different crust varieties (including Original, Brick Oven Style and Garlic Bread) and a multitude of tasty topping choices, including new TOMBSTONE Double Top. With so many options to choose from, moms are sure to please all their favorite little ghosts and goblins this Halloween season.
Moms can find TOMBSTONE pizza in the frozen section of their local grocery store.
This Halloween season, Tombstone is being dubbed "The Official Pizza of Halloween," and to help make your Halloween a success they are providing you with all the tools you would need to have a spooky good time!   Start by simply 'liking' the Tombstone Facebook page. There you can download a free Halloween Party Kit that will give you everything you need to make your Halloween party and conjure up lots of Halloween fun.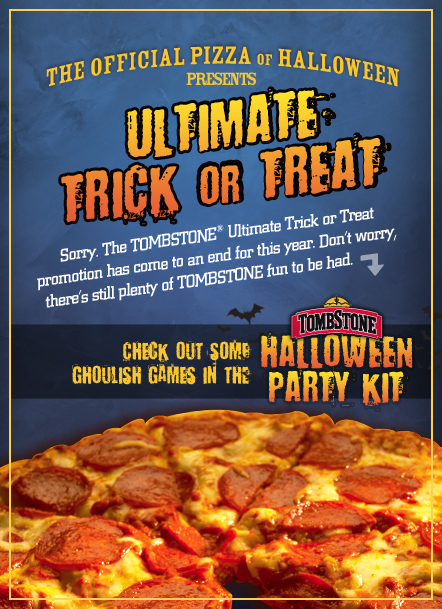 The free Tombstone Halloween Party kit includes tons of really great ideas including fun recipes, games you can play, fun tips, decorations and way to create fun Halloween photo ideas.  I love their spider web munch and bone chillin brew in the recipe section.  I know my kids would love it!
So while you are rushing to get those excited little ones out the door, pop in a Tombstone Pizza and make it your official Halloween favorite every year!
"I wrote this review while participating in a campaign by Mom Central Consulting on behalf of Tombstone Pizza and received coupons and a promotional item to thank me for taking the time to participate."
Halloween is right around the corner, and of course that means lots of candy.  Before I became a parent, I would conveniently raid the stash of candy that was due to be handed out to little ghosts and goblins.  I am exercising great will power this year, however, and both of my hand out bags of candy have remained successfully sealed.  Stealing candy from a baby?  I am sheepishly admitting that this is what I do after the boys go out trick or treating.  Personally, I don't want them having all of that candy and luckily they aren't old enough to notice, but I am sure those days are numbered.
I am overprotective about my chocolate, and I have been known to hide it in a location where I know only I would look.  Some of my favorites include cold Twix bars (I hide them in the vegetable drawer), and m&m's.
Just in time for Halloween, Twix did a survey that uncovers the treat behaviors and preferences of adults ages 18 to 34.
Survey results include:

The 30 year-old trick-or-treater: Nearly 7 out of 10 adults (69 percent) ages 18 to 24, and half of adults ages 25 to 34 said they would do it if they could. Trick-or-treating, that is. The only thing holding them back is dirty looks from the neighbors.
Hide and seek: More than half of all adults surveyed (52 percent) admit to hiding a treat from their loved ones to keep the treat for themselves. Most hide their treat stash in their room (41 percent) or in another "super-secret place" (41 percent).
Fruit-flavored non-chocolate Halloween treats get no respect: Only 3 percent of all adults surveyed listed fruit-flavored non-chocolate treats as their Halloween favorite. The winning treat combination? Chocolate with peanuts or peanut butter topped the list at 39 percent, followed by a chocolate and caramel combination as a close second (30 percent). Phew, good thing TWIX bars come in classic TWIX® Caramel and TWIX® Peanut Butter.
Men seek the crunch; the ladies prefer something they can chew on: When it comes to treats, women prefer chewy treats more than men do (42 percent to 33 percent), while more men than women seek out treats with a crunch (33 percent to 23 percent).
Taking candy from a baby: One quarter of all adults surveyed (26 percent) admit to taking candy from their child's Halloween stash or a friend's or co-worker's candy dish and denying it.
Sweets are social: Two out of three adults (64 percent) would rather enjoy treats with others than alone.
Most of these results definitely hold true for myself and I would definitely be trick or treating if someone wouldn't give me a dirty look.  What are your deep dark secrets when it comes to indulging in your favorite treats?  Do you do the post trick or treating raid of your kid's haul?
Thank you to Twix for providing these fun survey results!  Hope you all have a safe and wonderful Halloween!
My goodness, it has been a long day, and I am ready to head to bed.  Today we let the boys pick out a pumpkin at the pumpkin patch and did some more apple picking.   Not only that we took tractor rides and went to a neighbors party for football.  Neighbors up the street even had a bus dedicated to the local team with a big screen tv in it.
Needless to say, the boys got to bed late but were asleep in less than five minutes.  I will have some fun pictures from our adventures at the orchard up soon.  This weekend has been a whirlwind and I have lots to show my readers.  We got the carpet installed in our basement which was the highlight of my Friday.  You wouldn't think new carpet would make someone this excited but it means that we are one step closer to being done with the room.  It is going to be a family space where the boys can make a mess if they want and we can sort of hang out down there.  The boys know the room is for them because they immediately asked if they could bring their toys down there  lol.
Tomorrow we will be working on the new room, I will be making some applesauce, and fresh apple pies. We are having a great weekend!   What are your plans?