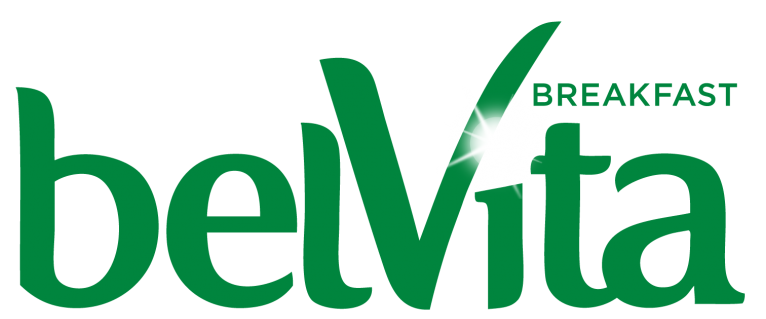 The kids have been sick and when they are sick, I get very little sleep.  The mornings come all to fast and then I hear that little whisper in my ear "mom, it's time to get up."  I am usually less than enthusiastic since it feels like I just went to bed.  Our morning routine consists of me getting to the kitchen, getting the boys set up with a drink, and whatever they decide on having for breakfast.  Most days I don't even remember to feed myself until noon, when my stomach reminds me that I am past hungry.
There isn't anyone to make me a full course breakfast, so I have to grab and run.  Nabisco has created the perfect solution, something that is easy to grab yet is filled with all the good stuff your body needs to get going.  BelVita Breakfast Biscuits are the perfect solution to my problem.  Each individual package of biscuits is has 18-20g whole grains per serving which gives you the fiber your body needs and has four B vitamins.  In case you didn't know B vitamins are great for stress relief and as a mom, I know I need it! BelVita breakfast biscuits also contain no high fructose corn syrup, no partially hydrogenated oils, and no artificial flavors or sweeteners. They come in three varieties, Blueberry, Golden Oat, and Apple Cinnamon.
About belVita

belVita Breakfast Biscuits are specially baked to release energy regularly and continuously in your body—which means you have nutritious sustained energy that lasts all morning.

Each pack includes four lightly sweet, crunchy biscuits to help you stay fueled up all morning long.

The sustained energy in  belVita Breakfast Biscuits comes from a combination of specially selected ingredients and a carefully controlled baking process that helps preserve the integrity of the grain. This means the carbohydrates from the grain are slowly released in your body, providing nutritious, long-lasting energy to help fuel your body throughout the morning.

Each individual package of 4 biscuits is portioned for part of a balanced breakfast. A 50 gram serving contains 18–20 grams of whole grain carbohydrates, 3 grams of dietary fiber, 3–4 grams of protein, and a good source of four B vitamins and iron. belVita Breakfast Biscuits also contain no high-fructose corn syrup, no partially hydrogenated oils (0 grams of trans fat per labeled serving), and no artificial flavors or sweeteners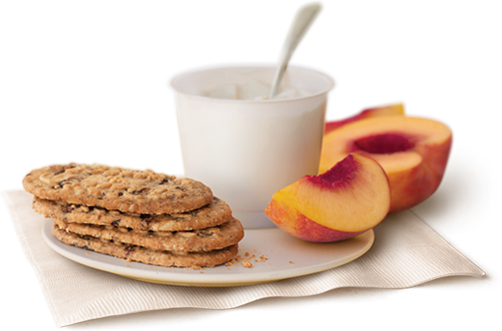 I have been trying belVita breakfast buscuits daily now for a little over a week, and truthfully I love how versatile they are in terms of breakfast or even snacks.  I love oatmeal in the morning and usually dip toast in it, but the belVita biscuits are even better especially the apple cinnamon flavor.  You can add them to just about any snack or meal or just tuck a package in your purse if you get hungry throughout the day.  My favorite belVita biscuits however, are the blueberry, with a thin layer of light cream cheese and a few strawberries on top or some organic strawberry fruit spread.  The boys usually come and snatch them before I get to eat one.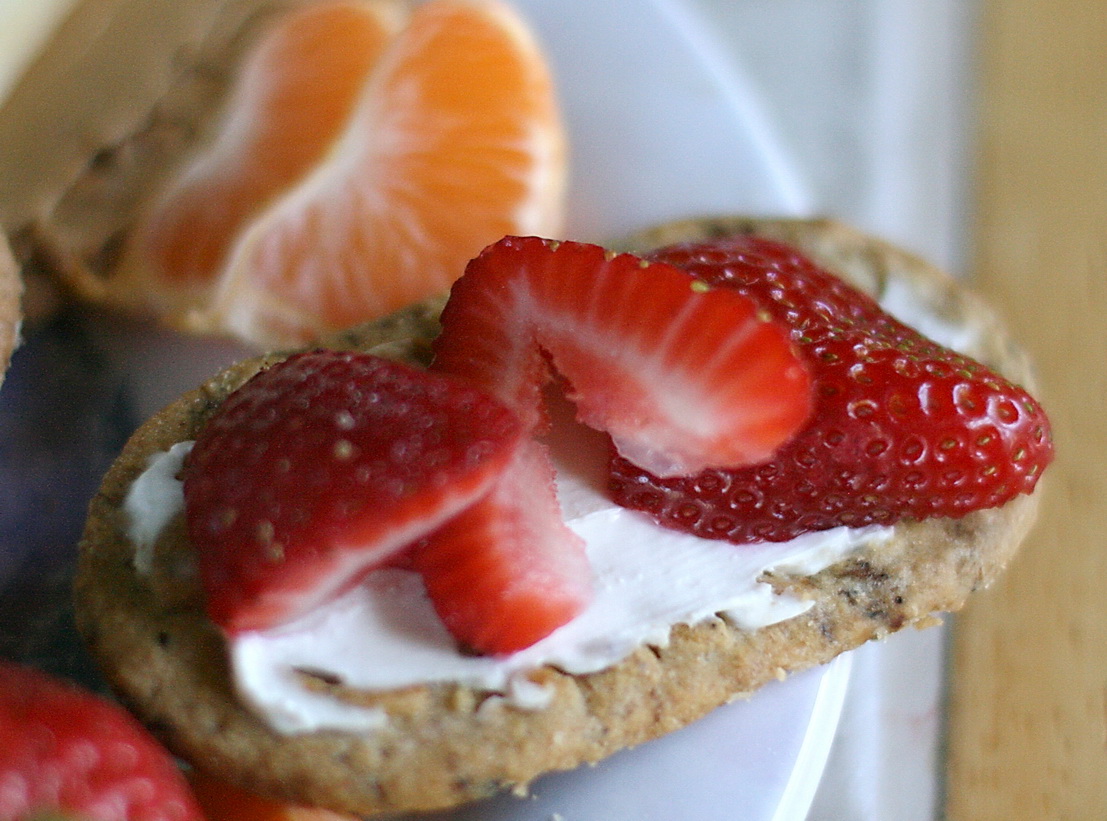 I have really enjoyed trying some new things with them. The golden oat belVita biscuits are fabulous with a little peanut butter and an apple slice.  We have already been to the store to buy more. What I Like is how simplistic and versatile belVita biscuits are. You can just eat them straight from the package or you can jazz them up with fresh fruit, peanut butter or just dip them in coffee or tea. Even if it is quick, you are getting the things you need to get up and go in the morning or that added extra pep in the day, or just a really yummy snack.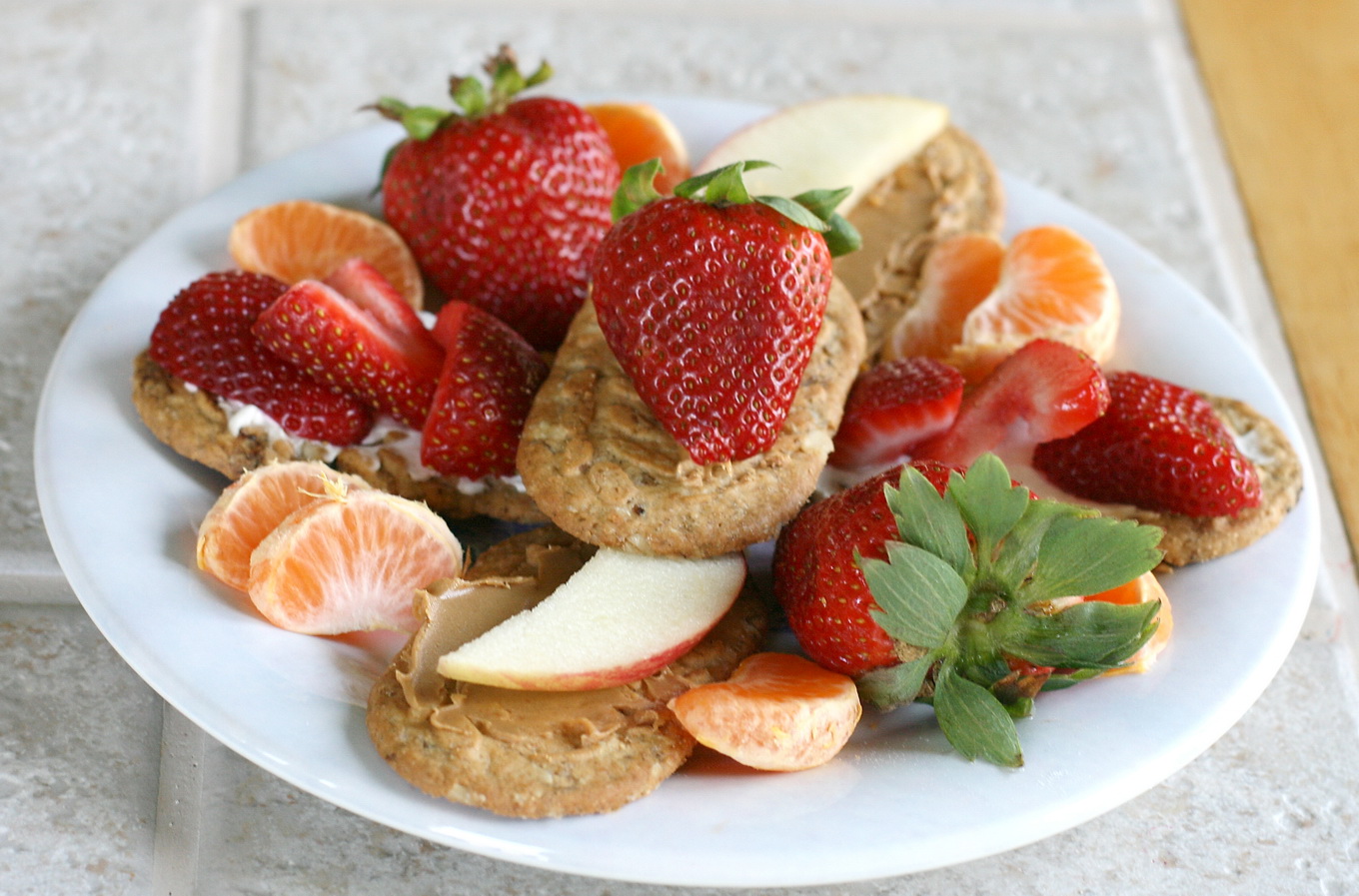 Breakfast is supposed to be one of the most important meals of the day. But if you are like me trying to find a minute in your day, belVita may be the perfect solution. You can just grab and keep on going! For more information on belVita Breakfast Biscuits you can visit belVitaor for information on how to "Power Up" check out belVita Breakfast's Facebook page!
**I wrote this review while participating in a blog tour campaign by Mom Central Consulting on behalf of belVita Breakfast Biscuits and received belVita Breakfast product samples to facilitate my review, and a promotional item to thank me for participating.**
It has been a month that I have been using the Meaningful Beauty products that were sent to me. I have enjoyed using the products more than I thought I would. Before I started using them, I rarely used any skin care type products on my face. In fact, I rarely wear make-up. After using the Meaningful Beauty products, I have begun to like taking the time out to do something nice for my skin.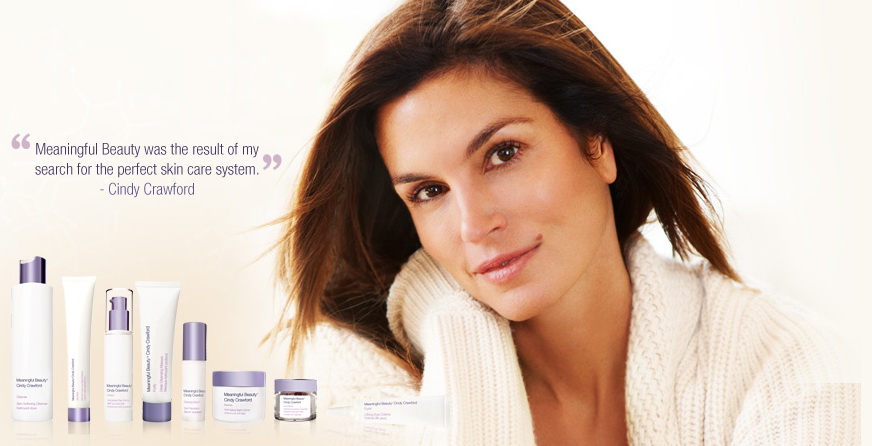 Normally, my daily routine, just involved brushing my hair and brushing my teeth then heading to the kitchen to get the boys breakfast. But since taking the Meaningful Beauty opportunity, I just let the boys brush their teeth while I wash my face and give my skin a little love in the morning. It doesn't take long at all, maybe an extra 5-10 minutes of my time. At first I was concerned about my skin reacting to new products because I have relatively sensitive skin, but everything felt great and I had no bothersome side effects. My skin has felt amazing since I have been using the Meaningful Beauty 5 step skin care program, and I have less break outs and my skin is softer. I also have these tiny capillary/veins on parts of my face that have seemed to diminish somewhat which may be because I am actually doing something to my skin other than soap and water in the shower! The eye cream has done a little bit to help with my permanent "no sleep for mommy" eye circles and I have a little more refreshed look to my face.
Overall, I am pleased with the Meaningful Beauty skin care regimen and I like taking the extra moments to do something for myself. I also like that the pricing for the the 5 step program is reasonable at around $40, plus a little goes a long way! I passed on my extra kit to my mom, and she loves it. I plan to keep Meaningful Beauty in mind for the future to put together mini spa baskets for some of my friends.
"I wrote this review while participating in a test drive campaign by Mom Central Consulting on behalf of Meaningful Beauty and received a 5-step treatment kit to facilitate my review, a second 5-step treatment kit to giveaway, and a promotional item to thank me for taking the time to participate."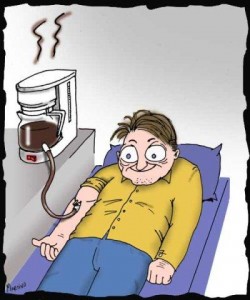 I am not a regular drinker of caffeine.  I mostly drink some Sprite, water or milk.  I was driving to the grocery store yesterday and have been feeling particularly sluggish when it dawned on me that the problem may be the caffeine.  I have been drinking a regular coke here and there, probably more than I should, and I am thinking the caffeine is making me tired!  After I drink it, it rampls me up for a few hours, but coming down from that, I feel horribly sluggish.  I am almost convinced that this drug makes you want more just to keep up the high of being alert.
After reading about it on wikipedia, I no longer think I want to have much of it.
Caffeine is a bitter, white crystallinexanthinealkaloid that acts as a stimulant drug. Caffeine is found in varying quantities in the seeds, leaves, and fruit of some plants, where it acts as a natural pesticide that paralyzes and kills certain insects feeding on the plants. It is most commonly consumed by humans in infusions extracted from the seed of the coffee plant and the leaves of the tea bush, as well as from various foods and drinks containing products derived from the kola nut.
Does this sound all that good for us?  I  hear every day that someone needs their morning coffee to get going or otherwise their day isn't going to go so well.  At the same rate, it's no wonder that we are a bunch of addicts because we are all workaholics too.  We work more than most people in the whole country, and get no vacation.  I wonder if we were a more rested society, if we would have so many caffeine addicted people?
In humans, caffeine acts as a central nervous system stimulant, temporarily warding off drowsiness and restoring alertness. It is the world's most widely consumed psychoactive drug, but, unlike many other psychoactive substances, it is both legal and unregulated in nearly all parts of the world. Beverages containing caffeine, such as coffee, tea, soft drinks, and energy drinks, enjoy great popularity; in North America, 90% of adults consume caffeine daily.

Withdrawal symptoms—including headache, irritability, inability to concentrate, drowsiness, insomnia, and pain in the stomach, upper body, and joints—may appear within 12 to 24 hours after discontinuation of caffeine intake, peak at roughly 48 hours, and usually last from one to five days.    *source wikipedia*
I probably will still enjoy my occasional bottled coke, but will lay off the caffeine in general.  I think it just makes me feel a million times worse than the initial burst of energy I get from drinking it.  Do you drink caffeine every day?
We all know that the dental chair isn't always that much fun, so I like to spend as little time there as possible.  I am petrified of the dentist, in fact I even took an 18 year hiatus from the dental chair as a result of a negative experience.  After I worked up the nerve to go, I had to spend the better half of last year getting a few cavities filled and even the dreaded root canal and was also informed that I have periodontal disease.   Since then, I have vowed to make sure I don't transfer my fears to my boys, about getting regular dental check ups and attempt to make sure they have a really good oral care regimen.
It sounded easy enough to me, but I have two five year olds that often resist getting their teeth brushed.  It started off innocent enough, then it was a scene akin to bull wrestling.  They decided that the toothbrush made them cough, the toothpaste (kids toothpaste) was too spicy, or the they just plain didn't like it.  I quickly realized that I would have to get creative about getting them happy about brushing regularly.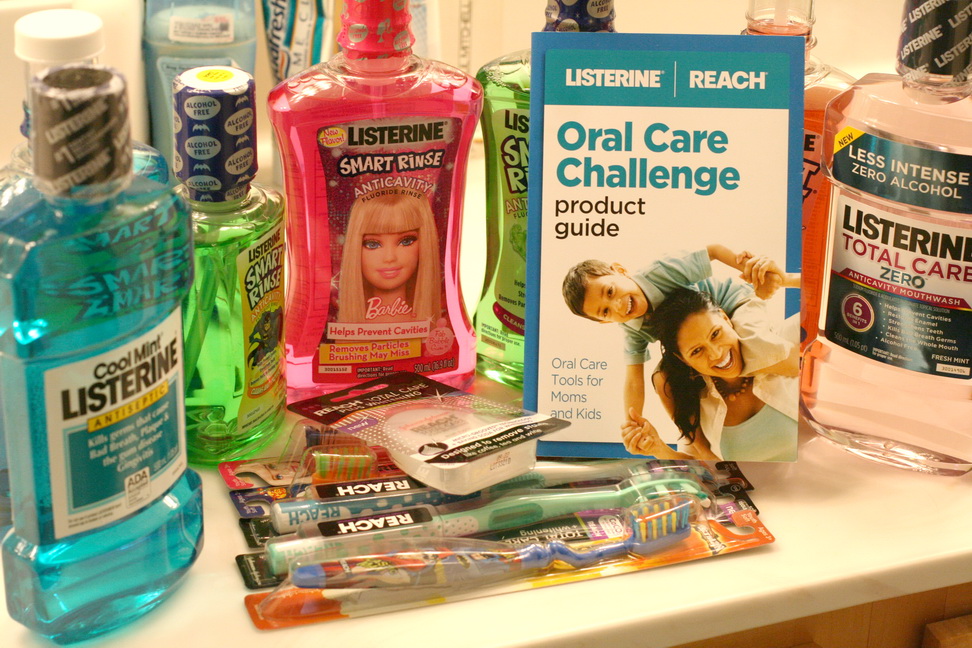 Then, the perfect opportunity came about.  The Motherhood has teamed up with LISTERINE® and REACH® for an exciting new project called– the LISTERINE® and REACH® Healthy Habits for a Lifetime Oral Care Challenge designed to  encourage families to adopt a healthy oral care regimen that will help lead to a healthier lifestyle.  They invited me and my family to take the challenge by taking a few extra minutes a day for a complete oral care routine including brushing, flossing and rinsing.  To complete the challenge, me and my family must do these steps twice daily for three weeks.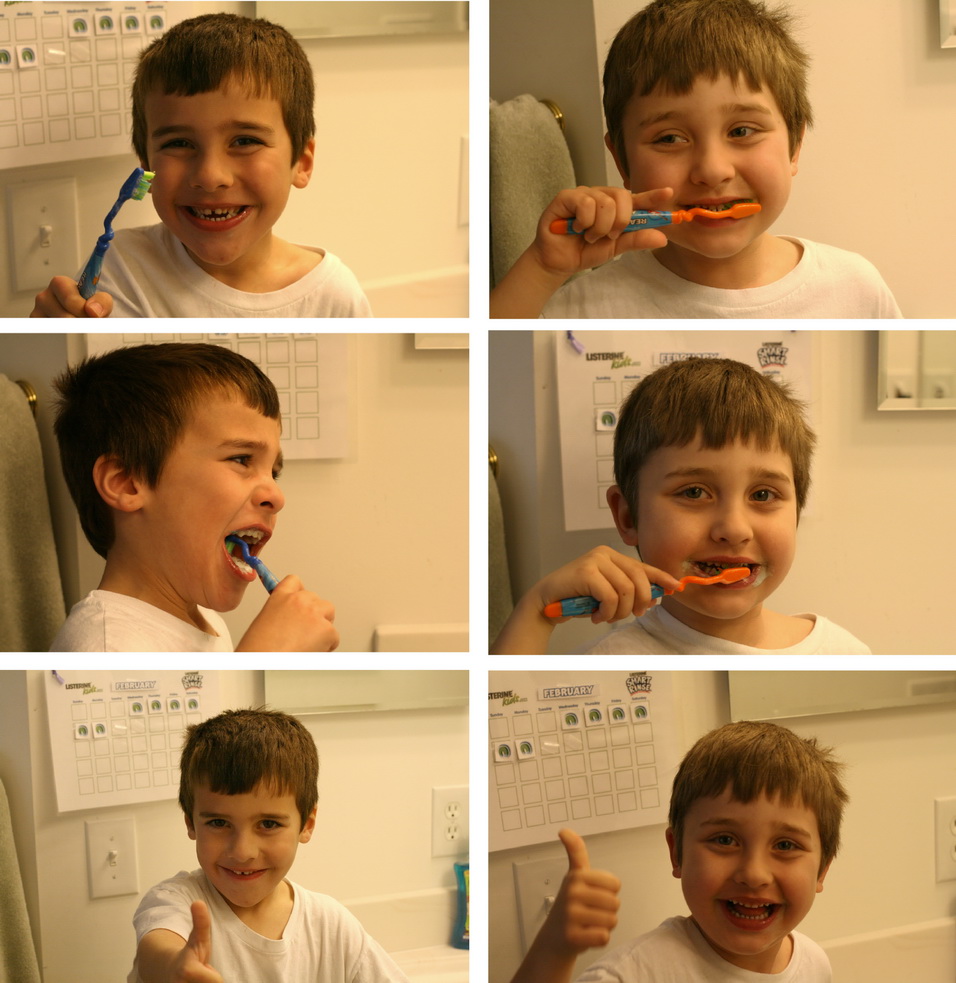 I know now, however, that I am not alone.   Did you know, that nearly 75 percent of American adults suffer from various forms of periodontal (gum) disease* and don't know it.  Despite the fact that I was brushing my teeth, I would  have never even known that I had periodontal disease.   Also after attending a webinar, I discovered that brushing your teeth alone misses the germs in 75 percent of your mouth!  I rarely even used mouthwashes, because I figured brushing would take care of it.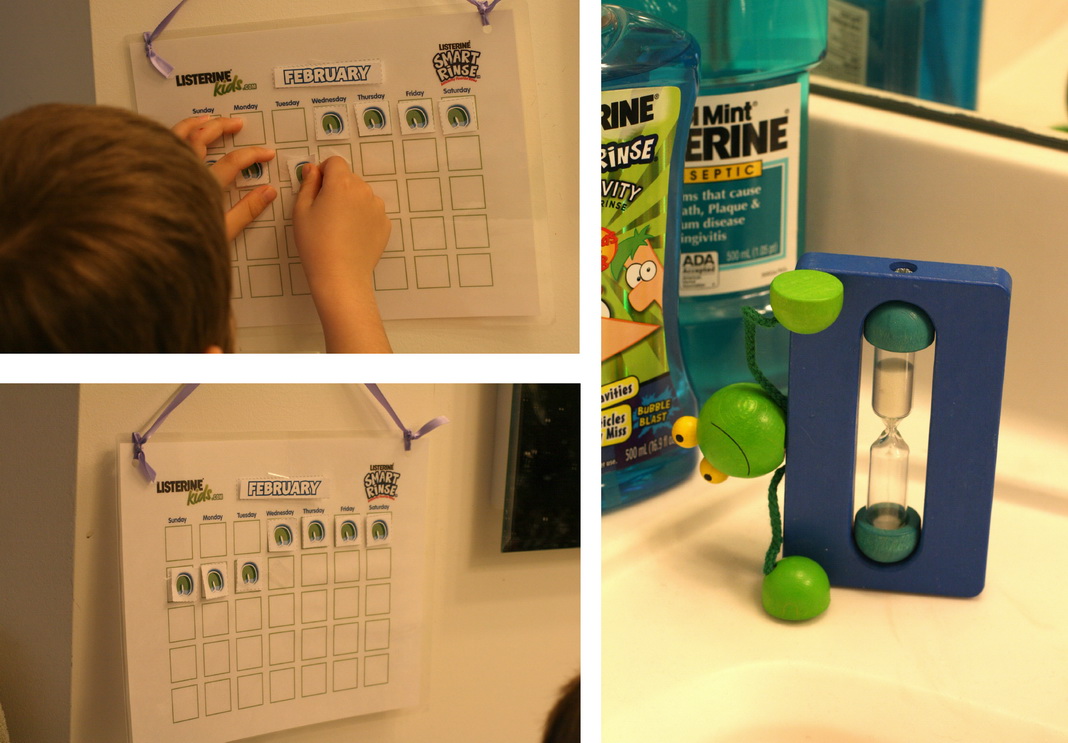 So I am on a new mission, to get our mouths in the best possible shape, by taking the Listerine Health Care Challenge and hopefully maintain a routine we all can live with, far beyond the three weeks and make it a lifetime habit with me and my kids.  We will be brushing flossing and rinsing, and making it a fun and healthy experience.  For the kids, we are keeping track on our Oral Care Challenge chart, and at the end they will be rewarded for keeping up the good work!  I am really excited to be a part of the Listerine Oral Care Challenge, and be able to keep my families teeth and mouths healthy and make it something we all enjoy doing.
I also would like to invite you to take the challenge with me!  You can visit www.walmart.com to access  tips from leading dental experts and great values and prices on oral care products.
**I received products and compensation from Johnson & Johnson and The Motherhood as part of my participation in the Oral Care Challenge. All thoughts and opinions expressed in this post are my own.**
When we had our house built a few years ago, it was such an exciting process.  There is nothing like building a home together and getting to choose what you do and don't like and what features you would like to have.  At the time, the builder had free upgrades available, like a whirlpool tub in the bathroom over a bigger shower.
I am a bath taking girl, I love to soak in there when I don't feel good, when I am cold during the Winter, or just to light some candles and relax.  At the time the whirlpool tub sounded divine and it still is.  It's like having a hot tub in your bathroom.  When we first moved in, I used it often and almost daily.  Then I sort of got tired of it and just would soak in the tub.
Then one day, I was sitting in the tub and these flakes of stuff were floating in my water.  EWWWWWW!   I am probably one of the cleanest people on the planet, if I see dirt I'm in full cleaning mode, especially the bathroom.  I don't like smells of any kind either.  At first, I just thought maybe it was just dirt from the drain or something.  Then it started happening frequently. So I bought some stuff that is supposed to clean out the whole jet system.  I ran it through there and it went away.  But I didn't use the jets anymore.
So I did some reading and found out that this stuff is inside the jets of the tub are breeding bacteria and all sorts of harmful junk.  It consists of dead skin, oils, mold, and unimaginable bacteria strains.  Gross eh?  No one ever mentioned that I needed to clean out the jets weekly with some special cleaner, so even though I was cleaning out the tub after each use with cleaners, I never thought about the jets. Granted, I am sure that there are instructions somewhere, but I never got any with the house and didn't know a thing about whirlpool tubs.
Then recently, when the boys were in the tub, this crud started floating in the water again.  So I instantly grabbed the jet cleaner and went to work.  Granted, the jets haven't been touched in about 5 years because I just forgot about them.  This little adventure of cleaning out the jets went on for the entire weekend, of filling up the tub, running cleaner through the system, draining the tub, refilling with cold water to rinse out the jets, and even running a half a gallon of bleach through it several times.  You would think, that would do the trick, but about a bazillion gallons of water later (I hate to see my bill) , the gunk is still there!  So how do you effectively clean these jets. because the "special cleaner" they recommended doesn't even work!   I have resorted to showers now until I can get them completely clean, or if I can.
The stuff you see is enough to make you gag, and I am really disappointed in the fact, that you cannot easily clean these tubs, not to mention the gallons of water wasted to do so.  If I ever get them clean again  I might actually get to use the tub, like I planned last weekend but never got to that point.  Until then, think twice about using those fancy jacuzzi tubs in hotels, god only knows what could be lurking in those…just EWWW!  I will never own a whirlpool/jacuzzi tub again.  They are too much hassle for just a few relaxing bubbles and who wants to soak in a bath that makes you feel gross before you even get clean?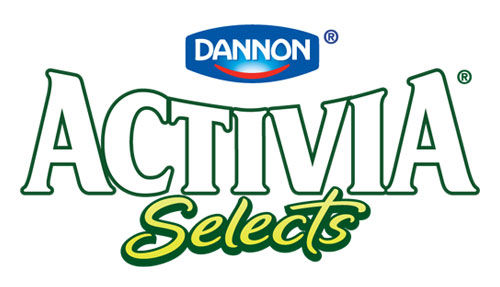 Nutritious eating habits for my family has always been a priority, as well as for myself.  Recently, I have been trying to get more physically fit and lose some pounds in the process.  Watching calories and reading labels, have become a part of my every day life.  Food is something that we eat every day, so nutrition should be a top priority.
We have always been a big fan of yogurt as one of our go to healthy snacks.  It is a fast and easy snack and we all love it.  Recently, I was given the chance to try Dannon's Activia Selects-French Fruit On The Bottom yogurt and at first, I was hesitant because I am a little picky about yogurt.  Some yogurts can be either too sweet, or too sour and sometimes, the fruit chunks can be overpowering, but this was really tasty with just the right amount of fruit.  I was worried about it tasting  different since I didn't even know what on Earth Activia was.  What is so helpful about yogurt containing  Activia?  Well, Activia Selects yogurt has the probiotic culture called Bifidus Regularis that is supposed to help regulate the digestive system when consumed daily for 2 weeks.  Probiotics are  known by many as "the beneficial bacteria,"  which many people believe if carried in the intestinal tract in significant amounts, are thought to help ease some digestive concerns.
Anything, that can give me a leg up in nutritious eating habits and that I can quickly and easily add to my diet is definitely something that I will keep on hand.  I love that Activia Selects are a quick and easy way to get some of these good things that my body needs.  I will definitely buy these in the future.  And speaking of your health…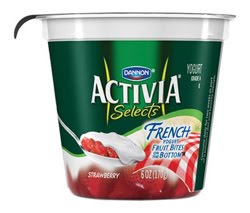 October is Breast Cancer Awareness Month!
In support of Dannon's ongoing commitment to health and wellness,Dannon is going pink in support of national breast cancer awareness month.  Dannon will donate at least 10 cents for each under-the-lid code entered at www.cupsofhope.com before 12/31/11 – up to $1.5 million – to the National Breast Cancer Foundation, Inc.® (NBCF). Dannon is committed to a $500,000 guaranteed donation to NCBF, including retailer-specific programs.
Each specially marked package of Dannon yogurt contains an under-the-lid code. Participating in Give Hope With Every Cup is as easy as entering the code from the lid at www.cupsofhope.com.
NBCF is committed to spreading knowledge and fostering hope in the fight against breast cancer. With support from Dannon, NBCF will fund free mammograms for women who could otherwise not afford them and will support research programs in leading facilities across the country.
So keep an eye out for the pink lids and help give yourself a leg up in your nutrition and overall health and help others who are in need.  If you want to learn more about Activia Selects you can go to http://activia.us.com/products/enjoy_activia_selects.aspx
"I wrote this review while participating in a campaign by Mom Central Consulting on behalf of Dannon Activia Selects Yogurt Series and received a coupon to facilitate my review and a promotional item to thank me for taking the time to participate. However, my opinions are entirely my own and I have not been paid to publish positive comments."
Recently, I mentioned that I was on a weight loss mission.  My ultimate goal is to lose 65lbs so I can go shopping for the cute clothes and just feel better in general.
I have been working hard for the past 4 weeks and I have lost nearly 20lbs in that time.  I am logging all of my intake, so I can be accountable for what I eat.  You would be surprised how much you can overeat without even knowing.  For instance, I love SunChips and this peach salsa.  When you "gasp" look at the bag you will see that a serving is only 15 chips or something like that.  When you sit there and physically count your chips one by one, you will realize that this seems like a meager amount.  Normally you would just reach in the bag as much as you want until you are satisfied.
I have had to adjust the way that I eat.  If I want something sweet, I head for the fruit before I go to my next step which is chewing gum.  I will admit that I do not deny myself treats.  In fact, I made a homemade chocolate cake with chocolate icing from scratch and had one piece nightly after dinner for a few nights.  The key is moderation.
I had not been used to eating healthy, so at first a piece of fruit tasted like crap to me.  But now it is something that I crave.  If I eat a piece of chocolate and go to fruit, the fruit doesn't taste sweet, so try to avoid high sugar foods.
I have gone from walking between 5-10 miles per day, to starting to run.  I only made it ten full minutes, before I thought I was gonna die, but it feels good do it.
My favorite snacks so far:
Sliced white peaches with a Tbs of light whip cream
SunChips Garden Salsa flavor with peach salsa
Carrots drizzled with a half tsp of green goddess dressing
Apple with 1 tbs natural no sugar peanut butter
Cranberry Rush Trail Mix from Meijer and Nutrition Nut/Fruit Mix from Planters
Canteloupe
Chocolate graham crackers with light whip cream in between, and put it in the freezer for a mock ice cream sandwich
My favorite breakfast
Maple and Brown Sugar Outmeal with Flax by Three Sisters
As for dinner, I haven't found a favorite meal, but I tend to eat whatever is made for the family but I measure out portions.  I will drink water but sometimes I want something else and I have found that I really like the regular Vitamin Water.

What are your favorite lo cal snacks?
One week has passed in my journey to lose weight.  The first few days were awful!  Around the evening time around dinner, I would start to feel depressed about all the new changes.  I felt like I was missing out on something.  Maybe it was food, or maybe it was just all the changes that I know have to be permanent in order to maintain a healthy weight.
I am exercising almost nightly with my dog.  She thinks I am trying to kill her, and I think I am trying to kill me too.  The first few days I started off slow, but then I began to enjoy the time.  I started out walking about a mile and finished off the week walking nearly 4 miles every night.  It seems that when you have catchy tunes playing in your ear, you can walk miles.
I am journaling every morsel of food, I am eating and I am enjoying the taste of fruit.  I did a little experiment quite by accident when I took a drink of the boys chocolate milk.  It was incredibly sweet and then I went to take a bite of my canteloupe that for the past few days tasted like pure sugar and it tasted like nothing.  It tells you how sweet actual sugar is and how your taste buds adjust to fruit sugars versus regular sugar.  Fruit tastes just like candy to me, when I am avoiding the refined sugars and high fructose corn syrups.
I am enjoying keeping track of everything, I am attached to a pedometer all day every day.  I have gone from just a few thousand steps to more than 15,000 steps per day, and I am feeling pretty good too.  Officially after the first week I am down 10lbs.  I know this will slow, but I will be happy with about 2 lbs per week!
I am up for the challenge!
Diets are no fun.  The minute I start to eat all the so called good for you foods, I get cranky.  Going through the grocery store, makes me feel like I must be blindfolded so I don't pout.  And flaxseed with oats tastes a bit like dirt, don't let anyone tell you otherwise.
I hate water, well not hate but, I like soda, and not diet.  My goal is to avoid artificial sweetners and soda all together.  I am drinking more water, and feel like I need a catheter permanently attached to me, so I don't have to be in the bathroom peeing every five minutes and im only drinking three glasses a day folks.
I am walking every night and dragging the dog along.  I put my iTouch on shake to shuffle, and walking quickly made me feel a bit ADHD because it didnt like my brisk walking and proceeded to change songs with every step.
Day two and I am still alive! I am sure after my chocolate and coca cola withdrawals (in about 4 weeks), I will be a much happier camper.  But until then look for crab apple posts like this one.
I will conquer.
Our family consumes a lot of juice, especially the boys.  First thing in the morning, it is the thing they ask for the most.  To incorporate more water and less sugary juice, I started watering it all down.  Both of my kids love fruits and vegetables of all kinds, so that has never been a struggle, so I started considering ways in which I could still give them the juice that they loved in the morning and throughout the day, but offering them a healthier choice.
A good friend of ours suggested a juicer, so I went on a search to find out more information.  I used to own a juicer back in my college days, and a lot has changed since I owned that dinosaur of a juicer.  There are a lot of juicers on the market, there are centrifugal juicers, masticating juicers, and others, that make your mind spin with information. One of the supposed key benefits to juicing are the mega health benefits.  When you buy bottled juices in the store, most of these are pasteurized which means it is heated.  The problem with that, is you kill off all the "good for you" stuff, and you are  not getting the maximum benefit from the fruits and vegetables.  If you are drinking heated juice, then you might as well stir up some sugar water, and call it a day.  After reading about it, I don't think I would ever go back to a bottled juice again.
After countless hours of researching the health benefits, I realized that I wanted to try a juicer, not just for my children, but for myself as well.  I recently had the opportunity to review and Omega Vert Vrt350 HD Juicer.  For the most part, juicing is a foreign to me, so when it arrived at my doorstep, I was excited and a little intimidated by using it.  The first thing I noticed is that it was heavy!  I thought there must be a hunk of lead in the box, but to my amazement the juicer itself is very compact in size, the bulk of the weight is in the part that houses the motor, and the Auger (the part that turns to work the fruit through the mesh juicing screen).  I was surprised how easy it was to get up and running, within just a few minutes, I was already juicing my first apple  and a carrot.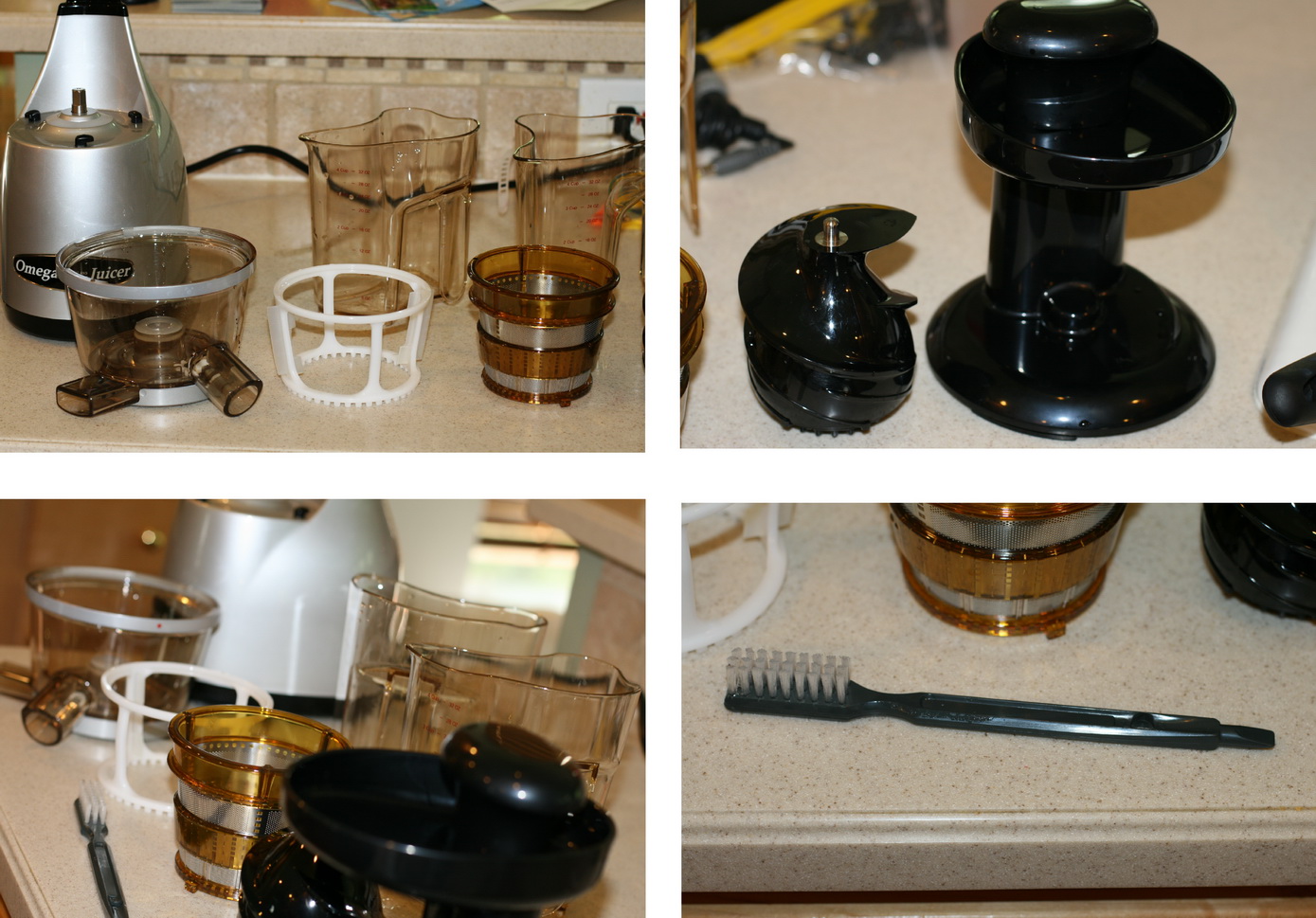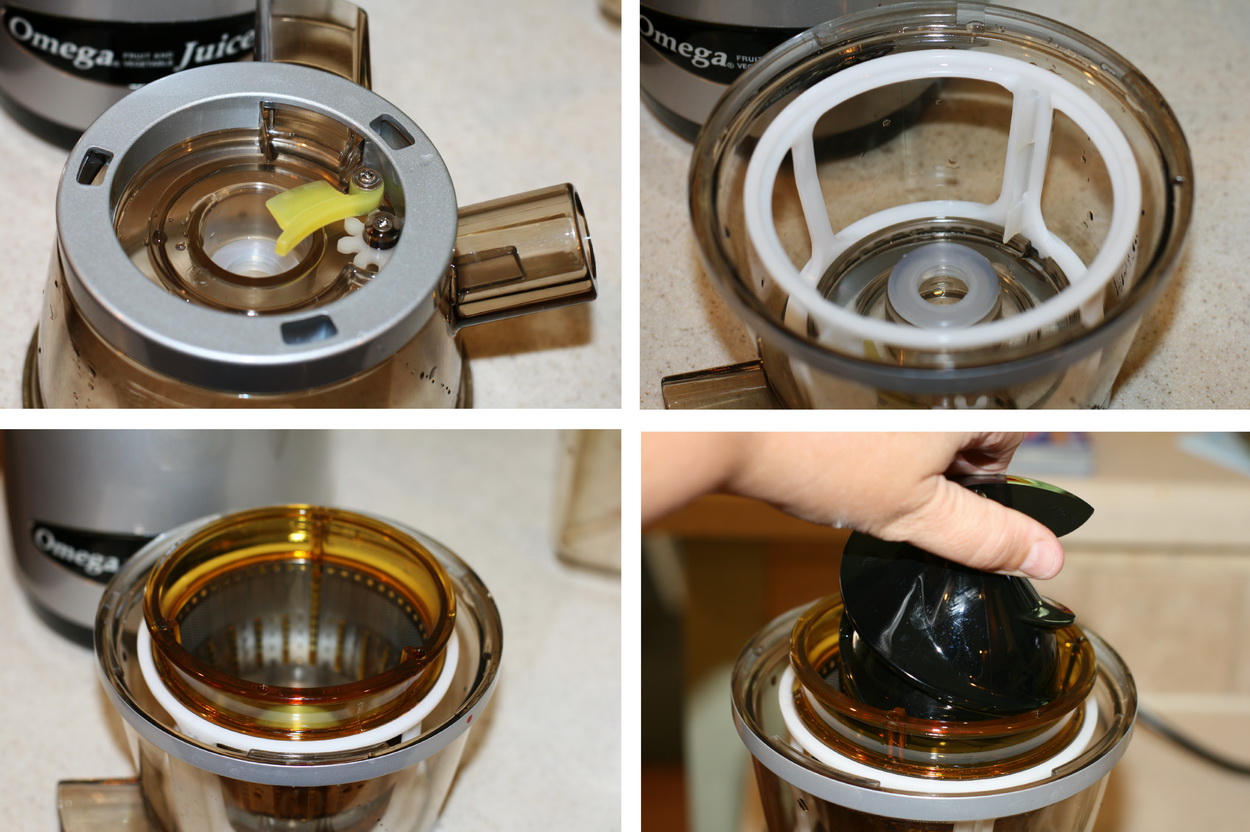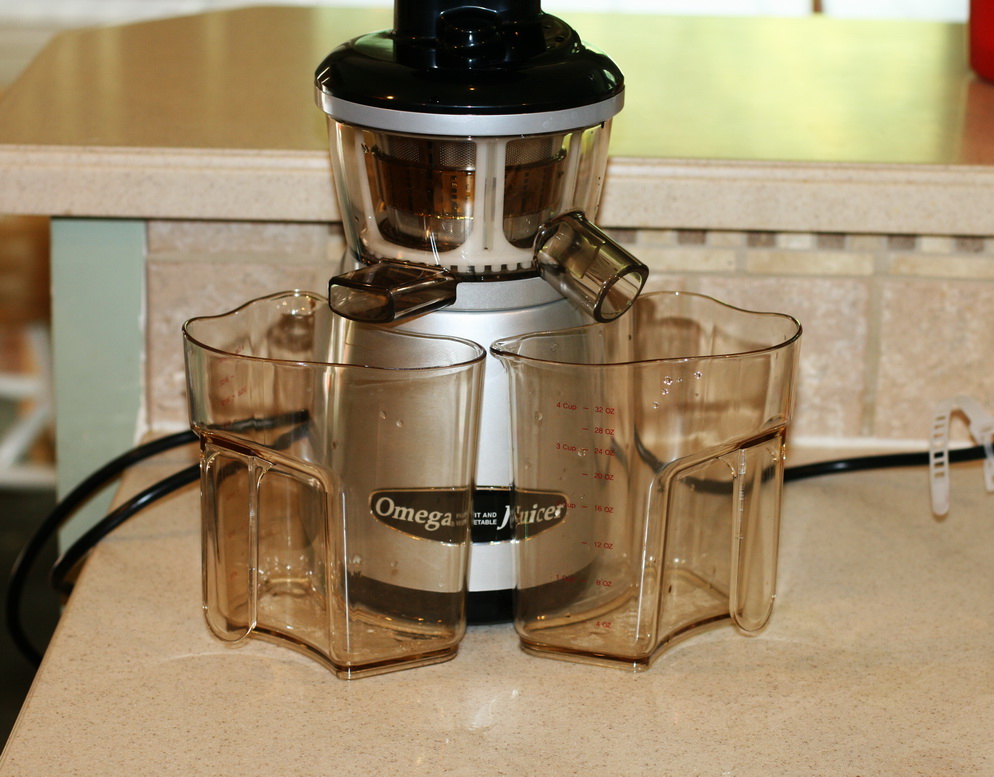 Try not to laugh at my demonstration video!
Omega Vert VRT 350 HD Details

The Omega Vert VRT350 Juicer  features the high efficiency of a

masticating  juicer

in a vertical design that is compact, contemporary and productive. Most juicers process at a speed of 1,650 to 16,000 RPM, destroying many healthy enzymes and causing juice to degrade shortly after being extracted. The Vert VRT350 Low Speed Juicing System processes at 80 RPM, preventing oxidation and allowing juice to be stored for up to 72 hours without degradation. The Vert VRT350 also features an innovative auto cleaning system that keeps the screen clear during juicing and increases its efficiency. The contemporary design is complemented by a virtually indestructible ULTEM juicing screen that will withstand heavy duty juicing. Ideal for fast pace commercial environments, this juicer combines a contemporary styling with the technology to cater to the  health conscious.

Features:

• Innovative design squeezes out
juice rather than grinding
• Preserves natural taste and
color of juice
• Preserves natural nutrients
• Exclusive Blade Cleaning System
keeps the screen clean during use
• Efficient Design ensures maximum
juice extraction with the driest pulp
in its class
• Easy disassembly and reassembly
• Auger is extremely hard and durable
• Auto Cleaning System
• 80 RPM for peak efficiency
• Crushing Ribs
• Commercial 1/3 HPMotor
• Exclusive Underwriters Laboratories
Inc. (UL) Household and Commercial
Approval
After using the Omega Vert VRT 350HD juicer for about 8 weeks now, I have noticed a marked difference in how I feel physically and surprisingly, juicing has changed how my skin feels.  I have also used it to help me in my weight  loss, and have just been drinking freshly juiced fruits and vegetables, when I am hungry between meals and have managed to lose weight in the process without feeling cheated.  I actually enjoy getting the juicer out and making fresh juice for me and the boys and experimenting with different combinations.
I have found that if you are over zealous with certain vegetables like celery, you can over power your juice, so with a little experimenting you can find a balance that tastes good to you.  The Omega Vert VRT350 HD comes with two juicing screens which allow you to have more or less pulp in your juice.  We prefer the finer screen with most things with the exception of juicing oranges and lemons.  My husband likes to run his through and even finer strainer after the juicing process, but he is ultra picky about anything healthy  LOL!  In the process of juicing, I also discovered a new way to make blackberry jam as well.  I wanted to make a seedless version, and was fighting with a potato masher to get the seeds separated, but then I decided to try my juicer and it removed all the seeds and left me with just the good stuff from my blackberries!  The Omega Vert VRT350 HD is awesome for this too!
What I love about the Omega Vert VRT 350HD juicer is that I can control what my family is getting with maximum health benefits.  It is very very easy to use and there is no fuss when cleaning it when I am done.  I can juice and clean the system literally in about 5-7 minutes which makes it practical for families on the go.  There is actually very little to clean with the silicone wiper blades that rotate along the juicing screen, there is little in the way of food that gets stuck anywhere.  It is perfect for kids and adults with texture issues who do not like to bite into an apple or a raw carrot but are willing to drink the juice instead.  I also like that, if there are bruised fruits in my fridge, I can toss them in the juicer and still get the same benefit and avoid tossing away money spent on fresh produce.  This juicer is also super quiet!  When I first used it I was expecting loud noises as it would grind up my fruits and veggies and I was beyond surprised.  I can run my juicer early in the morning and no one hears a thing.  We did have a little trouble juicing pineapple, but I found if I cut it into smaller pieces, the pulp chamber was less likely to back up.  Juicing also creates pretty much no waste if you want it to.  With the remaining pulp you can easily use this as compost in your garden, I plan on creating a composting bin starting this fall and this is perfect for that.  The Omega Vert VRT350 HD retails for around $380 and is worth every penny in my opinion.  If you are interested and serious in making some major changes in your diet, I would suggest trying a juicer and I highly recommend the Omega Vert VRT 350 HD juicer.  I have not been disappointed with it in the 8 weeks that I have had it.
Overall this is a great product, if you are interested in making health conscious decisions for the family and you want to offer the healthier choices for your kiddos.  Neither one of my boys has noticed a difference in the juice that I offer them from the juicer versus the watered down concentrates I used to give them.  This in itself is worth the switch.  You can read more about the Omega company and how they got started with their full line of Omega juicers.
**The Omega VRT350 juicer was provided for me to review, the opinions expressed here on my blog are that of my own.**