Our family consumes a lot of juice, especially the boys.  First thing in the morning, it is the thing they ask for the most.  To incorporate more water and less sugary juice, I started watering it all down.  Both of my kids love fruits and vegetables of all kinds, so that has never been a struggle, so I started considering ways in which I could still give them the juice that they loved in the morning and throughout the day, but offering them a healthier choice.
A good friend of ours suggested a juicer, so I went on a search to find out more information.  I used to own a juicer back in my college days, and a lot has changed since I owned that dinosaur of a juicer.  There are a lot of juicers on the market, there are centrifugal juicers, masticating juicers, and others, that make your mind spin with information. One of the supposed key benefits to juicing are the mega health benefits.  When you buy bottled juices in the store, most of these are pasteurized which means it is heated.  The problem with that, is you kill off all the "good for you" stuff, and you are  not getting the maximum benefit from the fruits and vegetables.  If you are drinking heated juice, then you might as well stir up some sugar water, and call it a day.  After reading about it, I don't think I would ever go back to a bottled juice again.
After countless hours of researching the health benefits, I realized that I wanted to try a juicer, not just for my children, but for myself as well.  I recently had the opportunity to review and Omega Vert Vrt350 HD Juicer.  For the most part, juicing is a foreign to me, so when it arrived at my doorstep, I was excited and a little intimidated by using it.  The first thing I noticed is that it was heavy!  I thought there must be a hunk of lead in the box, but to my amazement the juicer itself is very compact in size, the bulk of the weight is in the part that houses the motor, and the Auger (the part that turns to work the fruit through the mesh juicing screen).  I was surprised how easy it was to get up and running, within just a few minutes, I was already juicing my first apple  and a carrot.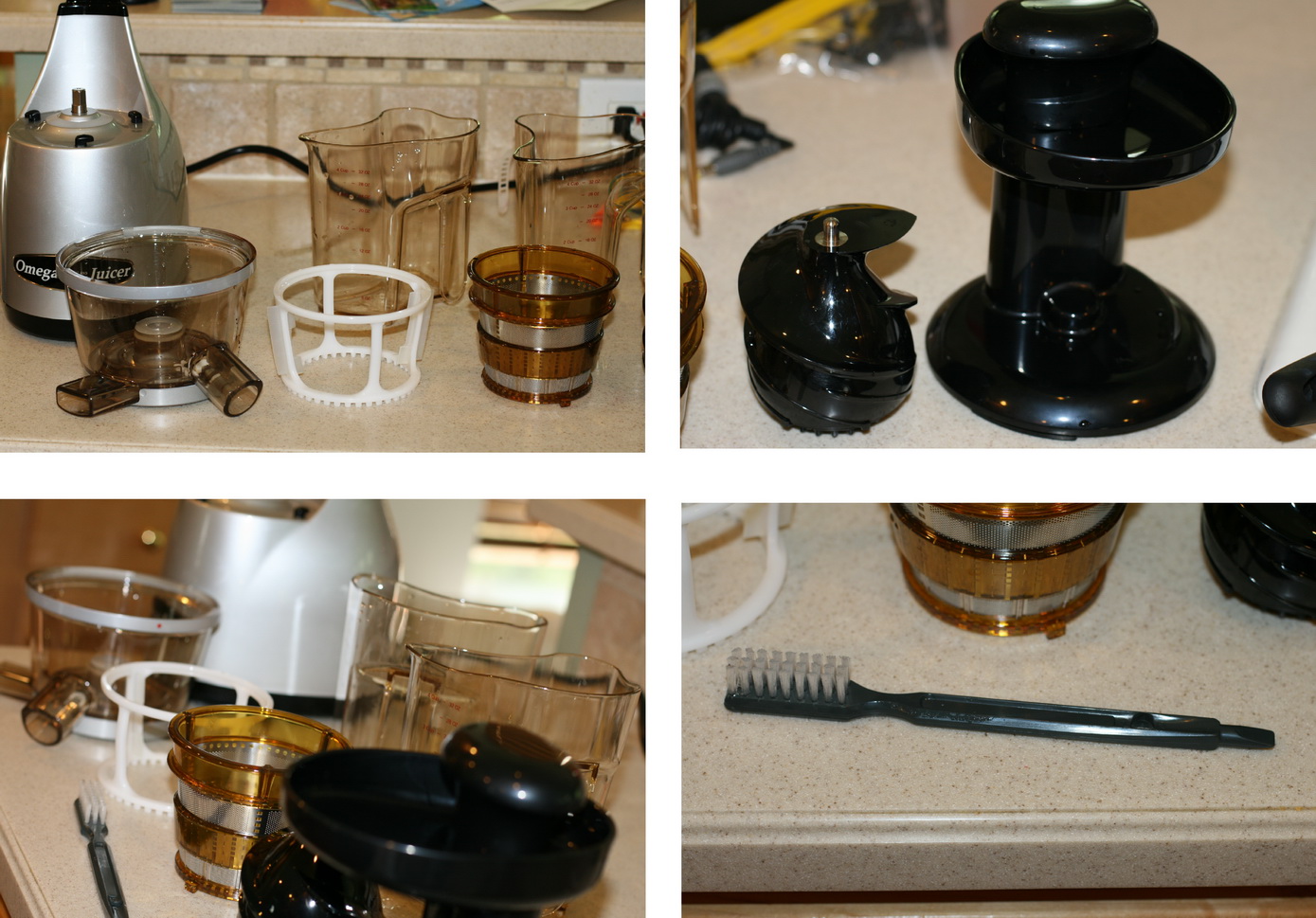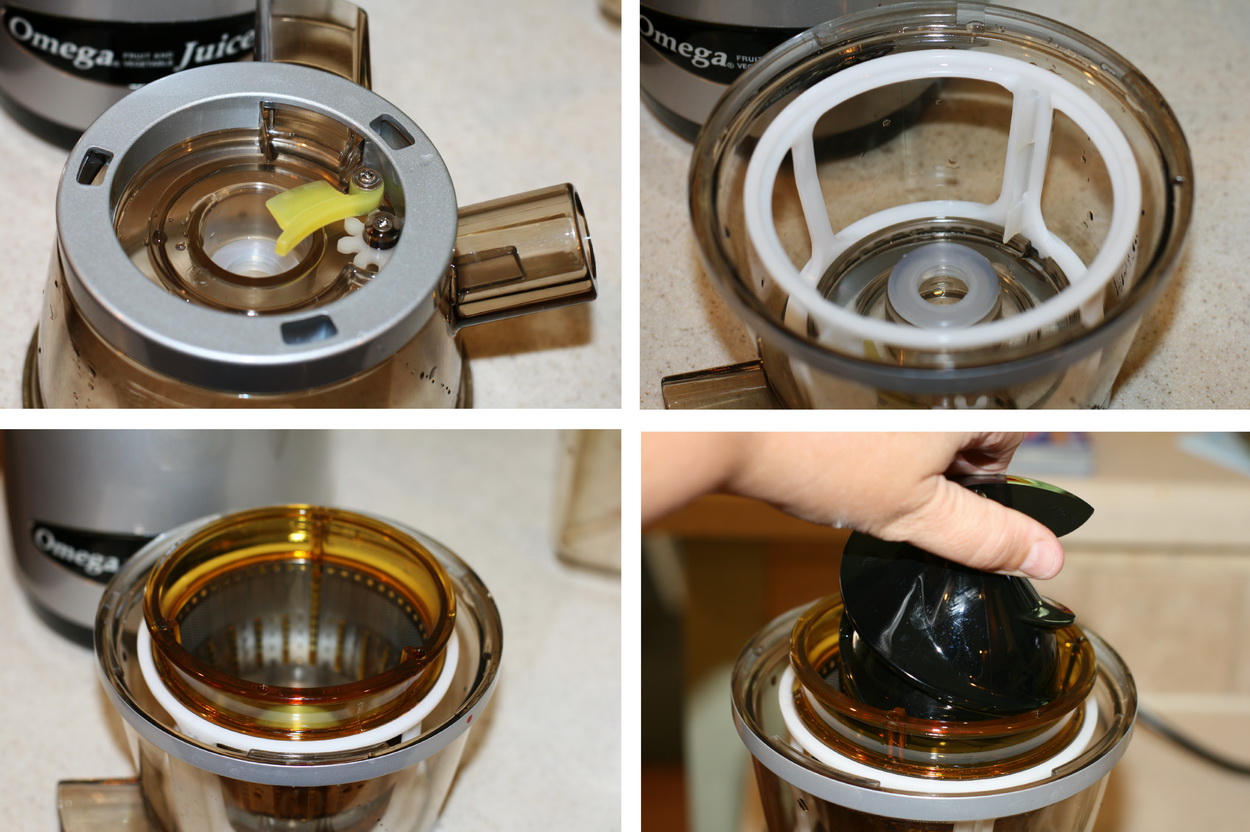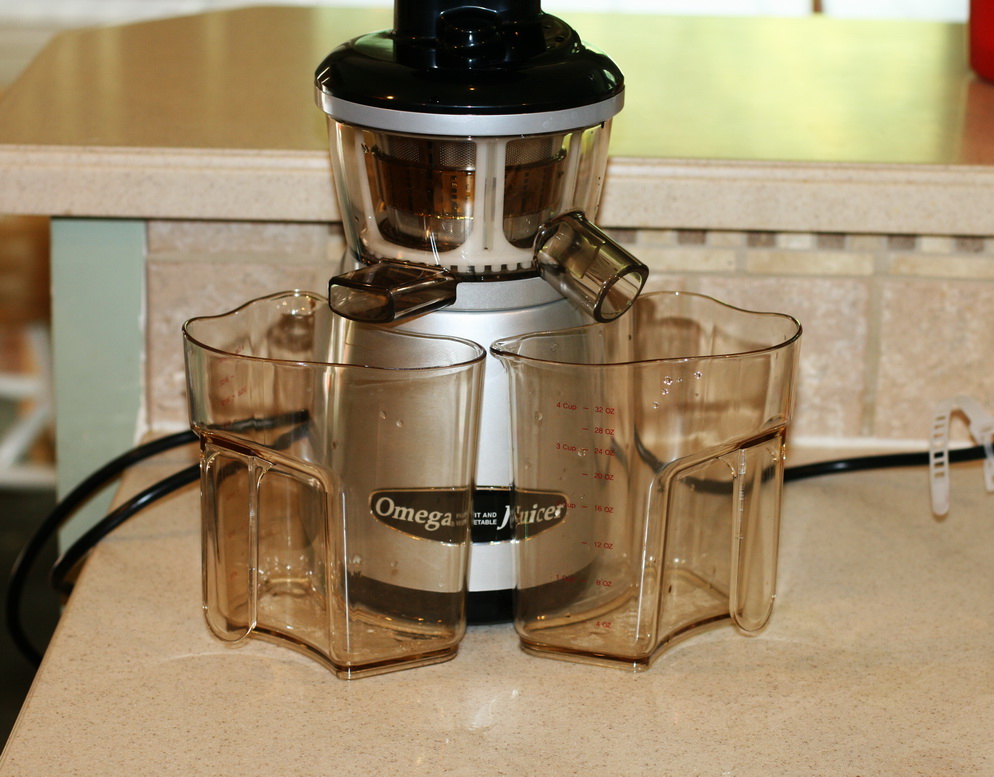 Try not to laugh at my demonstration video!
Omega Vert VRT 350 HD Details

The Omega Vert VRT350 Juicer  features the high efficiency of a

masticating  juicer

in a vertical design that is compact, contemporary and productive. Most juicers process at a speed of 1,650 to 16,000 RPM, destroying many healthy enzymes and causing juice to degrade shortly after being extracted. The Vert VRT350 Low Speed Juicing System processes at 80 RPM, preventing oxidation and allowing juice to be stored for up to 72 hours without degradation. The Vert VRT350 also features an innovative auto cleaning system that keeps the screen clear during juicing and increases its efficiency. The contemporary design is complemented by a virtually indestructible ULTEM juicing screen that will withstand heavy duty juicing. Ideal for fast pace commercial environments, this juicer combines a contemporary styling with the technology to cater to the  health conscious.

Features:

• Innovative design squeezes out
juice rather than grinding
• Preserves natural taste and
color of juice
• Preserves natural nutrients
• Exclusive Blade Cleaning System
keeps the screen clean during use
• Efficient Design ensures maximum
juice extraction with the driest pulp
in its class
• Easy disassembly and reassembly
• Auger is extremely hard and durable
• Auto Cleaning System
• 80 RPM for peak efficiency
• Crushing Ribs
• Commercial 1/3 HPMotor
• Exclusive Underwriters Laboratories
Inc. (UL) Household and Commercial
Approval
After using the Omega Vert VRT 350HD juicer for about 8 weeks now, I have noticed a marked difference in how I feel physically and surprisingly, juicing has changed how my skin feels.  I have also used it to help me in my weight  loss, and have just been drinking freshly juiced fruits and vegetables, when I am hungry between meals and have managed to lose weight in the process without feeling cheated.  I actually enjoy getting the juicer out and making fresh juice for me and the boys and experimenting with different combinations.
I have found that if you are over zealous with certain vegetables like celery, you can over power your juice, so with a little experimenting you can find a balance that tastes good to you.  The Omega Vert VRT350 HD comes with two juicing screens which allow you to have more or less pulp in your juice.  We prefer the finer screen with most things with the exception of juicing oranges and lemons.  My husband likes to run his through and even finer strainer after the juicing process, but he is ultra picky about anything healthy  LOL!  In the process of juicing, I also discovered a new way to make blackberry jam as well.  I wanted to make a seedless version, and was fighting with a potato masher to get the seeds separated, but then I decided to try my juicer and it removed all the seeds and left me with just the good stuff from my blackberries!  The Omega Vert VRT350 HD is awesome for this too!
What I love about the Omega Vert VRT 350HD juicer is that I can control what my family is getting with maximum health benefits.  It is very very easy to use and there is no fuss when cleaning it when I am done.  I can juice and clean the system literally in about 5-7 minutes which makes it practical for families on the go.  There is actually very little to clean with the silicone wiper blades that rotate along the juicing screen, there is little in the way of food that gets stuck anywhere.  It is perfect for kids and adults with texture issues who do not like to bite into an apple or a raw carrot but are willing to drink the juice instead.  I also like that, if there are bruised fruits in my fridge, I can toss them in the juicer and still get the same benefit and avoid tossing away money spent on fresh produce.  This juicer is also super quiet!  When I first used it I was expecting loud noises as it would grind up my fruits and veggies and I was beyond surprised.  I can run my juicer early in the morning and no one hears a thing.  We did have a little trouble juicing pineapple, but I found if I cut it into smaller pieces, the pulp chamber was less likely to back up.  Juicing also creates pretty much no waste if you want it to.  With the remaining pulp you can easily use this as compost in your garden, I plan on creating a composting bin starting this fall and this is perfect for that.  The Omega Vert VRT350 HD retails for around $380 and is worth every penny in my opinion.  If you are interested and serious in making some major changes in your diet, I would suggest trying a juicer and I highly recommend the Omega Vert VRT 350 HD juicer.  I have not been disappointed with it in the 8 weeks that I have had it.
Overall this is a great product, if you are interested in making health conscious decisions for the family and you want to offer the healthier choices for your kiddos.  Neither one of my boys has noticed a difference in the juice that I offer them from the juicer versus the watered down concentrates I used to give them.  This in itself is worth the switch.  You can read more about the Omega company and how they got started with their full line of Omega juicers.
**The Omega VRT350 juicer was provided for me to review, the opinions expressed here on my blog are that of my own.**
We all have intentions of making healthier eating choices for ourselves and our families.  As soon as my boys could eat, I was trying to introduce fresh fruits and vegetables, to hopefully avoid finicky eaters and encourage them to actually ask for or want the healthier foods.
We recently started gearing up for the growing season.  Once we get warmer weather, I am outside turning over the garden and getting ready for vegetables.  This year we are planting a whole host of wonderful things from fresh herbs, lettuce, broccoli, peas and green beans and our favorite tomatoes!  There isn't anything like a tomato that is fresh from the garden and my boys will hand pick them and eat them whole if I let them.
We use a lot of tomatoes in our house, and canned tomatoes are a definite staple in our pantry.  One of my favorite dishes to make for family and friends is my famous chili recipe.  Often times people associate it with colder weather, but my kids ask for it often, and my dad when he comes to visit.  Tomatoes give a wonderful taste and can liven up many dishes, but even with that aside, there are definite health benefits to consuming tomatoes.  A recent article by The American Journal of Lifestyle Medicine outlines the emerging health benefits of tomatoes.  Tomatoes, are known to contain lycopene and other key nutrients that can potentially lower our risk of certain cancers and heart disease.  My Dad suffers from heart disease, and I have a good friend with cancer, so I owe it to my family to try and make these healthier choices for them and make things that they love.
By following these simple 2010 Dietary Guidlines and dreaming up some tasty tomato dishes, you can give your family the gift of good food and health.  One of my best loved recipes is my chili.  It's not only easy to make, but I love to make it for my dad and include healthy things like fresh vegetables and with chili you can sort of throw in just about anything and it tastes good.  Chili can be a versatile and healthy dish, and it makes it easy to include the "good for you" stuff.  In fact,canned tomatoes like Hunts offer the body more lycopene because during the cooking process it breaks down the cell wall of the tomato. I have also been known to thrown in sweet potatoes, and carrots before.  It is fun to experiment and tomato dishes like these, bring out great flavor in vegetables, pasta and meats and enables you to get the added lycopene that our bodies need.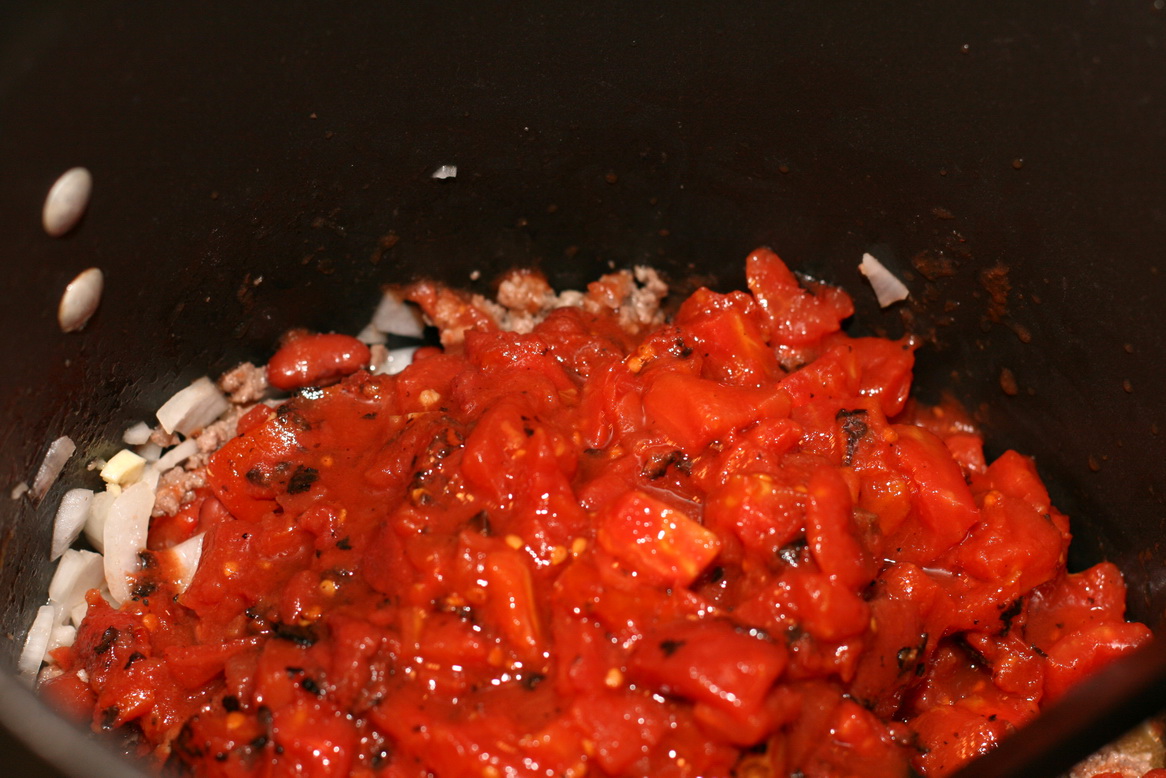 My Chili (For My Family)

1lb of lean ground beef or ground turkey
2 gloves of chopped fresh garlic
1 medium onion diced or 2 if you like them (I don't hold back)
1 or 2 bell peppers diced, I like to use red, yellow and orange (gives great color)
1 15 oz can of Hunts Tomato Sauce
2 cans of Hunts Fire Roasted Diced Tomatoes with or without garlic
2  cans of Dark or Light Red Kidney Beans
3 Bay Leaves (I take them out after cooking)
1 tsp of Crushed Basil
2-3 TBS of Chili Powder (or more if you are brave)
Low Fat Shredded Sharp Cheddar Cheese
Oyster Crackers
In a  stock pot, Brown Ground Beef  or Turkey Drain off Fat toss in garlic, onion and peppers and cook just until tender, Drain and rinse kidney beans, add all other ingredients to the pot except for cheese and crackers, this comes later!  Simmer chili on low to medium for 30-45 min (remove the bay leaves) and enjoy! Get a heaping bowl, top with your favorite low fat cheese and sprinkle on a few crackers and you have a tasty meal!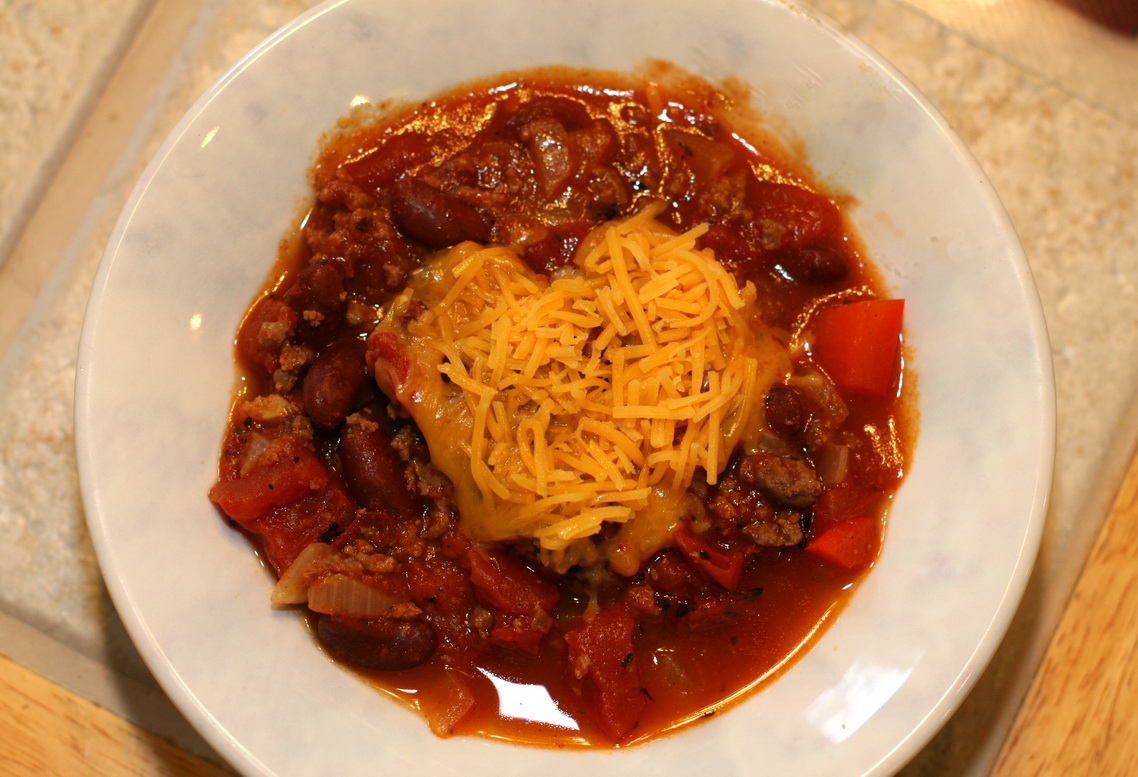 This is a really yummy recipe and very low in fat and it takes very little time to prepare. You can certainly make double and triple batches to freeze.  I know busy moms like me, can appreciate a good recipe that is freezer friendly!  It makes the nights you don't feel like cooking so much easier too.  Tomatoes, can be a  great start to making healthier choices for you and the special people in your life.  What is your favorite tomato recipe?
This post was part of a project in association with Hunt's and The Motherhood. I was compensated for my time. Opinions and ideas expressed are my own.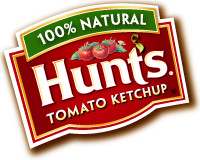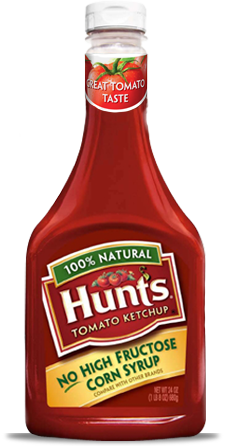 We are huge ketchup fans in this house.   Both of my boys always ask for everything with dip (meaning ketchup).  They dip their french fries, chicken nuggets, and fish sticks, so we find ourselves going through bottles of the stuff on a regular basis.  I always try to read the labels, and often times you cannot pronounce what is in your food.
We were sent a bottle of Hunt's Tomato Ketchup to try, which boasts no high fructose corn syrup.  As a Mom, you are always trying to make healthy and conscious food decisions for your family without compromising the taste.  High fructose corn syrup is something I try to avoid because it isn't really a  natural sugar in our diet.  Hunt's ketchup now features five simple ingredients. Hunt's reformulated recipe includes no high fructose corn syrup, and no artificial ingredients or preservatives and we all loved the taste.  It tasted just as good without all the extra fake fluff in our food (as I call it).
And to celebrate Moms and the choices they have to make for their family,  starting July 2nd, Moms have a chance to win a family vacation (up to $5,000) through a photo contest. To enter, go to facebook.com/hunts, submit a photo of you and your family achieving a "simple victory" and you could win that summer vacation you've been longing for.
Having basic and simple ingredients in our foods, doesn't mean that you have to sacrifice the taste.  I am seeing more and more foods offered in local grocery stores that are getting back to basic ingredients, and I like having those choices for my family!
"I wrote this review while participating in a blog campaign by Mom Central on behalf of Hunt's and received a ketchup sample to facilitate my candid review. Mom Central also sent me a gift card to thank me for taking the time to participate."


As a Mom, it is always a challenge to come up with things to feed your family.  It is even harder to come up with creative ways to slip healthy dinner choices into your family's diet, especially if you have picky eaters.  One of my boys will eat just about anything, but my other, you have to convince him that the food you put in front of him is good.  Making subtle changes with healthier variations is what I found to be easiest when attempting to put something good for us on our plates.
I will be the first to admit that I tend to skip over the healthier version of a favorite food because it has been burned into my mind that it just won't taste as good or taste the same, but I am usually willing to try it, if you put it in front of me..  My husband is a very anti-healthy anything, and if the label even mentions whole grain foods or whole wheat anything, he won't touch the stuff.
I was recently given the opportunity to try Uncle Ben's Brown Rice and I must say that I was pleasantly surprised.  We use a lot of white rice with various dishes in the house, so I figured that making a switch would be a good idea in the long run.  We were able to try a few different varieties Natural Whole Grain Brown, with the traditional cook time (40 minutes), plus Fast & Natural Instant Brown Rice and Boil-In-Bag Whole Grain Brown Rice (both ready in 10 minutes).  I am a big fan of the boil in bag rice but we tried the Fast & Natural Instant Brown Rice.  I was serving a pork dish with a sauce that I dumped over the rice, but because rice is so versatile you can incorporate it into many dishes.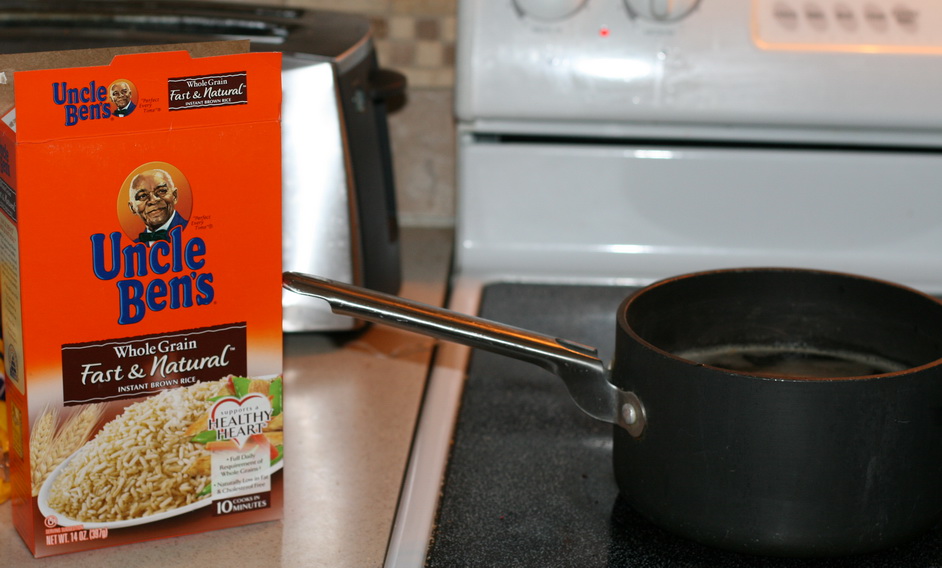 The rice definitely has a distinct taste, and you can taste the whole grain, but everyone seemed to really like it, and I can see switching to use it in place of just using white rice, although I don't think I will give it up completely.  Uncle Ben's also has some really  great recipes to try using their Whole Grain Brown Rice, such as: Chicken & Brown Rice Sloppy Joes (this is next on our list to try); Tex Mex Rice with Shrimp, Corn and Lime; Chicken, Apple and Walnut Brown Rice Salad; and Mediterranean Stuffed Portobello Mushrooms. This makes it really easy to incorporate healthier choices and please even the pickiest palate.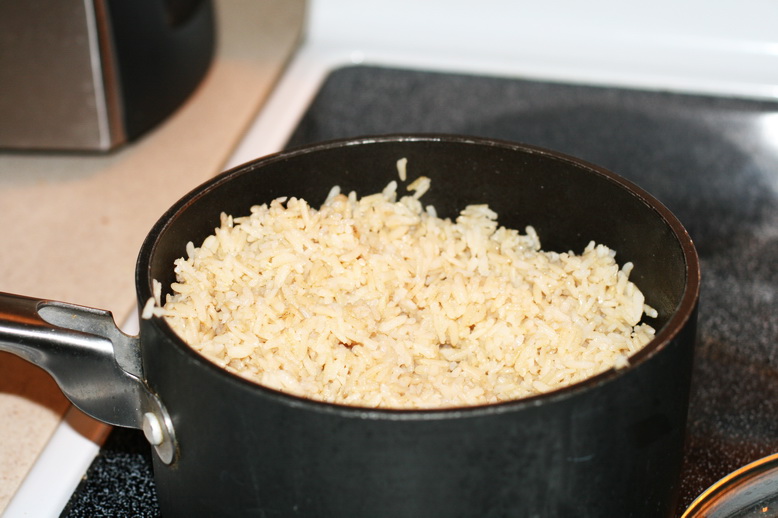 All in all, we really liked Uncle Ben's Whole Grain Brown Rice and will be keeping it as a staple in our pantry.  I can't wait to try their Sloppy Joe Recipe!
"I wrote this review while participating in a blog campaign by Mom Central on behalf of Uncle Ben's and received samples to facilitate my candid review. Mom Central sent me a gift card to thank me for taking the time to participate."

I typically make a conscious effort to make relatively healthy meals for the boys.  From day one I had vowed that I would offer them as many fresh fruits and vegetables as I could.  They have developed a love for just about any fresh fruit except cantaloupe, and love just about any vegetables. But, the reality is that, eating healthy is expensive.
What I have found, is that it is getting increasingly difficult to buy fresh produce for us, without literally spending $60 to $100 per week in efforts to get fresh things to prepare. You would honestly think that the cost to buy fresh, would be a little more reasonable than buying all these processed foods. Something in this country is very backwards. If we made the healthier choices more accessible, I would think that insurance costs would go down (less cardiac disease, less diabetes, and cancers). If people had more incentive to eat fresher foods, the benefits to their health are enormous and it might save this nation some money and make insurance more affordable.
I personally think realistically, that we are too far gone in this world of "get it now and convenience" to truthfully go back. When it comes right down to brass tax, we want everything right now, in the fastest manner possible and eating fresher foods just simply requires more time and effort. As a Mom, this isn't what's always best but I am also hard pressed to save a buck. It is dizzying to see how many of us spend sometimes hours in the grocery store with stacks full of coupons to feed our families, but I can guarantee none of those coupons offer a dime off of fresh produce. It's an admitted rush to leave the store with $200 worth of groceries for $100, even though it can live in our pantries for years, is it really all that healthy? It is no wonder why people are unhealthy, they can't afford to eat whats actually good for them! One of my favorite places to shop is Whole Foods (I love love love this place!), but with the economy and money being tight, I can only make a trip there as a treat rather than a weekly visit.
I am all for indulgence and I certainly don't deny my kids the occasional chips or cupcake and I even make dinners from a box, but I would love to have a coupon for lettuce, broccoli, and some of the things that their body actually needs. Local grocery stores should make these coupons available and I bet they would draw in more customers. Eating healthy should be rewarded not a financial burden.