I am popping in to tell you all hi, I am deep in the throws of remodeling our laundry room.  I got a wild hair and decided to throw some paint on the walls in the house in several rooms including the laundry room.  I have been spending way to much time on pinterest and as a result I am reorganizing most of my house.
In the last week I have added shelving in our coat closet and put all the hats gloves, umbrellas etc in their designated baskets off to the left side.  Before I started, there were things smacking me in the head and I feared for a person's life if they opened up my closet!  Here is a picture just to give you an idea.  The shelves give me a much more feasible option for storing our things, and the boys can reach for their own hats and gloves, because before I needed to get them up on the top shelf.  Now I can store our surplus toiled paper and paper towels up there, and I still have mostly and empty shelf for more storage, but I kind of like the emptiness!
So you can see its a nice addition for my sewing things, and picnic throws etc that we will be needing soon enough!  I will have to share my laundry room redo.  Right now everything is a disaster with laundry baskets, sorter, shelves, paint buckets, and tools everywhere in there.  I can't wait to have a nice new place to do my dreaded laundry since I feel like I live in the laundry room.  It is a major thoroughfare for everyone.  We go from the garage through the laundry room to the rest of the house, so its get a lot of traffic.  Currently the floor is turning yellow after 10 years of walking on it and that doesn't come off.  It is the cheap sheet linoleum that is paper thin, so I will be laying a nice new floating tile floor.  I can hardly wait.  The white walls will be getting a splash of color, I will be hanging cabinets above the washer and dryer and possibly putting a folding station in.
So, if you are wondering where my blogging has gone, its all in my laundry room and house at the moment.  Hopefully I will be sharing my projects soon!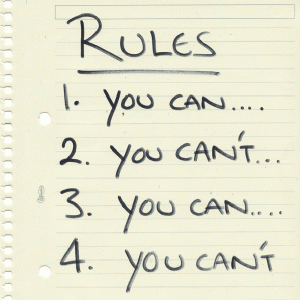 We live in a fairly nice neighborhood.  We had our first home built in an upcoming part of town, and it was all good.  I knew that there would be a Home Owners Association or HOA, and that there is usually a minimal fee associated with it.  My husband is about as anti rules as anyone I know and he grumbled at the whole idea, just because that is in his nature.
The Home Owners Association's  job is to sort of maintain the lovely appearance of the neighborhood, and to be generally nit picky about anything that they see fit.  They also have the job of adding exorbitant amounts of money each year to their fee.  We started out paying around $200 a year and somehow we ended up at $450 and then this year due to the economy they decided to be nice and lower it to $350.  I am baffled because if you can lower it so easily "based on the economy (yeah whatever)", then why can you not permanently lower it?  They list all sorts of miscellaneous expenses in their yearly report showing where our money is going and none of it in my opinion is all that justifiable!  I can mow my own common land strip behind my house, as long as your yard doesn't look like Sanford and Sons, life is good.
We have received two letters in our existence here, one was for my dh's car parked out front (we were trying to get his red sports car sold and we just received a letter about our trash cans being stored outside.  My first comment was "who the hell has time to worry about my trash cans?"  (which by the way are  stored hiding behind until i bring them in and mainly in the garage, even still, who really cares about this stuff?)  According to the letter, they weren't singling anyone out but it was a reminder to everyone.  I would like to see how many people were reminded.  I know it had to be a "nice" neighbor who took it upon themselves to report my trash cans outside in the wrong place one day or another (we store them in the garage about 97% of the time), but you have serious issues if your life involves reporting my trash cans on an off day!
I am here to say, I am not sure of the HOA's job.  My guess is, it's an effort to line their pockets, so someone can sit behind a desk and write letters from tattle tailing neighbors, and charge too much for mowing grass, but I could be wrong.  I guess this is the price you pay to live in civilization, and even though I knew about the HOA before moving, I didn't know about the fluctuating fees, and nosy neighbor clause.  My advice is to get a copy of the HOA guidelines for a neighborhood you are considering, along with several yearly projections of their estimated costs (if it's an established neighborhood) and see if the fees have changed from year to year, so you can get an idea of how they manage things.  And, if you get the chance, have a chat with the people living there, it will give you a feel for what you are getting into.  We will see if the economy gets better, what kind of surprise fee change we will get!  The HOA=government at its finest.
As a mom, worrying is what I do best, and my husband complains that I worry too much.  Since having the boys, I think that I am even more vigilant about their safety and the safety of our home in general.  I have always thought that a security system of some wort was always a good idea.  In particular having a security camera available in our home to keep track of the boys when they are in another area of the house, to monitor the house when we are away and eventually when we hire a babysitter.  To some it may seem like an extreme measure, but to me safety is greatly important.
I had always thought that owning an indoor security camera would be an expensive venture, so I never really considered having one, even though I felt it would be useful in many ways in our home.  Then, Logitech introduced me to their Indoor Video Security Master System.  Much to my surprise the cost of owning this system was quite reasonable around $200 for the base system!  I have seen many security systems that run in the thousands and do a lot of the same things.  Not only that, the Logitech Security System can be expan

ded to accommodate  6 cameras so you can place them throughout your home.
Video is transmitted through the electrical system in your house called   HomePlug technology, the Logitech Indoor Add-On Security Camera transmits encrypted video over existing electrical wires straight to your PC.  I think this in itself is a pretty cool concept. The camera is able to  detect motion, and record video directly to your PC for playback.   You can then view  video from the day, or past weeks.  You can also see all the views from each of the cameras that you have set up.  You can also receive Motion-activated text and e-mail alerts when the camera has been activated.
Logitech has WiiLife software, and you can easily get an account to remotely monitor your your cameras while you are away.  This is great for when you are away on vacation, or anytime that you want to check up on your home or your children even.   They even have a really cool Spy Add-On Camera (these look like an alarm clock) that can be combined with any Logitech Master System.   The camera can be easily mounted to the wall, or in the desktop stand, or even by a suction cup to your window.  The suction cup is perfect for keeping an eye on things outside of your home.  I would use it to keep track of the pesky deer that seem to like our yard!
Features

Homeplug connectivity

You'll be up and running in no time—no new wires to run, no network configuration. It transmits encrypted video over your existing electrical wires straight to your PC. Learn more about Homeplug.

Easy, 15-minute setup

You simply install Logitech® Command Center PC software, connect the USB receiver, and plug in the camera anywhere around your home or office.

Flexible PC-viewing options

You can see live footage or store it on your hard drive for later replay. The intuitive Windows interface makes it easy to navigate and set your preferences.

Motion-activated mobile alerts

Mobile-phone and e-mail alerts quickly update you when you're on the go.

Free remote viewing

A password-protected, Web-based account lets you log in to view live video online—anywhere, anytime. It's accessible from your Windows® Mobile phone too.

Support for up to six cameras

You can add Logitech® Indoor, Outdoor, or Spy Add-On Cameras in any combination to any Logitech® Master System.

Multiple mounting options

This indoor camera can be placed where you need it most—attached to a window (facing in or out), placed on a desktop, or mounted to a wall.
When my husband and I set up the camera, we initially had a little bit of difficulty, but nothing major.  It took only minutes to set everything up and we were viewing the downstairs playroom.  We decided this would be great for keeping an eye on the boys while they were playing down there. My only word of warning is to point the camera away from an existing window.  We had it on the opposite side of the room facing towards the incoming light and the view was a little less than clear.   Another thing I noticed was that the camera has blinking lights on it.  To some this may not be a big deal and it may just be unavoidable but without the lights it may make the camera much less noticeable.  If someone were doing something in my home, I certainly wouldn't want to draw attention to my security camera.
Overall, the Logitech Indoor Security Camera is a really handy device for basic monitoring within the home.  It is easy to install and operate for the average person that doesn't know much about how this stuff works.  I like that it is expandable and offers several options for mounting.  The video quality isn't stellar on the camera but it is good enough for what the average homeowner would use it for.  And best of all, it won't break the bank.
Would you like the chance to win the Logitech Outdoor Security System?
Here's What You Gotta Do!
Visit Logitech and tell me what specific features you like on their security cameras, and why you would like to win this outdoor security system.
Additional Entries
Tweet about this giveaway, you must have an active twitter account with more than 100 followers
Add me to your twitter
Subscribe to my feed
Blog about this fabulous giveaway
Add my button to your sidebar
Contest starts February 16, 2010 and Ends March 16, 2010
Good Luck!!!!!
Open to US residents only, must claim prize within 48 hours of email notification, the prize is forfeited

As you know, I have been posting periodic updates on the room renovation we were doing in our basement.  We decided that we need the extra space for the boys to play in and for us to be able to be as a family without cluttering the upstairs with toys.  I knew that I wanted a good size room and carpeting, but was unsure about how everything would come together.
My Dad came and built the basic framework and put up the sheets of drywall,hung the doors, and my husband and I finished the rest.  This included taping and mudding the drywall (never doing this again), doing all the painting, and trim work.  Some of the finishing touches included our flooring and we decided that carpet would be the best option.  I have never gone through the actual process of going to a carpet store and picking out something for the house, so the experience was something new for me.
The folks over at RiteRug offered me the opportunity to come to one of their local stores and pick out something for our newly built room.  I walked in the door and was warmly greeted and we got right to work.  When you look around the store initially you become somewhat overwhelmed.  I have never seen so many choices for flooring in my life!  I know that RiteRug specializes in flooring but I expected a much smaller scale.  I chose something from their  popular California Berber line.  This type of carpet is basically sort of a low pile shag, but is great for your basement and high traffic areas.  My favorite part about the color and style we chose, is that it hides the dirt.  I am not saying I keep a dirty house, but with two three year olds it is nice getting a carpet that will hide the little things.  This makes it practical for a Mom like me, yet it is nice enough that is warms up the space.
The process from start fo finish was first class.  Ted, our sales guy, came over and measured our room, and when we were ready to put the carpet in, I gave him a call and within the week we had brand new carpet installed!  RiteRug even offers next day installation.  Jamie and Larry showed up to install the carpet on the following Friday, and of course I was completely excited that they were here and excited that I would be looking at something other than the gray steps and ugly concrete floor.
The whole process of installing carpet was interesting to watch.  There was lots of hammering but in just 2 short hours, our room was beautiful!  The installation crew (Jamie and Larry) from RiteRug did a stellar job on the install and answered all of our questions.  I cannot honestly say enough about how much I love the space now, and how happy we are with our new carpet from RiteRug.  If I had it to do again, RiteRug would be the first place that I would go to.  Their level of professionalism and customer service was more than I could have asked for and the product is living up to my expectations.  We are thrilled with the new look and thank Rite Rite for making this a very easy and hassle free experience.  We now have a wonderful space for our family to enjoy.
The Room Before We Started!

And Some Afters (We Love The New Carpet!)
RiteRug offers much more than carpeting as a way to spruce up your living space.  You can check out their featured sales on things like Hardwood Deep Cleaning, and some of their current sales on carpeting.
**RiteRug provided me with a portion of my overall square footage of carpet and installation free to me for review, the opinions expressed in this review are that of my own**
Sorry that I haven't been able to update on the room progress until now.  I have been so busy with weddings, and sick kids and running to the basement every chance I get to get the room ready for carpet.  My hands are spattered with paint as I type this and did I mention that I HATE drywall?
The pictures that I have here are when the initial finishing started, and a few pictures of the walls after they were completely mudded and the primer was on.  I am just now getting some color on the walls.  The next step will be to have Rite Rug in to install the carpet!  I cannot even begin to tell you how excited I am to get to that point so I can start arranging the room and getting the trim up.  I don't want to give too much of the room away until it is close to completion.  I underestimated the work required to do this yourself and I spend a lot of my free time down there.  I hope to not see another paint bucket for a long time  lol.  Three gallons of primer and two gallons of color so far have been put on the walls!  The ceiling won't go in until the Spring and it will be a drop ceiling (we hope, no clue about how it works) so not too much of a mess.
Sorry about some of the quality, my nice camera was in repair (grumble!)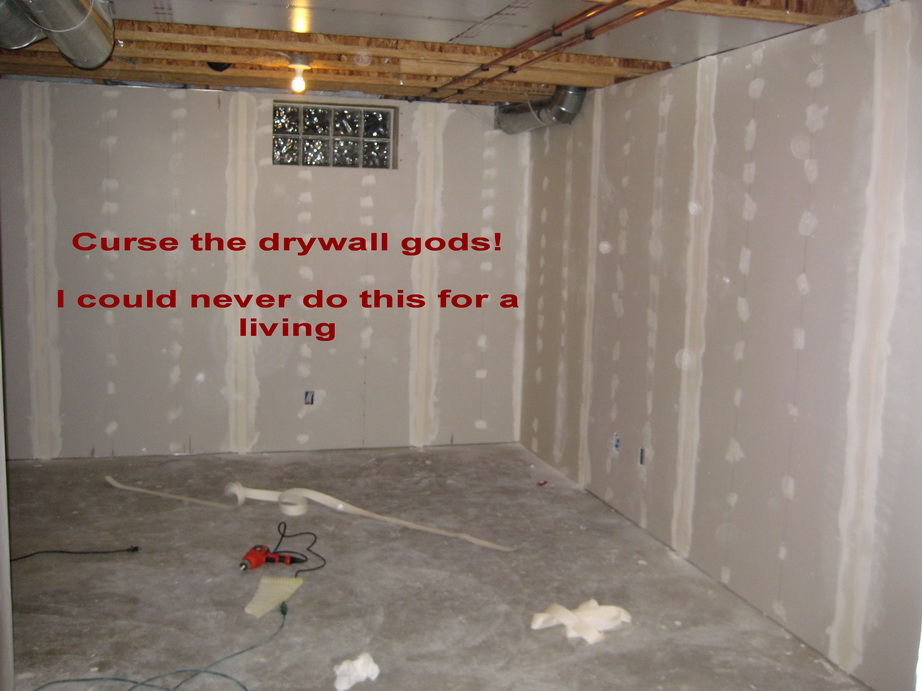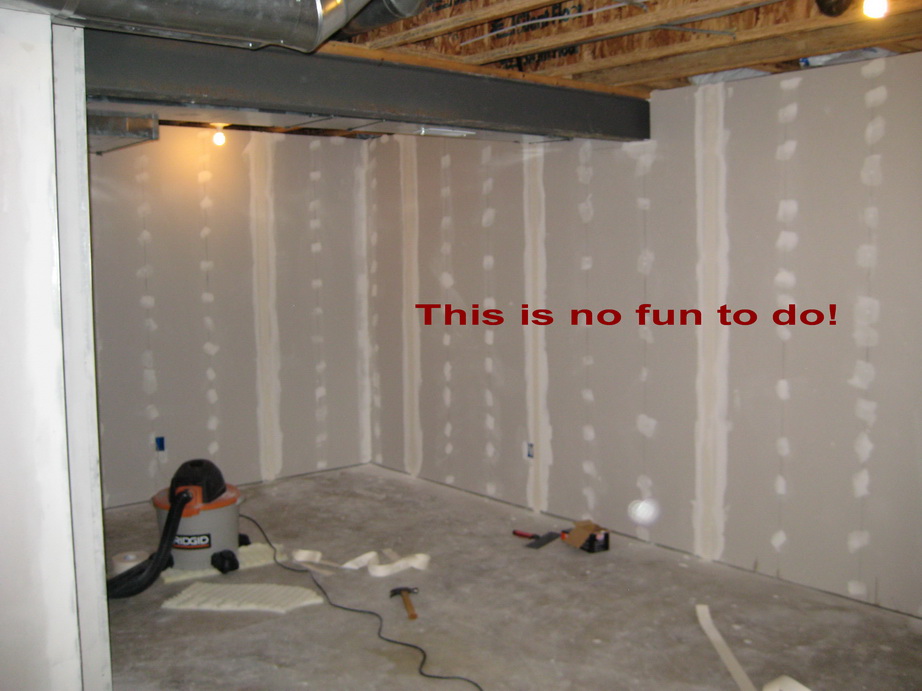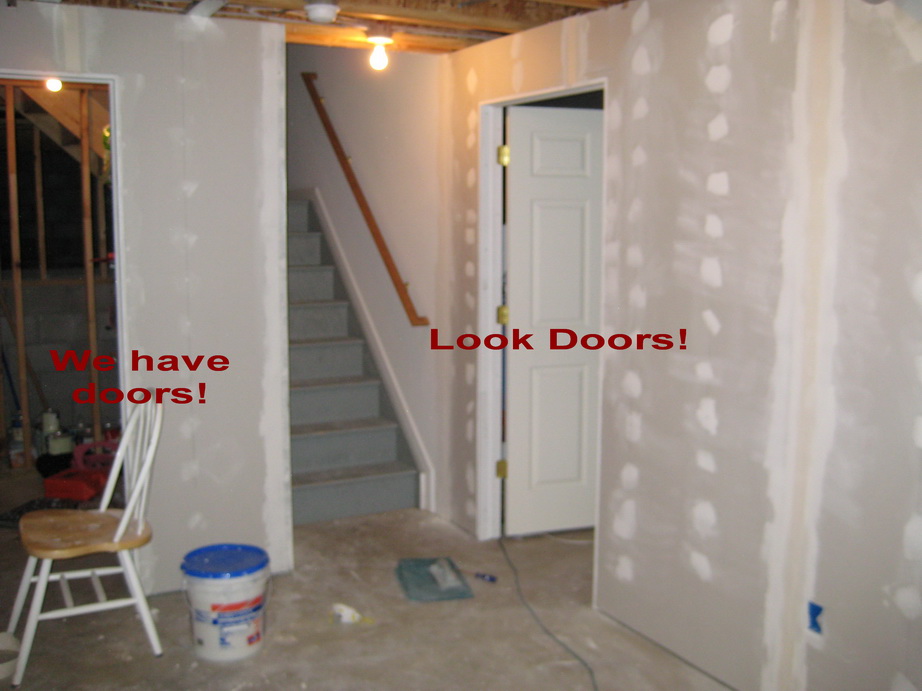 LOOK AT THE BEAUTIFUL WALLS!!!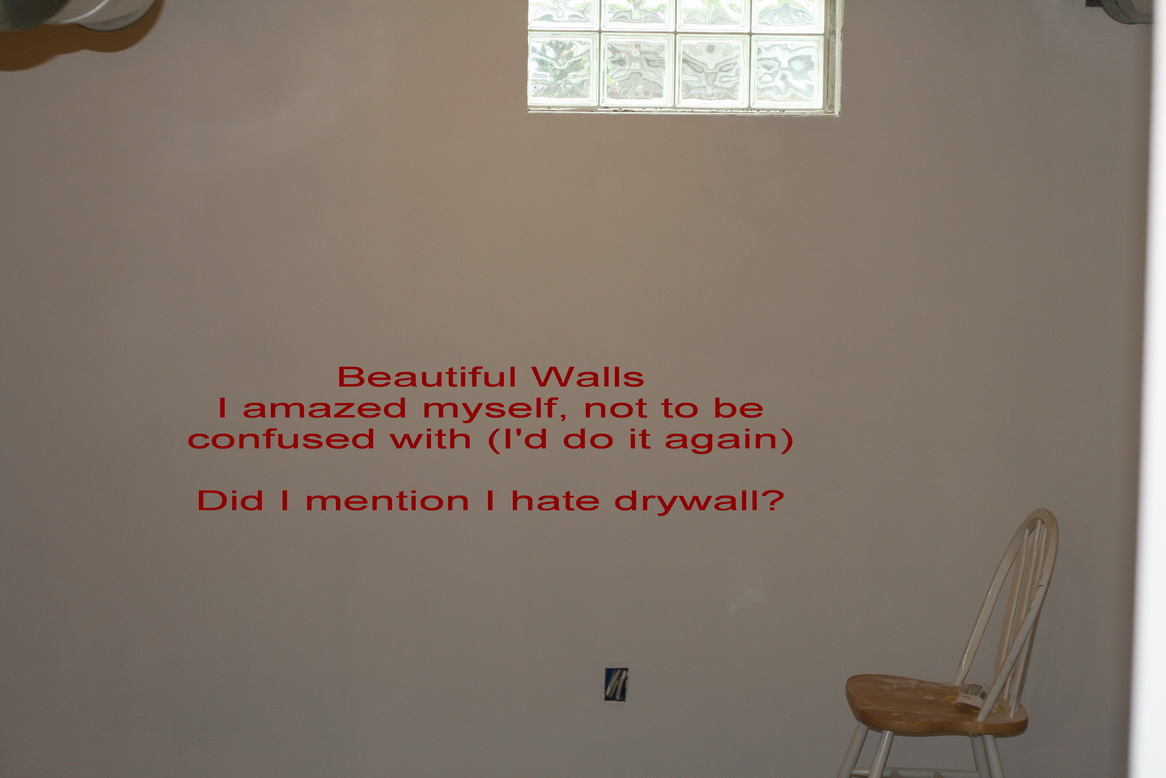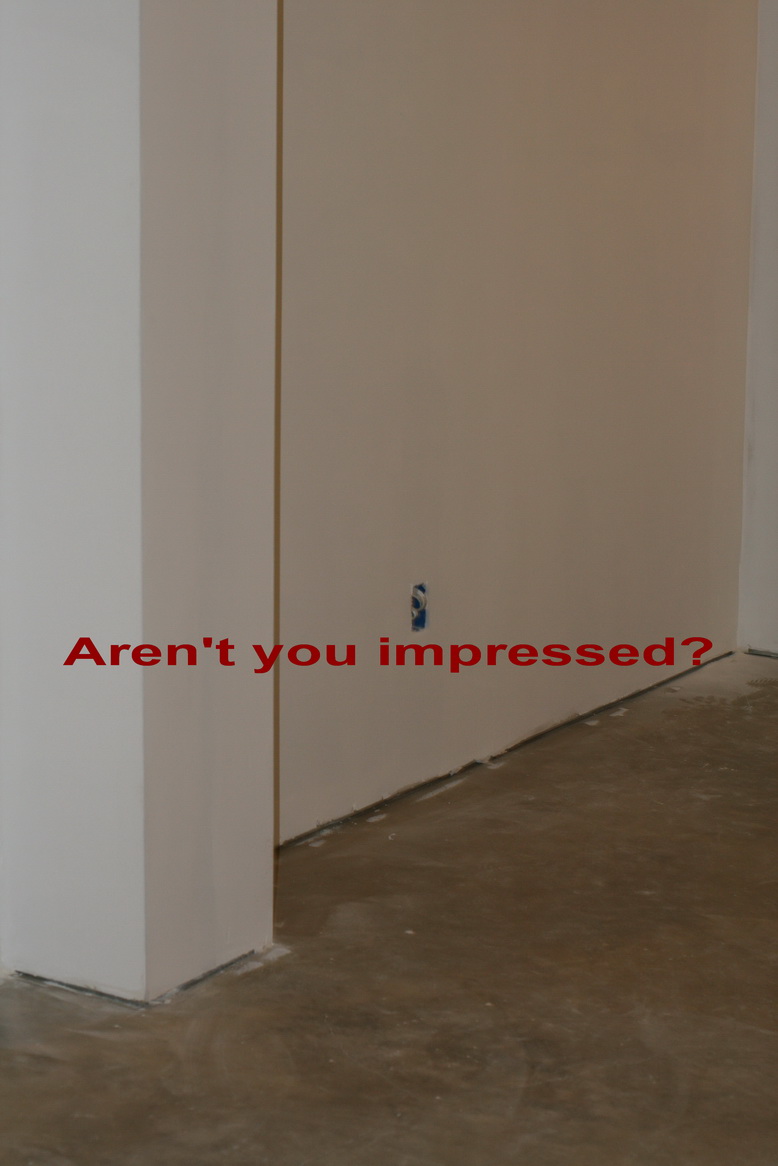 Off to paint more walls, more to come!
So our room in the basement is moving right along.  We are at the point that we are now finishing the drywall.  If you know anything about drywall, then you know that it has to be taped and mudded.
I started this project gung ho and I am starting to fizzle out towards the end because this isn't the fun stuff.  I enjoy the painting or picking colors rather, and fixing the room up.  I can safely say that I hate drywall.  It isn't too bad if you have patience.  The problem is that it takes days to finish because you have to let each coat of mud dry for 24 hours, multiply that by another few days when you have two three year olds to run after.
The plan after this is to primer the walls and pick out the color I want.  After that we finish painting, and call in the carpet guys!  After they do their handy work, we will add baseboard and trim around the doors.  The ceiling will remain unfinished temporarily but the plan is to put in a drop ceiling which as I understand isn't too difficult.  Nothing is ever too difficult until you do it yourself for the first time!  LOL
Pictures to come soon!
Currently the boys have their play room in our formal dining room. I put it there because we don't have a dining room table and I was never one to have a need for a room. To me it is a wasted room because I don't have that many dinners where we have a lot of people.
I eventually want to turn the dining room into a sitting area with a couch and a big cushy chair and ottoman and maybe a couple of tables. Anyway, since having the boys, it seems like their toys have multiplied, and with that, it seems like the trail of toys scattered through our house has grown. Almost daily it is a battle to keep them in that room, since there really isn't a door. So, after giving it some thought, and after looking at our basement, we decided to put a room down there. This room is going to serve as a play room, where the boys can make a mess, and a family area so that we can all sort of be down there with their toys and watch tv if we wanted.
So over the next week you will get to see our progress, I am so excited with a trip to Rite Rug (more to come on that).
The room is an "L" shape so there is lots of decorating potential and plenty of room for a play area for the boys. I wasn't able to get the whole room in the picture, but you can get an idea. The framing hasn't been set so the boards will all be level and straight before we fasten them.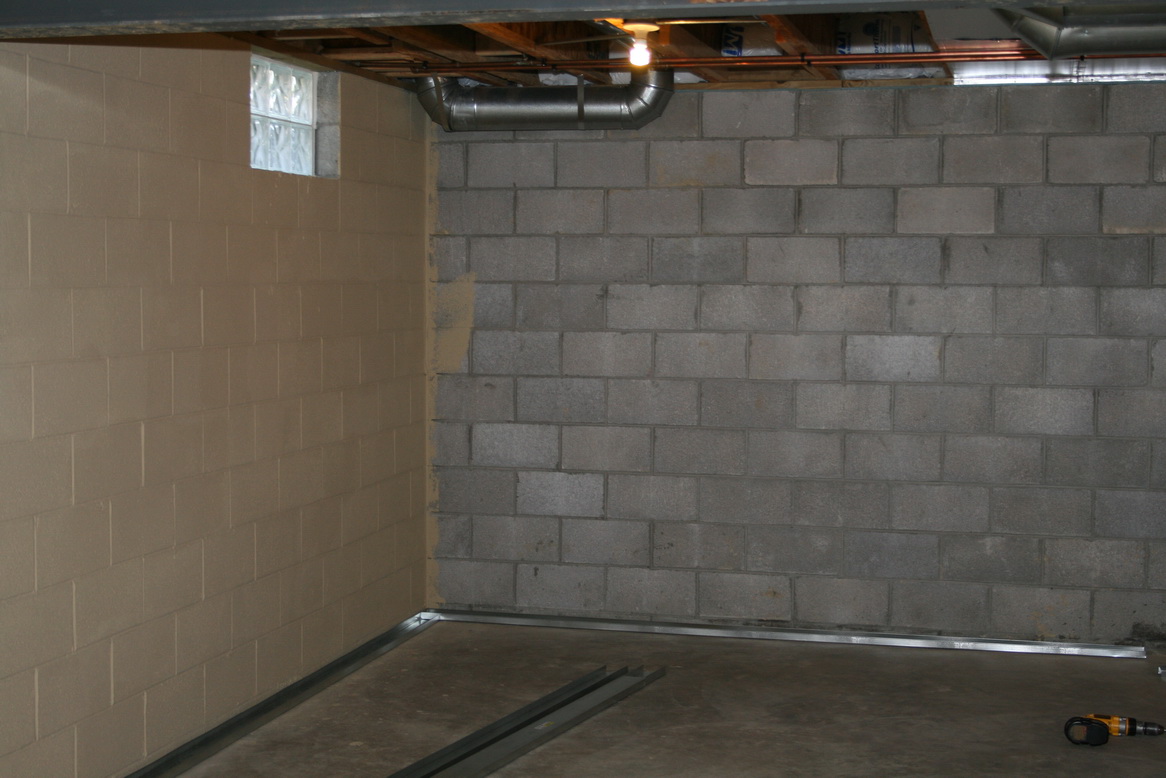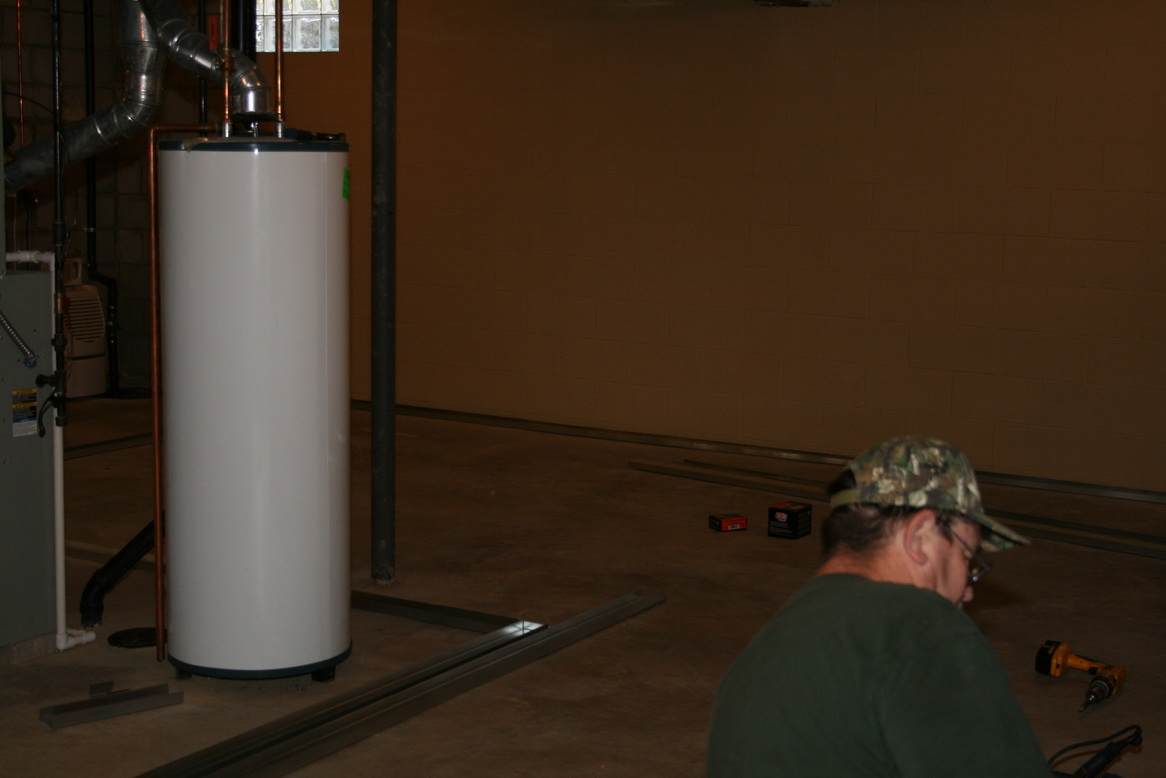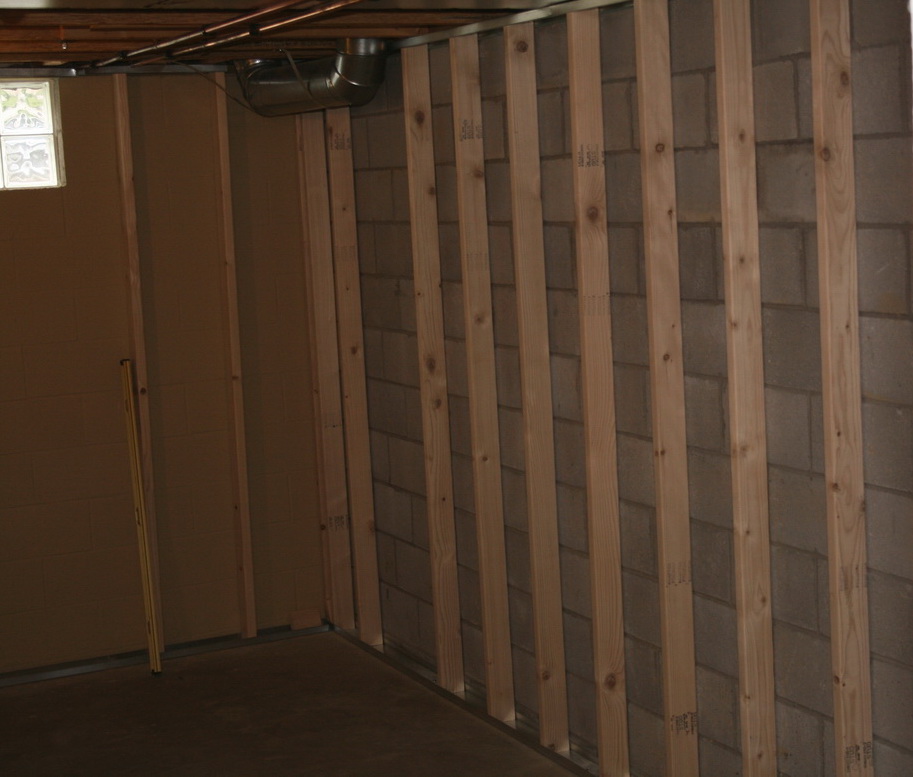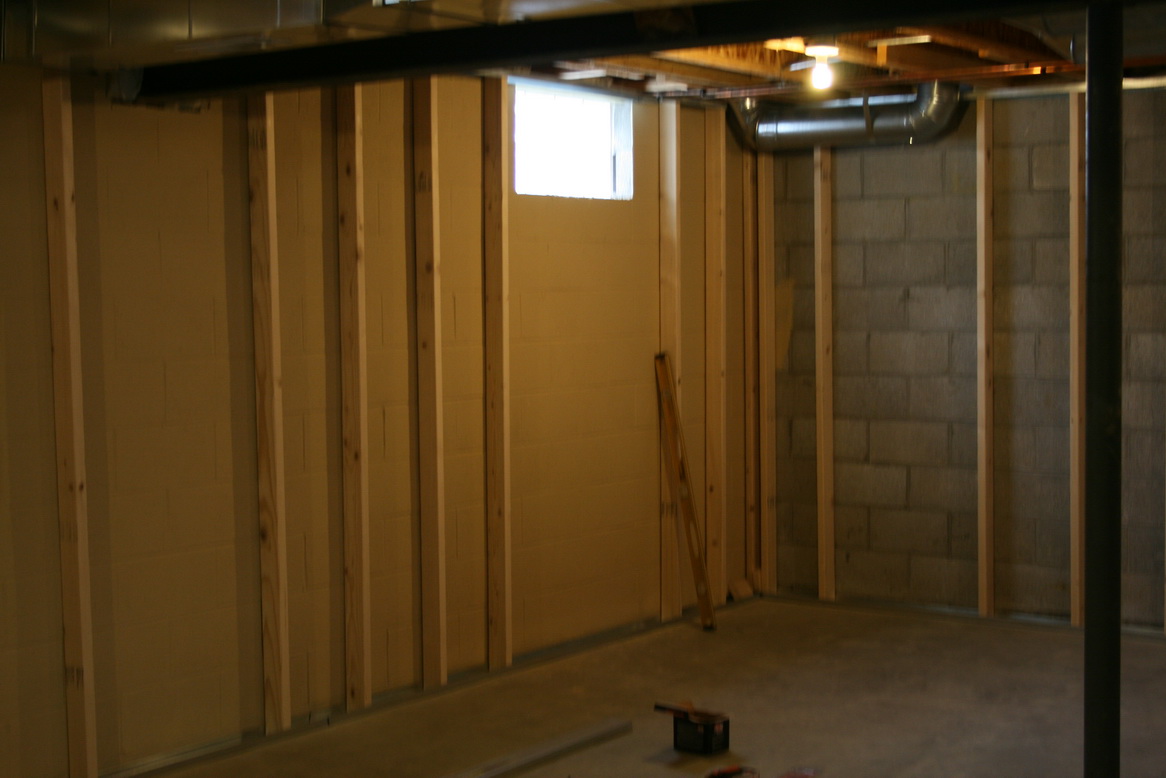 I am so excited, and extremely thankful that my Dad is helping us since he is a carpenter.  It makes a big difference when you are doing it yourself and saves a lot of money!
Well, I have impressed myself yet again with my fix-it abilities.  I have never been one to sit and look at something for very long until I try and remedy the problem.  Last week the door to my dishwasher went crashing to the floor.  I guess there is this string or what looks like laundry cord weaved through these pulleys and attached to a spring that holds the door.
Thanks to the ever so wonderful internet and all it's knowledge I went on a search to find out what part I would need to get this fixed.  I cannot be without my dishwasher! So after about and hour I ran across the part I would need and it was only $15!  Now I know if I had called a repair guy, it would have cost me about ten times more.
So fixer me, rolled up my sleeves, turned off the power to the dishwasher, unhooked the water hose, pulled that puppy out and fixed it.  In the meantime the dear husband watched from afar  lol!  In record time 30 min to be exact I had everything back in it's place and my door works again.  I just had to share as I impressed myself with my dishwasher fixing prowess! Ha! fixer repair man…Take that!  Not bad for a girl as my husband would say.