Who doesn't love ice cream?   One of my most favorite parts of the warmer weather and even the Fall is to sit outside with the boys enjoying some ice cream.  Ice Cream is a great way to bring the family together and enjoy a tasty treat that even has a history.
There are so many incredible and yummy treats you can create with ice cream.  You can load it up with sprinkles and hot fudge (which is my favorite) or eat it straight out of the container.  Either way, it is truly and indulgence.
I wanted to let you in on a fabulous contest that Breyers is running.
Breyers® is in search of the next great sundae with the Sundae Scoop-Off Contest and you could have a chance to win!  From now through September 13, 2010, the Sundae Scoop-Off Contest is challenging America to create original, family-friendly ice cream sundae recipes including 10 or fewer ingredients. View complete contest requirements and enter the recipes at www.breyers.com for a chance to win $10,000, a trip to Chicago featuring a private cooking lesson with renowned pasty Chef Gale Gand and one years supply of FREE Breyers® ice cream. The sundae recipe entries will be judged on taste, creativity, use of Breyers® ice cream and presentation.
This is a perfect excuse to get to the store pick up some Breyer's ice cream and if anything, indulge in a little sundae making with the entire family.  If you brainstorm, who knows what you can create!!!!
"This post is a blogger promotion on behalf of Breyers and I may receive product as a result of my post."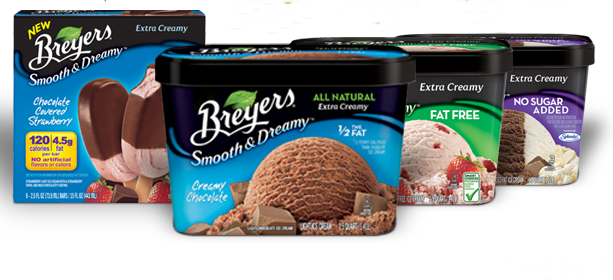 Who doesn't love ice cream in the Summer time or just about any time for that matter.  For us moms, I am sure we break out a pint of of favorite ice cream when the day hasn't gone so well and it makes all your trouble melt away.  July is National Ice Cream month and to help celebrate, I had the chance to try Breyers Smooth and Dreamy Ice cream bars.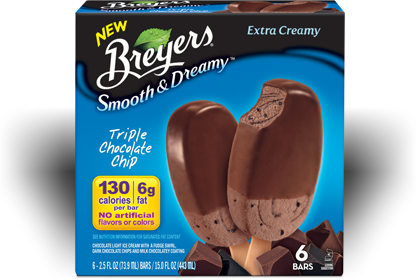 I am always looking for a chocolate fix and I almost always like my chocolate cold.  Ice cream seems to be my latest craving and the more chocolate the better.  Breyers, has a new selection of ice cream bars that will satisfy those chocolate craving that come up in the heat of the Summer.  I tried the Triple Chocolate Chip Bars and I thought I died and went to heaven.   They have just the right amount of chocolate goodness with a hint of crunch from the mini chocolate chips and the chocolate shell coating.  Nothing was left out and it is the perfect combination.  Not only that, Breyers Smooth and Dreamy Bars have no artificial flavors or colors, 160 calories or less and 4-6g of fat per serving!  What can be better than felling like you are indulging without the guilt?  After trying them, I shoved the box into the back of the freezer to keep them well hidden, so I don't have to share.  I will definitely be keeping a private stash in my freezer.  I can't wait to try all of the different flavors.
To help me celebrate my love for chocolate, and for the sake of chocolate in general, Mom Central and Breyers is letting me giveaway some Breyers Smooth And Dreamy to five lucky readers!   You definitely want to get in on this one, and who can pass up free ice cream????
"I wrote this review while participating in a blog tour campaign by Mom Central on behalf of Breyers and received products necessary to facilitate my review. In addition, I received a gift certificate to thank me for taking the time to participate."
Here's What You Gotta Do
Tell me why you would like to try Breyers Smooth And Dreamy Bars, Or share a childhood memory about ice cream.
Additional Entries
Follow me on Twitter
Subscribe to my feed
Tweet about this giveaway
Contest Starts July 30 and Ends August 2o, 2010
Good Luck!!!!
Winners are drawn at random, if winner does not respond within 24 hours the prize is forfeited
Contest open to US residents only.

Did you know that July is National Ice Cream month???  I don't know about you, but I love ice cream.  Ice cream is a comfort food that I love most in the Summer time, and when you are having a blah day it is always nice to snuggle up to your favorite pint.  Well, not exactly snuggle, but a pint of Ben & Jerry's and a spoon in hand is sure to bring a smile to your face!  When I head to the store, I always find myself staring into the ice cream case at all the different Ben and Jerry's flavors and I can almost never pick out one flavor because something new always catches my eye.
National Ice Cream Month is celebrated by the US every July. This month was designated as national ice cream month by Ronald Reagan  in 1984. He also appointed the third Sunday in July as National Ice Cream Day Reagan recognized the popularity of ice cream in the United States (90% of the nation's population consumes ice cream) and stated that these two events should be observed with "appropriate ceremonies and activities." Unfortunately, many people do not even know that America even has a National Ice Cream Month.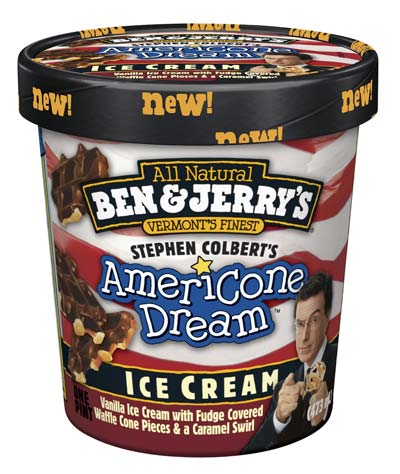 Some of my most favorite Ben & Jerry's ice cream flavors include the ever popular Cherry Garcia, Karamel Sutra, and my newest favorite and one of their newest editions Mission to Marzipan (let me wipe the drool from my keyboard).  Let's face it you can't just buy one pint and head home, you at lest have to get a few days worth or even a week's worth so you don't have to pout when you polish off a pint while watching a sappy love story, or you have had a stressful day, or just because you gotta have it.  At least you know you always have more!
I don't know how they do it but they manage to pack the right amount of stuff into that little pint, that make your taste buds do a little dance, and make your happy endorphins go crazy.  I don't know how they make the caramel in Karamel Sutra stay perfectly gooey in the middle but I do know that their ice cream is one of the best in my opinion!
Here at DoubleBugs, I decided that it would be fun to celebrate National Ice Cream Month and my love of Ben and Jerry's.  We (Ben and Jerry's and I) came up with a fab giveaway to make your mouth water and keep your freezer stocked with Ben and Jerry's!
We will be giving away one pint a day for the month of July.  3 Lucky Winners will win a 7 day supply of Ben and Jerry's (one pint for every day of the week), and a Fourth Grand Prize winner will win (10 pints of Ben and Jerry's and few extra goodies too!).
I know, I know, you are gleaming with excitement!  But we are gonna make you do a little work for your ice cream.  Don't worry we won't ask you to sell your soul but you might consider it, since it is Ben and Jerry's HA!
So here is the scoop (get it? scoop?) Ok, I'll quit with the cheesy jokes.
THIS CONTEST IS NOW CLOSED
This is what you gotta do

(read carefully!!! You wouldn't  want to lose out on a few pints)
You Can visit their site for inspiration

*For Main Entry into this Fab Giveaway, You Must Do One of The Following*
1.) Come up with your own poem about Ben and Jerrys (50 words or less) Your own ode to the pint so to speak
2.) Come up with a recipe using your favorite Ben and Jerry's flavors
3.) Do a little dance, go crazy, make a video or send us your pictures of you enjoying your favorite Ben and Jerry's (you can post me a link to them)
4.) Create a new ben and Jerry's Flavor that you think you might like to see
5.) Do a little bit of everything above
Grand Prize winner will be selected based on the most creativity!!! So the more you do the better your chances! We want you to have fun with it!
***For Additional Entries(please post a separate comment for each additional entry)***
Grab the Ben and Jerry's Giveaway Button and post it everywhere to share the love! Please provide me a link to your site  (3 entries gained when you post this)
Tweet about this Fab Giveaway
Blog about it tell people not to forget to grab the Ben and Jerry's button to share with all their friends (please provide the link to your post) (3 entries gained).
Add me to Your Technorati Favorites
Subscribe to my blog
Contest Starts July 1, 2009 and Ends July 31, 2009
Good Luck!!!!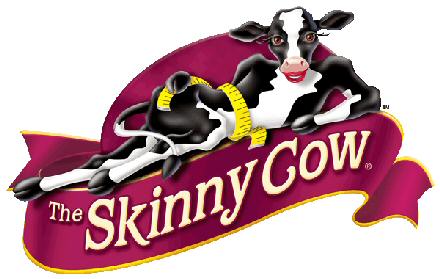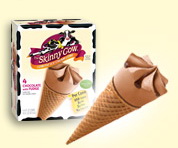 With the weather warming up we spend a lot of time outdoors as a family.  One thing that I love about summer and remember as a child was the local ice cream truck that came through the neighborhood.  So, I have always associated the warmer weather with ice cream and who doesn't love ice cream?
Nowadays when I have ice cream, I always feel like I am over indulging, and most ice cream is high in sugars and fat, so if you just look at the container it seems like you can gain five pounds.  Until recently, I had never tried any low fat ice cream, simply because I figured that it would be rather tasteless as most fat free things can be.  They either taste horrible or have no taste at all.  Thanks to Mom Central, I got the chance to try Skinny Cow ice cream.   I had always seen it in the store but just assumed it wouldn't taste that great.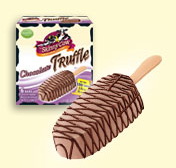 Skinny Cow's low-fat ice cream sandwiches are a great way to enjoy ice cream as part of a healthy lifestyle. Each ice cream sandwich only has 150 calories and 2 grams of fat,so you don't have to feel guilty about when reaching into the freezer for a snack. The light and creamy frozen treats come in seven different flavors, including cookies 'n cream, chocolate peanut butter, and mint.   These sandwiches taste anything but low fat, and I love them!
So if you are looking to enjoy an ice cream with your kids without feeling like you have to skimp, Skinny Cow is definitely a healthier alternative and it tastes like you are getting a real treat.  I tried out the Truffle Bars as well, and I wound up hiding the box in the freezer so I could have them all to myself!  Thank you Mom Central for this wonderful opportunity!