We are new home owners essentially.  My husband and I have never owned a home, so this has been an adventure to say the least.  No one tells you all the things that you have to do, that needs to be done and the gobs of money you need to do most of it.  When we moved in, it was pretty exciting, and slowly we moved all our meager furniture into the house.  Well, here we are about 8 years later and everything looks about the same, with the exception of some things we have done ourselves.  Interior Decorator I am not.
Since being a stay at home mom, is what I chose in order to give my boys what I know is best for them, it limits the amount of money we can spend on all the extra things, like a new patio, or new furniture, and all the updates I sit here and fantasize about when I watch all these designer shows on tv.
It can get kind of depressing staring at the same unpainted white walls, the same 40 plus year furniture in our bedroom that in my desperation for something new, I stripped and refinished.  The two dressers that we have, I got from my mom, who got it from some old lady, and then she gave it to me when I was 7, so Ive had it all these years.  I changed the handles, stripped and refinished it, but it still looks the same.   Our king size bed is just on a plane old frame, and nothing pretty.
Our living room couch is a sectional that I still love, but it has begun to sag and a few bolts have gone missing, one of the recliners doesn't open because a handle broke, I believe it is 15 years old (it sure has held up though).  With the exception of a very few pieces in our home, most of the furniture is the build it yourself kind.  I have nothing against any of it, and it all looks ok, but I secretly dream of going into a furniture store and picking out "big girl" furniture.
Our dining room is empty still, it has my electric piano, and an old broken tv.  Our den has more put together things like shelf cubes and a college like desk that is missing some of the fake finish (if there is such a thing)?
I would love to call up the local landscaper and say I would like a patio this color, with these flowers and have them fix up our wonderful backyard.  I would for the boys to have one of those cool swing sets, since they are missing the roof off of the one we bought them.
Our home has these vaulted ceilings and that means walls that go on for miles (what were we thinking?), that need to be painted but I cannot reach!  Our bedroom I painted this pretty blue, it too, has partially vaulted ceilings and lots of tall walls.  I had to improvise, when our 12ft ladder wasn't enough to reach the highest peak in there, so I had to tape a paintbrush to a wooden paint mixer stick to reach.  If I don't tell anyone you can't notice, but that stupid corner drives me nuts  LOL.
Our tv in the living room, is sitting on the boys toy box in our old entertainment unit (that we built), and I am not sure that will ever change.  Our basement we built ourselves with my dad who is a carpenter.  He framed it in and put up the drywall, and I mudded and finished it off. I love the little family space we have down there, but the  one thing its missing is the ceiling.  I have no idea how to do this, and it may have to stay like that.  My basement is the scariest place ever.  It has a crawl space that I would love to use for storage of all the "stuff" that we have, but I am afraid to go up in there for anything.  It is dark and creepy and all gravel, what if there are spiders up there?  eek!  And then there is the sump pump, that is below our bedroom, that makes lots of noise.  If the power goes out our basement will flood, but the noise is horrendous zzzzzzzzzzz clunk, zzzzzz clunk.  I got industrious and tried to change the check valve, I think it makes more noise now than it did, I got so aggravated that anyone who sees it will say what the heck? But, I took a body pillow and duct taped it around the pipe, thinking it would deaden the noise.  Nope!
Anyway, you get the idea, I love our home, I love being home, but I don't love how things are, I want to invite people in and come home to something beautiful.  I don't have some heartfelt story to tell you, to put me on a show like Extreme Home Makover, but I secretly dream of coming in the door to something magnificent, something that doesn't feel depressing, something that doesn't need work, or falling apart, or that needs to be changed.  I would love to see our home at it's full creative potential, but I don't have a the money or enough imagination to make it so.
So I have a secret dream.  I would like to give Nate Berkus my home for a week or two and let him surprise me,  I wish that I could give him an all access pass to my backyard, my front yard, and most of all, the entire interior of my home.  I love everything that he has done, and all the beautiful things he does and what he puts into things,  I love the spirit that he has about him, and  if he showed up at my door, I would probably pee my pants to say the least.  A girl can dream, can't she?
Nate if you are out there somewhere….make our house a wonderful place to be. Well ok, im still dreaming, but I am secretly hoping and wishing.

I love being able to have versatility in the products that I have in my home. If you are anything like me, I get the urge to do something different in just about any room in my house. I love to do simple changes that help to rejuvenate a room and sometimes you can literally turn it into a completely different space.  When it comes to carpeting, carpet tiles or rugs are one way in which you can spruce up a dated area in your home.
I first laid eyes on the FLOR flooring system when I was watching an episode of Trading Spaces. There are a million different things you can do with flooring when you are using carpet tiles from FLOR. They offer every color and texture you can imagine and the possibilities are endless when it comes to decorating your space. Even though the floor is beneath your feet, it is something you notice when you walk into a room. You can bring color into the room, or tone it down based on the type of carpet tiles you use.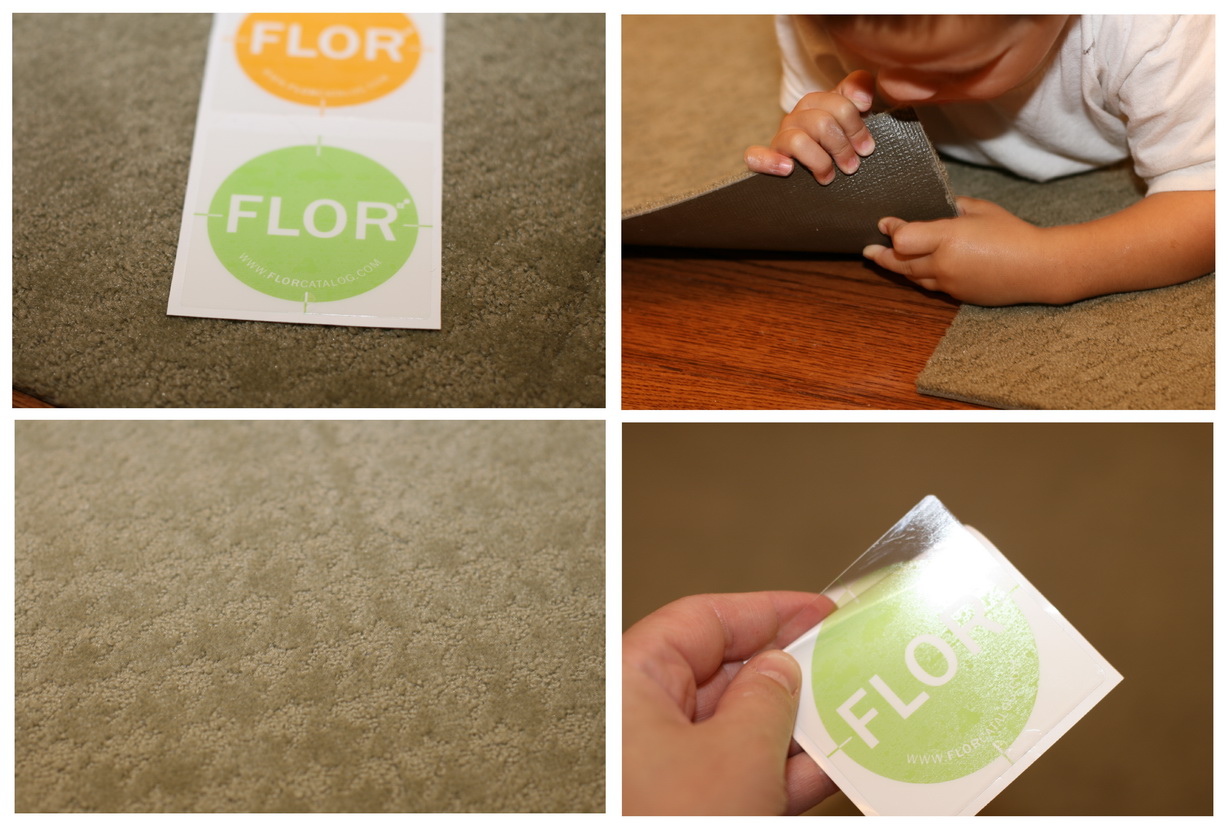 We aren't new to FLOR in this house, but each new rug from FLOR is still just as exciting as the first. We currently have FLOR  in our kitchen and entry way. We have hardwood floors, and FLOR is great for protecting them and adding a great design element. When I saw their new Fall line of carpet, I had a hard time deciding what to pick. They have so many great patterns that are rich in color and textures. We had the chance to try the  All Bark No Bite in Meadow. This particular pattern is an over sized, slightly raised hounds tooth pattern.  The color matches beautifully with the greens that I have in my home and it instantly changed the look of the foyer. The kids wanted to do somersaults on it and the dog quickly claimed it as her own.

The best part about FLOR is how easy it is to put together. I must warn you, that this process is extremely addicting and can lead to a new obsession. My husband offered to help me put this one together, but I told him to go away because I have so much fun putting FLOR tiles together. Each square goes together snugly and is held together by what I call "a  little circle of genius," the FLOR Dot. The first time I used a Flor Dot I was a bit skeptical about what I called a sticker, holding these tiles together, but I was amazed at how great they do hold. You can actually move the entire rug around after your FLOR Dots are in place.  All you have to do is line up your tiles, and place FLOR Dots to hold them in place.  Each FLOR Dot is center marked on all four sides which makes placement a breeze. The process took me all of about 15 minutes and I had a beautiful new rug in my foyer. I love the subtle pattern in the All Bark No Bite rug and how nice it feels to walk on.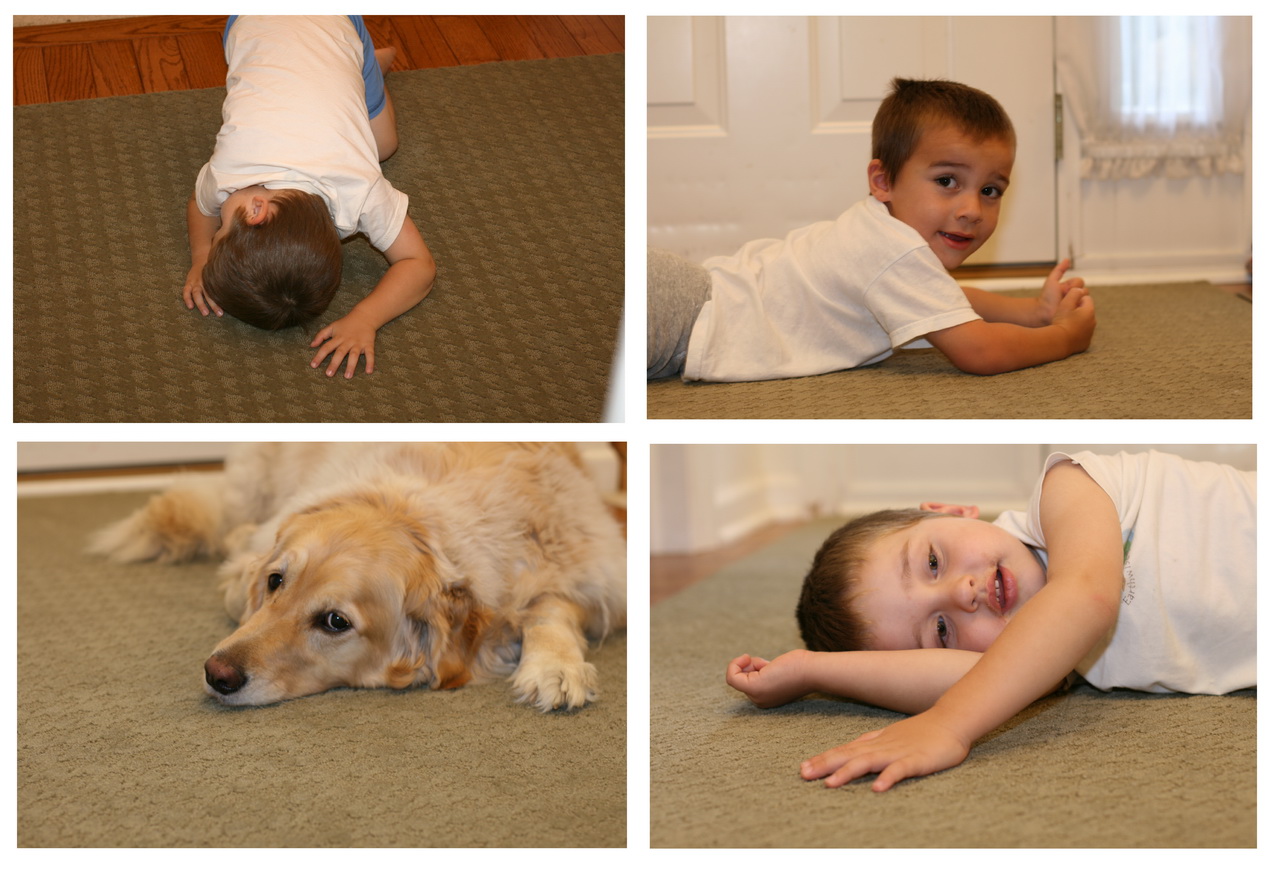 The possibilities are virtually endless when it comes to FLOR. You can even make some pretty ambitious patterns from cutting and splicing various tiles together. So if you have a creative mind and floor to use it on, FLOR is ideal. It opens up so many more options than the same old boring flowery rugs in the store, or rugs that just don't quite match. FLOR is one product that I absolutely stand behind because it is innovative, the designs are endless, and the prices are reasonable. Once you try it, you will never go back! Check out their newest additions for Fall.
**This product was provided to me by FLOR for review. The opinions expressed here are strictly that of my own.**
THIS GIVEAWAY IS NOW CLOSED!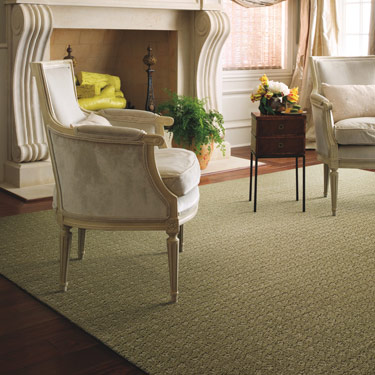 To celebrate FLOR's New Fall line of flooring, they would like to offer one of DoubleBugs' readers the chance to win a 5×7 FLOR rug (12 tiles) of choice (excluding Coir and Shaggy Sheep)!
Here's What You Gotta Do
Do a little dance (just kidding!)  Visit FLOR and tell me what rug you would like to have and what room you would dress up with a new FLOR rug.
Additional Entries
Blog about this contest with one link to my site and one link to FLOR.com (5 additional entries gained.  Please leave a separate comment for each.
Tweet about this giveaway ( you can tweet once a day for one entry)
Add me to your Twitter
Add me to your technorati favorites
Subscribe to my blog
Contest Begins September 28, 2009 and Ends October 31, 2009
Winners Chosen via Random.org
Winner must respond within 48 hours
Good Luck!
Currently the boys have their play room in our formal dining room. I put it there because we don't have a dining room table and I was never one to have a need for a room. To me it is a wasted room because I don't have that many dinners where we have a lot of people.
I eventually want to turn the dining room into a sitting area with a couch and a big cushy chair and ottoman and maybe a couple of tables. Anyway, since having the boys, it seems like their toys have multiplied, and with that, it seems like the trail of toys scattered through our house has grown. Almost daily it is a battle to keep them in that room, since there really isn't a door. So, after giving it some thought, and after looking at our basement, we decided to put a room down there. This room is going to serve as a play room, where the boys can make a mess, and a family area so that we can all sort of be down there with their toys and watch tv if we wanted.
So over the next week you will get to see our progress, I am so excited with a trip to Rite Rug (more to come on that).
The room is an "L" shape so there is lots of decorating potential and plenty of room for a play area for the boys. I wasn't able to get the whole room in the picture, but you can get an idea. The framing hasn't been set so the boards will all be level and straight before we fasten them.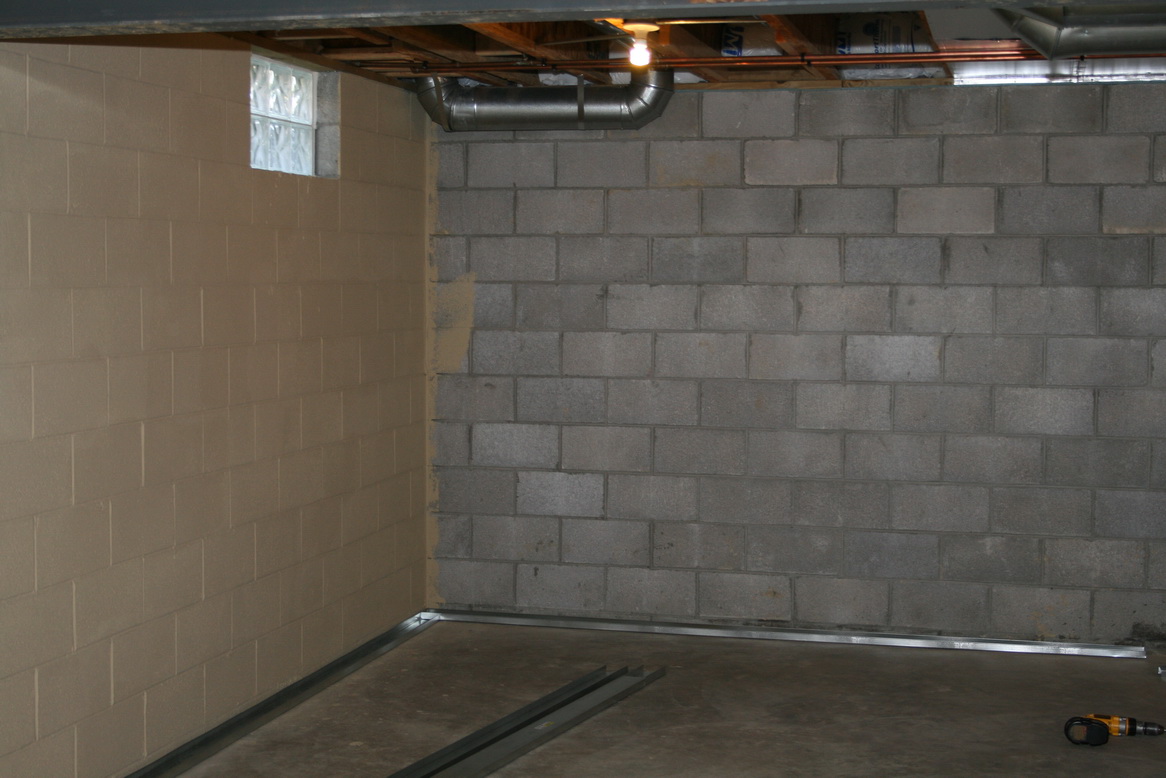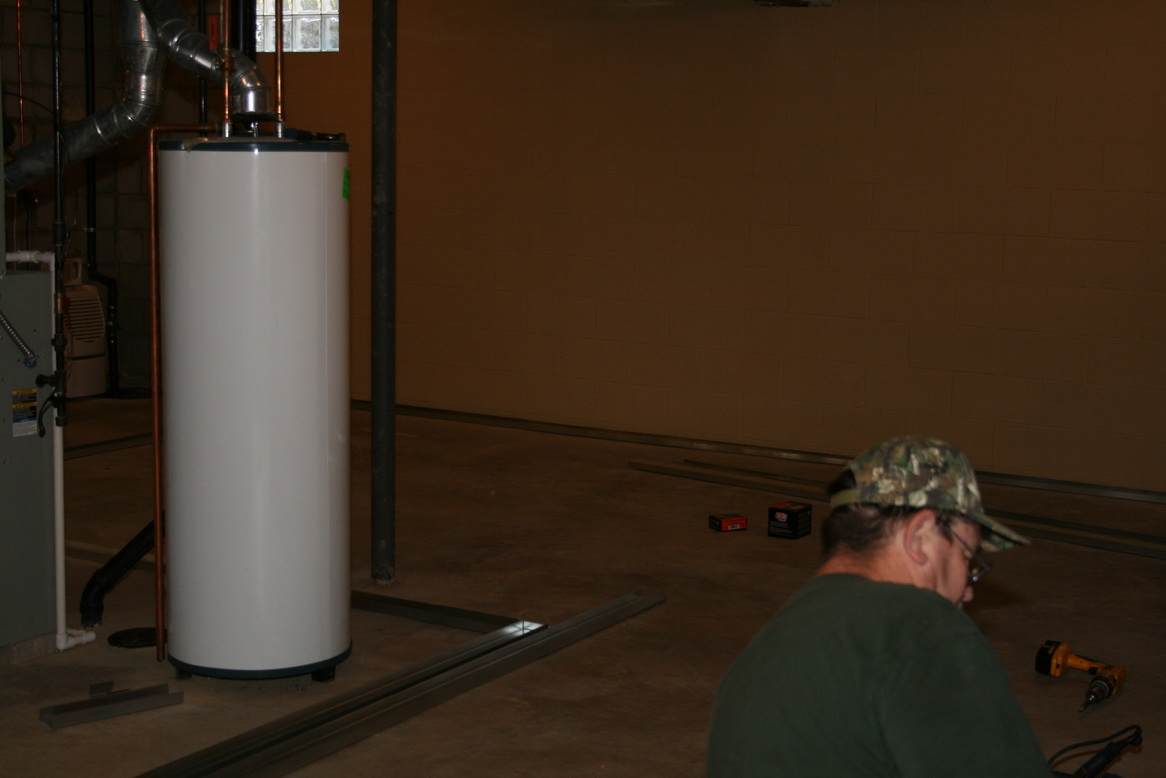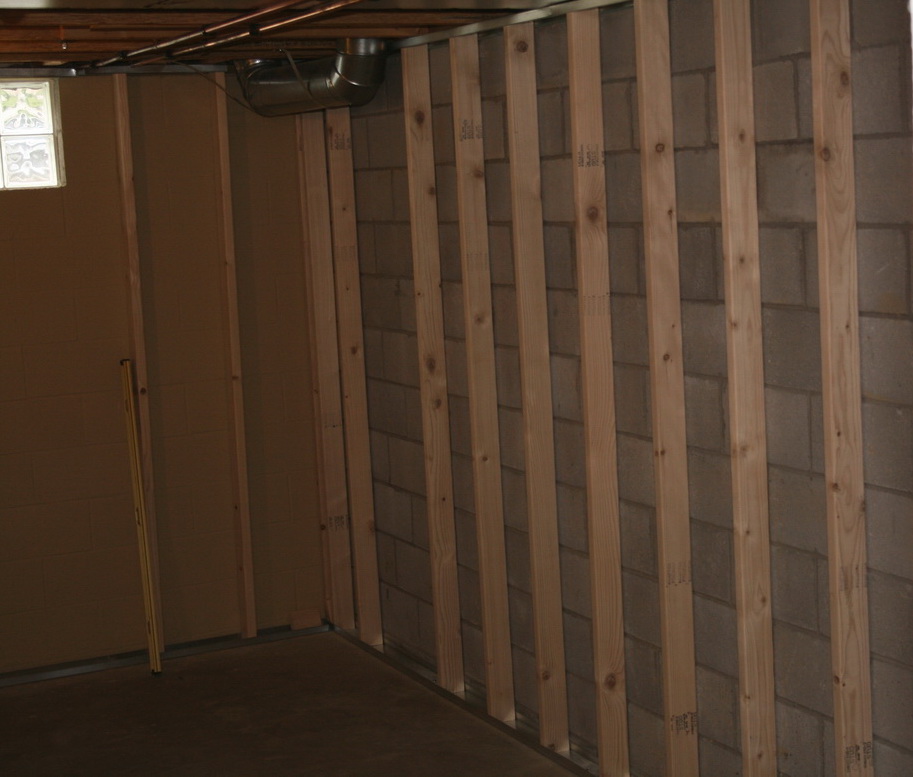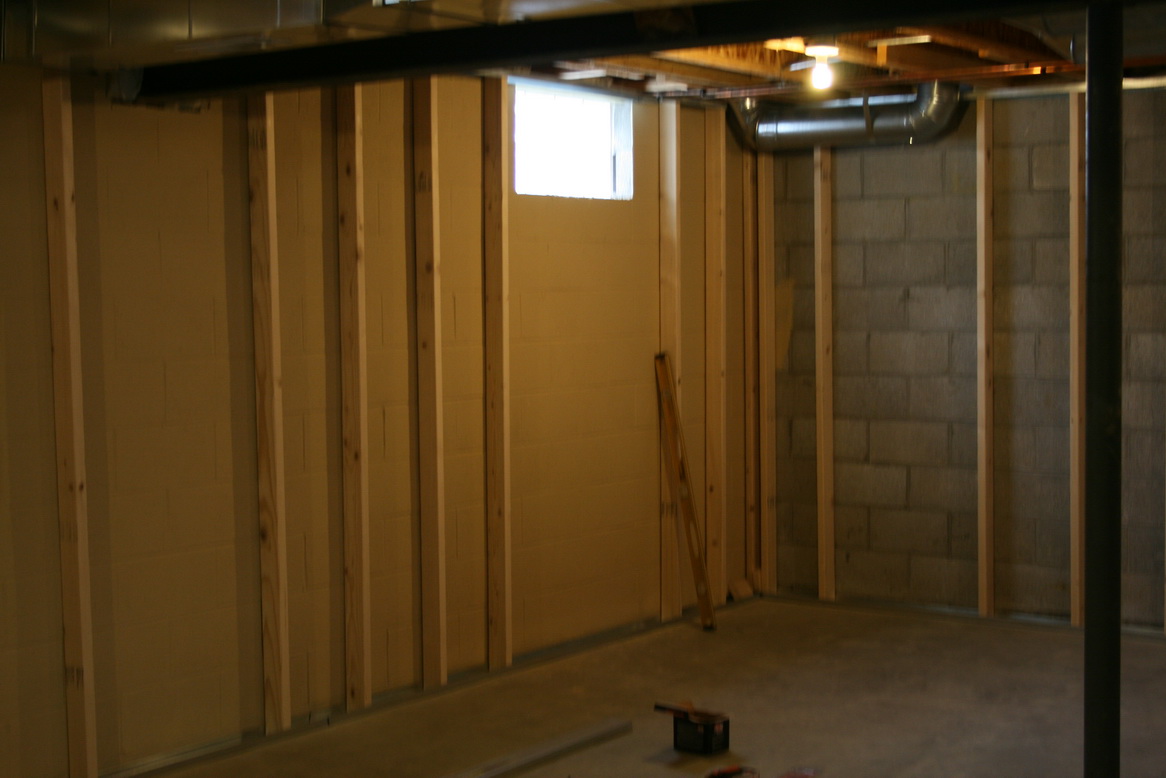 I am so excited, and extremely thankful that my Dad is helping us since he is a carpenter.  It makes a big difference when you are doing it yourself and saves a lot of money!