I have not one, but two, three year olds at home. and I must say that lately I am pulling my hair out.  They are at a stage where they are being very defiant and testing their limits with mommy and daddy.  I am sure it is all just a phase but, I am going  a little nuts.
One of my sons is in to yelling and screaming NO at me, and it usually goes from a frank matter of fact "no" to a shrill screaming no.  Then when I threaten to spank his tush, or ask him if he wants a spank he says yes, then I have to catch him first.  If you can picture me chasing a three year old around the couch, I can imagine it's quite humorous to see.  We have tried time out, but this becomes play time for him.  It is all wearing me out, because I am one of those people that doesn't just give up on parenting my kid and say oh well, I tried.  I am a firm believer in teaching my children how to behave, how to have manners and be respectful.
I have such a hard time with this because there are two 3 year olds in the house, and they get on each others nerves.  I am an only child and never experienced any sort of sibling rivalry, so I am breaking up fights over toys daily and when you do that it leads to the offender flailing himself around like fish out of water, and screaming uncontrollably.  It isn't any wonder why when my husband gets home, I run and hide.  The part that is most amazing is, that when you separate them, they act like angels.  They are totally different kids.  My guess is, that they don't have to contend for my attention.  Despite me pulling my hair out, everyone compliments me on how well behaved my boys are, so I guess they are just testing us.
I will always be persistent because I know that as they get older, the direction they get now will be a foundation for them, but until then, if you see a woman running crazed down the street, it was me.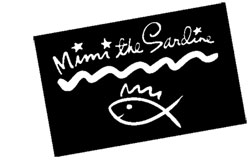 With the boys getting older and the weather being so nice we like to head outdoors frequently during the summer months.  On of our favorite outings is to head to the zoo for the morning and have sack lunch there before we head home for their naps.  When you visit places like the zoo the cost for food and beverages are usually outrageous and when you have a family of four, that can get a bit pricey.  For half of the cost we can pack a well rounded lunch for all us and it is so much more fun to sort of have a picnic as a family.
I am always in search of new and fun things that sort of make my life easier and appeal to the fun and whimsical that comes along with having children.  When I pack a lunch for the boys it is typically in a plastic baggie or in a brown paper bag.  If you know anything about food, presentation is always important especially when you have toddlers, and I try to make all things exciting to them.  They love the idea of picnics and bringing along their own special snacks for their trips to the zoo or to the playground.

Recently we were sent two Lunch Bug lunch bags from Mimi The Sardine and let me tell you they are incredibly adorable and when you see them, you will never go brown bagging again for your children.  We received the Hybrid Cars print and the Propellers because my two go nuts over planes and cars!  When I packed their lunch the first time in their new Lunch Bug bags they were really excited.  They have such bright and cheery colors and the boys thought that they were really getting something extra special.  Who wouldn't get excited about a peanut butter and jelly sandwich that was surrounded by such a delightful packaging?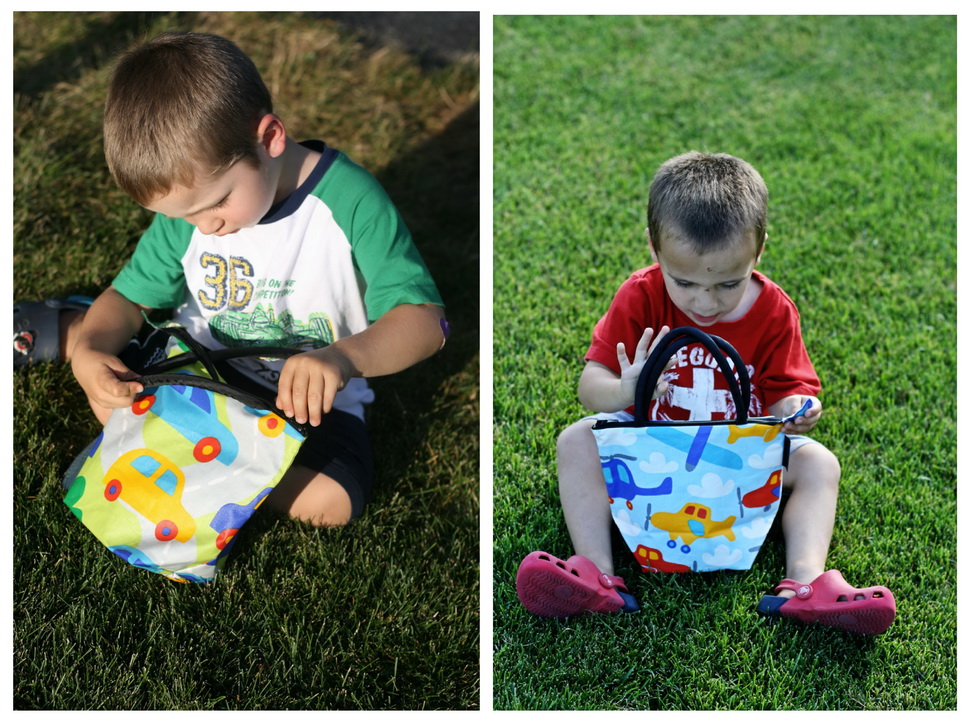 About Mimi The Sardine

A small, family-owned business located in Marin County just outside San Francisco, Mimi the Sardine's vibrantly colored Swedish prints capture a sense of delight and a bright innocence, appealing to youngsters and the young at heart, while they naturally bring smiles into life's everyday eating experiences.

The company's focus on bright, colorful, coated cotton prints and easy care fabrics has made Mimi the Sardine's bibs, aprons, splash mats, lunch bugs, backpacks, placemats, and tablecloths synonymous with good times in households all across America. With the transition into soft, safe, organically grown cotton in everything they make, healthy just got healthier—for you, your family, the farmers, and precious ecological systems.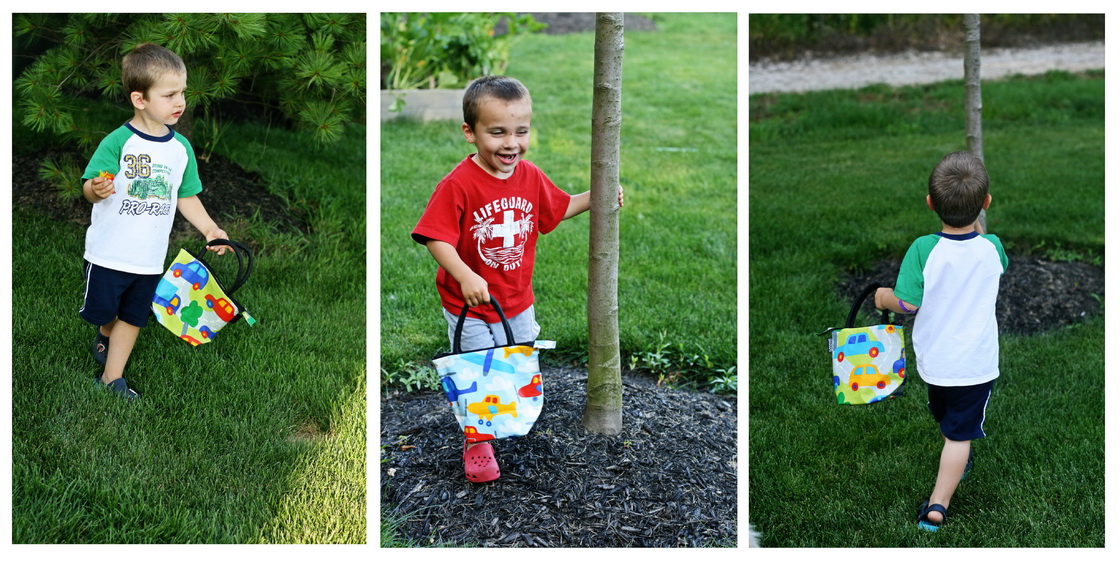 Lunchbugs  are also extremely easy to clean, which is a huge plus when you have little kids and you know there is always bound to be a mess near by. To clean them, you  just wipe, or machine-wash and tumble dry on low! Each bag is equipped with a sturdy zipper and soft handles, children and adults alike fall in love with the fun and colorful patterns, and everyone appreciates its eco-friendly and safe fabric.  I love love love these bags  because they are a vacation from the ordinary and are fun and you can tell that they are made with love.  This is a perfect alternative to brown bag lunches and is sure to brighten up any child's day.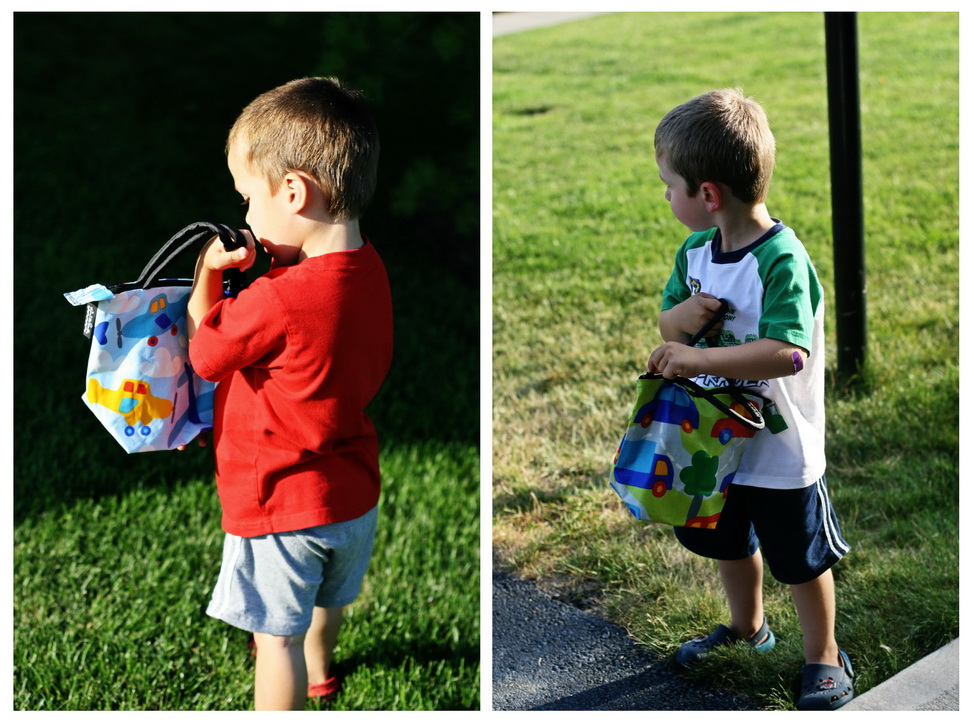 THIS CONTEST IS NOW CLOSED
Would you like to win a Lunchbug of your very own?
DoubleBugs and Mimi The Sardine are giving a reader the chance to win a Lunchbug or your choosing.
Here's What You Gotta Do
Visit Mimi The Sardine and tell me about another product that you like and why and come back here and leave me a comment.
For additional Entries
Tweet about this giveaway
Subscribe to my blog
Add me to your Technorati Favorites
Blog about this giveaway
Add me to your Twitter
Contest starts July 15, 2009 and Ends August 3, 2009
Good Luck!
My son comes up to me and says look what I found mommy and I am like, what is that?
Me:  Honey I dont know what it is, can you throw it away (i wasnt going to touch it)
My son:  But mommy what is it?
Me: I dunno, can you throw it away?
My Son:  Mommy is it poop?
Me:  Noooo (me re-analyzing this shriveled up whatever) honey it's not poop, now go throw it away
My Son:  Well what is it mommy?
Me:  I don't know
Gotta love the curious mind of a 3 yr old  LOL.  He finally threw it away but I wasnt gonna touch it.  I think it was something the dog brought in or a shriveled up whatever..who knows  LOL
I look at my twin boys and wonder where the time went.  I can remember when they were 5lb preemies in the NICU and seemed like such tiny little things.   They will soon be turning 3 and are talking and learning so many things.
I hope that this doesn't make me sound like a snob but I am really taken back by kids today.   I cannot believe some of the things that they do and what comes out of their mouths.  Here I am trying to teach my children to respect people and things and at the same time I feel like they are being thrown to the wolves.  I know that things are different than they were for me 33 years ago, but I hate the feeling like I have to just sit here and let it happen because this is the way of the world.
There was one day in particular that I look over to see another child throwing sand in my childrens eyes and face, and then proceeding to tell my sons that they were stupid!  Neither one of my children know this word, nor do I want them learning it.  No parents were around, and I had to step in and say something while they ran off still yelling the same things.  I know I can't be there to protect them all the time, but man does it make me so angry.
Then I had another child in my yard with a creature, and he was tossing the thing around and just not being respectful to the poor thing.  My husband said this is the sort of things boys do, but I told him I do not want my children learning to mistreat living things.  I asked this kid to politely leave the yard, and he politely ignored me.  I cannot believe how kids have such a lack of respect for anything or anyone, and this kid only had to be 5 or 6.  I was saying yes maam and no maam at that age, and found life to be much more pleasant when I listened to adults.
I am very worried when we have to send them to school and what they might pick up.  It makes me feel like everything I tried to instill in my kids will be reversed.  If I mouthed off like that my mouth would have been filled with soap.  I know I can only control my kids and not others, but I am horrified at what they will be exposed too.  I miss the innocence of childhood that once was.  I believed in Santa till I was 9 and now I will be lucky to keep the magic alive in my own children's eyes until they are 5.  It makes me sad.
Well, it is finally the end of my day and this Easter Bunny is exhausted.  We woke up and the boys got to take a look at their baskets and had so much fun cheacking out all their fun toys.  The wizard wands were a big hit, but they loved pretty much anything.  They are so easy to please at this age.
After breakfast, I threw their clothes at the husband to get them dressed while I ran outside in pjs to hide eggs.  The boys didn't know about it till we were heading out the door.   We had gone to a supposed egg hunt on Saturday and the thing was over in 15 seconds, and if you didn't act fast enough, the boys would not have had a single egg in their baskets.  I don't think they got to enjoy because it was over before they realized what was going on.  The egg hunt in our backyard, was so much fun for them, and we took our time.  One of my bubs says to me tonight "and maybe the Easter Bunny will bring more eggs tomorrow???"
After that, mommy took a nap with the boys, and then we headed outside for a couple of hours, and I mowed the lawn.  I ended the day with a big dinner, pork roast, carrots, potatoes, rolls, and cake for dessert.  Mommy is pooped, and going to call it a night at 9pm.  It was a good weekend, and I loved seeing my boys faces light up.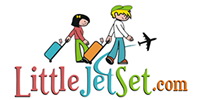 Little Jet Set is one of my all time favorite places for traveling with kids, because it has so many resources all in  one place.  I ran across Little Jet Jet for the first time when I was going to be traveling across the country with two eleven month olds, and found so many things that I could use.  The fact that we were taking a major trip with my boys coupled with the fact that I was a first time parent, I was desperate to find things to entertain the boys as well as maintain my sanity.
Little Jet Set offers a wide range of things for your child's travel.  And it is really nicely organized.  Not only that they offer some valuable links to some really nice resources.  I found a wealth of information, when I was busy trying to determine if the boys car seats were going to fit on an airplane.
We were recently given the opportunity to review the Vehicles Maze Puzzle, by Melissa and Doug and the I Get Around Travel Activity Set.   Both of the boys were naturally excited to try what I pulled out of the box.  The Vehicle Maze puzzle was a big hit because both of them go coo coo over cars of any kind.  This puzzle is great for road trips, because it has no loose pieces so nothing gets lost.  This is perfect for long road trips.  Each vehicle has a specific place along the maze like the police car goes to the station, and the school bus goes to the school.  My two simple love it and I don't have to chase after lost pieces.
This innovative wooden puzzle includes nine colorful vehicle pieces that slide around a colorful town scene on slotted tracks.  Uniquely designed sliding pieces move freely around the puzzle, but can't be removed or lost! Perfect for car trips or airplane rides. This great activity encourages eye-hand coordination and fine motor skills. Dimensions: 13.2 in. x 10.7 in. x 1.1 in.   Age 3+
The "I Get Around Travel Activity Set."  is one of my favorites and it is such a cute idea for young kids.  I am an avid scrapbooker so this is a great way to get your kids involved, and they can create their own memories.  The boys had a blast with all the fun stickers, and even though they didn't quite grasp the concept, it is a great way to spend time with your child, and helping them recall the favorite moments in their trip.  This would be great for vacations at the end of a busy day.  It is a great way to give them an activity and to wind down from such a busy day.  I love anything that encourage cognitive skills, as well as creativity. The boys loved choosing from all the fun stickers.
I Get Around Activity Set $39.95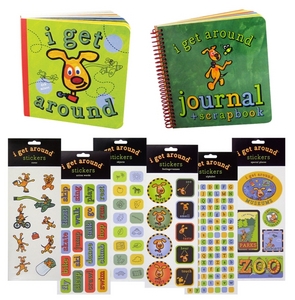 This gift set, available only at LittleJetSet.com, is perfect for kids who are going places — in everyday life, on special trips and in their imaginations. Each set includes: an "i get around" board book, which tells the story of Rover, and all the ways this hound gets around with his animal friends and what he does at the end of an active day; a spiral bound journal and scrapbook where little ones can express themselves with stickers, drawings and words as they experience the world around them; and 6 packs of repositionable stickers (Rover, action words, objects, feelings and senses, alphabet and special places). Comes packaged in a Little Jet Set logo tote – perfect for gift giving.
Comes with rhyming 32-page board book, 60-page journal and 6 packs of stickers (2 sheets each)
Written and illustrated by Deb Miner
Age 3+
I highly recommend Little Jet Set if you are traveling with young kids and are looking for some fun activities to help keep them occupied.  At least you have all of the best ideas in one place.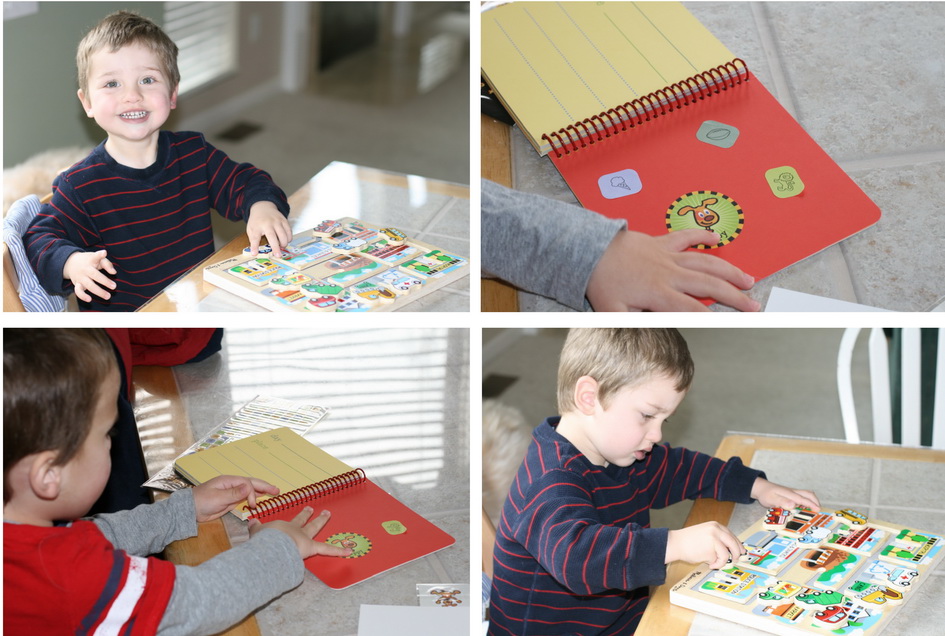 Little Jet Jet and DoubleBugs would like to give its readers the chance to win and "I Get Around Travel Activity Set" of their very own!
THIS CONTEST IS NOW CLOSED
Here's What You Gotta Do!
Visit Little Jet Set and tell me what you like, and also leave me one of your favorite travel tips.

Winners are chosen at random via Random.org.
If Winner Does Not Respond Within 2 Days the prize is forfeited and donated!
For Additional Entries (please leave as an additional comment):
Tweet about this post
Follow me on Twitter
Blog about my contest and give me the link!
Put my badge on your sidebar
Contest Starts March 30, 2009 and Ends Wednesday April 22, 2009
Good Luck!!!
Did you know that research has shown that fewer than half of all kids ages two to 12 get the calcium they need each day? Calcium and Vitamin D are both essential nutrients for building strong bones. Though it can be challenging for growing kids to get Vitamin D, since it is found naturally in very few foods Yoplait for Kids makes it a little easier to incorporate a delicious source of Vitamin D and Calcium in your child's diet.
About Yoplait Kids Yogurt
Yoplait Kids is made just for your toddlers sensitive palate.  It has a smooth texture and great fruit flavors that your child is sure to love.  It also has the calcium and vitamins that they need in their diets.
Along with a great taste it also has 25% less sugar and DHA for healthy brain growth.
Yoplait Kids yogurt in a cup is like training wheels for spoons-even when the spoon is tipped it won't fall off. That means less mess-and greater spoon-feeding success!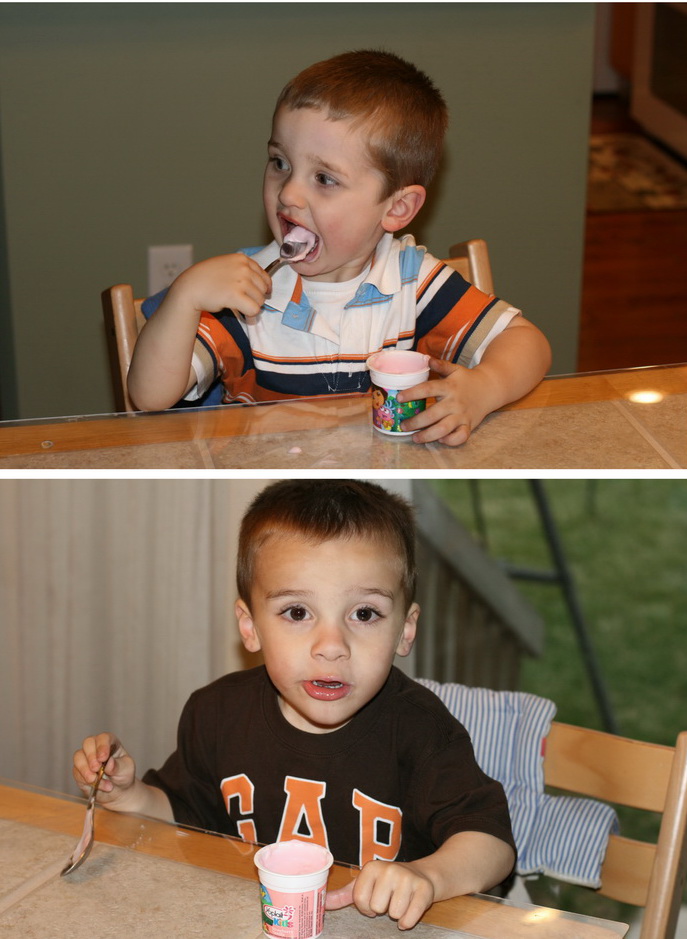 What We Thought
We received a free coupon to go and give Yoplait Kids a try along with a family fun package to encourage your kids to get out and get active.  Along with healthy eating habits you want your kids to be active, so what better way to end a day of play? We tried yoplait kids this past weekend after we played with all the fun outdoor toys we recieved and the boys absolutely loved it!  They both had to have their own cup of yogurt of course, and they finished every last drop.   We are big yogurt fans in this house, but what I have found is that a lot of yogurts have a high sugar content.  I really liked the fact that Yoplait Kids yogurt has the 25% less sugar, so I am more inclined to let them have the whole container rather than limiting it, and the serving sizes are perfect for them.   They of course thought they were getting something really special because Dora and Boots were on the containers, which makes it even easier for them to eat healthy.  Overall, I would have to say that this was a big hit and I will definitely consider buying more for them.
Would you like to give Yoplait Kids a try?
Yoplait is generously offering DoubleBugs readers the chance to win a great prize package.   Yoplait Get Active Prize Pack includes coupon for free Yoplait, travel cooler (to take your yogurt on the road), a jump rope, a water bottle and an outdoor game set that includes a beach ball, paddle ball, Jai-Ali and a Frisbee, and we will be giving this away to 3 lucky winners!
Open to U.S. residents. *This coupon offer for a free six pack of Yoplait for Kids yogurt is not valid in some states, including Idaho, Louisiana, Nevada, New Jersey, North Dakota and Tennessee.
Here's What You Gotta Do!
Leave me a comment and let me know what your family does to stay active.  Also, you can visit yoplait.com and tell me what flavor of yogurt your kids might like.
Winners are chosen at random via Random.org.
If Winner Does Not Respond Within 2 Days the prize is forfeited and donated!
For Additional Entries (please leave as an additional comment):
Tweet about this post
Follow me on Twitter
Blog about my contest and give me the link!
Put my badge on your sidebar
Contest Starts Monday March 30, 2009 and Ends Monday April 20, 2009
GOOD LUCK!!!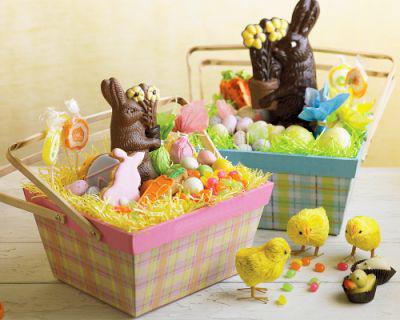 Today was a beautiful day and the weather was so incredibly nice. While I was out putting a new screen in our sliding door ( yes folks I am a handy woman)  because I got so sick of my screen flapping in the wind that I decided to do something about it and it dawned on me that Easter isn't too far away (thinking about two things at once).
Last year the boys were semi into the whole Easter thing but had not completely grasped the concept. We took them to our church Easter egg hunt which they divided into ages, and the boys got a few eggs and were happy. This year they definitely seem to get the concept. I can hardly wait to go to the local egg hunts because I know they are going to love it!
So I got to thinking about what to do for their Easter baskets this year. I am not a huge fan of overloading them with candy and I like to sort of cater to their interests when I am putting together their baskets. I thought I would give some ideas that they seemed to love last year, and I may go the same route this year.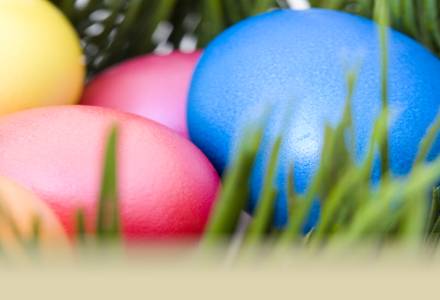 1. Sidewalk Chalk: This is especially exciting for toddlers because they get a big kick out of drawing on the driveway and sidewalk. With the warmer weather this is a perfect family activity and it gets you outside.
2. Magna Doodles: Last year I found the cutest little travel Magna Doodles that were shaped like and Easter egg, the boys still play with these and they are perfect for car travel as well.
3. Hot Wheels: My two love these things! We have a whole bucket devoted to hot wheels and they are always playing with them.
4 Stickers: I found these little activity books, but you can but a small blank notebook and draw pictures to put their stickers in a scene or just let them stick away on blank paper.
5. Stamps: I like the washable inks that are non toxic and kid friendly. You would be surprised how much kids love these. My two love to get their hand stamped and the washable stuff comes off in the bath or comes off your walls easily.
6. Bubbles: Kids always love bubbles and again are a perfect thing to entertain them outdoors.
7. Outdoor toys: A frisbee they can try and toss around i perfect, or a jump rope. I found this neat little ball that has a parachute inside, and when you throw it up the parachute opens. The boys love this thing.
8. Plastic Eggs: I will buy some candy but then get fun kinds of eggs to put it in. My two loves all the different eggs, like soccer ball, and character eggs more than the candy that was inside them.
9. Bath toys: Any small bath toys are sure to make them happy and my two love their bath time
10. Crayons: I buy the bug chunky crayons that are easy for them to grasp.
11. Small little books: I found a few of these that are tiny but perfect for little hands
12. Spinners with lights: I found a couple of fun Easter ones and they are sure to entertain.
13. Playdoh
14. Little figurines:  Fisher Price has some cute ones and I just found the Little Einsteins (gonna be a huge hit!)
These are some ideas to get you started, and there is so much more you can do without overloading your kids with sugar. I like things that are more useful and encourage them to play and use their imagination. I always have some goodies in there for them, but they really like getting things they can actually play with. Leave me some of your creative Easter basket ideas!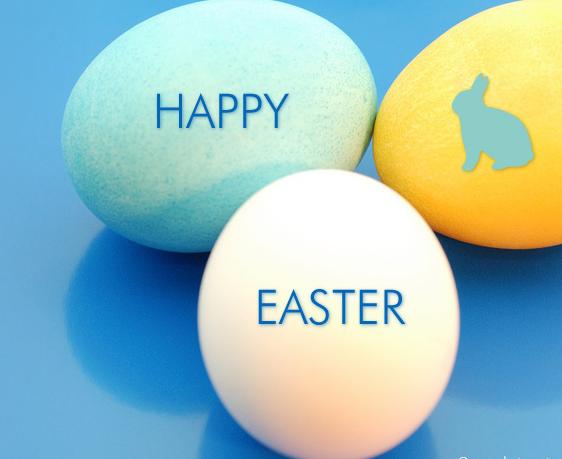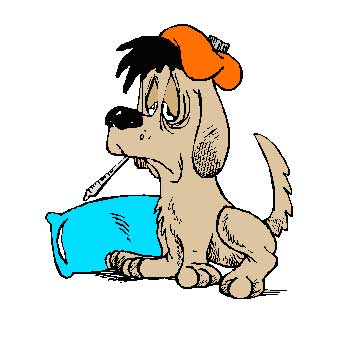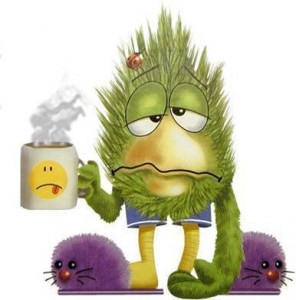 Today was a beautiful day but all of us are sick. It never seems to fail that when the weather changes we all get sick. I am hoping to get some much needed sleep tonight so I can actually function in the morning. When the boys are sick it seems like I am waking anywhere from 6-7 times in the night. My poor little bubs can't seem to get comfy and when you can't breathe through your nose, it just makes matters worse. The boys were a little crankier than usual but they still wanted to play outside.  I lnow that when I am miserable, all I want is my bed.  I never know if I should be keeping them sort of quiet or let them just play. We decided to let them go out but I think the boys overdid it. I just hope that this crud  goes away soon so we can enjoy the warmer weather!
So being a new mom, I am sort of learning as I go and have become a pro at other things.  Since having the boys, life has certainly had it's twists and turns.  I often times wonder what I did with my time before they were born because it seems like my days are blur.   No two days are alike, and there are some days like today, where I just wanted to cry.
I think outdoor play is so important and  with the weather getting nicer, we love to be outside as a family.  The boys simply adore walking on the path out back, playing in the sandbox, and just being outdoors.  I love it because they can burn off all that boy energy that they seem to have.  My husband and I were discussing when we should be able to let the boys to play outside on their own.  I feel compelled to watch their every move because they are only 2.5 yrs old and since I have two of them, someone is always doing or getting into something they shouldn't.  I see some kids in the neighborhood that are just out playing, and I wonder where their parents are.  I simply don't feel comfortable with letting them out without me or my husband with them.  They just seem so not ready to be out playing alone and I don't intend on letting them for a long time yet.  So when do you let them out to play without watching their every move?  It just seems scary to me, especially in this crazy world.  I am a bit taken back by how young the kids I see playing alone, walking down the sidewalk with no parents in site.  My two are just babies to me.  Am I just being paranoid?