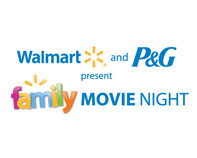 It is rare that you see wholesome movies anymore.  As a parent, I am finding it to be a difficult task picking movies that I feel comfortable letting my kids watch.  I am running across Disney movies that are using words like "idiot" and "stupid."  My kids seem to be at an age where they pick up on all of it, and then I am fighting a battle to correct what was negatively instilled in them by a "kid friendly" movie.  Good movies with good lessons are important.
P&G and Wal-Mart have partnered to create more made for TV family movies and have created Family Movie Night. Their most recent movie Field of Vision, premieres June 11th at 8/7c on NBC.   I had the chance to see Field Of Vision and it is a great movie with a very strong anti-bullying message.  I read about bullying in the schools often, and as a parent to young children, I must say it scares me.  My two are just months away from heading to school and it has been my experience unfortunately, that kids can be mean.
Overview
Through mysterious footage captured on an old malfunctioning video camera, Sinclair High School's star quarterback, Tyler McFarland, learns that some of his teammates have been bullying Cory Walker, a troubled new transfer student. Aware that sharing this information with the coach might get his friends kicked off the team and ultimately cost the school the state championship, Tyler must choose what's more important: winning or doing what's right.
This movie was a wonderful example of how to make a good movie minus all the language, and exudes a message to live our best life and teach our children to do the right things.  From a Mom's perspective, there were many poignant moments that I could relate to, and I was crying by the end.  I won't give away the whole movie, but it is a good one to sit down as a family to watch and discuss afterward.  My boys are only 5, so I felt the concept wasn't something they could relate to or grasp yet, but I think it is very appropriate for children ages eleven and up, who are on the verge of their teen years.  Faith Ford was wonderful in the movie.  But even more wonderful, was the fact that this was a movie that the entire family could watch.
"I wrote this review while participating in a campaign by Mom Central Consulting on behalf of P&G and received a promotional item to thank me for taking the time to participate."