Bread is a staple in our house.  We can sometimes go through up to four loaves of bread in a week.  My husband likes to eat bread plain, toasted, and with sandwiches and I am always making sandwiches for the boys to pack in their lunch.  Bread is one of those things that can be versatile in meals and even recipes.  In fact, it is a primary ingredient used to stuff our Thanksgiving turkey with.
Bread is one of those things that we don't think much about, since it has sort of been around for a very long time. This year marks the 250th anniversary of the sandwich.  History has it that in 1762, Sir John Montagu – the 4th Earl of Sandwich – requested his dinner meat be served between two slices of bread and thus, the sandwich was born.  Besides the history, sandwiches are one of America's favorite things to eat.
A recent survey  by the Grain Foods Foundation and conducted online by Harris Interactive® indicates that more than a third (41%) of American adults eat sandwiches up to six times a week, and more than 60% of American adults eat a sandwich at least once per week.  I personally love eating sandwiches, they can be eaten cold or warm and is a really great comfort food.  With my children, it is one of the most asked for things when it comes to packing their lunch, whether it is a peanut butter and jelly or my favorite a ham sandwich.
About the Grain Foods Foundation

The Grain Foods Foundation, a joint venture of members of the milling, baking and allied industries formed in 2004, is dedicated to advancing the public's understanding of the beneficial role grain-based foods play in the human diet and a healthy lifestyle. Directed by a board of trustees, funding for the Foundation is provided through voluntary donations from grain-based food companies and is supplemented by industry associations.  For more information about the Grain Foods Foundation, visit gowiththegrain.org, facebook.com/gowiththegrain or twitter.com/gowiththegrain.
But, besides just being yummy, bread contains whole grains which are a good source of fiber and complex carbohydrates and is low in fat.  Enriched grains are also a good source of complex carbohydrates and are one of the major sources for iron and folic acid in our diets.
To help celebrate National Bread Month, Celebrity Chef Bryan Voltaggio has created some delicious recipe creations.  Sandwiches such as Banana, PB, and Honey, or the Pastrami Reuben are just a few of the recipes featured.  Some of my most favorite sandwiches are the turkey, avocado and provolone panini.  Since becoming pregnant, I crave a good hot sandwich at least twice a week.  However you like to eat your bread, it is one of those foods that is essential to the American diet, and is a great contributor to a well balanced diet.  I can't imagine a life without it either, whether it finds itself in a recipe, or just being devoured in something as simple as jelly and toast.
What's your favorite sandwich recipe?  Create something new to celebrate National Bread Month
"I wrote this review while participating in a blog tour for Mom Central Consulting on behalf of the Grain Foods Foundation. I received a promotional item to thank me for taking the time to participate."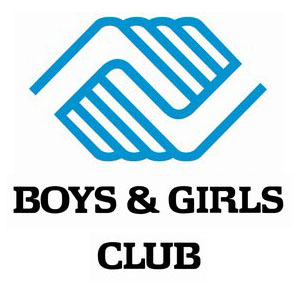 It's back to school for most, including my boys first year of kindergarten. I was the one who was hesitant about sending them off simply because my babies are growing up. Before they started school, I was overwhelmed with all the details of getting them ready to go. There are so many things to consider, like clothes on their backs, backpacks, supply lists, filling out registration forms, getting them caught up on vaccines, and just preparing for a change in their schedules.
Sometimes though, there are often families who struggle with providing the basic supplies for school, and often show up without the supplies that they need. A neighbor of mine who is a teacher, mentioned that she is always buying pencils because the kids have none. The Boys & Girls Club of America (BGCA) has been around for a hundred years providing kids with a safe place to be, offering fun activities ,life skills and a sense of self confidence, in order to help them do well in school and out. They offer a myriad of programs designed to give young people what they need.
Who are The Boys and Girls Clubs of America?

Boys & Girls Clubs are a safe place to learn and grow – all while having fun. It is the place where great futures are started each and every day.

In every community, boys and girls are left to find their own recreation and companionship in the streets. An increasing number of children are at home with no adult care or supervision. Young people need to know that someone cares about them.

Boys & Girls Clubs offer that and more. Club programs and services promote and enhance the development of boys and girls by instilling a sense of competence, usefulness, belonging and influence.

Boys & Girls Clubs are a safe place to learn and grow – all while having fun. It is the place where great futures are started each and every day.
Boys & Girls Clubs nationwide and Disney have paired up, and are making preparations for back to school by launching the Tools for Back to School initiative. Their priority is to make sure students, especially the ones who need it most, have the supplies that they need, and the guidance to succeed. Also, the BGCA website features many educational resources and content, offering numerous ways for Moms and Dads to engage and support the organization.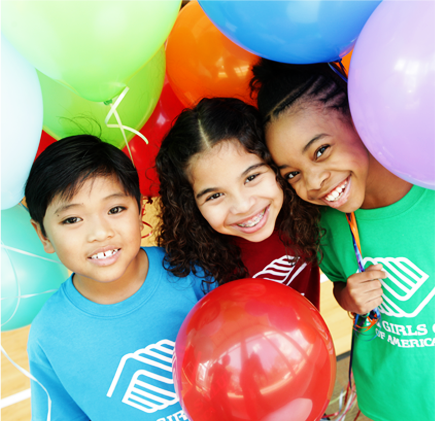 Also, if you do a little shopping in August at JCPenney, you can join jcp cares and your purchases can benefit The Boys and Girls Club by "rounding up your purchase"  We all want  our children to succeed, be provided for and be able to grow up happy and well provided for.  I believe in giving every child the chance to do this regardless of their circumstances.  The BGCA is doing just that, by giving kids the head start that they need throughout their childhood.
"I wrote this review while participating in a blog tour by Mom Central Consulting on behalf of Boys and Girls Club. I received a promotional item to thank me for taking the time to participate."


Grilling is one of my favorite things to do during the Summer months.  The kids are usually actively playing outside and I like being able to be outdoors with them.  Grilling for me as a mom is much faster and pleasant than being inside with a hot oven, heating up the house.  I love the taste of grilled hamburgers, vegetable and potatoes, and anything that I can prepare on the barbeque pit.
I am always on the lookout for things that I can prepare as a whole meal on the grill, so everything is sort of ready at once. Ore Ida Grillers is a great new product introduced by Ore Ida, a well known name in my household.  Ore Ida already has  really great frozen potatoes like tater tots, french fries and hash browns.  I love potatoes on the grill, but I always have to wrap them up in foil to keep them from burning to black hockey pucks before I can get everything ready.  I was able to give the new Ore Ida Grillers a try over the weekend and I love them.  Firstly, I can just put them directly on the grill, which makes preparation easy from package to grill to table in about fifteen minutes.  We chose a meal of a fresh garden salad, hamburgers and Ore Ida Grillers.  Cooking them is easy as can be, you flip them over once or twice during the fifteen minutes and then they are ready to go.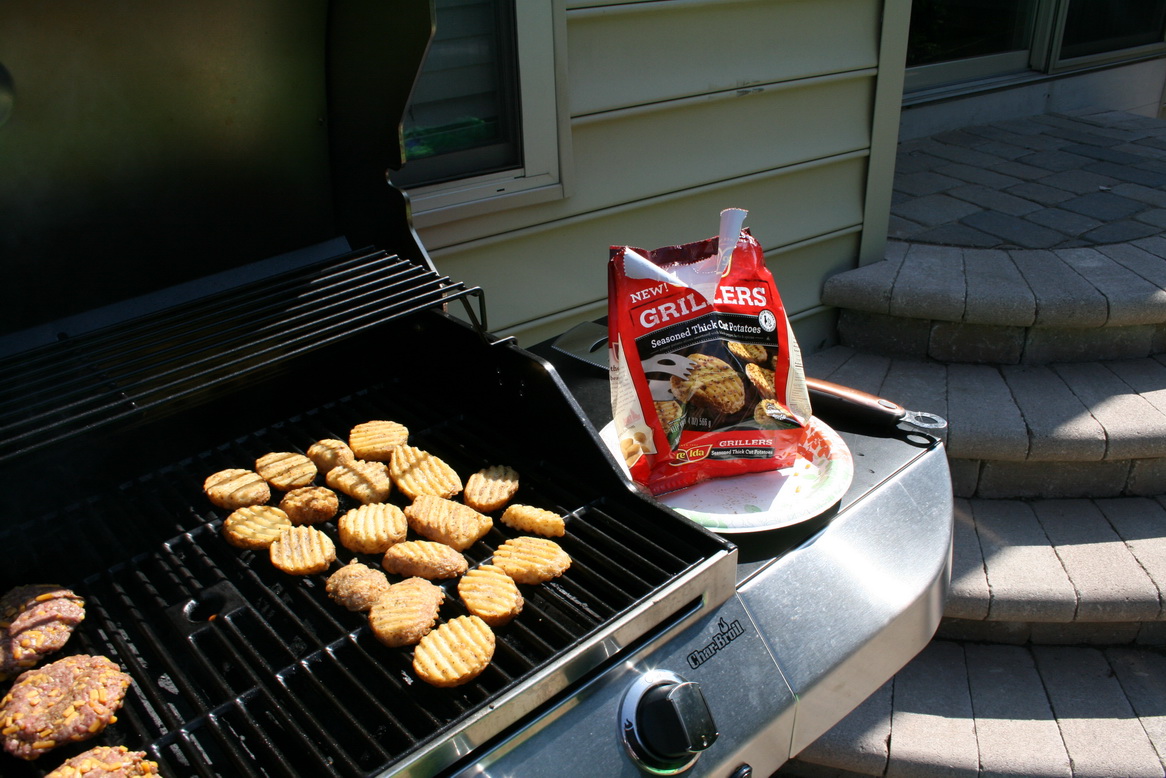 We had the chance to try the Grillers Golden Thick Cut Potatoes as well as a package of the Grillers Seasoned Thick Cut Potatoes and my personal favorite were the seasoned Grillers.  They went perfect with the meal and at first I thought the potatoes might be too hard after cooking but they were the perfect amount of crispy outside and soft on the inside.  I took one of them and put it on my hamburger and it was a really yummy addition!  The best part, is that they are easy to prepare, there is no cutting and peeling of potatoes, getting them sealed in a foil packet and then wondering if your potatoes are cooked enough.  I don't know how many times I have burnt my self on foil packets of potatoes trying to peek inside to see if they are done on the grill.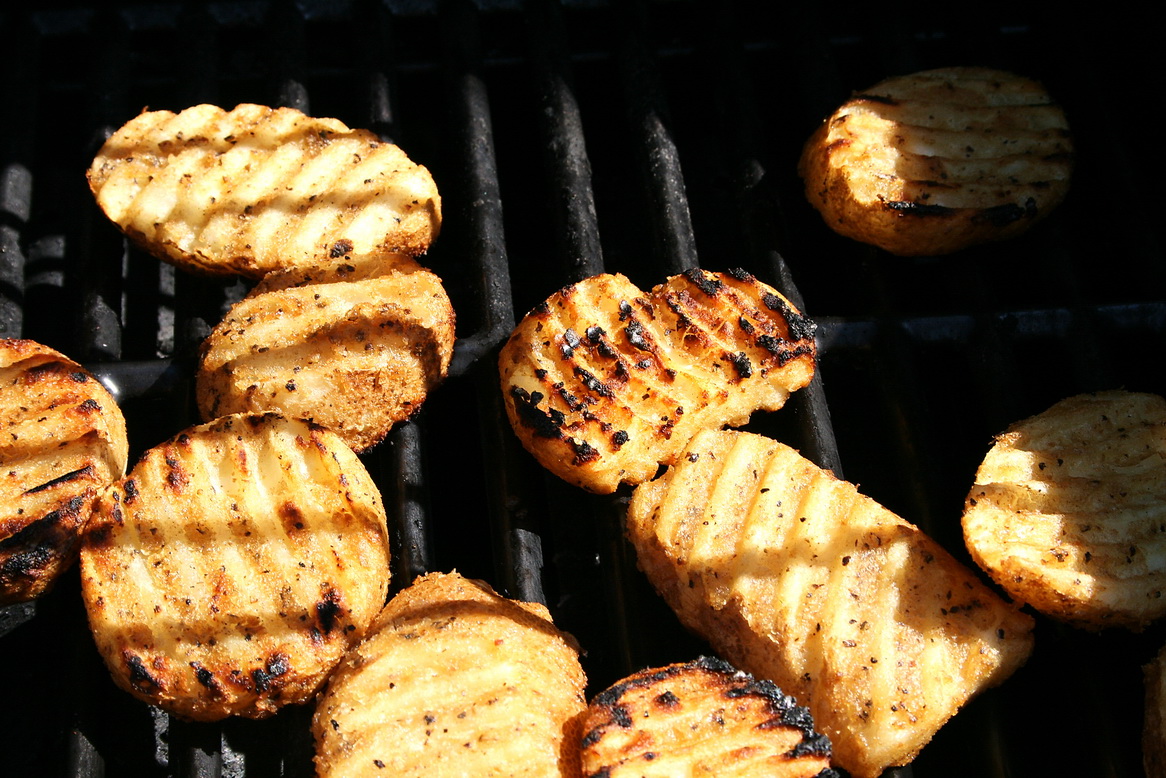 As a mom, Ore Ida Grillers will be something I have on hand in my freezer from now on.  It makes for a great side dish to whatever you may be grilling and they are super simple to make!  Ore Ida Grillers can be purchased at grocery stores and places such as Target, Walmart, and Sam's Club.  You can also check out the Ore Ida facebook page and let everyone know how much you like Ore Ida products.
"I participated in a campaign on behalf of Mom Central Consulting for Ore-Ida. I received coupons to purchase products to facilitate my review and a promotional item to thank me for participating"
Movie night in our house is always a perfect opportunity to get the family together and enjoy time with one another.  I was driving in my car a few weeks ago and I was telling my husband that I actually missed going to a drive in movie.  I can remember as a kid when we would all pile in the car with a cooler full of snacks, and blankets, and spending the evening at the drive in.
What if there was a perfect way to bring back those memories in your own front yard or have your own big screen right in your own home?  The 3M Mobile Projector brings the big screen to you in a tiny package.  3M's Mobile Projector allows you to turn your mobile devices like an iPad, or iPhone into a big screen theater. Set up is pretty easy right out of the box, and you are ready to make some movie memories.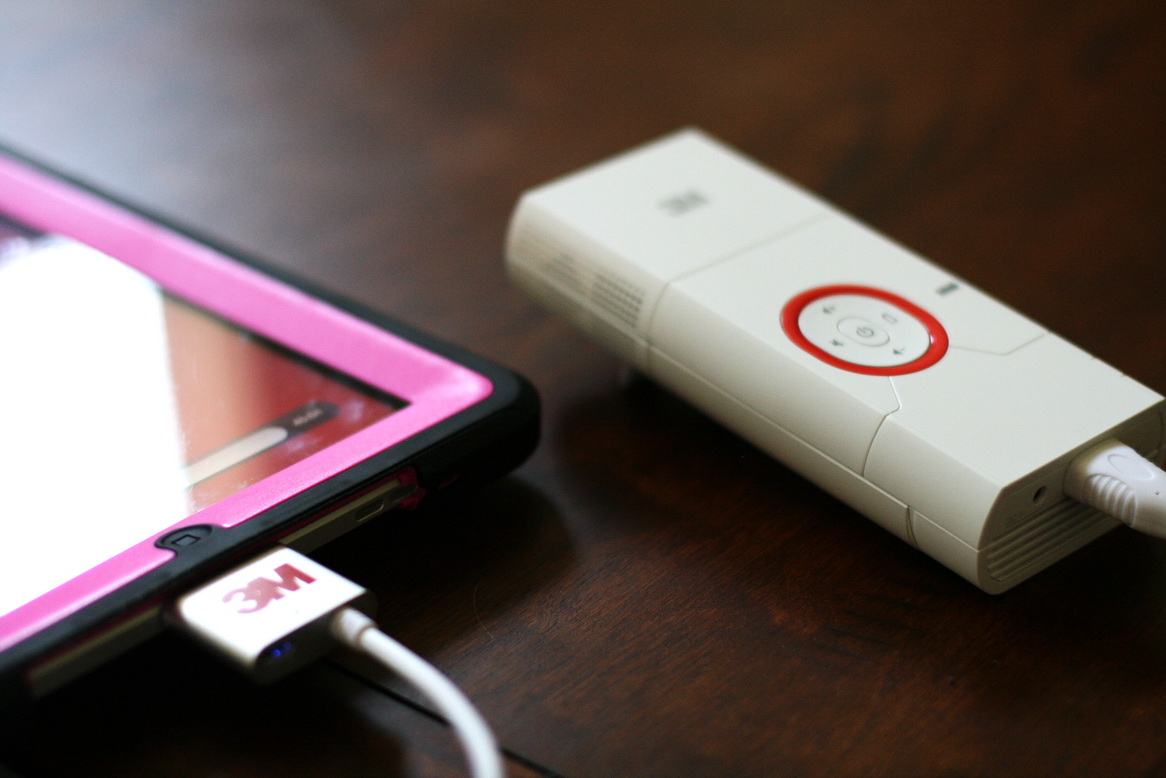 Video quality on the 3M Mobile Projector is pretty darn impressive.  You can plug in any portable speakers and have instant sound.  I had a little trouble with the sound being a little too low, I am not sure if this is a product of the device itself, or something that needed adjusting on my end.  Overall, though, it sounds really good.  Our first experience we watched a documentary on sharks and the ocean.  The boys and I had so much fun with it, we all curled up in bed and watched the show on the ceiling!  We had a movie night set for our front yard, but we had a storm blow through here and knocked out power, so we didn't get the opportunity to have our drive in movie with the neighborhood kids. The 3M Mobile Projector has 2 hours of battery life per charge (or runs continuously on AC power).  If you don't have an iPad or a mobile device you can easily get a cable specifically sold by 3M to hook up to your laptop.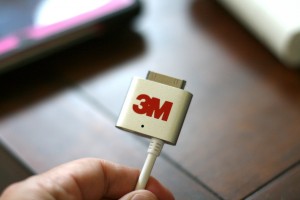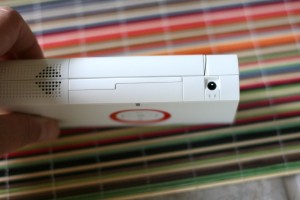 The screen size is ample and projects a screen size of up to 80" diagonally.  You can put the projector on a table top and it has a small flip out tab to elevate it, but I found it easier to use a tripod since it has a standard tripod mount and it keeps the screen from moving.
3M Mobile Projector Features
Up to 2 hours of battery life per charge (or runs continuously on AC power)
Projects a screen size of up to 80" diagonally
32 lumens brightness
Built-in stereo speakers
Audio out for external speakers or headphones
Native resolution: 800 x 600 SVGA
Supported resolutions: VGA 640 x 480' SVGA 800 x 600' XGA 1024 x 768' WXGA 1280×768 and 1440 x 900 @ 60 Hz' SXGA 1280 x 960 @ 60 Hz
MAC: 640×480 @ 67Hz' 832×624 @ 75Hz' 1152×870 @ 75Hz
No lamps to replace; uses long-lasting LED technology (up to 20'000 hours)
Flip stand (built-in image height adjustment)
Standard tripod mount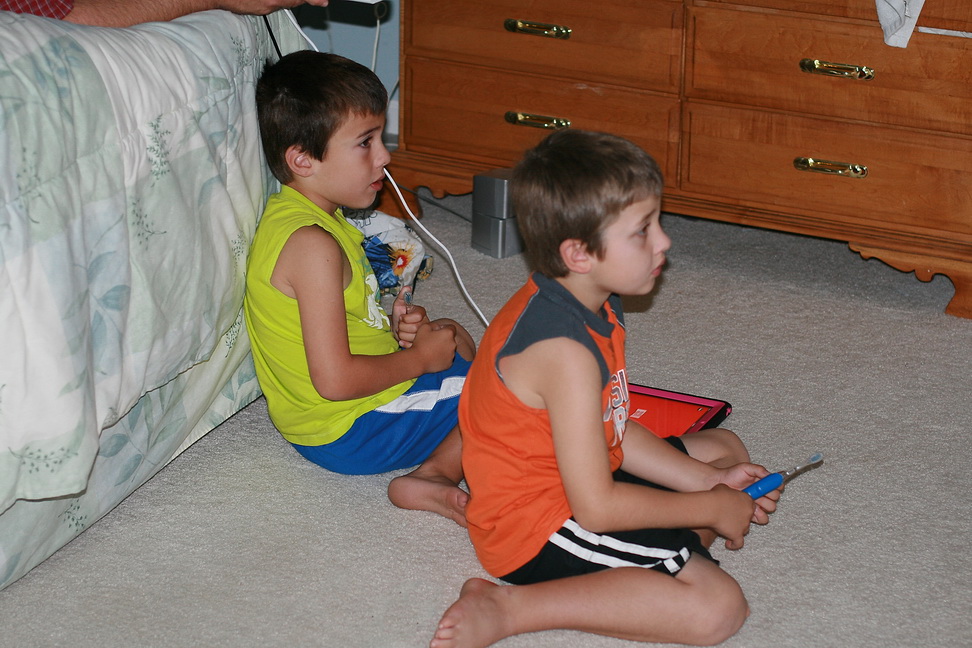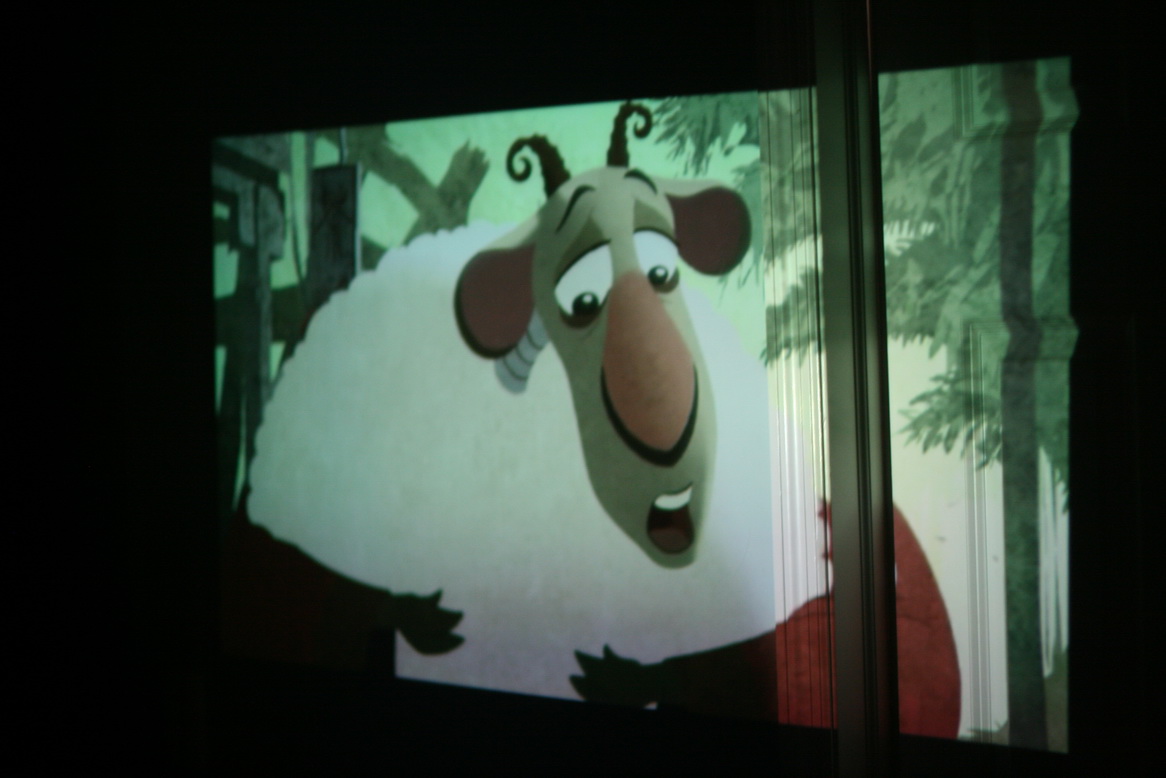 One fun thing you can do which I didn't get to try because I have an iPad 1, was that you can project your favorite apps on the wall too, it would have been really fun to play Angry Birds in big screen mode.  Overall, I love the 3M Mobile Projector, the resolution is great for such a small device, it is easy to set up out of the box, and it is great if you have young children to create a fun family movie night.  There are so many versatile ways to use this projector.  I can imagine it would be a great tool in classrooms for presentations, and the device could easily fit in your purse or bag.  I can't wait to have our make up movie day at the drive in, complete with blankets, snacks, and lots of smiles! The 3M Mobile Projector brought back so many fun memories for me, and I love just doing something different as a family.  I love it!
If you want to learn more about the 3M Mobile Projector, you can check out the 3M  facebook page or follow their twitter stream!
"I wrote this review while participating in a blog tour by Mom Central Consulting on behalf of 3M and received a promotional item to thank me for taking the time to participate."
.

I have never tried biscotti,probably because I rarely drink tea and never drink coffee.  But I have always wondered what it tasted like, and always contemplated buying it when I passed by it in local cafes or at the grocery store.  I had a an Aunt who always used to dip shortbread in her coffee, and I can remember as a kid grabbing a glass of milk and following suit.
I was recently given an opportunity to try out Nonni's Biscotti Bites and even though I don't drink coffee or tea, I couldn't think of anything more perfect to dunk in my cold glass of milk.  So I took the challenge to have my own "Biscotti Moment."  My favorite mommy time comes after the boys go to bed and the house is quiet.  I put on a favorite show or a good movie and grab a glass of milk and cookies.  Nonni's Biscotti bites were a welcomed change to my favorite night time snack and I loved them!  They are just as perfect for dipping in a cold glass of milk.
Biscotti are gourmet dunking cookies, pronounced <bis-­?coat-­?tee> in Italy, but more commonly pronounced <bis-­?cot-­?tee> in America. The name Biscotti was derived from 'bis' meaning twice in Italian and 'cotto' meaning baked and it was first created in the fourteenth century in the Tuscany region of Italy. Biscotti is made with real eggs, butter and gourmet bittersweet chocolate which gives it that delicately sweet taste and nice light crunch.
My favorite of the three flavors, almond dark chocolate, caramel milk chocolate, and classic almond, had to be the caramel milk chocolate.  In fact, the bag didn't last very long because between me and the boys they were gone in a day!  It had these slightly chewy bits of caramel imbedded in the biscotti and one side dipped in a layer of milk chocolate.  It sure cured my craving for for something slightly crispy and chewy like a chocolate chip cookie and they are perfect for dipping.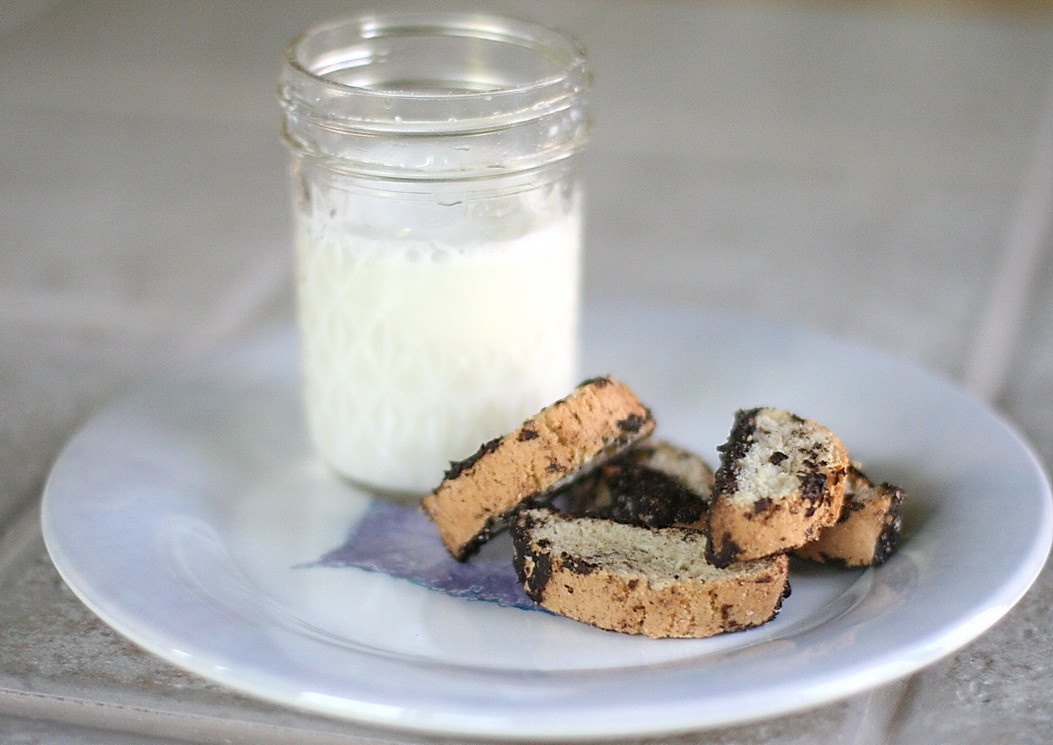 About Nonni's Biscotti Bites

Created just for your craving, it is a unique eating experience crafted with all natural ingredients making them rich in flavor, light and crunchy in texture, and delicately
sweet.

Biscotti has been an Italian tradition for generations and now you can enjoy delicately sweet mini biscotti; baked with quality, each biscotti is the perfect size for snacking or sharing.

Delicious, all natural, special occasion treat in an everyday snacking size

Snack bag packaging makes it easier to share and wrap back up for another biscotti break

Excellent complement to enhance a favorite coffee beverage, enjoying with a glass of wine, perfect
for a cold glass of milk or eating by itself.
Comes in a variety of flavors

Almond dark Chocolate is a classic almond biscotti dipped in gourmet dark chocolate; a modern tradition combining the delicate flavors of biscotti with the
rich taste of the finest chocolate.

Caramel Milk Chocolate is light, filled with sweet creamy caramel and dipped in gourmet milk
chocolate; an indulgent combination that is irresistible.
Classic Almond is crisp and crunchy, with the sweet flavor of almonds and just a hint of anise.
This classic bite-­?size creation is rich in Tuscan tradition and is an excellent complement to a cup
of coffee, espresso, or wine.
Do you like Biscotti? What is your favorite treat, or ways in which you pamper yourself? Nonni's Biscotti wants to offer you the chance to win a trip for two to Hollywood. You can also upload a photo of your Biscotti Moment to have a chance to win the weekly prize of a Nonni's Biscotti Gift Basket. You can learn more about the Biscotti Moment Sweepstakes on the Nonni's Biscotti Facebook page.
My Biscotti Moment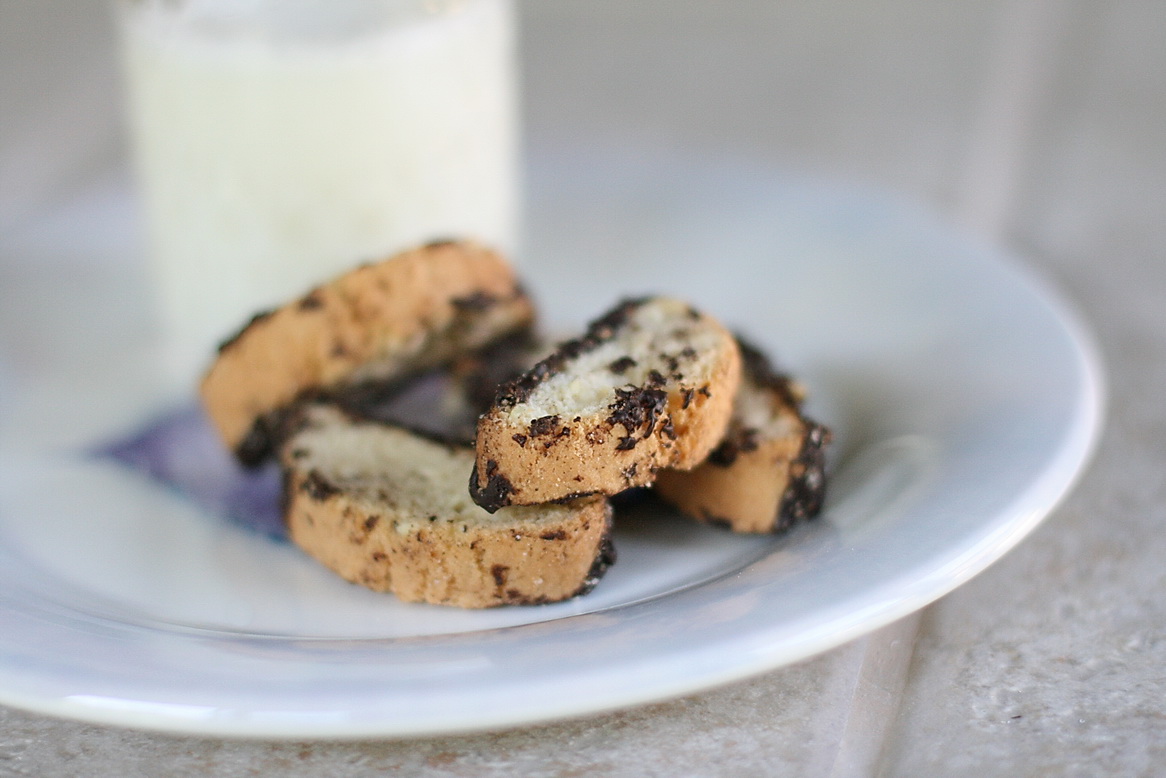 "I wrote this review while participating in a campaign by Mom Central Consulting on behalf of Nonni's Biscotti and received a product sample to facilitate my review and a promotional item to thank me for taking the time to participate."

There are some days when I don't get to even sit down, till after the boys are in bed.  Along with being a mom, comes this weird phenomenon when you have kids, it is the one where if you sit everyone is right there needing something, but if you are busy doing the laundry, everyone seems to leave me alone for a few minutes anyway.  I call my laundry time, my phone time, when I can call my mom and talk while I fold, but holding the phone isn't always feasible.  I also, like to call my husband when I am outside watching the boys, so a hands free option is always welcomed, so I can do several things at once.
Vtech has the perfect solution. I was given te opportunity to try out  the Vtech LS6475-3 cordless phone set and answering system.
Here's what you get in the box and all very easy to set up.
An answering machine and phone base unit with AC power adapter.
A charging cradle with AC power adapter.
2 DECT cordless phone handsets
1 DECT headset with ear hook and ear bud
1 head band for use with the headset
Phone cable, manuals, two battery packs (one for each phone)
3 additional ear buds and two ear hooks.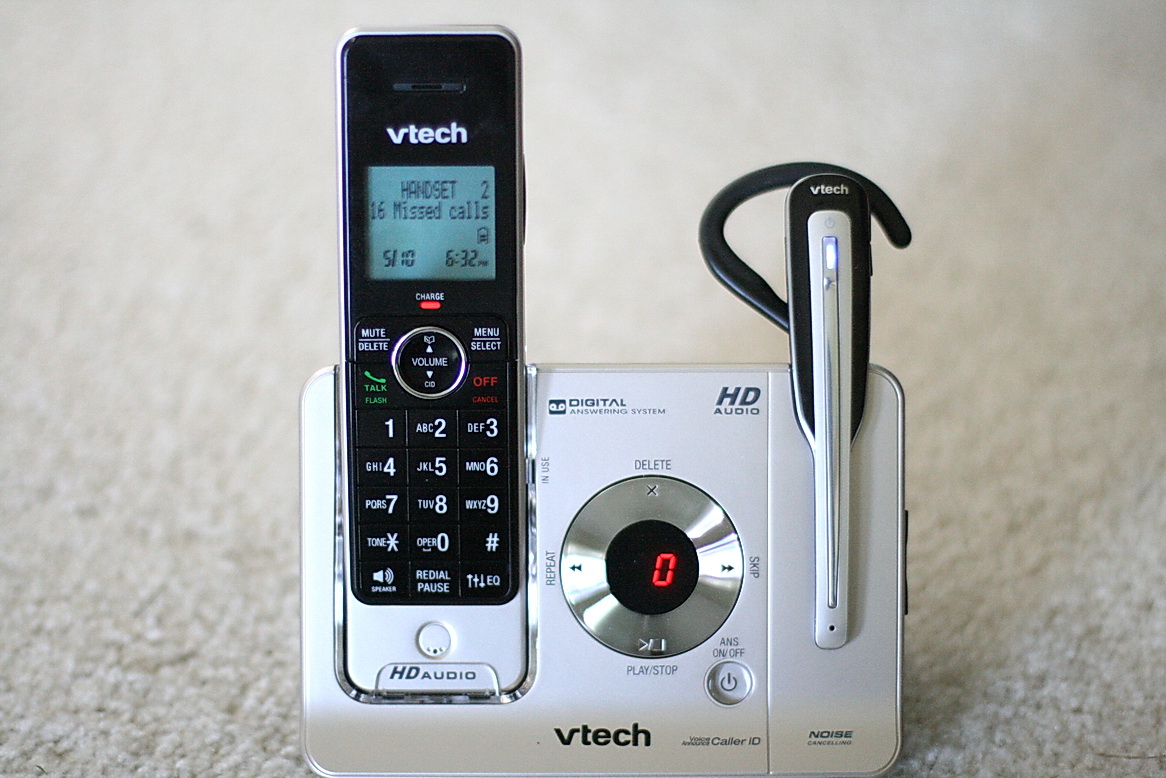 The phones themselves feel solid and well put together,  they are not heavy and I love the sleek silver that accents the handsets and is the primary color of the base.  You can see from the pictures that the phones and the base/charging units look very nice.  To me, if a phone has to sit there on my counter or wall, it needs to look decent.
The handsets were partially charged when I got them out of the box, but I decided to fully charge them for my review.  Setting up the base was very simple, the phone cord into a phone jack, plug the ac adapter into any outlet, and voila, you're ready to go.   One thing you'll notice right away is that Vtech added a little "lip" on the cradle for the handsets so that when you put the phone in the cradle, you know for sure it's in there correctly to charge.  That's a nice touch.
One of the things that makes this phone set unique is the included headset.  The headset is very versatile, it can be worn on the ear (kind of like a blutooth cell phone ear piece), but it also comes with a head band so you can wear it using the over the head band.  You also get additional ear buds, and various different size ear hooks so you can be sure you can fit it on your ear properly.  This is a great feature if you are running around the house getting things done, yet you have phone calls to make.  The headset is well built and I was able to wear it comfortably on my ear.  More importantly, the sound on the headset is excellent, and the range is absolutely great.  I was able to wear the headset and walk outside my house over to the neighbors house while talking on the phone without any static or noise!
There is a button on the headset to answer an incoming call (which works well), but there is no way to make a call with the headset.  You have to first make a call using one of the cordless hand sets, and then you can continue the call on your handset.  If you want to be able to make calls using the headset, this unit is not for you.  One of the things I really liked about it though, is the way you connect it to the base when charging.  It has a magnetic connector that makes it super easy to put the headset on the base to charge it.  It clicks into place snugly – no worries about having the headset laying around somewhere and not being able to find it.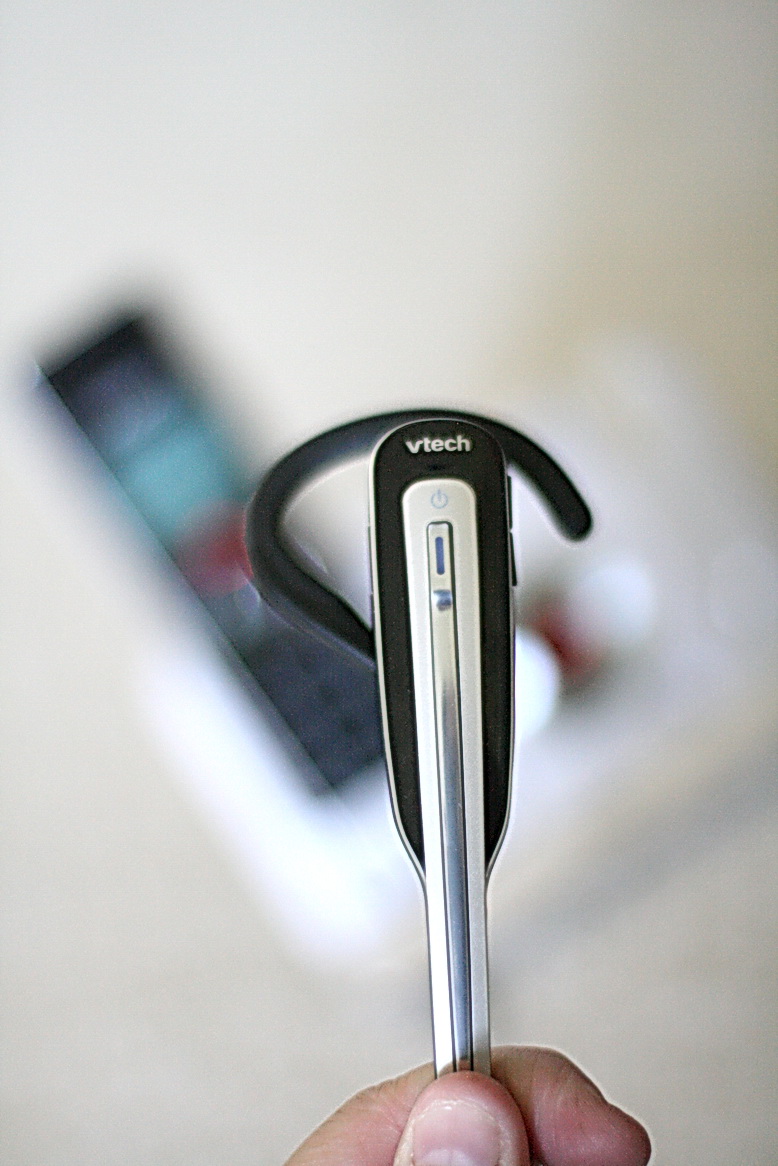 The two handsets come with a very clear and easily readable blue backlight, including the key pad.  No fumbling around in the dark trying to see the keys when you're trying to call at night.  The contrast on the displays is good so the text is easily readable.  This phone set uses DECT 6.0 technology, which means it won't interfere with your home wireless network for your PC or other wireless devices.  I tested both handsets in different areas of my house, in my yard, and even across the street — the sound remained crystal clear, the range on these phones is remarkable.  Vtech calls it "HD Audio", and it definitely delivers.  Both handsets have speakerphones built in, just push the speakerphone button and you can use the handset as a speakerphone.  The speaker produces clear sound and the mic seemed to work well.
Another feature I really like on this phone set is "voice announce".  The base unit as well as the two handsets announce the name and number (based on caller ID info) of the person calling using a robotic sounding voice.  The digital voice is sometimes funny in how it pronounces names, but it's very handy to be able to tell who's calling without having to be near any phone.  This has to be one of my most favorite features in the Vtech phones.  It is so nice, not to have to go running for a telemarketing call or for someone I don't know.
The phone handsets also have a handy "push to talk" feature.  Just click a button and your phone becomes a two way radio with other handsets.  The set I got only has two handsets, but you can easily expand your set by adding more handsets.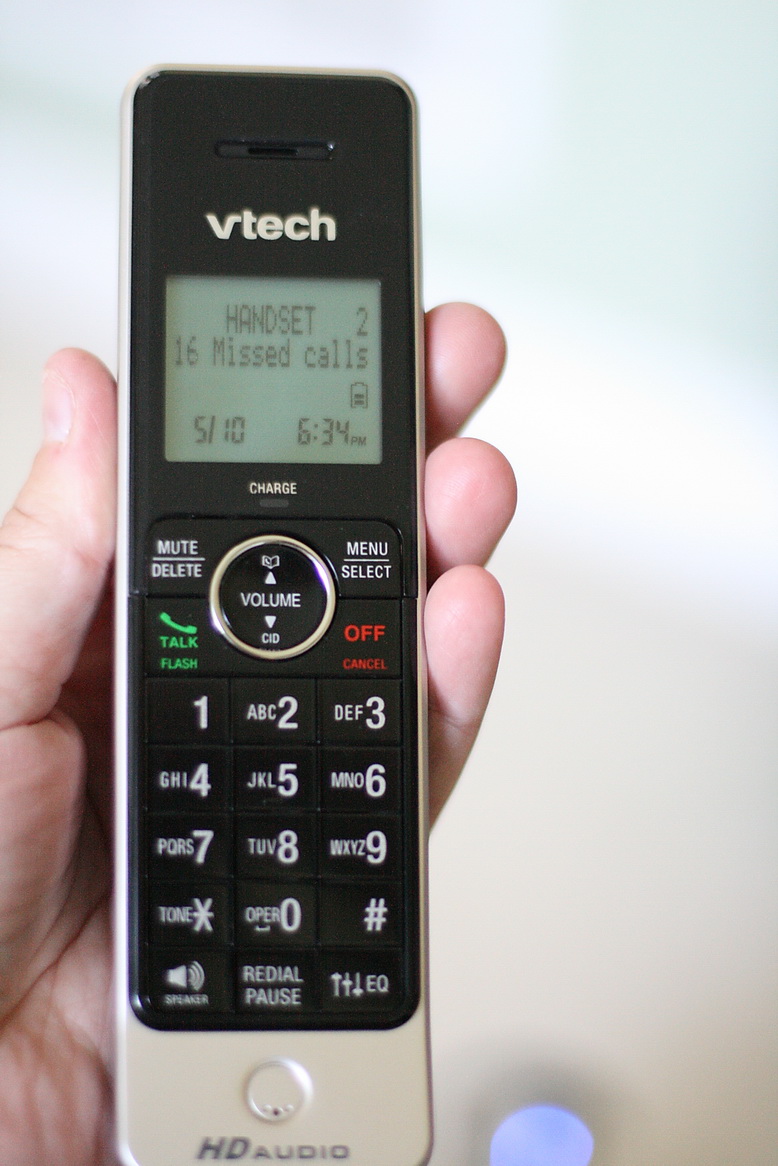 The fully digital answering system works as expected, it allows you to record up to 14 minutes of messages.  The messages are recorded clearly and can be played back from any handset so you don't have to go to the base answering machine to hear the messages.
All manufacturers claim wonderful talk times for their phones, but actual results are often less than spectacular.  Both cordless phones worked for more than a week without having to be recharged, with at least a few hours of active use.  Basically, battery time on your phones should not be an issue.  The headset lasted even longer than the cordless handsets on a single charge.
Final verdict:
The Vtech LS6475-3 generally retails for about $80.  At that price point, it's really an excellent set.  It does everything you'd expect, and more.  It looks nice, feels well built, and can easily be set up in your home.   The headset is a feature you generally won't find on other phone sets in the same price category.
Pros include the large feature set, cool headset with multiple configurations, voice announce, DECT technology, push to talk, and nice speakerphones.  The headset simply rocks, it's very handy to be able to talk on the phone while keeping both hands available to do other stuff.
The only cons to this set are the lack of bluetooth (cell phone) integration and the inability to initiate a phone call using the headset.
A great way to stay up to date on all of Vtech's latest technology you can visit Vtech's Facebook Page, or follow along the Vtech Twitter Stream!
"I wrote this review while participating in a campaign by Mom Central Consulting on behalf of VTech and received a product sample to facilitate my review."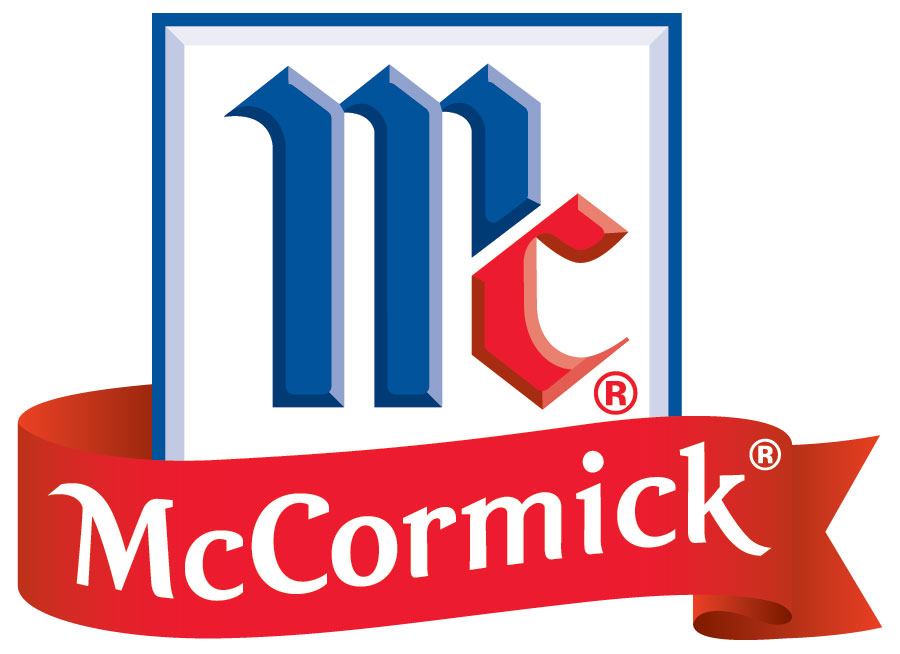 I am always on the look out for new recipes to try. I especially like changing up some of the standing recipes that we have in our house. I am addicted to flipping through recipes online and I love having the internet as a resource to create new things for my family.
McCormick has been a long standing name in my kitchen. Over half of my spice selection contains McCormick, my baking cabinet has vanilla, various flavored extracts, cinnamon, and nutmeg all with the classic red McCormick lid and name. McCormick also has a great resource online called the Look Book that has some really great recipes using some of McCormick's great spices and extracts. I went looking around at all their great Spring Recipes to try and the photos all had me drooling on my keyboard.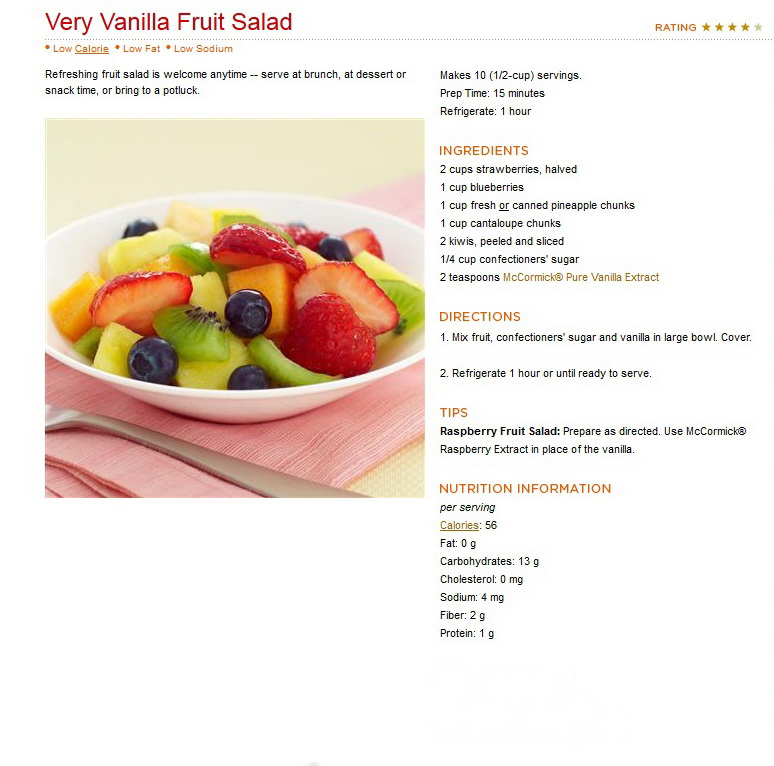 They have a little bit of everything from breakfast to dessert. We were sent some of McCormick's great products to make one of the recipes shown in the Look Book. Although, I saved about 10 of the recipes to make for a later date, I chose one of the healthier recipes available, the Very Vanilla Fruit Salad, since I am on a weight loss mission.  Fruit salad, is one of my favorite things to make during the Summer and when fruits become in season.  The McCormick Look book offered a new twist on our family favorite by adding vanilla and powdered sugar to your fruit salad.  I usually just toss with some fruit saver and serve it, so the vanilla was a unique twist.  This particular recipe was easy to throw together, and the vanilla gave the fruit a really nice subtle taste difference. The boys and I ate the whole fruit salad in a sitting and I will definitely be making this again in the near future.
Ours turned out lovely, and I love all the vibrant colors of the fruit and the subtle vanilla taste.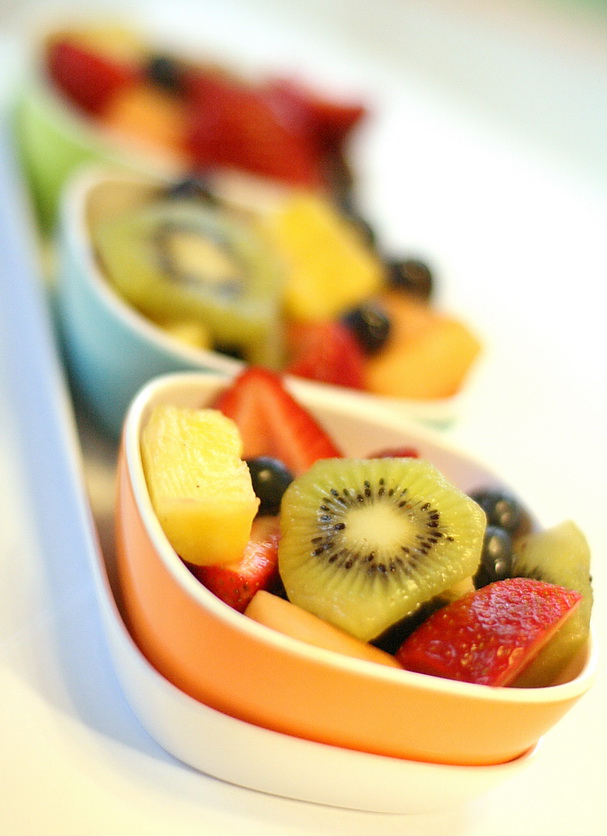 All the the recipes in the McCormick Look Book offered easy variations on products that we already use in our home.  I like that I can pin recipes, print them and save them for a later date.  Another great thing about the McCormick Look Book is that they offer images of all the recipes available, which is the first thing I look for when making something new.  The Vanilla Rich Chip Cake, will be next on on my list to celebrate when I lose my first ten pounds.  Check out McCormick's Look Book, there are some great recipe ideas.
"I participated in a campaign on behalf of Mom Central Consulting for McCormick. I received product samples and a promotional item to thank me for participating"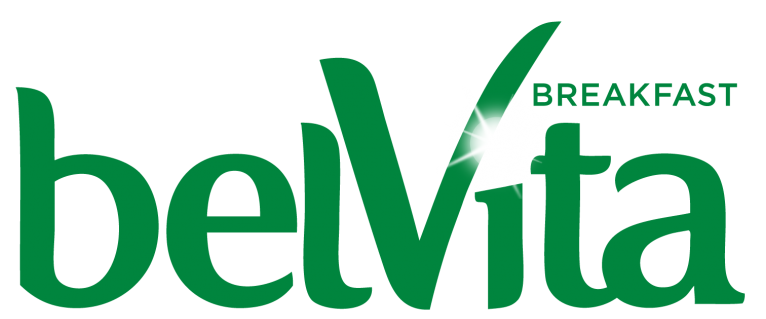 The kids have been sick and when they are sick, I get very little sleep.  The mornings come all to fast and then I hear that little whisper in my ear "mom, it's time to get up."  I am usually less than enthusiastic since it feels like I just went to bed.  Our morning routine consists of me getting to the kitchen, getting the boys set up with a drink, and whatever they decide on having for breakfast.  Most days I don't even remember to feed myself until noon, when my stomach reminds me that I am past hungry.
There isn't anyone to make me a full course breakfast, so I have to grab and run.  Nabisco has created the perfect solution, something that is easy to grab yet is filled with all the good stuff your body needs to get going.  BelVita Breakfast Biscuits are the perfect solution to my problem.  Each individual package of biscuits is has 18-20g whole grains per serving which gives you the fiber your body needs and has four B vitamins.  In case you didn't know B vitamins are great for stress relief and as a mom, I know I need it! BelVita breakfast biscuits also contain no high fructose corn syrup, no partially hydrogenated oils, and no artificial flavors or sweeteners. They come in three varieties, Blueberry, Golden Oat, and Apple Cinnamon.
About belVita

belVita Breakfast Biscuits are specially baked to release energy regularly and continuously in your body—which means you have nutritious sustained energy that lasts all morning.

Each pack includes four lightly sweet, crunchy biscuits to help you stay fueled up all morning long.

The sustained energy in  belVita Breakfast Biscuits comes from a combination of specially selected ingredients and a carefully controlled baking process that helps preserve the integrity of the grain. This means the carbohydrates from the grain are slowly released in your body, providing nutritious, long-lasting energy to help fuel your body throughout the morning.

Each individual package of 4 biscuits is portioned for part of a balanced breakfast. A 50 gram serving contains 18–20 grams of whole grain carbohydrates, 3 grams of dietary fiber, 3–4 grams of protein, and a good source of four B vitamins and iron. belVita Breakfast Biscuits also contain no high-fructose corn syrup, no partially hydrogenated oils (0 grams of trans fat per labeled serving), and no artificial flavors or sweeteners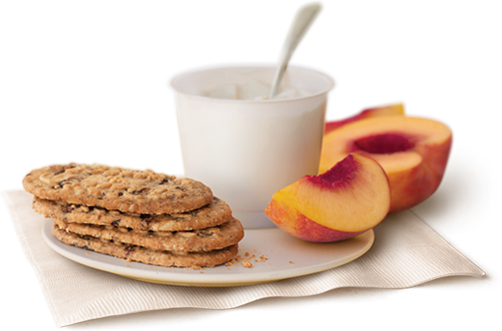 I have been trying belVita breakfast buscuits daily now for a little over a week, and truthfully I love how versatile they are in terms of breakfast or even snacks.  I love oatmeal in the morning and usually dip toast in it, but the belVita biscuits are even better especially the apple cinnamon flavor.  You can add them to just about any snack or meal or just tuck a package in your purse if you get hungry throughout the day.  My favorite belVita biscuits however, are the blueberry, with a thin layer of light cream cheese and a few strawberries on top or some organic strawberry fruit spread.  The boys usually come and snatch them before I get to eat one.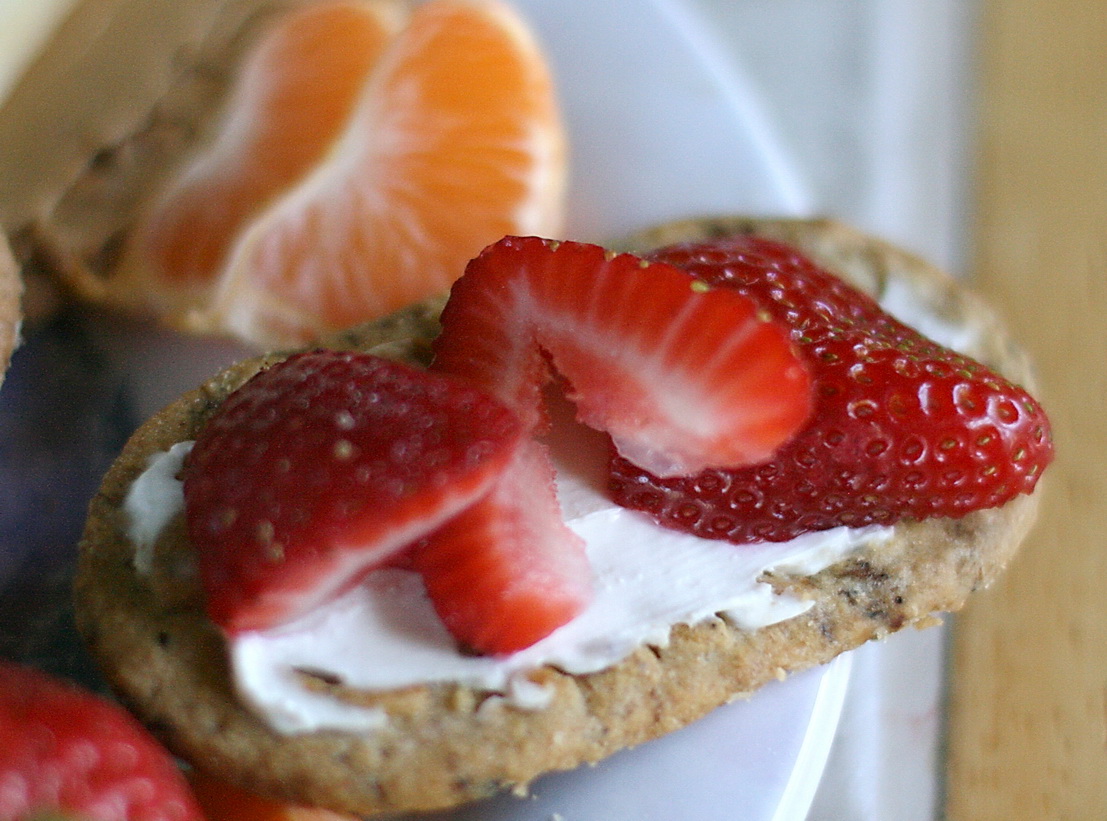 I have really enjoyed trying some new things with them. The golden oat belVita biscuits are fabulous with a little peanut butter and an apple slice.  We have already been to the store to buy more. What I Like is how simplistic and versatile belVita biscuits are. You can just eat them straight from the package or you can jazz them up with fresh fruit, peanut butter or just dip them in coffee or tea. Even if it is quick, you are getting the things you need to get up and go in the morning or that added extra pep in the day, or just a really yummy snack.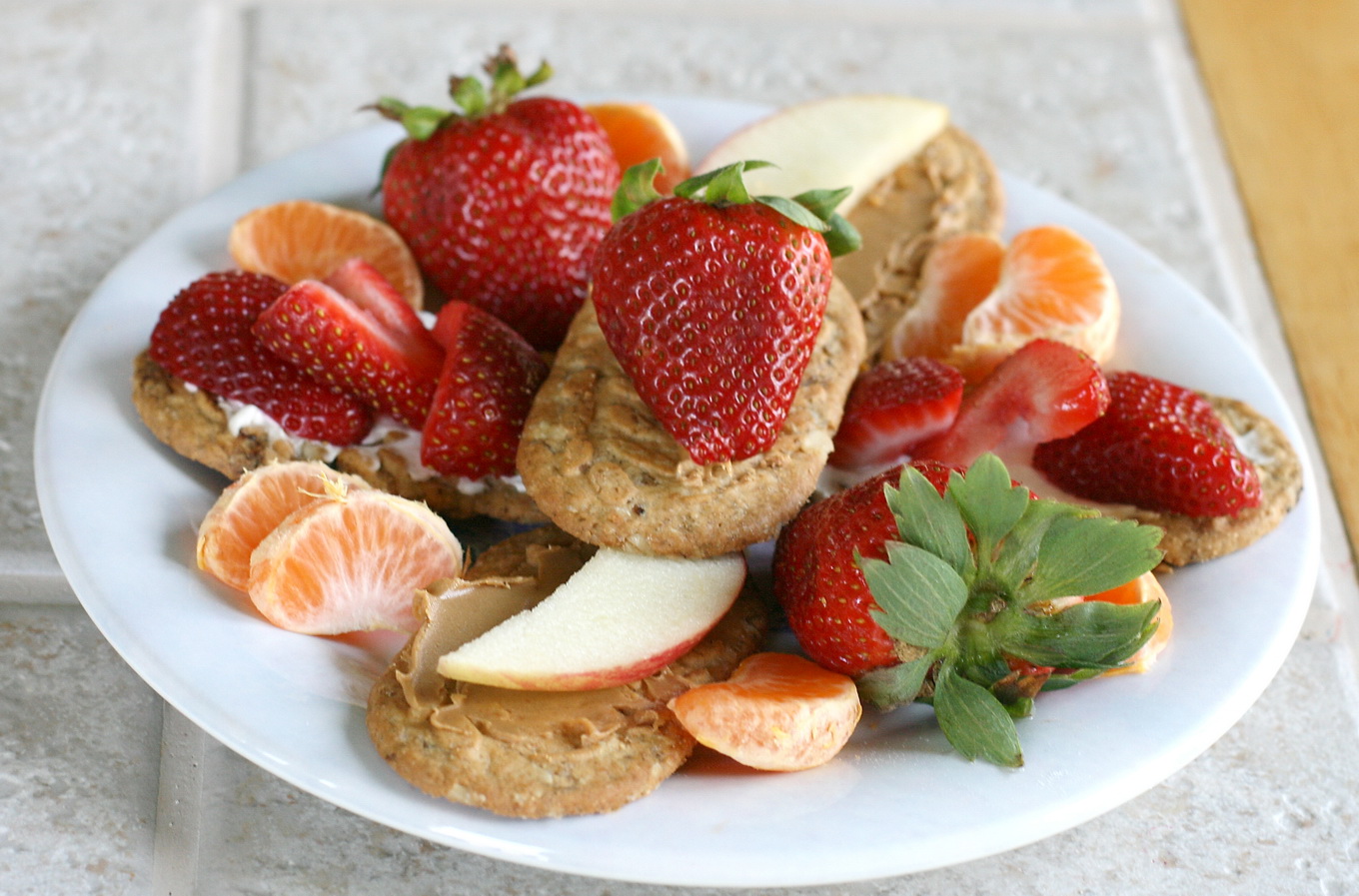 Breakfast is supposed to be one of the most important meals of the day. But if you are like me trying to find a minute in your day, belVita may be the perfect solution. You can just grab and keep on going! For more information on belVita Breakfast Biscuits you can visit belVitaor for information on how to "Power Up" check out belVita Breakfast's Facebook page!
**I wrote this review while participating in a blog tour campaign by Mom Central Consulting on behalf of belVita Breakfast Biscuits and received belVita Breakfast product samples to facilitate my review, and a promotional item to thank me for participating.**
It has been a month that I have been using the Meaningful Beauty products that were sent to me. I have enjoyed using the products more than I thought I would. Before I started using them, I rarely used any skin care type products on my face. In fact, I rarely wear make-up. After using the Meaningful Beauty products, I have begun to like taking the time out to do something nice for my skin.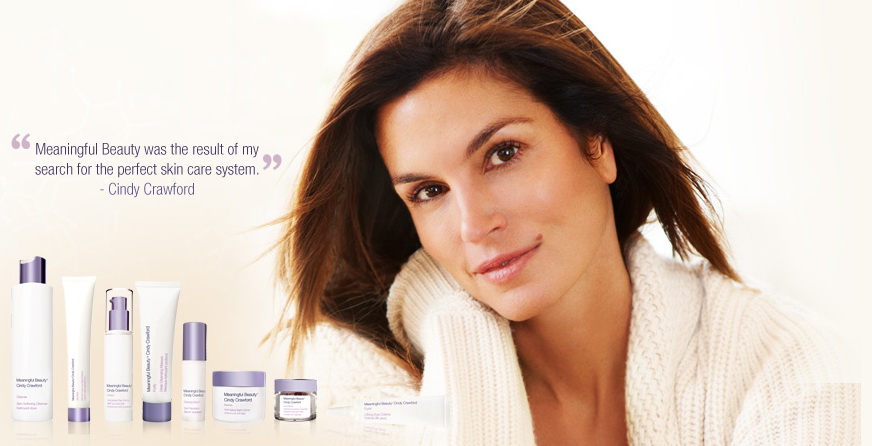 Normally, my daily routine, just involved brushing my hair and brushing my teeth then heading to the kitchen to get the boys breakfast. But since taking the Meaningful Beauty opportunity, I just let the boys brush their teeth while I wash my face and give my skin a little love in the morning. It doesn't take long at all, maybe an extra 5-10 minutes of my time. At first I was concerned about my skin reacting to new products because I have relatively sensitive skin, but everything felt great and I had no bothersome side effects. My skin has felt amazing since I have been using the Meaningful Beauty 5 step skin care program, and I have less break outs and my skin is softer. I also have these tiny capillary/veins on parts of my face that have seemed to diminish somewhat which may be because I am actually doing something to my skin other than soap and water in the shower! The eye cream has done a little bit to help with my permanent "no sleep for mommy" eye circles and I have a little more refreshed look to my face.
Overall, I am pleased with the Meaningful Beauty skin care regimen and I like taking the extra moments to do something for myself. I also like that the pricing for the the 5 step program is reasonable at around $40, plus a little goes a long way! I passed on my extra kit to my mom, and she loves it. I plan to keep Meaningful Beauty in mind for the future to put together mini spa baskets for some of my friends.
"I wrote this review while participating in a test drive campaign by Mom Central Consulting on behalf of Meaningful Beauty and received a 5-step treatment kit to facilitate my review, a second 5-step treatment kit to giveaway, and a promotional item to thank me for taking the time to participate."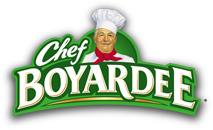 Chef Boyardee has always been a favorite in our house, but usually we would just have it as a quick and easy go to meal.  But what if you could turn it into an entire meal for your family or entertain a houseful? Well, this weekend, I put that idea to the test.  We rounded up some of our favorite people and went to work in the kitchen!
I decided to invite my neighbors and their family over for a fun dinner and dessert.  One of their twin daughters loves to cook so she was very excited to come over and help.  We decided to make a top secret dinner for her Mom and Dad and brother and sisters.  So on party day we turned on some music, and put together a masterpiece for dinner.  To help us out we were sent all the right tools, aprons, chef's hat, mixing bowls, baking dishes, and a timer.  I think everyone had just as much fun wearing the aprons and hat!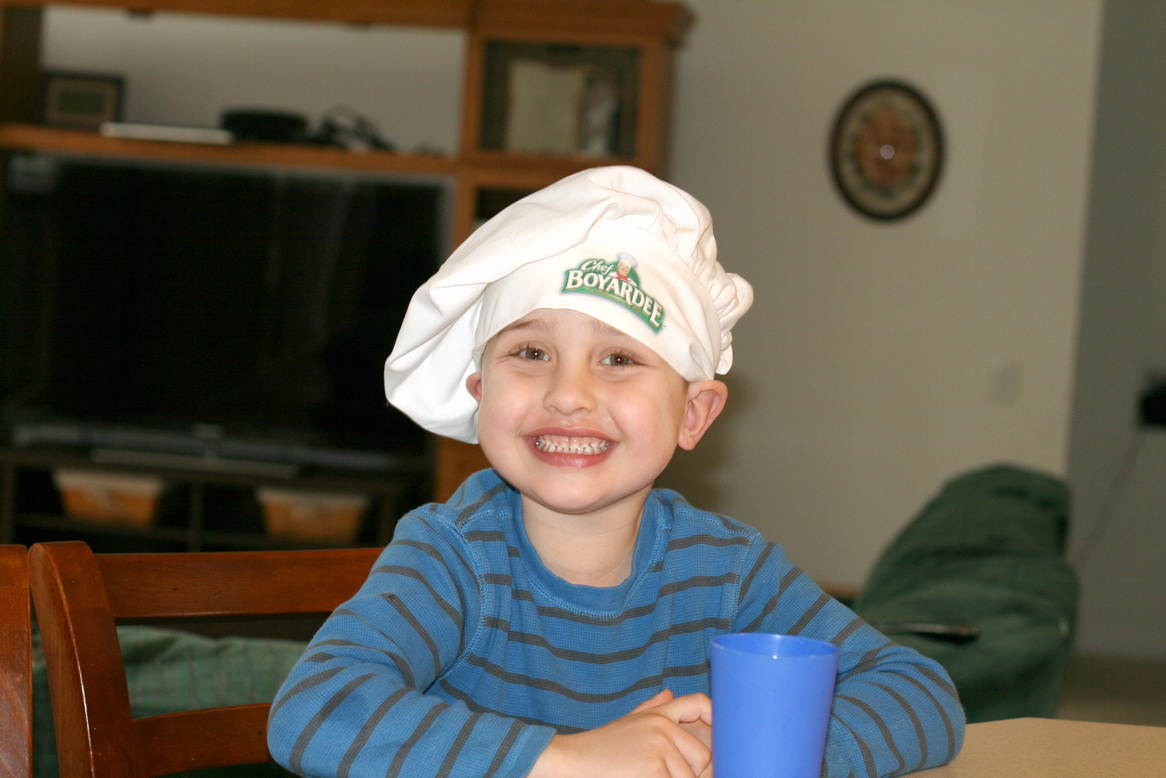 As part of our party, we had to create a Chef Boyardee recipe to share with everyone.  We chose to make the very tasty Pepperoni Spaghetti Bake and added some of our own little touches to the recipe.  We added some grated Reggiano and Romano cheeses and baked garlic bread on the bottom.  We made a side salad and the meal was complete!  Everyone had their own job in the kitchen, and the boys got a kick out of helping mom.  This has been a really wonderful opportunity for me and the kids, and the recipes offered really were not that difficult to prepare.  This made it easy for the boys and the other kids to participate and enjoy something that they made.  The end result was a really tasty meal, spending less time in the kitchen, and more time enjoying family and friends.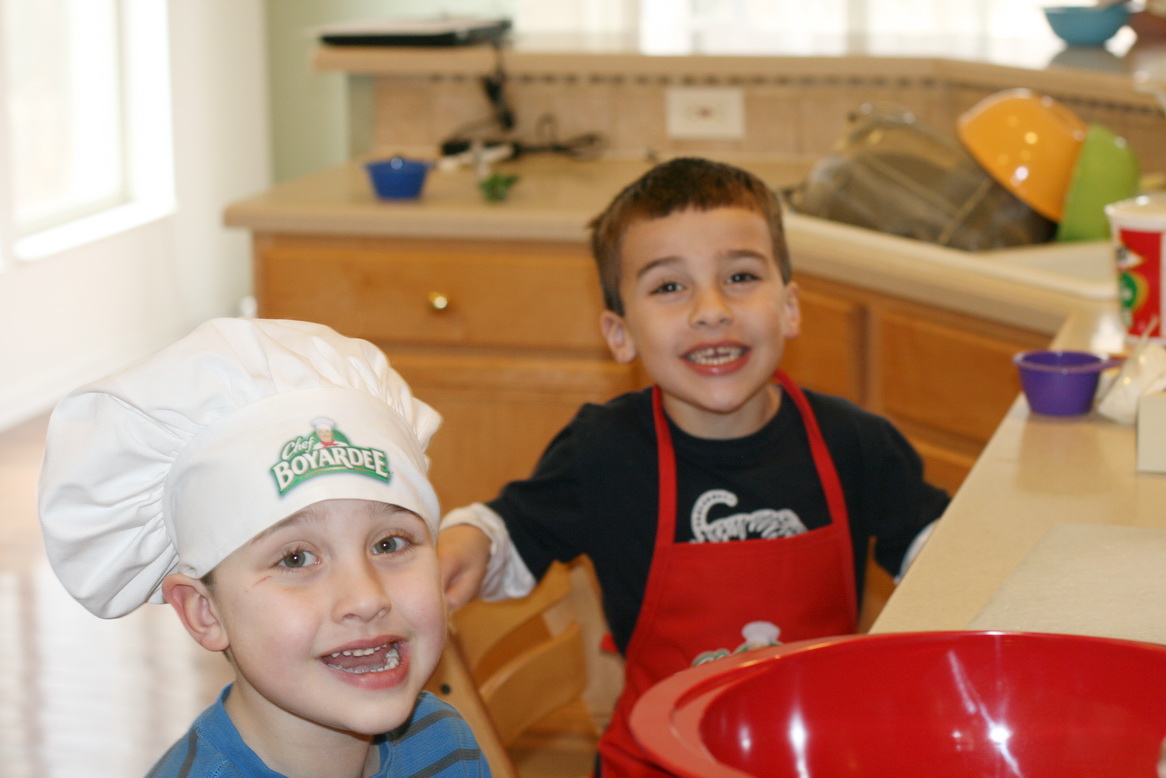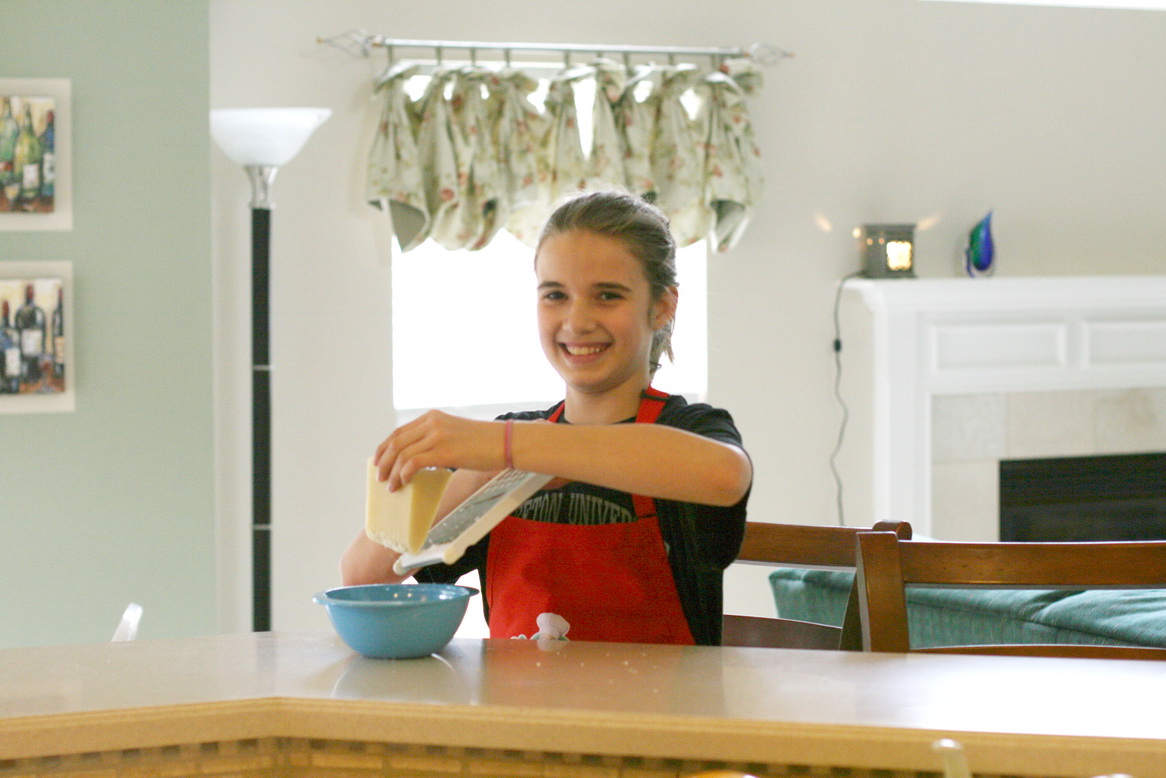 Right now through March 11, 2012, you can submit an original recipe that uses Chef Boyardee as an ingredient (anything you can dream up).  All you have to do is upload a photo of your recipe, and share why your family loves it.  A winner will be chosen based on creativity, all-family appeal, ease of preparation, and palatable appeal by an expert panel of judges.   You can win a $500 prize as well as $75 in Chef coupons or the grand prize of free groceries for a year!  I don't know about you, but who couldn't use a stocked fridge and pantry for the year to make delicious recipes like the ones offered by Chef Boyardee?   You can visit the facebook contest for your chance to win.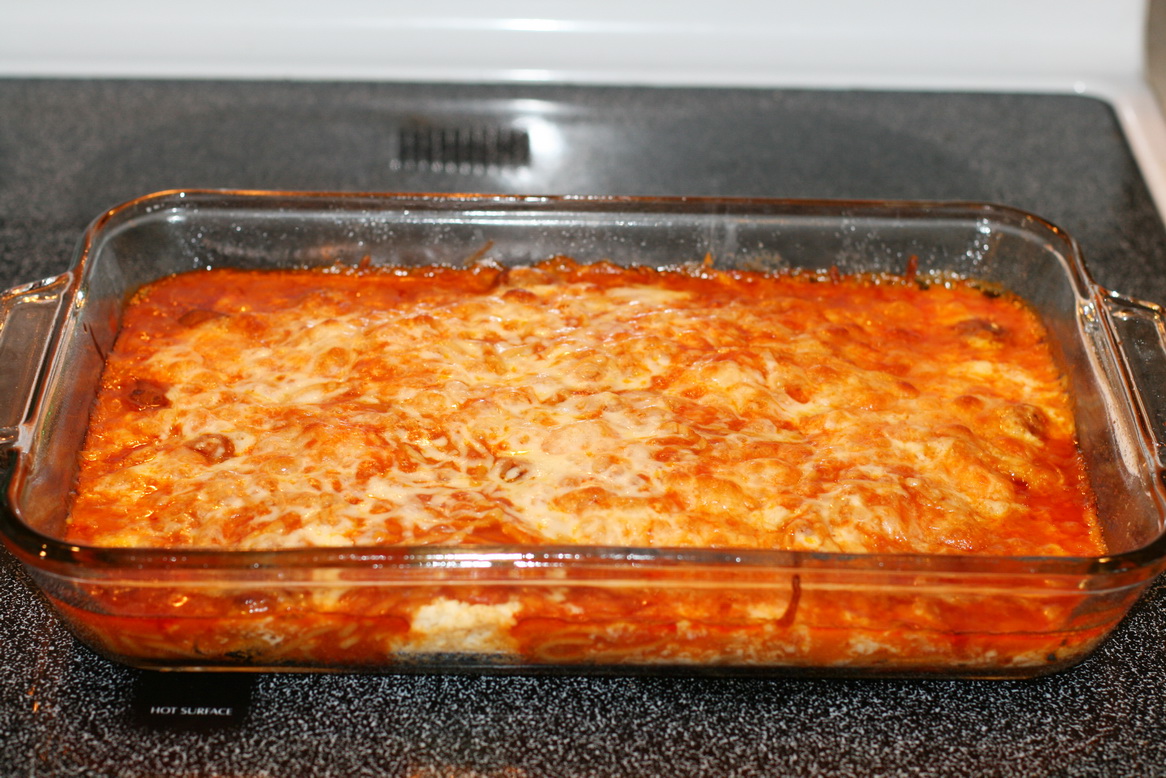 After all was said and done, everyone loved the meal that was prepared and we could hardly believe that it only took 30-40 minutes to prepare.  We loved throwing a party and I loved getting my kids involved in the meal preparation process.  It was a great learning experience and most kids like having a role in helping.  You can find some more really great Chef Boyardee Recipes on their site.  Don't forget to enter to win free groceries from now until March 11, 2012!
"I wrote this review while participating in a In Home Party campaign by Mom Central Consulting on behalf of Chef Boyardee and received product samples to facilitate my party and review, and a promotional item to thank me for participating."