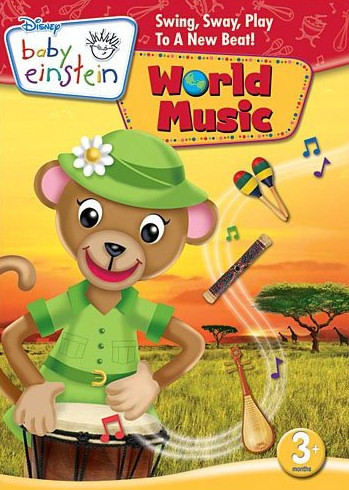 Both of my boys are music lovers.  They love to pound on their drum sets, grab their play guitars and love to dance and sing to the music on their favorite shows.  I loved music so much as a child and I want my boys to have the same appreciation for music that both me and my husband have.  There are all sorts of music styles all over the world and especially here in the United States since we are considered a melting pot.  Music is a great way to teach children about this diversity and to teach them a love of other cultures.
The Baby Einstein World Music DVD, which comes out March 31, 2009, encourages live interaction and introduces children to the world's distinctive sights and sounds with fun-loving puppet host Jane the Monkey and her toy drum as she travels across the globe to play music with her puppet friends. It features real-world images of global musical instruments, regional toys and animals, and takes an extraordinary look at the universal language of music, encouraging viewers to join in the fun by blowing on a flute, strumming on a harp and singing along to songs from all seven continents. And for a more customized experience for each family's stage and needs, the World Music DVD provides two settings- Grow with Me and Select-a-Segment. The "grow with me" setting offers a second viewing mode containing spoken words and additional content that grows with babies, while "select-a-segment" gives parents the choice of viewing shorter segments, such as five or ten minutes, as opposed to longer programming.  This is just right for my boys as they tend to watch for short periods of time and then come back to something.
We received a copy of the Baby Einstein World Music DVD big thanks to Mom Central for this opportunity and the boys simple loved watching it.  The music is very fun and has a very lively tempo which just drew my two to the television.  Both of them went to get their drums and guitar and played along.  I thoroughly enjoyed watching the DVD just as much as I enjoyed seeing their little faces light up.  This is such a great DVD and you can introduce a whole new world of music to your children while incorporating cultural differences.  So cool!  Available from www.babyeinstein.com starting March 31, 2009!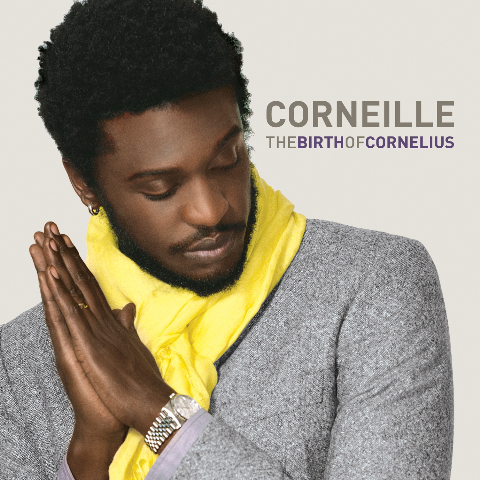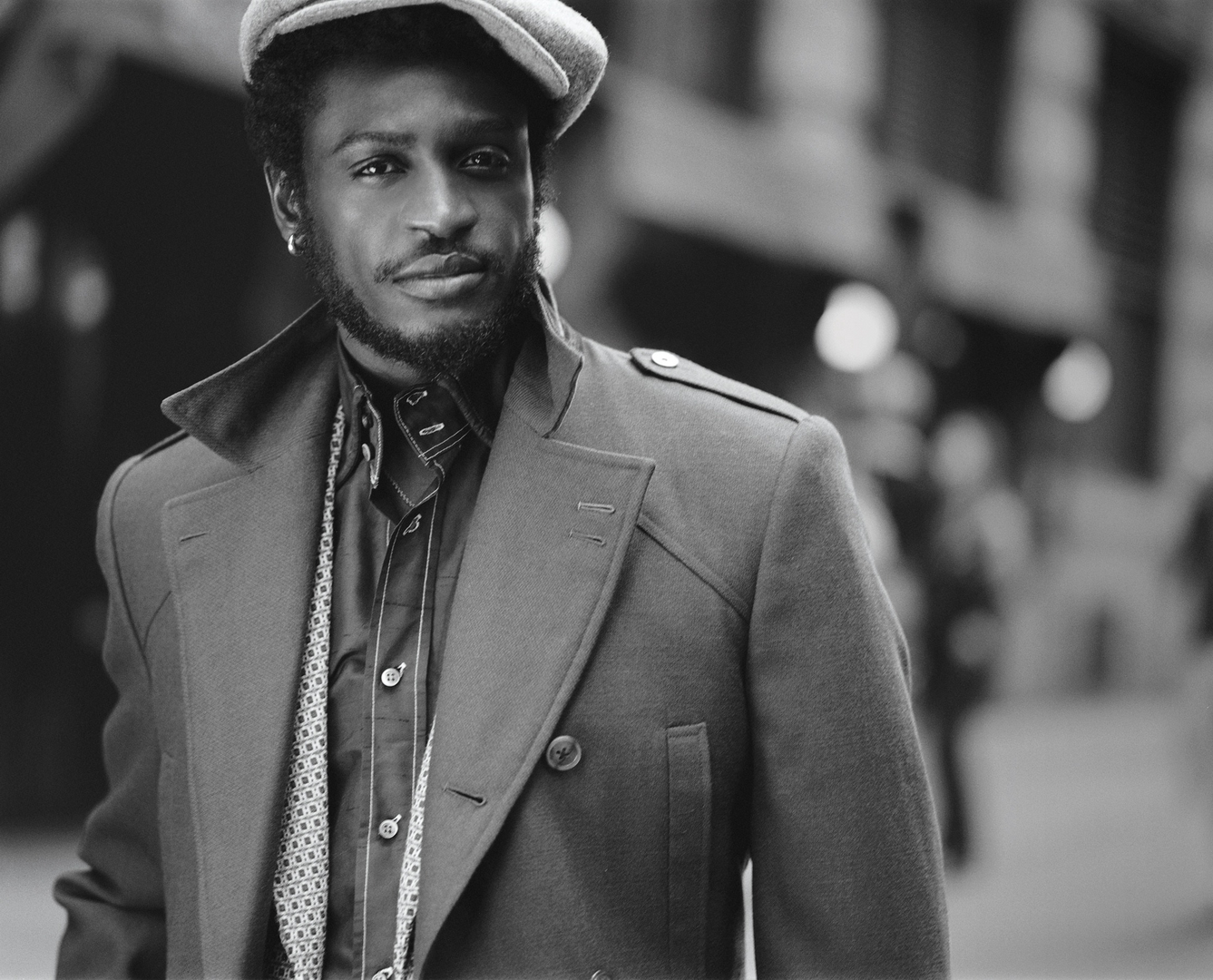 Corneille has a wonderful music style and I wasn't sure what type of music I would be listening to, I was pleasantly surprised.  Corneille is considered an R&B artist but is is more of the older style music.  It reminds me of the Motown style music but more of an easy listening with an upbeat tempo.   I already have acquired one of my very favorite songs on the album, and I am afraid that I am going to wear the track out on my cd!  All of the songs are wonderful but "Too Much Of Everything" is the one I love in particular.
I started listening to this cd after I had a particularly long and stressful day and, it was after the boys had gone to bed.   This is definitely a good way to relax and music has a tendency to lift our spirits, or calm them.   I can imagine popping this cd in, taking a hot bath, and ignoring the rest of the world for a while.   It just has a very relaxing tone to it and some good upbeat rhythms too.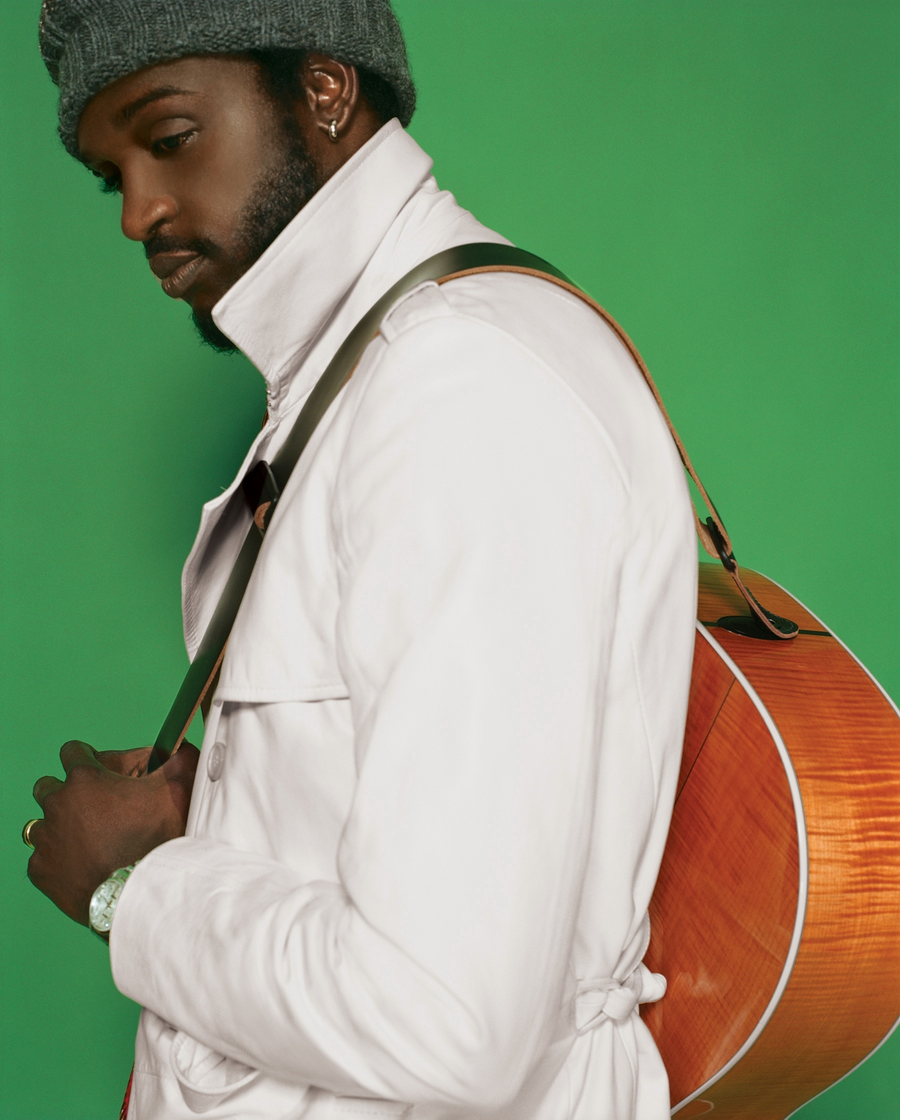 Even more amazing than the cd is Corneille's life story.  Corneille Nyungura was born in Fribourg, Germany, where his parents were students.  At the age of 6, his family returned to Rwanda.  As a boy he began to develop a great interest in music.  He credits his father for nuturing his interest in music by his encouragement and hearing him sing.  At age 16 he made his first actual recording and was selected as a finalist in a state run television station. Corneille's parents and other family members were killed in Rwanda during the genocide in 1994.  He managed to escape first to Kinshasa, and then to Germany where he was taken in by some family.  After three years in Germany he decided he didn't fit into their society or culture and moved to Montreal.  Music was a place where he could go and forget about the world, something that you can definitely feel when you listen to this cd.
Some of his musical influences are that of Michael Jackson, the ever so wonderful Stevie Wonder and Marvin Gaye.  Scoring a number of hits in Canada, France, and even Japan.  His new album "The Birth of Cornelius" is Corneille's Englinsh-language debut.
I think Corneille's story is an amazing one, and quickly reminds me that when things seem like they are bad that, there are much worse things in this world.  And to see someone like Corneille that has taken a tragic life and turned it into something positive and rewarding helps me to be thankful for the things I have.  When my days are stressful, I will definitely be putting Corneille's music on so I can escape and remind myself that I have a lot to be thankful for.
The Birth of Cornelius is currently in stores from Universal Motown. And to celebrate Corneille's wonderful life, the release of his record, and the 50th anniversary of Motown Records.  DoubleBugs would like to offer it's readers the chance to win one of Corneille's cd's!   We will be giving away 2 cd's to two lucky winners! You don't want to miss this chance.
THIS CONTEST IS NOW CLOSED

Here's What You Gotta Do
Leave me a comment tell me what music means to you, a story that you remember where music lifted your spirits, or what kind of music you love and why you would like to win this cd
Please leave me an email so I can contact you if you win
Winners are chosen at random via Random.org.
If Winner Does Not Respond Within 2 Days the prize is forfeited and donated!
For Additional Entries (please leave as an additional comment):
Tweet about this post
Follow me on Twitter
Blog about my contest and give me the link!
Put my badge on your sidebar
Deadline is March 30, 2009

I was driving in the car with the boys the other day, when one of my favorite 80′s songs came on.  The song, by Men@Work, was "I Come From A Land Down Under."  I have lots of favorite songs from the 80′s since I grew up listening to all of them.  This song in particular brings back fond memories, of some dance my cousins and I made up in the basement of their house.  Ok, I admit it all seems hokey now, but back then, it was serious business.
And ladies let us not forget legwarmers!  I remember that I had a pair in every color and wore them all the time.  You had the layered look, or you could wear them one color at a time.  I am not sure they were much different then socks but they were the "in" thing.  Do you remember "Flash Dance?"  I dreamed about being a star, I danced around the room in my legwarmers to "What A Feeling!" SO much for that.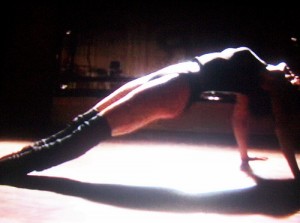 And What about TV?  I had a few favorites, I feel like a nerd but I loved to watch Punky Brewster, Facts of Life, and Different Strokes.  I can hear myself singing the theme songs in my head.  Everyyyyy time I turn around…. LOL
And last but not least that ever so fab side pony tail! It kind of looked like you could crank us up and let us go. Seriously I don't know how this remotely resembled something stylish but I grew my hair out just so I could wear this fashionable growth out the side of my head.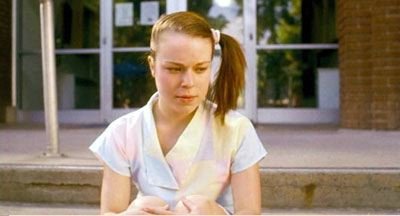 What do you remember?
Every Saturday small talk six at MomDot, they will have a new list of six things, and you can post a pic, video, or list.   This week is 6 songs you dance to when no one is looking.

Def Leppard-Pour Some Sugar On Me
C&C Music Factory-Gonna Make You Sweat
Deana Carter-And We Danced Anyway
Faith Hill-Hey Baby Lets Go To Vegas
Joan Jett-I Love Rock-n-Roll
Juice Newton-Queen Of Hearts