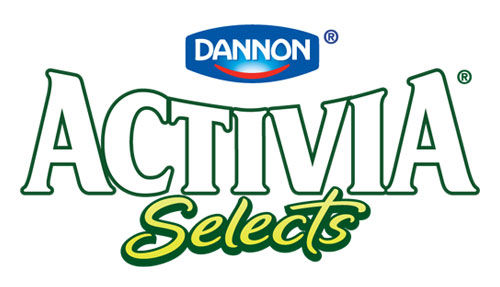 Nutritious eating habits for my family has always been a priority, as well as for myself.  Recently, I have been trying to get more physically fit and lose some pounds in the process.  Watching calories and reading labels, have become a part of my every day life.  Food is something that we eat every day, so nutrition should be a top priority.
We have always been a big fan of yogurt as one of our go to healthy snacks.  It is a fast and easy snack and we all love it.  Recently, I was given the chance to try Dannon's Activia Selects-French Fruit On The Bottom yogurt and at first, I was hesitant because I am a little picky about yogurt.  Some yogurts can be either too sweet, or too sour and sometimes, the fruit chunks can be overpowering, but this was really tasty with just the right amount of fruit.  I was worried about it tasting  different since I didn't even know what on Earth Activia was.  What is so helpful about yogurt containing  Activia?  Well, Activia Selects yogurt has the probiotic culture called Bifidus Regularis that is supposed to help regulate the digestive system when consumed daily for 2 weeks.  Probiotics are  known by many as "the beneficial bacteria,"  which many people believe if carried in the intestinal tract in significant amounts, are thought to help ease some digestive concerns.
Anything, that can give me a leg up in nutritious eating habits and that I can quickly and easily add to my diet is definitely something that I will keep on hand.  I love that Activia Selects are a quick and easy way to get some of these good things that my body needs.  I will definitely buy these in the future.  And speaking of your health…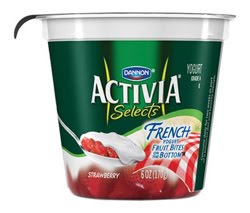 October is Breast Cancer Awareness Month!
In support of Dannon's ongoing commitment to health and wellness,Dannon is going pink in support of national breast cancer awareness month.  Dannon will donate at least 10 cents for each under-the-lid code entered at www.cupsofhope.com before 12/31/11 – up to $1.5 million – to the National Breast Cancer Foundation, Inc.® (NBCF). Dannon is committed to a $500,000 guaranteed donation to NCBF, including retailer-specific programs.
Each specially marked package of Dannon yogurt contains an under-the-lid code. Participating in Give Hope With Every Cup is as easy as entering the code from the lid at www.cupsofhope.com.
NBCF is committed to spreading knowledge and fostering hope in the fight against breast cancer. With support from Dannon, NBCF will fund free mammograms for women who could otherwise not afford them and will support research programs in leading facilities across the country.
So keep an eye out for the pink lids and help give yourself a leg up in your nutrition and overall health and help others who are in need.  If you want to learn more about Activia Selects you can go to http://activia.us.com/products/enjoy_activia_selects.aspx
"I wrote this review while participating in a campaign by Mom Central Consulting on behalf of Dannon Activia Selects Yogurt Series and received a coupon to facilitate my review and a promotional item to thank me for taking the time to participate. However, my opinions are entirely my own and I have not been paid to publish positive comments."
One week has passed in my journey to lose weight.  The first few days were awful!  Around the evening time around dinner, I would start to feel depressed about all the new changes.  I felt like I was missing out on something.  Maybe it was food, or maybe it was just all the changes that I know have to be permanent in order to maintain a healthy weight.
I am exercising almost nightly with my dog.  She thinks I am trying to kill her, and I think I am trying to kill me too.  The first few days I started off slow, but then I began to enjoy the time.  I started out walking about a mile and finished off the week walking nearly 4 miles every night.  It seems that when you have catchy tunes playing in your ear, you can walk miles.
I am journaling every morsel of food, I am eating and I am enjoying the taste of fruit.  I did a little experiment quite by accident when I took a drink of the boys chocolate milk.  It was incredibly sweet and then I went to take a bite of my canteloupe that for the past few days tasted like pure sugar and it tasted like nothing.  It tells you how sweet actual sugar is and how your taste buds adjust to fruit sugars versus regular sugar.  Fruit tastes just like candy to me, when I am avoiding the refined sugars and high fructose corn syrups.
I am enjoying keeping track of everything, I am attached to a pedometer all day every day.  I have gone from just a few thousand steps to more than 15,000 steps per day, and I am feeling pretty good too.  Officially after the first week I am down 10lbs.  I know this will slow, but I will be happy with about 2 lbs per week!
I am up for the challenge!
We all have intentions of making healthier eating choices for ourselves and our families.  As soon as my boys could eat, I was trying to introduce fresh fruits and vegetables, to hopefully avoid finicky eaters and encourage them to actually ask for or want the healthier foods.
We recently started gearing up for the growing season.  Once we get warmer weather, I am outside turning over the garden and getting ready for vegetables.  This year we are planting a whole host of wonderful things from fresh herbs, lettuce, broccoli, peas and green beans and our favorite tomatoes!  There isn't anything like a tomato that is fresh from the garden and my boys will hand pick them and eat them whole if I let them.
We use a lot of tomatoes in our house, and canned tomatoes are a definite staple in our pantry.  One of my favorite dishes to make for family and friends is my famous chili recipe.  Often times people associate it with colder weather, but my kids ask for it often, and my dad when he comes to visit.  Tomatoes give a wonderful taste and can liven up many dishes, but even with that aside, there are definite health benefits to consuming tomatoes.  A recent article by The American Journal of Lifestyle Medicine outlines the emerging health benefits of tomatoes.  Tomatoes, are known to contain lycopene and other key nutrients that can potentially lower our risk of certain cancers and heart disease.  My Dad suffers from heart disease, and I have a good friend with cancer, so I owe it to my family to try and make these healthier choices for them and make things that they love.
By following these simple 2010 Dietary Guidlines and dreaming up some tasty tomato dishes, you can give your family the gift of good food and health.  One of my best loved recipes is my chili.  It's not only easy to make, but I love to make it for my dad and include healthy things like fresh vegetables and with chili you can sort of throw in just about anything and it tastes good.  Chili can be a versatile and healthy dish, and it makes it easy to include the "good for you" stuff.  In fact,canned tomatoes like Hunts offer the body more lycopene because during the cooking process it breaks down the cell wall of the tomato. I have also been known to thrown in sweet potatoes, and carrots before.  It is fun to experiment and tomato dishes like these, bring out great flavor in vegetables, pasta and meats and enables you to get the added lycopene that our bodies need.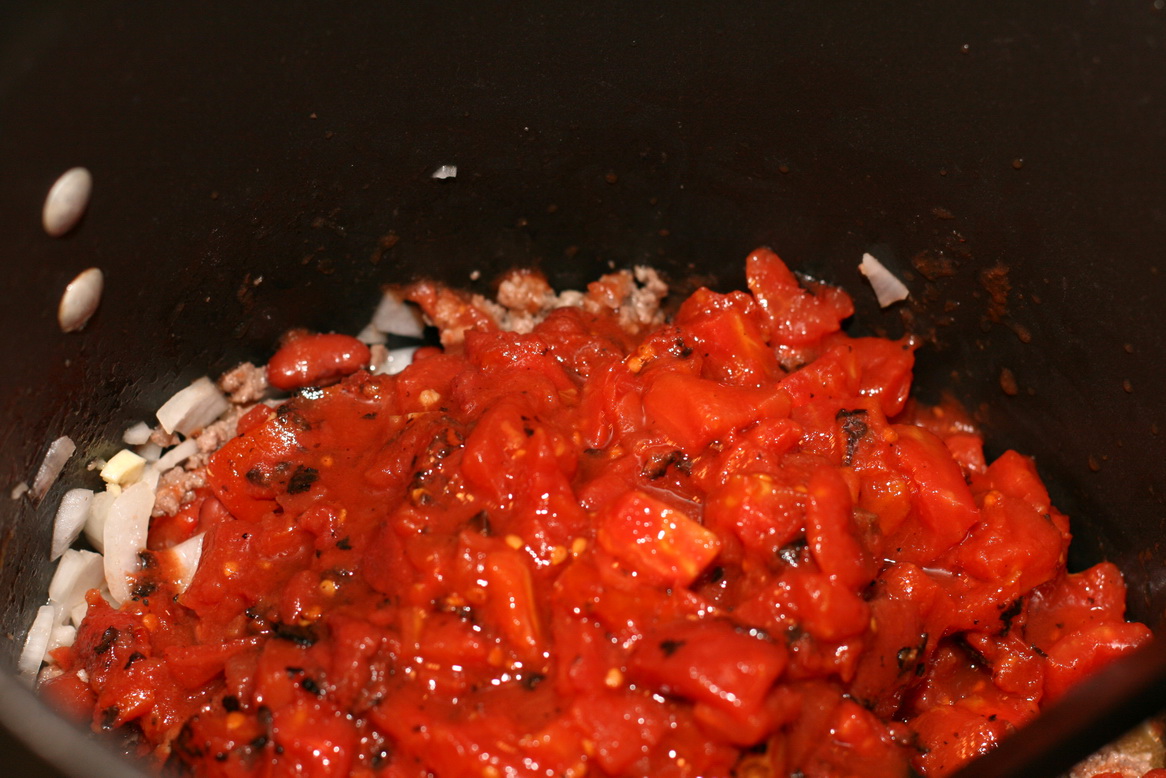 My Chili (For My Family)

1lb of lean ground beef or ground turkey
2 gloves of chopped fresh garlic
1 medium onion diced or 2 if you like them (I don't hold back)
1 or 2 bell peppers diced, I like to use red, yellow and orange (gives great color)
1 15 oz can of Hunts Tomato Sauce
2 cans of Hunts Fire Roasted Diced Tomatoes with or without garlic
2  cans of Dark or Light Red Kidney Beans
3 Bay Leaves (I take them out after cooking)
1 tsp of Crushed Basil
2-3 TBS of Chili Powder (or more if you are brave)
Low Fat Shredded Sharp Cheddar Cheese
Oyster Crackers
In a  stock pot, Brown Ground Beef  or Turkey Drain off Fat toss in garlic, onion and peppers and cook just until tender, Drain and rinse kidney beans, add all other ingredients to the pot except for cheese and crackers, this comes later!  Simmer chili on low to medium for 30-45 min (remove the bay leaves) and enjoy! Get a heaping bowl, top with your favorite low fat cheese and sprinkle on a few crackers and you have a tasty meal!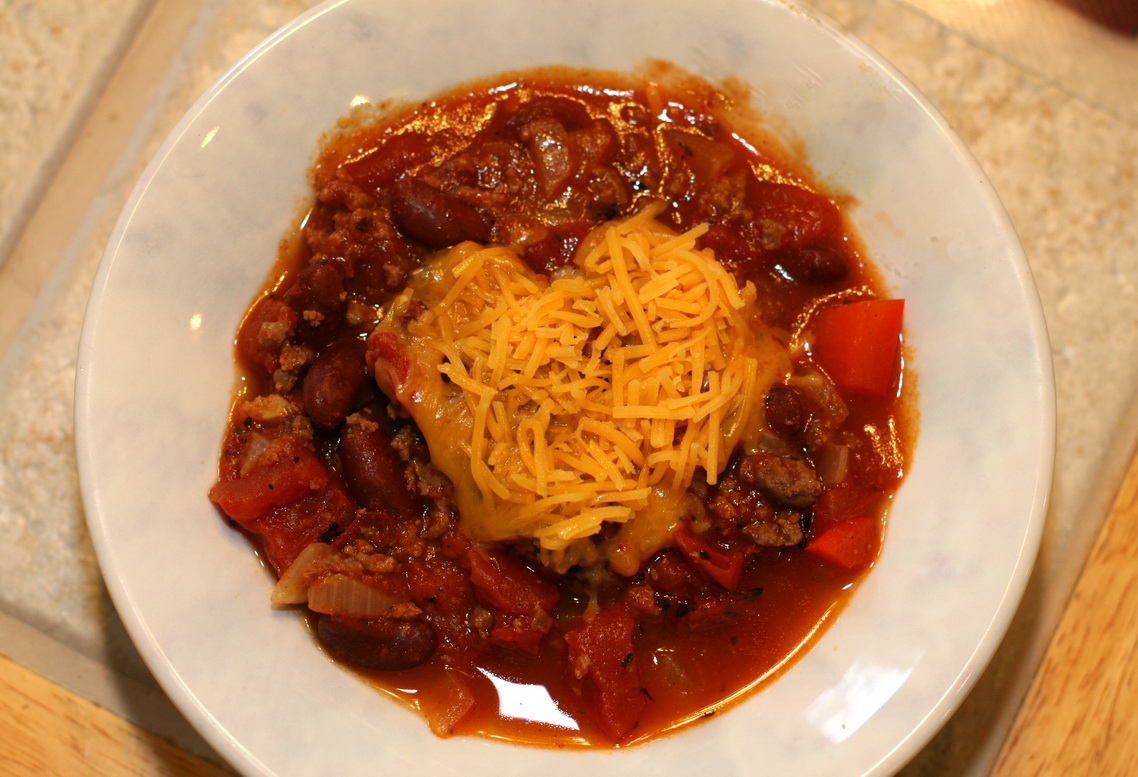 This is a really yummy recipe and very low in fat and it takes very little time to prepare. You can certainly make double and triple batches to freeze.  I know busy moms like me, can appreciate a good recipe that is freezer friendly!  It makes the nights you don't feel like cooking so much easier too.  Tomatoes, can be a  great start to making healthier choices for you and the special people in your life.  What is your favorite tomato recipe?
This post was part of a project in association with Hunt's and The Motherhood. I was compensated for my time. Opinions and ideas expressed are my own.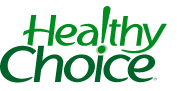 When it comes to eating and making healthier choices for myself, it isn't always an easy task. As a mother to twins, I often find myself waiting till the much later in the evening to eat. I know that this isn't the best practice, but there are days when I just don't have time to make something that I even feel like eating.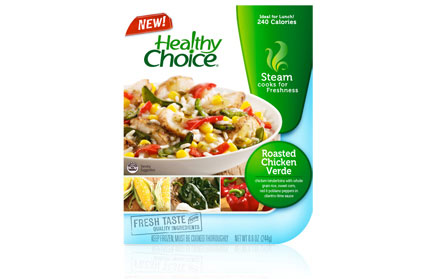 I recently had the chance to try out Healthy Choice steaming entrées. I rarely buy frozen food meals in the store,because they never really taste all that great to me. And the word "healthy" on a label is something I am easily deterred from buying. I have found that many frozen dinners are overdone with a ton of sauce or flavoring and there isn't anything really there other than a few poor quality pieces of meat. I was hesitant because many meals that are frozen just don't taste the same as a good home cooked meal.
About Steaming Entrees from Healthy Choice


I tried the Roasted Chicken V and it was pretty good. I could definitely taste the cilantro in it and it had plenty of veggies and rice. It was a little on the spicy side for me, but that isn't a negative thing if you love a little heat in your meals. Healthy Choice offers up 8 Steaming entrees and you can surely find something to satisfy your taste buds and keeping low in calories. Even though frozen meals don't appeal to me, I can see me picking up a few of these to have on hand in the freezer, when I am tired and cooking something is the last thing on my mind.
Be sure to visit and "like" the Healthy Choice brand Facebook page so you can learn more about Healthy Choice and other great info to help keep you Healthy! www.Facebook.com/HealthyChoice
"I wrote this review while participating in a blog campaign by Mom Central on behalf of Healthy Choice and received samples of their new steaming entrées to facilitate my candid review. Mom Central also sent me a gift card to thank me for taking the time to participate."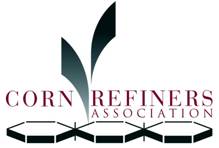 As a mother to growing young children, I typically try to balance the boys; diets and limit their sugar intake.  When I step into a grocery store, reading food labels can be almost overwhelming.  I usually try to make choices that have the least amount of sugar, but I also don't deny them a few sweet treats.
There has been an ever growing debate on the effects of high fructose corn syrup in our diet and it's relation to obesity.  If you haven't read or heard the information, you can easily get clued in at your local grocery store.  In the bread aisle alone, every other loaf, is stamped with "no high fructose corn syrup!"  Having this on a label is a subconscious mental cue that HFCS (high fructose corn syrup) is something that you want to avoid.
I was able to attend a live webinar  and learn a little more about the sugars we put into our mouth.  But prior to the meeting we had to do a hunt through our pantries and pick out five items we use on a regular basis and find out how much sugar was in each one of those items.  I was surprised at what I found.  You wouldn't think that your tomatoes has any sugar in them, but they do.  If you want to know whats in your food, a good resource is (www.sugarstacks.com)  I am amazed at just how much sugar we consume.
Attending this webinar, put on by mom central and the corn refiners association was a fun and very educational hour, looking into HFCS and how all sugars are broken down in the body.  I was surprised to find out that the key differences in table sugar vs HFCS was that sucrose is fructose and glucose and HFCS is fructose and glucose that is bound together.  Both of them are broken down the same way by a particular enzyme in the body.
When you get down to brass tax, in my opinion, it isn't the type of sugar we consume across the board but how much we are consuming.  Your daily intake of sugar should be 25% of your caloric intake.  I know that it is very easy to over indulge in sweet and sugary foods, and I think that moderation is probably the key.  I am sure that debates will continue, but the one thing that remains the same is that all experts agree that eating a balance diet is key to nutrition.  Pay attention to food labels, plan out menus that balance your sugar intake, and get your children involved.  Knowledge is key to teaching them healthy eating habits, high fructose corn syrup or not.
"I wrote this review while participating in a blog tour campaign by Mom Central on behalf of the Corn Refiners Association. I received a gift certificate to thank me for taking the time to participate."

I am a sucker for pie especially when it is fresh out of the oven and when someone else makes it for me.  Pie has to be one of those comfort foods that tastes good out of the fridge or warm.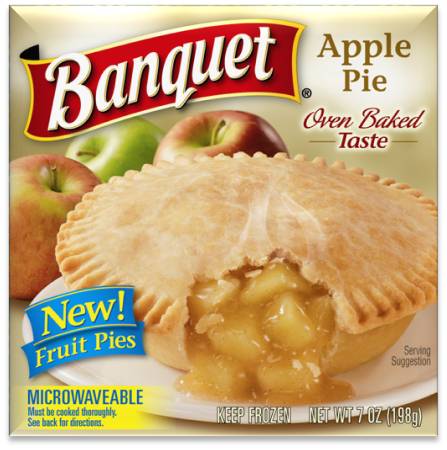 I love to roll up my sleeves and make a fresh pie, but sometimes I just crave a slice of pie that doesn't require me going through all the steps to make one.  Recently, I was given the opportunity to try Banquets new fruit pies, and I was excited, because who doesn't love pie?  Banquet has been making  meals for more than 50 years, and now they are introducing new single-serving fruit pies.  Each Banquet fruit pie has a half serving of real fruit inside a flaky pastry shell that you can enjoy hot from the oven or microwave. The pies come in three delicious flavors: apple, peach, and cherry berry for a great low price.
I   popped one of the cherry berry pies in the oven because I like a crust that is more brown and a little crunchy, but you have the option of making them in your microwave. Then after pulling the pie out, I topped that baby with some whip cream and grabbed my fork. The crust was nice and flaky and the filling was pretty good and had just the right amount of sweetness and tart mixed together. Banquet's new fruit pies are perfect if you have that late night sweet craving or if you want to treat the kids. And the fact that they only cost around a dollar makes it an even sweeter deal. I will definitely have a few of these on hand in the freezer from some late night indulgence and fun treats for the kids.
**I wrote this review while participating in a blog campaign by Mom Central on behalf of Banquet and received free coupons to facilitate my candid review. Mom Central also sent me a gift card to thank me for taking the time to participate**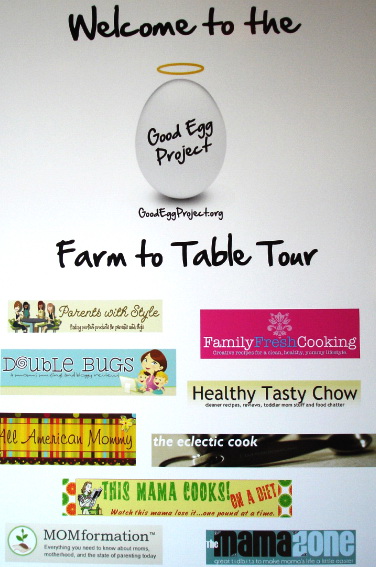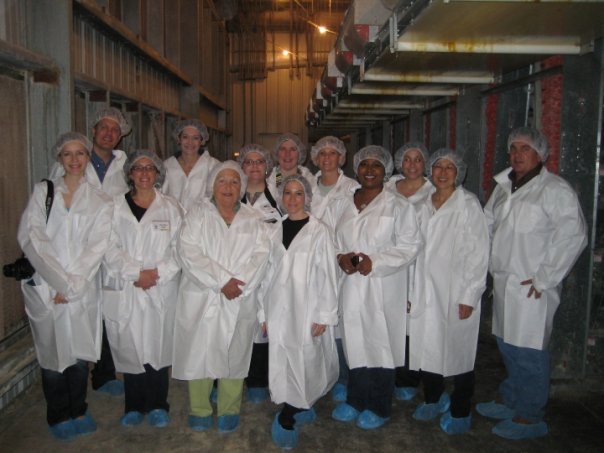 Ever wonder where your eggs come from?  From a chicken right?  Well of course they come from chickens, but did you ever wonder how they arrive to your table?  I had the first hand opportunity to see the chicken who lays the egg, the machines that take them, clean them, magically snatch them up, and put them in the carton, and the people who make it happen.
Our first evening included a wonderful dinner with the talented Chef Jeffrey Saad, World's Fastest Omelet Maker, Howard Helmer, Clint Hickman of Hickman Family Farms and his lovely wife, and the wonderful ladies from Edelman and American Egg Board.  The Mayor even stopped by!  The next morning we would be on our way to Hickman Egg Farm after sharing good food with new friends, with none other than scrumptious egg dishes for breakfast.
On the bus drive over, Clint gave us some background, pointed out some things along the way and how farmers really are struggling.  We even saw some dairy farms, now vacant as a result of bankruptcy…perfectly good farms but no way to keep up.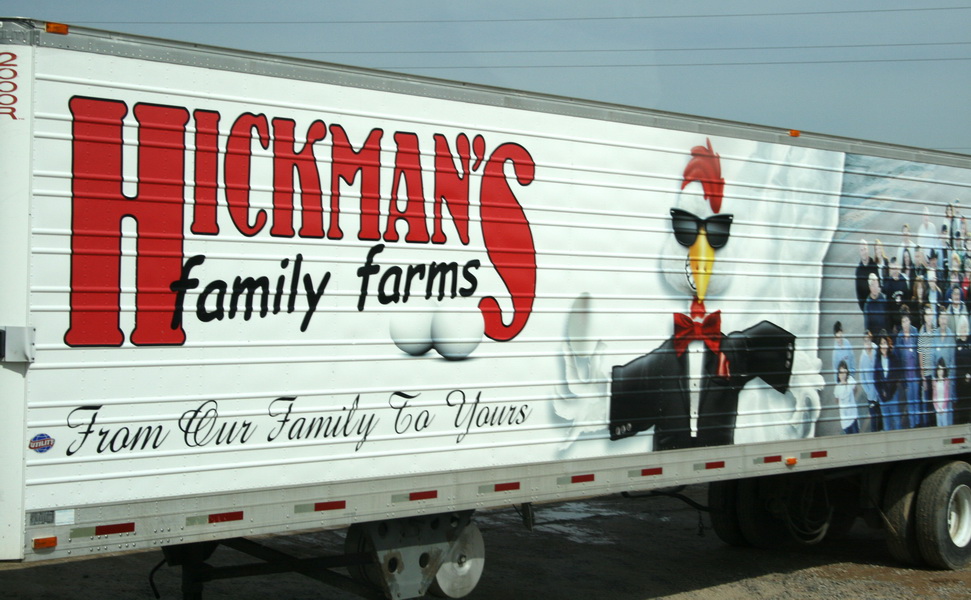 About Hickman Egg Farm
Hickman's Family Farms has been family-owned and operated in Arizona since 1944. In its early days, Hickman's entered the Arizona food service market by providing fresh, locally produced eggs direct to small independent restaurants, and directly to consumers. Every afternoon, one little refrigerated panel truck was sufficient to deliver the day's production to coffee shops in Glendale and to Carnation Restaurant in the big city of Phoenix. Bill and Gertie Hickman displayed the entrepreneurial insight that has kept Hickman's competitive for decades.
Going Green
Hickman's Family Farms utilize stringent methods of conservation and recycling to remain as environmentally-friendly ("green") as possible. Wash water is recycled and reused, and manure is dried, ground, and turned into high quality fertilizer. By the time we are through at even our largest facilities, we actually discard into dumpsters less waste than the average apartment building does in a day.
Ya know what they say….that from the manure, flowers grow!  Everything is put to good use at Hickman Egg Farm, right down to the egg shells that are used for compost.
Billy and Clint Hickman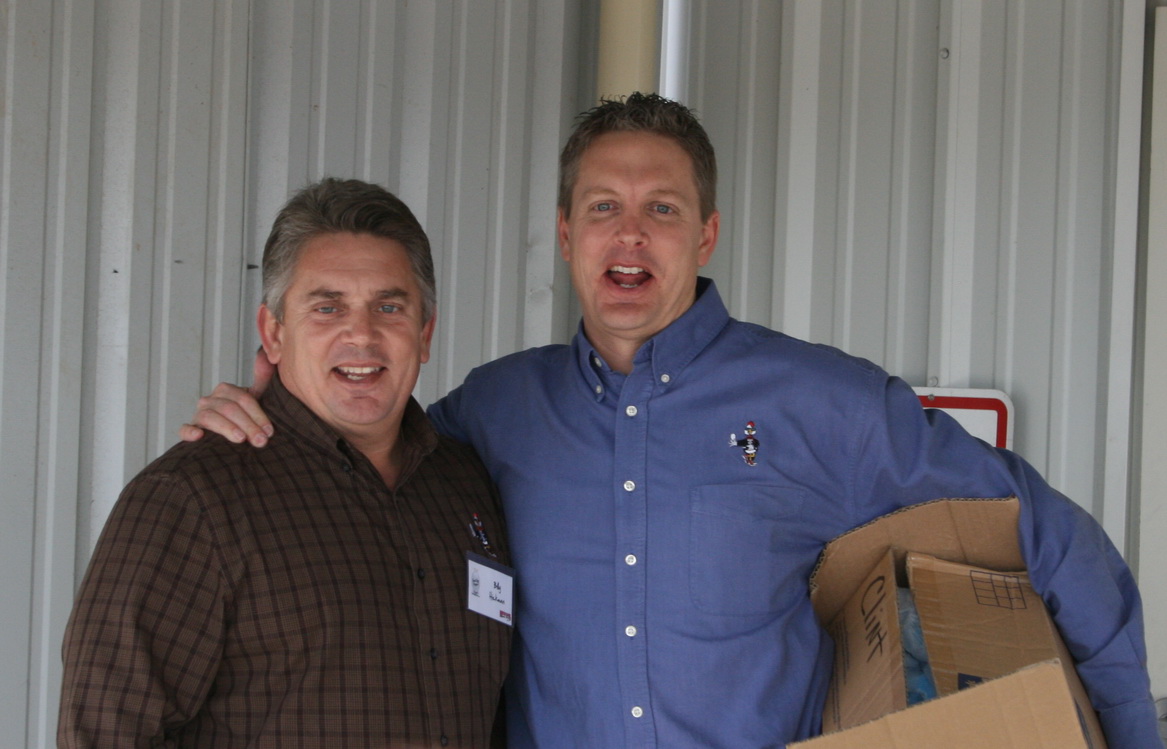 Once we arrived, we put on our booties, our coats and fancy hats.  This is a precaution to protect the chickens from an form of contamination and or disease that may be carried in.  I don't think I have ever seen so many chickens in one place, or eggs for that matter.  I was in complete awe of the entire process.  We arrived right at their peak laying time, and boy were they a chatty bunch!  You could barely hear what Clint and Billy were saying over chicken talk.  Billy, explained that even chickens get a nap time during the day and all you can hear is a low murmur, and then they also get a bed time like we do.  Egg laying is hard work people.
Don't I Look Cute?  Just Agree!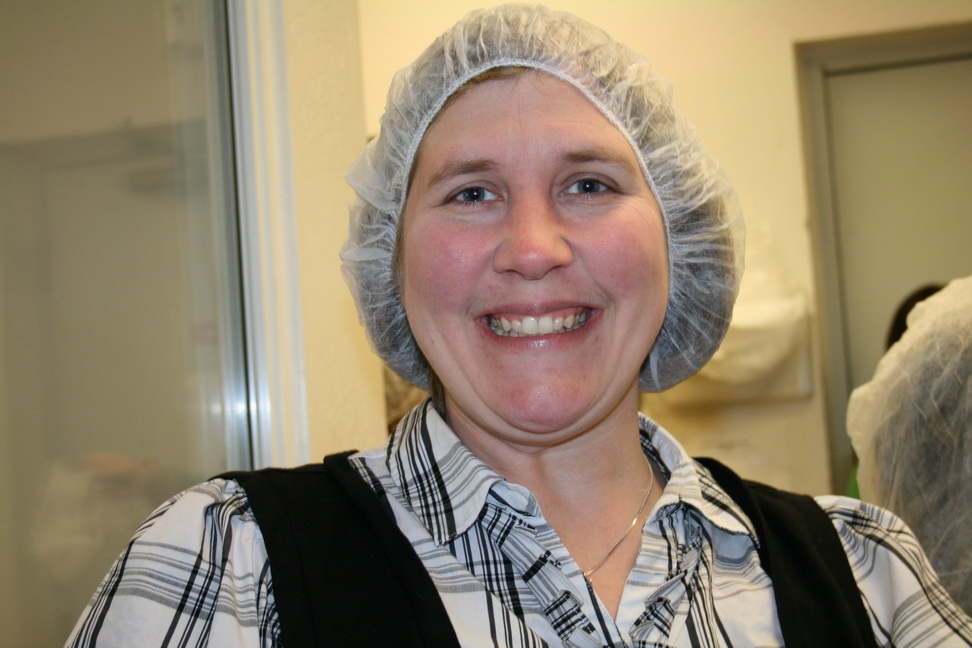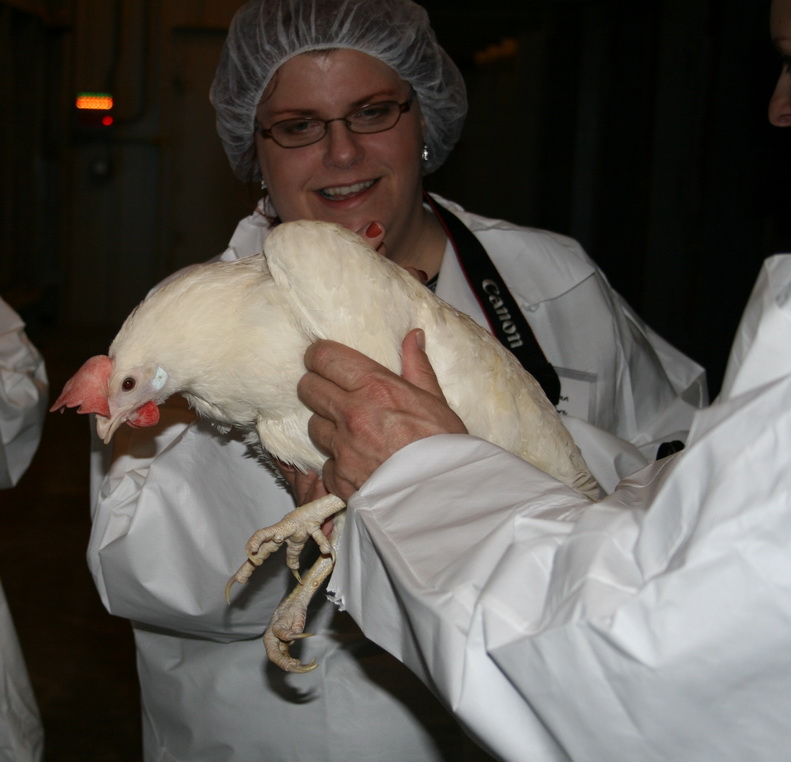 It was fascinating to see the eggs roll out on to mini conveyor belts, get carried to where they are cleaned and sanitized then snatched up and packaged for market.   We stood amongst all these eggs in the warehouse and all those eggs must leave within a 36 hour time period or the eggs would be through the roof.  We are talking about millions of chickens that don't stop laying just because you have a warehouse full…that's just how many eggs their were.
From Chicken, To Cleaning/Sanitizing, To Package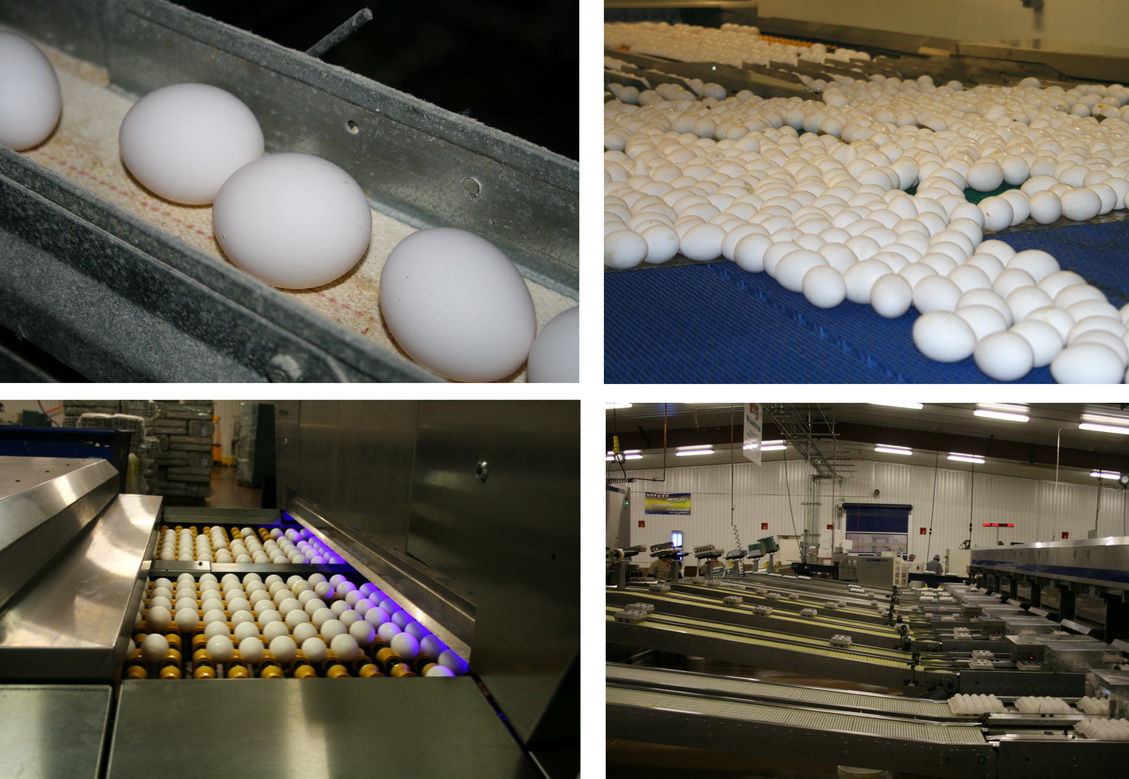 This is Billy and Clint's Mom Gertie, she is a great lady with tremendous spunk!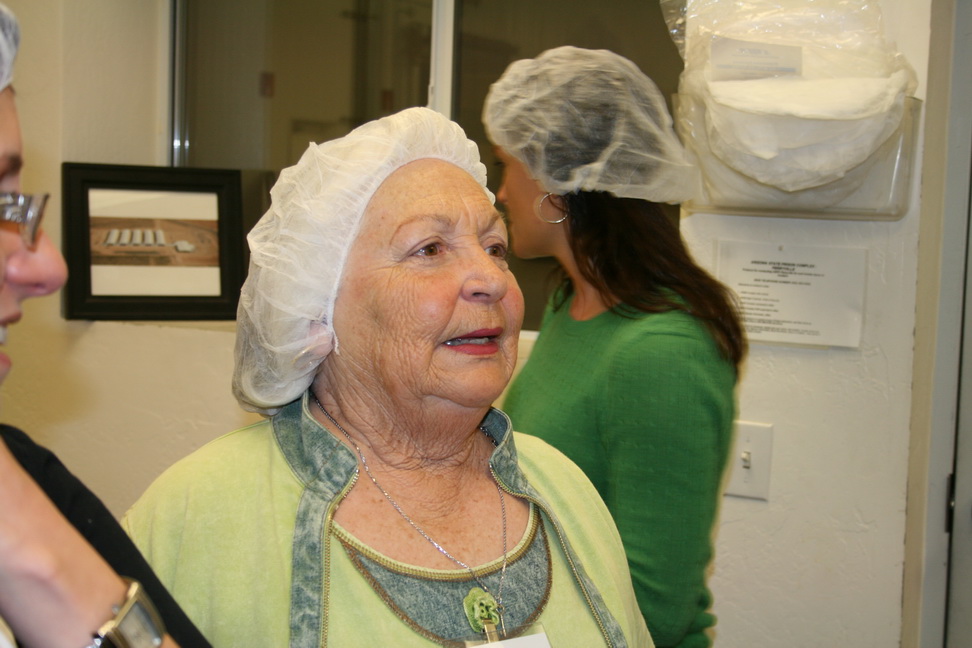 There was an incredible amount of information to digest and it was an incredible experience to get a behind the scenes look into what it takes to get fresh eggs to our table and I have a new respect for our farmers, because they are feeding our country.  And as part of the Good Egg Project, egg farmers are donating up to 12 million eggs per year,  to food banks and charities.  We can also do our part by joining in and committing to live more healthfully and give back by pledging to "Eat good. Do good every day."  For every person that makes the pledge, farmers will donate one egg to help feed America up to 1 million eggs.
After and eye opening tour of egg production at its finest, we heard from Mary Lee Chin a registered dietitian about the nutrition benefits of just one egg, and we were treated to some totally awesome cooking demonstrations by Jeffrey Saad and Howard Helmer.  We learned some easy egg recipes from Jeffrey and how to whip up an omelet in no time with Howard (world's fastest omelet maker).  I was quite enthused to try the omelet making at home, since all of mine usually look like a scrambled mess.  But after learning the key to making omelets, I felt like a whiz in the kitchen when I rolled out three perfect and delicious omelets.
Mary Lee Chin Telling Us About The Nutritional Values Of The Egg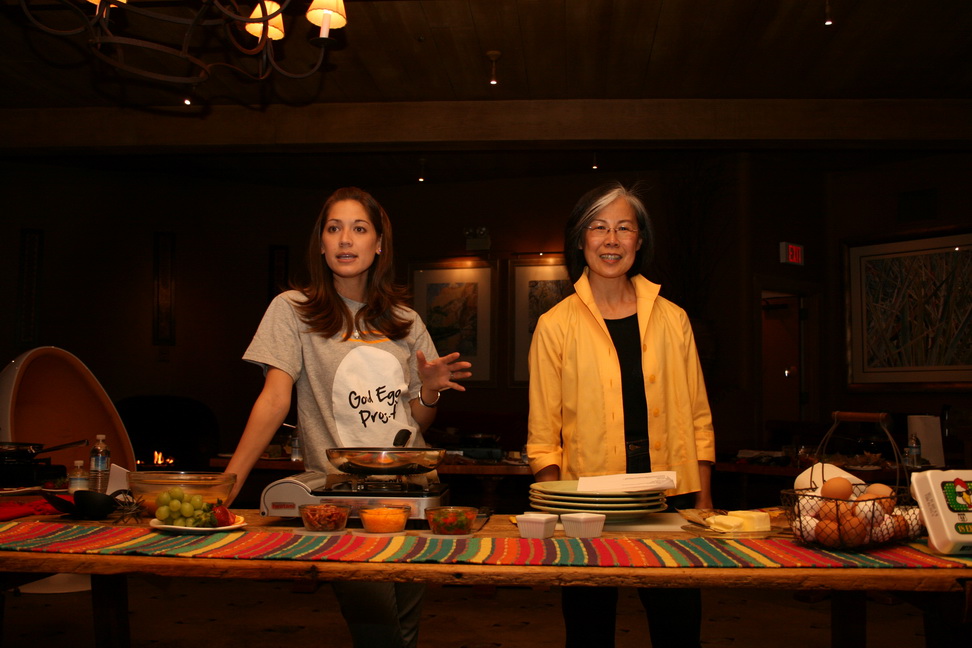 Howard Helmer Showing Us How To Make a Perfect Omelet in Seconds!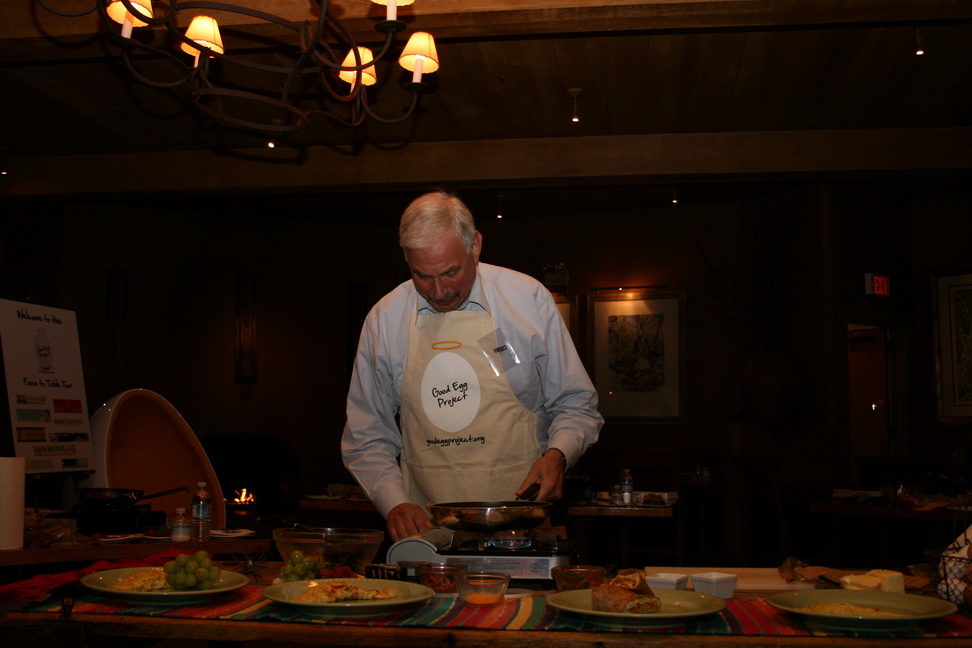 Jeffrey Saad Shared Some Wonderful Egg Recipes and His Passion For Making Good Food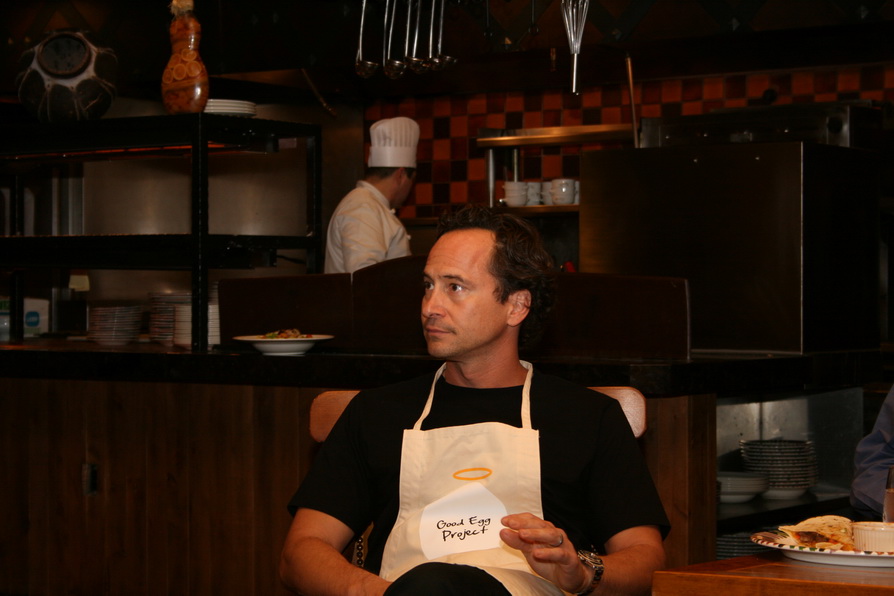 I also have to say that I especially enjoyed this experience.  The Hickmans, including Mom Gertie (thank you for all the wonderful stories and the golf balls too  LOL) were so welcoming and I felt right at home.  Jeffrey, Howard, Mary Lee, all the folks from Edelman and everyone in attendance were some of the warmest and nicest individuals.  Thank you so much for a great experience and new friends.  This is definitely something that I won't forget.  Thank you to the Hickmans for opening your doors to Mom Bloggers to share what you do to make it possible for us to have food on our tables daily…it was a real pleasure!
**Thank you to Edelman Pr and the Good Egg Project for funding this trip and making it possible**
I typically make a conscious effort to make relatively healthy meals for the boys.  From day one I had vowed that I would offer them as many fresh fruits and vegetables as I could.  They have developed a love for just about any fresh fruit except cantaloupe, and love just about any vegetables. But, the reality is that, eating healthy is expensive.
What I have found, is that it is getting increasingly difficult to buy fresh produce for us, without literally spending $60 to $100 per week in efforts to get fresh things to prepare. You would honestly think that the cost to buy fresh, would be a little more reasonable than buying all these processed foods. Something in this country is very backwards. If we made the healthier choices more accessible, I would think that insurance costs would go down (less cardiac disease, less diabetes, and cancers). If people had more incentive to eat fresher foods, the benefits to their health are enormous and it might save this nation some money and make insurance more affordable.
I personally think realistically, that we are too far gone in this world of "get it now and convenience" to truthfully go back. When it comes right down to brass tax, we want everything right now, in the fastest manner possible and eating fresher foods just simply requires more time and effort. As a Mom, this isn't what's always best but I am also hard pressed to save a buck. It is dizzying to see how many of us spend sometimes hours in the grocery store with stacks full of coupons to feed our families, but I can guarantee none of those coupons offer a dime off of fresh produce. It's an admitted rush to leave the store with $200 worth of groceries for $100, even though it can live in our pantries for years, is it really all that healthy? It is no wonder why people are unhealthy, they can't afford to eat whats actually good for them! One of my favorite places to shop is Whole Foods (I love love love this place!), but with the economy and money being tight, I can only make a trip there as a treat rather than a weekly visit.
I am all for indulgence and I certainly don't deny my kids the occasional chips or cupcake and I even make dinners from a box, but I would love to have a coupon for lettuce, broccoli, and some of the things that their body actually needs. Local grocery stores should make these coupons available and I bet they would draw in more customers. Eating healthy should be rewarded not a financial burden.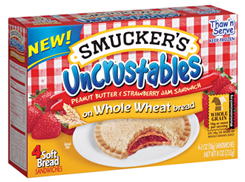 I can remember when I was a kid and one of my most favorite meals was a peanut butter and jelly sandwich and chicken noodle soup.  I know this may sound a little quirky but I loved to actually dip my sandwich in the soup and I still do it to this day.  I was also the kid that always peeled of the crust on my sandwiches and both of my boys are the same way.
We are huge fans of Smucker's Uncrustables, and when we were given the opportunity to try their new whole wheat sandwiches, I was happy to try this already great product but with the healthier choice of wheat bread.  This makes buying this classic even more appealing as a mom and the boys loved them and didn't even notice the difference.  I love Uncrustables because you just take them out of the freezer and let them thaw for about twenty to thirty minutes and they are ready to eat.  They are so yummy, they have no crusts, and the bread that they use is so soft, just like it was freshly baked.  I find myself sneaking a few for myself and I love them with my favorite chicken noodle soup.   They are perfect for lunches, and even as an afternoon snack.
Each sandwich is low in sugar, about 10g for the strawberry and peanut butter on whole wheat, and  you would never know it because taste is definitely lacking in these perfectly round sandwiches.  They are perfect when you are on the go and you want the kids to get that little extra bit of protein and you want something you know they will eat.  I always keep a few of them on hand for trips to the park or when I know we are going to be out and about.  Smucker's Uncrustables make a perfect snack for the kids and for big kids too!
"I wrote this review while participating in a blog tour campaign by Mom Central on behalf of Smucker's Uncrustables and received a sample to facilitate my candid review. In addition, Mom Central sent me a gift card to thank me for taking the time to participate."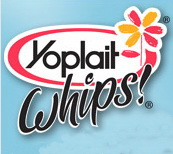 My kids are huge Yoplait Yogurt fans and ask for it just about anytime of the day.  I have almost always bought the Yoplait brand yogurt because it offers a variety for the whole family.  My husband doesn't like yogurt that has chunks of fruit so he gets the smooth and creamy and I love Yoplait's regular and whipped yogurt.
It wasn't until I was visiting Costco that I had actually tried it frozen.  They were passing out Yoplait yogurt that had been frozen and to my surprise it tasted really good and the boys loved it too.  So thanks to My Blog Spark, I was able to try Yoplait Whips and I decided to try them frozen.  They were really yummy and the boys couldn't get enough.  The best part about them is that they are low in fat and are actually a healthier treat than ice cream.
Yoplait Whips! are currently available in a variety  flavors like Strawberry Mist, Chocolate, Key Lime Pie, Orange Crème, Chocolate Raspberry, Lemon Burst, Peaches 'N Cream and Raspberry Mousse. As well as their  newest flavor Vanilla Creme which just came out.
If you want to offer a healthier alternative to other frozen novelties, I would suggest giving frozen Yoplait a try and I think y ou could freeze just about any kind of Yoplait yogurt and it would taste just as good.  And even  better, you can make your kids think they are getting something really special yet it is a much helathier alternative.
If you would like to try out frozen Yoplait whips, you can visit here and print a coupon for .60 off of three Yoplait Whips.  Additionally, right now, new members who sign-up to become subscribers of Betty Crocker's newsletter, will receive a free coupon for Yoplait Whips!
Would you like to win a fun gift pack from My Blog Spark and Yoplait? The Summer Cool Down" gift bag includes two free coupons for Yoplait Whips!, cooler tote, Popsicle molds and a set of 12 color-changing spoons.
THIS CONTEST IS CLOSED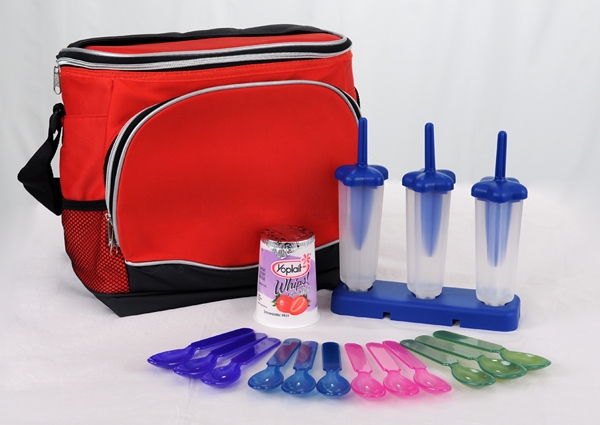 Here's What You Gotta Do
Tell me you favorite way to enjoy Yoplait Whips and what flavor you like
Additional Entries
Tweet about this giveaway
Blog about it
Add me to you twitter
Subscribe to my blog
Add me to your technorati favorites
Contest Starts August 31, 2009 and Ends September 21, 2009
Good Luck!
**Thank you to My Blog Spark who provided me with free samples of yogurt and a gift pack to try for review**