Making lunches and finding different ways to make the ordinary interesting for kids is often a task that us moms dread at times.  You often hear about how kids are bartering away their lunches in the school cafeteria in exchange for something they find more exciting.
I was recently given the opportunity to try out Oscar Mayer's new Lunchable Lunch Combinations.  My husband is a huge fan of the smaller Lunchable packets and he takes them for a snack at work or in the morning.  Even though my boys aren't in school yet, I can see that this would be a perfect alternative to brown bagging it.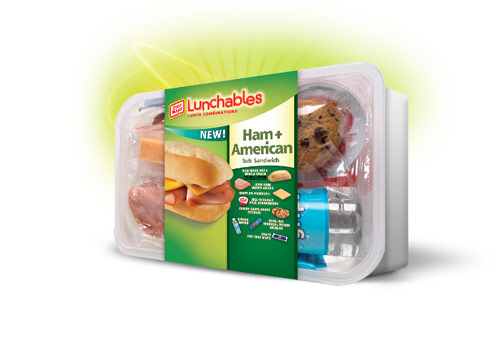 In comparison to an unhealthier choice of fast food or cafeteria foods, this at least offers a source of more rounded nutritional value.  We tried the Ham and American Sub combination and I was surprised at how much was actually in the package.  Included in the package was ham, american cheese, sub bun, mayo,sugar free jello, chewy chips ahoy cookies, water and kool aid drink mix packet.  The only thing that I personally would have liked is that there just be plain water in the meal, regular jello since I am not one to give the kids artificial sweetener, and maybe apple slices in place of the jello or the cookies.  I think it is a great idea especially on days where you are running behind and it makes for a hearty meal.  I think if I were a kid this would be a real treat and you wouldn't find me trading a single morsel.
You can find Oscar Mayer Lunchables Lunch Combinations in your grocer's refrigerated section next to the packaged lunch meats.  There are six new varieties that include: Turkey + Cheddar Sub Sandwich, Ham + American Sub Sandwich, Turkey + Cheddar Cracker Combos, Ham +American Cracker Combos, Deep Dish Cheese Pizza and Deep Dish Pepperoni Pizza.
**I wrote this review while participating in a blog tour by Mom Central on behalf of Oscar Mayer Lunchables and received a sample to facilitate my candid review. In addition, Mom Central sent me a gift card to thank me for taking the time to participate.**