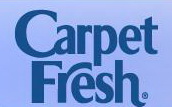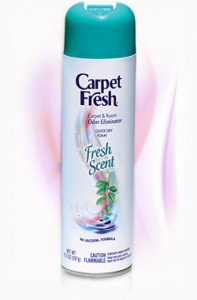 Since having children and pets there seems to always be something amiss in the air at any given time.  I am a bit particular about things smelling in my house.  If I walk in from grocery shopping and things don't smell right then I will find its source.   Since having the boys, I have acquired the mommy nose for everything!
One of my big things is any odors related to our dog.  She is one big fur ball and even though I love her, we all know that dogs can stink.  When they lay on your carpet, the oils from their fur and skin just sort of stick like a magnet to your carpet and anything else, so  I thought I would give Carpet Fresh Carpet and Room Odor Eliminator a try.
Carpet Fresh Carpet and Room Odor Eliminator permanently neutralizes carpet odors and helps keep entire rooms smelling fresh by delivering odor-fighting agents deep into carpet fibers and reaching places air fresheners can't and leaving a long lasting fragrance. Additionally, the Carpet Fresh Quick-Dry Foam format allows you to simply spray your carpets and walk away without scrubbing or vacuuming.  It dries in minutes, leaves no residue, and is safe for use around your family when used as directed.  Not only that, it can be used in your car and on the drapes.
I love the stuff because all you do is spray and walk away, there isnt anything you need to do other than that.  This is nice and it works!  I had the room smelling fresh and airy in a matter of minutes and it dries very quickly with no weird residue or sticky films.  This is perfect when you get those unexpected calls from guests that say they are stopping by in 30 min! And, the best part is that is comes in some really great scents like Country Potpourri, Morning Rain, Apple Cinnamon, Fresh Scent and Super Pet Neutralizer.
Thank you to Mom Central and Carpet Fresh for a wonderful opportunity to try new Carpet Fresh Carpet and Room Odor Eliminator!