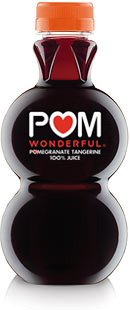 I recently was given the opportunity to try Pom wonderful juice.  I had always walked by the refrigerated beverage aisle and often saw those fancy looking shaped bottles of pomegranate juice but never actually picked on up.
I was really excited to try this juice because I am always hearing about the antioxidants in pomegranates and benefits of them in your diet.  I don't know if its all true, but I thought I would give it a try to see if I actually like the flavor of it.  I vaguely remember trying the actual pomegranate fruit when I was younger and just remember it being these little tiny bead like fruits that came from it, that you could eat.
The juice itself was a little tart for my liking and is probably meant to drink in smaller amounts.  It isn't a beverage that I would just guzzle down on a hot day, I don't think.  They have some flavor combinations such as pomegranate blueberry and one with tangerine too.  I actually really lliked the pomegranate tangerine and had no trouble finishing off the bottle.  The tangerine in it seems to negate some of the tartness making it something I might readily go to if it was in the fridge.
All in all I would say the juice is good in small amounts but it is definitely a little tart, but if you are one that likes a little of that than Pom Wonderful may be something you might like to try!  Even in moderation you can still get some of the health benefits from drinking it without downing an entire bottle.