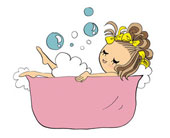 Tonight, I spent a good deal of time doing research on what fish oil is the best to buy.  I am about to embark on a healthy eating dtreak and since I hate fish of any kind, I am looking to supplement.
Here my thoughts for tonight"
I am going to have to give up brownies, this sucks.  Well I don't have to give them up completely.
I need to organize my office!
I need to go to Whole Foods tomorrow.
Maybe I should sleep in. Sleep in?  What's that?
I really want to get my garden ready, blach I am too tired
I still need to stop biting my nails!
There are thin mints in the pantry, how the hell am I going to diet with those in there?
I wish I had a maid, well and a cook, and a gardner.
Oh I have to finish a review, well I need to finish three this weekend.
Wonder what Blogher will be like.
I really need to turn my brain off when I'm trying to relax in the tub!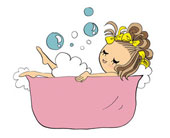 Well baths are supposed to be relaxing but it seems to be a time when my brain just keeps going.
Is that the doorbell I hear?  Who is that at this hour?  Girl Scout cookies?  OMG I think it is, they are here.  Thin mints!  (Later found out dh only ordered me one box).
I really need to stop biting my nails, they look really bad especially when pruned from the bath tub.
ER is on tonight
Oh crap I forgot my towel
Wonder what that noise was, who is crying now?
Underwear, I wonder who invented them?
Wonder what I should make for dinner tomorrow?  Tomorrow is Friday woohooo!
This blueberry smoothie shampoo smells good and its tear free, I wanna try it, I have been smelling fruity all night.
What is poking my leg?  (a blue rubber snake, and a plastic dinosaur)  You gotta love bathing with a jungle.
Would be nice if I had a tv screen in the mirror.
This would be a good blog post.