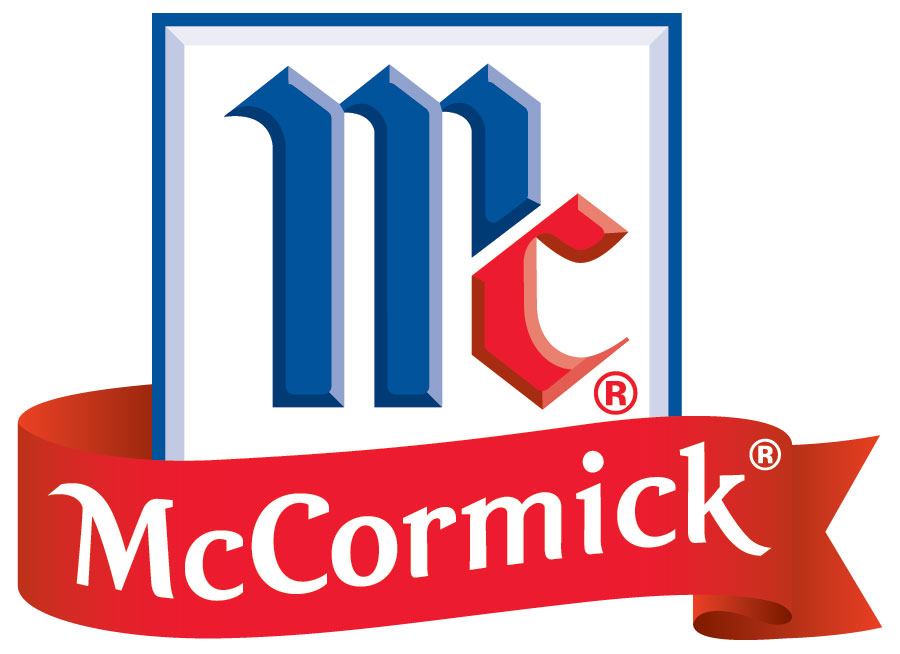 I am always on the look out for new recipes to try. I especially like changing up some of the standing recipes that we have in our house. I am addicted to flipping through recipes online and I love having the internet as a resource to create new things for my family.
McCormick has been a long standing name in my kitchen. Over half of my spice selection contains McCormick, my baking cabinet has vanilla, various flavored extracts, cinnamon, and nutmeg all with the classic red McCormick lid and name. McCormick also has a great resource online called the Look Book that has some really great recipes using some of McCormick's great spices and extracts. I went looking around at all their great Spring Recipes to try and the photos all had me drooling on my keyboard.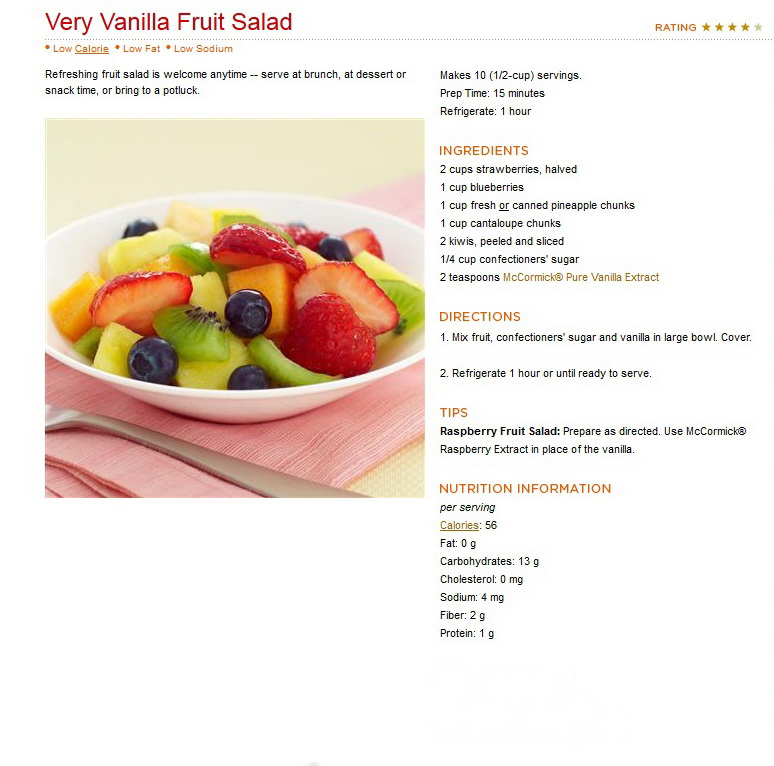 They have a little bit of everything from breakfast to dessert. We were sent some of McCormick's great products to make one of the recipes shown in the Look Book. Although, I saved about 10 of the recipes to make for a later date, I chose one of the healthier recipes available, the Very Vanilla Fruit Salad, since I am on a weight loss mission.  Fruit salad, is one of my favorite things to make during the Summer and when fruits become in season.  The McCormick Look book offered a new twist on our family favorite by adding vanilla and powdered sugar to your fruit salad.  I usually just toss with some fruit saver and serve it, so the vanilla was a unique twist.  This particular recipe was easy to throw together, and the vanilla gave the fruit a really nice subtle taste difference. The boys and I ate the whole fruit salad in a sitting and I will definitely be making this again in the near future.
Ours turned out lovely, and I love all the vibrant colors of the fruit and the subtle vanilla taste.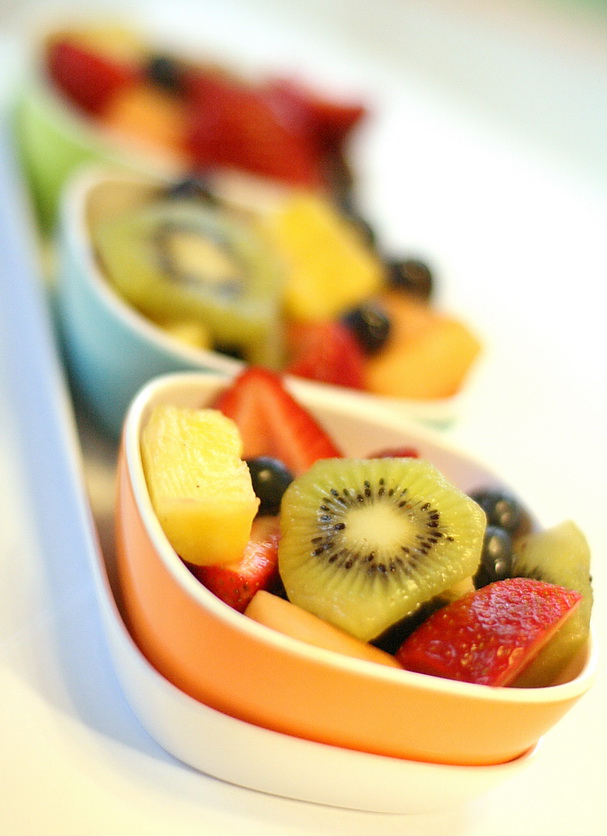 All the the recipes in the McCormick Look Book offered easy variations on products that we already use in our home.  I like that I can pin recipes, print them and save them for a later date.  Another great thing about the McCormick Look Book is that they offer images of all the recipes available, which is the first thing I look for when making something new.  The Vanilla Rich Chip Cake, will be next on on my list to celebrate when I lose my first ten pounds.  Check out McCormick's Look Book, there are some great recipe ideas.
"I participated in a campaign on behalf of Mom Central Consulting for McCormick. I received product samples and a promotional item to thank me for participating"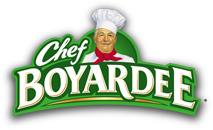 Chef Boyardee has always been a favorite in our house, but usually we would just have it as a quick and easy go to meal.  But what if you could turn it into an entire meal for your family or entertain a houseful? Well, this weekend, I put that idea to the test.  We rounded up some of our favorite people and went to work in the kitchen!
I decided to invite my neighbors and their family over for a fun dinner and dessert.  One of their twin daughters loves to cook so she was very excited to come over and help.  We decided to make a top secret dinner for her Mom and Dad and brother and sisters.  So on party day we turned on some music, and put together a masterpiece for dinner.  To help us out we were sent all the right tools, aprons, chef's hat, mixing bowls, baking dishes, and a timer.  I think everyone had just as much fun wearing the aprons and hat!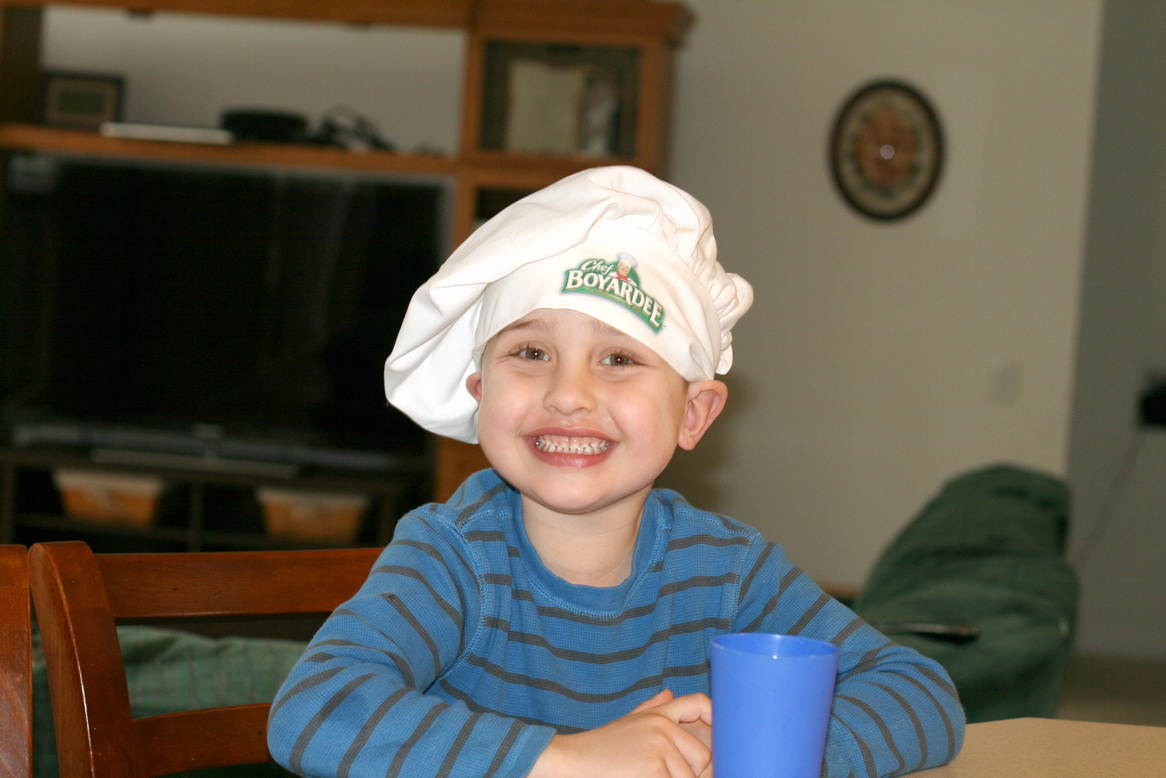 As part of our party, we had to create a Chef Boyardee recipe to share with everyone.  We chose to make the very tasty Pepperoni Spaghetti Bake and added some of our own little touches to the recipe.  We added some grated Reggiano and Romano cheeses and baked garlic bread on the bottom.  We made a side salad and the meal was complete!  Everyone had their own job in the kitchen, and the boys got a kick out of helping mom.  This has been a really wonderful opportunity for me and the kids, and the recipes offered really were not that difficult to prepare.  This made it easy for the boys and the other kids to participate and enjoy something that they made.  The end result was a really tasty meal, spending less time in the kitchen, and more time enjoying family and friends.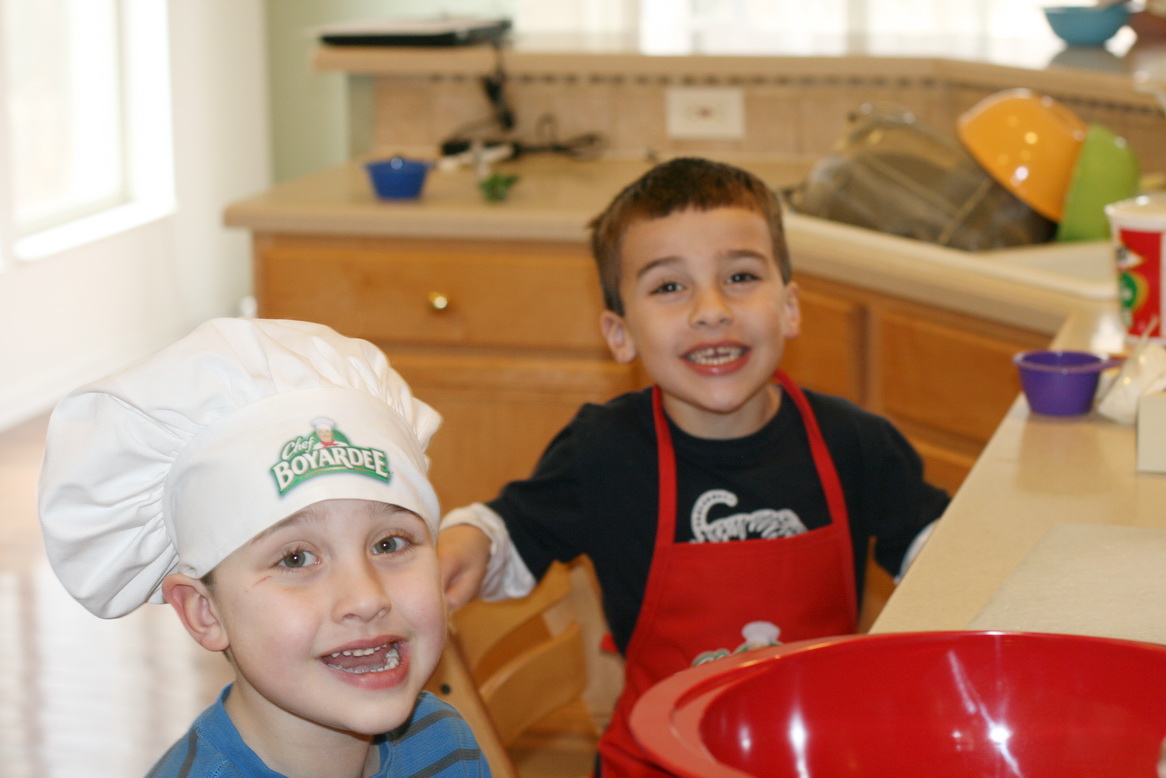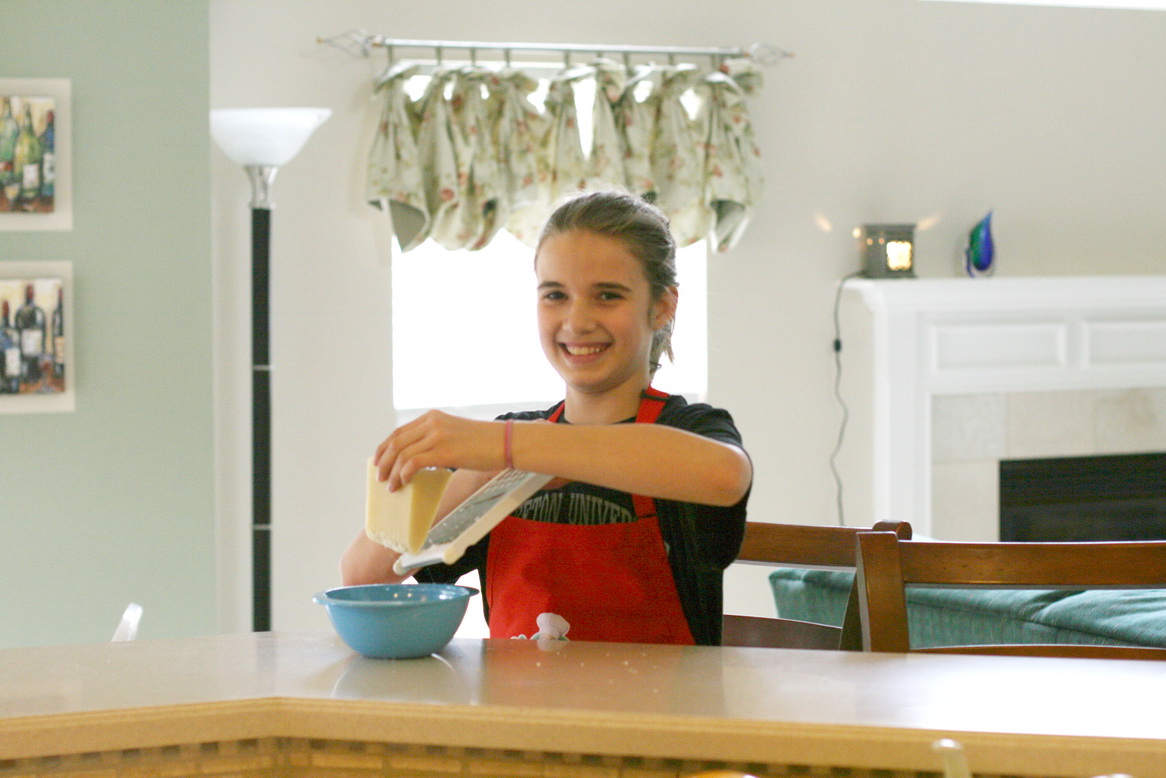 Right now through March 11, 2012, you can submit an original recipe that uses Chef Boyardee as an ingredient (anything you can dream up).  All you have to do is upload a photo of your recipe, and share why your family loves it.  A winner will be chosen based on creativity, all-family appeal, ease of preparation, and palatable appeal by an expert panel of judges.   You can win a $500 prize as well as $75 in Chef coupons or the grand prize of free groceries for a year!  I don't know about you, but who couldn't use a stocked fridge and pantry for the year to make delicious recipes like the ones offered by Chef Boyardee?   You can visit the facebook contest for your chance to win.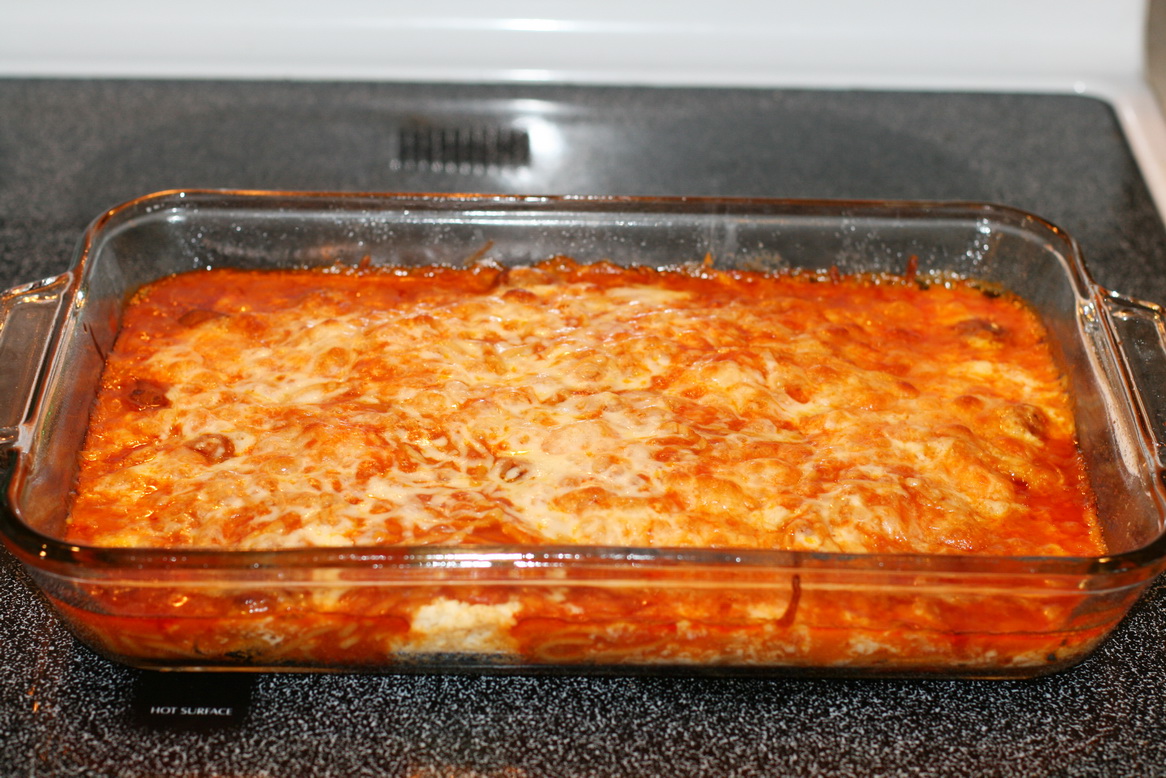 After all was said and done, everyone loved the meal that was prepared and we could hardly believe that it only took 30-40 minutes to prepare.  We loved throwing a party and I loved getting my kids involved in the meal preparation process.  It was a great learning experience and most kids like having a role in helping.  You can find some more really great Chef Boyardee Recipes on their site.  Don't forget to enter to win free groceries from now until March 11, 2012!
"I wrote this review while participating in a In Home Party campaign by Mom Central Consulting on behalf of Chef Boyardee and received product samples to facilitate my party and review, and a promotional item to thank me for participating."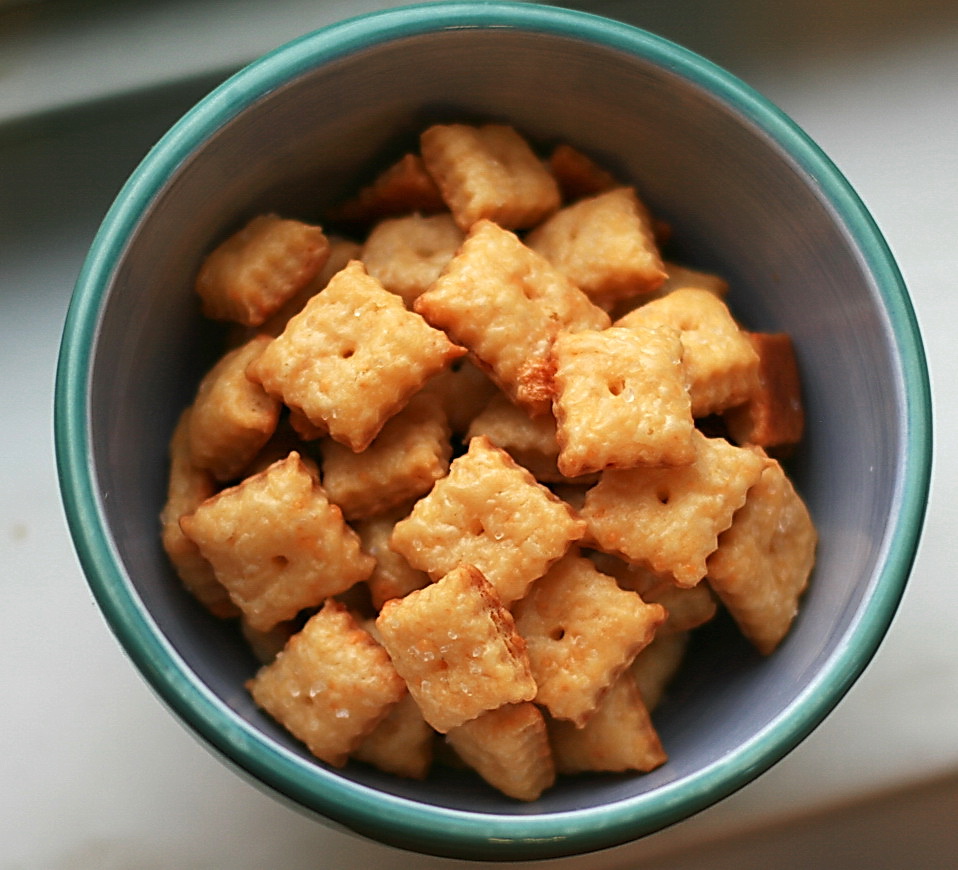 I was out and about surfing the web when I ran across a recipe for cheese crackers, that I knew I had to try. I almost always pick up a box of Cheez Its in the store. They have been around since I was a child and I still love them even today. So when I ran into a way to make my own baked crackers, I jumped at the chance to try and make a new family favorite. At first I had high hopes that these would taste just like the real thing, but to be realistic, that will never happen. I don't have enough preservatives and ingredients I can't pronounce in my baking arsenal. If I could find something that we like out of this, I prefer the natural, low preservative version.
The recipe is extremely simple to put together, and the end result is a cracker that is light and crispy. You could even turn these into twisted cheese straws, add some spices, and mix and match cheeses. For simplicity sake and for something that appeals to two 5 yr old little boys, I went with plain old sharp cheddar that I grated from a leftover brick of cheese that was just calling my name.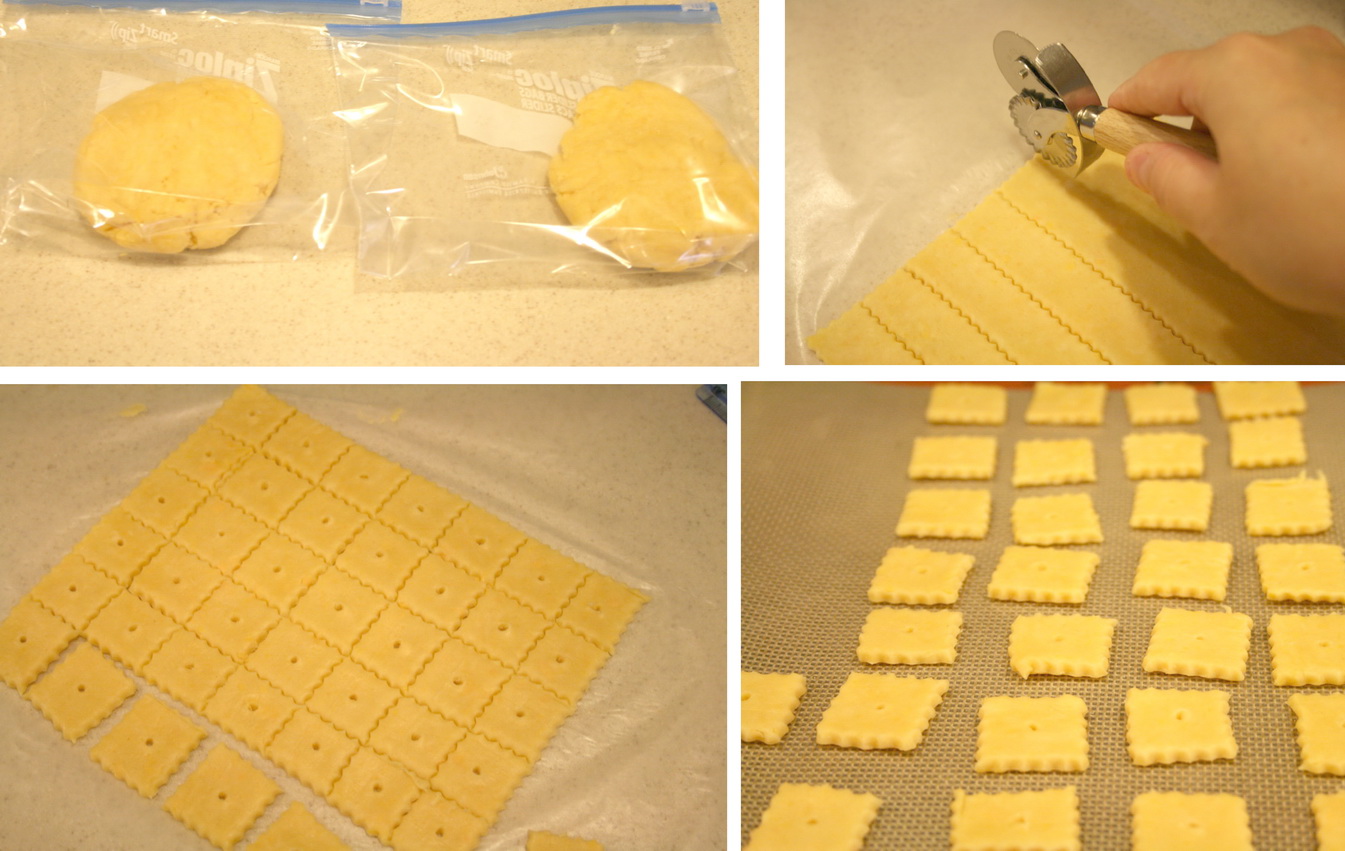 Recipe

Homemade Cheez-Its

(Adapted From: ReadyMade Magazine)

Ingredients:

8 oz sharp cheddar cheese, grated plus a little parmasean reggiano
Optional Seasonings (I used a little cayenne pepper)
3 Tbs of unsalted butter, room temperature
1 Tbs vegetable shortening (you can omit the vegetable shortening and use 4TBS of butter)
½ teaspoon salt
1 cup unbleached flour
2 Tablespoons ice water
Coarse salt for sprinkling

Directions:

Combine cheese, butter, shortening, optional preferred seasonings and salt in the bowl of your mixer fitted with the paddle attachment. The mixture will be crumbly.
Slowly add the flour then the ice water.  Add a few extra drops of water to help it come together (this is just like making a pie crust) but be careful not to add too much.
Pat the dough into 2 discs and wrap in plastic wrap. Chill for  30 minutes or overnight.
Preheat oven to 375?F.
Using parchment paper or a silicone mat roll each disc to 1/8 inch or less and cut into 1 inch squares (a pastry wheel or pizza wheel is easiest). A toothpick works great to punch a hole into the center of each square.
If you have difficulty separating and transferring the crackers onto the baking sheet return the parchment paper/mat to the refrigerator for 10 minutes (while you roll out the 2nd dough disc).
Bake for 10 – 15 minutes or until puffed and browning around the edges. If you pull them out too soon and the crackers don't have the desired crispiness you want then simply return them to the oven for 2-3 more minutes.
Move crackers to a cooling rack. Makes about 7 dozen crackers if you can keep them around that long!
The recipe is extremely easy.  I found the pastry cutter at Williams and Sonoma for around $10 but there are cheaper ones on Amazon.  You don't have to be that fancy however, but I like the pretty edges on the cracker.  I will be trying some twisted cheese sticks with this recipe for the Holidays, I think they would be pretty and make a great snack even with a warm artichoke and spinach dip.  Yummy!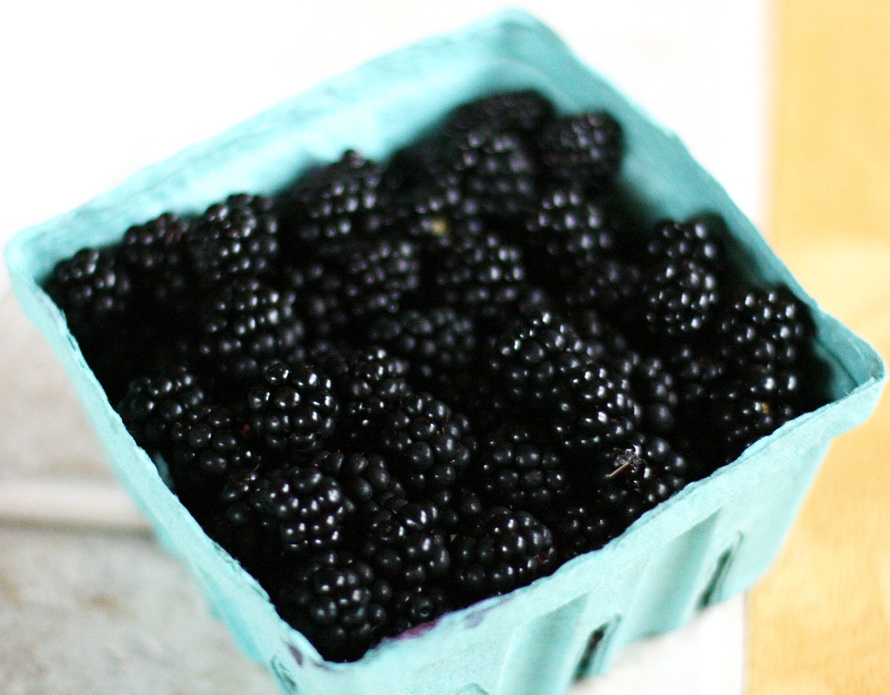 I am a fruit picking fool lately.  There is something about going out to a farm and out in the fields and picking your own personally selected berries and fruits.  For me, I get a real sense of peace being out there and picking fresh berries with my family or just by myself.  Recently, I decided to go blackberry picking because I had simply never been.  It was a challenge finding a place to go, and then I found a place about 20 miles from me and off we went!  I actually frequented the blackberry patch twice in the last two weeks.  The first batch went to make seedless blackberry jam and the next was to get more and find some things to make with them.
My first recipe was a blackberry pound cake with a vanilla custard sauce that was simply to die for! So, I thought I would share the recipe I used.  I de-seeded the blackberry puree because I didn't like the seeds in it, but you can do either way.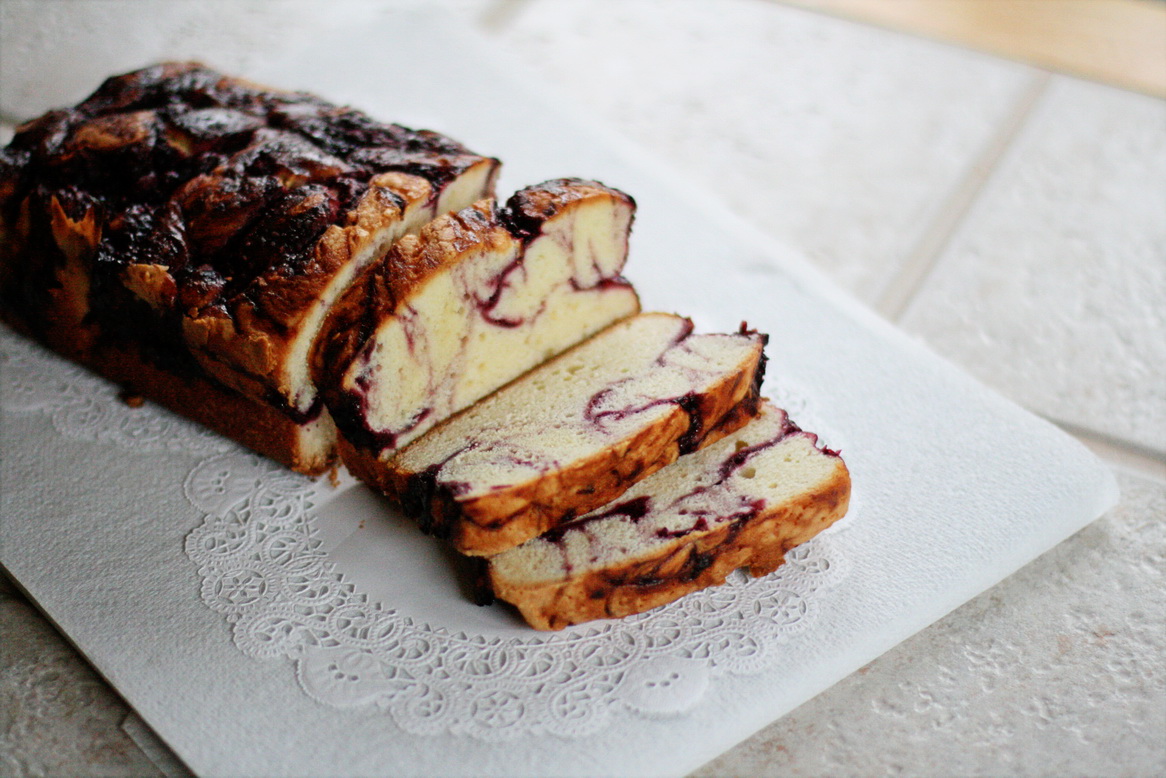 Blackberry Pound Cake
Ingredients
Blue is my favorite color.  I was at the Farmer's Market when I ran across this little hole in the wall cupcake shop and I decided I must go in.  Prominently displayed in just four simple glass dome cases perched on crystal cake stands were one of four flavors for the day.  They had the obligatory chocolate, vanilla chocolate, and something else which I forget, then my eyes were drawn to these pretty little blue velvet cupcakes with white icing.  I had to have that one!  Not only is it my favorite color, I wanted to see just how good could a blue cupcake be?
I didn't have time to eat it on the way home, so I tossed it in the fridge till I could savor the moment.  The husband was gone with the boys and I decided to give it a try.  I took a bite and the flavors danced on my tongue like the most beautifully indulgent serenade.  I found my blue heaven, these things were to die for!  I quickly began to scour the internet for a recipe because the Farmer's Market is only once a week, and well I wanted to see if I could replicate.  I ran across a few variations when I stumbled across a recipe I liked.
Humming the song "blue belvet"  popular in 1950 and, written by Bernie Wayne and Lee Morris (can't get the song out of my head now), I made a few variations, because I was a little timid about using all this blue food color, I like vanilla so I added a smidge more.  I only halved the recipe for the cream cheese frosting because I only made half a batch.  The result was a very blue, and very yummy blue velvet cupcake.  I was rather impressed.  My kitchen on the other hand looked a little like a visit from the Smurfs.  A little secret about me, is I like to spread out in the kitchen, which results in a big old mess, if it's my first time baking a new thing.  What I did for the cocoa and coloring gel was I mixed it as per instructions then added only about half of what was there.  The violet color is so your cupcakes don't turn out to bee turquois.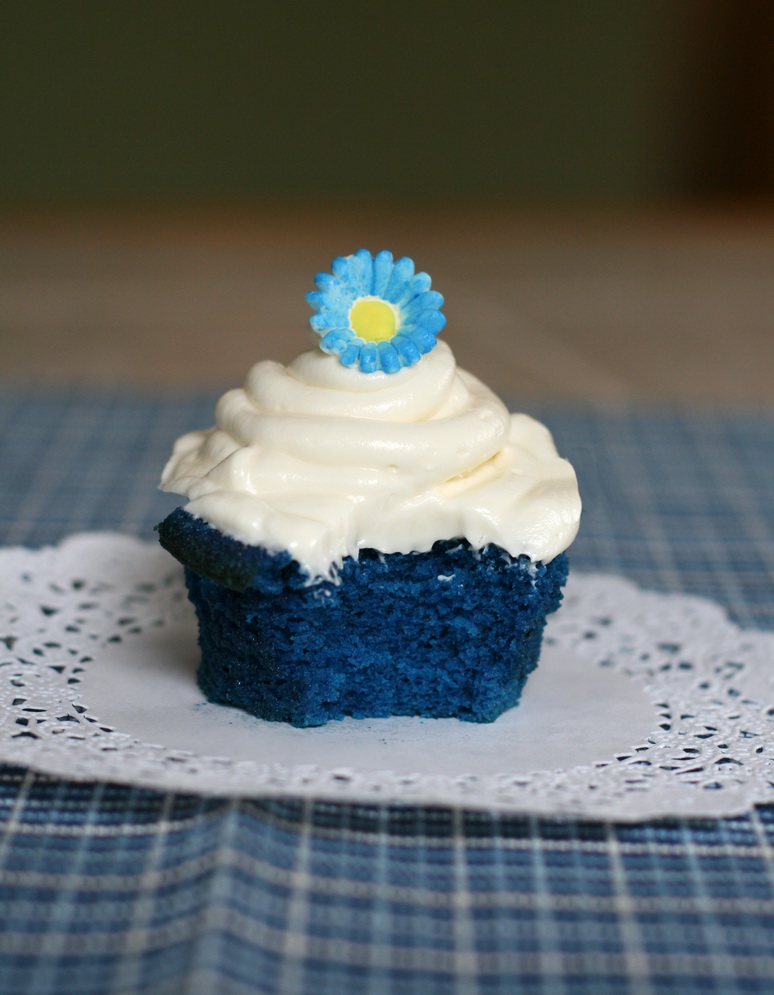 Here is the Recipe
For the cupcakes:
2 cups sugar
½ pound (2 sticks) butter, at room temperature
2 eggs
1 tablespoon cocoa powder
1 Tbsp Wilton royal blue gel food coloring or if you can find the paste you can just use two tsp)
1 small dab of violet gel food coloring (just a little bit on a toothpick will do)
2 ½ cups cake flour (Swans Down is the best hands down)
1 teaspoon salt
1 cup buttermilk
1 teaspoon vanilla extract
½ teaspoon baking soda
1 tablespoon vinegar
the frosting:
1 pound cream cheese, softened
2 sticks butter, softened
1 1/2 teaspoon vanilla extract
4 cups sifted confectioners' sugar
Preheat your oven to 350 F and line cupcake pans with liners
Cream sugar and butter in mixing bowl till light and fluffy, then add eggs one at a time, mixing well after each egg
Mix cocoa and food coloring together to make a paste — this takes a while and patience  to mix thoroughly with all gel (looked a bit like a science experiment), but it came together nicely; add this paste to sugar mixture and mix well again
Sift  flour and salt, and add to creamed mixture a bit at a time, alternate with buttermilk, then mix in vanilla
Combine baking soda and vinegar in a small bowl and add to cake batter; mix just to combine
Scoop thick batter into cupcake liners, filling about 2/3 full, and bake for probably 20-25 minutes, but start checking at 18 minutes — mine were done at about the 20 minute mark; watch for toothpick inserted in center to come out clean, watch your edges they can brown very quickly (trust me I know from my first batch  lol)
Remove cupcakes from oven and allow cool completely on a wire rack
How to make the frosting
Beat cream cheese, butter and vanilla with electric mixer until nice and smooth
Add sugar gradually and beat on low till combined, then beat on high speed until very light and very fluffy
If you like red velvet cake, this would be a great twist on a classic!  They taste just like red velvet but ate a wonderful, beautiful blue.  Give it a try and let me know what you think.  My boys got a kick out of them and gobbled every last one up!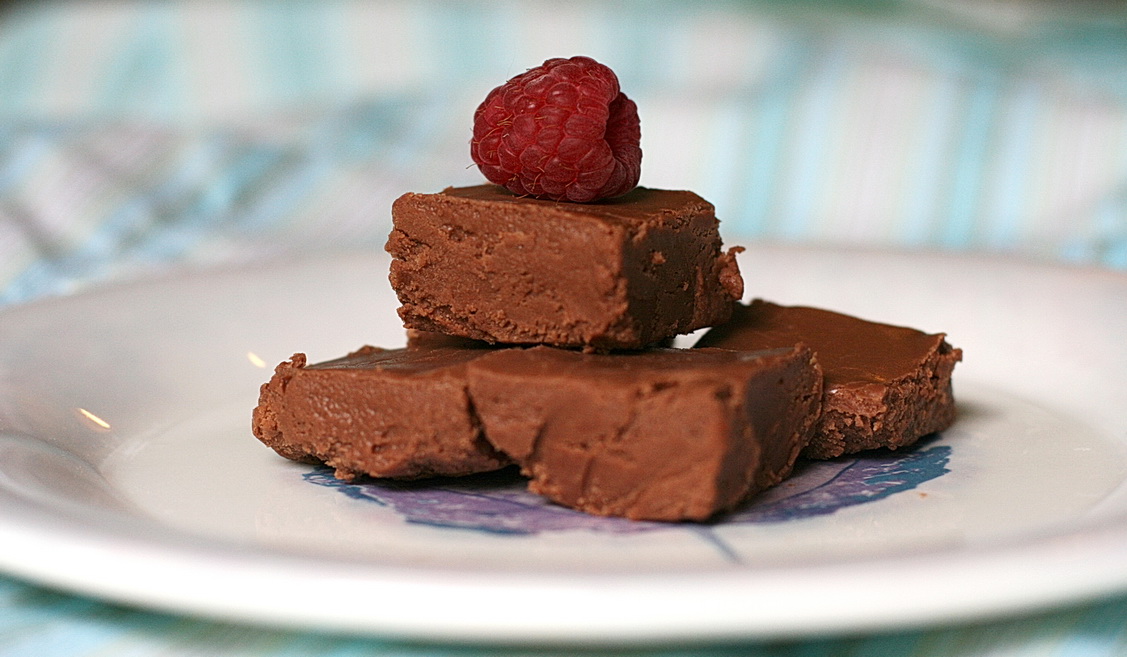 I have never before in my life made fudge of any kind.  In fact, I have never really eaten it.  Over the weekend I tried some raspberry fudge at one of the vendors and I instantly had to buy some.  They were completely out of it with the exception of two small blocks, and I told them to discount it and I bought them.  I took them home with the idea that these tiny blocks of fudge would last me a few weeks, but sadly they were gone in two days  LOL.  Since the farmer's market is only on Saturdays, in my desperation I decided to make my own.  I scoured the internet and came up with several recipes and decided to give it a try.  This is the raspberry fudge recipe I used but I changed the amount of sugar to 2 cups instead of 2 and 3/4.  To me fudge is rather sweet, so I wanted to experiment and it came out ok as far as I can tell, you can go all out with the sugar or experiment.  I also added a little more of the raspberry flavoring because I like it.  I would recommend using an oil which I found at a cooking supply place.  The imitation stuff at the store is too liquidy (is that a word?).
Here is the Cast of Characters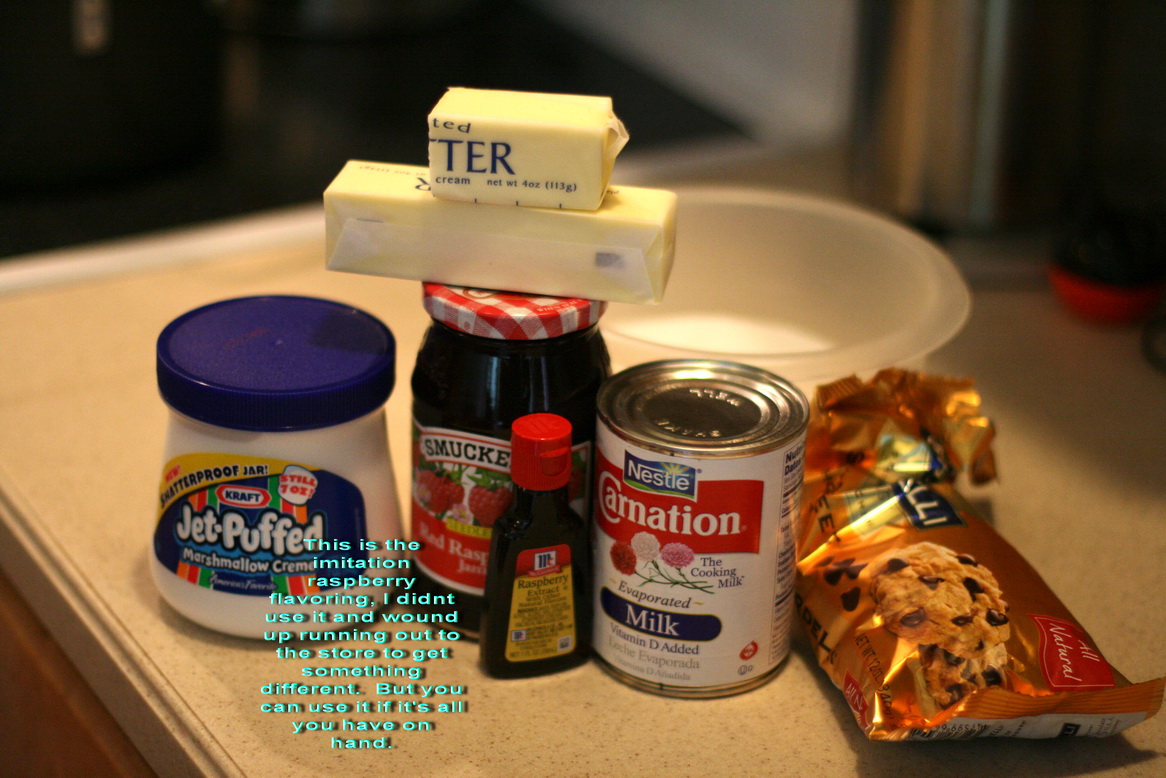 Recipe
3/4 cup (1 1/2 sticks) margarine or butter
1 5-ounce can (2/3 cup) evaporated milk
1 7-ounce jar Marshmallow Cream
1/3 cup seedless raspberry jam
2 cups or 2  3/4 cups sugar(depending on personal preference)
1 12-ounce package semi-sweet chocolate chips
1 cup chopped nuts – optional
1 teaspoon vanilla extract
10 drops Raspberry Flavoring
Lightly grease a 13-x9-inch or 9-inch square pan.
Mix margarine or butter, sugar and milk in a heavy 3-quart saucepan; bring to a full rolling boil on medium heat, stirring constantly.
Continue boiling 5 minutes on medium heat or until candy thermometer reaches 234°F, stirring constantly to prevent scorching.
High Altitude: Decrease recommended temperature (234°F) 2 degrees for every 1,000 feet above sea level. (Who pays attention to this?)
Gradually stir in chocolate chips until melted. Remove from heat.
Add all remaining ingredients and mix well.
Pour into prepared pan.
Cool at room temperature.
When cooled, cut into squares.
Makes about 3 pounds
ENJOY!!!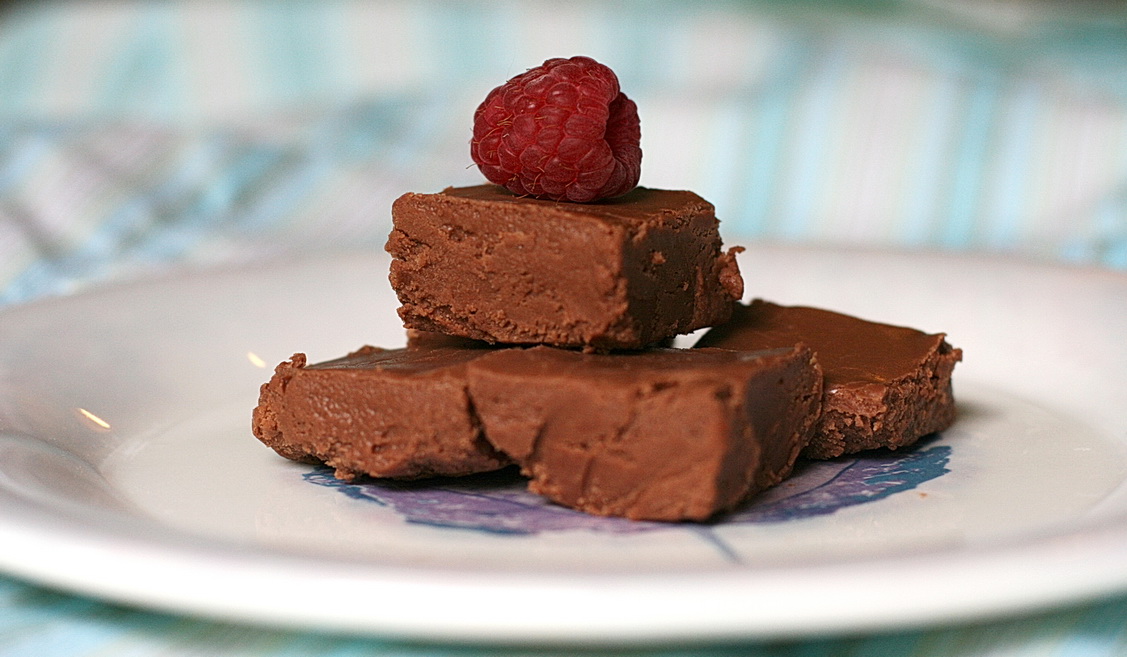 This is the end result and it turned out pretty yummy for my first go around.  The nice thing about fudge is it will last you an eternity if you exercise self control.  I am personally trying to diet, so just a tiny piece of it, is enough to curb my chocolate cravings so I don't fall off the wagon.  What is your favorite chocolate recipe or fudge recipe?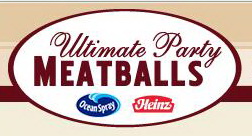 It is that time of the year when holiday festivities are about to be in full swing.  Every year my husband and I are invited to at lease several events that involve bringing a favorite appetizer or dish.  If you are a busy mommy like me, my ambitions are usually greater than my energy level in creating some new found masterpiece to bring to a gathering.
Over the weekend we were invited to a football party and it was a "bring a favorite dish" type party, so I found myself thinking about what I should bring. I quickly remembered that I had a new recipe to try, and I had all the ingredients to give it a test.  Heinz and Ocean Spray have teamed up to create a really easy yet great tasting addition to any holiday gathering.  Their Ultimate Party Meatballs recipe takes three ingredients and they taste unbelievable.  If I had known how easy this was all along, I would have been coined the meatball lady at all these parties!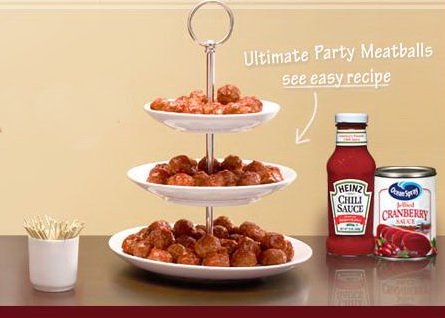 I chose to do the crockpot method of preparation.  All you do is throw in a bottle of Heinz Chili Sauce and Ocean Spray Jellied Cranberry Sauce, and two sof frozen meatballs and put your crockpot on high for four hours and you are good go.   They smell totally awesome and they taste even better.  I couldn't stop stealing meatballs from the crockpot,  at least I made a double recipe. They have the perfect combination of salty and sweet tangy zip that make you want to keep coming back.  I came home with just a few lone meatballs left.
Here is the official recipe
If you like a little bit of a kick to your meatballs you can add a dash of tobasco to them to give them a little kick. I refrained from adding it this time because some people might not like the spicy. They were so yummy that I took the last of the meatballs and made a sub out them for my late night snack.
Whether you are heading out to a party this holiday season or if you are looking for something easy to make for an appetizer. Ultimate Party Meatballs by Heinz and Ocean Spray are a perfect addition!
"I wrote this review while participating in a blog tour campaign by Mom Central on behalf of Heinz and Ocean Spray and received the ingredients necessary to facilitate my review. In addition, Mom Central sent me a gift card to thank me for taking the time to participate."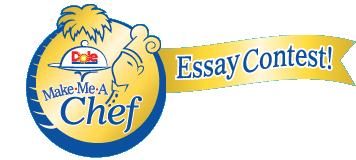 We are huge fans of Dole products in our house, and we almost always have their pineapple on hand in the fridge and in the pantry.  My husband likes to eat his straight out of the can and cold and I like to cook with it!  My most favorite things to do is to put it on my baked hams, and on my pizza.  I know that it isn't the most creative but it adds a whole lot of flavor and the boys gobble it up.
About Dole Make Me A Chef Contest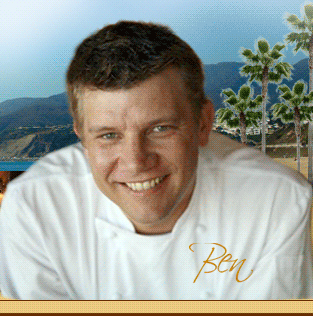 Win the chance to cook alongside acclaimed chef, Ben Ford. Ben has created four signature recipes with DOLE Canned Fruit and wants to share his culinary tips with you and three of your friends at his latest hot restaurant in Los Angeles. Enter your short essay and you could win a beautiful weekend in Los Angeles in June cooking and sharing a feast with Ben Ford!
How To Enter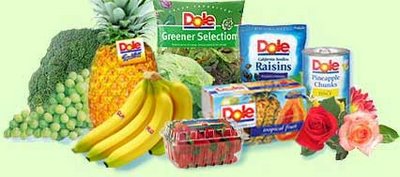 During the Promotion Period, visit http://www.dolemakemeachef.com and  complete the free registration and submit your essay in 200 words or less telling them why Dole is a staple in your pantry.
You can also win daily with giveaways of $100 worth of dole to stock your pantry, or one of 2 $500 Visa cards just by logging in each day or passing on the word about this great contest by referring your friends.
Would you like to win $25 worth of Dole to stock your pantry???
Visit  www.DoleMakeMeAChef.com to get new recipe ideas from celeb chef Ben Ford.  Come back here and comment which recipe is your most favorite.  For 5 additional entries head over to DoleMakeMeAChef and submit an essay and come back here and post an excerpt from it as well.  You can then enter 4 additional comments
For More Entries
Twitter about this contest
Put my button on your blog
Blog about this contest
Subscribe to my Feed
Add Me to Twitter
Contest ends April 30, 2009
Winner will be chosen via Random.org
GOOD LUCK!!!!