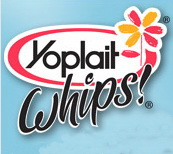 My kids are huge Yoplait Yogurt fans and ask for it just about anytime of the day.  I have almost always bought the Yoplait brand yogurt because it offers a variety for the whole family.  My husband doesn't like yogurt that has chunks of fruit so he gets the smooth and creamy and I love Yoplait's regular and whipped yogurt.
It wasn't until I was visiting Costco that I had actually tried it frozen.  They were passing out Yoplait yogurt that had been frozen and to my surprise it tasted really good and the boys loved it too.  So thanks to My Blog Spark, I was able to try Yoplait Whips and I decided to try them frozen.  They were really yummy and the boys couldn't get enough.  The best part about them is that they are low in fat and are actually a healthier treat than ice cream.
Yoplait Whips! are currently available in a variety  flavors like Strawberry Mist, Chocolate, Key Lime Pie, Orange Crème, Chocolate Raspberry, Lemon Burst, Peaches 'N Cream and Raspberry Mousse. As well as their  newest flavor Vanilla Creme which just came out.
If you want to offer a healthier alternative to other frozen novelties, I would suggest giving frozen Yoplait a try and I think y ou could freeze just about any kind of Yoplait yogurt and it would taste just as good.  And even  better, you can make your kids think they are getting something really special yet it is a much helathier alternative.
If you would like to try out frozen Yoplait whips, you can visit here and print a coupon for .60 off of three Yoplait Whips.  Additionally, right now, new members who sign-up to become subscribers of Betty Crocker's newsletter, will receive a free coupon for Yoplait Whips!
Would you like to win a fun gift pack from My Blog Spark and Yoplait? The Summer Cool Down" gift bag includes two free coupons for Yoplait Whips!, cooler tote, Popsicle molds and a set of 12 color-changing spoons.
THIS CONTEST IS CLOSED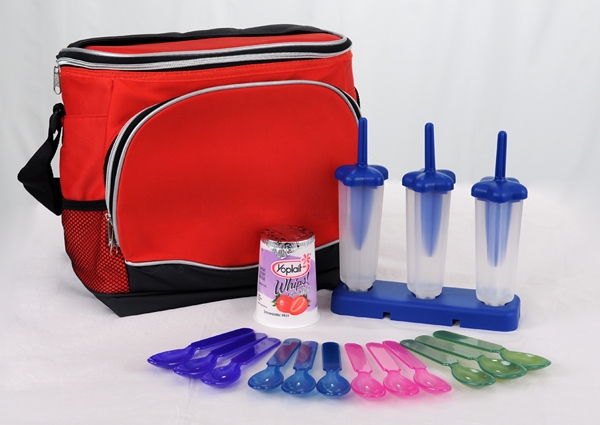 Here's What You Gotta Do
Tell me you favorite way to enjoy Yoplait Whips and what flavor you like
Additional Entries
Tweet about this giveaway
Blog about it
Add me to you twitter
Subscribe to my blog
Add me to your technorati favorites
Contest Starts August 31, 2009 and Ends September 21, 2009
Good Luck!
**Thank you to My Blog Spark who provided me with free samples of yogurt and a gift pack to try for review**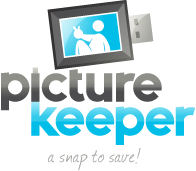 This day and age everything seems to be reliant on computers.  I know that I am on mine close to 8 hours a day and it is where I do a majority of all my writing and storing of just about everything.  Since we are smack in the middle of the digital age when it comes to cameras and taking pictures, it is only natural that you are storing them on your computer. When it comes to backing up images on your computer I bet a lot of us fail miserably.
I take tons and tons of pictures of the boys and I will have to sheepishly admit, that I don't have too many of them hanging on my walls. Let's face it in the digital age of picture taking, we all get lazy and get all too comfortable with the idea that we have them stored somewhere on our hard drive.  The reality of it is, that, hard drives fail and ultimately put you at risk for losing all of your precious memories.  My husband has a server in which he keeps a lot of our important files and photos on, but even then, I like to keep a disk or something that holds my pictures in a safe location far away from the computer.  Anything can happen and knowing that I have some alternate location for storing my photos eases my mind.
Up until now, there really wasn't an easy way to gather all of my pictures on my computer.   I store all of my photos in different locations on my hard drive.  I have photo files dedicated to reviews that I do here, my photography business stuff is stored in another file, and the pictures of my boys are in another.   So everything is sort of all over, and wouldn't it be nice to just be able to  have a device that does all the work for you and gathers all the pictures on your computer, organizes them, and wahlah, you have them all together?
Well now there is a simple solution, and what I like to call my magical anti-stress device, called the Picture Keeper. I was recently given a Picture Keeper to try and I am very impressed!  The Picture Keeper is a little USB flash drive that creates a backup of your images simple by plugging it in your computer and clicking the "start backup" button.  Then it works its magic and finds all images with jpg extensions on the computer. If you wish to backup other images with a different extension there are advanced option to where it can save additional file types.   The folders and sub-folders are copied just as they are on you computer! And it gets even better. If you have multiple computers, which I do, you can just plug it in on the next computer and do the same thing.  There is no special setting, and Picture Keeper does the work.  When you want to go back in and update your files and do another backup, you don't have to remember what files you have or haven't gotten because the Picture Keeper will do that all for you as well. Do they make husbands like this? LOL
Being someone who takes a lot of pictures and in the photography business, I am always conscious of the fact that I have so many pictures and that computers do fail, and having some other form of a back up is critical. The Picture Keeper is nice because I can set up a few different backups and store a few of these flash drives in various locations. I would recommend getting several,  and keeping one in your home, giving one to a trusted family member to hang on to, and maybe keeping one in another location. This way you have multiple back ups in case something happens with your home then you have all your memories preserved.  Just to see how it worked, I plugged it into my laptop and let it go.  Later when I did a backup on my main computer with all my photos, it was just as simple.
ABOUT PICTURE KEEPER
Inventor Matthew Stanchie knew there had to be a better way to backup digital images. Despite working
for Hewlett-Packard, the thought of backing up his personal photos gave him a headache, and he could
only image what others without a background in computers went through. So, he created a user-friendly
program that automates the task (making sure to get the approval of an evaluator from his target
demographic—his wife.) Picture Keeper plugs into any PC, including Macs, and copies all images with
one click. With Picture Keeper, it's a snap to save.
Picture Keeper is available in 4GB, 8GB and 16GB sizes online at www.picturekeeper.com.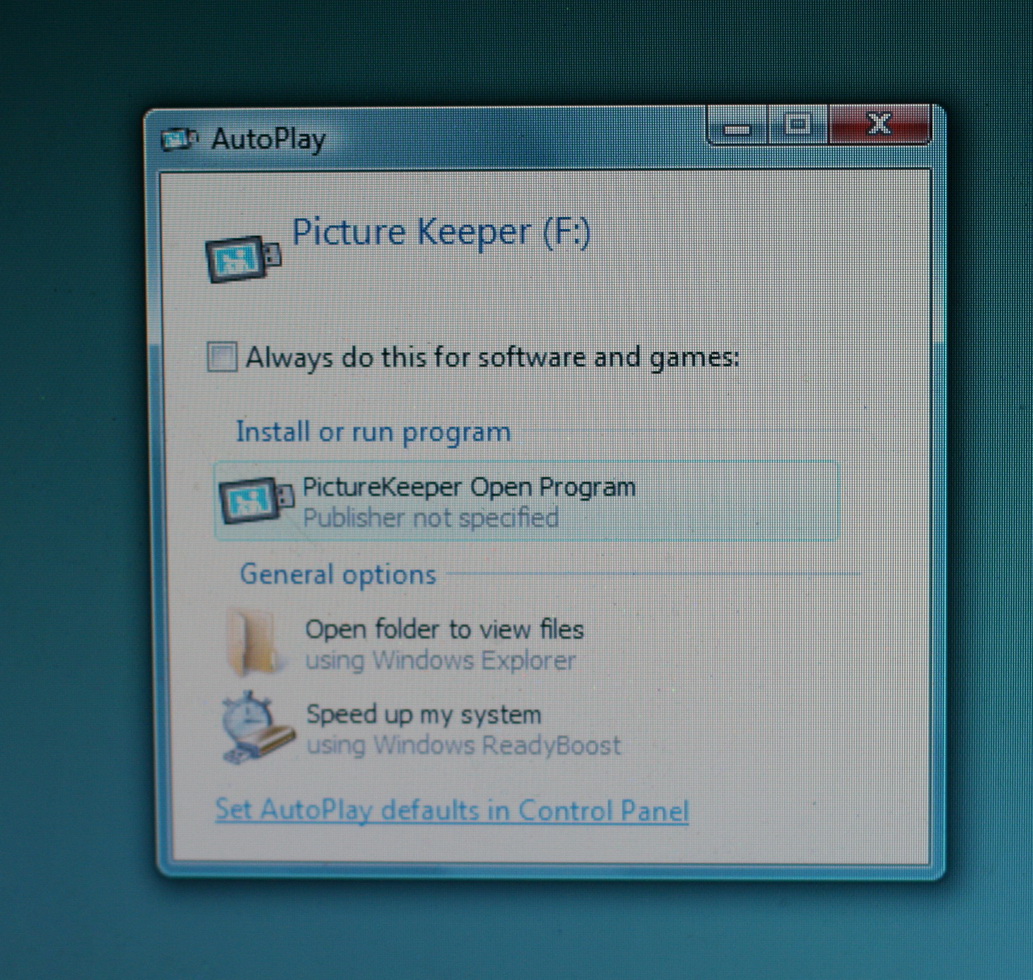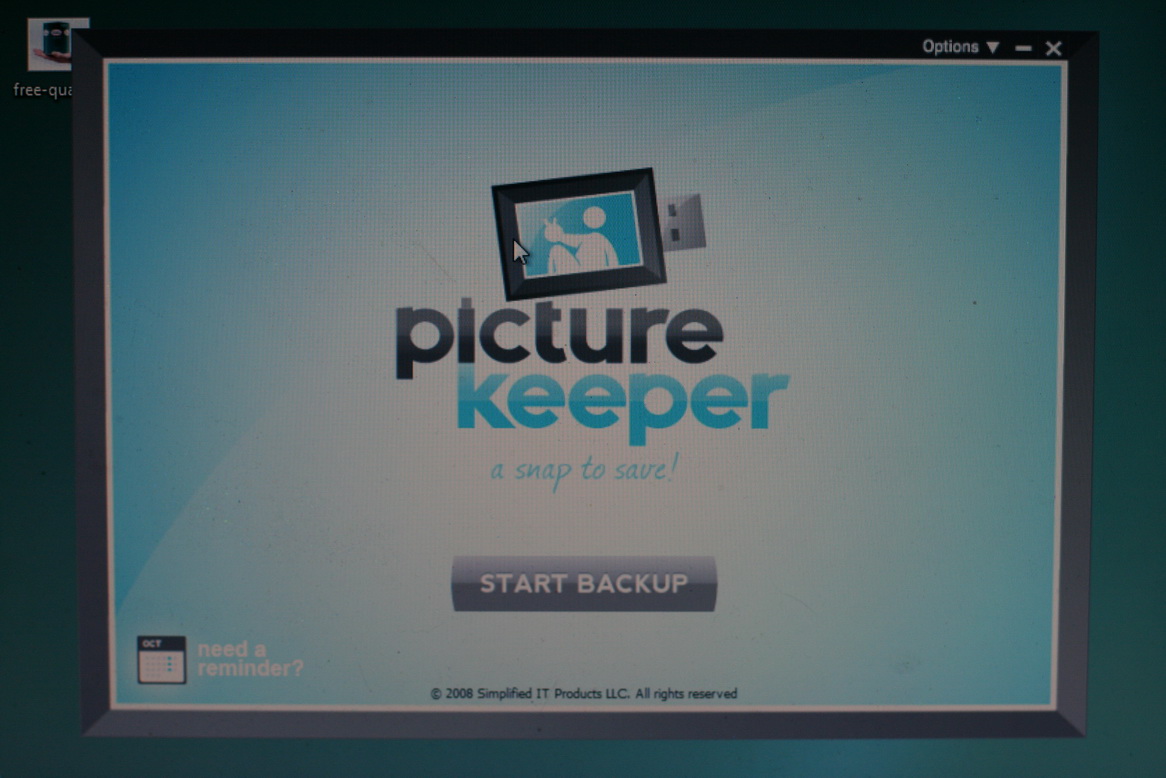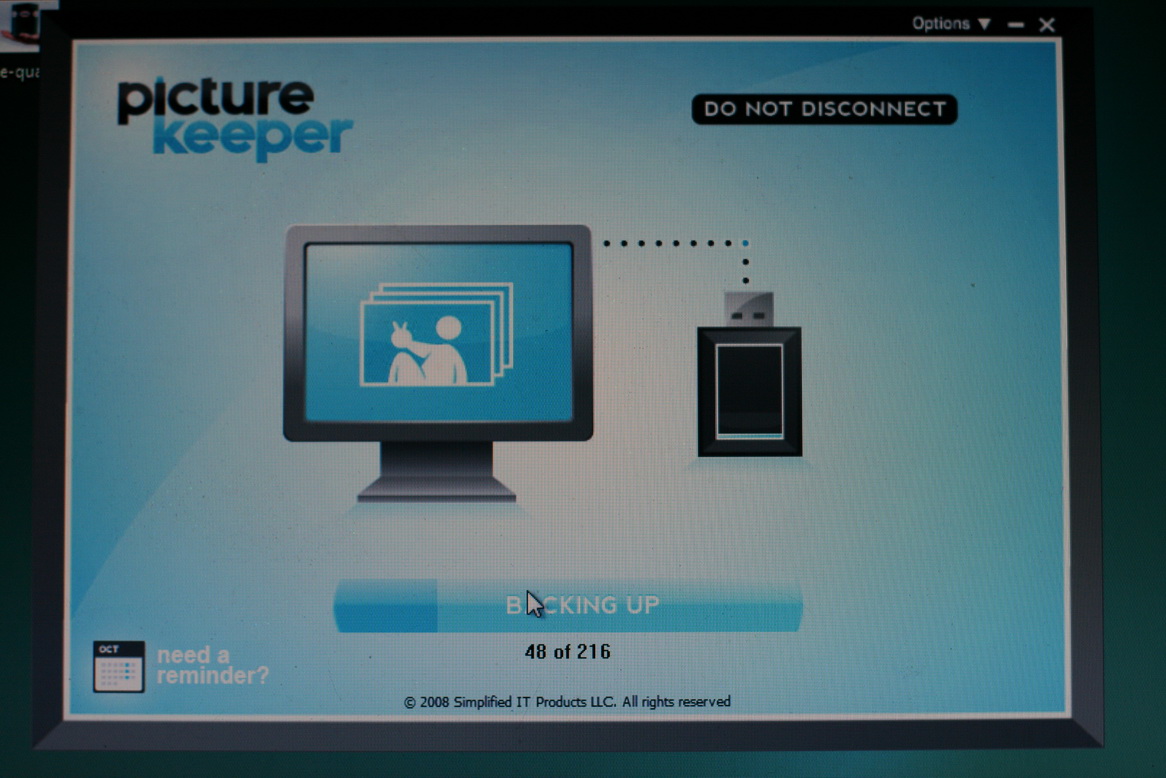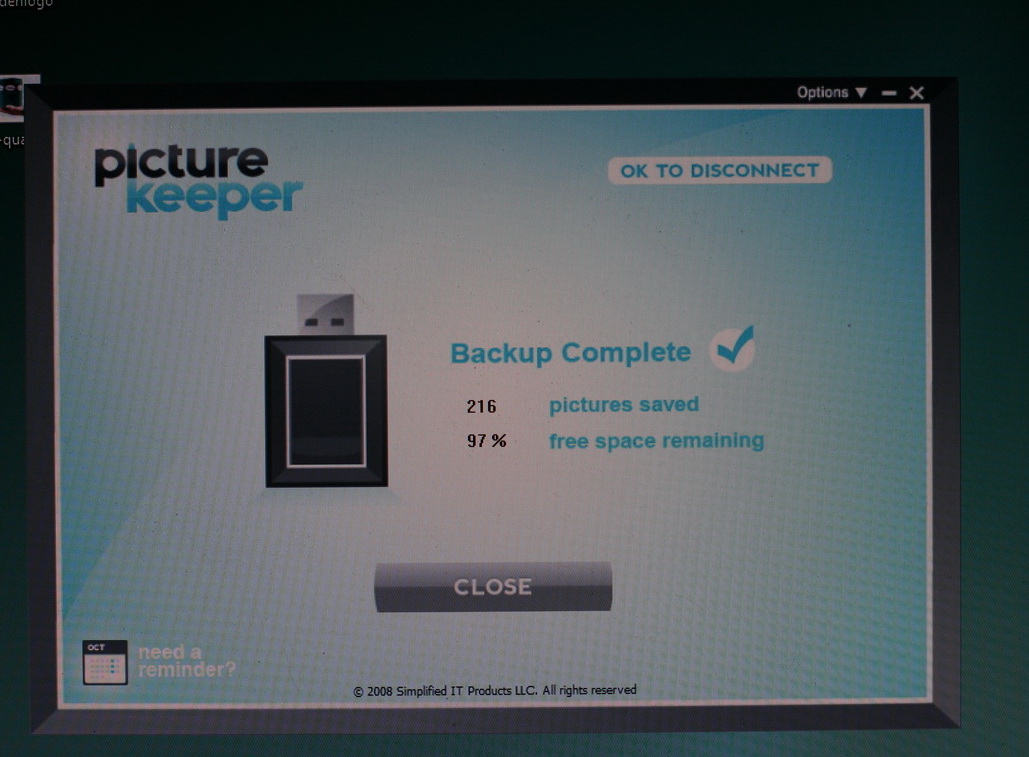 I was amazed at how fast all my files were backed up and how easy it was to use. Anything that can make my life easier, is a huge plus. The Picture Keeper is so awesome that Dr. Toy awarded them with a Best Vacation Product for Summer 2009 Award. I definitely give The Picture keeper the mom seal of approval and I applaud it's ease of use. It isn't a complicated gadget and yet it is worth a million dollars if something ever happens to your photos. Picture Keeper retails for 8GB ($39.99) and 16GB ($59.99).  The price is worth it when you consider how much it would be if you lost all of your photos!
Would you like to win a Picture Keeper of your very own??? DoubleBugs is giving away an 8GB Picture Keeper to one lucky reader.
THIS CONTEST IS CLOSED

Here's what you gotta do.
Mandatory
Leave me a comment and tell me one of your worst nightmares in losing your photos or why you think you might like to have a Picture Keeper.
For Additional Entries
You can tweet about this contest
Blog about this contest
Subscribe to my feed
Add me to twitter
Add me to your technorati favorites
Grab my button
Winners are Chosen Via Random.org
If Winner does not respond in 48 hours a new winner will be drawn
Contest Starts June 28, 2009, and Ends July 31, 2009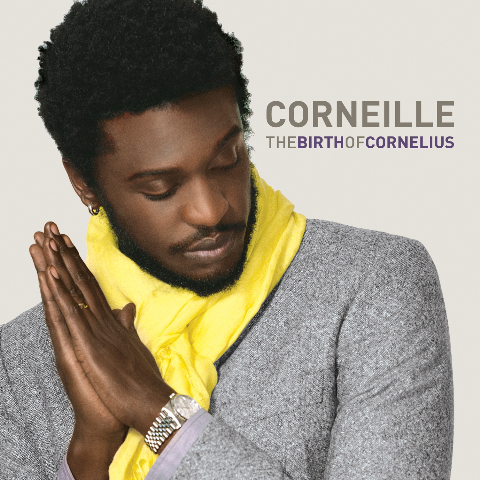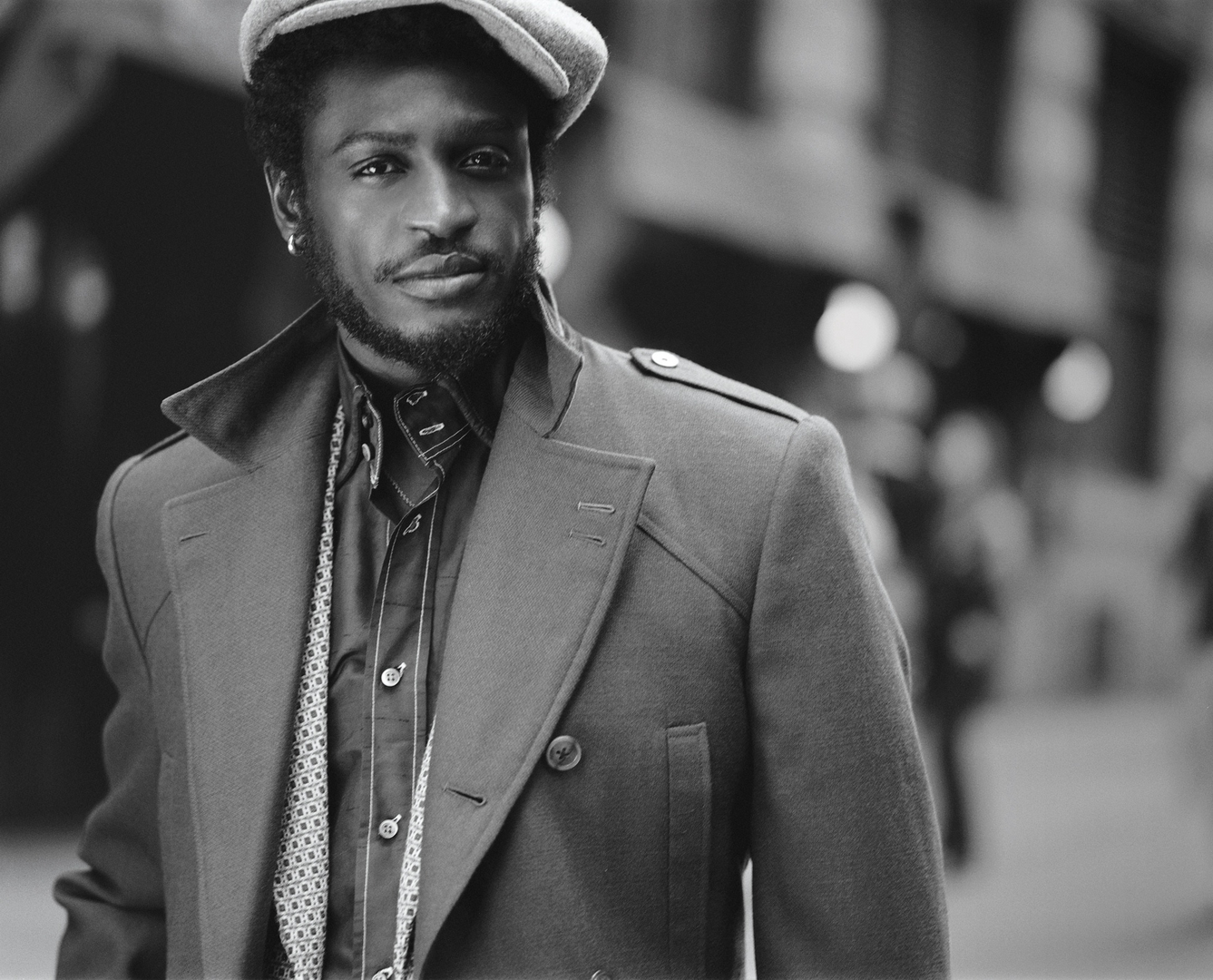 Corneille has a wonderful music style and I wasn't sure what type of music I would be listening to, I was pleasantly surprised.  Corneille is considered an R&B artist but is is more of the older style music.  It reminds me of the Motown style music but more of an easy listening with an upbeat tempo.   I already have acquired one of my very favorite songs on the album, and I am afraid that I am going to wear the track out on my cd!  All of the songs are wonderful but "Too Much Of Everything" is the one I love in particular.
I started listening to this cd after I had a particularly long and stressful day and, it was after the boys had gone to bed.   This is definitely a good way to relax and music has a tendency to lift our spirits, or calm them.   I can imagine popping this cd in, taking a hot bath, and ignoring the rest of the world for a while.   It just has a very relaxing tone to it and some good upbeat rhythms too.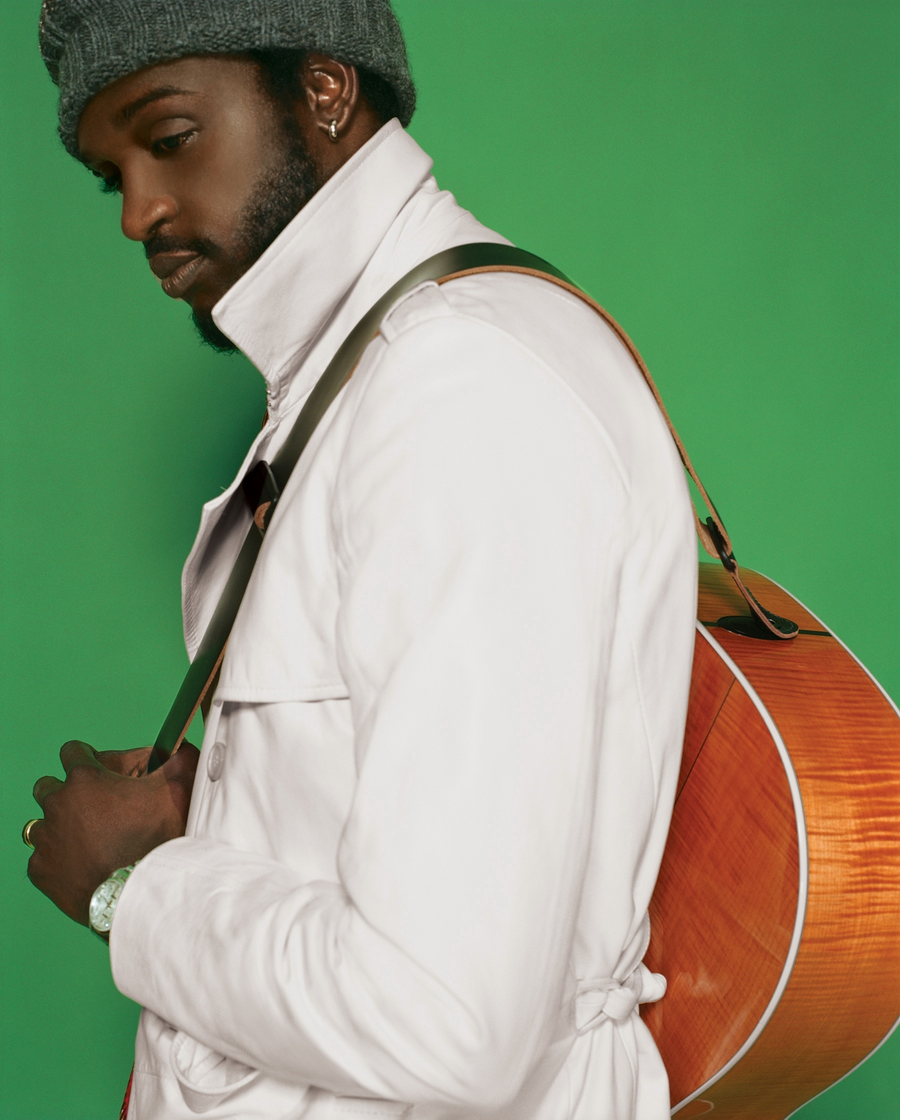 Even more amazing than the cd is Corneille's life story.  Corneille Nyungura was born in Fribourg, Germany, where his parents were students.  At the age of 6, his family returned to Rwanda.  As a boy he began to develop a great interest in music.  He credits his father for nuturing his interest in music by his encouragement and hearing him sing.  At age 16 he made his first actual recording and was selected as a finalist in a state run television station. Corneille's parents and other family members were killed in Rwanda during the genocide in 1994.  He managed to escape first to Kinshasa, and then to Germany where he was taken in by some family.  After three years in Germany he decided he didn't fit into their society or culture and moved to Montreal.  Music was a place where he could go and forget about the world, something that you can definitely feel when you listen to this cd.
Some of his musical influences are that of Michael Jackson, the ever so wonderful Stevie Wonder and Marvin Gaye.  Scoring a number of hits in Canada, France, and even Japan.  His new album "The Birth of Cornelius" is Corneille's Englinsh-language debut.
I think Corneille's story is an amazing one, and quickly reminds me that when things seem like they are bad that, there are much worse things in this world.  And to see someone like Corneille that has taken a tragic life and turned it into something positive and rewarding helps me to be thankful for the things I have.  When my days are stressful, I will definitely be putting Corneille's music on so I can escape and remind myself that I have a lot to be thankful for.
The Birth of Cornelius is currently in stores from Universal Motown. And to celebrate Corneille's wonderful life, the release of his record, and the 50th anniversary of Motown Records.  DoubleBugs would like to offer it's readers the chance to win one of Corneille's cd's!   We will be giving away 2 cd's to two lucky winners! You don't want to miss this chance.
THIS CONTEST IS NOW CLOSED

Here's What You Gotta Do
Leave me a comment tell me what music means to you, a story that you remember where music lifted your spirits, or what kind of music you love and why you would like to win this cd
Please leave me an email so I can contact you if you win
Winners are chosen at random via Random.org.
If Winner Does Not Respond Within 2 Days the prize is forfeited and donated!
For Additional Entries (please leave as an additional comment):
Tweet about this post
Follow me on Twitter
Blog about my contest and give me the link!
Put my badge on your sidebar
Deadline is March 30, 2009


I sheepishly admit to ignoring a lot of things about my car. I am usually almost too busy to even think about the little things like keeping the windows clean and changing my wiper blades.
What I didn't know was that you should be changing them at least twice a year! I don't think that mine have been changed on my car in over two years.
As you can imagine having a good set of wiper blades is extremely important in the winter months and especially in the rainy season. I know without a good set of wipers on my car I can barely see in the rain and especially when its raining at night.
Clear visibility while driving is extremely important and can improve reaction times in poor weather conditions. In fact, according to a report released in June 2008 by sciencedaily.com, nearly a quarter of all automobile accidents occur in rainy and wet weather so making sure you have properly working wiper blades is important to help avoid accidents in poor weather conditions. By routinely checking your wiper blades and performing safety checks on your car you can help increase your safety while driving during inclement weather.
Since winter is not quite over yet here are some tips to stay safe while driving in the rain, snow, slush and ice:
• Conduct a regular walk around checking your lights, antifreeze, windshield washer fluid and wiper blades regularly
• Ensure your tires are properly inflated and have sufficient tread
• As the temperature drops keep your gas tank at least half full; the extra gas reduces condensation that can plug your fuel line with ice and stall your engine in cooler weather
• Create an emergency pack; items like a blanket, first aid kit, snacks (I have snacks on hand anyway!), bottled water, an ice scraper, flashlight and a bag of kitty litter .

I just recently tried out the new RainX Latitude wipers , a bottle of Rain-X X-treme Clean glass and plastic renew-er, and a bottle of Rain-X Weatherbeater 2-in-1 Glass Cleaner + Rain Repellent and I must say that I love them. The RainX Latitude wiper blades have a contoured design that fits more snugly to your windshield to help remove snow, ice, and rain more effectively. They were a snap to put on which is a plus for car challenged people like me.
The 2-in-1 glass cleaner and rain repellent is excellent. I am amazed at what a difference it makes when it is raining outside. In stead of the rain completely coating my windshield it sort of just beads up and rolls off which helps a great deal for visibility when you are in a downpour.

RainX Latitude Wiper Blades
Easy Installation
For use on either originally installed standard or curved style wiper blades
Pre-installed with small j-hook adapter and contains multi-adapter for side pin, large j-hook and bayonet wiper blade arms
Rain-X Latitude® Version -2 wiper blades fit I&L (Insert & Lock) and PTB (Pinch Tab Button) wiper blade arms
High Performance Wipe
Contoured design applies even pressure along the entire blade length
Specially blended graphite coated rubber blade delivers the ultimate smooth, clean, chatter-free wipe
Built-in aerodynamic spoiler significantly reduces drag, noise and wind lift
Ice Resistant Frame
Prevents ice and snow build-up through the elimination of exposed metal components
Durable, rubber-encased substructure increases wiper flexibility and adherence to the windshield in harsh conditions
I will now be a little more vigilant in changing my wiper blades, because it makes such a difference!  I didn't think that just changing your wiper blades would make such a difference.  It's nice to be able to see out the window without feeling like the outside is a hall of mirrors.
THIS GIVEAWAY IS NOW CLOSED!  THANK YOU TO ALL WHO ENTERED

On behalf of My Blog Spark and DoubleBugs we would like to give you the chance to win  1 Rain-X Car Care Kit . The kit contains: 1 set of Rain-X Latitude (for your make and model of car), a bottle of Rain-X X-treme Clean glass and plastic renew-er, and a bottle of Rain-X Weatherbeater 2-in-1 Glass Cleaner + Rain Repellent.
Here's What You Gotta Do!
All you have to do is visit  RainX and find a useful tip and come back here and comment on what you learned along with how often you change your wiper blades.
Leave me an email so I have a way to contact you if you win
Winners are chosen at random via Random.org.
For Additional Entries (please leave as an additional comment):
Tweet about this post
Follow me on Twitter
Blog about my contest and give me the link!
Put my badge on your sidebar


That's all you gotta do!
Contest starts February 23, 2009 and Ends March  9, 2009
Good Luck to You!