As you know, I have been posting periodic updates on the room renovation we were doing in our basement.  We decided that we need the extra space for the boys to play in and for us to be able to be as a family without cluttering the upstairs with toys.  I knew that I wanted a good size room and carpeting, but was unsure about how everything would come together.
My Dad came and built the basic framework and put up the sheets of drywall,hung the doors, and my husband and I finished the rest.  This included taping and mudding the drywall (never doing this again), doing all the painting, and trim work.  Some of the finishing touches included our flooring and we decided that carpet would be the best option.  I have never gone through the actual process of going to a carpet store and picking out something for the house, so the experience was something new for me.
The folks over at RiteRug offered me the opportunity to come to one of their local stores and pick out something for our newly built room.  I walked in the door and was warmly greeted and we got right to work.  When you look around the store initially you become somewhat overwhelmed.  I have never seen so many choices for flooring in my life!  I know that RiteRug specializes in flooring but I expected a much smaller scale.  I chose something from their  popular California Berber line.  This type of carpet is basically sort of a low pile shag, but is great for your basement and high traffic areas.  My favorite part about the color and style we chose, is that it hides the dirt.  I am not saying I keep a dirty house, but with two three year olds it is nice getting a carpet that will hide the little things.  This makes it practical for a Mom like me, yet it is nice enough that is warms up the space.
The process from start fo finish was first class.  Ted, our sales guy, came over and measured our room, and when we were ready to put the carpet in, I gave him a call and within the week we had brand new carpet installed!  RiteRug even offers next day installation.  Jamie and Larry showed up to install the carpet on the following Friday, and of course I was completely excited that they were here and excited that I would be looking at something other than the gray steps and ugly concrete floor.
The whole process of installing carpet was interesting to watch.  There was lots of hammering but in just 2 short hours, our room was beautiful!  The installation crew (Jamie and Larry) from RiteRug did a stellar job on the install and answered all of our questions.  I cannot honestly say enough about how much I love the space now, and how happy we are with our new carpet from RiteRug.  If I had it to do again, RiteRug would be the first place that I would go to.  Their level of professionalism and customer service was more than I could have asked for and the product is living up to my expectations.  We are thrilled with the new look and thank Rite Rite for making this a very easy and hassle free experience.  We now have a wonderful space for our family to enjoy.
The Room Before We Started!

And Some Afters (We Love The New Carpet!)
RiteRug offers much more than carpeting as a way to spruce up your living space.  You can check out their featured sales on things like Hardwood Deep Cleaning, and some of their current sales on carpeting.
**RiteRug provided me with a portion of my overall square footage of carpet and installation free to me for review, the opinions expressed in this review are that of my own**
Sorry that I haven't been able to update on the room progress until now.  I have been so busy with weddings, and sick kids and running to the basement every chance I get to get the room ready for carpet.  My hands are spattered with paint as I type this and did I mention that I HATE drywall?
The pictures that I have here are when the initial finishing started, and a few pictures of the walls after they were completely mudded and the primer was on.  I am just now getting some color on the walls.  The next step will be to have Rite Rug in to install the carpet!  I cannot even begin to tell you how excited I am to get to that point so I can start arranging the room and getting the trim up.  I don't want to give too much of the room away until it is close to completion.  I underestimated the work required to do this yourself and I spend a lot of my free time down there.  I hope to not see another paint bucket for a long time  lol.  Three gallons of primer and two gallons of color so far have been put on the walls!  The ceiling won't go in until the Spring and it will be a drop ceiling (we hope, no clue about how it works) so not too much of a mess.
Sorry about some of the quality, my nice camera was in repair (grumble!)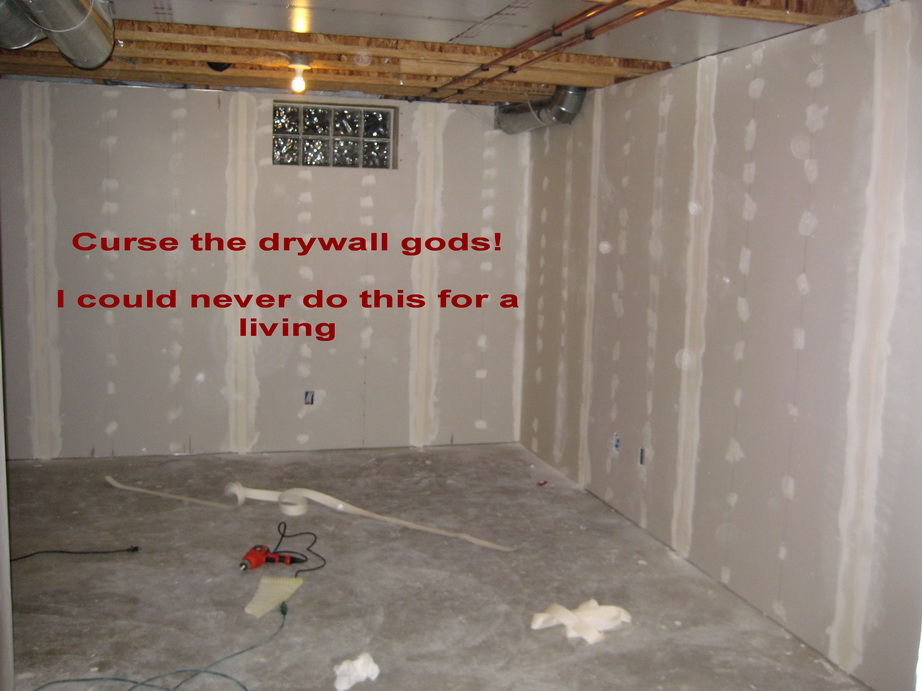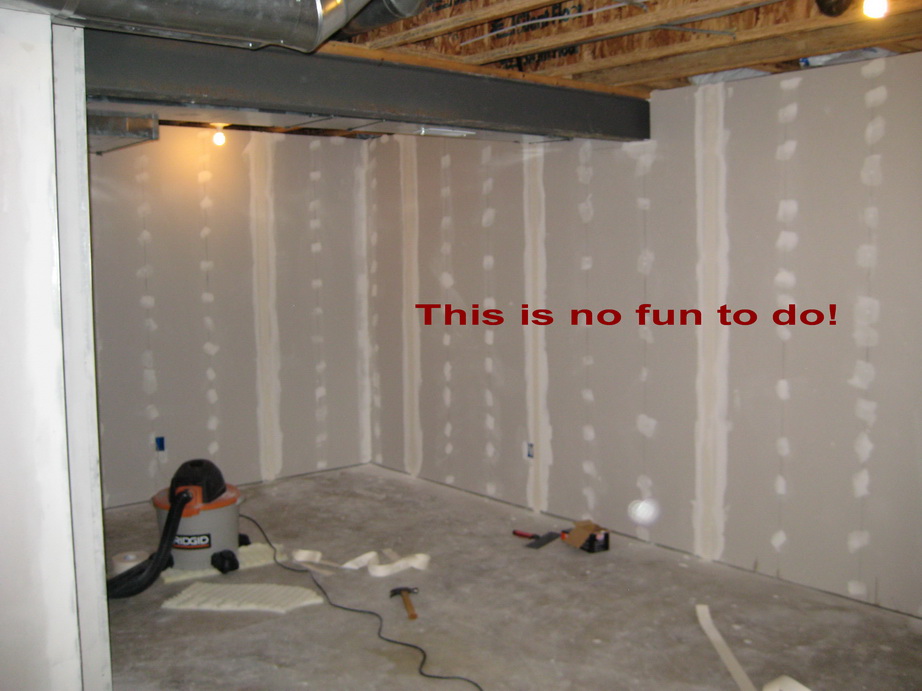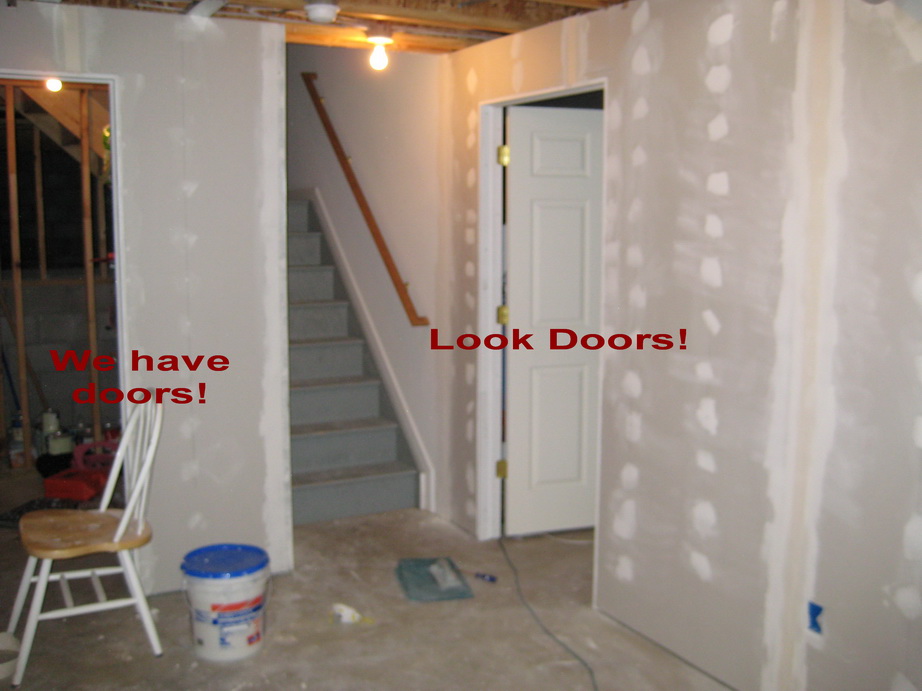 LOOK AT THE BEAUTIFUL WALLS!!!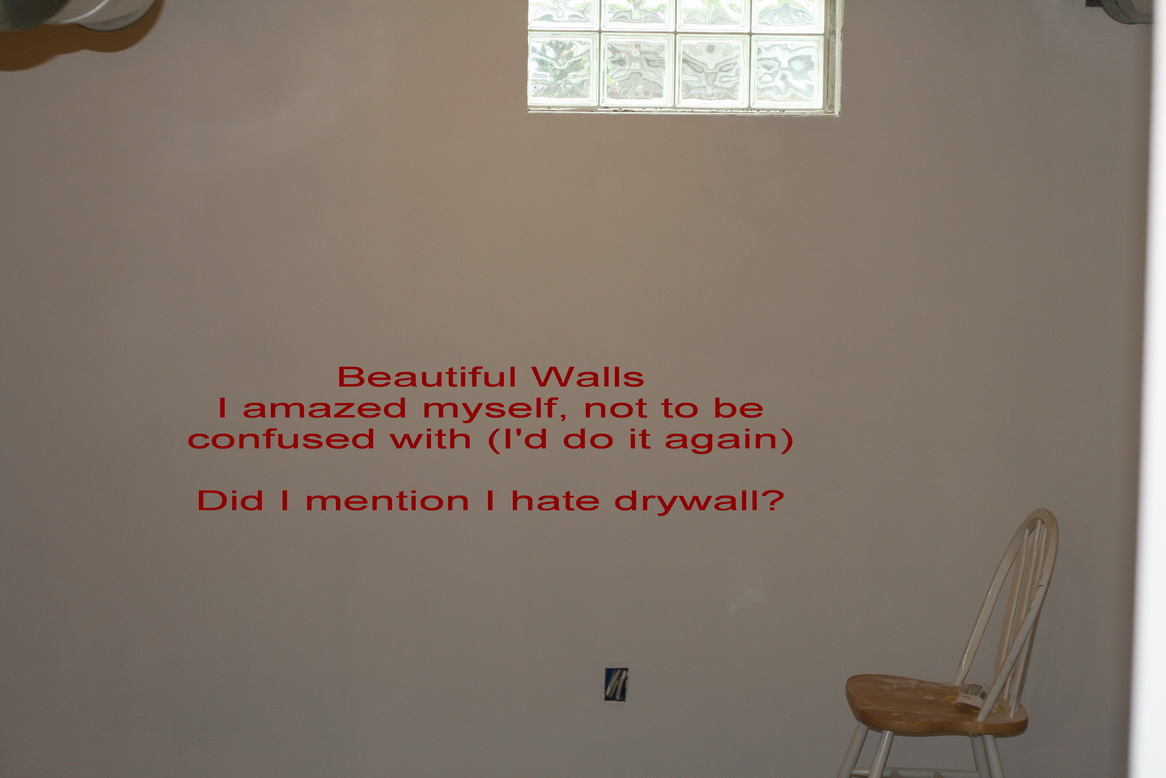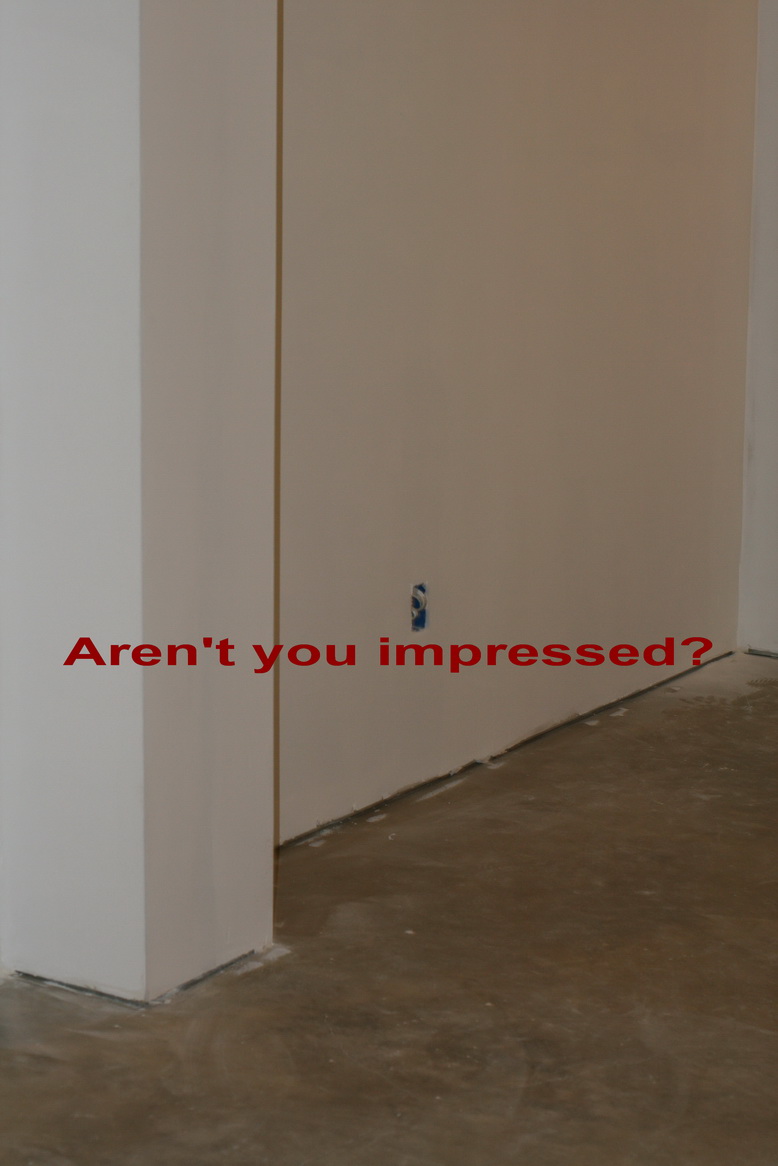 Off to paint more walls, more to come!