It has been a month that I have been using the Meaningful Beauty products that were sent to me. I have enjoyed using the products more than I thought I would. Before I started using them, I rarely used any skin care type products on my face. In fact, I rarely wear make-up. After using the Meaningful Beauty products, I have begun to like taking the time out to do something nice for my skin.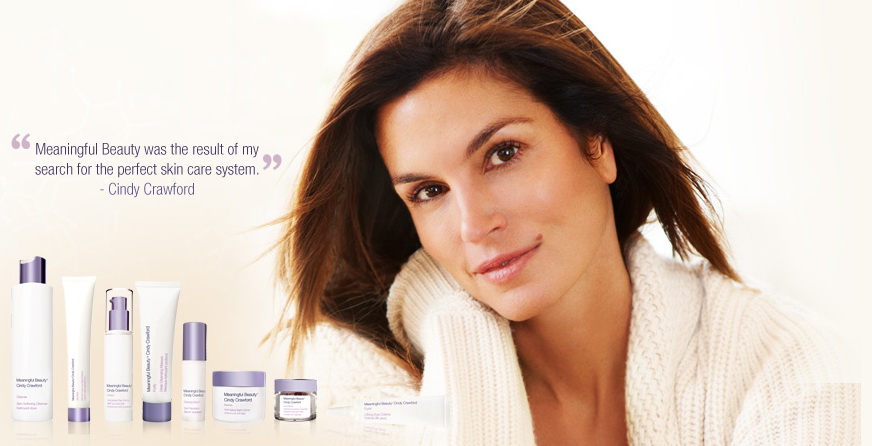 Normally, my daily routine, just involved brushing my hair and brushing my teeth then heading to the kitchen to get the boys breakfast. But since taking the Meaningful Beauty opportunity, I just let the boys brush their teeth while I wash my face and give my skin a little love in the morning. It doesn't take long at all, maybe an extra 5-10 minutes of my time. At first I was concerned about my skin reacting to new products because I have relatively sensitive skin, but everything felt great and I had no bothersome side effects. My skin has felt amazing since I have been using the Meaningful Beauty 5 step skin care program, and I have less break outs and my skin is softer. I also have these tiny capillary/veins on parts of my face that have seemed to diminish somewhat which may be because I am actually doing something to my skin other than soap and water in the shower! The eye cream has done a little bit to help with my permanent "no sleep for mommy" eye circles and I have a little more refreshed look to my face.
Overall, I am pleased with the Meaningful Beauty skin care regimen and I like taking the extra moments to do something for myself. I also like that the pricing for the the 5 step program is reasonable at around $40, plus a little goes a long way! I passed on my extra kit to my mom, and she loves it. I plan to keep Meaningful Beauty in mind for the future to put together mini spa baskets for some of my friends.
"I wrote this review while participating in a test drive campaign by Mom Central Consulting on behalf of Meaningful Beauty and received a 5-step treatment kit to facilitate my review, a second 5-step treatment kit to giveaway, and a promotional item to thank me for taking the time to participate."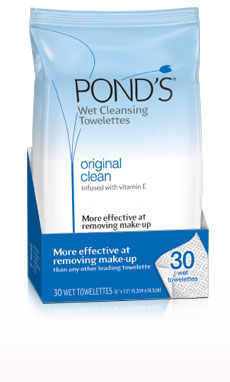 As a busy Mom, I am always looking for things that are more convenient and that saves time in my daily routine.  I have never been a huge make-up wearer but I do appreciate having a clean face, without having to do too much to myself.  I am always looking for new products that I can use that take less time.
I was given the opportunity to try out Ponds Cleansing Towelettes.  I usually hesitant to try out too many new things on my skin, since I have relatively sensitive skin, I have a tendency to steer clear of any harsh skin cleaning products.  So I opened up my package and it is resealable which is nice, which also means you can keep them handy in your purse as well.  I had just mowed the lawn and was all sweaty and felt grimy and used one of the towelettes and I could see the dirt that it  has removed from my face.
About Ponds Cleansing Towelettes
Pond's Towelettes remove up to 40% more dirt, oil and make up than other leading products and even waterproof mascara. The Pond's exclusive cleansing system, with oil and dirt trapping fibers, works like a magnet to lift away impurities in one portable step even without the use of water. Available in three varieties, Pond's Towelettes are hypoallergenic and dermatologist tested for a gentle Pond's Superior Clean, guaranteed or your money back!
What do they do?
The most gentle of Pond's towelettes, these combine gentle deep cleaning with effective make-up removal to whisk away dirt and make-up in one easy, portable step.
How do they work?
Pond's original clean sweep towelettes gently clean and remove make-up (including waterproof make-up) and impurities.
Triple Tea Antioxidant Complex

Chamomile

Vitamin E

Essential features:
Ophthalmologist and dermatologist tested
Hypoallergenic
Alcohol free
Safe for contact lens wearers
Ideal for all skin types, including sensitive skin
What I love about Ponds Cleansing Towelettes is that they are convenient, and I have no soap bottles, or washcloth and I can just pull one directly out of the package and clan my face.  The only thing I wasn't particularly crazy about was the strong flowery scent.  I would like to see one that had no fragrance at all.  I love that my skin feels clean afterward and would definitely use them again.
*This product was provided to me for free to try for review*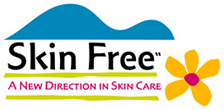 Both me and my boys have very sensitive skin, so much so that I have had to change the laundry detergent that I use in order to prevent theri skin from breaking out.  In the winter months I am combating eczema, which almost never seems to go away on its own.  I always have a hard time finding skin care related products that I can actually use, because half of them are loaded with fragrances and a at on of other stuff that can wreak havoc on sensitive skin types.
I received several wonderful items from Skin Free to review and I was a little apprehensive to try them out at first.  I received the Extra Moisturizing Liquid Soap, The Sweet and Smooth Sugar Scrub, and the Niaouli Scrub for Blemish Prone Skin.
The Sweeet and Smooth Sugar Scrub is absolutely fabulous on dry skin.  I used it in the bath on my elbows, knees, and on my face and I couldn't believe how good my skin felt afterward and not only that I didn't have any weird reactions to it, so that is always a plus.  You can use it sparingly on your face to slough away all the dead skin cells to leave your face with a nice clean glow. It has nothing weird in it either and when they say its fragrance free they mean it!  You know how some thing tout that it's fragrance free and it still has an odor to it, well this stuff doesn't and I like that.
The Extra Moisturizing Liquid Soap, is fabulous if you have your hands in the water often like I do when cleaning and working with my kids.  My hands tend to dry out in the colder months and sometimes in the warmer weather, so washing with this soap totally eliminated the feeling of having to put lotion on after I washed my hands.  I love the fact that all the moisturizing I need is in my soap and I don't feel like Im washing away essential oils in my skin when this is there to replenish it.  The package said that it is used for your face and rest of your body, but it can also be used as a good hand soap!
And for my blemish prone skin, I tried out the Niaouli Scrub and I love it!  Once a month it is inevitable that I get acne and here I was Naive to think that it would go away as an adult.  The Niaouli Scrub gently washed and cleans your face and helps to remove those excess oils that are culprit in causing acne.  Skin Free products felt so good on my sensitive skin and all of their prices are reasonable.  I know there are skin care products out there that claim to be free of irritants and hypoallergenic and my skin would beg to differ, but with Skin Free, I had no issues at all. This is some really great stuff if you or your family has skin issues or eczema prone skin.

Would you like to try Skin Free for yourself?
Skin Free and DoubleBugs would like to offer you the chance to try out Skin Free products with a $30 gift certificate!
Here's What You Gotta Do!
*Mandatory Entry Requirement* All you have to do is visit their site and come back here and tell us about your skin woes and what products you would like to try from Skin Free!
Additional Entries
Tweet About thie giveaway
Add me to your Twitter
Blog about this Giveaway
Add Me to Your Technorati favorites
Blog about this Giveaway and Link to Me
Contest Starts July 17, 2009 and Ends August 12, 2009
Good Luck!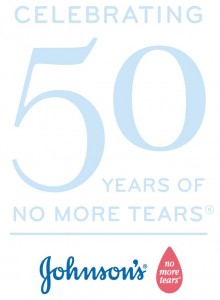 Johnson's has been around for 50 years! My mom used it on me when I was a baby, and now I use it all the time for my boys. Some of my favorites our their Head -to- Toe Wash and the Toddler Bedtime Wash. I love to sit and read to the boys and smell their hair after their baths. At any given time we have a bottle of Johnson's shampoo, and wash on the tub.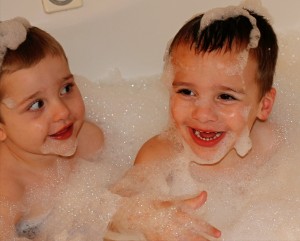 Mom Central and Johnson's offered me a terrific opportunity to try out two new products from Johnson's. To help celebrate its 50th Anniversary and continue the tradition of fun in the tub, Johnson's has introduced two new additions to their already wonderful line of bath products, HEAD-TO-TOE Foaming Wash and Johnson's Baby Bubble Bath & Wash. I have always loved their bubble bath and head- to- toe wash and it is gentle on their skin. The new foaming wash is really nice to get a good lather, and the boys love taking the suds from the bubble bath and putting it on each others heads. They just giggle and laugh the entire time.
Johnson's also offers a great resource for parents called the Johnson's Baby Channel where moms like us can submit videos and share advice with other moms. This is a terrific way to get helpful hints and tips from moms like you and me and hopefully offer a different perspective.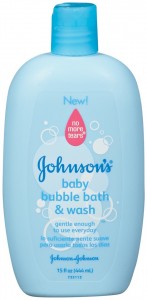 Grounded in extensive scientific research, the NO MORE TEARS® formula found in JOHNSON'S® Baby Bubble Bath & Wash is ultra mild, resulting in a gentle cleansing product specially designed for baby's unique skin, hair and eye needs. JOHNSON'S® Baby Bubble Bath & Wash is soap-free, dye-free, hypoallergenic, dermatologist and pediatrician tested, and is gentle enough for the newest babies.
JOHNSON'S® BABY BUBBLE BATH & WASH
• JOHNSON'S® is the #1 choice of hospitals
• NO MORE TEARS® formula is as gentle to the eyes as pure water
• Soap-free, dye-free, hypoallergenic and allergy tested Dermatologist and pediatrician tested
• Rinses easily
• Gentle enough to use everyday for bothgirls and boys
• Suggested Retail Price: $3.99 for 15oz
Cleansing with JOHNSON'S® HEAD-TO-TOE® Foaming Wash is proven to be as mild as cleansing with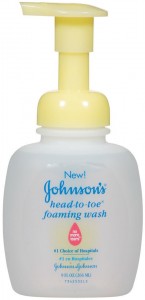 water alone. Over time, baby soaps can cause dry skin or irritation. JOHNSON'S® HEAD-TO-TOE® Foaming Wash is designed to help avoid these common skin problems before they start by gently gliding across the skin's surface, effectively cleansing without causing irritation. Grounded in extensive scientific research, JOHNSON'S® HEAD-TO-TOE Foaming Wash is soap-free, dye-free, hypoallergenic and dermatologist tested, and is specially designed for newborns. JOHNSON'S® HEAD-TO-TOE® Foaming Wash is a mild and well-tolerated skin cleanser.
JOHNSON'S® HEAD-TO-TOE® FOAMING WASH
• JOHNSON'S® is the #1 choice of hospitals
• Designed to help avoid common skin problems caused by cleansing before they start
• NO MORE TEARS® formula is as gentle as water alone to the skin
• Designed to be gentle enough for newborns
• Soap-free, dye-free, hypoallergenic and allergy- and dermatologist-tested
• Rinses easily
• Suggested Retail Price: $4.89 for 9oz
I am going to miss when my little ones are no longer babies, but all I have to do is wash their hair with Johnson's Head-To-Toe wash and be able to hang onto these memories for a little longer. Thank you Johnson's For 50 years of wonderful products and here is to 50 more.