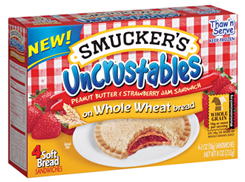 I can remember when I was a kid and one of my most favorite meals was a peanut butter and jelly sandwich and chicken noodle soup.  I know this may sound a little quirky but I loved to actually dip my sandwich in the soup and I still do it to this day.  I was also the kid that always peeled of the crust on my sandwiches and both of my boys are the same way.
We are huge fans of Smucker's Uncrustables, and when we were given the opportunity to try their new whole wheat sandwiches, I was happy to try this already great product but with the healthier choice of wheat bread.  This makes buying this classic even more appealing as a mom and the boys loved them and didn't even notice the difference.  I love Uncrustables because you just take them out of the freezer and let them thaw for about twenty to thirty minutes and they are ready to eat.  They are so yummy, they have no crusts, and the bread that they use is so soft, just like it was freshly baked.  I find myself sneaking a few for myself and I love them with my favorite chicken noodle soup.   They are perfect for lunches, and even as an afternoon snack.
Each sandwich is low in sugar, about 10g for the strawberry and peanut butter on whole wheat, and  you would never know it because taste is definitely lacking in these perfectly round sandwiches.  They are perfect when you are on the go and you want the kids to get that little extra bit of protein and you want something you know they will eat.  I always keep a few of them on hand for trips to the park or when I know we are going to be out and about.  Smucker's Uncrustables make a perfect snack for the kids and for big kids too!
"I wrote this review while participating in a blog tour campaign by Mom Central on behalf of Smucker's Uncrustables and received a sample to facilitate my candid review. In addition, Mom Central sent me a gift card to thank me for taking the time to participate."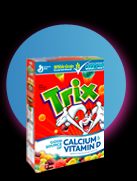 Being a first time parent, I am almost always concerned about my two little guys and their health.  From a very early age, I have tried to influence healthy food choices and make sure that they are getting a fairly balanced diet.   If I buy something at the grocery store, I am always reading the labels, to see what they are getting in their food.  We are a cereal loving family here, because it is something that is simple to make and the kids just love it.   It is a perfect snack too in the afternoon after naps, and it doesn't have to be served with milk.  My two love to have their own bowl, their cup of juice, and watch one of their favorite shows.
Recently the importance of Vitamin D in the diet has been in the news, and the importance of calcium is so important in bone growth and development.  Vitamin D is also important in bone growth and is now suggested to be a key factor in healthy lung function.   Approximately 75% of kids today don't even get the required amount of Calcium and Vitamin D in their diets, and that is an astounding figure!   The American Academy of Pediatrics has even upped the amount of Vitamin D your child should be getting to 400IU.
The good news is, that it isn't that hard to incorporate these nutrients in your child's diet.  Parents can easily get both vitamin D and Calcium in milk and many juices and now in fortified cereals.  All General Mills Big G kid cereals including Kix, Lucky Charms, Cocoa Puffs, Trix, Cinnamon Toast Crunch, and more.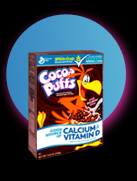 This is great news for our family because we are huge Lucky Charms, and Cocoa Puffs fans.  The boys think they have gone to heaven when I give them these cereals in their snack bowls!  Additionally, a recent report in a leading consumer magazine ranked kid cereals by nutritional content, and all nine General Mills Big G kid cereals included in the report were ranked in the top half. All Big G kid cereals have at least eight grams of whole grain per serving (at least 48 grams are recommended daily), and all have 12 grams or less of sugar per serving.  This is awesome, and you can feel good about giving them something they love and not worry about them getting a ton of sugar.
Cereal is one of the most nutritious breakfast options a kid can eat. Most cereals have about 100 – 130 calories per serving and provide at least 10 key nutrients. And, ready-to-eat cereal is the number one source of whole grain in American diets.  If there is one food that your child would eat than at least you know that it has nutritional value.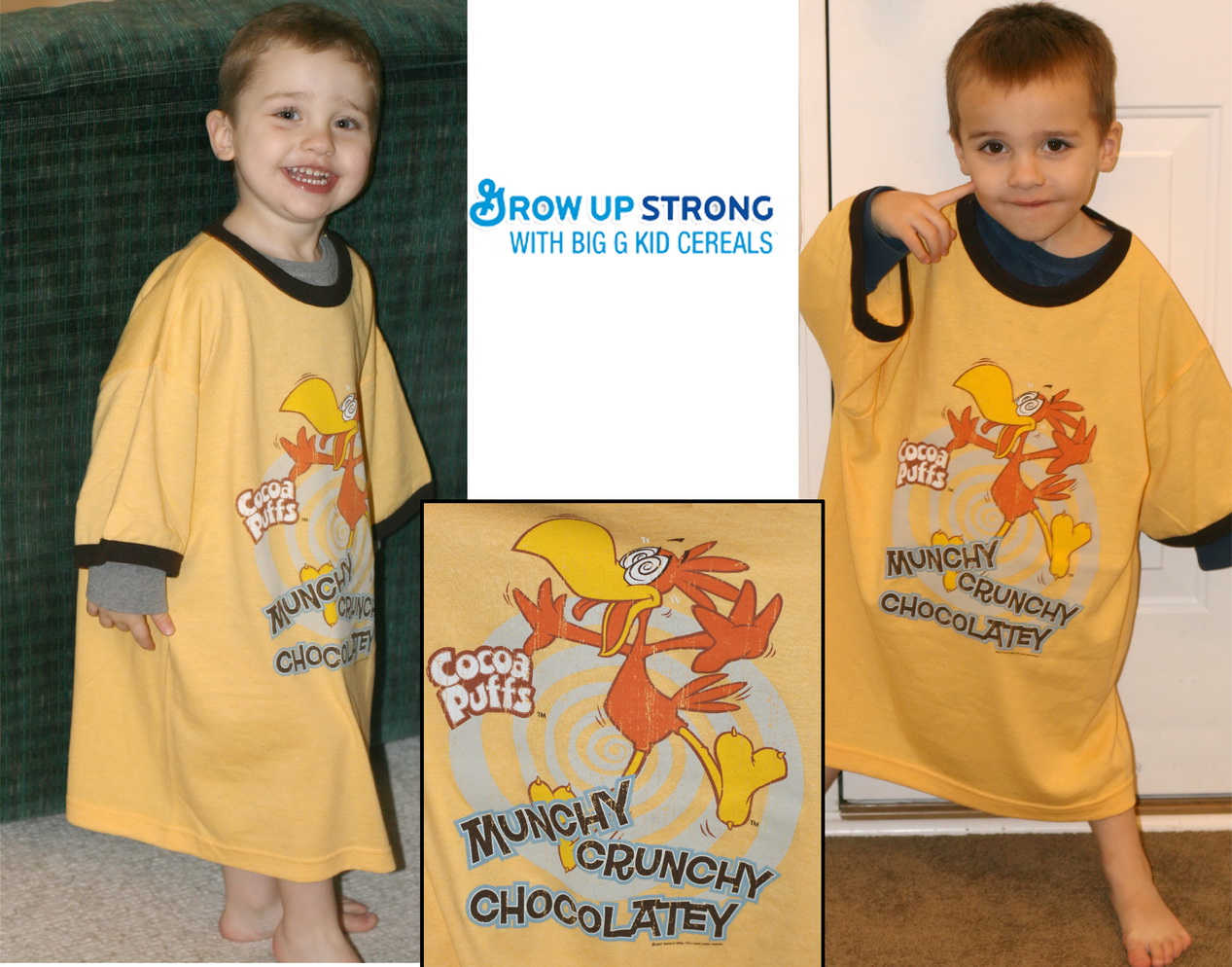 This Giveaway Is Now Closed
As part of a healthy diet and the love of  Big G cereal (especially Cocoa Puffs), DoubleBugs  is giving away these totally adorable and way cool Cocoa Puffs vintage ringer Ts (child's sz large) to 9 lucky winners.
Here's all you gotta do!
Leave me a comment on what your child's favorite Big G cereal is, and yours too.
Please leave me an email so I can contact you if you win
Winners are chosen at random via Random.org.
If Winner Does Not Respond Within 2 Days the prize is forfeited and donated!
For Additional Entries (please leave as an additional comment):
Tweet about this post
Follow me on Twitter
Blog about my contest and give me the link!
Put my badge on your sidebar


That's all you gotta do!
Contest Starts February 25, 2009 and Ends March 11, 2009
Good Luck!

My two just love fresh fruit of just about any kind.   They are huge fans of anything that they can hold in their little hands, and sort of have their own personal snack because sharing with your twin brother is a difficult thing to do.
We received a few packages of Dole's Fruit Parfaits to try, and let me just tell you, that there aren't any left in the house! Dole Fruit Parfaits are a perfect combination of fresh fruit with a layer of light creme.  They are just the right size for a snack or to put in your child's lunches, and offer a healthier alternative to sugary snacks.  If I am craving something sweet, this has just enough to satisfy that craving without overdoing it.  Dole Fruit Parfaits are also excellent in the winter months when some of the seasonal fruits are a little more scarce.   Both of my boys ate these with great relish and the Peaches and Creme Parfait was their absolute favorite flavor.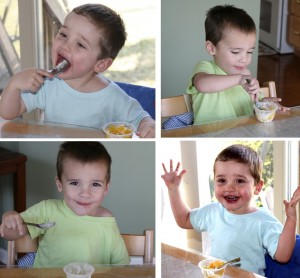 For me, I like the fact that they are convenient, and an easy snack when things are hectic.   It is always nice to just have something relatively quick and healthy on hand.  They are just the right size for little hands to hold on to, and a perfect treat for kids, because they think they are getting something special.  We will definitely be keeping a stash of these in the fridge.
You can find Dole Fruit Parfaits in your grocery store usually with all the canned fruits and jarred applesauce.  They don't need to be refrigerated so you can store them in the pantry until you are ready to eat them.  We like ours really cold but you don't have to refrigerate them.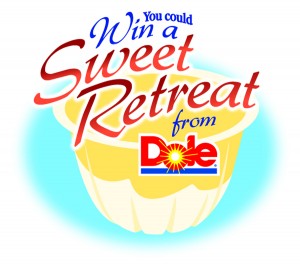 Dole is also running a really great contest Called The Dole Fruit Parfait Sweet Retreat Contest!

Here is how the "DOLE Fruit Parfait Sweet Retreat Contest" works:
From now until March 14, 2009, take a picture of your DOLE Parfait Moment at home, at work, at play, with your friends or on-the-go.  Upload your photo and caption to www.DoleSweetRetreat.com.  A panel of judges will choose the best picture in each category.
The Grand Prize is a three day/ two night luxury Spa Retreat Getaway for two at the 27-acre Hyatt Regency Scottsdale Resort and Spa at Gainey Ranch in Scottsdale, AZ., set amidst flowering cactus and framed against the majestic McDowell Mountains.  Here, breathtaking desert vistas blend with intriguing Native American culture and pampering amenities. The prize includes airfare, accommodations, $500 gift certificate to the Avania Spa, a one-of-a-kind, holistic, total-immersion experience that is synchronized with the body's changing rhythms and requirements. Also included in the prize is a $750 VISA gift card to cover your meals and other hotel amenities you feel like taking advantage of including, championship golf, water playground or tennis.
Five First Prize winners will receive a Homedics Personal Massage Lounger valued at $100 to have a relaxing moment anytime in their home.
It is just that simple, and best of all you get to enjoy a fruit parfait while dreaming of a luxury resort getaway.  Just picture yourself after a long stressful week relaxing to a massage with beautiful scenery, this every mom's dream.