Having kids, equals a big mess, no matter how you think about it, they are not the neatest and cleanest creatures on the planet.  Inevitably, there is always a stain that pops up on their clothes, and it never fails to be the newest shirt that I just bought for them.   Since, I have boys, there is always dirt involved and one of my boys has the habit of wiping his mouth on his shoulder/sleeve which drives me crazy.  By the time I do laundry, it looks like they have been wallowing in the mud for the past week.
I am always doing battle with one stain or another on our clothes, whether it is grape juice stain, spaghetti sauce, grease stain or ink, I am usually always trying something new to get them out.  In addition, myself and my children have pretty sensitive skin and I am usually very cautious and particular about the detergents, I use to wash our clothes.
I am always on the look out to try things that actually work on some of the more set in stains or the surprise stains that pop up in the weekly laundry.  I recently had the opportunity to try Shout Free, and shout products have always been one of my mom's favorite go to stain removers, so I was interested in giving it a try.  Shout free, appealed to me because  it is dye free, fragrance free, has 99% natural ingredients, and is safe for all your washables.  This way, I don't have to worry as much about potential skin reactions, and use the same great product to get stains out of our clothes.
The handy spray bottle allows you to effectively cover the stain and cover a wide area of the stain quickly, so you can toss your clothes right in.   So for a week, I served up juices, and spaghetti to put it to the test.  Shout Free took out a grape juice stain, as well as, spaghetti sauce.  It works best if you treat the stain as soon as you notice it or when it happens.   Overall, I was pleased with it, and it doesn't seem to bother our skin.  The nice part is that I can save some of our clothes that would otherwise be ruined by a permanent stain.  There is nothing more frustrating then getting new clothes for the boys and not being able to remove a stain.
Currently Shout is offering downloadable coupons on their Facebook page for Shout Free and Color Catcher with Oxi!  And to get your stain fighting off to a good start DoubleBugs is giving away a free sample of Shout Free, to two lucky readers.
Here's What You Gotta Do
Subscribe to my RSS Feed, and Become a fan on the Shout Facebook Page
Extra Entries
Tweet about this giveaway and provide the link to your tweet
Follow Me On Twitter
Contest starts December 27, 2011, and Ends Jan 2, 2011
Open To US residents only

Good Luck!!!
*winners need to respond within 24 hours of being contacted otherwise the prize is forfeited*

"I wrote this review while participating in a campaign by Mom Central Consulting on behalf of Shout and received a product sample to facilitate my review and a promotional item to thank me for taking the time to participate."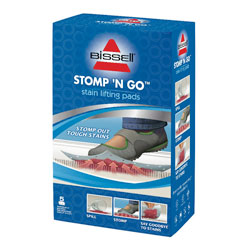 If you have kids, pets and carpet in your home, then you are bound to be cleaning up some sort of stain or spill from it.  I have had our carpets professionally cleaned numerous times, and it looks great for a few weeks then slowly, stains begin to reappear.  Often times they are just stains that seem to resurface.
Recently, I was given the chance to review a new product by Bissel, called Stomp 'N Go.  Naturally, this peaked my interest for two reasons.   Firstly, it sounded way too easy and simple of a product, and two I am constantly looking for "at the ready" carpet stain removal products, that I can use to get a stain that is fresh or one that I have come across.  In our home there are our most common stains, like dirt, spilled juice, always the blue candy or popsicle, and usually the cat that inevitably throws up.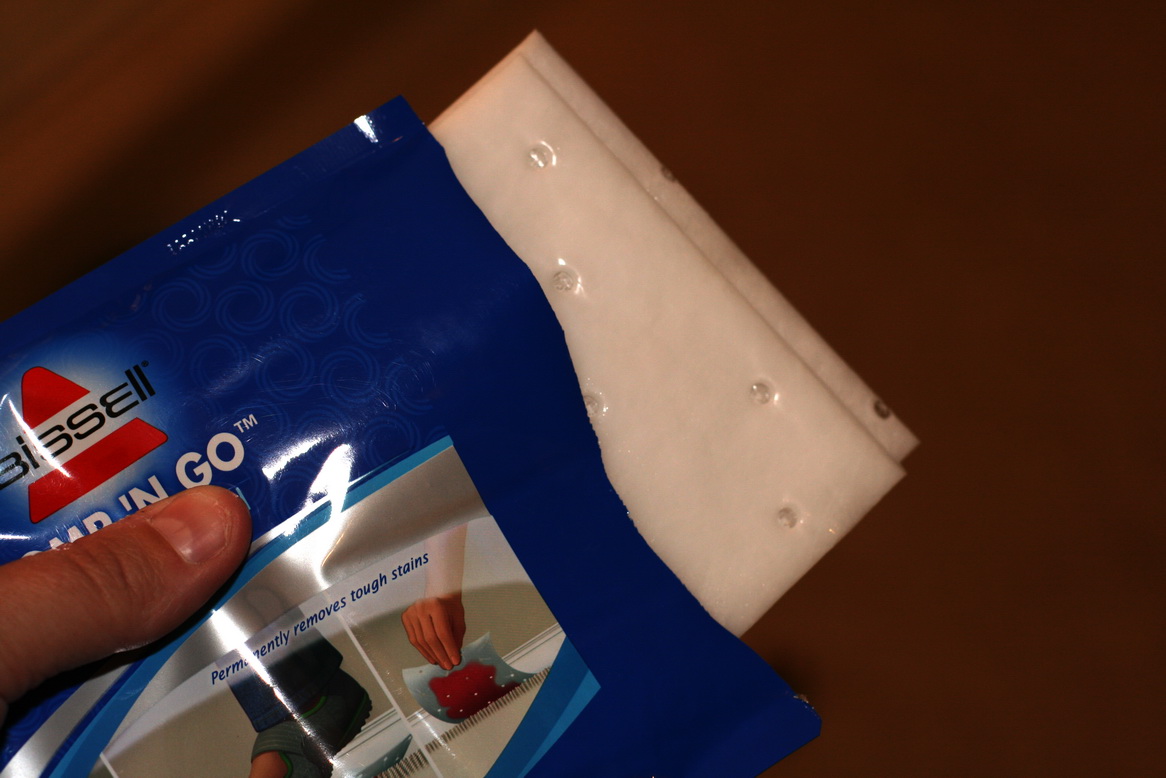 About Bissel Stomp 'N Go
BISSELL® Stomp 'N Go®

Innovative one-of-a-kind pad cleans carpet messes with just one STOMP

Forget about scrubbing out spots and stains on carpet, stomp them out! BISSELL's new Stomp 'N Go® stain lifting pad is unlike any cleaning product available. Using a powerful oxy-based formula, the pre-moistened pads make cleaning easy and fun. Simply place the pad on a spot or stain and stomp on it.  Upon stomp, the pad begins working, lifting and removing the mess. You can actually see the stain being absorbed into the pad. There is no need for scrubbing or using other cleaning tools – the pad does all the work.

Stomp 'N Go® pads are great for permanently cleaning tough set in stains like red wine, food, fruit juice, coffee/tea, pet messes, blood, mud/dirt and more. The pads leave carpet smelling fresh and come in convenient, individually wrapped packages.

The stain lifting pads can also be used on rugs. Additional features and benefits include:

Pads are portable and safe for use on all carpets including nylon, wool and stain resistant carpet
Spots and stains are gone in about 30-minutes; tough stains may take up to 24 hours

No scrubbing or manual work required

BISSELL Stomp 'N Go® pads are currently available at Kmart, grocery stores and select Wal-Mart stores for $4.99. Each package contains five individually wrapped pads.
I was  particularly interested in trying Bissel Stomp 'N Go on this one stain that I have been wandering by in the main traffic area of our living room.  It was driving me crazy, and I had not yet had the time to get out my little handheld spot removing machine, because I didn't think anything else would get it out.
The not so lovely stain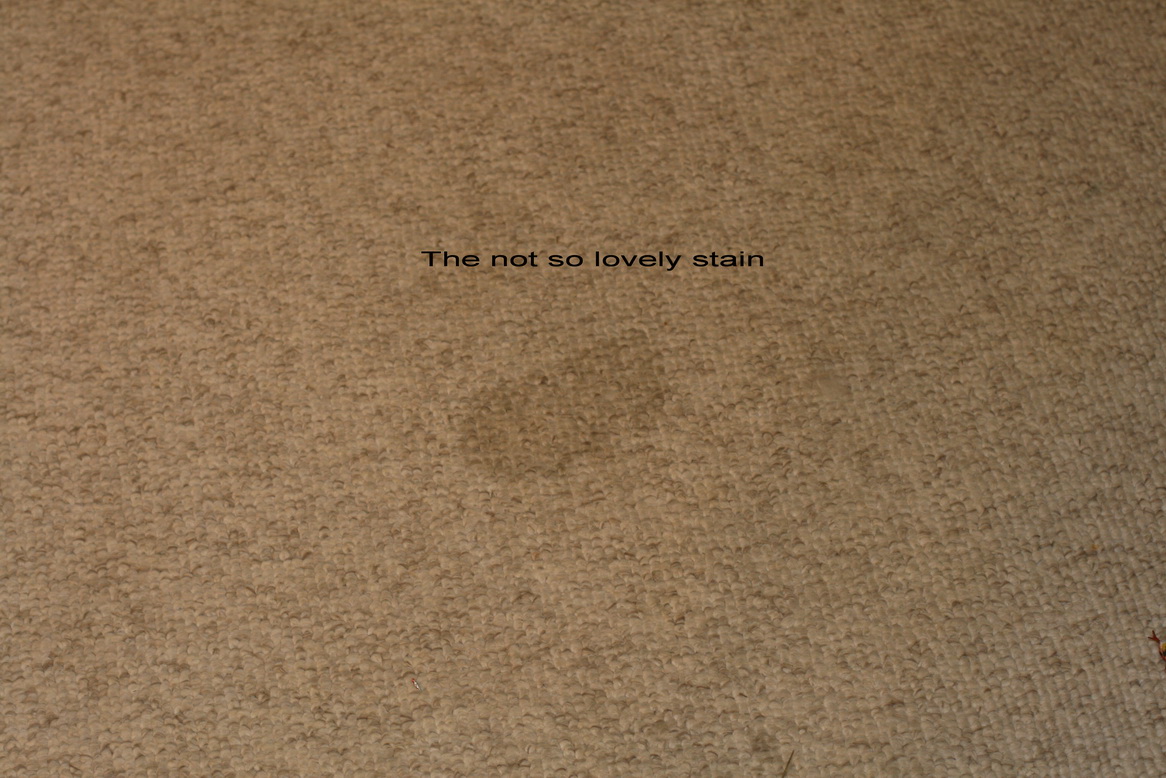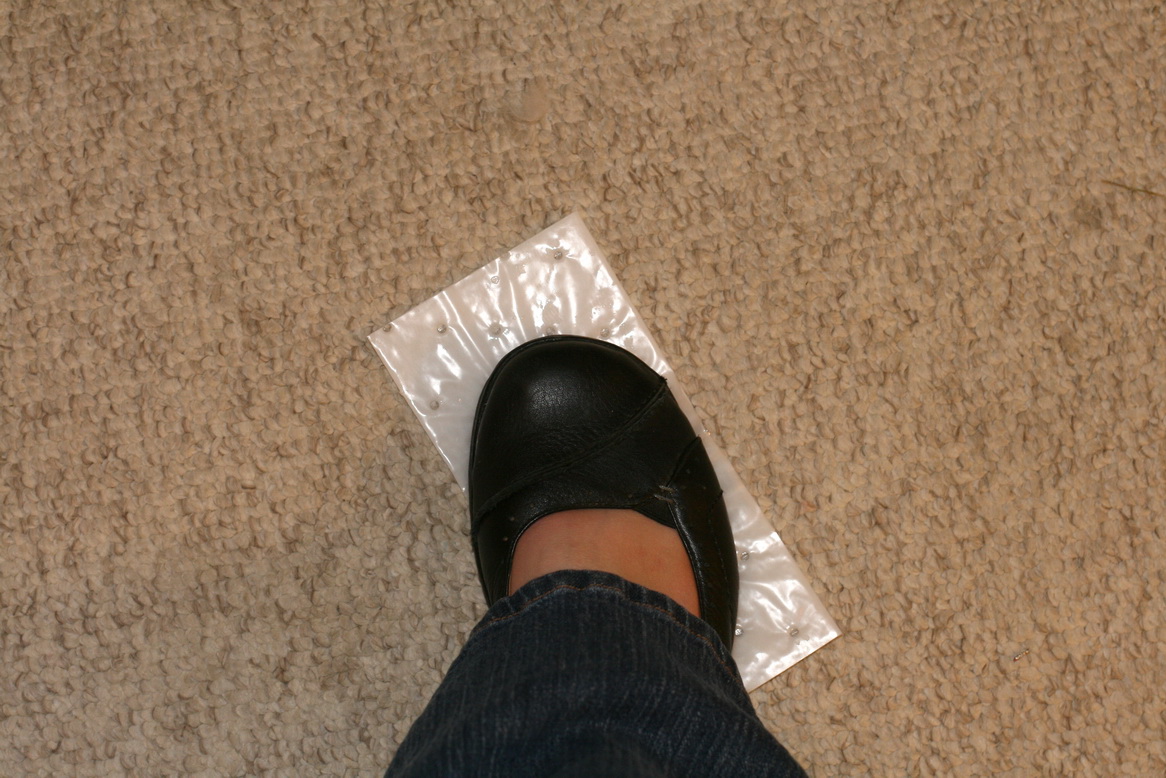 The product is incredibly easy to use. I opened up one sheet of the Bissel Stomp 'N Go, placed it over the stain wet side down, and stepped on it, and left it there for about thirty five minutes.  My initial thought was, "how the heck is that going to take anything out of the carpet, without scrubbing or using a machine to extract it?"   After about fifteen minutes, I walked by and could actually see some of the stain being picked up by the sheet on the opposite side.  When I removed it, the stain was literally gone.  Not only was I thrilled, but I was happy I didn't have to walk by that stupid stain anymore and better yet, there was no scrubbing at it with an arsenal of products I had on hand.  I love it!  I even reused the sheet (*note: It says to not reuse, to throw away after use) but  I tried it on a smaller nearby stain and it got that one as well.  It made me want to search my house for other stains just so I could use it.
Wahlah!   No more stain!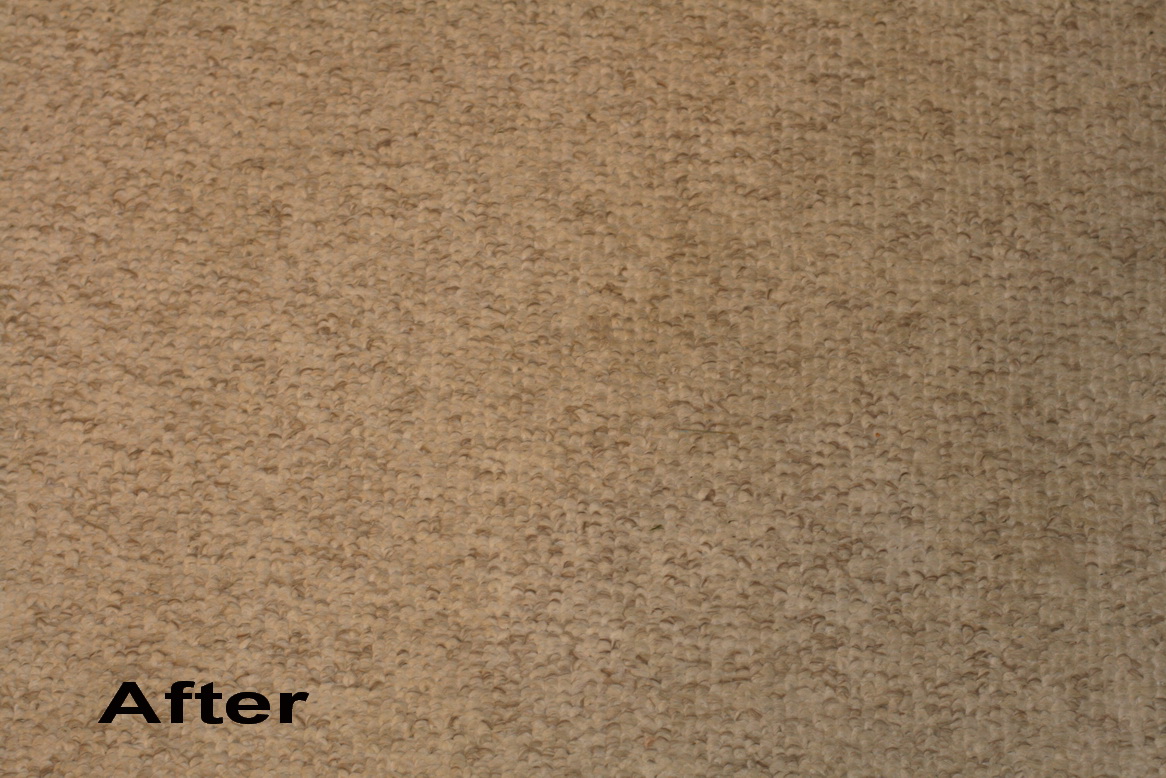 As with any carpet care product, the manufacturer states that you should always test for color fastness before using Bissel Stomp 'N Go on your carpet.  But, what I can say, is that you will want to have a few of these handy  sheets in your home!  They come in packs of five for about $5, and take up a whole lot less space than all the carpet cleaning product in your arsenal.
"I wrote this review while participating in a campaign by Mom Central Consulting on behalf of BISSELL and received product samples and a promotional item to thank me for taking the time to participate."