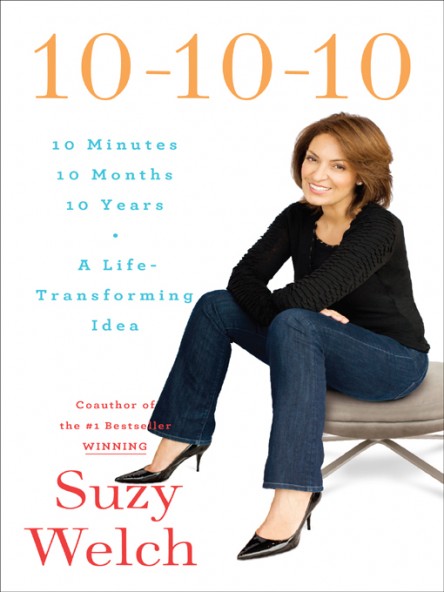 There are so many instances in my life where hind sight is always better than when you are in the actual moment and making a decision about your life or something of importance.  I think if my life had a rewind button, I could make my outcomes much more appealing in certain situations.
I know with being a busy mom to twins, that things can get hectic and I tend to let my impulses get the best of me.  It is so hard just to slow down, take a deep breath and evaluate things in that moment.  Sometimes when you have a kid screaming in your ear, it is almost impossible to think straight.
But what if you had had a tool to help you think through the choices and determine how the decision would impact your life immediately, in the short term, and over a long period of time?
The book 10-10-10 by best-selling author Suzy Welch, who herself is a mother of four and a columnist for BusinessWeek and O, The Oprah Magazine, provides moms with a decision-making practice that is as simple as it is profound. Suzy shows readers the ways in which using the 10-10-10 method can remove the emotion and uncertainty from decision-making and dramatically change how you make choices in your life.  If there is anything that I can relate to is how emotional I get, especially in situations where I am stressed, tired, and frustrated.  With every decision, all you need to do is consider your options and their consequences in ten minutes, ten months, and ten years, and then compare them to your own set of values. The goal of this practice is an authentic life through which consistency replaces chaos and guilt replaces joy.
Suzy Welch uses actual life experience to demonstrate the 10-10-10 principle, so you can get an actual feel for how to apply this in your own life. The idea is simple and and clear and engages you in a thought process that can positively impact your life.  The part I like that best, is that she is a wife and mother and has been there.  There is nothing worse than someone trying to explain how to live your life when they have no actual life experience to present the information.  I feel like this book has given me some tools to approach situations differently to end up with a more favorable outcome.  Thank you to Suzy Welch and Mom Central for such a wonderful opportunity. This is a book worth reading!