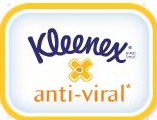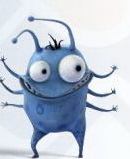 With all this talk of the swine flu it almost has me paranoid when the boys get even the slightest sniffle.  I must look like a total germaphobe at the grocery store when I am in race to wipe down the cart before the boys even touch it.  You hate to feel like you are paranoid but with having one child that is prone to bad asthma and the other who had so many ear infections, I try to be as vigilant as I can to keep things as germ free as possible.
Kleenex has introduced their Anti Viral tissues.  I think it is a really great concept from a Mom's point of view, when their are snotty noses in the house, I feel like I am constantly wiping somebody's nose and that in itself spreads plenty of germs.
About Kleenex Anti Viral
When you battle cold and flu bugs, you now have another weapon: Kleenex® Anti-Viral* Tissues. They look and feel like the tissues you know and love. They're soft to the touch, even for young children, and they are also fragrance free. But what's lurking underneath is anything but good news for cold and flu bugs. You see, the middle ply is treated with citric acid and sodium lauryl sulfate (a common ingredient found in popular hand soaps) and when those two come in contact with moisture, it's goodbye to cold and flu bugs in the tissue.*
The blue-dotted, moisture-activated layer indicates it's a Kleenex® Anti-Viral* Tissue
Kleenex® Anti-Viral* Tissues are available at leading grocery, drug, club and mass merchandising stores
Tissues are fragrance free
The middle layer of Kleenex® Anti-Viral* Tissues contains active ingredients that kill 99.9% of cold and flu viruses*
They are extremely soft and gentle enough even for small children
Many people actually re-use nose tissues. Not only is this kinda gross, it doesn't kill the virus. Kleenex® Anti-Viral* Tissues kill the bug in the tissue within 15 minutes.* So remember: the bug is out there all year long. So grab the one weapon that's proven to kill 99.9% of cold and flu viruses* in the tissue.
Watch this fun webisode in Kleenex's Battle Of The Bug
You can even join in the battle of the bug with Kleenex and receive great offers  on Kleenex® Anti-Viral* Tissues.  With the number of flu cases that are rising each day it can't hurt to have a little defense up your sleeve rather than snot on it.  I like the new idea of Kleenex Anti Viral, and with having young kids you know they are some of the biggest germ carriers.  I remember when I worked in daycare for 9 years, the first 3 years I was sick weekly!
As part of Kleenex's Battle Of The Bug, they would like to offer One lucky reader a chance to win a box of Kleenex Anti Viral tissues and a $50 visa card!
Here's What You Gotta Do
Tell me what you do to help prevent the spread of germs in your house, sign up to battle the bug, and tell me why you would like to win!
Additional Entries
Tweet about this great contest
Add me to your twitter
Blog about this giveaway
Grab my button and post it on your blog
Add Me To Your Technorati Favorites
Contest Starts December 18, 2009 and Ends January 5, 2010
Good Luck!
**I was compensated for posting the following information and for hosting this giveaway by Kleenex**
I just realized that Wednesday has passed me by.  I am not sure how the heck that happened without me knowing about it.  I normally post my Wordless Wednesday and I had it in my mind that it wasn't Wednesday yet.  I guess with no sleep and very sick kiddos and mommy, that we sometimes lose track of the days!
We took a visit to the doctor today, because both of my sons have been coughing, and one of them has been running a high fever for 3 days.  We went in and the doctor told us they are seeing some really bad viruses and that I can expect to see his fever possibly run for a few more days!  A few more days?????  We also asked about Swine Flu and she said that he could have it and there is no real way to tell other than some definitive blood test, that by the time we got the results back, he would be over it anyway.  I have been experiencing just general malaise and achy but no real fever, unless you consider delirium from lack of sleep, I am dragging right along.
Wake me up  if I am drooling on my keyboard, I love my HP laptop, but other than that please feel free to lend me a rock as a pillow.  Wish us luck and a speedy recovery!
Well we are getting sick again, and I am never leaving the house.  I told my husband that the parties we went to over the weekend were prime breeding grounds for some kung foo goo, I knew the boys would get something.  I know we can't live our lives in a bubble, and I am not a paranoid person.  But I just hate that almost every time we go out to gatherings one of them comes home sick and then we are all sick.
The scariest part about this time, is that one of my boys has a high fever and he is under tons of blankets and still shivering.  I always worry especially since when he gets sick his asthma kicks in.  With all of these swine flu cases it always concerns you as a parent.  I'm praying this is just a passing virus.   Off to take care of my babies!