There are some days when I don't get to even sit down, till after the boys are in bed.  Along with being a mom, comes this weird phenomenon when you have kids, it is the one where if you sit everyone is right there needing something, but if you are busy doing the laundry, everyone seems to leave me alone for a few minutes anyway.  I call my laundry time, my phone time, when I can call my mom and talk while I fold, but holding the phone isn't always feasible.  I also, like to call my husband when I am outside watching the boys, so a hands free option is always welcomed, so I can do several things at once.
Vtech has the perfect solution. I was given te opportunity to try out  the Vtech LS6475-3 cordless phone set and answering system.
Here's what you get in the box and all very easy to set up.
An answering machine and phone base unit with AC power adapter.
A charging cradle with AC power adapter.
2 DECT cordless phone handsets
1 DECT headset with ear hook and ear bud
1 head band for use with the headset
Phone cable, manuals, two battery packs (one for each phone)
3 additional ear buds and two ear hooks.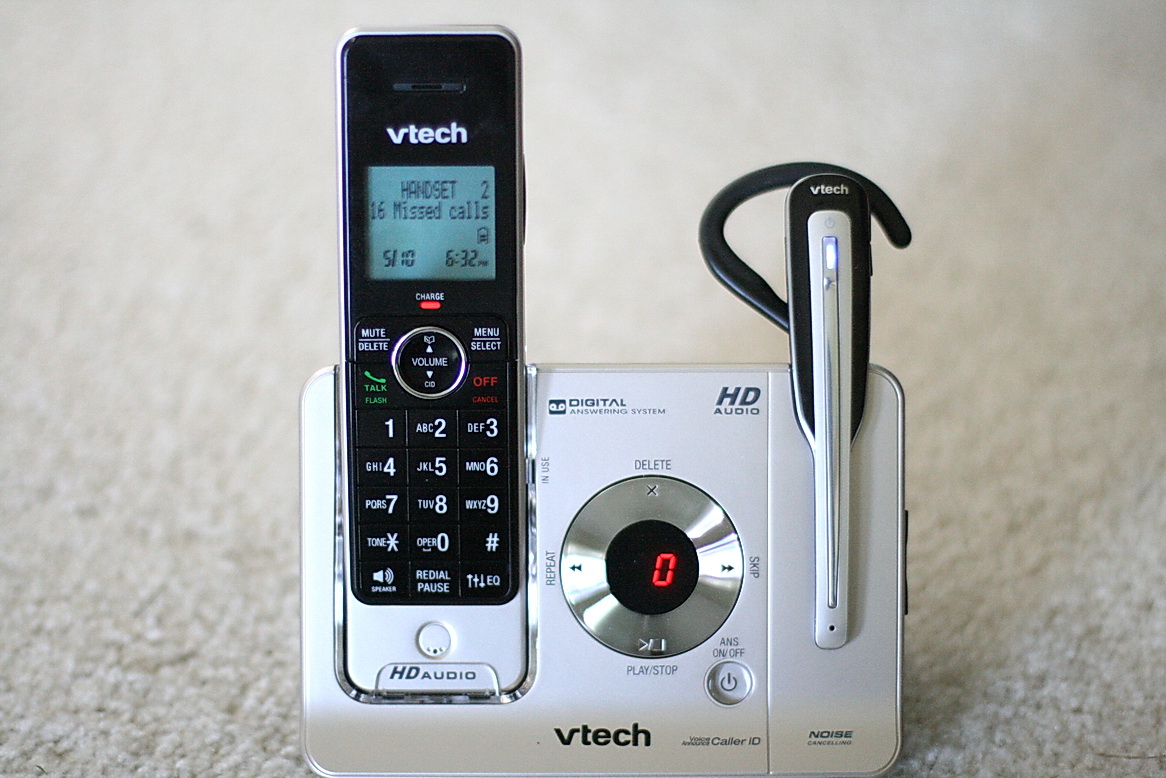 The phones themselves feel solid and well put together,  they are not heavy and I love the sleek silver that accents the handsets and is the primary color of the base.  You can see from the pictures that the phones and the base/charging units look very nice.  To me, if a phone has to sit there on my counter or wall, it needs to look decent.
The handsets were partially charged when I got them out of the box, but I decided to fully charge them for my review.  Setting up the base was very simple, the phone cord into a phone jack, plug the ac adapter into any outlet, and voila, you're ready to go.   One thing you'll notice right away is that Vtech added a little "lip" on the cradle for the handsets so that when you put the phone in the cradle, you know for sure it's in there correctly to charge.  That's a nice touch.
One of the things that makes this phone set unique is the included headset.  The headset is very versatile, it can be worn on the ear (kind of like a blutooth cell phone ear piece), but it also comes with a head band so you can wear it using the over the head band.  You also get additional ear buds, and various different size ear hooks so you can be sure you can fit it on your ear properly.  This is a great feature if you are running around the house getting things done, yet you have phone calls to make.  The headset is well built and I was able to wear it comfortably on my ear.  More importantly, the sound on the headset is excellent, and the range is absolutely great.  I was able to wear the headset and walk outside my house over to the neighbors house while talking on the phone without any static or noise!
There is a button on the headset to answer an incoming call (which works well), but there is no way to make a call with the headset.  You have to first make a call using one of the cordless hand sets, and then you can continue the call on your handset.  If you want to be able to make calls using the headset, this unit is not for you.  One of the things I really liked about it though, is the way you connect it to the base when charging.  It has a magnetic connector that makes it super easy to put the headset on the base to charge it.  It clicks into place snugly – no worries about having the headset laying around somewhere and not being able to find it.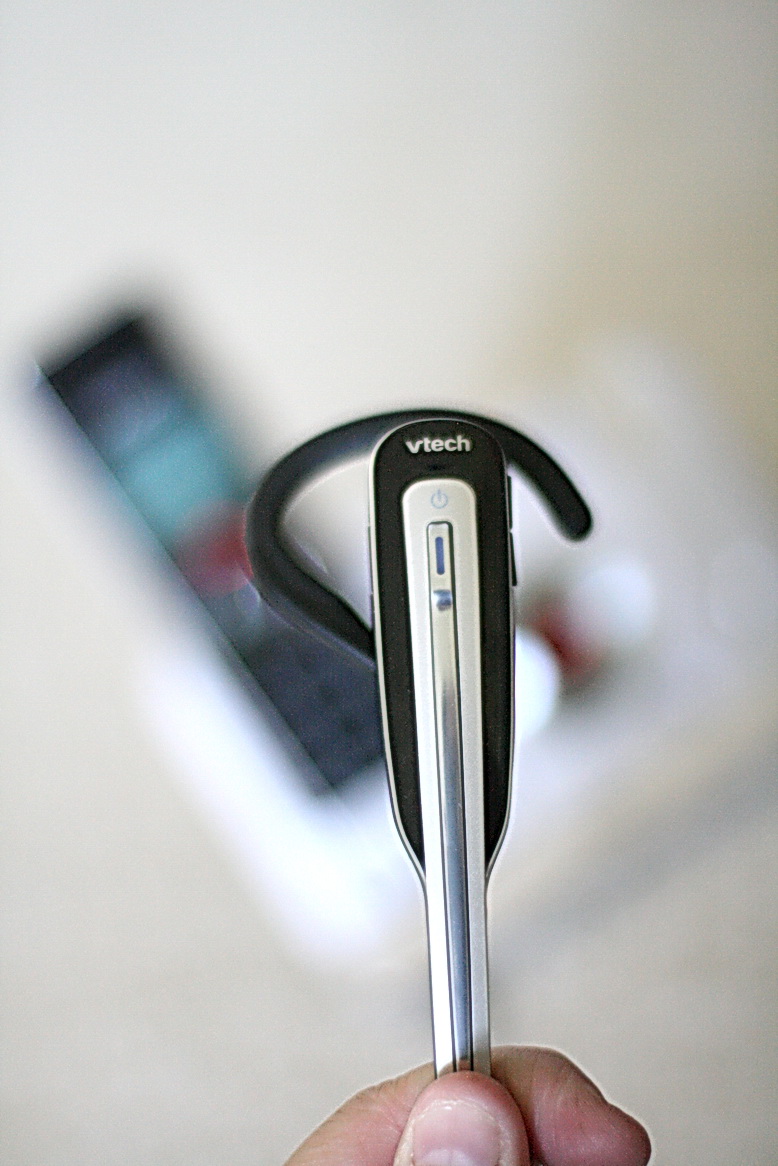 The two handsets come with a very clear and easily readable blue backlight, including the key pad.  No fumbling around in the dark trying to see the keys when you're trying to call at night.  The contrast on the displays is good so the text is easily readable.  This phone set uses DECT 6.0 technology, which means it won't interfere with your home wireless network for your PC or other wireless devices.  I tested both handsets in different areas of my house, in my yard, and even across the street — the sound remained crystal clear, the range on these phones is remarkable.  Vtech calls it "HD Audio", and it definitely delivers.  Both handsets have speakerphones built in, just push the speakerphone button and you can use the handset as a speakerphone.  The speaker produces clear sound and the mic seemed to work well.
Another feature I really like on this phone set is "voice announce".  The base unit as well as the two handsets announce the name and number (based on caller ID info) of the person calling using a robotic sounding voice.  The digital voice is sometimes funny in how it pronounces names, but it's very handy to be able to tell who's calling without having to be near any phone.  This has to be one of my most favorite features in the Vtech phones.  It is so nice, not to have to go running for a telemarketing call or for someone I don't know.
The phone handsets also have a handy "push to talk" feature.  Just click a button and your phone becomes a two way radio with other handsets.  The set I got only has two handsets, but you can easily expand your set by adding more handsets.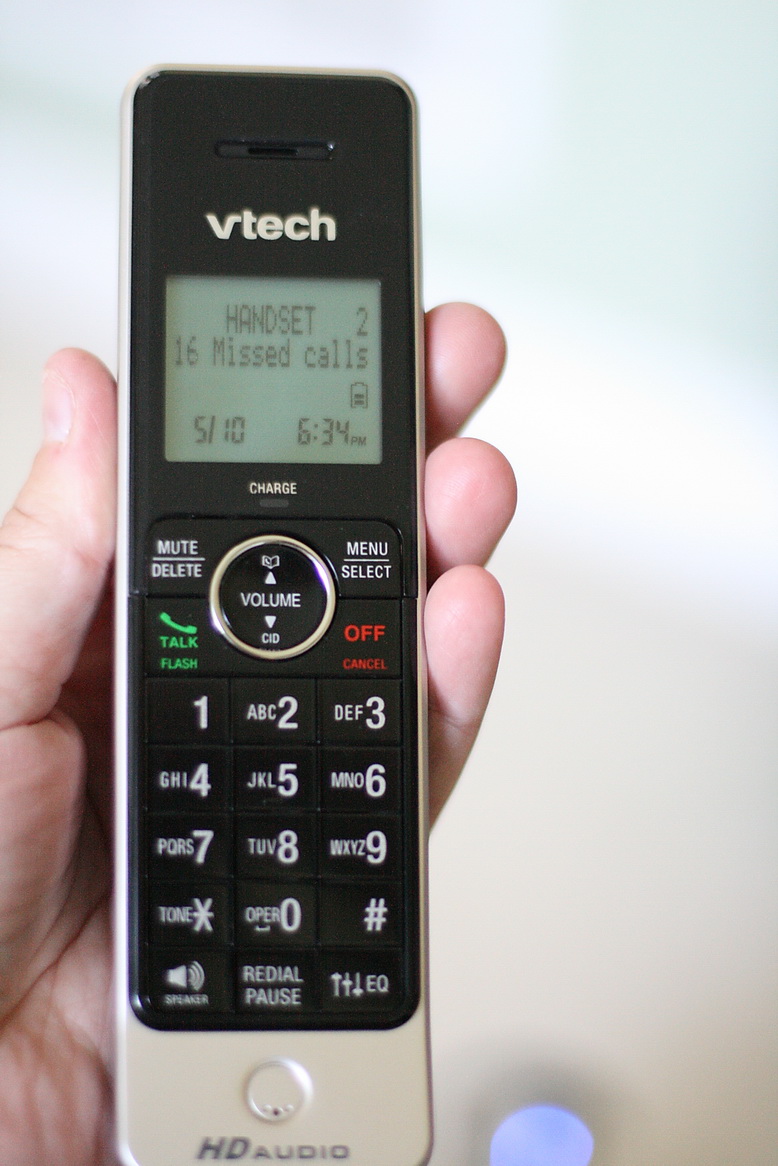 The fully digital answering system works as expected, it allows you to record up to 14 minutes of messages.  The messages are recorded clearly and can be played back from any handset so you don't have to go to the base answering machine to hear the messages.
All manufacturers claim wonderful talk times for their phones, but actual results are often less than spectacular.  Both cordless phones worked for more than a week without having to be recharged, with at least a few hours of active use.  Basically, battery time on your phones should not be an issue.  The headset lasted even longer than the cordless handsets on a single charge.
Final verdict:
The Vtech LS6475-3 generally retails for about $80.  At that price point, it's really an excellent set.  It does everything you'd expect, and more.  It looks nice, feels well built, and can easily be set up in your home.   The headset is a feature you generally won't find on other phone sets in the same price category.
Pros include the large feature set, cool headset with multiple configurations, voice announce, DECT technology, push to talk, and nice speakerphones.  The headset simply rocks, it's very handy to be able to talk on the phone while keeping both hands available to do other stuff.
The only cons to this set are the lack of bluetooth (cell phone) integration and the inability to initiate a phone call using the headset.
A great way to stay up to date on all of Vtech's latest technology you can visit Vtech's Facebook Page, or follow along the Vtech Twitter Stream!
"I wrote this review while participating in a campaign by Mom Central Consulting on behalf of VTech and received a product sample to facilitate my review."

This one time (recently), our cordless phone was left on the bumper of the car (whoops!), and my husband, took it for a little drive where it spent the night lonely on the side of the road in the rain.  It still worked sort of, but no one could hear me when I talked. It's been a long time since I've paid much attention to cordless telephones.  If you're anything like me, you look at a cordless phone and think "hey, it's just a phone, what's the difference?".  Thanks to VTech, I've had a chance to play around with a new modern "digital answering system", the DS6421-3.  Apparently there's a lot of difference between cordless phone systems nowadays, a lot has changed over the past 5+ years.
First, here's what's in the box, neatly packaged:
Quickstart guides, user's manual
Wall mount bracket
3 cordless phones (handsets) with batteries
1 base station with power adapter and phone cable
2 charging cradles with power adapters
Specs
I won't go into all the detailed specs here as part of this review, you can find the complete listing on the VTech DS6421-3 site here.  This set of phones operates on the DECT 6.0 standard.  That means it uses the 1.9 GHz frequency and it won't interfere with your wireless network (home wifi equipment  that generally uses 2.4 and/or 5 Ghz frequency).   Another feature that comes in handy is the "Connect To Cell" technology.  Connect to cell means you can use both your cell line and your landline with this set, easily switching between the two.   The VTech DS6421-3 also includes "Push To Talk" technology so you can use the sets like walkie-talkies.  Overall, the features are pretty impressive, equaling those of some of the more expensive high-end sets on the market.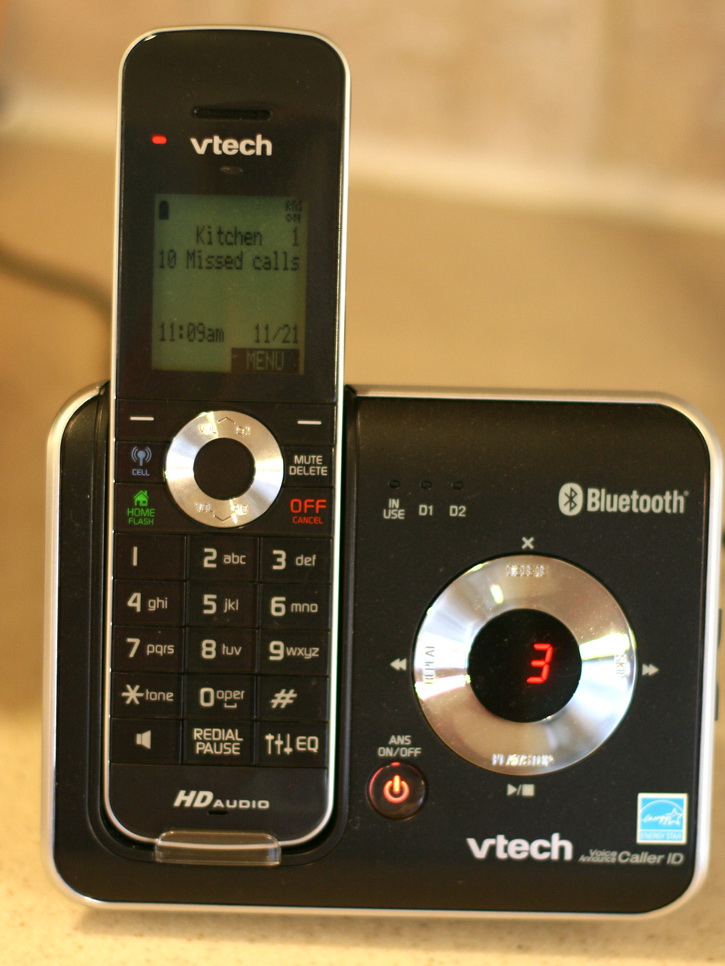 Installation
Installing the phone is as easy as can be.  You just have to figure out where you want to put the base station and plug the included phone cord into a phone outlet.  You can easily mount the base on the wall with the included wall mount bracket if you want, but I preferred to have mine on the counter.  The batteries included with the handsets come pre-charged, so you just plug them in and the 'base' automatically recognizes each handset and configures it.  One handset sits in the cradle as part of the base, the other two handsets can be placed anywhere you like, just plug each of the charger cradles into any available outlet.
Using the DS6421-3
Once you set up the base and cradles, you're ready to start using the phones.  The VTech DS6421-3 does everything you'd expect from a good cordless phone set.  The handsets themselves are very sleek, fit comfortably in your hand and feel well-built.  The back lighting is good, the screens on the handsets are crystal clear and easy to read.  So far everyone I have talked to sounds crystal clear. Each cordless phone has caller ID, functions as a speakerphone, and the base has an indicator on it that tells you how many voicemails (if any) are recorded.  You can also screen calls right on each handset – just hit the "screen" button  and you can listen to the person leaving the message on the handset speakerphone.  I love not having to get up to hear who is calling.   Another feature I found myself using frequently is the ability to listen to recorded messages from any of the handsets.  Just use the menu to select "play messages", and listen to the voicemails on whatever handset you have available.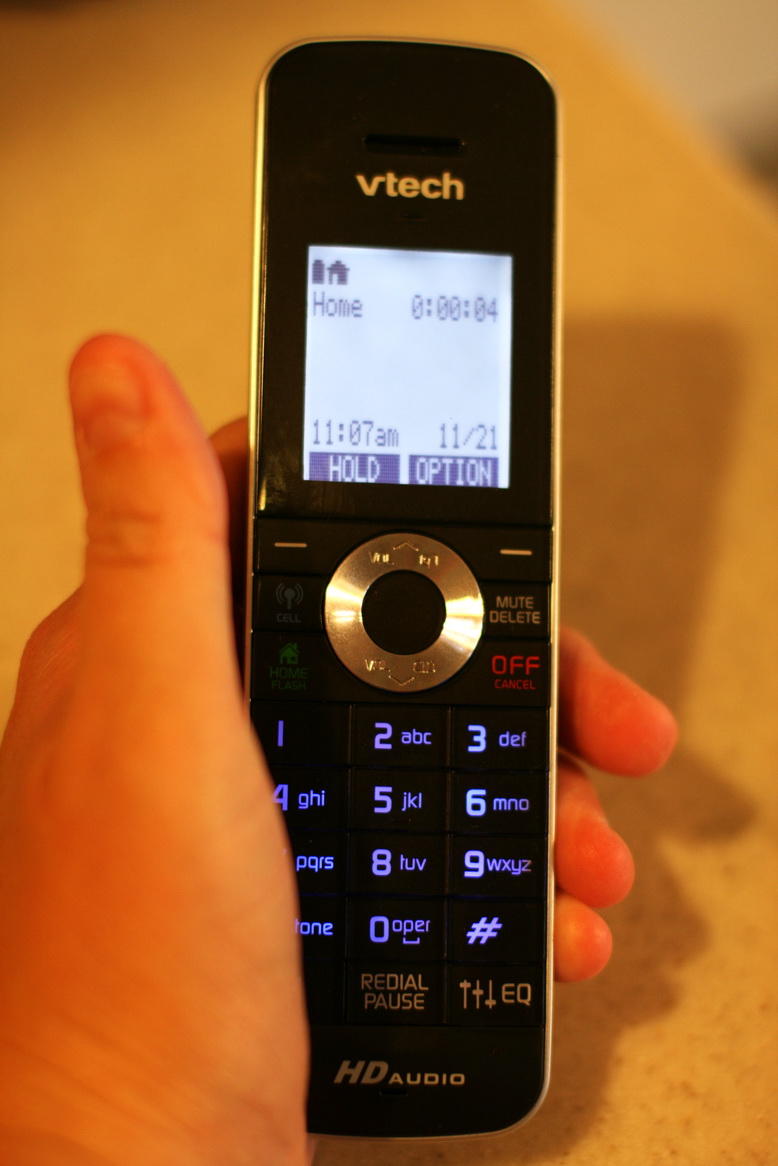 There's nothing more annoying than having your cordless phone run out of  battery all the time.  The VTech DS6421-3  features very long battery life.  I used the cordless phones for hours and didn't have to charge  them for at least a week.  I was very impressed with the battery life and I had no low battery sounds beeping in my ear mid conversation.
Another, aspect of cordless phones is their range of use.  I am often on the phone and going out to the mailbox and prefer not to lose connection.  You want something that will let you walk anywhere in the house without interference, as well as short distances like your driveway.  I was able to use the cordless sets throughout the house, outside the house all the way to the street in front of the house with no problems.  VTech lists the range as "up to 500 feet", which is probably only feasible under the most perfect conditions, but the range on these were great.
The 3 handsets in this set are identical.  They operate using a very simple menu, it didn't take long at all to figure out how everything worked without even opening the manual.  The menu is operated using a left / right select buttons along with a round disk .  The menu options are straight forward, you can customize pretty much everything from the ring tones to the ringer volume to the number of rings it takes before the answering machine picks up.  You can also set a name label for each handset so you know where each one goes.  This feature is perfect for when you want to use the "push to talk" functionality.   Picking up the phone and pushing the button for "Kitchen" or "Basement" makes a lot more sense then trying to remember where "handset #1" is located.
One thing I really liked about the phones is that when someone calls each set it speaks the name/caller id of the caller.  You don't have to look at the phone or base to know who's calling, which is very handy for easy screening of calls.  For me this is more fun than anything, because at first I had some trouble recognizing the pronunciations. The DS6421-3 also has "equalizer" functionality to optimize the sound quality of your phone calls.  I don't know about you, but I can't imagine ever needing to use an equalizer to fine tune the sound on my mono phone handheld…. But hey, it can't hurt, it's a nice touch they threw in!
Connect To Cell
The "connect to cell" functionality is one of the features relatively new to the cordless phone market.  Basically, it allows you to integrate your cell phone(s) and your landline together into one seamless phone system.  it works like this:  you "pair" up to two cell phones to the DS6421 base, using Bluetooth connectivity.  That means the paired phone just has to be somewhere near the base (in the same room generally) to be connected to the DS6421 base.  Once paired, the base will treat the paired cell phone as another "line" in addition to your land line.   You can receive incoming calls from your cell phone(s) on your cordless phone the same way you would incoming calls on the land line.  Different ring tones indicate whether the call is on the landline or on the cell.
This is an excellent feature for those with a cell phone with Bluetooth.  When you come home, just put your cell phone in the same room as the DS6421 base, plug it in to charge the battery, and you'll be able to make and receive calls using your cell or your landline with the simple click of a button.   Click the "cell" button, and you receive or make a call using your cell phone.  Click the "home" button, and you receive or make a call using your landline.  Since you can pair two cell phones, two people living in a home cold both have their phones paired, and both use the same set of cordless phones to access either the landline or the cell phone.
One important note to the landline/cell phone functionality is that you only need to have one or the other to use the system.  If you have both cell phone(s) and a landline, the DS6421-3  integrates them perfectly… but you can use the VTech DS6421-3 without having a landline at all, great for those who are thinking of getting rid of their land line and just using cell phones.  With this system you get the best of both worlds, a nice handset with great range and coverage while your cell phone is charging.   For example, you could use your cell phone for free long distance if your landline doesn't have free long distance.
Another great feature of the connect to cell technology is that the DS6421 phone system can copy your contacts from your cell phone(s) to the cordless phone system.  That makes the issue of having someone's info on your cell but not your home phone a thing of the past.
You can also connect Bluetooth headsets to the DS6421 for easy hands-free calling in your house.  I found this feature somewhat less than useful since you are limited to a relatively small area around the base of the phone system.  You can't use the Bluetooth headset and wander off to the other side of the house while on the phone, the Bluetooth signal will get disconnected.  Still, it's a nice option to have if you need to be on the phone a lot and want an easy hands-free setup.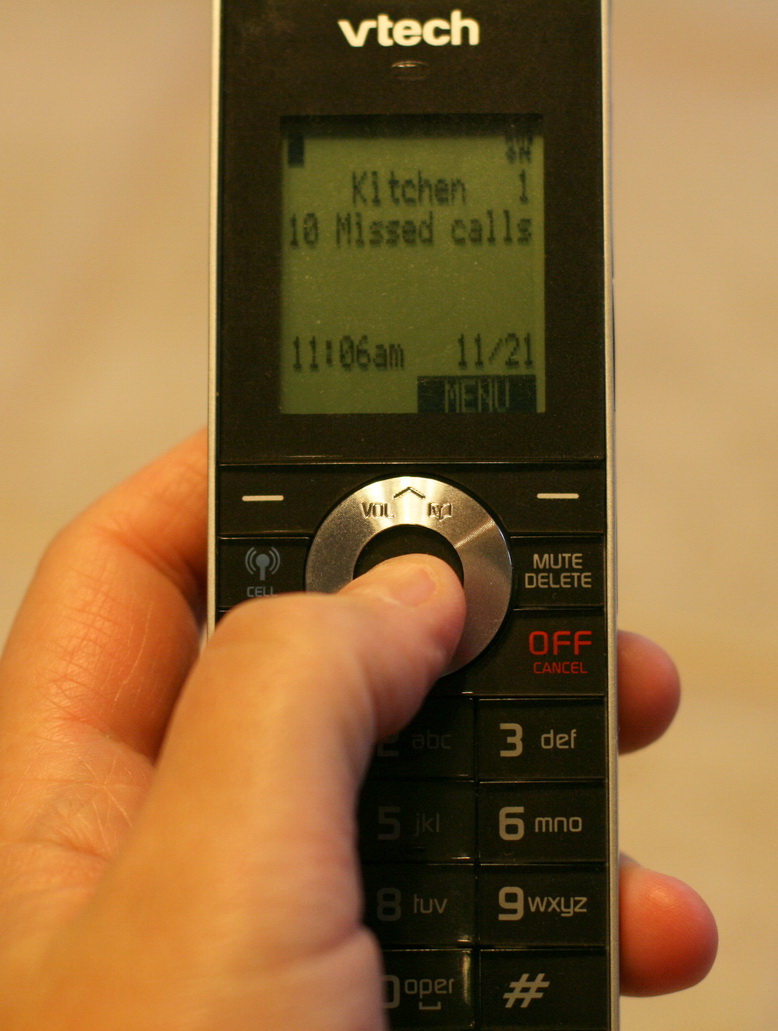 Expansion
The DS6421-3 can be expanded to up to 12 handsets, although who needs 12 handsets?  I found that the three provided were more than enough and felt like I had phones laying around everywhere.
In conclusion, I really like the VTech DS6421-3.
Pros: great feature set, great look and feel, cell/landline integration, phone contact copying, expandability, long battery life, ease of setup and use, overall value.
Cons: inability to set ringer volume for each handset, ringer options have to be set for all handsets at the same time.
Overall, I was thoroughly impressed by the VTech DS6421-3.  It was easy to set up, works great, integrates the land line with the cell phones seamlessly, and does everything at a very reasonable price (less than $100 last I looked).  That's a great bargain! I'd recommend this set to anyone who's in the market for a new cordless phone system.  You can save a few dollars by getting a "no frills" cordless phone set, but you'd miss out on a lot of great features and functionality for relatively small savings.  The bottom line: The VTech DS6421-3 is a really great phone for the home.
**I wrote this review while participating in a campaign by Mom Central Consulting on behalf of VTech and received a product sample to facilitate my review.  All of the opinions I have expressed here are my own.**

As a busy mom, I often wish I had eyes in the back of my head so I can see what is always going on in my house.  I can think of one instance in which the VueZone Personal Video Network System could come in handy.  We are having a problem with the twins where one says one did something and the other denies it.  Wouldn't it be cool to actually know who did what?  Sometimes it isn't always easy to know exactly what happened.
When we leave on vacation, a wireless video camera would be useful because, we leave our cat by herself and I would love just to check up on her.  My husband and I are without family here and will eventually have to rely on a babysitter for our boys to enjoy time out, and I would love to peek in on how things are going.  Also, I would love to see what's happening going on outside my house.  I love that VueZone is discreet and better yet no wires everywhere and it seems really easy to install, minus the headaches.
How it Works
VueZone lets you check in on your life anytime…from anywhere! Create your own personal video monitoring network – with multiple battery-operated wireless video cameras that easily install with no wires or power cords.  It also has motion detection.
Install in minutes – no software to load, no cords to run.
Place cameras anywhere – wire-free technology lets you easily position or move cameras in seconds.
Add more cameras anytime – simple one-button sync lets you add up to 25 cameras to your personal network.
Check In From Anywhere
View your cameras from any computer browser and most smartphones. Just log into your private, secure account at my.VueZone.com.
This is something that as a mom, I would definitely use.  I can think of many uses for a camera both inside my house and outside.  It would give me some assurance about the safety of my children and my home.  And since I am not terribly tech savvy anything that is easy to use, would be a great benefit to parents.

The world of media consumption has changed dramatically over the past decade.  Everything's gone digital.  If you want to feel old, ask your kids if they have any idea what "cassette tapes", "long play records", a "walkman" or <gasp> a "juke box" are.   Odds are, they've never even heard of any of those and have no idea that back in the stone age people used to actually lug around books and papers to read,  and plastic cassette tapes and tape players to listen to music.   It's true, you can see books and walkmans in old cave paintings.   Ok, maybe not quite that old, but you get the idea.
Mobile and digital seem to be the big drivers these days.  Who doesn't like being easily able to take movies, music and reading materials with them on a small portable device?  That brings me to the item I'm reviewing here today, the nextbook ™ Next6.
There seem to be two different kinds of tablets on the market today:  E-readers and multi-function tablets.  Sometimes the line between the two gets a little blurry, with devices like the Nook Color that are e-readers but can also do other things and have color screens.  Color screens are great, but they are not always good for reading, especially in direct sunlight.   The Next6 is marketed as a multi-function tablet.
The nextbook next6 box includes the tablet, an ac power adapter, a USB cable to connect to a PC and a user manual.  The tablet comes with a good protective case, a nice touch for a tablet at this price point.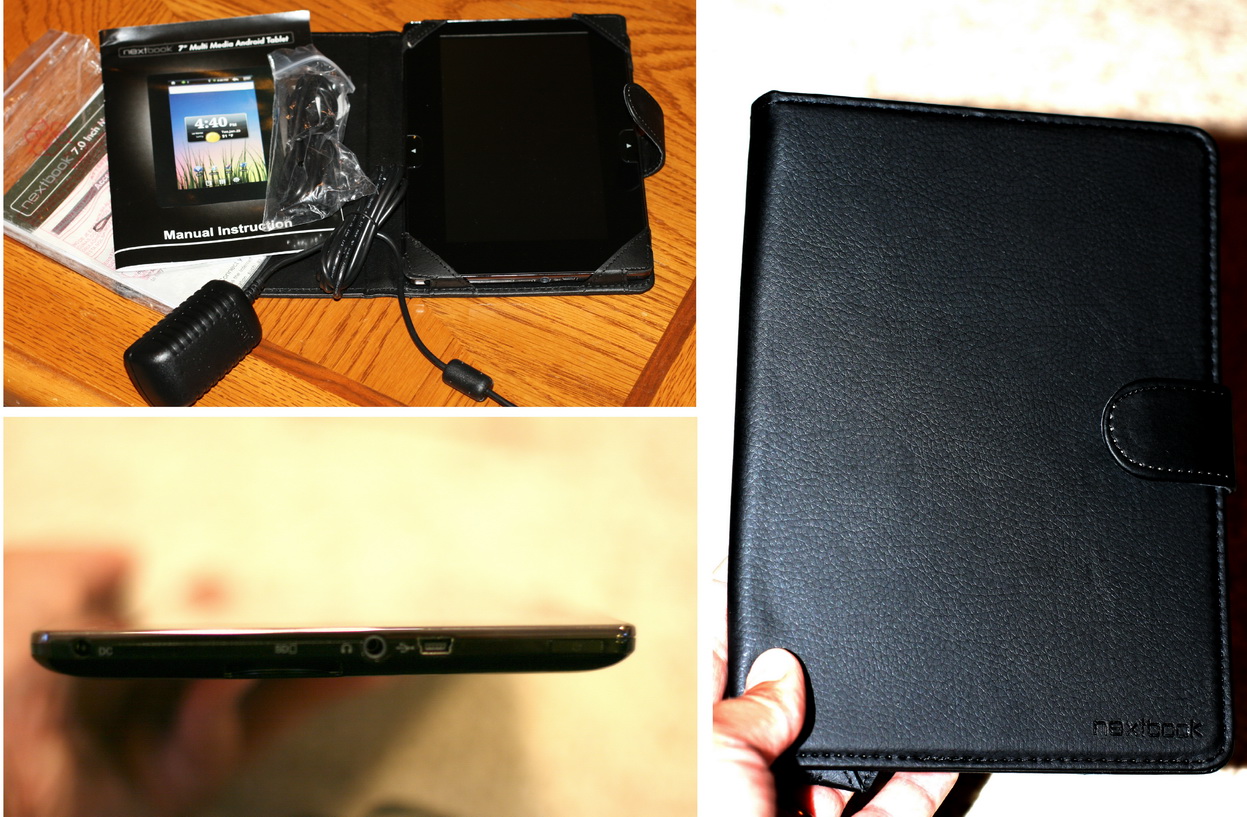 Lets start with the specs.
Measuring 7.48" by 5.11" by 0.44?, the tablet fits nicely in your hand.  It weighs in at just under one pound, so it's light and easy to carry.  The Next6 features a beautiful 7" capacitive color display with a resolution of 800×480, with an ARM926EJ Dual Core 600MHz CPU, and 4 GB of built-in storage.   That's not huge, but large enough to accommodate most of your normal stuff.  If you have more stuff to store, fear not, it comes with an SD/MMC card slot, you can easily plug in your own SD/MMC card for additional storage.
Out of the box it has the wireless connectivity you would expect, with 802.11 b/g connectivity built in, and the ability to handle WEP, WPA and WPA2 encryption standards.  I had no trouble getting the next6 connected to my home wireless network, the process is very simple (especially for those who've seen some flavor of the Android OS before).  Select your network from the wireless networks listed, type in your password using the on-screen keyboard, and voila.
The device has a built in speaker as well as a standard headphone jack (3.5mm).  I played some of my music on it and the speaker sounded nice and clean, even when you turn up the volume.
The next6 comes loaded with the Android 2.1 operating system (more on that later), and includes a gravity sensor – that means it knows which way is "up" and the screen/apps can rotate around as you rotate the device.   It can handle a good variety of formats for reading (pdf, text, pdb, rtf, fb2, epub and epub with drm), listening to music (mp3, wma), viewing pictures (bmp, jpg, gif, png), and watching videos (flv, mov, mkv).   That should pretty much cover all normal media types most people would use.
Finally, the next6 comes with a nice lithium-polymer battery that in my testing lasted a solid 8+ hours before needing recharged.  Your battery life will depend significantly on how you use the device, but overall it should last you enough to use throughout the day without needing a charge.
I charged up the tablet for a little while using the AC power adapter, then fired it up.  The next6 starts up very quickly, you don't have to wait very long.   The first thing that struck me is that the display is very nice and crisp with vivid colors.   The capacitive resistance screen is very good quality.  Many of the cheaper tablets use resistive touch screens that are not nearly as smooth and don't work nearly as well.  In fact, the next6 has multitouch capability, so you can touch two spots on the display at the same time and zoom in or out.  Overall, I was impressed by the display quality.  The device as a whole has a very solid feel to it, it doesn't feel like cheap plastic.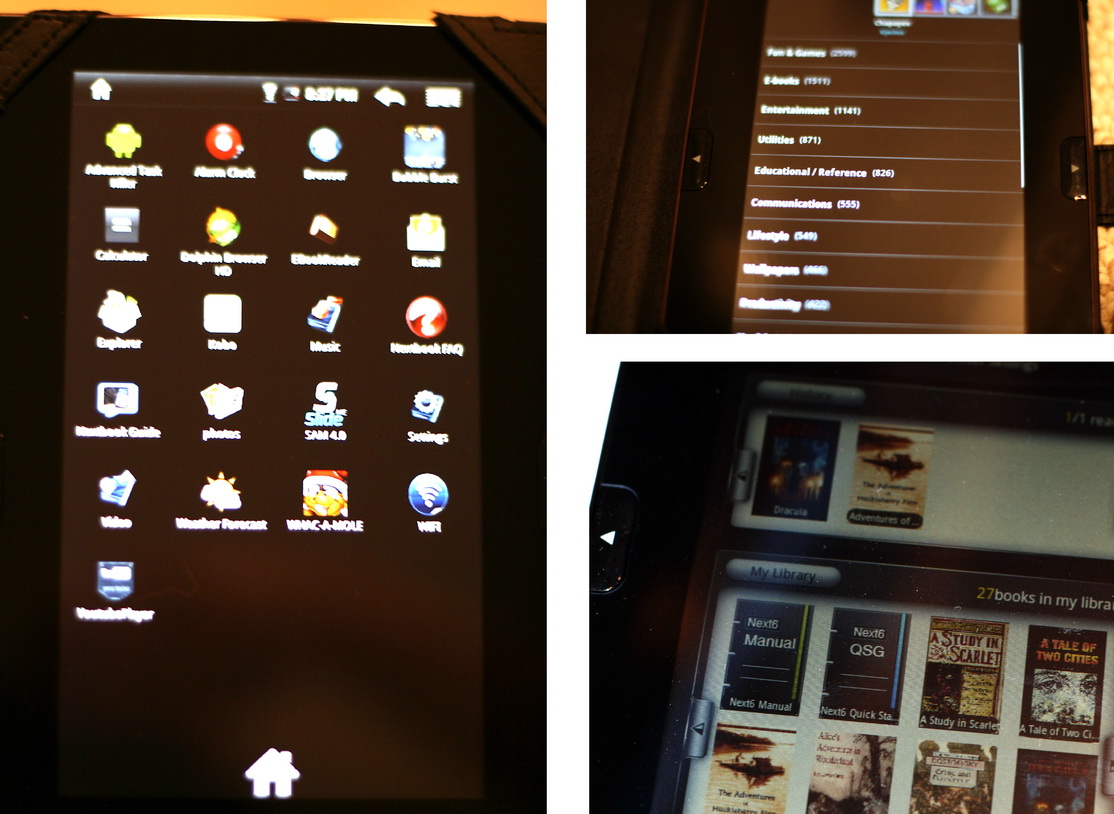 The next6 has a button on the left and right side for easy page-turning.  The buttons also perform other functions within other apps and within the operating system.  For example, pressing and holding the left button ("previous") brings you back to the "home" screen. The next6 comes with two ebook readers pre-installed.  I used the included ebook reader app to start reading some of the ebooks included for free (25 books are included for free on the device, including some nice classics).  Your options in the reader app are pretty basic, you can increase / reduce the font size, jump to a page and create bookmarks (though I couldn't figure out how to make the bookmarks work). The other included ereader app, called Kobo has more advanced features and options, but generally felt very sluggish.   Overall the next6 works pretty well as an e-reader.  It's not super fancy but it does the job.
Next I copied some MP3's to the next6 tablet and used the media player app pre-installed to play them.  The copying process was actually very simple.  You connect the device to your computer using a USB cable (included with the device) and your PC will recognize the device as an external storage location.  Just copy the files over and you're done.  Playing MP3's went off without a hitch, pretty standard fare.  I was also able to look at some pictures without a problem.
I used the built-in web browser to surf the web and check out some web pages.  It works OK, but had issues rendering some pages.  I personally really like the dolphin HD browser, I'd install it and use rather than the standard browser on any android powered device.
So far, I was pretty impressed by the next6.   Sure, it's not going to compete with a $500 or $600 ipad on some of the features, but that's expected when the next6 can be had for under $200 from various vendors (including Amazon).
Then came the moment.  I started looking on the app for the 'standard' Android/Google apps (gmail, calendar, contacts) and they were nowhere to be found.  No problem, I thought, I'll just go to the android market and add them….    Nope.  Not gonna happen.  The android market is not available on the next6.   Instead, it has something called "slideme" that allows you access to some other app market to install to your device.  The slideme market is a very poor substitute for the android market, it contains only a small fraction of the available apps.  And even those are sometimes older versions of the apps.   I tried searching the slideme market for some of the most popular android apps, but could not find any of them.  Even Angry Birds, that silly fun game that seems to be everywhere these days was not to be found.   Similarly, the youtube app included on the device doesn't seem to work the way you'd expect it to: several searches that turned up results on other devices (as well as through the web) came up blank using the youtube app on the next6.
In addition, while you can play videos on the device, I could not find any documentation of how to actually encode/transcode a video so it could be played on the next6.  It would have been nice to include some sort of guide or even a link to a site with a guide on how to transcode a DVD movie and copy it to your next6 so you can watch it on a trip.  The video watching value of the next6 is significantly reduced by the lack of available apps .
To my knowledge there have not been any updates, bugfixes or newer versions of android released as of yet for the next6, and based on rumblings on various web sites there might never be a newer version of the android OS released for the next6.  I hope Nextbook does release some updates in the future, it could add to the value proposition for the device.
Overall, I was actually very impressed with the hardware capabilities of the little next6 tablet.  It fits perfectly in your hand and the form factor is excellent for reading books etc.   The lack of the android market and the other 'standard' apps is really a shame because the next6 has the potential to be a great value for the consumer.   If it wasn't hobbled by the lack of apps and the android market, I'd have no problem recommending the next6 to anyone in the market for tablet.  If all you're planning to do with the next6 is read books, surf the web and listen to music, it's very nice.   However, if you're planning to use it as a true multi-function tablet, I'd avoid it – at least until the android market (and thus all the thousands of great android apps) are available for it.
Note: I know you can install some of the apps by downloading them from the web to your pc and then copying the apk file to the tablet, but that introduces big (unacceptable) risk of malware and viruses getting installed on your tablet.   Also, some apps won't work without the android market installed, even if you download and install the apk file.  For example, you can't install the Amazon app market if the android market is not installed.
Overall verdict:  the next6 is a nifty little tablet.  It would be a really good deal and value if it came with the android market, google mail, calendaring and other tools pre-installed.  Without those, it has a tough time standing out from other tablets on the market at the same price point.  Come on nextbook,  add the android market and google apps to this tablet to let it reach it's great potential!
**The Nextbook Next6 Tablet was provided to me for review, the opinions expressed here on my blog are that of my own.**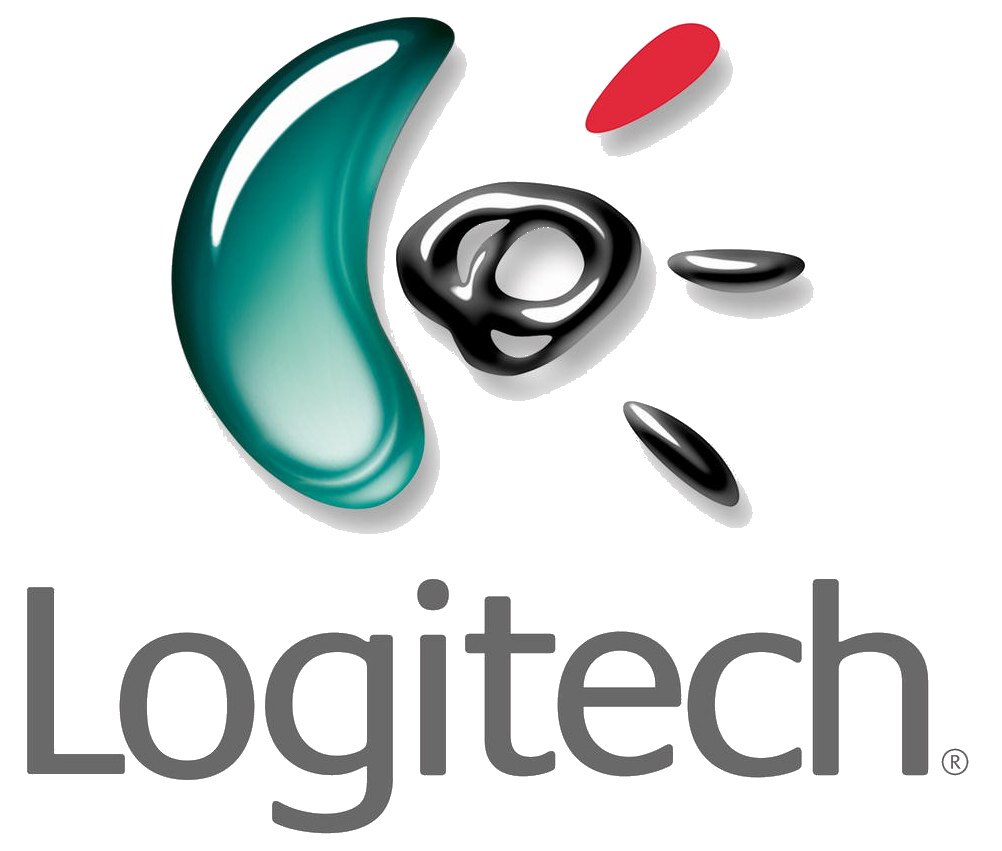 Things have certainly changed since I went away to college. I can remember all of the stuff I had to bring along to move into my dorm. When I am out shopping these days, I see all sorts of useful stuff for the college kids today. They have compact versions of everything to make the most out of what little space you have in those dorm rooms.


I am a gadget girl by nature, and I love to explore all the cool things. I also like having things small and portable. I tend to do a lot of travel and I have to condense my technology related gadgetry into a carry on. When I went to school with my radio/cd player (remember those?), it was this huge thing with a plug attached to it, and it had the option of running on D size batteries, which never lasted more than an hour it seemed.
Today, things are quite different. Cd's are becoming something of the past and MP3 players and Ipods are taking over the scene. All this talk is making me feel old, but even I am enjoying the newest technology when it comes to listening to music, working on the computer, or being involved with social media.
Logitech has some really great back to school products or products for anyone that can give you high quality technology that is small and compact, yet delivers great results. I am in love with their newest rechargeable speaker system for my ITouch, and it is perfect for a college dorm room as well. Occasionally when no one is looking, I like to crank up my music and dance while cleaning, but the ITouch has limited sound capability without the use of speakers.
I was sent the Logitech Rechargeable Speaker S715i ($149.99) and my first question was how good could the sound possibly be out of these small portable speakers? I must have been living under a rock because the sound is amazing! One of the greatest features is the fact that they are rechargeable, which means you can move them around the house, or out in the hallway in your dorm, or to the park, or anywhere you want to go without relying on a place to plug them in. I sometimes take them into the bathroom, put on some zen like music and soak in the tub. You can take these to a football game and do a little tailgating too! They even have a remote so you can forward on to your next song without ever leaving your chair.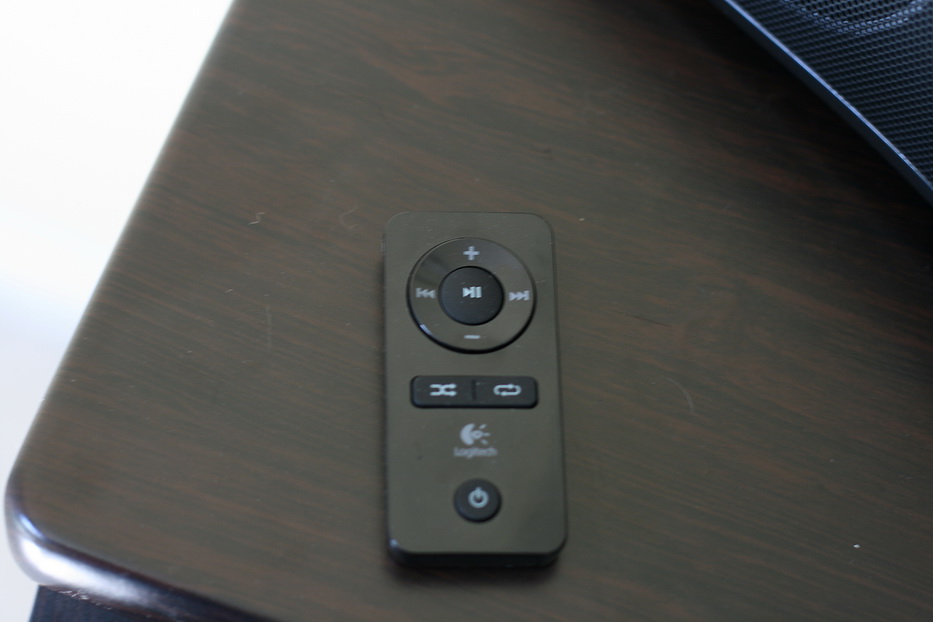 The speakers were easy to use straight out of the box, and easy to set up with a snap in position stand on the back of the speakers.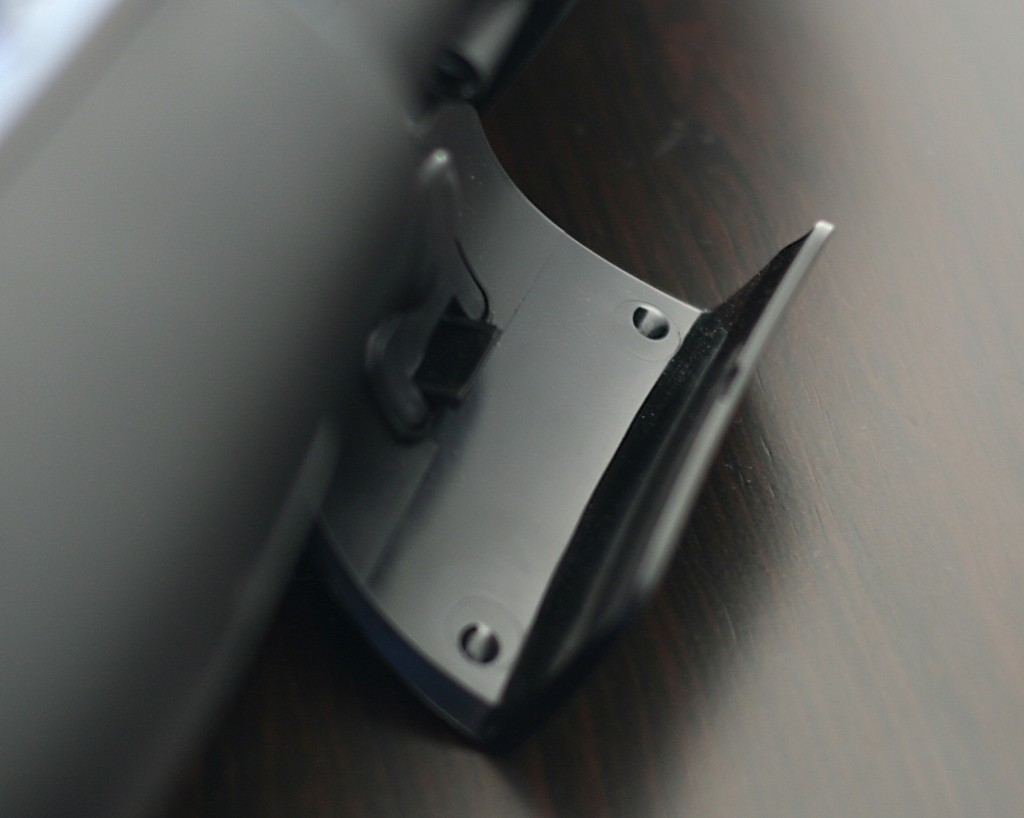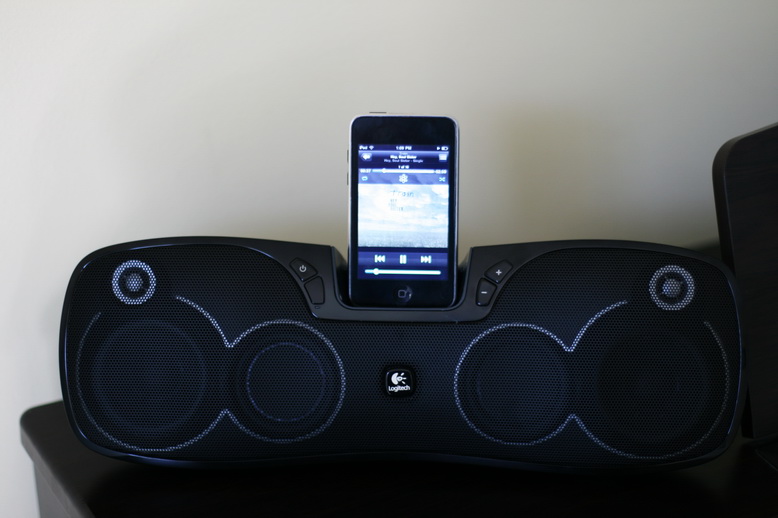 Rechargeable Speaker S715i Features

-Eight-hour rechargeable battery*

* Actual battery life will vary with use, settings and environmental conditions. Rechargeable batteries have a limited number of charge cycles.

-Custom-tuned sound

You get two 3" laser-tuned neodymium drivers for a rich mid range, two ½" neodymium tweeters for crisp high notes, and four 2" passive radiators for deep bass.

-Portable design

-Travel case

Your speaker, AC adapter and remote pack neatly into the bag for travel.

-Wireless remote control

You're in control of important functions like power, volume, play, pause, shuffle, skip and repeat from up to 30 feet (10 meters) away.

-Trayless dock

Your speaker's innovative dock design works with iPhone as well as any iPod with a Universal Dock Connector.** without the need for those annoying trays.
The only personal drawbacks for me is that the carrying case did not have a strap with it and I had to remove my protective backing on my Ipod in order for it to fit onto the connector for the speakers. So if you wanted to carry it with you, you would have to put it in a backpack or carry it under your arm. Overall, I love these particular speakers, because they sound great and I can put them anywhere in my home, and they are perfect for kids who are going off to school. They take up minimal space and the price is not bad for the wonderful sound quality. The Logitech Rechargeable Speaker S715i would make a wonderful gift for the college bound graduate, or for anyone who wants to save space and not skimp on sound quality.
Logitech also offers some other really great techy ideas for sending the kids off to school.
- HD Webcam C510 ($59.99): perfect for students on the go – with its fold and go design, calling and recording in   HD is unbelievably clear and convenient
- HD Pro Webcam C910 ($99.99): perfect for those parents left at home empty nesters…offers full HD 1080p recording and HD 720p video calling
- Fantasy Collection: unique color designs for mice, keyboards, and notebook accessories that are so fun and full of personality, they'll inspire even the worst of college dorm rooms


To celebrate going back to school and wonderful technology in general. Logitech and DoubleBugs would like to offer one lucky reader a cool M310 Wireless Mouse in a really shabby chic red floral pattern, you can see it here.
Here's what you gotta do!
Leave me a comment here and tell me why you would like to win!
Additional Entries
Tweet about this giveaway
Subscribe to my feed
Comment on One of my other posts
Giveaway Starts September 16, 2010 and Ends October 4th, 2010
Good Luck!!!
Winners are chosen at random, if no response within 48 hours prize is forfeited
Open to US residents only.
"To help facilitate my review Logitech sent me the Rechargeable Speaker S715i for review, the opinions I have expressed here are that of my own."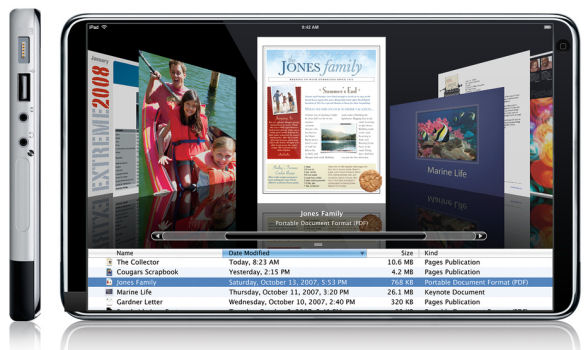 Have you seen the Apple Ipad?   I am amazed at what this thing can do!   The price tag on this puppy is pretty hefty however, and I don't see this poor mama owning one any time soon.  My husband is a little anti-apple in this house but if I had my way I would own, the Ipod, the Itouch, the Iphone and the Ipad.
One of the more stunning features is it's e-book capability.  I have drooled over the Kindle, and finally own a Sony reader, and just watching the videos of the Ipad blows both of these away!  The graphics are absolutely stunning and when you turn a page, it looks like a real book!
I love gadgets like the Ipad, and I love having something, that is small, that I can bring along with me, and sort of does everything.  This is the first generation, hot off the assembly line for Apple, and I think it can only get better from here!  Although it is not without it's critics and skepticism, I think the nay sayers are just jealous.  And even though my husband isn't a fan of apple, the stuff they come up with is impressive. All eyes are on Apple for awhile, I am anxious to see what's next!