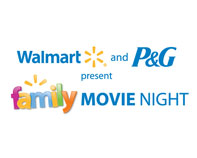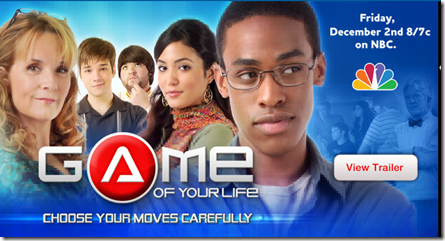 Teaching our kids to make the right choices is something that you hope to instill in them before they go off on their own.  Life is full of lessons, that we either learn the easy way or sometimes the hard way.  It is hard to watch your children do this, but often times these are things that help them in the end.
At least once a week we watch movies or a show together as a family.  Some of my favorite shows to watch are the ones that involve life's valuable lessons with examples that kids today can relate to.  Periodically, P&G and Wal-Mart offer Family Movie Night, and I have been pleasantly surprised by their wholesome quality.  Their newest movie, Game of Your Life, premieres December 2at 8/7c on NBC.  I love the wholesome content of the movies offered, and I feel like I don't have to shield my child's ears or eyes when we are watching.  It also has valuable lessons, that can open up good conversations after the movie about the story, and the lessons learned.  My boys are only 5 but no matter what they got from the movie you can incorporate lessons learned.  Game of Your Life, was a good story with a great ending and I loved the movie as always.
What the movie is about


When Zach Taylor heads to an elite video game design program his future takes a promising turn.  First he must survive the good ole freshman year and make the cut after the first three months.

Teamed up with determined group leader Sara, his roommates, Donald and Phillip, the four set out to involve the entire campus  in a new social interactive game of making choices. At the height of their new project development Zach learns that his father Billy, is  facing growing debt and financial problems back home. Worried and desperate  to help his Dad and not lose the only home he has known, Zach accepts an opportunity to work directly with Marcus Bentton on the side which is against policy at the school. His new secretive project has Zach falling asleep in classes and falling behind on the team project. which he should be devoting to the project. Struggling to keep it together, Zach is torn between his responsibility to his team, his admiration for Bentton and a chance to help his father.

Everything comes undone when Zach's teammate threatens to remove him from the group the  truth behind Bentton's secret project comes to light. With the help of his  Professor Abbie Lambert, Zach must make a decision that will impact his family and those around him.



Game of Your Life, premieres December 2at 8/7c on NBC. So grab some popcorn and your kids, curl up in your pjs and watch a movie that you all can watch. You can check out the Family Movie Night webpage to see previous movie offerings and read about the current movie and become a fan on Family Movie Night's facebook page.
"I wrote this review while participating in a campaign by Mom Central Consulting on behalf of P&G and received a promotional item to thank me for taking the time to participate."
So I haven't been on my blog much because I am addicted to Grey's Anatomy.  Thanks Cheryl and Rhea!  I had never even seen an episode of Grey's Anatomy but everyone is always talking about how good the show is, and I felt like I was beginning to miss out.
So in the past four days, on trips to the bathroom, watching the boys ride their bikes, after they go to bed, and every spare moment I get, I have been watching episodes of Grey's Anatomy.  I am currently deep into season two, and I only have 6.5 seasons to go before I am caught up and I can discuss the happenings.
I love the show and better yet, I have something to do while the husband has football occupying the tv screen.  I love hulu.com too because I can watch episodes of Grey's to my heart's content.
To say I am addicted is an understatement.  I was heartbroken when ER ended and remember my days in nursing school and watching the very first episode with my fellow nursing students.  Grey's is reminiscent of those long days walking the halls of the hospital during clinicals, and even though I am not a doctor, I can surely get all the humor.
Love, love, love Grey's Anatomy!
Television has become almost a staple in everyone's home and because of that you are at the mercy of the cable and satellite companies if you would actually like to see a real picture on your television set.  Steadily over the years the costs associated with watching TV have risen as well the plethora of channels to choose from.  You can choose to have satellite or cable, a DVR, the sports package, the premium channels, do your laundry package, or just about anything you can imagine for a price and mostly for a complete rip off.
I don't watch as much TV as my husband, but I do have have some shows and channels that are my favorites.  The boys love Discovery Kids, and Sprout, and a few of the other channels, and it is nice to have some programming geared for them.  It wasn't until recently, that me and my husband began lamenting over what to do about our current television service.  We had received a new fancy TV as a gift for our finished basement, and two of the receivers (not sure if this is what they are called) on our actual satellite dish died.  So up until getting this new TV we have been limited to watching television in our living room.
So what's the big deal you ask?  Well we have been stuck in a holding pattern on getting our satellite fixed because we are no longer in a 2 year mandatory contract with DirecTV.  We have been debating on whether or not to call them because they would rope us into another contract that would inevitably cost us more.  We currently have a TIVO which we love and if we switched to cable we would lose that as well.  We would really like our satellite fixed so we can have TV in other rooms of the house.  That isn't without a few minor hitches either since, in order to watch TV you need their handy dandy receiver as well.  It sounds easy, but not so fast my friend, you better be willing to pony up an additional $6 per box each month.
I am ok with paying for the receiver, it took me a little while to adjust to the idea but then suddenly our monthly package magically changed.  We originally  had Discovery Kids, and all of a sudden it magically disappeared.  I quickly asked my husband if he had changed anything and went to view the packages.  We are paying around $64 a month for our satellite package which originally included Discovery Kids.  I checked the packages and they all included Discovery Kids (what the heck!).
So after many discussions, I am talking about a hundred, my husband decided to call DirecTV up.  We wanted the satellite fixed, wanted to know why we no longer have that missing channel or several and to see if they could offer a better deal for signing into a contract for 2 more years.  No big deal right?  You would honestly think that they would be thrilled to keep us on as paying customers.  Well pardon our delusional thinking, but boy were we ever wrong.  They offered us a few dollars less but only for a year and then we would be paying more for the same package we have today, that we currently pay less for without a contract.  We still wouldn't have Discovery Kids (which I am still baffled about) and I don't know how my package magically changes without me knowing.
Actually, if you are a new customer you can get a stunning deal, way better than anything you have as an existing customer.  How does this offer me any incentive to stay with you as a company?  I can see no reason to stay or come back.  DirecTV go back to school and pass the class on customer service, you obviously failed in this department.
Update:  I also ran across an interesting article by Bob Sullivan (The Red Tape Chronicles) on DirecTV and a deception lawsuit.  It is an interesting read and will definitely make you reconsider jumping in as a customer of theirs!
I usually only get to watch TV in the evening after the boys go to bed.  Last season, I had ER to look forward to each Thursday, and I must admit that I am extremely sad that it had to end.  I had been watching it since I was in college.  I attended nursing school and a bunch of us, including one of our professors gathered with popcorn to catch the new show.
I admittedly out of the loop on what is coming up on the local networks such as NBC, but I am also pretty burnt out on Survivor, Biggest Loser and all the popular shows.  It seems like a good portion of the shows start out ok and then become far fetched in the story line.  I do enjoy American Idol, and America's got talent, but beyond that, I am thoroughly bored.
So I did some poking around on the Fall Television lineup.  Fox has shows like House that I casually watch off and on with my  husband.  ABC will have the Bachelor, which I am interested in seeing if they will pick from the previous show.  CBS enters with shows like "How I Met Your Mother, Survivor, and CSI.  I love the crime scene investigation type shows, but it seems like they are running out of content, so it makes the shows redundant.
All in all, there doesn't appear to be much to choose from.  I am hoping something sparks my interest, otherwise I will be going to bed at 8pm, which might not be a bad thing.  I miss my ER!
Last night had to be one of the saddest nights for me. I have been watching ER since the very first episode and I simply loved the show. In fact it was the only show I actually looked forward to seeing every Thursday night. Well, I would actually watch it on Friday afternoon during the boys' nap. I can't believe it is over with, and I so hope that they bring all these characters back in an even better show, otherwise I am going to have to start with season one again.
I live a bit of a sheltered life when it comes to television. Since having the boys I watch a whole lot less, so I really live under a rock. I am not sure if there is even a show that compares to ER.
What am I going to do to get my fix? I am so sad!
Anyone watching the Superbowl?  We just started here at 9pm because my husband recorded it.   Me, I am not really into the  Superbowl.   The commercials are really entertaining and I think one of my favorites is the first Doritos commercial.   I laughed so hard at that, because that would be just my luck.   It was hilarious.
So, for right now I don't know who one, and well truthfully I don't really care  LOL.  I am so tired after grocery shopping, bathing our dog, getting the kiddos to bed, that well, football is farthest from my mind.   Am I the only one who doesn't get much from watching the Superbowl?   I told my husband that all it is, is the same thing you see all season just more hype, he gasped at my statement  lol.
Here is me…well his head looks big, she can't sing, is it hot in here?, I need brownies, did you close the garage honey?, where's my camera?, this is boring, I am going to bed.
Enjoy the Superbowl, not sure who won but I loved the Doritos commercial!