Because of you, Santa has a very large list from my boys.  In fact, every commercial that involves a toy, the boys want it.  If I happen to forget that I left the tv on, I hear "I want that!"…."mommy I want that!" echoing throughout my house.
My very favorite moment is the monopoly banking game from Hasbro.  My son comes up to me and says he wants this game because he says that the world can be ours.  I asked him what he was talking about and he said "you know mommy, all you need in one card, you swipe it and the world is yours!"  I wish it was so my son, but the only thing swiping a card will do, is put you in debt  LOL.
I have been hiding from the television set since.  Clearly this Christmas, Santa has his work cut out for him with the millions of children that may watch the cartoon network.  I have a set amount that the boys may put on that list because for me, the amount of toys that are out there for kids, is overwhelming.
As a parent, I really look closely at the things I buy for the boys because what you get for your money these days is very little.  I would rather buy toys that are going to last than some of the mass market toys.  I find that the toys the boys play with the most are Legos, Playmobil, and plain old wooden blocks.  I also find that they use their imaginations more with these toys than anything out there.  There are no batteries, no annoying sounds and I can actually see them playing with them for years.
What are your kids asking for from Santa this year?  What are some of your personal holiday gift buying limits and rules?

I have two boys, and naturally they love bugs, snakes, worms and anything that naturally freaks me out.  With Halloween coming up, we decided to throw a small party and have a little creepy crawling fun with bugs, Hexbugs that is.  We had the chance to invite over friends and have a glow in the dark Hexbug Halloween Party.  We had treats, kids and lots of bugs!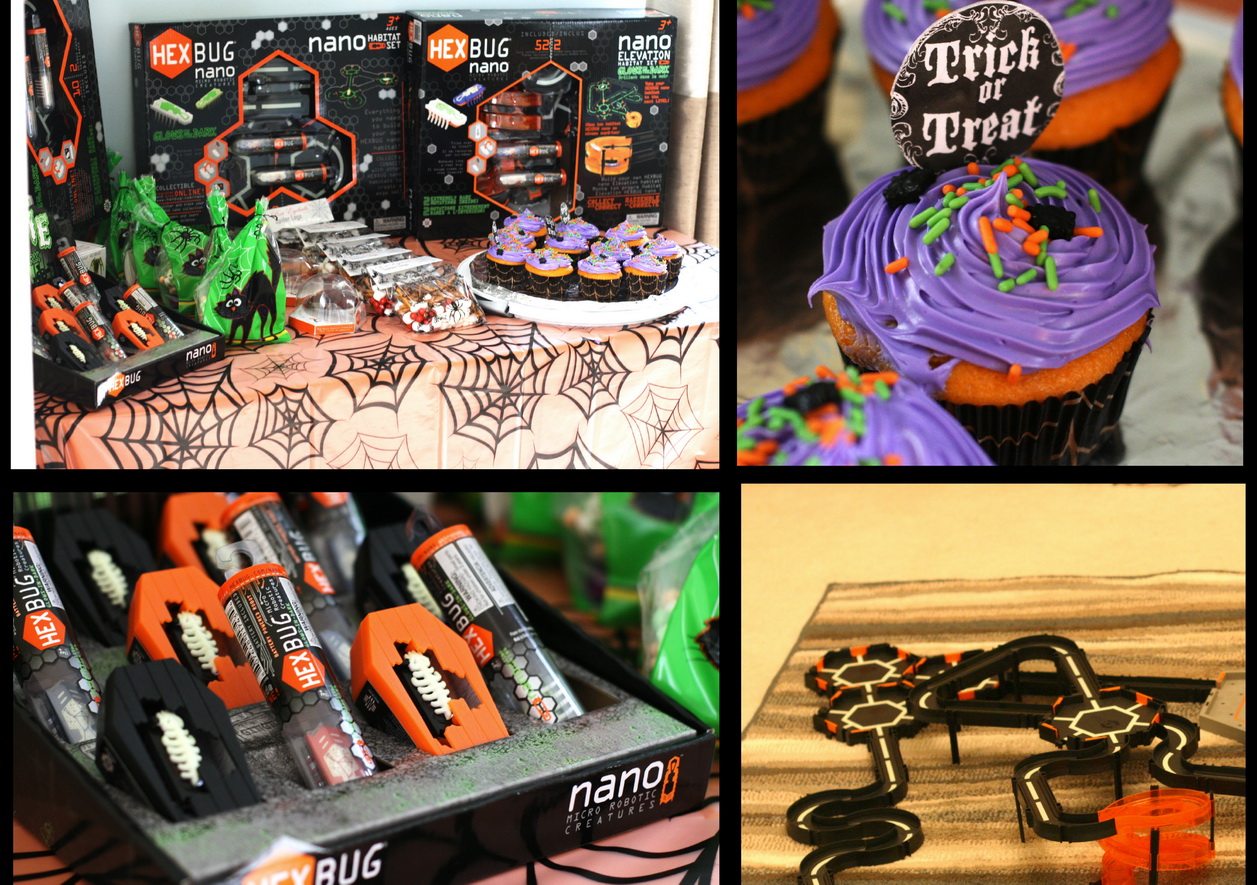 Just in time for Halloween we were sent Hexbug Nano bugs, and limited edition Hexbug Nano Halloween Zombie bugs complete with their own habitats.  The unique thing about them was that the bugs glow in the dark along with the habitat tracks.  So when the lights go out, it is twice the fun and the kids had a blast.  There is no end to what you can come up with Hexbugs, and our favorite part was when each kid got their bugs and decided to race them start to finish through the habitat.  The first person whose bug made it to the finish was the winner.  It got a little crazy in the house, but it was truly a blast.
Check Out Our Video!
I was amazed at how well these things got around, it was like they had a mind of their own and could find their way through the twists and turns of the habitat.  We were even sent some Hexbug Larva, that crawled around with uncanny resemblance to the real thing.  It even had a sensor that makes it turn around to avoid things in it's path.  It was a little gross for me, but gross is what the boys love.

Overall, my take, is that Hexbugs are pretty entertaining for the kids.  When I checked out the Hexbug website they have all sorts of cool bugs, and even remote ones.  My only beef is that it seems like they run out of batteries quickly, but usually kids tend to seem to leave them running and walk away.  But overall they are really cool and quite ingenious how they move about.
From bugs races, to entertaining your cat, Hexbugs are sure to make your kid smile.  Right now you can find the limited edition Hexbug Nano Halloween Zombie bugs at a Radio Shack location near you, but don't limit Hexbugs to Halloween, they would make great stocking stuffers for the Holidays and the perfect size in their little test tubes.
Disclosure *Hexbugs, and habitats were provided to us to host a party by Mom Select and Hexbug, all opinions,video, and pictures are that of my own*

Summer is still in full swing at our house and even though the kids are back to school, my two are still at home and want to be outdoors as much as two little boys can be.  As a stay at home mom, it can be difficult finding things for the boys to do when the neighborhood kids aren't around, and when they are bored with their own yard.  Many times, I need to get things done inside and they want to be outside and I certainly want to encourage them being as active as they can, rather than sitting inside.
Recently, we were given the opportunity to review the Bazoongi Nuclear Bounce House from Hayneedle and let me tell you, that, this is the best thing since slice bread.  If you want to get your kids moving, and excited to be outdoors, this will surely make them jump with excitement. When I told the boys what was in the box, they couldn't wait. The great thing is, that I can put it right out in my backyard and keep a close eye on them.
Set up was super easy and I had two little helpers by my side.  The bounce house is actually rolled up like a sleeping bag, and you simply unroll it, and unfold it, stake it down, and attach the blower and it is fully inflated in about a minute.  The  stakes help  keep the Bazoongi Bounce House in place,  so it doesn't move around while jumping and your children don't blow away.   The best part is that it keeps them active, happy and busy while they are outside and they aren't sitting in front of the television.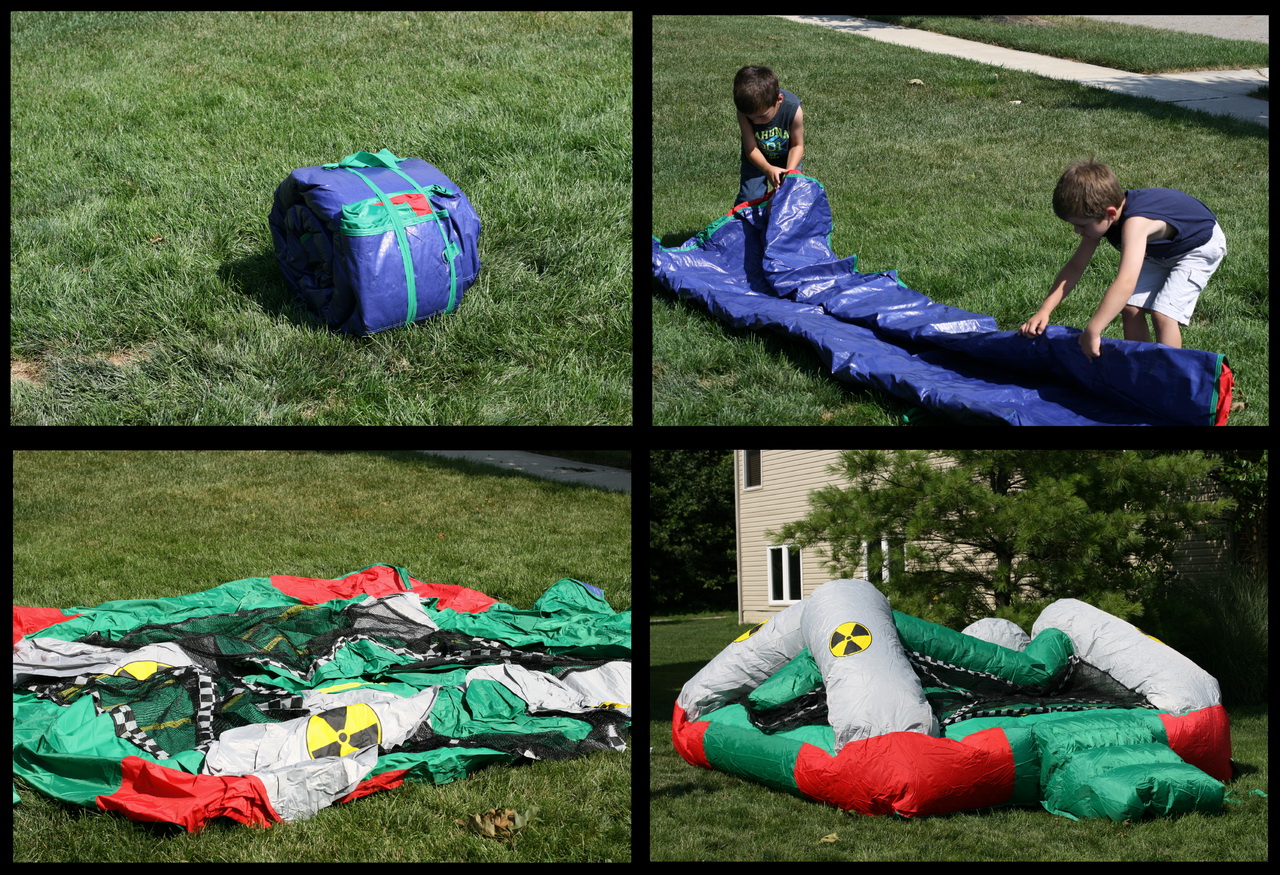 The Bazoongi Nuclear Bounce House is also compact in size but offers plenty of bouncing room for 1-3 kiddos.  The maximum weight limit is 200lbs which makes it perfect for younger kids. The bounce house itself, is made of  semi-commercial-grade, puncture-resistant PVC material and seems to withstand all the boys tumbling, bouncing and running with absolutely no problems.  The entire bounce house is enclosed in netting.  The front entrance can be zippered clothes and attached by click in tethers, so no one is going to fall out.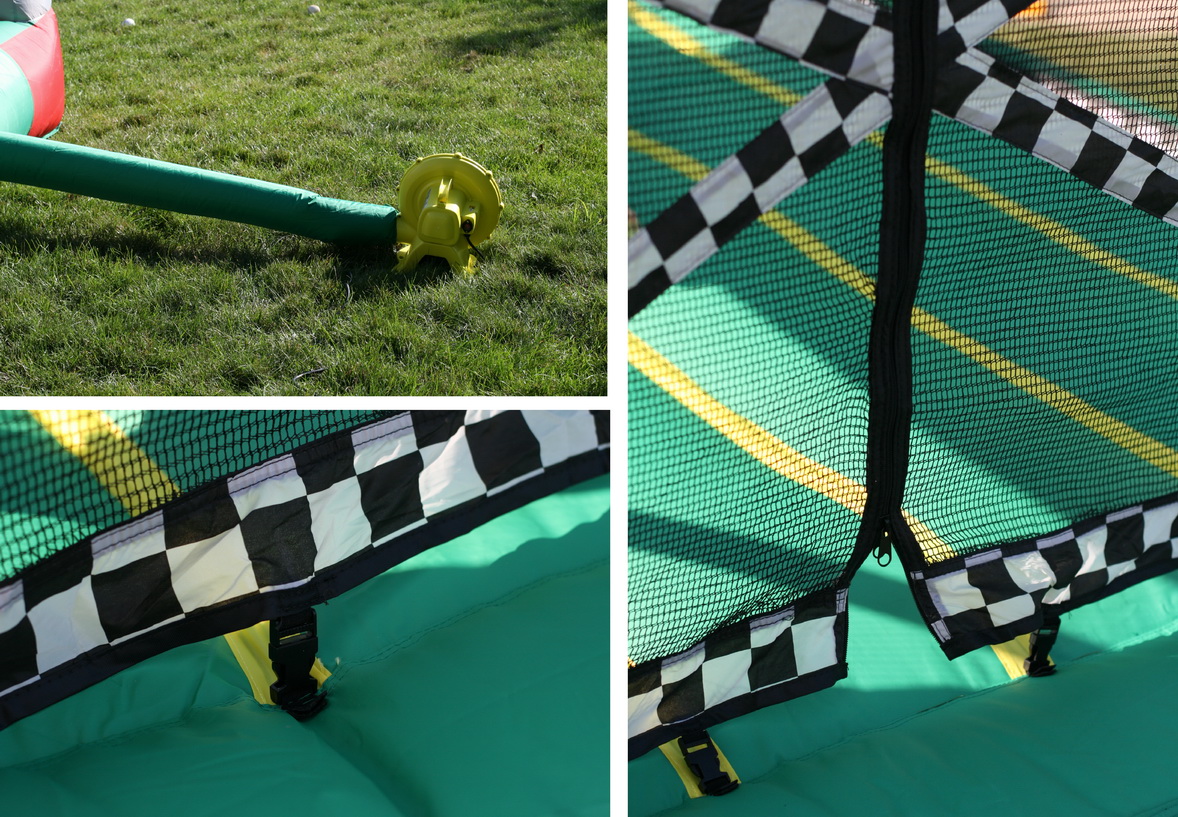 Because of its compact size 9ft x 9ft,  it  fits nicely indoors!  We have a basically empty dining room and it fits nicely in there.  So on rainy days and in the winter when the kids are stuck inside, I can bring their outdoor bouncing fun indoors!  I have tried this already on several occasions and it's a big hit.  At first, I thought they would bump into the walls but the netting around it and the bounce house foundation goes well past the netting so this was avoided.    The boys were bouncing, running circles, doing somersaults, and just having a giggling good time all inside the confines of the bounce house.  After a day of bouncing, they slept like rocks and as a parent, you can surely appreciate that.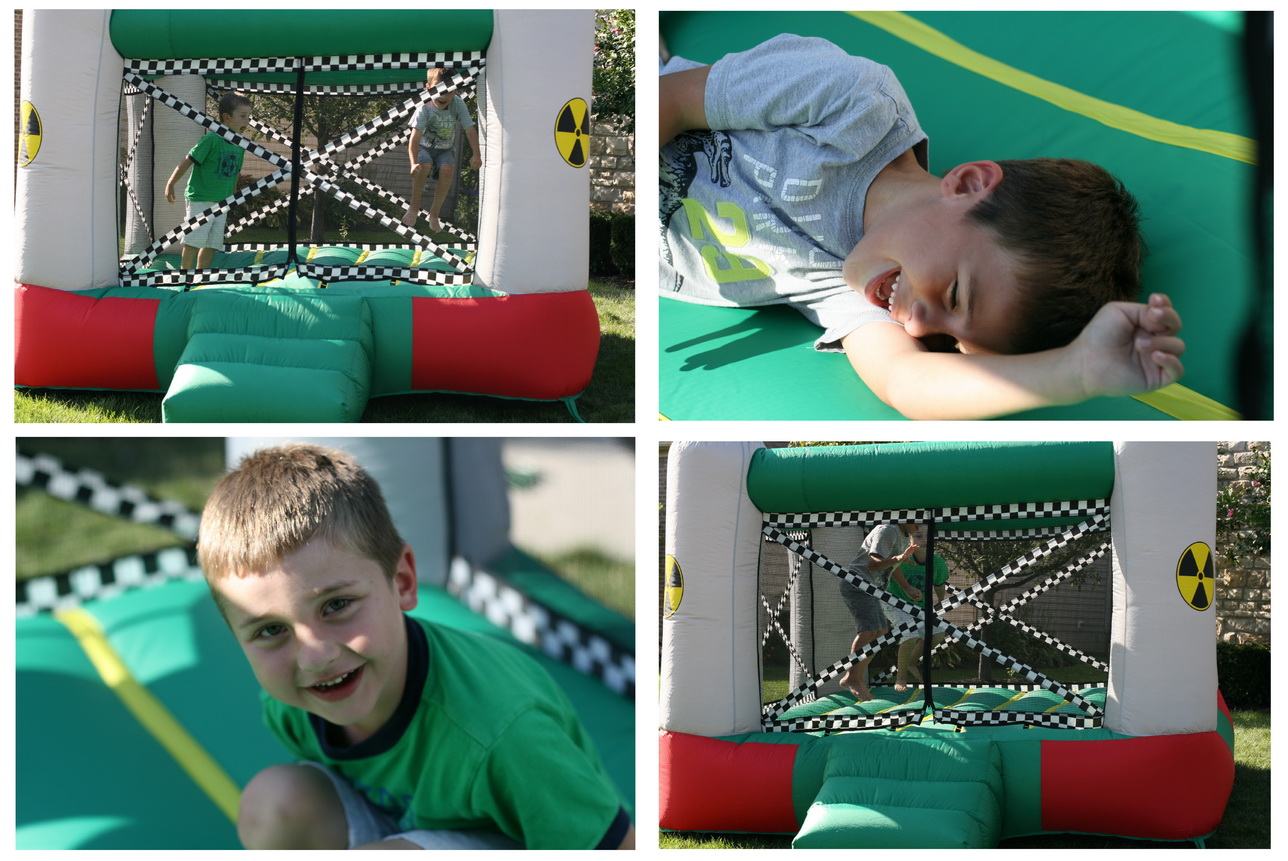 The boys have a myriad of outdoor toys from scooters, to bikes, to their Power Wheels, and I love that I can actually put this bounce house away!  The first time I had to put it away (you know how stuff never goes back in the way it came), I struggled a little bit trying to get it folded and rolled small enough to fit into the provided duffel bag.  I found that if you kind of lean into it while rolling it up (just like a sleeping bag), it gets all the air out and fits nicely in the bag to be put away and I was also able to fit the blower in the same bag and store it in our coat closet. The Bazoongi Nuclear  Bounce House, retails for $269.99 at Hayneedle.
We love our new Bazoongi Bounce House from Hayneedle where you can buy even more than just great outdoor things for the kids.  They have everything you can possibly imagine in one place.  You can buy just about anything your heart desires from Hayneedle,  and to help you do that, Hayneedle and DoubleBugs has a a $50 gift card to Hayneedle to help get your shopping started!
Win A $50 Hayneedle Gift Certificate!!!
Winners are chosen at random using "And The Winner Is"
Here's What Ya Gotta Do!
Visit Hayneedle.com and do a little shopping around and tell me what you would like to buy, come back here and leave a comment
Extra Entries (not required) Please leave a separate comment for each

Become a fan of Hayneedle on their Facebook Page
Follow Hayneedle on Twitter
Subscribe to my feed
Follow me on Twitter @Laurie2008
Good Luck!!!
Contest starts August 17, 2011 and Ends Sept 1, 2011
**The bounce house was provided by Hayneedle   for review, all the opinions expressed here are that of my own**
Both of the boys love playing with legos, but one of my sons his a fanatic about them!  Before he got a bunch of them for his birthday, I was busy trying to pre-plan ways in which I could keep them together and organized to avoid stepping on them in the middle of the night and losing sets before we even got started.
On any given day we can spend an hour or two sitting around the big bin of legos on the floor building an ice cream shop, a construction vehicle, or anything that their little minds can imagine.  For their birthday, I got them the legos wheel set, so they could put wheels on anything, and got some of the basic brick sets.  Growing up I didn't have legos, mainly because it was considered mostly a boy's toy I guess, but now I find myself enjoying digging through the lego bin with both of my boys.
The best part about having legos, is that there are no rules if you don't want them.  You can build an alien, or a house or whatever your mind can imagine, or you can try your skills at building one of the bazillion and very cool sets they have to offer.  The boys both turned four, and they love the smaller legos vs the duplo sets, and the best part is they grow with your child.  I love toys like that!
Check out my son working on his garage and ice cream store.  I think for being 4 he is doing quite well!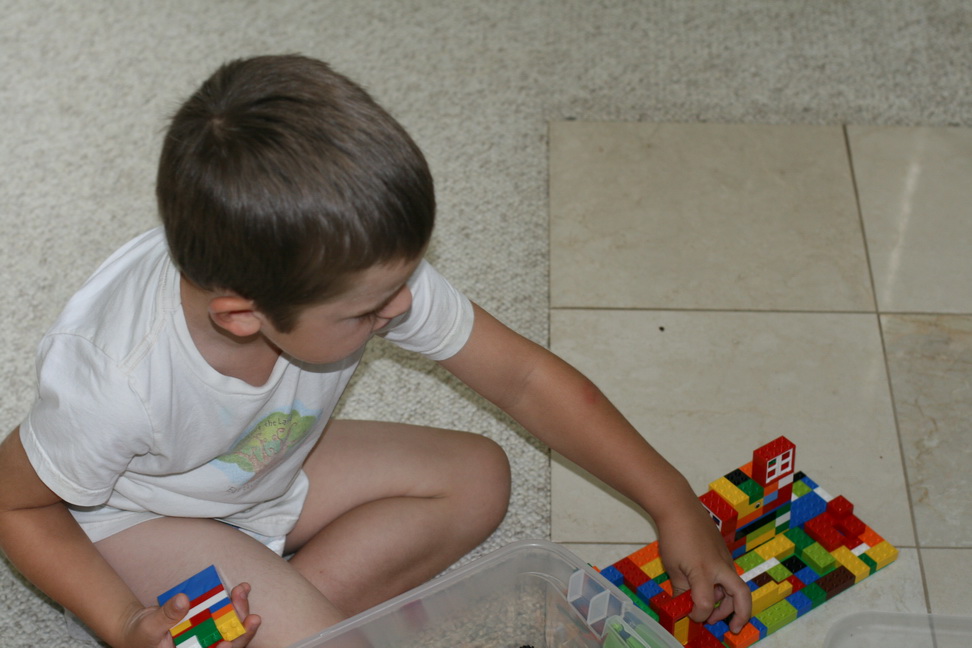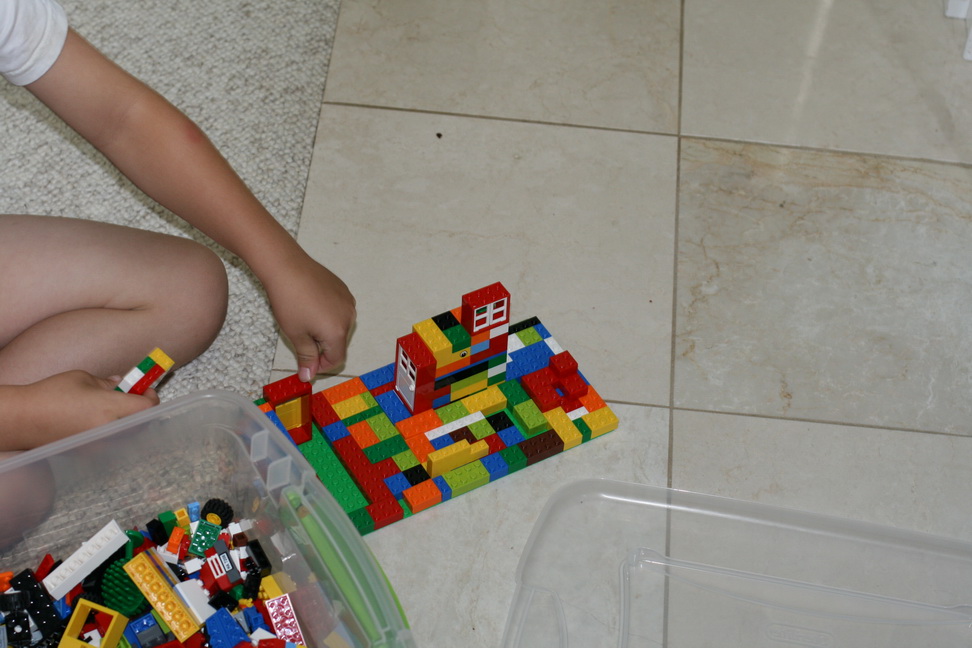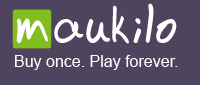 It is that time of the year again where parents are in a scramble to find that perfect toy for their children. The holidays are a wonderful time of the year, but along with all the merriment of it all, there is also a lot of stress. This year with many parents being budget conscious, you tend to want to find some of the hottest toys for 2009 but also toys, that your children will certainly be interested in for longer than five minutes.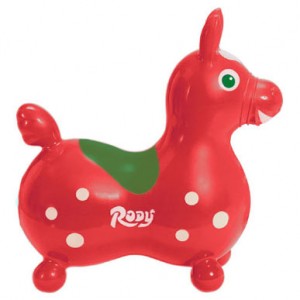 Each year I try and sit down and make a list of things that the boys seem interested in and start looking for things that sort of combine that interest with things that are going to last when they play. I ma a huge fan of wooden toys, and toys that are more educational. I still buy the boys some of the mass marketed toys but, I also like to get things that are a little more meaningful or have what I call higher quality play value.
One of my favorite places to visit for shopping is Maukilo. They are a great site that is owned by HABA, and if you know anything about HABA toys you will know that they make some of the greatest wooden toys. I have toys made by HABA that are still in perfect condition and can easily be passed on to another child and I love all of their brightly colored toys.
We were recently given the opportunity to pick one of the many wonderful toys that Maukilo has to offer. Amongst the great collection of HABA toys , they offer so many other choices. We were sent Rody the jumping horse and I could barely get the thing out of the box and inflated because the boys were literally bouncing with excitement to get on this thing. Rody is an inflated ride on horse which you can inflate more as your child grows. Balance and coordination are tested as kids enjoy hopping on their Rody. Made of latex-free vinyl, in Italy.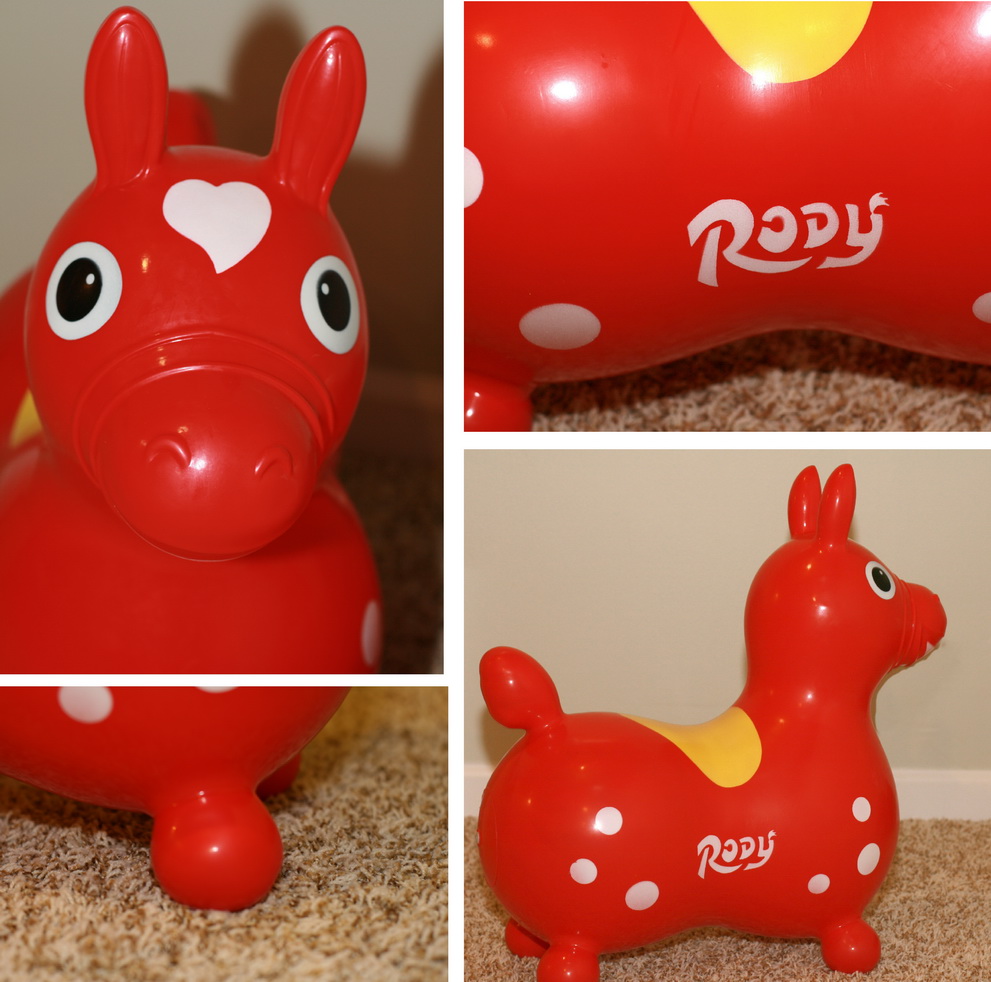 My twin 3 yr olds have boundless energy, and I can tell you that I am a huge fan of Rody. They hopped all over the house in this thing and it is perfect for expending all that pent up energy. I am thinking this is going to be excellent for the winter months when they are stuck inside! When I first looked at this inflatable horse, I couldn't imagine how much fun they would have, but they had a blast on it, and now I am thinking I will have to get them another one so they don't fight! Rody is a perfect gift to have under the tree and Maukilo is a great place to make that holiday magic happen.
**Rody the horse was provided to me free for review by Maukilo.com  the opinions expressed here are that of my own**
As part of the gift giving season, and to introduce you to a wonderful site. DoubleBugs and Maukilo would like to give readers the chance to win a $50 gift certificate to Maukilo.com to do a little holiday shopping for your child and light up their faces on Christmas morning.
This Contest Is Closed!

To Enter Here's What You Gotta Do!
Visit Maukilo.com and tell me what you would like to buy with your $50 certificate and who you would like to give the toy to.
Additional Entries
Tweet about this giveaway
Add me to your twitter
Blog about this contest
Add me to your technorati favorites
Add my button to your sidebar
Contest Starts November 22, 2009 and Ends December 15, 2009
GOOD LUCK!!!!
US Residents Only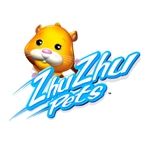 Hamsters are one of those pets that, I would never really want to have anywhere near my house.  They remind me a lot of a mouse and I don't find them particularly cute either.   I can remember growing up and having friends that had hamsters and the horrendous smell that always came from them.  Even though those cedar chips are supposed to help, cedar doesn't smell good either.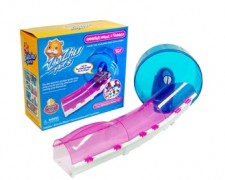 Now there is a great solution to your kids wanting a hamster!  Thanks to Mom Select, we were sent the cutest, most adorable, non smelly pets for the boys.  Let me introduce you to Zhu Zhu Pets.  They are fun interactive little hamsters that are sure to delight your child.  They have all sorts of fun things for your hamsters and a whole habitat that you can get, so they can scamper around in it.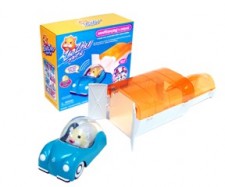 After we set up the entire habitat, the boys were very excited, when I pressed the little hidden button on their hamsters' backs and let them go to do their thing.  I was amazed at how well these things moved around, and the noises they make are so funny.  At one point when their noses bumped each other, I swore I heard a kissing sound, so cute!  They can drive off from the garage in a car, surf on a surf board, walk in their wheel, take a walk in their ball or take a nap.  This is better than any toy that I had as a kid!
The set up process was a little time consuming and takes up a considerable amount of floor space.  It isn't something you would want to continually take apart and reassemble.  The garage was a little on the flimsy side and the doors didn't stay in place so I just taped the sides of the garage and that seemed to work.  With all that being said I think in general is is a great toy and my boys have played with it almost every day.  A small word of warning, don't get the hamster anywhere near your hair because it will get caught in the wheel.
Zhu Zhu pets will be hitting the shelves this Fall and would make a perfect Christmas gift for a special someone who asks for that pet hamster.  At least you know it will make them happy and no messy cages to clean out.
** Thank you to Mom Select for providing the entire Zhu Zhu Pets set up for review**

Would you like to win a lovable hamster and starter slide for your special little someone?  DoubleBugs would like to give its readers the chance to win it!
Here's all you gotta do!
Visit the Zhu Zhu Pet site and tell me which hamster you love and what else you might like to have, and come back here and leave me a comment.
For Additional Entries You Can
(leave a separate comment for each)
Tweet About this Giveaway
Blog about this giveaway with a link to my site (5 additional entries gained)
Add me to your technorati favorites
Add me to your twitter
Subscribe to my blog
Add my button to your blog
Contest Starts September 8. 2009 and Ends October 1, 2009
Good Luck!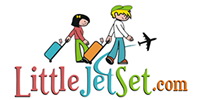 Little Jet Set is one of my all time favorite places for traveling with kids, because it has so many resources all in  one place.  I ran across Little Jet Jet for the first time when I was going to be traveling across the country with two eleven month olds, and found so many things that I could use.  The fact that we were taking a major trip with my boys coupled with the fact that I was a first time parent, I was desperate to find things to entertain the boys as well as maintain my sanity.
Little Jet Set offers a wide range of things for your child's travel.  And it is really nicely organized.  Not only that they offer some valuable links to some really nice resources.  I found a wealth of information, when I was busy trying to determine if the boys car seats were going to fit on an airplane.
We were recently given the opportunity to review the Vehicles Maze Puzzle, by Melissa and Doug and the I Get Around Travel Activity Set.   Both of the boys were naturally excited to try what I pulled out of the box.  The Vehicle Maze puzzle was a big hit because both of them go coo coo over cars of any kind.  This puzzle is great for road trips, because it has no loose pieces so nothing gets lost.  This is perfect for long road trips.  Each vehicle has a specific place along the maze like the police car goes to the station, and the school bus goes to the school.  My two simple love it and I don't have to chase after lost pieces.
This innovative wooden puzzle includes nine colorful vehicle pieces that slide around a colorful town scene on slotted tracks.  Uniquely designed sliding pieces move freely around the puzzle, but can't be removed or lost! Perfect for car trips or airplane rides. This great activity encourages eye-hand coordination and fine motor skills. Dimensions: 13.2 in. x 10.7 in. x 1.1 in.   Age 3+
The "I Get Around Travel Activity Set."  is one of my favorites and it is such a cute idea for young kids.  I am an avid scrapbooker so this is a great way to get your kids involved, and they can create their own memories.  The boys had a blast with all the fun stickers, and even though they didn't quite grasp the concept, it is a great way to spend time with your child, and helping them recall the favorite moments in their trip.  This would be great for vacations at the end of a busy day.  It is a great way to give them an activity and to wind down from such a busy day.  I love anything that encourage cognitive skills, as well as creativity. The boys loved choosing from all the fun stickers.
I Get Around Activity Set $39.95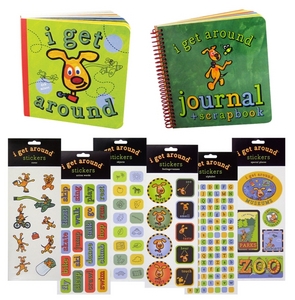 This gift set, available only at LittleJetSet.com, is perfect for kids who are going places — in everyday life, on special trips and in their imaginations. Each set includes: an "i get around" board book, which tells the story of Rover, and all the ways this hound gets around with his animal friends and what he does at the end of an active day; a spiral bound journal and scrapbook where little ones can express themselves with stickers, drawings and words as they experience the world around them; and 6 packs of repositionable stickers (Rover, action words, objects, feelings and senses, alphabet and special places). Comes packaged in a Little Jet Set logo tote – perfect for gift giving.
Comes with rhyming 32-page board book, 60-page journal and 6 packs of stickers (2 sheets each)
Written and illustrated by Deb Miner
Age 3+
I highly recommend Little Jet Set if you are traveling with young kids and are looking for some fun activities to help keep them occupied.  At least you have all of the best ideas in one place.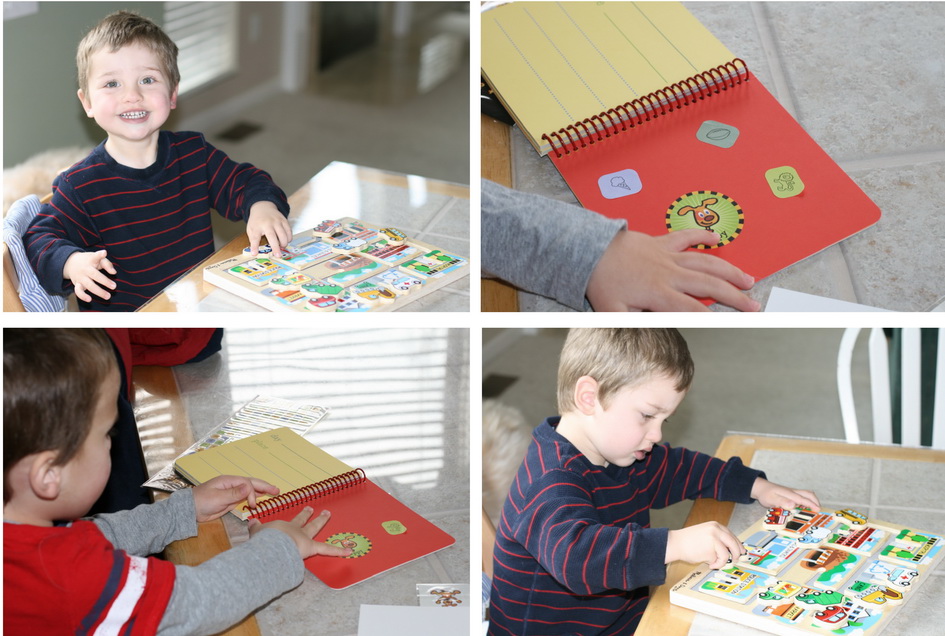 Little Jet Jet and DoubleBugs would like to give its readers the chance to win and "I Get Around Travel Activity Set" of their very own!
THIS CONTEST IS NOW CLOSED
Here's What You Gotta Do!
Visit Little Jet Set and tell me what you like, and also leave me one of your favorite travel tips.

Winners are chosen at random via Random.org.
If Winner Does Not Respond Within 2 Days the prize is forfeited and donated!
For Additional Entries (please leave as an additional comment):
Tweet about this post
Follow me on Twitter
Blog about my contest and give me the link!
Put my badge on your sidebar
Contest Starts March 30, 2009 and Ends Wednesday April 22, 2009
Good Luck!!!