I have not one, but two, three year olds at home. and I must say that lately I am pulling my hair out.  They are at a stage where they are being very defiant and testing their limits with mommy and daddy.  I am sure it is all just a phase but, I am going  a little nuts.
One of my sons is in to yelling and screaming NO at me, and it usually goes from a frank matter of fact "no" to a shrill screaming no.  Then when I threaten to spank his tush, or ask him if he wants a spank he says yes, then I have to catch him first.  If you can picture me chasing a three year old around the couch, I can imagine it's quite humorous to see.  We have tried time out, but this becomes play time for him.  It is all wearing me out, because I am one of those people that doesn't just give up on parenting my kid and say oh well, I tried.  I am a firm believer in teaching my children how to behave, how to have manners and be respectful.
I have such a hard time with this because there are two 3 year olds in the house, and they get on each others nerves.  I am an only child and never experienced any sort of sibling rivalry, so I am breaking up fights over toys daily and when you do that it leads to the offender flailing himself around like fish out of water, and screaming uncontrollably.  It isn't any wonder why when my husband gets home, I run and hide.  The part that is most amazing is, that when you separate them, they act like angels.  They are totally different kids.  My guess is, that they don't have to contend for my attention.  Despite me pulling my hair out, everyone compliments me on how well behaved my boys are, so I guess they are just testing us.
I will always be persistent because I know that as they get older, the direction they get now will be a foundation for them, but until then, if you see a woman running crazed down the street, it was me.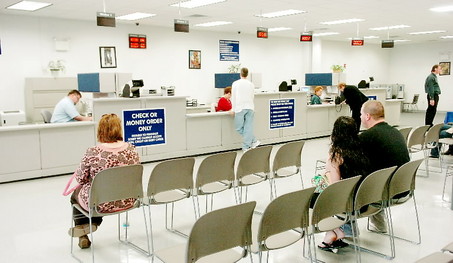 Well today was a real adventure.  I got a notice in the mail that my driver's license had expired (tells you how much I look at the thing) so I had to figure out how I was going to get there.
I thought about going on Saturday when the husband was home, so he could watch the boys, but the place was closed on Saturday.  So at about 10 am this morning I decided I would try and go.  For the most part during my week, we are home bodies, due to the fact, that it is such a pain to get everyone dressed, and out the door.  I wasn't all too sure how I would handle my two, take a vision test and keep an eye on them etc, so I was very nervous about what to expect.  Call me a wuss, but honestly being a first time parent, I just get neurotic about taking the twins out by myself, especially if I need to concentrate on getting something done.
So we show up, and there are only 3 people in line, and I think to myself "this cant be too bad, sat the boys up on the benches, and notice that I don't have enough cash.  They only take cash or check, and the cost is $24 now (holy cow!)  I had $20 on me thinking this has to be more than enough for a piece of plastic..Nope!  So we head back out the door, load up the boys in their car seats, and head to the bank.  Get back and there is no one there in line which is a relief for me because then I wouldn't have to worry about the boys.
The lady behind the counter was a complete snarky snob.  They ask you questions like you are a criminal, and she is the warden.  Meanwhile, I am trying to read the 4th line and say where the red dot is,get the boys to sit after they knocked over the plastic poles with the plastic chains that defined where the lines should stand.
I have a beef with the viewfinder, I think they make those things blurry on purpose!  I have perfect vision but the 3′s look like 8′s and vice versa.  This woman was not nice and I was glad to get the hell out of there.  My picture, I won't share, but it is indicative of  how flustered I was  lol.  It sits in my wallet for the most part, and who feels glamorous when you get pulled over anyway?  I accomplished my task, but I was stressed out, and the boys were actually good, the poles they knocked over were light as a feather, so I think they bumped them and it was a chain reaction.  Ahhh the adventures of motherhood.