Halloween is right around the corner, and of course that means lots of candy.  Before I became a parent, I would conveniently raid the stash of candy that was due to be handed out to little ghosts and goblins.  I am exercising great will power this year, however, and both of my hand out bags of candy have remained successfully sealed.  Stealing candy from a baby?  I am sheepishly admitting that this is what I do after the boys go out trick or treating.  Personally, I don't want them having all of that candy and luckily they aren't old enough to notice, but I am sure those days are numbered.
I am overprotective about my chocolate, and I have been known to hide it in a location where I know only I would look.  Some of my favorites include cold Twix bars (I hide them in the vegetable drawer), and m&m's.
Just in time for Halloween, Twix did a survey that uncovers the treat behaviors and preferences of adults ages 18 to 34.
Survey results include:

The 30 year-old trick-or-treater: Nearly 7 out of 10 adults (69 percent) ages 18 to 24, and half of adults ages 25 to 34 said they would do it if they could. Trick-or-treating, that is. The only thing holding them back is dirty looks from the neighbors.
Hide and seek: More than half of all adults surveyed (52 percent) admit to hiding a treat from their loved ones to keep the treat for themselves. Most hide their treat stash in their room (41 percent) or in another "super-secret place" (41 percent).
Fruit-flavored non-chocolate Halloween treats get no respect: Only 3 percent of all adults surveyed listed fruit-flavored non-chocolate treats as their Halloween favorite. The winning treat combination? Chocolate with peanuts or peanut butter topped the list at 39 percent, followed by a chocolate and caramel combination as a close second (30 percent). Phew, good thing TWIX bars come in classic TWIX® Caramel and TWIX® Peanut Butter.
Men seek the crunch; the ladies prefer something they can chew on: When it comes to treats, women prefer chewy treats more than men do (42 percent to 33 percent), while more men than women seek out treats with a crunch (33 percent to 23 percent).
Taking candy from a baby: One quarter of all adults surveyed (26 percent) admit to taking candy from their child's Halloween stash or a friend's or co-worker's candy dish and denying it.
Sweets are social: Two out of three adults (64 percent) would rather enjoy treats with others than alone.
Most of these results definitely hold true for myself and I would definitely be trick or treating if someone wouldn't give me a dirty look.  What are your deep dark secrets when it comes to indulging in your favorite treats?  Do you do the post trick or treating raid of your kid's haul?
Thank you to Twix for providing these fun survey results!  Hope you all have a safe and wonderful Halloween!

Chocolate has always been a weakness of mine.  I have some favorites when it comes to candy bars. Twix bars have always been a long standing favorite for me, that goes back to my childhood.  I have always loved the combination of a crisp cookie, caramel and chocolate.  I almost always eat them with a tall glass of ice cold milk.
I was recently offered the opportunity to give Twix Limited Edition Coconut a try, and see if I liked this new added twist to an old favorite.  When I think of coconut or smell it, I think of sun tan oil, and pina coladas and the beach.  It makes me think of an island escape to the tropics.
I am not a huge coconut fan, but I do however enjoy it in a candy bar from time to time.  Would this be love at first bite?   I grabbed my obligatory glass of milk, and was very excited to try one of my favorites.  It has the same chocolate, cookie, and caramel and the slight hint of coconut.  The taste was yummy, but I noticed that there is no actual coconut, but only the taste of it.   I was a little disappointed , but the flavor was still pretty good.  I think a thin layer of coconut would have added some interest and great texture. Will this be my absolute favorite?  Probably not. But, if you are coconut lover, this might be something fun for you to try.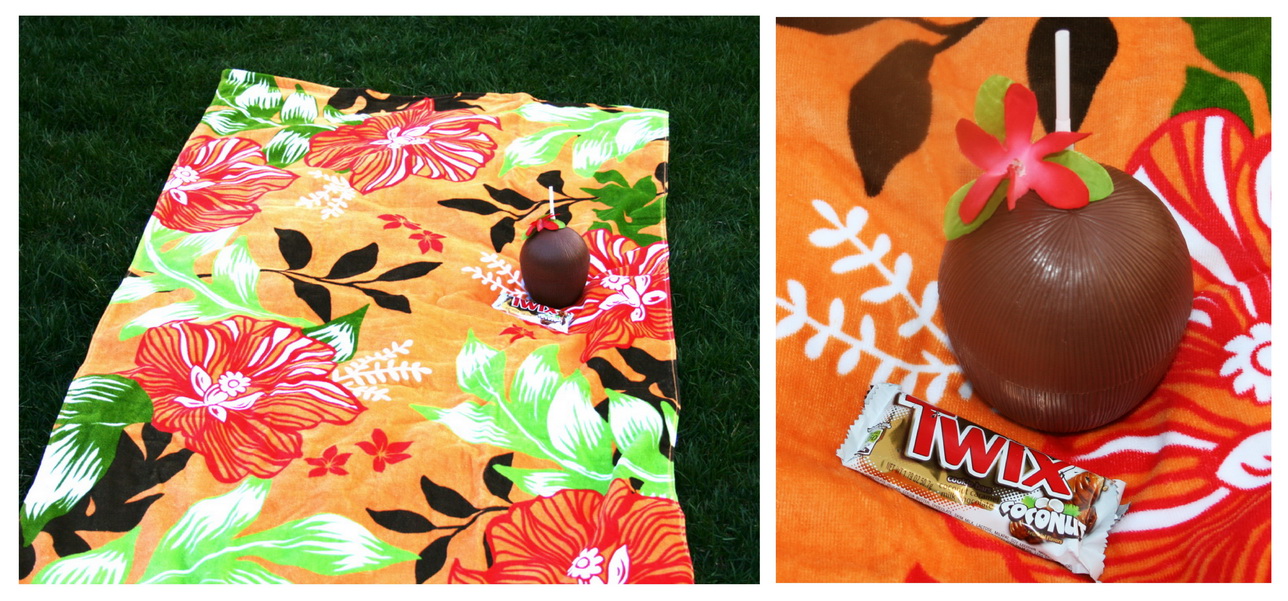 If you love chocolate, caramel and coconut, this would be a great way to tame your craving with that awesome Twix combination.  I can't think of a better way to take a time out.  Get this Limited Edition Twix while you can, because you might blink and they will be gone.  Grab a cold drink, Twix Coconut and plan your island escape (even if it's only in your backyard).
Twix sent me a fun gift pack with samples to try.  The opinions expressed here are that of my own.