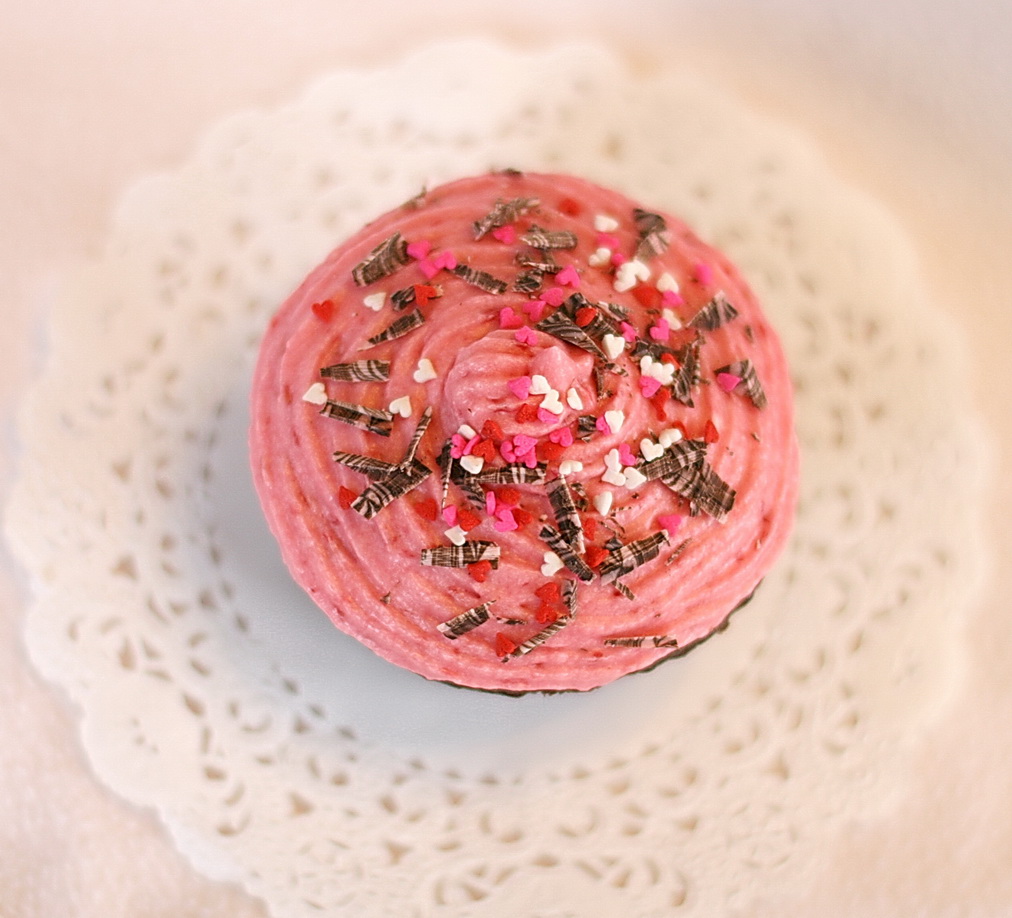 I was thinking of ways to wish you all Happy Valentine's Day, or just wish you all a happy day.  So my taste buds decided to take over.  I have an addiction to thee new Dove chocolates that I found in the store one day while I was crabby, PMS'ing and needed chocolate.  If you haven't tried them, they are the Dove Raspberry Dark Chocolate Promises.  They are the perfect ratio of chocolate to raspberry and I have to hide my stash in the house.
So I decided, what if I put these in a chocolate cupcake for Valentine's Day, or any day for that matter?  So I came up with a little recipe to celebrate this day of love…love for your loved one, love for yourself, love of all things chocolate, or just plain old LOVE!
Cupcake Ingredients
Directions:
Heat oven to 350°F.

Line Cupcake pan with paper or foil liners of your choice

In large mixer bowl, stir together dry ingredients.

Add eggs, milk, oil, and vanilla; beat on medium speed for 2 minutes.

Stir in boiling water by hand and then add the melted Dove Chocolates

Pour batter into baking cups about 3/4 full or a little more if you are daring.

Bake cupcakes 15-20 minutes  or until wooden pick inserted in center comes out clean.

Cool 10 minutes; remove from pan to wire racks.
Raspberry Buttercream Recipe
½ cup butter, softened
½ cup fresh raspberries
1 teaspoon vanilla extract
1/8 teaspoon salt
1 (16-oz.) package powdered sugar
Reserved Dove Chocolates for shavings
Preparation
Be sure to wash and thoroughly dry raspberries before adding to frosting.Beat Raspberries, Butter, Vanilla and salt together at medium speed with an electric mixer until creamy.
Gradually add powdered sugar, beating at low speed until blended and smooth after each addition.
Top each cupcake with frosting and sprinkle some pretty decorations on top with a few shavings of Dove Chocolates and you have a very tasty Valentine or anytime treat!  Enjoy!!!!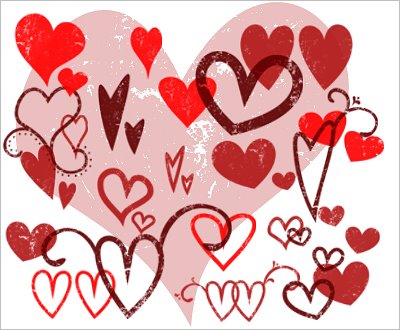 So the dreaded Valentine's Day is coming up and you don't know what to give your sweetheart.  I usually try and do something small for my dear husband.   Usually is is a card and a box of his favorite Dove Chocolates.  In the years past I was a little more creative since I had the time to be but with little ones running around my creativity is limited.   I consider Valentine's Day more of a girly holiday anyway, and I love that it falls in the same month as my birthday.
So what are some of my top gift giving suggestions (at least on my wish list) for this Holiday centered around love?  And Where did this so called holiday emerge from?
My Top 10 Gifts For Valentine's
Godiva (need I say more?)  Named after Lady Godiva
Gift Cards to get my hair done, or new clothes.  One year I received a gift certificate to Curves (this made me cry sorry honey)  Although I was wanting to go to Curves to workout, it doesn't make a very good gift.  Here honey you're fat go work out.  Maybe not on any special day might have been better but maybe not!
Maid Service to come in and clean my house top to bottom just one time so I could ignore all house chores.  This would be awesome!  But like my husband said, I would probably clean before they got here  LOL!
Food, three meals cooked for me so I don't have to think about it for one day.  I am talking real down home cooked meals and not from the box!  I would be in heaven.
Candles, I love candles!   Some of my most favorite are the fruity scents and vanilla and lavender.
Sleeping In and Breakfast in Bed,  Although this is hard for me to do since I have grown accustomed to popping out of bed in the morning, sometimes I just want to stay snuggled under the covers.
Flowers, they always brighten up the house, but my only thing with flowers is they don't last long.
Massage, I am not one to go to the parlors as I am a little weirded out by that but a nice long 45 min massage from hubby would be perfect!
Romantic Set Up, I am a sucker for the rose petals, candles, chocolate dipped strawberries, romantic music.
Jewelry or Perfume, I love these surprises from my husband, especially the ones he picks out.  You get to get a fragrance that he loves and usually I love what he pics out, and jewelry just makes you feel pretty and special.  Some of my favorite pieces of jewelry and I only have a few are the ones he gave to me.   I pick them over anything else I have.
Valentine's Day
Valentine's Day or Saint Valentine's Day according to Wikipedia is a holiday celebrated on February 14, by many people throughout the world. In the West, it is the traditional day on which lovers express their love for each other by sending Valentine's Cards, presenting flowers, or offering confectionery. The holiday is named after two among the numerous Early Christian martyrs named Valentine. The day became associated with romantic love in the circle of Geoffry Chaucer in the High Middle Ages when the tradition of courtly love flourished.
The day is most closely associated with the mutual exchange of love notes in the form of "valentines." Modern Valentine symbols include the heart-shaped outline, doves, and the figure of the winged Cupid. Since the 19th century, handwritten notes have largely given way to mass-produced greeting cards. The sending of Valentines was a fashion in nineteenth-century Great Britain, and, in 1847, Esther Howland developed a successful business in her Worcester, Massachusetts home with hand-made Valentine cards based on British models. The popularity of Valentine cards in 19th-century America was the start of the future commercialization of holidays in the United States.
The U.S. Greeting Card Association estimates that approximately one billion valentines are sent each year worldwide, making the day the second largest card-sending holiday of the year, behind Christmas. The association estimates that, in the US, men spend on average twice as much money as women.

With Valentine's Day right around the corner, I always find myself looking for something different to give my husband. The traditional cards are fun but not unique and I am always wondering if I gave the same card to him the year before!
I just recently got to try out Snapily, an online photo service that uses special effects like animation and 3D to bring printed photos to life. They just recently came out with a great selection of Valentine's for your special someone. How fun would it be to bring out a little vixen in you, and take a few sexy pics to create a Valentine's Day Card he will want to hang on to? Grab your camera, set the self-timer, and take beautiful, and glamorous photos to add to any Snapily card. Choose the 3D effect to add depth to that pin-up pose, the morph effect to blend two romantic images together, or the flip effect to create your own strip-o-gram.

Besides Valentine's Day you can also create fun announcements, birthday cards, business cards, and you will surely get noticed. My favorite feature is the flip effect because it allowed me to put a picture of both the boys on a card. This is such a cute idea to send out  cards for any occasion. You have so many options that you can let your imagination run wild. If you hurry you will be just in time for Valentine's Day! You have until February 7th, for regular standard delivery and until February 11th for 2 day shipping.
THIS CONTEST IS NOW CLOSED THANK YOU TO ALL WHO ENTERED

The folks over at Snapily want you to be able to design your own fun greetings or special gift for someone so they are offering DoubleBugs readers $25 to use on your Snapily order!
So here's what you gotta do!
* Visit Snapily and have a look around and come back and leave a comment and let me know what you would choose and what idea you have for your project.

* Leave me an email so I have a way to contact you if you win

* Winners are chosen at random via Random.org.
For Additional Entries (please leave as an additional comment):
* Tweet about this post
* Follow me on Twitter
* Blog about my contest and give me the link!
* Put my badge on your sidebar
That's all you gotta do!
Contest starts Feb 6th, 2009, and Ends Feb. 23, 2009
Good Luck!!!!