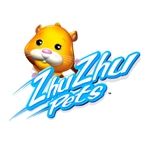 Hamsters are one of those pets that, I would never really want to have anywhere near my house.  They remind me a lot of a mouse and I don't find them particularly cute either.   I can remember growing up and having friends that had hamsters and the horrendous smell that always came from them.  Even though those cedar chips are supposed to help, cedar doesn't smell good either.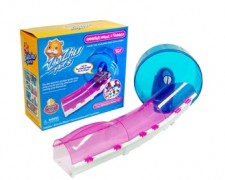 Now there is a great solution to your kids wanting a hamster!  Thanks to Mom Select, we were sent the cutest, most adorable, non smelly pets for the boys.  Let me introduce you to Zhu Zhu Pets.  They are fun interactive little hamsters that are sure to delight your child.  They have all sorts of fun things for your hamsters and a whole habitat that you can get, so they can scamper around in it.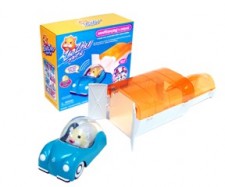 After we set up the entire habitat, the boys were very excited, when I pressed the little hidden button on their hamsters' backs and let them go to do their thing.  I was amazed at how well these things moved around, and the noises they make are so funny.  At one point when their noses bumped each other, I swore I heard a kissing sound, so cute!  They can drive off from the garage in a car, surf on a surf board, walk in their wheel, take a walk in their ball or take a nap.  This is better than any toy that I had as a kid!
The set up process was a little time consuming and takes up a considerable amount of floor space.  It isn't something you would want to continually take apart and reassemble.  The garage was a little on the flimsy side and the doors didn't stay in place so I just taped the sides of the garage and that seemed to work.  With all that being said I think in general is is a great toy and my boys have played with it almost every day.  A small word of warning, don't get the hamster anywhere near your hair because it will get caught in the wheel.
Zhu Zhu pets will be hitting the shelves this Fall and would make a perfect Christmas gift for a special someone who asks for that pet hamster.  At least you know it will make them happy and no messy cages to clean out.
** Thank you to Mom Select for providing the entire Zhu Zhu Pets set up for review**

Would you like to win a lovable hamster and starter slide for your special little someone?  DoubleBugs would like to give its readers the chance to win it!
Here's all you gotta do!
Visit the Zhu Zhu Pet site and tell me which hamster you love and what else you might like to have, and come back here and leave me a comment.
For Additional Entries You Can
(leave a separate comment for each)
Tweet About this Giveaway
Blog about this giveaway with a link to my site (5 additional entries gained)
Add me to your technorati favorites
Add me to your twitter
Subscribe to my blog
Add my button to your blog
Contest Starts September 8. 2009 and Ends October 1, 2009
Good Luck!