Me4Kidz Medibag Review and Giveaway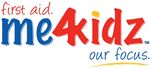 As a parent you don't like to think about your child getting injured or hurt.  I can remember when the first major bump on the head happened, when my boys were just about a year old, and the mode of panic I went into.  I think I cried more than they did!  When and injury happens though, the last thing you want to be doing is fumbling around in the cabinet for all the first aid things you may need when a bump, scrape, sting or cut happens.
I recently received the Me4Kidz Medibag for review and I really love the thing.  It has everything right where I need and can be easily stored in the cabinet or brought along on camping trips, or kept in the car for emergency first aid.  It has just about anything you might need including fun stickers for the little one who braved their injury and fun brightly colored crayon bandages.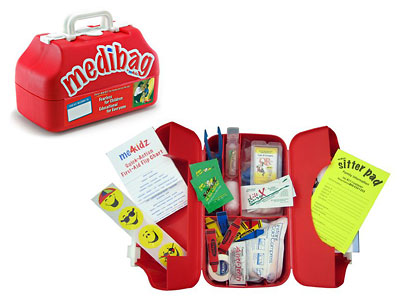 The Medibag Includes
(30)   Assorted Kid-Friendly Bandages
(12)  Junior Bandages
(20)  Antiseptic Wipes
(4)    2 X 2 Gauze Pads
(4)    3 X 3 Gauze Pads
(2)    Knee & Elbow Bandages
(1)    Anti-Itch Ointment
(2)    Antibiotic Ointment
(1)    Burn Gel
(1)    Eye Wash
(1)    First Aid Guide
(1)   Instant Cold Pack
(2)   Blue Kid-Friendly Exam Gloves
(1)   Hypoallergenic First-Aid Tape Roll
(1)   Plastic Disposable Tweezers
(10) Application Swabs
(1)   Sting Relief Pad
(1)   Emergency Information Label
(20) Kid-Friendly Fun Stickers
(1)   Kid-Friendly Organized Doctor's Bag
(1)   Coupon for a Free 45 Item Refill Kit
I hope that I don't have to use all of the things in the bag, but if I do then it has all the essentials and then some.  I never even thought about stuff for bee stings, and we have plenty of them buzzing around in the summer.  The instant cold pack is really great for when you are somewhere with no access to ice.  All around I think this is a pretty good investment and I think it would make a really great gift for a first time parent as well.
THIS CONTEST IS NOW CLOSED

Would you like to win a Medibag for yourself and your family?  DoubleBugs and Me4Kidz is giving one lucky reader a Medibag of their very own!

Here's What You Gotta Do!!
Tell me why you would like to win a Medibag

Winner is chosen at random via Random.org.
If Winner Does Not Respond Within 2 Days the prize is forfeited and donated!
For Additional Entries (please leave as an additional comment):
Tweet about this post
Follow me on Twitter
Blog about my contest and give me the link!
Put my badge on your sidebar
Contest Starts April 7, 2009 and Ends Wednesday April 28, 2009
Good Luck!!!