Dark Raspberry Dove Chocolate Cupcakes With Raspberry Buttercream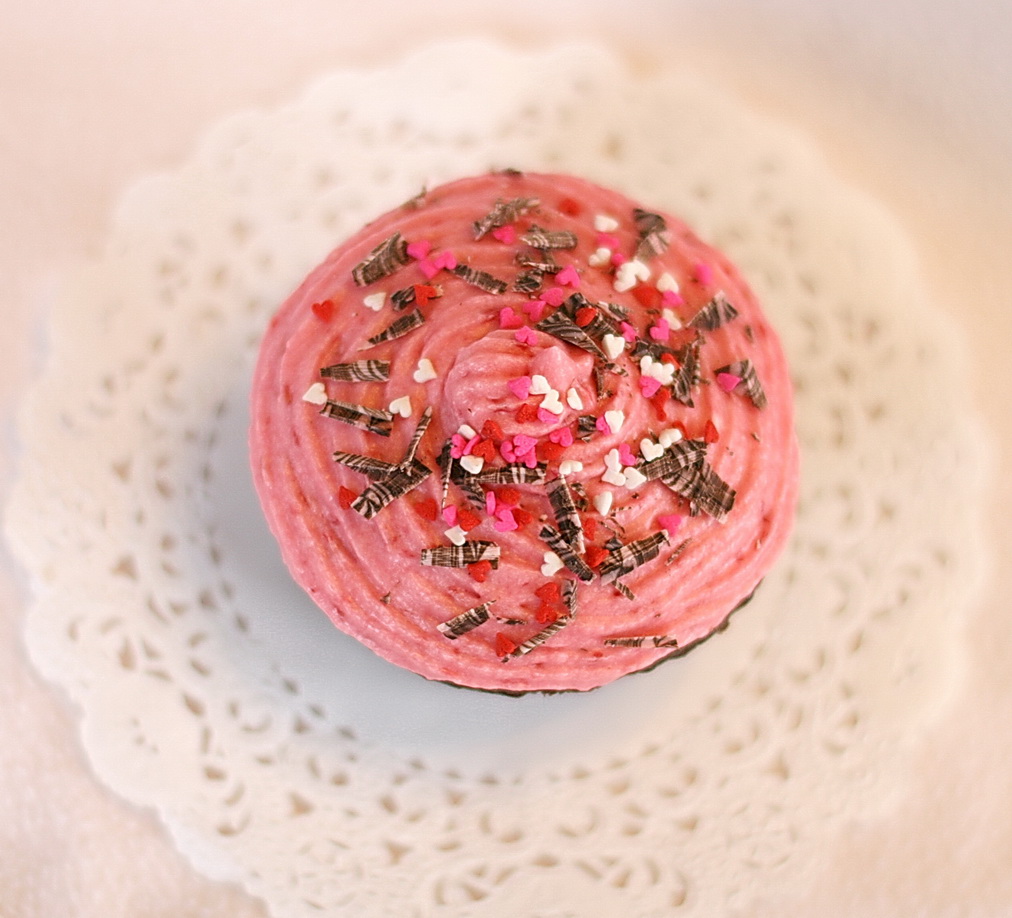 I was thinking of ways to wish you all Happy Valentine's Day, or just wish you all a happy day.  So my taste buds decided to take over.  I have an addiction to thee new Dove chocolates that I found in the store one day while I was crabby, PMS'ing and needed chocolate.  If you haven't tried them, they are the Dove Raspberry Dark Chocolate Promises.  They are the perfect ratio of chocolate to raspberry and I have to hide my stash in the house.
So I decided, what if I put these in a chocolate cupcake for Valentine's Day, or any day for that matter?  So I came up with a little recipe to celebrate this day of love…love for your loved one, love for yourself, love of all things chocolate, or just plain old LOVE!
Cupcake Ingredients
Directions:
Heat oven to 350°F.

Line Cupcake pan with paper or foil liners of your choice

In large mixer bowl, stir together dry ingredients.

Add eggs, milk, oil, and vanilla; beat on medium speed for 2 minutes.

Stir in boiling water by hand and then add the melted Dove Chocolates

Pour batter into baking cups about 3/4 full or a little more if you are daring.

Bake cupcakes 15-20 minutes  or until wooden pick inserted in center comes out clean.

Cool 10 minutes; remove from pan to wire racks.
Raspberry Buttercream Recipe
½ cup butter, softened
½ cup fresh raspberries
1 teaspoon vanilla extract
1/8 teaspoon salt
1 (16-oz.) package powdered sugar
Reserved Dove Chocolates for shavings
Preparation
Be sure to wash and thoroughly dry raspberries before adding to frosting.Beat Raspberries, Butter, Vanilla and salt together at medium speed with an electric mixer until creamy.
Gradually add powdered sugar, beating at low speed until blended and smooth after each addition.
Top each cupcake with frosting and sprinkle some pretty decorations on top with a few shavings of Dove Chocolates and you have a very tasty Valentine or anytime treat!  Enjoy!!!!